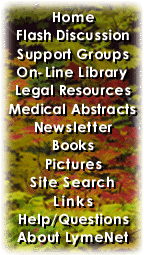 ---
LymeNet on Facebook
LymeNet on Twitter
---
---
The Lyme Disease Network receives a commission from Amazon.com for each purchase originating from this site.
When purchasing from Amazon.com, please
click here first.

Thank you.




Dedicated to the Bachmann Family


LymeNet needs your help:
LymeNet 2020 fund drive

The Lyme Disease Network is a non-profit organization funded by individual donations.

| | |
| --- | --- |
| | |
Author
Topic: Past abuse/ptsd or Lyme?

julier212
Member
Member # 26408


posted

---

I'll try to make this short...

I was sexually/emotionally abused when younger off and on for about 10 years between the ages of 3-13...

When i started developing physical problems later on in life, around 17-18, I was told that the reason for them was because of what abuse happened in the past or post traumatic stress disorder.

I was diagnosed with migraines, TMJ syndrome, Fibromyalgia, Anxiety, Depression, hives, chronic UTI's, arthritis, and IBS. Doctors never found a good reason for it, so they said it was all from a car accident I was in or the abuse from when I was younger.

I believed them and went to therapists and psychiatrists and lived my life the best I knew how, even though the physical pains and symptoms never went away.

In 2009, 9 years after symptoms began, and about 17 years after abuse I got a tick bite, rash, flu-like symptoms. I was treated with doxy for 14 days, said to be cured and sent on my way...

2009 was a year of stress good and bad...and also a year of many heightened physical ailments. In 2010 I decided to get Igenex testing, and it came back positive for Lyme. I went to go see an LLMD and have been getting treated since August 2010. I haven't felt much better yet, and much of my family doubts this treatment especially my husband. They still think it's abuse from my past that's caused all my problems...

Anyone else dealing with Lyme and past abuse or ptsd? I don't know what or who to believe anymore?

I've been struggling with Lyme related symptoms for 10+ years, but only have known of one tick bite a little over a year ago.

Is it just coincidence? Am I just dealing with emotional trauma(although I thought I was over it?) Do I really have Lyme or were the tests false positive? How do I get others to understand, especially my own husband? Is there anyone else out there with similar situation?

I would love feedback or any kind of understanding! Although I know anyone on this sight would at least understand the everyday achy tired in-humaness felling from this disease!

---

Posts: 71 | From Missouri | Registered: Jun 2010 | IP: Logged |

julielynne4
Unregistered



posted

---

I'm sorry for everything you have been through. Of course your history of abuse could cause depression and probably physical symptoms, maybe even some of the ones you described. But, you said you have a positive Lyme test through Igenex- you have Lyme Disease.

It is great that you have an LLMD, and I hope you continue to see him/her. It is difficult when our families don't understand, but unless they either go through this themselves or do their own research on the truth about lyme disease and treatment, chances are they will never "get it."

You have been in treatment since August - have you made any improvements? Is your LLMD treating you for coinfections? Please remember that making progress and getting well is a painfully SLOW process. Are you currently on antibiotics and probiotics?

The hardest part for me going through this was my husband's lack of support and understanding. At times, he would seem to get it, and others, he would tell me it is all a "scam" and I need to move on to something else other than lyme. It made things SO difficult because he was always annoyed with me when I needed to rest...I feel the stress of his attitude towards it hindered my recovery quite a bit.

However, it did help to have him see the movie "Under Our Skin." If your husband hasn't seen it yet, you might want to order it and watch it with him. I know there are others on this site who are in similar situations - I have read posts before. I hope someone can give you suggestions as to how to help your husband understand this illness.

I don't think it's healthy to blame all of your physical ailments on your past - especially if you feel you have gotten "over" it. It IS possible to be healed from the emotional wounds of abuse - you have Lyme Disease and you are on the right track to wellness.

Julie

---

IP: Logged |

jackie51
Frequent Contributor (1K+ posts)
Member # 14233


posted

---

Ugh, so sorry you are dealing with all of this. Yes, you are positive for lyme. Yes, husbands/spouses do not necessarily understand and some are just not supportive. I think my husband just thinks I'm crazy. He has seen me get better so sometimes I think he is a believer.

As more and more people are getting diagnosed with lyme, it is getting harder and harder to refute. There are soooo many people where I live that have this, it is unbelievable.

You take care of yourself. Come to these boards for information and support. We'll get you through this. There are some super people on here who can help you.

Take lyme as a gift. You'll learn many, many things. Best to be here now, then later in life. Get the knowledge, be gentle on yourself and forgive your husband for being such a dolt.


---

Posts: 1374 | From Crazy Town | Registered: Dec 2007 | IP: Logged |

julier212
Member
Member # 26408


posted

---

Thank you so much for responding! I am being treated with antibiotics for lyme and coinfections. I'm also taking a lot of Dr. B's list of supplements.

It's always hard to tell if I'm getting better, because the treatment has been making me feel worse. I've tried to explain to my family that it is good thing because that means my body is fighting something!

My LLMD is really informational, but I find it all so confusing and it is a really hard disease to explain to people. I still don't understand the controversy behind it! It's just easier for me to act like I'm fine and pretend it's no big deal. If it weren't for this discussion bored I don't know what I'd do!

I have really wanted to see that movie Under Our Skin, but I think the only way to watch it is to buy it off their website? Libraries and movie stores here don't carry it.

Thanks again for the support! It really means a lot!

---

Posts: 71 | From Missouri | Registered: Jun 2010 | IP: Logged |

Lymetoo
Moderator
Member # 743


posted

---

Sorry to hear of all your struggles, julie. I agree with the others that you need to focus on getting well from Lyme.

This short video explains some of the controversy. You may be able to get your family members to watch it! Then be sure to buy the Under Our Skin and have them watch that.

Video of people saying they were misdiagnosed..along with discussion of the Lyme controversy:
http://www.kettmann.com/Lyme/Save/

--Then, click on "Here" when you get to the site.


www.underourskin.com

--------------------
--Lymetutu--
Opinions, not medical advice!


---

Posts: 94228 | From Texas | Registered: Feb 2001 | IP: Logged |

METALLlC BLUE
Frequent Contributor (1K+ posts)
Member # 6628


posted

---

Same exact thing happened to me. I was infected as a very small child but also grew up around violence and the same abuse you mentioned.

It was used to justify away my symptoms as being in my head.

It goes to show that anyone can be put into this situation. You can't talk your way out of people's pre-judgments no matter how smart you are.

--------------------
I am not a physician, so do your own research to confirm any ideas given and then speak with a health care provider you trust.

E-mail: sbauzys@comcast.net


---

Posts: 4155 | From Western Massachusetts | Registered: Dec 2004 | IP: Logged |

kday
LymeNet Contributor
Member # 22234


posted

---

I was never abused (But I do have PTSD from this damn illness) but I think that abuse causing a huge complex of physical and mental problems is a bunch of bull****.

In my opinion, it's a **** poor excuse when they can't figure out what's wrong with you.

In Western Medicine they want to give you a diagnosis, and if they can't find one, they can't find the courage to simply say, "I don't know." Instead, they pull something random out of their diagnosis hat.

---

Posts: 967 | From A deserted island without internet access | Registered: Sep 2009 | IP: Logged |

annier1071
LymeNet Contributor
Member # 28977


posted

---

The movie is on demand on cable this month and it is going onto netflix in the next few weeks if you belong to it. Great ways to see it for almost nothing....

I have past issues same as you and wont even mention them to my LLMD since I am afraid he will feel that it is also ptsd instead of lyme. I havt two known tick bites documented so I am supposing it is lyme.

Take care of you and the rest of them--ignore

--------------------
Diagnosed with chronic neuro lyme 12/10 after 30 years of vertigo.2 tick bites in 3 yrs from upstate NY. Was on omincef for nine mths..zith and rifampin stopped.Remission~ All the pain and symptoms are back and I am not treating now with biaxin.


---

Posts: 788 | From New york..queens | Registered: Nov 2010 | IP: Logged |

sparkle7
Frequent Contributor (5K+ posts)
Member # 10397


posted

---

There is a relationship between fibromyalgia & abuse - from what I have read. There is a connection between the mind & the body. There also are definite pathogens that make people ill like Lyme, co-infections, viruses, retroviruses, toxic things in the environment, etc.

It is very hard to pull all of these thing apart. I've been ill for almost 16 years & I'm still not exactly sure what is causing it. I think it's a process of elimination. You have to keep trying things and cross them off of the list if they don't help.

I know it's hard for people who are not ill to believe what we go through. Part of it is that there is very little funding for these illnesses & very little media support. If I explained why - everyone would call me a conspiracy theorist.

I do believe it is a conspiracy, though. Good luck to you! Keep working on it. Seems like you are on the right track. Don't doubt yourself. You are not alone.

---

Posts: 7772 | From Northeast, again... | Registered: Oct 2006 | IP: Logged |

julier212
Member
Member # 26408


posted

---

Thanks everybody!

I do have netflix, and Under Our Skin is in my queue for whenever it arrives!

---

Posts: 71 | From Missouri | Registered: Jun 2010 | IP: Logged |

jenniferk32
LymeNet Contributor
Member # 30718


posted

---

I bought "Under Our Skin" on itunes for about $13 I think. Way cheaper than buying a hard copy. I think that was $29.95 on Amazon

---

Posts: 107 | From Hesperia, CA | Registered: Feb 2011 | IP: Logged |

renny1985
LymeNet Contributor
Member # 25222


posted

---

I experienced PTSD after my father was killed on 9/11/01 (I was 16). Prior to that I had some symptoms including severe leg pain, headaches and fatigue. However, after my dad died, I got really sick and have gone down hill consistently since then.

Every doctor I saw said it was trauma, stress, grief. Even my fam believed that. But it kept getting worse. I went to therapists, tried antidepressants, etc. My symptoms became very severe GI problems, fatigue, headaches, heart palps, leg pain, nerve problems, etc etc- and every GI doc said IBS from trauma, stress.

Well....turns out it was Lyme.
Trauma and stress lower our ability to deal with "invaders". Additionally, there is some connection between trauma/stress and immune functioning. There is a lot of connections.. but that does not IN ANYWAY mean it is IN OUR HEADS. NO NO NO it is not.

Hang in there.
Renny

---

Posts: 341 | From NY/FL | Registered: Apr 2010 | IP: Logged |

kday
LymeNet Contributor
Member # 22234


posted

---

My sister is studying psychoneuroimmunology, and while I am not the one studying it, I find the field fascinating.

Wikipedia has a good article on it. I'll quote a paragraph from Wikipedia for the heck of it.

quote:

---

In the first meta-analysis by Herbert and Cohen in 1993,[26] they examined 38 studies of stressful events and immune function in healthy adults. They included studies of acute laboratory stressors (e.g. a speech task), short-term naturalistic stressors (e.g. medical examinations), and long-term naturalistic stressors (e.g. divorce, bereavement, caregiving, unemployment). They found consistent stress-related increases in numbers of total white blood cells, as well as decreases in the numbers of helper T cells, suppressor T cells, and cytotoxic T cells, B cells, and Natural killer cells (NK). They also reported stress-related decreases in NK and T cell function, and T cell proliferative responses to phytohaemagglutinin [PHA] and concanavalin A [Con A]. These effects were consistent for short-term and long-term naturalistic stressors, but not laboratory stressors.

---

http://en.wikipedia.org/wiki/Psychoneuroimmunology

I wasn't having a good day, so excuse my other post. I do think stress can dysregulate the immune system. I think this can trigger an infectious/autoimmune cascade to take place. However, I don't think abuse causes diseases like Fibromyalgia.

---

Posts: 967 | From A deserted island without internet access | Registered: Sep 2009 | IP: Logged |

jam338
LymeNet Contributor
Member # 14002


posted

---

First, I am so sorry for those who have been in abusive lives. My guess is that many of us have. Both my parents were alcoholics. I know that impacted my health from the time I was a child. There were 5 kids in my family and all of us were affected in very adverse ways. All 3 girls had severe health issues. I think females typically have less strong immune system to start with or are more easily compromised in some way.

Somewhere I read that the abuse association does not mean it is psychological so those who have been abused don't let doctors tell you that it is in your head. Yes, there may be emotional issues as well, but the illness from infection is real.

What I read was that the abuse results in sustained trauma which exhausts the adrenals and immune system, and that creates a risk for pathogen invaders to take root and bloom out into disease.

Our bodies can fight only on so many battlefields at once. The drain on our bodies from years of abuse, whether physical, emotional, children of alcoholics....victimization....any state of being that exhausts the adrenals..... affects the immune system so it makes sense.

However, it is the resulting infections causing the illness I think. Just my opinion.

Blessings for those struggling with abuse histories and this illness. Much love sent for you. ((((((You are not alone)))))

---

Posts: 495 | From SF Bay area, CA | Registered: Dec 2007 | IP: Logged |
Contact Us | LymeNet home page | Privacy Statement

© 1993-2020 The Lyme Disease Network of New Jersey, Inc.
All Rights Reserved.
Use of the LymeNet Site is subject to the Terms and Conditions.

Powered by UBB.classic™ 6.7.3

---
The Lyme Disease Network is a non-profit organization funded by individual donations. If you would like to support the Network and the LymeNet system of Web services, please send your donations to:
The Lyme Disease Network of New Jersey
907 Pebble Creek Court, Pennington, NJ 08534 USA
http://www.lymenet.org/
---
Home | Flash Discussion | Support Groups | On-Line Library
Legal Resources | Medical Abstracts | Newsletter | Books
Pictures | Site Search | Links | Help/Questions
About LymeNet | Contact Us
---
© 1993-2020 The Lyme Disease Network of New Jersey, Inc.
All Rights Reserved.
Use of the LymeNet Site is subject to Terms and Conditions.
---