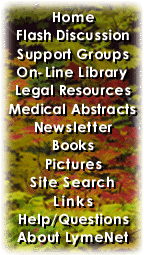 ---
LymeNet on Facebook
LymeNet on Twitter
---
---
The Lyme Disease Network receives a commission from Amazon.com for each purchase originating from this site.
When purchasing from Amazon.com, please
click here first.

Thank you.




Dedicated to the Bachmann Family


LymeNet needs your help:
LymeNet 2020 fund drive

The Lyme Disease Network is a non-profit organization funded by individual donations.

| | |
| --- | --- |
| | |
Author
Topic: How much do you share at the ER?

LymeMom Kellye
LymeNet Contributor
Member # 24807


posted

---

Monday night my daughter's GI pain is at a 10, she is dizzy and lightheaded. She wants to go to ER. This is the first time in over a year of treatment. She was scared and so was I. So off we went.

In triage the first thing that they asked is what meds is she on. We tell them. Next question, what is she taking the abx for?

Off to the room. The ER doc comes in, we get the head of the ER that night. Lucky us. She wants to know why she's on mino and alinia. Wants to know who her prescribing doc is. Then comes back and tells me according to the CDC she has been on meds too long, and wants to know why.

I explain to her that there are 2 standards of care. I asked her to look at my daugher, who is 17. I asked her if she would have left her this sick after only 28 days of abx, or if she would have decided to try the 'other' route, of long-term therapy. I suggested that she look up the ILADS standard of care and then decide which route she would take.

She got quiet, and seemed satisfied.

Then of course I had to call the LLMD and tell them what happended with my daugter. I also shared that we were grilled by the ER doc about meds and who prescribed them etc...

I felt like I needed to be 100% honest at the hospital, after all my daughter was having a medical emergency. I didn't feel like I could say, 'gee I can't remember who prescibed the meds' etc...

I want to protect my doc and my family.

How does everyone else handle these types of situations. I haven't been able to find this answer in any of my books.

Thank you.

---

Posts: 333 | From Lyme Here Too | Registered: Mar 2010 | IP: Logged |

Lymetoo
Moderator
Member # 743


posted

---

I would not share the name of the prescribing. What can they do to you if you don't??

I hope your daughter is feeling better! You did a good job of telling that dr why she is still being treated!!

--------------------
--Lymetutu--
Opinions, not medical advice!


---

Posts: 94228 | From Texas | Registered: Feb 2001 | IP: Logged |

GreenPiggy
Member
Member # 30676


posted

---

Be CAREFUL what you tell the ER. My daughter had a horrible babesia migraine when she was 8 years old and I took her to the ER.

Child Protective Services called me the next day and I was investigated for Munchausen Syndrome for trying to get attention by pretending my daughter was ill.

The ER triage nurse said my daughter acted like I had "coached her" into saying she was in pain.

It was disgusting.

---

Posts: 12 | From NW Ohio | Registered: Feb 2011 | IP: Logged |

Rumigirl
Frequent Contributor (1K+ posts)
Member # 15091


posted

---

Oh, Lordy, this is terrible! I just had to go to the ER last Saturday night---for the third time in 13 months!! I NEVER go to the ER, except when I am really desperate, never did before much.

Anyway, I was having a severe gallbadder attack from rocephin, the third such one in 1 1/2 weeks. So I felt that I had to tell them what meds I'm on on and who my dr was. Hmmm. Next time I will be much more circumspect.

I got intense scoldings from 2 different drs 3 times each! "Longer than 28 days hasn't been proven effective. These drs are just out to make money. You need to see a university dr, like at Yale." And on and on.

They asked the name and phone # of my dr 3-4 times. Uh, oh! I'm afraid that they wanted to report him! The only good part is that he is in the process of moving to another state, so they likely couldn't get him.

They were so condescending and awful, I was livid inside. I didn't argue too much, because it seemed that it would only make it worse.

"You need to get a second opinion." I said that I'd had a second opinion (and many more!). "Well, you need to see an old, wise GP!" Now isn't that rich?!! And just what would this "old, wise GP do??!!

I was so mad, I was ready to spit. And to boot, they weren't able to help me at all, except to say that they didn't see anything on the ultrasound.

What should one do? Not say what meds you are on? Not say who your dr is? In the future, I won't be so willing to reveal this stuff. I am mad about this BS! And this is in a state that is ground zero for LD!

Oh, and the head dr also got mad at me for taking Cortef. "You'll have a hip fracture soon!" She didn't have a clue, as I said to her that Cortef is equivalent to 1/4 the dosage of prednisone. This is utter madness that it is still so bad.

How do others handle this dilemma?

---

Posts: 3643 | From around | Registered: Mar 2008 | IP: Logged |

Blackstone
LymeNet Contributor
Member # 9453


posted

---

There is a greater chance that someone will cause trouble if the patient is a child, sadly. Working in an ER, you do see a lot of people who do horrible things to their kids and cover them up, from religious sects and "compounds" who have obviously mistreated their young members, to addicted parents who wound their kids in order to try and get a hold of pain medication, to just plain abusive parents. These are an absolute minority of cases, but social services puts a lot of pressure on hospitals to be on the lookout for issues involving children.

Nomatter what, never lie about what you or your child is on, nor the reason. It makes you look guilty. This goes double if the reason you're taking someone is pain without an easily visible external source. Either way, its a red flag and will impair your ability to get the best care available, not to mention make your LLMD vulnerable to inquiry.

One place I feel that LLMDs are lacking in their care is that very few of them maintain privileges at local hospitals, which adds to their "otherness" when the doctors in an area just hear about them through hearsay rather than work with them at least every couple of weeks. It also prevents them from being able to be called in when one of their patients ends up in the ER. If you are seeing another doctor that does have privileges, (possibly for pain management, or a GP, another specialist...) ask them to call them, as it lends you credibility.

If you have the chance, bring any records of diagnostics and diagnosis with you. Anyone who is not a MD won't risk arguing a positive IgeneX WB or Fry smear, and you as a patient are protected as you have proof of an illness.

Finally, it is ideal if your LLMD will actually be at least willing to talk on the phone to the hospital and explain your situation. Every other physician takes responsibility this way if their patients end up in the hospital due to complications of a treatment protocol. When next you talk to your LLMD, ask them what to do if you have to do to the ER during hours when the office is closed. Ask about a paging service or some way to get in contact with them. The fact that some don't have it, lend more suspicion to the hospital staff because it appears that these LLMDs are "doing dangerous things" and then when their patients come to the ER "We have to clean up their mess", which fosters distrust.

Ultimately this is a bigger issue than a single patient and LLMDs need to step up here for their patients as a whole, but when it comes to an individual never lie, give as much truthful information as you can, and bring as much evidence to support your diagnosis as possible. Try to get any doctors that have a positive relationship with you, including your LLMD, involved especially if someone is giving you a hard time, but don't back down. If either LLMDs or patients start avoiding honest dealing with the larger medical community when they need it, then both will appear to be involved in something "shady".

---

Posts: 681 | From East coast, USA | Registered: Jun 2006 | IP: Logged |

renny1985
LymeNet Contributor
Member # 25222


posted

---

One thing I would suggest is before going to the ER (if you have the time and its not an urgent emergency) is to call your LLMD (or page them). I did this recently and he called the ER to let them know I was coming in, that I was on such and such treatment, etc.

Of course, my issue was appendicitis and not related to the treatment persay. However, the hospital was much more respectful of my illness (Lyme) and treatment (abx) then I would have thought.

They made me call my LLMD after the surgery to ask him what to do about my current antibios since they were giving me IV Pipercillin and cephlaxen.

Another time I went to the ER for dehydration from medications, my LLMD (a different doc) was unreachable and the ER doc had never heard of INvanz.....that was a rough go for me...

However, the ER did its job of stabilizing me.

Hope your daughter is okay..

---

Posts: 341 | From NY/FL | Registered: Apr 2010 | IP: Logged |

lou
Frequent Contributor (5K+ posts)
Member # 81


posted

---

I had a bad experience with an ER too, and now I would not give them information that they don't need to know. They are at fault, not the lyme docs who have been ostracized from the mainstream.

Don't think any ER is prepared to help people during herxes or any other complication of lyme treatment. Can anyone tell about an occasion when they were helped at an ER when the visit was brought on as a result of lyme disease? No? Then why go? Just get humiliated and the brushoff. Possibly get your doc in trouble. Or get yourself in trouble if the patient is a child.

Basically lyme patients are lepers in the medical world and so are our doctors. Apparently any kind of malpractice and harrassment is acceptable when it comes to handling lyme patients and their doctors.

The ignorance is incredible. Herxing is known from syphillis, not just lyme, but the ER doc I saw never heard of it. An internist never heard of babesia, asked if I got it on a foreign trip. Geez.

---

Posts: 8430 | From Not available | Registered: Oct 2000 | IP: Logged |

gwb
Frequent Contributor (1K+ posts)
Member # 7273


posted

---

In OK if you go to any doctor, or ER, they have everything on the computer, so it's kind of hard to avoid telling them who your doctors are and what you're on because it's comes up on the computer. One time the doctor asked me why I was taking a particular drug. I asked how he knew I was taking that. He said we have your computer records.

Not sure it's this way in every state but that's how it is here. I know they are mostly watching for people who go to various ER's and doctor shopping for pain pills, which is understandable, but I hate the fact that my records are so easily accessible to any doctor who wants to see them.

Point being, I don't think you can really avoid telling the ER doctors the truth because they can probably find out on the computer anyway. Maybe if your LLMD is in another state that obviously won't show up, but then you have to justify how and where you got the abx you're on.

Whenever I've gone to the ER I give them as little information as I have to as it relates to Lyme, because once you say "Lyme" eyes roll and you are immediately not taken seriously. Pretty disgusting, isn't it.

Gary

---

Posts: 1349 | From OK | Registered: May 2005 | IP: Logged |

payne
Frequent Contributor (1K+ posts)
Member # 26248


posted

---

what a tight rope we walk when ER trips are a must
we try to balance do we go do we not go..?
I have had several ER runs 3 this yr, I am 55 and
worked hard for my benefits... I had an older ER
dr. the other day say keep coming, he had a guy that after many trips they found the needle in the hay stake. and he is living a good life now...
if ER's tend to drug/or crimials-
then you should be attended to..
Crying wolf (lyme) i believe at first all the Dr's
at ER etc, thought i was crasy, now, i have a trust and they seem to undertsand i need to be
checked and put on a secure mind set about my health-
Which, seems to be 99.9% Lyme...
point being is my last ER run, i was found with 3 blood clots..
i told the unbelieveing ducks,
Now, I am making that up...
my feet were freezing i had the duck feel them and he agreed, i said again,
now i am just making that up...
It seems now that the trust is building the

Problem may be By God, that guy has Lyme..!

test positive/ yes,
yet then the ducks see it and they say well you can't believe all the test !!
.... my girl friend thought i was going to put a 5 gallon can of woop ass on him..
Try to follow the road to trust...
Its like swimming up a water fall, but, its your
life... if you are beaten up enough from lyme, you will find a way... be at peace with all things

--------------------
TULAREMIA/rabbit fever ?


---

Posts: 1931 | From mid-michigan | Registered: Jun 2010 | IP: Logged |

Lymetoo
Moderator
Member # 743


posted

---

gwb... I think you are referring to doctors who are in the "hospital system." If your dr is connected with the local hospital's recording system, then yes they will have your records.

(for example, if your dr has hospital privileges then the hosp will have the info)

There are many different hospitals and they're not usually ALL connected.

--or is this definitely a state-wide thing in OK?

--------------------
--Lymetutu--
Opinions, not medical advice!


---

Posts: 94228 | From Texas | Registered: Feb 2001 | IP: Logged |

gwb
Frequent Contributor (1K+ posts)
Member # 7273


posted

---

I really don't know how it works exactly. Two months ago I found a new GP (been looking for one for three years) because the one I went to poo pooed the Lyme dx and downplayed it all together. I got the Rx I needed from her and decided I'll never go back to her again.

Found another GP (DO) who is not affiliated with the same group as the other doctor, plus this DO is both, allopathic, and alternative, which I really like. He's well aware of Lyme disease and has patients with it and takes it serious, although he doesn't treat it.

When I asked him for an Rx of the same medicine that I got from the previous GP he gave it to me. A couple days later he called and said that he noticed I saw Dr. so and so a few months ago and I got the same Rx from her as I got from him. He asked why I'm getting it from her AND him both.

I told him that I only went to her once and explained what I explained here and he said he fully understood and it would not be a problem. How did he know I got the same Rx from the other doctor a few months earlier? I have no idea. That's why I believe it's all connected, or at least, partially connected.

Last year a neurologist I went to for nerve pain in my leg pulled up his computer and said to me, "You sure have been to a lot of doctors". I said, "Yeah, because when they tell me they don't believe I have Lyme disease and look down on me, I don't subject myself to that kind of disrespect".

I told him I believe that doctors need to be more attentive to their patients and not be so quick to write them off when they tell them they have Lyme disease. He just nodded his head and went about his business, did his testing and said there was nothing wrong with me. Nothing new.

Anyway, how connected the system is here is OK, I can't say for sure. But my experience has been that they seem to know where I've been and what I'm taking. OK is one of the top ten states where people doctor shop for narcotic drugs, so I do understand why they do this, I just don't like that it's so accessible to almost any doctor. You never know how they might abuse this and use this information against you, or your LLMD.

Gary

---

Posts: 1349 | From OK | Registered: May 2005 | IP: Logged |

Lymetoo
Moderator
Member # 743


posted

---

Yeah, a little disconcerting. I've heard that when we go to national health care, ALL of the info will be shared .. even state to state.

--------------------
--Lymetutu--
Opinions, not medical advice!


---

Posts: 94228 | From Texas | Registered: Feb 2001 | IP: Logged |

seekhelp
Frequent Contributor (5K+ posts)
Member # 15067


posted

---

What Blackstone said as always makes a TON of sense. These LLMDs have a RESPONSIBILITY to step up when their treatment causes patient's ill harm. That includes accessibility to local ER docs if emergency issues arise.

---

Posts: 7545 | From The 5th Dimension - The Twilight Zone | Registered: Mar 2008 | IP: Logged |

chiquita incognita
Unregistered



posted

---

Lymetoo, Gary

In my best understanding, and I hate to break this bad news to you, according to the ACLU the Patriot Act unconstitutionally makes our private medical records public.

The Feds can summon them under gag order in the Patriot Act, at their will. It is open to the Feds and closed to us.

Is that crazy????

Regarding the gag orders, if anyone thinks I am a conspiracy theorist please read this true story reported by the Washington Post. It's called My National Security Gag Order and alas, my computer will no longer let me email the url link to myself and copy/paste it since updating my computer! Isn't that nice. I will hand copy it to the best of my ability, but if the link doesn't work then feel free to google the true story, the guy who wrote it was represented by the ACLU:

www.washingtonpost.com/wp-dyn/content/article/2007/03/22/AR2007032201882.html

---

IP: Logged |

elizzza811
LymeNet Contributor
Member # 24713


posted

---

Tell them what meds you're on, but I wouldn't share the name of the prescribing doctor.

Another thing I learned is it's okay to decline certain tests if they seem unreasonable. Last time I was at the ER they did yet another chest x-ray on me, simply because I'm a smoker. I was there for seizures, not breathing difficulties or chest pain. I think the only reason I allowed it was because I was still 'out of it' from the seizures. Then 20 years from now they'll blame my lung cancer on my smoking?...I guess x-raying my lungs multiple times a year is safe in their eyes.

--------------------
Urge Congress on EMF Safety, FCC Must Change Exposure Guidelines for Microwave Radiation Exposure: http://tinyurl.com/2cjq54y
Halt Universal Broadband, A Public Health Hazard:
http://tinyurl.com/3x7xrmq


---

Posts: 495 | From USA | Registered: Mar 2010 | IP: Logged |

chiquita incognita
Unregistered



posted

---

Well said, my friend!! Yay!

As for the hospital doctors punishing people and doctors for treating their own patients like this, whew......I am shaking my head, my eyes are flashing.

How dare they????

I am absolutely shocked to read your statement, Green Piggy, above about being investigated by Child Protective Services just for bringing your child in for emergency treatment, being accused of "Coaching" them for attention! Good lord, good lord, good lord! If it wasn't such a vulnerable thing, I would say that hospital needs to be, is virtually begging to be sued!

Here is where I can see two sides of the story though. Only up to a point, please keep that in mind. And I am not supporting the persecutors here keep in mind, I am only saying that if we see their point of view, we can communicate with them more effectively.

I can see where docs who don't treat lyme would be concerned about long-term antibiotics and the side effects thereof. (They would be concerned about everything but leaky gut of course. That couldn't exist in their eyes, even while the gut lining and its secretions is said by Dr Mercola and Dr Mark Hyman to be 80% of the body's immune defense system!)

I can also in a way *partially, not fully* understand why they see some patients recovering, some not, with long-term abx and then they say "there is no proof that it is needed beyond two months". (Of course we all know of the un-insurance-guaranteed companies' interests here and that doesn't even need to be mentioned).

So even while I am not plugging for the cause, I can see what some docs might be thinking, even if they are ultimately wrong. I can see where the controversy comes from, in part. (And not to mention insurance interests, once again).

But that does not mean that I support it or side with it. No way. To repeat, I am suggesting that if we try to see their point of view, we may communicate better and get more accomplished.

This really is a crime----and I will couch it as nothing softer than as a crime----against lyme patients who truly need the abx.

I read one case about a 7 year old girl (lyme patient of course) whose IV abx was stopped by an insurance co who went into convulsions and died.

I really think that while the docs have some reason to be concerned on the one hand, that anybody who refuses a lyme patient treatment (docs and insurance co's alike) should be accused of conspiracy to commit murder.

I wouldn't take it any lighter than that.

They are not merely being negligent, they are *actively* withholding care. A crime if ever I heard of one, and a criminal one too.

I think at the same time if we can have a tiny bit of compassion for the docs' concerns about long-term abx, and talk to them with that understanding in mind, maybe they will even soften a bit in our direction and be able to "Hear" and understand us better too.

I hope my concern for us lyme patients---after all I am one too---is clearly understood here. My hair stands on end reading these stories.

Nobody should have to worry about what is said and done when going to the ER and everybody should be able to talk openly without fear concerning their illness, for heaven's sake. In fact, this makes me nervous. I have to really think twice before ever going to the ER should I ever need to. GOod lord. This really *is* a crime! I will couch it in no softer terms than that.

I really believe we are all responsible for our impact on other people in life. When people act unethically, I get mad indeed. This is more than just wrong, it is criminal.

PS and maybe the persecuting docs aren't even thinking about side effects. Maybe they are just going by the book, controlled like robots by the CDC's rules. No more than two months of abx, for everybody nation-wide, because you know we are all a textbook number instead of individuals and because you know, the emperors rule. So much for prescribing physicians following their own conscience in The Land of the Free (????) Better known at this point, as the Home of the Brave, the very brave indeed!

[ 03-11-2011, 08:59 PM: Message edited by: chiquita incognita ]

---

IP: Logged |

sbh93
LymeNet Contributor
Member # 30429


posted

---

Well, we weren't at the ER but I was in a similar situation this week. I brought my son to his pediatrician for a migraine. His migraines have been getting worse the past few years in frequency and severity. He is diagnosed with HF Autism.

Since my own discovery of lyme and that I've likely had it about 20 years, it's been going through my head (I think reasonably) that my son may have it. Last year I had a tick bite with rash that I believe was reinfection. The whole family has been bitten by ticks in the same area each year we've gone camping. Anyway, my husband and I had decided I was the critical case and need to get help first, then we'll test the rest of the family.

So the doctor checks him out and when checking his reflexes, there's NO RESPONSE. The past few months he's been complaining of knee pain too. I thought growing pains. I'm freaking out a little but keep quiet, because we're there for a migraine. Doc does act a little surprised and notes it in the chart, but says nothing.

Doctor decides it's a sinus headache this time as his allergies are acting up, but does order a CT scan and CBC and asks about the last time we visited a neuro. Then doc says let's prescribe a steroid to help with the nasal and sinus inflammation.

That did it. I probably overreacted, but between the lack of reflex and word steroid I froze and stopped doc. I didn't want him on steroids. Of course doc wants to know why, so I have to tell doc my worries (in front of son, who refused to leave the room).

So doc is really cool and says let's just add a lyme test to this lab order. No weirdness, which was nice and unexpected after all I've read lately. Actually, the scary part was talking to my son afterward, who knows I've been ill but we hadn't gone full disclosure yet. Great mom I am, huh?

I guess my point is I think you did the right thing. In my case, I wish I'd kept quiet and just asked not to use steroids for now.

--------------------
------------
It took 20 years to find out I'm not crazy.
New bite in 2010 pushed my body over the edge. Positive for lyme, babs, bart, and myco.
I am not a doctor and happily offer only my own opinions.


---

Posts: 357 | From The Beach | Registered: Feb 2011 | IP: Logged |

AlanaSuzanne
LymeNet Contributor
Member # 25882


posted

---

I agree with Blackstone 100%.

Had my daughter at the ER a few times and was very forthright about meds, symptoms, med history.

You absolutely have to be. In the event the ER doc wants to administer a painkiller or some other med, he or she NEEDS to know current meds and supplements.

And God forbid you need emergency surgery. Do you really want to take a chance and not tell everything you are taking? That's playing with fire. Lyme or not, being forthcoming about meds and supps you are taking is SOP and necessary.

Physicians need to have the ability to check for interactions/contraindications between what the patient is taking and what they are considering prescribing, if anything.

Of course in a busy ER this might not happen, but as educated patients we must take the initiative and ask questions of EVERY doc to make sure things like interactions are checked.

I have found that being upfront from the get-go and explaining things in a way like this is useful:

"I know there are two schools of thought regarding Lyme Disease and I am not interested in debating that.

My daughter's symptoms are x, y, z. We have already tried a, b, c. But she still has symptoms l, m, n. Her lab/MRI/CT/etc. indicates ____.

We came here because she is still in very bad pain, today being intolerable, and we need to rule out every possible cause. We ask that you please help us find out what the problem could be"

That doesn't necessarily mean you will get answers to your questions, but that could be the case, Lyme or not. And it certainly doesn't mean that ER docs will understand TBI. But at the very least you will garner respect by sticking to the facts,(eventhough the situation is extremely emotional).

But then again you might very well get answers. Having TBI doesn't preclude you from getting appendicitis or needing your gall bladder removed or being treated for kidney stones.

They say honesty is the best policy. I believe that when you find yourself in an ER.

Greenpiggy, I am so sorry to hear what happened to you as you were trying to obtain help for your child.

Too bad the parents whose kids are actually and obviously being abused are not reported. Maybe it's politically incorrect to investigate real abuse?

I wonder sometimes when I see sickening reports of deaths and beatings of innocent children. And then hearing that social services had previously visited the homes.

It is an absolute disgrace that the word "Munchausen" was even used. It has been proven in the literature that there is no such "syndrome"

Yet that word is still used. What a disgrace.

--------------------
You gain strength, courage, and confidence by every experience in which you really stop to look fear in the face. You are able to say to yourself, 'I lived through this horror. I can take the next thing that comes along.'

---Eleanor Roosevelt


---

Posts: 748 | From somewhere | Registered: May 2010 | IP: Logged |

Rumigirl
Frequent Contributor (1K+ posts)
Member # 15091


posted

---

Wow, well, if you want them to help you in the ER, and you know that what brings you there is from the treatment that you are doing, or the infections that you are dealing with, how do you refuse to tell them who your dr is, or what meds you are on without diminishing the diagnosis and treatment you might get in the ER??

And wouldn't it arouse suspicion to say that you are on an IV med, for example, but refuse to give his name and number? And how would I refuse to say that I have Lyme, when I have had a CDC + Western Blot (Plus + co-infection tests), because that is why I'm on IV abx. Sigh.

And i know from lots of experience that to drs who believe in the IDSA standards (which is almost all docs, LLMD's aside), even CDC + blood tests don't convince them! They call them "false positive!" Or they say, "28 days and that's it). And then they try to convince you that seeing "these "quacks" is wrong and will harm you. God only knows how they think I, or anyone else like me, would or could continue to live with only palliative meds at best?!

---

Posts: 3643 | From around | Registered: Mar 2008 | IP: Logged |

seibertneurolyme
Frequent Contributor (5K+ posts)
Member # 6416


posted

---

Since hubby made the rounds of ER's for a couple of years before being diagnosed we got in the habit of telling everything we knew (which at that time was very little) to the ER docs. In fact they used to ask me -- What should we give him? What has worked in the past?

Early on we were there for dry heaves that lasted for hours and uncontrollable tremors. But as time went on and hubby had been sick longer and the symptoms progressed to fainting and then seizure-like episodes and repeat CT's and MRI's and EEG's were all "normal" then we started getting into psych consults.

I have lost count of the number of ER's hubby has been to in many different states during our travels. I really hate to say this but the worst experiences were usually at the big name university hospitals.

Small local hospitals have been far more helpful. We do not go to the hospital in our hometown anymore because the current PCP does not have privileges there. But many of those nurses from hubby's prior hospitalizations always ask about him when they see him around town or if they see him in the hospital getting bloodwork done or having some test done. And even the former PCP who fired him after 6 months is friendly -- she just gave up on being able to help.

Having a PCP who has hospital privileges has been the best thing that could happen for hubby medically. This doc is one of the main ER docs at that hospital so the other ER docs just call him and don't give us much hassle. And our PCP will actually call hubby's LLMD -- which is even more rare.

Hubby is such a strange case that the nurses remember him. His last 2 hospitalizations were about 6 months apart but the nurses who had had him before remembered that his meds had to be PRN and that makes such a big difference.

One nurse wanted to wait another couple of hours and give meds by the clock and the other one who was just passing in the hall and not even assigned to hubby that day stopped and told the other nurse to go ahead and give the meds because his doc said it was not healthy for hubby to be "locked in" for hours at a time.

The docs at this ER and even his PCP do not really understand medically what is going on, but they seem to at least have some common sense and compassion.

And yes, I agree with whoever mentioned it -- take a copy of your most recent bloodwork (CBC and CMP) and any other relevant tests to the ER. The ER doc may not want them, but if you end up being admitted it could be helpful especially if your PCP does not practice in that hospital.

Also you do have the right to refuse tests such as repeat chest CT's. Sometimes the argument is not worth it and other times we have done this. Some ER's do much more bloodwork than others -- depends on what doc you draw.

When we first found out hubby had lyme disease we did not know all about the controversy -- so we just kept telling the docs his diagnosis. Right off the bat we ran into the "There is no lyme disease in xzy state" -- but we are not from here fell on deaf ears.

At that point it just seemed like it was easier to just continue giving all relevant info and use the experience to educate the docs and the nurses. Especially if hubby was admitted to the hospital the nurses have always been very interested in his case.

He has run into several who had lyme and were cured with the standard 30 days of antibiotics so we know that really does happen. But in almost all cases they were those lucky people who knew they were bitten and got a rash.

Rocky mountain spotted fever is very common in our part of the country so the nurses are always asking how that is different from babesia or bartonella which most of them have never heard of.

If I lived somewhere where I thought the doc might actually report my LLMD I might refuse to provide that name but I haven't felt the need to hide who hubby's docs are. If the doc is out of state very few ER's would even consider calling -- some of them will not even call a local doc unless they have hospital privileges at the hospital where you are.

Bea Seibert

---

Posts: 7306 | From Martinsville,VA,USA | Registered: Oct 2004 | IP: Logged |

AlanaSuzanne
LymeNet Contributor
Member # 25882


posted

---

Exactly why you should state the facts of your reality.

You tell them who your LLMD is. You tell them your meds. You tell them your dx. And you tell them that you're in the ER because of --- symptoms and that you hope they can help you.

Your job is to get yourself well and adequately treated in an ER.

"Arousing suspicion" should be eliminated from your vocabulary. Arousing suspicion of what? That you have a tick-borne disease? Why should that be a secret?

If you end up the ER because of a medical emergency, the last thing I'd worry about would be delving into explanations about being CDC+, IDSA standards, etc.

I find it extremely disturbing that patients with LD/cos feel the need to be vague regarding symptoms and/or feel the need to go overboard in explaining IDSA, ILADS, etc. Your job is to achieve your health--not to engage in debate.

Patients ought to stick to the facts: "I am currently under the care of Dr. W. I don't know if you're familiar with him/her. My symptoms are x,y,z." How can you help me?

--------------------
You gain strength, courage, and confidence by every experience in which you really stop to look fear in the face. You are able to say to yourself, 'I lived through this horror. I can take the next thing that comes along.'

---Eleanor Roosevelt


---

Posts: 748 | From somewhere | Registered: May 2010 | IP: Logged |

Rumigirl
Frequent Contributor (1K+ posts)
Member # 15091


posted

---

In my case this past Saturday, I did tell them everything: the emergency that brought me there and that history, my dx, my meds & supplements, and my LLMD's name and #.

I was surprised at how vociferously and frequently I got scolded by both the sr and jr doctors about how I shouldn't be on abx more than 28 days, "these drs are just out to make money," you NEED a second opinion from a university dr, like Yale (!!), you'll get a hip fracture soon from being on Cortef (although she didn't seem to know what I pointed out: that it was 1/4 the strength of prednisone), etc.

And I didn't go there at all about "two standards of care," IDSA", etc. Clearly it wouldn't have helped.

I just worry in the future about them turning in an LLMD. Plus, I was livid inside from the way they were condescending and so sure of their "knowledge." Sigh. I knew more about what I was going through than they did. Where have I heard that before?!!

Bea, you made a good point: it would be good to have a PCP who has admitting privileges at the hospital. But the last PCP I had (that wasn't really my LLMD) tried to convince me to stop "going to the Lyme clinic," in the same way that the ER drs did. So I haven't been back.

[ 03-13-2011, 01:45 AM: Message edited by: Rumigirl ]

---

Posts: 3643 | From around | Registered: Mar 2008 | IP: Logged |

2roads
Frequent Contributor (1K+ posts)
Member # 4409


posted

---

Yes, this is a problem.

I am very apprehensive when my children have been on therapy for this very reason. If they get hurt and we have to go to the doctor or ER...then what. I always can be heard shouting...."be careful". If they get hurt I panick and get angry 'cause my butt is now on the chopping block, and it shouldn't be. I have positive lab results out the ying yang.

Blackstone brought up some very good points. Equip yourself with the positive test results and contact your LLMD before leaving, if there is time.

All that being said, there is still utter denial and acceptance. That angers me immensely. If you are taking antibiotics vs painkillers, perhaps they should question if there is another medical condition you may have, but they should never throw in their two sense when it is prescribed by another physician. It is none of their damb business.

That is something that needs to change. They clearly have not researched this illness, are not experts in this area, and whether it is or isn't related, it is not up to them to harass. It's the "I'm God" complex, and it's arrogant.

It does jeopardise patient care because people do hesitate to get help to avoid this. IT IS NOT PROFESSIONAL. I have found that professions with the least bed-side manner are doctors. My dad was one so I feel I can say. He had relatively good bed-side manners, but some of his physician friends (esp the Neurosurgeons) were out of control.

How sad when the day came on the elevator at U of Penn when his best friend threw a handkerchief at me in the elevator at 19 and said "what's going on is your dad is dying".

Grow up Docs and at least learn that there are two sides to the argument and you attitude is narrow-minded and ultimately jeopardizing patient care.

---

Posts: 2214 | From West Chester, PA | Registered: Aug 2003 | IP: Logged |

lou
Frequent Contributor (5K+ posts)
Member # 81


posted

---

The people on this thread who are for full disclosure are living in a state of mind of what ought to be instead of what is. We are in a twilight world in which the doctors who ought to help us are hurting us instead. If you don't recognize that, you are not facing reality.

And I have not yet heard anyone post an experience in which their lyme related symptoms or herxes were helped by an ER visit. Mine were not. Again I ask, who has been helped? And was that help worth the hassle and possible repercussions?

---

Posts: 8430 | From Not available | Registered: Oct 2000 | IP: Logged |

gwb
Frequent Contributor (1K+ posts)
Member # 7273


posted

---

2roads, all I can say to your post is--Right on! It angers me too and I've made a few enemies at the ER because of it. And quite frankly, I don't give a (well, you know the rest of it). ; )

Gary

[ 03-12-2011, 11:48 AM: Message edited by: gwb ]

---

Posts: 1349 | From OK | Registered: May 2005 | IP: Logged |

chiquita incognita
Unregistered



posted

---

Here is a note of hope.

As I was calling around to check out un-insurance-guaranteed policies, the representatives of these mass scam artists said that (on a more positive note) They are seeing more and more lyme diagnoses.

GOOD!

That means that more docs are waking up and finding the courage to treat it, regardless of all the horrific political pressures to the contrary.

Also someone I know is a Kaiser doctor who also respects the reality of lyme. This person has a relative on the East Coast where it's prevalent so that made this person more sensitive to the reality of it.

Let's take heart realizing that not all docs are set against us. The reality is true that many or most don't get it but increasingly many are also starting to wake up.

Here is how I think we can help:

a) Write letters to the newspaper editors and post online about lyme and the realities thereof as patients. And the grave realities of this potentially very serious disease.

b) When posting online, ask readers to distribute your article all over the web and grant reprint permission. People will spread it around.

c) Organize class action lawsuits. There is a strength in numbers which a solo lawsuit lacks. Funds are also lots easier in class action suits, and in my best understanding the class action ones are often printed by the media where solo suits are ignored.

d) Protests are ignored by the media, so class action suits are more effective.

However if participating, make sure you stay within the law (don't do window-bashing and the like, that's not only illegal but it also is the best way to discredit a cause in the public' s eyes. Mission Far From Accomplished, Mission Sabotaged!)

Bring cell phone cameras along, and post video footage to the internet with written summaries. Again ask for readers to spread it around the web.

This is how we can help the cause along.

The insurance companies own the tallest buildings in the cities, and I have very little sympathy for them and their costs. Poor them. I have even less sympathy for them when they murder people or make them extremely ill by pulling the plug on care.

To repeat, this is not negligence. This is active deliberation, and must be exposed to the public as such.

Once we get the public on board with us, and as pressure mounts, then the insurance companies will have to melt down and cover the lyme patients and their treatments.

Poor them, once again! (NOT!)

---

IP: Logged |

merrygirl
Frequent Contributor (1K+ posts)
Member # 12041


posted

---

I always tell them what meds i am on. But i dont always telk who my llmd is. I just say i forgot the number and the town he is in.....

---

Posts: 3905 | From USA | Registered: May 2007 | IP: Logged |

Blackstone
LymeNet Contributor
Member # 9453


posted

---

lou is asking for anyone who had a helpful ER visit. I'll tell my tale then.

A year or two ago I had an absolute horrible pain in my abdomen, very different from any of my "typical" symptoms. After exhausting several attempts to alleviate the pain and rule out reasons thereof, I realized I had to go the ER in order to ensure this wasn't something serious.

When I went to the ER I headed back, telling the nurse on duty everything that I was on, including my antibiotics and pain medication, the physicians that were prescribing them, and the reasons thereof. I probably said something like "Chronic arthropod-vector borne illness complex, including Lyme Disease and co infections such as Babesia,Bartonella-like-organism infection, with possible EBV reactivation involvement, and all symptoms arising from the aforementioned". The nurse didn't comment either way and took me back to a room.

Before long, the Head of Emergency Medicine came to see me, who is a colleague of my "Primary Care", physician. He asked about my symptoms and I told him what was going on, how this pain was way out of the norm and I was afraid it was something like a splenic infarct and how I didn't take my next dose of narcotic pain medicine just because I didn't want to cover up anything serious. He thought that was definitely attending to "old school" surgeon's thinking, joking a little that it wasn't necessary for me to suffer more for diagnosis of abdominal pain as we now have imaging. My PCP and I gave him the overview of my Lyme experience and how this was abnormal, and he asked if I did the whole short term antibiotics thing that he remembered the ID guys talking about, to which I replied it didn't work in my case with such a long duration before diagnosis. With reference to my LLMD he basically said "Yeah, I've heard of that guy but he doesn't come here, does he" (This hospital is about 10 min from my LLMD's office). He said he's seen quite a few Lyme and associated disease cases springing up more often, so he hopes that someone is helping these people and that I personally will be able to recover and find treatment that works.

After that, he was on his way out as his shift was ending so he ordered the usual ER bloodwork and an abdominal CATscan, while giving me some IV shorter-acting pain meds for the wait. It took an hour or two for radiology to be open and the pain meds helped, but still wasn't doing much more than taking the edge off. I was increasingly nervous that this would be something operable, like referred pain from an appendix or gallbladder or worse case scenario a splenic infarct. I had my CT easily, and while we were waiting for the radiologist to send the results, I was visited by the next doctor on call who had my case, who neither I nor my PCP knew very well. He was friendly and told me to hold tight, my blood work looked okay and we never even spoke about Lyme in depth.

Luckily, my CT came back normal and the ER doc suggested it might be muscular/inflammatory and before running any more extensive tests, to give me some IV Toradol, a heavy hitting injection NSAID. This was the first thing that had a dramatic effect, reducing the pain so the hypothesis proved correct. Since I wasn't engaged in any heavier exercise than usual I didn't think there were any specific triggers. To this day I'm not sure if this was basically a fluke that showed up later after slightly overdoing it working out, if it was somehow related to Lyme, or just something else entirely. Either way, they gave me another shot of Toradol as I was prepping to leave, and one to take at home. I left after speaking with a patient advocate and doing the required paperwork to send everything to insurance.

Overall everything went smoothly. We ruled out some of the possible causes and found a solution. I didn't hide any of my information including the Lyme parts. Both doctors and the staff didn't give me any grief about Lyme - I came in for a specific thing related or not, unknown, and we were there to find a solution to it, not treat my Lyme directly. None of my Lyme treatments were referenced derisively and the Director seemed genuinely concerned and hoped I could find a solution to my disease process. I didn't make it "All about Lyme" and neither did they.

Now, I will admit that there are two factors in my background that give me considerable credibility. Between my personal medical background and (much more so than mine) my "primary care", who is actually a Director of another department in the hospital and a specialist in his own right, his credibility as a physician ensures that my concerns will be taken seriously. No matter what someone may be told about Lyme from the ID guys or whatnot, if a trusted colleague tells them "This patient is sick with something that our best guess is this TBI complex, and is trying to find the solution", they're not going to assume that the patient is simply nuts, drug seeking etc. This is one reason I think it is important for LLMDs to have a relationship with the larger medical community and area hospitals - If they are trusted professionals who assist in other cases, take call now and again etc... they won't be seen as shifty guys who operate "off the grid" and only take cash.

Still, even without these backings, I got the feeling that most of the ER staff believes their job to be dealing with the emergency at hand, not questioning the "regular daytime" diagnosis of other physicians.

I must say again that it only hurts the individual patient, LLMDs, and the entire chronic vector borne disease patient spectrum if you withhold pertinent information or lie. It simply makes you and whatever practitioner you're working with look guilty, which wounds the credibility of all patients and doctors involved.

So, there's my recent ER experience...the only one I've had in the past decade or so, save for one with a physical, easily visible injury. Going in there open, honest, and in proper medical detail let the staff know I wasn't trying to "pull one over" on them or was uninformed enough that I couldn't be trusted to give a complete account.

---

Posts: 681 | From East coast, USA | Registered: Jun 2006 | IP: Logged |

AlanaSuzanne
LymeNet Contributor
Member # 25882


posted

---

Lou, as one here on the thread who is for "full disclosure" I assure you that I am acutely and painfully aware of the twilight zone in which we live.

Having sick children, I experience reality slapping me in the face every day.

I aspire to live in the world of "ought to be" knowing I am in the world of "what is".

IMO, as a community we will never get to the "ought to be" until we stand up and state the facts such as they are regarding our medical histories--the "what is"

No good ever comes from withholding information. All that does is cast suspicion on the patient and the treating doc--not a desirable scenario in an ER.

And I have to say if I was an ER nurse triaging a patient who was less than forthcoming--well he sure wouldn't be the first one to see the ER doc.

Like most of us I have encountered numerous docs who are Lyme-illiterate. That doesn't mean these docs are "against" LD/co tx.

The vast majority of docs have not been educated in TBI beyond standard IDSA guidelines and that should not be held against them.

I think we all need to remember that there are many doctors out there who are good and chose the medical field to help sick people.

As patients of a group of diseases that continue to go unnoticed, we need to collectively inform our personal physicians/pediatricians/internists about TBIs.

Primary care and ER docs deal with an extraordinary array of symptoms, diseases, disorders, traumas.

At the end of the day, ER docs are human like the rest of us. I do not hold them to a higher standard as they are already held to a higher standard.

Getting back to your question/comment about not hearing anyone post an "experience in which their lyme related symptoms or herxes were helped by an ER visit" and asking "who has been helped? And was that help worth the hassle and possible repercussion?"

In my opinion, a lot of people assume that symptoms like chest pain and severe headaches are herxes. That might be the case but...

Wouldn't you want to know for sure if you're having a stroke or heart attack?

Bad chest pain could be from a heart attack, and severe headache could be from a stroke. Not everything is a herx!

At the very least ER personnel can assess whether symptoms are due to a stroke or heart attack. Or appendicitis or kidney stones or gall bladder issues. Having TBI doesn't make you exempt from these conditions.

Sometimes people are helped when things are EXCLUDED during an ER visit. And yes, that is certainly worth the "hassle"

--------------------
You gain strength, courage, and confidence by every experience in which you really stop to look fear in the face. You are able to say to yourself, 'I lived through this horror. I can take the next thing that comes along.'

---Eleanor Roosevelt


---

Posts: 748 | From somewhere | Registered: May 2010 | IP: Logged |

raw vegan runner
LymeNet Contributor
Member # 30432


posted

---

I was just at the ER yesterday for excruciating chest/stomach pain. I did not say I had Lyme, I simply stated why I was there. When the NP came in to get my history/meds/complaint I was honest. I am on a high dose of amox right now which of course she asked about. I told her I was being treated with long term abx therapy for an autoimmune disorder. She asked for the symptoms and I gave them to her.

I think it helped that I was calm and of course I *look ok*...but they did try to find out wht was wrong...full cardiac workup and GI stuff...only to tell me they didn't know why I was in so much pain. They offered me pain meds(which I declined) and sent me home.

I personally chose not to divulge the fact I have Lyme as I do not have a clinically positive test on my records and I don't have the energy to fight to explain 'clinical diagnosis'.

---

Posts: 206 | From In the shadow of a mountain | Registered: Feb 2011 | IP: Logged |

randibear
Honored Contributor (10K+ posts)
Member # 11290


posted

---

i had one very good doctor at the er tell me "don't ever mention lyme in here. they'll classify you as a nut and probably won't treat what's really wrong."

so i never ever mention it. that way i'm certain they're checking and running all the tests.

cowardly i know but if an er doc says don't mention, i listen.

--------------------
do not look back when the only course is forward


---

Posts: 12262 | From texas | Registered: Mar 2007 | IP: Logged |

2roads
Frequent Contributor (1K+ posts)
Member # 4409


posted

---

Yeh, it's funny but not admitting our therapy does give us the appearance of guilt to those questioning, but if they enabled themselves to understand the complexities, they would realize what's at stake and why it is best.

How can we appear guiltless when they can't perceive the problem? In other cases, where they choose not to.

It's kinda like the Tower of Babble.

So frustrating.....so sad.

---

Posts: 2214 | From West Chester, PA | Registered: Aug 2003 | IP: Logged |
Contact Us | LymeNet home page | Privacy Statement

© 1993-2020 The Lyme Disease Network of New Jersey, Inc.
All Rights Reserved.
Use of the LymeNet Site is subject to the Terms and Conditions.

Powered by UBB.classic™ 6.7.3

---
The Lyme Disease Network is a non-profit organization funded by individual donations. If you would like to support the Network and the LymeNet system of Web services, please send your donations to:
The Lyme Disease Network of New Jersey
907 Pebble Creek Court, Pennington, NJ 08534 USA
http://www.lymenet.org/
---
Home | Flash Discussion | Support Groups | On-Line Library
Legal Resources | Medical Abstracts | Newsletter | Books
Pictures | Site Search | Links | Help/Questions
About LymeNet | Contact Us
---
© 1993-2020 The Lyme Disease Network of New Jersey, Inc.
All Rights Reserved.
Use of the LymeNet Site is subject to Terms and Conditions.
---