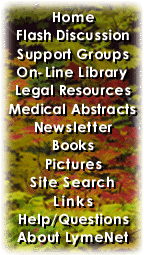 ---
LymeNet on Facebook
LymeNet on Twitter
---
---
The Lyme Disease Network receives a commission from Amazon.com for each purchase originating from this site.
When purchasing from Amazon.com, please
click here first.

Thank you.




Dedicated to the Bachmann Family


LymeNet needs your help:
LymeNet 2020 fund drive

The Lyme Disease Network is a non-profit organization funded by individual donations.

| | |
| --- | --- |
| | |
Author
Topic: Diatomaceous Earth (food grade): bug killer you can eat!

sparkle7
Frequent Contributor (5K+ posts)
Member # 10397


posted

---

FYI - http://www.richsoil.com/diatomaceous-earth.jsp

Diatomaceous Earth (food grade): bug killer you can eat!


Diatomacious Earth (often referred to as "DE") is an off white talc-like powder that is the fossilized remains of marine phytoplankton. When sprinkled on a bug that has an exoskeleton (such as bed bugs, ants or fleas) it gets caught between their little exoskeleton joints.

As they move, the diatomaceous earth acts like razor blades and cuts them up. But it doesn't hurt mammals. We can eat it. We do eat it! It's in lots of grain based foods because lots of grains are stored with diatomaceous earth to keep the bugs from eating the grain!

Die bugs! Die! Die! Die!

I have heard two explanations of how diatomaceous earth works.

One is that on a microscopic level, the diatomaceous earth particles are very sharp looking. These particles stick to an insect and get stuck between its exoskeleton joints. As the insect moves, it gets physically cut up.

The other explanation is that diatomaceous earth sticks to the insect and somehow causes them to dry out. I think this approach involves scratching the insects waxy layer which then allows precious moisture within the insect to get out. So their teeny tiny bug-innards turn into teeny tiny bug-innards-jerky.

A reader, Sue, in Washington state writes:

Both are true and connected. DE is almost pure silica (with some beneficial trace minerals); under a microscope, it looks like shards of glass (glass is made from silica). On any beetle-type insect that has a carapace, like fleas and cockroaches, the DE works under the shell and punctures the body, which then dehydrates and the insect dies. DE is totally nontoxic. There is no buildup of tolerance like there is to poisons because the method of killing is PHYSICAL, not chemical.

---

Posts: 7772 | From Northeast, again... | Registered: Oct 2006 | IP: Logged |

Tammy N.
Frequent Contributor (1K+ posts)
Member # 26835


posted

---

I took this years back, but didn't stick with it for some reason. I'm going to look further into this again. Thanks for the reminder!

Side note - be careful not to inhale while you are handling!

---

Posts: 2238 | From East Coast | Registered: Jul 2010 | IP: Logged |

eds
Member
Member # 5700


posted

---

Just started taking it about 2 weeks ago. For the first week, definitely experienced some kind of die off and felt very toxic. DE also acts similar to fiber and increases evacuation. Not sure if it's the DE or the colon cleansing effect, but it seemed to reduce symptoms of fungal infection leading me to believe that it also helps control that as well

---

Posts: 47 | From nj | Registered: May 2004 | IP: Logged |

Myco
LymeNet Contributor
Member # 9536


posted

---

What's a good brand?

---

Posts: 761 | From USA | Registered: Jul 2006 | IP: Logged |

canefan17
Frequent Contributor (5K+ posts)
Member # 22149


posted

---

I've been interested in this as well.

Have just heard conflicting stories of what it can potentially do to your stomach lining.

---

Posts: 5394 | From Houston, Tx | Registered: Aug 2009 | IP: Logged |

gwb
Frequent Contributor (1K+ posts)
Member # 7273


posted

---

cane, interesting that you would bring that up as I've had those same concerns. Just yesterday I wrote to a company that sells this stuff and here's a copy of the correspondence below:

From me: "My Biological doctor suggested I take DE for parasites. My concern is that the edges of this stuff is so sharp, and the substance is so hard (as you state on your website) that is will cut my esophagus and stomach.

How can it work so effectively to remove the gunk in the intestines without harming your stomach? That's a concern I have about taking this. Could you help me understand how it can not harm my stomach and intestines being that it's so sharp and hard?

I do have parasites and would like to take something for it, but I admit I have some concerns about taking this. Any input you could offer would be appreciated".

Company's response: "The DE passes through the intestinal tract and does not get broken down by the acids in the stomach or the bacteria in the intestinal tract. The stomach and intestinal linings are extremely durable and will not break down because of DE.

The owner (Larry) has been taking DE for over 6 years and has not had any problems with his intestinal tract being damaged. Also of all the orders we have not heard of anything like this ever happening".

http://www.earthworkshealth.com/

Thinking of trying it myself. Check out their website where they explain how it cleans out the colon.

Gary

---

Posts: 1349 | From OK | Registered: May 2005 | IP: Logged |

gwb
Frequent Contributor (1K+ posts)
Member # 7273


posted

---

I forgot to mention, Dr. Cowden actually recommends this for parasites too.

Anyone else have any input or thoughts on DE?

Gary

---

Posts: 1349 | From OK | Registered: May 2005 | IP: Logged |

chiquita incognita
Unregistered



posted

---

quote:

---

The stomach and intestinal linings are extremely durable

---

I don't know about that. An article about leaky gut by Dr Mark Hyman states that the gut lining is no more than one cell layer thick.

Hardly extremely durable as they say.

However if it is really flexible then it probably is fairly strong...

Fiber is strengthening to the gut lining anyway...

So I would think the DE would be okay so long as it is not too sharp around the edges.

If leaky gut was developing because of its use it would be a known fact.

I don't know one way or the other about this fyi.

Best, CI

---

IP: Logged |

TerryK
Frequent Contributor (5K+ posts)
Member # 8552


posted

---

I've taken DE off and on for years. I haven't noticed any problems from taking it.

Terry

---

Posts: 6281 | From Oregon | Registered: Jan 2006 | IP: Logged |

Blackstone
LymeNet Contributor
Member # 9453


posted

---

As for the "best brands" realize that the vast majority of "food grade" DE in America is simply resold/repackaged "Perma-guard Freshwater Food Grade DE", which comes from a select few mines and is understood to be of the highest quality. However, they only sell branded bags of 50 or 100lbs, typically for industrial use (animal feed additives,the best anti-caking agent, organic certified pest control), thus companies like Earthworks rebag it into more manageable sizes. Natures' Wisdom is another popular brand that is sold on Amazon, for those of us that have Prime. Shipping due to weight is the real problem - a 50lb bag may only cost $30, but shipping can be twice or three times that much!

As to its effectiveness, DE is well understood as both a de-worming agent for large animals and an organic-compliant pest control agent which acts in a physical, not chemical way. In human use, its just important to ensure that you only take rebagged "Perma-Guard" brand (if in North America), FOOD GRADE, freshwater DE. Anything else could be less effective, but anything unlabeled or "Pool Grade" is extremely dangerous for consumption and inhalation. While we're talking about inhalation, though not truly dangerous unless you're spending every day in a barn or mine shoveling the stuff, if you're going to be spraying food-grade DE for pest control, wear a mask. Even a cheap disposable one will help, as it can be irritating to the mucus membranes if inhaled.

Earthworks Health has a few good links to the effectiveness of DE as a human supplement. It really doesn't have much of a downside. For those worried about the "sharpness/hardness" of DE, most (Animal, including porcine which are closer to human in a number of ways) studies have shown that because of the size and shape of the particle, it doesn't affect the cells of the body in a negative way, but binds to certain compounds through its negative charge - just be sure to take it a little ways away from other supplements/drugs as you would any binding agent. Also, ensure you drink plenty of water to keep hydrated and ensure ease of DE passing through the colon. Many report that it regulates and softens bowel movements and increases their frequency especially if constipated. However, it can become constipating itself if someone is severely under-hydrated.

All in all, its a typically safe, useful, cheap multifunction supplement. Remember to buy (re-bagged) Perma-Guard Food Grade Freshwater Diatomaceous Earth, preferably in bulk. If you don't know if you like/have use for it, I suggest one of the 10-lb bag kits. There are 2.5lb jars, but they cost nearly as much as the 10-lb bags, so only buy them if you need a storage medium. Otherwise, buy the bags and just transfer a portion of the DE into a more easily accessible container - I have mine in a glass mason-like jar.

Any other questions I'll see what I can do.

---

Posts: 681 | From East coast, USA | Registered: Jun 2006 | IP: Logged |

gwb
Frequent Contributor (1K+ posts)
Member # 7273


posted

---

To the three posters above, CI, Terry and Blackstone, thanks so much for this information. Very helpful.

Terry, you've taken this for years, for what purpose? Have you had any success with taking it for parasites? What other reasons do you take it and how do you feel it's helping or benefitting you?

Blackstone, wow, you really know this stuff. Thanks for sharing your knowledge about this. It gives me a bit more confidence about buying it.

I was just reading about the ingredients in Para-Shield which is what I'm taking now. It's got:

Black Walnut green hulls (Juglans nigra) 160 mg
Wormwood absinthium (Artemisia absinthium)‡ 80 mg
Sweet Wormwood 80 mg
(and a few other things)

Some of these ingredients are toxic and are not supposed to be taken for long periods of times, and yet, when treating parasites you need to do this for a long time.

Does anyone know how safe is it to take something like Para-Shield for long term with these ingredients in it? Seems from what I've been reading it's fairly toxic stuff and should only be used short term.

Gary

---

Posts: 1349 | From OK | Registered: May 2005 | IP: Logged |

Blackstone
LymeNet Contributor
Member # 9453


posted

---

Black walnut, wormwood, cloves and a few others are "traditional" herbs used to kill certain pathogens, but they are caustic.

For some reason, many artemesia/wormwood products fail to include the proper dosing schedule and disclaimer. First of all, with the exception of some nausea or intestinal irritation, at therapeutic doses provided by any reputable pre-made supplement (I am not familiar with Para-Shield, but supplements like Pure Encapsulations' MicroDefense and other practitioner-only brands offer similar spectrum products), it isn't going to do long term harm or poison you - the dosage is set low enough for that compared to say, someone making a wormwood tea/extract themselves.

However, studies have shown that your body will see many of these compounds as irritants and go out if its way to protect you, especially artemesia/wormwood. Basically, after taking it for a few days your digestive tract begins to produce an enzyme to neutralize and isolate the wormwood to help it to be expelled from the body, a "tolerance" if you will.

Thus, art/wormwood products are best used in pulses. 2-3 consecutive days and the rest of the week off is the optimum, last I checked. Now, you CAN take it continuously and it won't harm most people, but it just won't be working so the discomfort and irritation of the products isn't really worth it. Grapefruit juice can also inhibit the compound somewhat and allow the most wormwood to "work", but be very careful as grapefruit can affect many other prescription and non-prescription medicine, in ways that may be dangerous - do you research first or pass it by if you're not confident.

Personally, I believe if you have reason to suspect parasite infection, its best to speak to a physician that is knowledgeable about it (Parasitologists are hard to find, certain LLMDs etc..) and use a prescription antiparasitic agent, along with submitting any visible samples to a proper medical professional/lab for identification, such as tapeworm or roundworm segments.

---

Posts: 681 | From East coast, USA | Registered: Jun 2006 | IP: Logged |

gwb
Frequent Contributor (1K+ posts)
Member # 7273


posted

---

Blackstone, you've given me some great advice. Thanks so much!

I've been to two doctors in the past couple of weeks and had stool tests both times. Both doctors (one GP and one GI doctor) say the tests came back negative. I took pictures of them and gave them to the GI doctor. He said it's probably just mucous. Yeah, right!

I have a container full of these parasites that look like those at the link below: *warning, graphic and gross*

http://www.lymephotos.com/babesia/index.html

I purposely put gloves on and picked a bunch of them out and put them in the little test tubes to make sure they didn't miss them. Still, the lab tests come back negative.

I could have put a rattle snake in there and they'd still deny I have parasites. Living in OK we don't have Lyme, and apparently no one has parasites too. We must be the purest state of the union.

Of course I'm being sarcastic but it's just so frustrating that when the evidence is looking them straight in the eye they still deny it. Unbelievable how ignorant these doctors can be.

Anyway, your suggestion to pulse the Para-Shield makes a lot of sense. I'm going to do that and buy some DE and see how this goes. I'm really amazed at the amount of parasites that come out just from the coffee enemas.

Thanks again for your input--much appreciated!

Gary

---

Posts: 1349 | From OK | Registered: May 2005 | IP: Logged |

Blackstone
LymeNet Contributor
Member # 9453


posted

---

Happy to help. Any samples that you think are parasites, you may need to see about taking to a specialist or university investigation lab. Its quite possible that when doctors say "That's not a parasite" it may mean... "I sent it to Lab Corp Diagnostic Number X, which basically checks it against the 10 most frequently found parasite samples. It came back none of the above so that's negative". This seems to be the unfortunate purview of those that aren't well versed in parasite diagnosis.

While the vast majority of commercial tests will tell you what its NOT, it won't tell you what it is! Thus, you need to send it to an investigatory lab that will start sequencing and running down its DNA profile and comparing it to other things. For instance, one time I've seen a sample taken similar to those on the website there, that was actually sequenced to be various plant matters and intestinal mucosa. I've also seen a non-specific fluke identification, so all things are possible.

The most important thing is to find someone who's willing and interested to find out what the contents of the sample you have is, as opposed to simply using off-the-shelf prefab tests for common diagnosis.

---

Posts: 681 | From East coast, USA | Registered: Jun 2006 | IP: Logged |
Contact Us | LymeNet home page | Privacy Statement

© 1993-2020 The Lyme Disease Network of New Jersey, Inc.
All Rights Reserved.
Use of the LymeNet Site is subject to the Terms and Conditions.

Powered by UBB.classic™ 6.7.3

---
The Lyme Disease Network is a non-profit organization funded by individual donations. If you would like to support the Network and the LymeNet system of Web services, please send your donations to:
The Lyme Disease Network of New Jersey
907 Pebble Creek Court, Pennington, NJ 08534 USA
http://www.lymenet.org/
---
Home | Flash Discussion | Support Groups | On-Line Library
Legal Resources | Medical Abstracts | Newsletter | Books
Pictures | Site Search | Links | Help/Questions
About LymeNet | Contact Us
---
© 1993-2020 The Lyme Disease Network of New Jersey, Inc.
All Rights Reserved.
Use of the LymeNet Site is subject to Terms and Conditions.
---