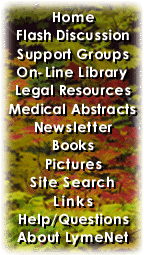 ---
LymeNet on Facebook
LymeNet on Twitter
---
---
The Lyme Disease Network receives a commission from Amazon.com for each purchase originating from this site.
When purchasing from Amazon.com, please
click here first.

Thank you.




Dedicated to the Bachmann Family


LymeNet needs your help:
LymeNet 2020 fund drive

The Lyme Disease Network is a non-profit organization funded by individual donations.

| | |
| --- | --- |
| | |
Author
Topic: Who is rarely able to leave the house?

feelfit
Frequent Contributor (1K+ posts)
Member # 12770


posted

---

I am only able to force myself to go to Dr. appts. Otherwise, head stuff prevents me from functioning. Others?

---

Posts: 3975 | From usa | Registered: Aug 2007 | IP: Logged |

kam
Honored Contributor (10K+ posts)
Member # 3410


posted

---

I was like that for quite some time. Think I just replied to another post of yours...subject: miserable??

Brain is not what it use to be.

But, will not write more as wrote enough on other post.

---

Posts: 15927 | From Became too sick to work or do household chores in 2001. | Registered: Dec 2002 | IP: Logged |

Curiouser
LymeNet Contributor
Member # 14128


posted

---

It depends on the day. Most days I just really don't want to leave my "nest".

It doesn't seem to be a matter of functionality so much as not wanting to deal with the outside world.

Sometimes it's simply too overwhelming out there.

I suffered from agoraphobia for 2 years (this was awhile ago) and always though this feeling was leftover from that.

Would be interesting to find out if it was related to the lyme or not.

--------------------
If you don't know where you are going, any road will take you there. - Lewis Carroll


---

Posts: 356 | From Body-PA, Mind-elsewhere | Registered: Dec 2007 | IP: Logged |

kman543210
Member
Member # 14009


posted

---

I'm in the same boat in terms of only leaving for doctor appointments. I've been living with my parents, so I have not walked outside the doors of their house with the exception of doctor appointments since November. Before that it was only for work and doctor appointments. Pretty tough being couped up inside, but I can't stay standing for more than just a short walk to the kitchen or bathroom.

---

Posts: 20 | From Portland, OR | Registered: Dec 2007 | IP: Logged |

Peacesoul
Unregistered



posted

---

When I was 19, I was a full bloen agoraphobic and never left the house.
I'm 41 now and still have anxiety issues along with my horrible lyme and though being home is safe and comfy, I need to leave the house in order to survive. I live alone so need to work and eat etc...

My fear of being a recluse is much greater than my anxiety to the outside.
Feel the fear and do it anyways

---

IP: Logged |

cactus
Frequent Contributor (1K+ posts)
Member # 7347


posted

---

You're not alone. Maybe this will give you some hope:

Until I got sick, I was an outdoors person.

Very active, and not just "weekend warrior" type stuff - my field required backcountry hiking. And when not in the field, required lots of people-contact.

That's in stark contrast to the aftermath of becoming very sick. At the worst, getting out of bed was not possible.

And once I was not in bed all the time, it took a long time to expand the comfort zone to going out for more than dr appts.

I was actually afraid of being out somewhere and unable to get home.

Not to mention that no one who knew me wanted me to get behind the wheel!

But - after being treated, I am starting to get out a little bit again.

By "out"... I mean out of the house. Had to start slowly, with the deck, then the yard, then going along with others to run errands.

I think that if you were an active and "out of the house" kind of person prior to getting sick then as you are treated and begin to feel better, you will get out more.

Hang in there. There will be light at the end of the tunnel.

--------------------
"Did you ever stop to think, and forget to start again?" - A.A. Milne


---

Posts: 1987 | From No. VA | Registered: May 2005 | IP: Logged |

Keebler
Honored Contributor (25K+ posts)
Member # 12673


posted

---

-

I had only two three sedate social outings last year other than doctors appointment And I had seizures at two of those. My backup plan is to always have a quiet place to lie down, but it's still such a toll. My adrenals are toast. I wind up with injuries.

At this point, I do wonder how long a person can go without being around other human beings.

One survival tactic is to see it as a very interesting experience. But it's sure one I'm looking forward to having behind me.

I used to travel the country putting on workshops, among other things. I love people. I love new events and new places.

However, if my ankle were broken I would not insist upon walking or running. Right now my brain and ears seem broken and the rest of my body, well, it just can't keep up with my wishes.

So, searching for the right tx plan is only part of my plan; giving my body space and time to rest is another.

It is difficult as we (well, I) feel as if we are missing out on life.

Listen to your body. If not going out is from fear, work with that. If you need a place to rest where you might go, arrange that.

If not going out is that your body says it just can't handle the stimuli or the energy output, listen to that.

Try to find ways to fulfull your emotional needs to be with others or have some intellectual stimulation in environments that may not be so taxing. And . . . if you just have to stay in for a while think of it as healing time. Invite others over and create special times together that way. Or go to quieter functions, etc.

Have the library deliver books with photos from other countries.
Find the National Geographic and Sierra Club website. Poster and art sites.

Music sites. www.folkalley.com FOLK ALLEY is a nice web place that does not have music that will blast your senses.

I hope this gets better for you and that, in the meantime, you can find some fun interests.


-

---

Posts: 48021 | From Tree House | Registered: Jul 2007 | IP: Logged |

onthemend
LymeNet Contributor
Member # 13454


posted

---

Exactly like Cactus. But after about 6 mos of treatment, I did start venturing out a bit more. It was strictly an effort of will. I was more physically able, but mentally it was a huge challenge. Many times I walked into a grocery store and immediately had to walk out - it was too challenging, noisy, over-stimulating, tiring - - - whatever my biggest weakness of the day might be.

Social situations were almost impossible. When I finally ventured out to my first party in a year, I turned around and left that too! There are the real deficits (can't hear or see so well, group noise is a problem, driving is a problem, sometimes fluent speech is a challenge, definitely my old wit is totally AWOL, not to mention mental quickness - GONE!). And then, you can add the blow to self-confidence that these problems cause - it can all make social interactions very tough.

Also, a persistent sense of isolation and 'differentness' doesn't make it any easier.

I've now been on abx for a year. Many, many physical issues are so much better. The neuro linger. But I am reclaiming more and more of my life as treatment and time go on. I have no idea if I will ever get back to 'the old me', but I do keep putting myself out there just to try.

I recently started co-teaching after-school activity sessions with third and fourth graders. Talk about over-stimulation & unbearable noise! I thought I would jump out of my skin during the first session. And, the first time I had to speak to them as a group, my voice was shaking, my heart was pounding, I was so insecure & nervous. Pre-Lyme, I addressed many hundreds of professional business people regularly, no nerves whatsoever!

I guess I am just trying to say - yes, I have been there. Sometimes I still AM there. I don't know if or when we get everything 'back'. But I keep trying and I do slowly improve. But, I want to be sure to say, I did not do ANYTHING for many, many months (as Cactus), and I didn't feel bad about giving in to that (other than very sorry to lose my life, of course). I didn't have a choice. When I felt a little better, I tried a little harder. But not before. I gave in totally to my world becoming very, very small. It's what was required. I didn't fight it, and don't believe I could have.

But have faith and patience, try little things when you feel able, don't push it when you aren't. I know it is a very old-fashioned comment, and I hope I don't get jumped on for making it - because I'm certainly not saying GIVE IN - but I do believe a certain amount of resignation and acceptance is necessary to get through this awful experience of Lyme. You can't beat yourself up over what you are not doing, while your body is healing. I was basically not a mother at all to my son for about a year. What can I say? It's what LD took from me.

Anyway, keep treating, have faith and patience, I have done some things recently that I could not have imagined doing one year ago.

Best,

otm

---

Posts: 314 | From east coast | Registered: Oct 2007 | IP: Logged |

Keebler
Honored Contributor (25K+ posts)
Member # 12673


posted

---

-

onthemend - You should save that post. Excellent, really, in how you described the stimuli.

Glad you see improvement. Glad you are having more fun.

--

PARKS ?

I wanted to add that if you can get out to a park without traffic, that is excellent. Even if you just sit on a bench, stroll a bit and sit on another bench.

Nature is very healing . . . and people in parks are generally pretty happy just to be there. Sometimes just a "hello" and a smile can cheer your heart with a human connection.

Just being in nature is far better than being in a square room. Hope you have this available to you.

Take care.


-

---

Posts: 48021 | From Tree House | Registered: Jul 2007 | IP: Logged |

feelfit
Frequent Contributor (1K+ posts)
Member # 12770


posted

---

Once again, thank you for all of your responses.

I am not agorophobic. I simply am not able to tolerate the stimuli of the world going around around me at the present time.

I have, however, at times, feared passing out in a public venue, though it has never happened to me.

Pre-Lyme I was a fitnes competitor and personal trainer. I have not been able to exercise since November 17th. I know my limits, and I am not ready yet. I do stretch and do leg lifts and raises, but this is about all. If the weather was warmer I feel that I would be capable of a gentle bike ride or walk.

I am in the house more out of necessity then fear...

I can't wait until the weather breaks and to be able to get at least some sun on my face or to go for a gentle cruise around the lake.

Kam, thank you for the suggestions...finding a quiet place etc.

Best to all of you!

---

Posts: 3975 | From usa | Registered: Aug 2007 | IP: Logged |

oxygenbabe
Frequent Contributor (1K+ posts)
Member # 5831


posted

---

After doing four days of high dose salt/C around New Year's last year I became totally weak and debilitated. I not only couldn't tolerate any salt but I had kidney issues, complete weakness, and some heart issues. Then I broke my toe, twice, the first time it wasn't bad but 10 days later the doctor had me stand on tiptoe to test my balance (he forgot about the toe) and standing on a barely healing broken toe broke it so badly in the joint it was impossible to walk on at all. It also was misdiagnosed for 10 weeks, when finally a good orthopedic surgeon took good xrays and explained it.

So for months I was housebound and mostly often working on my bed and totally depressed.

The toe eventually became walkable but it took probably till summer and even then it still hurt. Joint fractures take forever to form scar tissue and to smooth down the sharp peice of bone that got stuck in the joint.

It took a YEAR to tolerate some sprinkling of salt on my food again and be able to eat potato chips. Plus I stopped all vitamin/mineral IV's (they are usually in isotonic saline and I had to get help creating a sterile water formula with the correct osmolarity, as I could no longer tolerate a typical IV, plus I didn't want to stress my kidneys). I will never know if the salt/c did permanent damage. While without my IV's I developed real fibro pain and also asthma. I started up the IV's again after Wellness Pharmacy helped me figure out the formula in sterile water, finally and they are so helpful.

I also have sinus/ear issues and balance issues since heavy demolition/renovation in my building. I can feel off balance particularly for my left ear.

After all these stresses, I was in such bad shape. I had to force myself to walk to, say, the greenmarket last fall. Even so I don't feel like being in stores and shopping anymore. I don't have the neurological "patience" for it. I find it unpleasant.

Nature is pleasant in contrast. Since I live in the city my version of nature is limited but I began to do walks in the park with music on my mP3 player. Though at first it wasn't easy I soon got up to a few miles at a time. You get VERY deconditioned just lying around even if you have to.

I am not on abx only alt treatments so my lyme & babesia do take a big toll.

I decided to only shop online or have my bf shop. I just avoid stores as I dont like the experience and I do need to be as active as I can and the park walks are more pleasant. Central Park with the old growth forest near where I live is particularly pretty when I can get there. I went there during the recent snow and it was beautiful.

You do have to get past the nervousness. Your body is weak and your mind is affected literally (brain, neurological system) by the bugs which penetrate the CNS.

But you do have to try and do something that isn't nerve wracking. I think go to nature. Try to walk in a pretty place.

I also did try a few outings--I went to a Broadway play but I really didn't like the experience too much. The play was good, but the seats were small, the older man next to me probably had emphsema as his breathing was so loud, the theater was a bit moldy, and the crowds were unpelasant. To a healthy body and mind this would not be noticed, but I did. I also went to a poetry reading that I did enjoy and in retrospect would do that again. The seating was much better. You can choose your venue carefully.

I also had a setback in the beginning of February. I had a plumbing disaster that sent black sewage like water into my kitchen and livingroom and took 12 hours to fix. It was very stressful. They were holding big black garbage bags under the pipe as it gushed out this gunk. The stuff stank. When you have lyme you don't want an exposure like this. Even by 9 pm when it was finally corrected, my place stank because the stuff had pooled under the kitchen cabinets. I had to insist they rip them out, which they did 2 days later. THey ordered new cabinets but they had formaldehyde so I said don't install them. We went all the way out to Brooklyn to find stainless steel cabinets and purchase them. The cabinets were delivered Friday and the handyman installed but used an extremely toxic caulk (yes, I'm chemically sensitive, I guess I have some MCS) that stank. It gave me a bad migraine, I threw up four times, and didn't sleep at ALL Friday night. We begged him to take it off on Saturday but he refused "Spray an air freshener." Yeah, right. So my bf did the whole thing himself, dismantled the cabinet and sink, and scraped it all off it took him about 8 hours. It smells fine now. So during this whole period I was so stressed out, so upset, and wasting so much time trying to fix problems, that I stopped my walks. Hopefully this week again I can start them.

[ 02. March 2008, 03:35 PM: Message edited by: oxygenbabe ]

---

Posts: 2276 | From united states | Registered: Jun 2004 | IP: Logged |

feelfit
Frequent Contributor (1K+ posts)
Member # 12770


posted

---

Thanks Babe for your story.

---

Posts: 3975 | From usa | Registered: Aug 2007 | IP: Logged |

disturbedme
Frequent Contributor (1K+ posts)
Member # 12346


posted

---

It's on and off for me.

Most days I am not sick enough to be stuck in the house (but actual going to work and working is pretty impossible and too much), but some days it really is too much for me to even get out of the house at all. Some days I can hardly get off the couch.

And sometimes when I think I am okay to get out of the house and go to the store, I'll get to the store, be waiting in line, and feel so off balance and out of it that I'll have to lean against something (and tell my hubby I'm starting to feel bad again) to keep from falling over.

--------------------
One can never consent to creep when one feels an impulse to soar.
~ Helen Keller

My Lyme Story


---

Posts: 2965 | From Land of Confusion (bitten in KS, moved to PA, now living in MD) | Registered: Jun 2007 | IP: Logged |

heiwalove
Frequent Contributor (1K+ posts)
Member # 6467


posted

---

at my sickest i was about 95 percent bedbound. i didn't leave the house except for doctors appointments for eight months, and it was NOT because of 'fear' or 'agoraphobia.'

lyme affects us all differently. some of us are sicker than others. please listen to your body and respect what it needs. in time, with the right treatments, it will get better. promise.

--------------------
http://www.myspace.com/violinexplosion


---

Posts: 1848 | From seattle, wa | Registered: Nov 2004 | IP: Logged |

Tracy9
Frequent Contributor (1K+ posts)
Member # 7521


posted

---

quote:

---

Originally posted by cactus:


I was actually afraid of being out somewhere and unable to get home.



---

This is exactly how I feel! I have never had agoraphobia, never even close...but after a few times in the grocery store where halfway through I truly didn't know how I would make it home....

LYMEAPHOBIA was born!!!

I don't leave the house much at all. Really not much at all, doctor's appts are about it. I did drive to the post office a week ago,first time I've driven in three months.

I'm just too sick, too exhausted, by the time I got my coat on I'd need a nap.

--------------------
NO PM; CONTACT: TracyWill9@yahoo.com

13 years Lyme & Co.; Small Fiber Neuropathy; Myasthenia Gravis, Adrenal Insufficiency. On chemo for 2 1/2 years as experimental treatment for MG.


---

Posts: 4480 | From Northeastern Connecticut | Registered: Jun 2005 | IP: Logged |

wiserforit
LymeNet Contributor
Member # 9732


posted

---

Hi --

Two years ago, I stopped going out of the house for what would be a long spell. My children's voices in a whisper were too loud for me; I knew that all the hustle and bustle of street life would be too much for me.

I grew to realize that my fear of going out was not agoraphobia. I figured out that when I felt bad, the act of going out would most certainly wipe out all energy reserves. I needed all my strength just to sit up, eat, cook and smile at my kids. The thought of anything more was daunting and could take away from my bare minimum functioning.

From April to October of 2006, I barely got from room to room of my house. If I tried to grocery shop, I had to find places to sit down and I couldn't think about what to buy. Halloween 2006, I walked out the front door to go trick-or-treating with my kids and collapsed 100 feet later.

So I grappled with abx, fatigue, basic functioning on and on. I tested myself with occasional outings, but was left feeling disappointed at my lack of wellness and energy. Recovery from small outings sometimes took 2-3 days. It didn't feel worth the effort unless it was my sons' birthdays.

Things changed so gradually that I hardly noticed what was happening. Yet, Halloween 2007 rolled around and at the end of the evening I realized I had taken my kids out to 30 houses! We had walked everywhere and I wasn't feeling sick.

In fact, I realize that before the energy started to come back... my desire to think about trying stuff began to return. I know that sounds dumb, but for about 16 months I never even thought about making efforts to go outside since it felt too overwhelming.

First, I thought about doing stuff that might feel enjoyable. I always paced it so that the expectation would never lead to exhaustion.

I am 23 months into treatment and I'm quasi-functioning. I have tired times, brain-fog/depression times, babesia sweaty dizzy times, etc. BUT... I can function pretty good in between the bouts.

Still can't hold down a full-time job. Still cook dinner for the family and collapse (sometimes before sitting down to eat!). YET... I get some good traction during the daytime about 4 out of 7 days a week. Now that's progress!

So, if you're feeling unable to get out of the house, it may be your body telling you to seclude yourself to heal. I think that we got so used to pushing past fatigue pre-Lyme; now we just can't afford to do that.

Hang in there. Time will heal...albeit slowly and incrementally....

Best to you,

wiserforit

---

Posts: 508 | From Banks of the Hudson | Registered: Jul 2006 | IP: Logged |

onthemend
LymeNet Contributor
Member # 13454


posted

---

Hi wiser, definitely doesn't sound dumb - sounds exactly right! Your experience is like mine - or mine like yours! - except that it sounds like I was very fortunate - my truly bedbound period was about 4 1/2 months, and my inability to really do anything at, esp outside the home, about 9 mos (including bedbound ones). It's not dumb, it's what it is.

And my improvement and comeback just like yours too - almost imperceptible, EXCEPT at about one year anniversaries, where you realize 'hey - I didn't do this for two years in a row, and now I can' - as in a vacation, or Halloween, or Thanksgiving dinner (kinda) or whatever.

otm

---

Posts: 314 | From east coast | Registered: Oct 2007 | IP: Logged |

chamade
LymeNet Contributor
Member # 11472


posted

---

My main symptom is pain, no cognitive issues.
When the burning and pain is thru the roof, I am not able to leave the house.

--------------------
Why me? Well, why not me???


---

Posts: 411 | From San Francisco, CA | Registered: Mar 2007 | IP: Logged |

klutzo
Frequent Contributor (1K+ posts)
Member # 5701


posted

---

Having psych training, when I first felt unable to leave the house, I thought I was developing agoraphobia. I already had the MVP and extra-long, Lyme panic attacks that often precede it.

However, every once in awhile, I have a good day, where I feel almost normal, and I jump in the car with glee and go grocery shopping and to the library with no problem. Agoraphobia does not work that way at all! It does not suddenly disappear and then come back, on and off.

I have read that much of this is due to low human growth hormone, which makes a person want to isolate, as well as low levels of certain neurotransmitters (NTs), which enable us to block out extraneous stimuli in our environment, so we are not overwhelmed. The low levels of NTs are due to the hypothalmic dysregulation.

I've been sick for 22 years,and for almost 20 years now, I've had the hour and a half long panic attacks that only Lyme causes when I am over stimulated. (The official psychiatric definition of a panic attack ends at fifteen minutes).

For several years now I also have an abnormal heart rhythm with the attacks called PSVT, which can cause black outs and even cardiac arrest in rare cases. Once a PSVT attack starts, any exertion, even slow walking, makes it much worse, and I immediately lose anything in my bladder and bowels.

That makes me afraid to walk outside any further than the mailbox, or drive, or be anywhere I cannot get back from. I really miss being out in nature and used to love walking near my home for exercise and sunshine, but I don't dare.

It takes every ounce of courage I have to go buy groceries by myself. I did it about a dozen times last year, but every year it gets less and less. My adrenal resilience is just too fried to try anymore.

The worst part is that my normal friends just do not understand what this over stimulation feels like, no matter how many times I explain it, and I hardly ever see them in person anymore, since they want to go to places I can't begin to tolerate.

Even though they all believe I have a real physical illness, they think this particular part of it is psychological. If I was not married, I don't think I could go on this way....I'd die of the lonliness. Isolation will take more years off your life than any of your bad habits will...look it up!

I don't expect to improve, since I am allergic to all ABX that kill Lyme. Nothing else I've tried has worked, and I've tried just about everything we could afford over the past 22 years. I pray most of you will recover with treatment and put this behind you.

Klutzo

---

Posts: 1267 | From Clearwater, Florida, USA | Registered: May 2004 | IP: Logged |

phyl6648
Frequent Contributor (1K+ posts)
Member # 28522


posted

---

So glad to see this post as now I know why it is so hard for me to be with people and leave the house. I am sick not crazy.. It scares me to go to the doctor now I am faced with traveling to see one.

Oh, the head problems as I call them are so much worse for me than the pain..

Klutzo, I am the same as you allergic to all abx that kill lyme.. Oh what to do?

phyl

---

Posts: 1058 | From VA | Registered: Oct 2010 | IP: Logged |

Beagle
LymeNet Contributor
Member # 29698


posted

---

I try almost everyday to pretend I can function. But after I drag myself through the process of showering, dressing, etc. my head is too heavy to hold up any longer and my muscles are too weak to walk to the car in snow. Keep thinking just get out there, but each time I do get to the car I am afraid to go too far. Tried grocery store but collapsed after just doing the frozen food aile.
Been house bound like this since November - actually since September when I had knee replacement surgery. But Lyme symptoms really flared up around November.

Keep taking Doxy even though it does not seem to help at all.

Doctors say, "can't be Lyme" since you are on Doxy with no results. I too was extremely active outdoors 365 days per year before Knee surgery and now Neurolyme symptoms.

Beagle

---

Posts: 348 | From MA | Registered: Dec 2010 | IP: Logged |

Jennifer70
LymeNet Contributor
Member # 30280


posted

---

I can't go too far from my house, because of anxiety. I get this strange feeling like im going to drive off a cliff or something.

I can't drive alone over bridges or through tunnels for the same reason. Also when I do go out locally, I get so fatigued easilly, that I collapse as soon as I get home and I can't do anything for the rest of the day.

I recently went into NYC to see a doctor, a trip I've taken hundreds of times as I grew up in a suburb of NYC, and I was so overwhelmed by all the people, sights, sounds, smells that as soon as the apt was done i had to leave.

I used to love taking trips, going hiking, going out and doing thing. This lyme has taken so much from my life. I'm praying with treatment this all goes away.

I was telling a friend recently, that I think I could deal with the intense pain for the rest of my life if I had to , but I want my brain back more than anything. I want to be able to get on a plane again, even if all i can do is lay on the beach when i get there.

--------------------
Psalm 119:50
My comfort in my suffering is this: Your promise preserves my life.


---

Posts: 292 | From Heaven | Registered: Jan 2011 | IP: Logged |

Camp Other
Unregistered



posted

---

Beagle,

Have you seen an LLMD? Have you suggested to the doctors who say that it can't be Lyme that maybe they missed something else - like coinfections?

To all,

I haven't been driving due to vertigo spells, but I can go out with someone for a short drive to the grocery store and pharmacy. I've made it on longer trips with a lot of pillows and sitting spread out on the back seat of a car, but it is not entirely comfortable and I am usually more fatigued and in pain when I get where we're going.

I think the fatigue and pain is a bad combination together. Pain alone is pretty rough, too. Fatigue alone - I'd rather have that than the pain, given a choice. But all of them to varying degrees sap my mobility and will to go out of the house.

If it is one of my better days for pain, I try to force myself to get out to something other than a doctor's appointment. If it's pretty good, I may go see a movie or go to a bookstore. It really depends on my symptoms that day, though. If I can handle loud sounds, the movie is okay. If I can handle bright lights, the bookstore is okay. If my headache is severe, I can't do either of them and hide in a dark room at home. I might turn the contrast on my computer screen way down so I can at least chat with friends or surf the web.

Friends also come to visit me and do not mind hanging out in a dimly lit room to talk with me. Sometimes we play simple boardgames if I'm up to it. I consider myself lucky to have friends who will do this for me including one who sees me almost weekly for several hours.

---

IP: Logged |

karenl
Frequent Contributor (1K+ posts)
Member # 17753


posted

---

I was homebound for many years and not able to even go to doctor's appointments.

Doing better now since on doxy, Hydroxy B12 shots,parasite treatment (purslane, clove).
Want to start azithro now.

---

Posts: 1834 | From US | Registered: Oct 2008 | IP: Logged |

SashaC
LymeNet Contributor
Member # 18968


posted

---

Doctor's appointments are the only time I leave the house. And many times I have to reschedule because I'm too sick to get out of bed.

I have to have a shopping service. No way I could make it through a grocery store.

The farthest I've made it in months is to the 7-11 at the corner and the closest fast food restaurants in my neighborhood.

I've spent the last few years of my life watching the world go by from my bed or a hospital bed.

---

Posts: 151 | From SW US | Registered: Feb 2009 | IP: Logged |

norcal
LymeNet Contributor
Member # 29829


posted

---

Thinking about all of the lyme sufferers still unable to get out.

I was there the last couple of months,have emerged from the "cocoon",my head is clearing and I feel like the old me.

Recovery does happen. Start slow,do what you can.

The physical is nothing as bad as the mental was.I am still having lots of physical.

---

Posts: 341 | From northern california | Registered: Dec 2010 | IP: Logged |
Contact Us | LymeNet home page | Privacy Statement

© 1993-2020 The Lyme Disease Network of New Jersey, Inc.
All Rights Reserved.
Use of the LymeNet Site is subject to the Terms and Conditions.

Powered by UBB.classic™ 6.7.3

---
The Lyme Disease Network is a non-profit organization funded by individual donations. If you would like to support the Network and the LymeNet system of Web services, please send your donations to:
The Lyme Disease Network of New Jersey
907 Pebble Creek Court, Pennington, NJ 08534 USA
http://www.lymenet.org/
---
Home | Flash Discussion | Support Groups | On-Line Library
Legal Resources | Medical Abstracts | Newsletter | Books
Pictures | Site Search | Links | Help/Questions
About LymeNet | Contact Us
---
© 1993-2020 The Lyme Disease Network of New Jersey, Inc.
All Rights Reserved.
Use of the LymeNet Site is subject to Terms and Conditions.
---