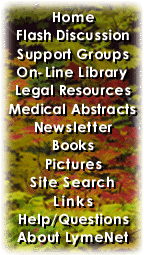 ---
LymeNet on Facebook
LymeNet on Twitter
---
---
The Lyme Disease Network receives a commission from Amazon.com for each purchase originating from this site.
When purchasing from Amazon.com, please
click here first.

Thank you.




Dedicated to the Bachmann Family


LymeNet needs your help:
LymeNet 2020 fund drive

The Lyme Disease Network is a non-profit organization funded by individual donations.

| | |
| --- | --- |
| | |
Author
Topic: Treated badly after funeral??

randibear
Honored Contributor (10K+ posts)
Member # 11290


posted

---

It's taken a while to calm down and to get my husband off the roof, he's so angry. So grab a drink, sit down and read this. You'll be shocked, I was....

The funeral and viewing went very well. However, after the funeral, my one sister took a necklace valued about 3500, my dad's ring, valued about 300-400, a bedroom suit, my organ, and who knows what all. My other sister gets the cherry bedroom suit, the living room furniture, and mom's china. My other sister took a cuckoo clock I got mom in the Black Forest in Germany.

So Mike and his son and his wife stop by the house and she admires a photograph of a hummingbird on the wall and Mike asked my sister if he could have it. She said yes, so he gave it to Carolyn.

Mom had an exercise bike, recumbent type, which she never used. They paid about 375 for it. I asked if I could have it. I was told I had to pay $125 for it. I was kind of floored, but I paid it and Mike gave it to Carolyn to use.

I then said I wanted a picture of my father which I paid to have framed for mom. She told me I could have it.

MY SISTER SAID "NO WE WANT IT TO STAY IN THE FAMILY". They were mad because Mike asked them for this picture in front of people and they felt they had to give it to him. So they told me I could not have the picture which mom said I could.

Then they asked me to stay and help paint, carpet, and clean the house and help out with the the garage sale which was to be in several weeks.

Well, by this time, a week after the funeral, Mike was ready to come home. I didn't want to stay in Mom's house by myself and Mike had driven 1100 miles alone to come to the funeral. I told them I was going home.

They got furious!!! They said there was a lot of work to be done, so fine, "just leave and go back to Texas". They were really mad, and saying I wasn't helping and all.

I felt terrible and ended up crying. Mike was getting madder by the minute, so we just got in the car and left.

I got some of mom's clothes, her perfume, some cookbooks, a weather radio. And then my sister wanted me to write down what I took. None of the other sisters have done this. Just me.

I am very deeply hurt. Why did they ask for money for the bike when my other sisters took a lot more than I did and they paid nothing? Why did I have to write down what I took when nobody else did?

If they didn't want Make to have that photograph, they why give it to him? And what's with "we want it to stay in the family"? What the hell am I?

They also divided up the flowers between the three of them and I didn't get any. They said, "well you're at mom's house and you'll be leaving." Some of my friends sent beautiful flowers and there were lots of flowers, and I got nothing!!! But again, I didn't say anything wanting to keep peace.

I agreed to pay mom's master charge to help out, which is about a 1,000 dollars and still was treated like a dirty stepchild or something.

I don't understand...I really don't. But Mike is beside himself and says I'm not going up there and if there's any money, they can damn well send it to me....

I'm numb guys, I really am. and yes, the lyme has flared up really really bad. My face is jerking, might sweats, major migraines,, you name it, diahrrea, etc.

Have you ever heard of such things happening?

I don't know what to think...I know mom would be horrified.

And I won't even tell you how they treated mom before she died.....I just cried.....

--------------------
do not look back when the only course is forward


---

Posts: 12262 | From texas | Registered: Mar 2007 | IP: Logged |

lymemomtooo
Frequent Contributor (1K+ posts)
Member # 5396


posted

---

Randi, I have been thru some of the same. Money tears many families apart. Good luck with all of this. lmt

---

Posts: 2360 | From SE PA | Registered: Mar 2004 | IP: Logged |

blueaboutlyme
Member
Member # 15261


posted

---

Randi,

There is an entire side of my family who does not speak to us over- get this- the few extra thousand my grandmother left my father in her will BECAUSE HE DID HER TAXES!

I am often amazed at the callousness of family.

I am truly horrified to hear what you are going through, especially in your time of grief.

I pray that your family realizes the great error of their ways!

Danielle

--------------------
"Say little, do much."


---

Posts: 16 | From Virginia, USA | Registered: Apr 2008 | IP: Logged |

Lymetoo
Moderator
Member # 743


posted

---

That's really horrible. I just don't understand how people can be so mean. I think they know they can tell you what to do... so that's what they do. They will reap their just "rewards."

Who is Carolyn? So you didn't get the exercise bike??

Ask fellow poster "sick" about how family can make your life a living H***. She has really gone through it with her brothers.

They, too, will receive their just rewards.

Hugs to you, Randi. You did nothing wrong and that is what matters in the long run.

--------------------
--Lymetutu--
Opinions, not medical advice!


---

Posts: 94232 | From Texas | Registered: Feb 2001 | IP: Logged |

hurtingramma
LymeNet Contributor
Member # 7770


posted

---

Was there a will? Because absolutely nothing should be taken out of the house until after probate. If they take stuff, they should be keeping track of who took what. Not just you!

If you gave your mom the cuckoo clock, how dare your sister think she had the right to it!

I can't believe what your family has put you through.

I always hear people say "what goes around, comes around". Let's hope it applies to your situation.



--------------------
"Few of us can do great things, but all of us can do small things with great love". Mother Theresa

http://www.facebook.com/profile.php?id=1629665573&ref=name


---

Posts: 938 | From Northeast Kingdom Vermont | Registered: Aug 2005 | IP: Logged |

randibear
Honored Contributor (10K+ posts)
Member # 11290


posted

---

Mike's son, Matt, wanted the bike for his wife who has a horrible back problem.

We paid the 125 for the bike and gave it to Matt. We knew they didn't have the money.

I guess my sisters felt anything I got would go to Mike and his son if anything happened to me.

I agreed that nothing should have been removed from the house but my one sister brought a van and started loading up stuff to take. She took the ring and never told anybody until I told my other sister it was missing.

She then said her son wanted it, and we asked and he said it didn't want it, it was her.

This has been a nightmare............

--------------------
do not look back when the only course is forward


---

Posts: 12262 | From texas | Registered: Mar 2007 | IP: Logged |

ForestNymph
LymeNet Contributor
Member # 15109


posted

---

Randi,

I am sorry for your loss. I know it is really hard and when you are treated badly by family it's even harder to deal with the grief.

When someone passes, family should be there for one another instead of behaving like vultures. I dealt with the same thing when my grandfather died.

Everyone else in the family got something of substantial value and I was originally supposed to get his car and money for college.

Instead I got an old t-shirt and a hat and I had to pay for the car. My grandmother changed his will when he was completely incompetent.

I know exactly how you feel. The way I've dealt with it is I protect myself from their coldness. I never allow them to hurt me. I don't give them the chance.

Again, I am so sorry you have all this to deal with on top of being sick. Hang in there.



--------------------
Infected in March '06

Lyme Disease, Bartonella, Babesia

Diagnosed June '07

Remission Since September 2011.

My Story:
http://lymelabyrinth.blogspot.com

www.myspace.com/psyche_entranced


---

Posts: 119 | From Florida | Registered: Apr 2008 | IP: Logged |

Geneal
Frequent Contributor (5K+ posts)
Member # 10375


posted

---

It is so strange seeing this post today.

Yesterday, for Mother's Day, my Mom came to visit.

I adore my mother. I help her out as much as I can. My sisters don't.

My two sisters have already discussed what would happen to Mom's house and things when she passes.

It makes me sick.

My Mom's house is full of her treasures. From time to time,

She tries to give them to all three of her daughters, but my other

Two sisters only take something they believe to have monetary value.

I take everything else. How could I not?

It is a part of my Mom.

I asked her yesterday to please consider making me the executor of her will.

First of all my Mom has 8 dogs. Neither one of my sisters is an animal lover.

Secondly, I told her that I didn't want her house sold immediately as it would take time.

Time for me to figure out how to take care of her animals.

Time to go through her treasures and grieve.

I asked that she include in her will that all 3 of us must be in agreement on who gets what.

Knowing my sisters, I will probably have to pay them off.

They would stick everything in a garage sale and feel justified for the money.

I don't want my Mom's money. I want her to spend it all before she goes.

I just want pieces that she treasured to be treasured like my Mom should be.

I feel sorry for your sisters. They won't be happy with what they "have".

They don't understand the meaning of richness.

You do.

Hugs,

Geneal

---

Posts: 6250 | From Louisiana | Registered: Oct 2006 | IP: Logged |

lymednva
Frequent Contributor (1K+ posts)
Member # 9098


posted

---

i agree that nothing should be taken until this has gone through probate, unless she had a living trust, which is somewhat like a will, but allows you to avoid probate.

this is outrageous. you are the one who is taking the high road here. i agree that things you gave your parents should return to you.

that only makes sense. but, then the rest of this makes no sense, so...

my former sil died from cancer last january. her children held the service she had planned.

apparently some of the sil's family showed up at the service and just stood up and accused her (the dead one) of all kinds of things.

of course her kids were stunned and very upset. they had done so much for their mom.

she had raised them as a single parent much of the time. then to have these people get up and ruin the service was unbelievable.

i guess so far i have been lucky. my brother didn't really want anything of my mom's, but i asked him.

of course he gets his share of her $$ after we finish with last minute financial stuff. i was truly blessed to have things go so easily.

the only thing i was told was that i couldn't use the same name as a grandmother as she used.

my son told me there is only ONE "Grandma ____." that's easy. i chose another easy to say name and all is well.

glad to hear you are coming home and getting away from all that toxic stress. take care of yourself.

--------------------
Lymednva


---

Posts: 2407 | From over the river and through the woods | Registered: Apr 2006 | IP: Logged |

bettyg
Unregistered



posted

---

randi,

SPEAK UP FOR YOURSELF! don't bury all these emotions inside!

funerals bring out the WORST IN FOLKS! been there, done that.

---

IP: Logged |

Lily
LymeNet Contributor
Member # 13158


posted

---

I am so sorry this happened to you. It is so hard to be so sad and have to deal with all of this at onece.

My mom and grandmother died 5 days apart. There was a lot of money involved and several people who felt entitled. Grandma died first leaving most to mom. Then mom died long before anything was settled. It got really ugly and went through all sorts of attorneys.

The long and short of it...we backed out. There was too much dishonestly.

Sometimes, people confound me.

((hugs))

Lily

---

Posts: 219 | From Florida | Registered: Sep 2007 | IP: Logged |

pingpong
LymeNet Contributor
Member # 13706


posted

---

randi,
My condolences at your great loss.

suggestion:
make a list of those you want banned from your wake and funeral. no need for reason, as they will have known how come...

--------------------
pingpong


---

Posts: 361 | From At the Pingpong Tournament | Registered: Oct 2007 | IP: Logged |

lymeinhell
Frequent Contributor (1K+ posts)
Member # 4622


posted

---

It's horrible to realize these people are your relatives, isn't it?

I have a classic: When my grandfather (Dad's dad) passed away some 15 yrs ago, my Dad was made executor. My dad had 2 sisters.

A few months after my grandfather passed, my Dad had my siblings (we were all in our 20's) and I go up to the house with him to see if there was anything sentimental we'd like to keep. Just point out, make a list..

We were there no more than 5 minutes when the door flies open, and in blows my Dad's sister. She wisked into my late grandmother's room, and runs out the door with a jewelry box. She must've been stalking the neighborhood or something because we lived 75 miles away and she lived a good 15 miles away.

And she wonders why she wasn't invited to my wedding??? I never liked the psycho anyway, and this just added to the pile.

Moral of the story - just because you're related, doesn't mean you have to like them, or even have them in your life. Money just brings the s___t floaters to the surface. Just flush and they're gone.

--------------------
Julie
_ _ ___ _ _
lymeinhell

Blessed are those who expect nothing, for they shall not be disappointed.


---

Posts: 2257 | From a better place than I was 11 yrs ago | Registered: Sep 2003 | IP: Logged |

just don
Frequent Contributor (1K+ posts)
Member # 1129


posted

---

Here is MY two cents worth.

Sorry for your loss and your resulting pain here!!

Take your time and compose a letter to ALL your siblings AND the attorney handling the estate.

Express your feelings and sorrow,,,NO accusations at anyne however(NOT constructive)

Remember the word constructive all the while you are writting,,,this is a BUSINESS letter and should be worded as such!!

Write down what actually walked off with who as a statement of fact.

THEN state your desire to be treated fairly and properly in the rest of the estate handling,,,no argueing, no accusations,,,JUST the facts maddam!!

AND then at the end of the letter drop the s___ bomb. Words to the effect either you are treated fairly,properly accounted to, OR you will retain an attorney and SUE for your proper share!!

PROBABLY "NOT" worth doing it but you HAVE to play the poker bluff at least.

I dont believe in sue'ing or lawsuits,ie. attorneys BUT if they persist and YOU think its worth it,do it,,,or forever feel like you SHOULD have.!!

let me guess,,,there is a pecking order in EVERY species of life,,,and you have been on the bottom ALL your life "IF" you think about it!! Its just a fact of life.

BUT NOT STANDING HERE,,,its your last chance,,,then they will treat you equal and fair.

Have seen it in one side of MY family,,,they didnt talk for long time,,,now they are BEST of friends and do anything for one another,,,the air is CLEAR "NOW".

It gets messy with actual suits,,,,DONT do that unless forced and dont count pennies either,,,be realistic going in

Make the pact with your husband up front and stick to it,,,either you get 6 to 1 or 10 to 1 return on your expended worst possible case attorneys fees,,,or you dont do it(as an example)

ANd STICK to that formula,,,MOST times it isnt worth it,,,only person comes out smelling like roses is the lawyers,,they have enough,,,dont pad there pockets for your satisfaction!!

BUT families do need a 'WAKE UP CALL' once in awhile,,,YOUR letter will either do that,,,or confirm the worst which was already apparent!!

Dont beat yourself up over this,,,it will only cause undue stress.

Again to reconfirm what I said,,,Play your best poker bluff and see what happens!!!

IF you want maybe you could e-mail me your proposed letter and I can proof read it as an impartial 3rd party to SEE if it conveys the business nature of the intent??? be glad to do it for you,,,IT has to be 'right' for max effect!!

If not me,,, have someone else do it for you,,,effect is 75 percent of the bluff!!! better yet----

What the hay,,you could post it here and have LOTS of critiques!!(better writters than I) We are ALL here to help,,,arent we??
Gotta run!!
later being--just don--

--------------------
just don


---

Posts: 4548 | From Middle of midwest | Registered: May 2001 | IP: Logged |

WakeUp
LymeNet Contributor
Member # 9977


posted

---

Wow Randi--
Your story makes me feel so sad about the selfishness of human beings we call relatives. To have to deal with these crass "users" on top of Lyme disease is very difficult. In short, your siblings are bullies.

Are you the youngest? I have seen this so often when a parent dies-- the youngest takes the brunt of the abuse and grief... Sometimes its almost better for the runt to just bow out of the family.... for their own sanity.

People become like greedy vultures or primadonnas when there is an estate-- and from what you tell us here, it seems as though your siblings have a history of bullying and using you. DON'T ALLOW IT. YOU ARE AN ADULT NOW.

They won't stop until you push back. I'd take the advice of another poster here and threaten the S word in a very non emotional non accusatory way.

Tough love is for their own good-- and they'll end up respecting you for your show of strength and self respect... Right now, they just assume that your'e a nothing who can be pushed around, made to do slave labor-- painting the house-- and then duped and cheated.

In short they have no respect....

They need your lawyer to teach them what selfish human beings they are-- and perhaps you also need to learn to love yourself by sticking up for your rights in a cool and calm way.

Paying money for the bicycle is absolutely ridiculous. Besides-- a used bicycle usually only sells for one third of retail value or less.

So they ripped you off in your grief... and sadly... you allowed them to without giving them resistance-- because you're a decent human being.

Stand up for yourself girl... you're worth it.
Get a lawyer.

---

Posts: 696 | From New York | Registered: Aug 2006 | IP: Logged |

kelmo
Frequent Contributor (1K+ posts)
Member # 8797


posted

---

It can be horrible when THINGS are involved. There are so many emotions tied to them.

My husband and his brother lost both parents within a year.

At his mother's funeral, one grandaughter, who didn't want to be there, did no attend the funeral. She stayed behind and went through all the valuables.

She put her name on post-its, and when we came home she had claimed all the paintings my father in law had painted. ALL 22 of THEM!!

My husband HAD to put his foot down.

We were so upset, we had to get out of the house for a bit. When we returned, they had loaded up their car with pictures and valuables and left town.

We didn't speak to them for seven years. We finally made contact through my daughter's efforts.

After they returned home from that "home rape", my brother in law had a full blown breakdown. He is 100% disabled and must report to the psyche hospital every month. He has had over 100 shock treatments.

We never had a problem with him. It was our hope that the two sons could travel back to Oklahoma by themselves and spend a week sorting through the memories.

We never counted on the mercenary grandaughter who ended up with all three televisions and now lives in a multi-million dollar hilltop home in San Diego.

I kept telling them there were only TWO names mentioned in the Trust, and we need to leave the decisions to them.

I learned a lot through this, and I've been trying to talk to my sister about how things are going to go after our parents die. They need to just put names on the big stuff NOW.

---

Posts: 2903 | From AZ | Registered: Feb 2006 | IP: Logged |

just don
Frequent Contributor (1K+ posts)
Member # 1129


posted

---

Here is one more idea,,,

forfamilies that dont get along well,,,they ALL name themselves as co-administers of the estate,,then they all have equal rights and duties to all,,,nobody can take advantage of others,

IF it hasnt been determined WHO the administrator,or executor is,,,nows your chance,,,get ALL of your sisters to agree to ALL,,,easier than picking one!!

--------------------
just don


---

Posts: 4548 | From Middle of midwest | Registered: May 2001 | IP: Logged |

hurtingramma
LymeNet Contributor
Member # 7770


posted

---

My mom has named my brother and I as co-executors of her estate after she dies. She is 87 years old and suffers from congestive heart failure and crippling arthritis.

For the past few years, she has been slowly giving out her most precious possessions to family members. Some have monetary value, some more sentimental value. We are all happy to get whatever she choses us to have. There is usually a reason for whom she gives what.

For instance, my oldest sister now has a portrait of my mom that was done when she was just a small child, held in an oval frame. One of my sil's received quilts and chests because she loves those kinds of things. She actually restores chests. My religious sister got the religious articles. I got her wedding/anniversary diamond ring. She was going to just let me have if after (it's in the will), but then she realized that she would never wear it again anyway on her swollen fingers.

There are 10 "kids" in my family and we all get along pretty well. Unfortunately, we do have one sister who lives with my mom who is expecting to get the house. She isn't going to because she is an alcoholic and mom feels that she would just be enabling her. She will get her share of the estate, but not the house.

The point of all this is that if you HAVE time to prepare, you don't have to just make a list, start giving the stuff away now.

My in-laws have also started doing this. We are trying to get them to pre-pay their funeral so that they can have those wishes carried out too.

--------------------
"Few of us can do great things, but all of us can do small things with great love". Mother Theresa

http://www.facebook.com/profile.php?id=1629665573&ref=name


---

Posts: 938 | From Northeast Kingdom Vermont | Registered: Aug 2005 | IP: Logged |

sick
LymeNet Contributor
Member # 9143


posted

---

I am so sorry for your pain but you are not alone.
Only last July I lost my Dad and three weeks to the day later my Mom.
After being the only one besides my son to take care of them for years suddenly my brothers took an interest in them when they were 95. Even at that age they needed very little help and still lived on the farm.
I honestly thought the brothers felt guilty from ignoring them for so many, many years and stepped back and let them start doing more. This really only included taking them to the doctor.
It wasn't long before they forced them into the nursing home. They also lied to them and said it was only for three weeks of theropy.
After three weeks and they never came to bring them home my folks dies shortly after that of broken hearts.
I searhed for help by talking to first community members, then a lawyer but was too slow getting anything done.
In the mean time they locked the folks house and shortly after that took almost everything out of it for themselves.
They had cleaned out their bank account earlier.
They even tried to plan my Dad's funeral without me but it didn't fly with the minister or the funeral director.
My folks had life insurance which more then paid for both of their services. My brother *****ed to out lawyer about me not helping pay for them. I guess he thought both the lawyer and I were both stupid.

How do I feel----I feel sorry for the communtiy memebers who were too lazy or afraid to help me. One day they will need help.
I feel sorry for my brothers for having to live with the fact they are responsible for the death of two of the kindest people I ever knewn.
Sorry for the years and years of memories I have of the times I spent with my parents.
Sorry for the oldest brother who lost the love of a sister who adored him from the time she was born. In my hearst I still ove him but hate what he did to my folks.
I could chose to be bitter but it isn't worth it.I chose to just try to be the kind of person my parents taught me to be.


sick

---

Posts: 538 | From Iowa | Registered: Apr 2006 | IP: Logged |

randibear
Honored Contributor (10K+ posts)
Member # 11290


posted

---

sick, i am so very sorry for both of us. your situation sounds worse than what i went through..

i think, and my husband agrees, that my sisters are mad at me because i live so far away and was not there when mom was ill. They want to punish me for not having to go through what they went through with her illness.

also, they feel that if something happens to me, mike will give everything to his children, and while his son is ok, i cannot tolerate his daughter and my sisters don't like her either. so they don't want anything in my family to go to them.

i understand that, but to tell me "we want it to stay in the family" hurt deeply. also to want me to stay and clean and help out with all the work aggravated me. i felt like they were the ones who mistreated mom adn should have taken care of her. my one sister has tons of her stuff stored in mom's house, never asked mom, just brought it over. her son stored that stupid race car in mom's garage for many years and never paid her a cent.

and i'm positive mom tripped trying to get around her garage because of all the trash they had in it when she fell.

i'm angry that my sisters mistreated mom and made her cry. "honor thy father and mother" did not apply. they should have taken care of her. she once told me my sisters were going to put her in a home and forget about her.

well my one sister saw her maybe once or twice the entire 4 months she was in the home and hospital and wasn't there when she passed away. she was out shopping and said her car wouldn't start, (as usual).

i feel so guilty that i should have been there taking care of mom, but i know she understands.

and i'm really angry at the doctors for not finding congestive heart failure. but i know, deep in my heart, it was lyme. she had all the classic symptoms, practically every one.

nobody would listen, they never do...

sad, so sad, i miss her and grieve deeply.....

--------------------
do not look back when the only course is forward


---

Posts: 12262 | From texas | Registered: Mar 2007 | IP: Logged |

bunnyfluff
LymeNet Contributor
Member # 14117


posted

---

randi,




From one Texan to another!

All I can say is......well, probably CAN'T say it here, but OMG!

I had 4 immediate family members pass in 4 yrs time, 2 of which were my parents. I learned a lot from all of it, believe me.

Here is my passing knowledge to you:
The stuff is not the person, it's just stuff, so let it go. My mom was fairly clear about the things she wanted to pass on, things she had made, etc. I got the china set that she barely ever took out to use. It was not packed well enuf, and most every piece was shattered by the time it got to Texas. Of course, I felt horrible about that. Here she never even really used it, and I smashed it all before I ever got to use it once.

There are a few things that really mattered more. I got the crucifix that hung in her room for as long as I can remember. My sister took a spoon from the regular flatware, of course, not costly stuff, we never had any real money.

But, when I visit my sister and I see the spoon, I think about my mom, and so what I am saying is sometimes it is a little thing. But remember, it's just stuff. The memories you have of her can never be taken away.

And I'm sure she is looking down on them in disgust. The way they acted was ridiculous, and unfortunately, they are allowing *stuff* to come between family, and that is wrong on so many levels.

My condolences,

Bunny

--------------------
4 strong winds that blow lonely,
7 seas that run high.

All those things that don't change
Come what may.


---

Posts: 103 | From Dallas/ Fort Worth. TX | Registered: Dec 2007 | IP: Logged |

Dawnee
Unregistered



posted

---

Ah sheesh... you know it really does amaze me how family members seem to turn into vicious animals after losing a loved one and greed sets in.
I'm so sorry that your very own family is treating you this way!

Dawnee

---

IP: Logged |

pab
Frequent Contributor (1K+ posts)
Member # 904


posted

---

Randi,

I'm sorry for your loss.

Who elected your sisters judge & jury? I'm assuming they acted the same way before your mother died.

You need to stick up for yourself! Or, if they are too toxic, don't have them in your life.

My mom died in 2001 and my dad was already deceased. I have 7 sisters and 2 brothers and we didn't have any problems dividing up their property. The first thing we did was have everyone take anything they gave our parents. Then we took turns picking out all of the other stuff.

I hope you can work this out.

--------------------
Peggy

~ ~ Hope is a powerful medicine. ~ ~


---

Posts: 2775 | From MN | Registered: Apr 2001 | IP: Logged |
Contact Us | LymeNet home page | Privacy Statement

© 1993-2020 The Lyme Disease Network of New Jersey, Inc.
All Rights Reserved.
Use of the LymeNet Site is subject to the Terms and Conditions.

Powered by UBB.classic™ 6.7.3

---
The Lyme Disease Network is a non-profit organization funded by individual donations. If you would like to support the Network and the LymeNet system of Web services, please send your donations to:
The Lyme Disease Network of New Jersey
907 Pebble Creek Court, Pennington, NJ 08534 USA
http://www.lymenet.org/
---
Home | Flash Discussion | Support Groups | On-Line Library
Legal Resources | Medical Abstracts | Newsletter | Books
Pictures | Site Search | Links | Help/Questions
About LymeNet | Contact Us
---
© 1993-2020 The Lyme Disease Network of New Jersey, Inc.
All Rights Reserved.
Use of the LymeNet Site is subject to Terms and Conditions.
---