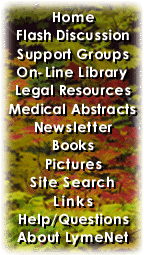 ---
LymeNet on Facebook
---
---
The Lyme Disease Network receives a commission from Amazon.com for each purchase originating from this site.
When purchasing from Amazon.com, please
click here first.

Thank you.




Dedicated to the Bachmann Family


The Lyme Disease Network is a non-profit organization funded by individual donations.
If you would like to support the Network and the LymeNet system of Web services, please send your donations to:

The Lyme Disease Network of New Jersey
43 Winton Road, East Brunswick, NJ 08816 USA
http://www.lymenet.org/

In the United States, your donations are tax deductible.

| | |
| --- | --- |
| | |
Author
Topic: How lyme impacts the eyes - legit sources

Marnie
Frequent Contributor (5K+ posts)
Member # 773


posted

---

Ocular manifestations of Lyme disease may involve any portion of the eye and vary depending on the stage of the disease.

In stage 1 Lyme disease, the ocular manifestations are conjunctivitis and photophobia.

These symptoms are mild and transient, and ophthalmologists usually are not consulted.

During stage 2 Lyme disease, significant ophthalmic complications first appear.

The most common are various neuro-ophthalmologic signs. Typically, the patient may first present with cranial nerve VII palsy (Bell palsy).

Some patients may present with the triad of Lyme neuroborreliosis consisting of cranial nerve palsy, meningitis, and radiculopathy.

Blurred vision also can be noted during this stage, secondary to papilledema, optic atrophy, optic or retrobulbar neuritis, or pseudotumor cerebri.

Optic nerve disease may be unilateral or bilateral and solitary or associated with other neurologic or neuro-ophthalmologic manifestations.

Some evidence exists that children are more predisposed to optic nerve disease than adults.

In late stage 2 or stage 3 Lyme disease, most of the severe ocular manifestations of the disease are seen.

These include episcleritis, symblepharon, keratitis, iritis, posterior or intermediate uveitis, pars planitis, vitreitis, chorioretinitis, exudative retinal detachment, retinal pigment epithelial detachment, cystoid macular edema, branch artery occlusion, retinal vasculitis, orbital myositis, and cranial nerve palsies.

Of this group, keratitis, vitreitis, and pars planitis are the most common.

The keratitis usually is a bilateral, patchy, nummular stromal keratitis.

Posterior segment inflammatory disease generally presents as a bilateral pars planitis associated with granulomatous iritis and vitreitis. Many of these patients also have granulomatous keratic precipitates and posterior synechiae.

http://emedicine.medscape.com/article/1202521-overview

"In a retrospective study 56 consecutive patients with uveitis of unknown origin and 56 consecutive patients suffering from uveitis of established aetiology were investigated.

The purpose of this study was to determine the frequency of positive serological tests for Lyme borreliosis among patients with uveitis and to relate laboratory data to clinical findings.

The antibody titre for Borrelia burgdorferi was determined by two assays: the indirect immunofluorescence assay and the enzyme linked immunosorbent assay.

A positive result according to one or both assays was found for eight patients with uveitis of unknown aetiology (14%) and three patients with uveitis of established cause (5%).

On clinical examination, none of the patients fulfilled the CDC criteria for diagnosis of Lyme borreliosis."

http://www.pubmedcentral.nih.gov/articlerender.fcgi?artid=504579

---

Posts: 9224 | From Sunshine State | Registered: Mar 2001 | IP: Logged |

sparkle7
Frequent Contributor (5K+ posts)
Member # 10397


posted

---

Thanks Marnie!

I told a receptionist in a natropathic doctor's office in NJ that Lyme was affecting my eyesight & she said everyone loses their eyesight as they get old...

How do you say... the river d'Nile???

---

Posts: 7568 | From Northeast, again... | Registered: Oct 2006 | IP: Logged |

sparkle7
Frequent Contributor (5K+ posts)
Member # 10397


posted

---

PS - Is there anything we can do about it?

---

Posts: 7568 | From Northeast, again... | Registered: Oct 2006 | IP: Logged |

bettyg
Unregistered



posted

---

marnie, good info; i added to my newbie links.

---

IP: Logged |

Marnie
Frequent Contributor (5K+ posts)
Member # 773


posted

---

What would I, personally, try?

I would try OmegaBrite (bottle directions) and

Phosphatidylserine - to rebalance the HPA axis.

Those with a fatty meal.

In addition to MgCl (spray on, topical) and B6 sublingual of course.

And I would do Rife/far infrared, 880nM and 660nM, pulsed at accupuncture points briefly. Though I have yet to figure out WHICH accupuncture points would be best and why.

I have a lot of additional info. on EPA, but here is something I don't want to wait to share:

"Furthermore, both arachidonic acid and eicosapentaenoic acid are, at relatively low concentrations, directly virucidal."

http://lansbury.bwh.harvard.edu/epa_reviews_2007.htm

---

Posts: 9224 | From Sunshine State | Registered: Mar 2001 | IP: Logged |

Starfall1969
Frequent Contributor (1K+ posts)
Member # 17353


posted

---

quote: How do you say... the river d'Nile??? :

Like an old Pam Tillis song:

"Just call me Cleopatra,

'Cause I'm the Queen of Denial!"

---

Posts: 1682 | From Dillsburg, PA | Registered: Sep 2008 | IP: Logged |

2roads
Frequent Contributor (1K+ posts)
Member # 4409


posted

---

Marnie,


If it were not you but a 6 year old, what would you do.


All the info is so awesome, but if you are able, would you add an addendum approach for the parents of little ones. If it is not recommended for them, that's okay too.

I come on here more recently for my son.


Thanks Loads,


Greta

---

Posts: 2198 | From West Chester, PA | Registered: Aug 2003 | IP: Logged |

Brent
Member
Member # 12797


posted

---

Ocular manifestations are my main problems. I have been diagnosed with pars planitis, vitreitis, and intermediate uveitis. I did have Bells Palsy in July of '07.
I am on IV Rocephin again.
Thank you Marnie for this information. I need to rethink my treatment. i will discuss this with my doc.

---

Posts: 12 | From USA | Registered: Aug 2007 | IP: Logged |

sparkle7
Frequent Contributor (5K+ posts)
Member # 10397


posted

---

Thanks Marnie- I'll have to write it down & see how to accommodate it with everything else.

---

Posts: 7568 | From Northeast, again... | Registered: Oct 2006 | IP: Logged |

bettyg
Unregistered



posted

---

on marnie's last link she wanted to share with us, breaking it all up as it was solid, block text with NO paragraphs....

this deals with CHRONIC FATIGUE SYNDROME and NOT EYES...


Eicosapentaenoic acid (EPA) Reviews: 2007


Puri, B. K. (2007).

"Long-chain polyunsaturated fatty acids and the pathophysiology of myalgic encephalomyelitis (chronic fatigue syndrome)."

J Clin Pathol 60(2): 122-4.


Evidence is put forward to suggest that myalgic encephalomyelitis, also known as chronic fatigue syndrome, may be associated with persistent viral infection.


In turn, such infections are likely to impair the ability of the body to biosynthesise n-3 and n-6 long-chain polyunsaturated fatty acids by inhibiting the delta-6 desaturation of the precursor essential fatty acids--namely, alpha-linolenic acid and linoleic acid.


This would, in turn, impair the proper functioning of cell membranes, including cell signalling, and have an adverse effect on the biosynthesis of eicosanoids from the long-chain polyunsaturated fatty acids dihomo-gamma-linolenic acid, arachidonic acid and eicosapentaenoic acid.


These actions might offer an explanation for some of the symptoms and signs of myalgic encephalomyelitis.


A potential therapeutic avenue could be offered by bypassing the inhibition of the enzyme delta-6-desaturase by treatment with virgin cold-pressed non-raffinated evening primrose oil, which would supply gamma-linolenic acid and lipophilic pentacyclic triterpenes, and with eicosapentaenoic acid.


The gamma-linolenic acid can readily be converted into dihomo-gamma-linolenic acid and thence arachidonic acid, while triterpenes have important free radical scavenging, cyclo-oxygenase and neutrophil elastase inhibitory activities.


Furthermore, both arachidonic acid and eicosapentaenoic acid are, at relatively low concentrations, directly virucidal.


Okuyama, H., Y. Orikasa, et al. (2007).

"Bacterial genes responsible for the biosynthesis of eicosapentaenoic and docosahexaenoic acids and their heterologous expression."

Appl Environ Microbiol 73(3): 665-70.

---

IP: Logged |

bettyg
Unregistered



posted

---

i got this reply back from dr. volkmann who wrote great letter to idsa on lyme guidelines ....

Thank you for your kind remarks.

If you had optic neuritis it's a rare complication of untreated borreliosis.

Since you seem computer literate, try increasing the font size for easier reading.

Sincerely,
David Volkman, Ph.D., M.D.
Emeritus Professor of Medicine and Pediatrics
SUNY, Stony Brook, NY

volkmans@optonline.net


edited: my reason for posting this was about the EYE problems ... "optic neuritis it's a rare complication of untreated borreliosis"

if folks are experiencing problems, reading this from a caring, lyme literate kids dr., should encourage them to get their eyesight checked out my LL opthamologist!
betty

[ 04-05-2009, 02:34 PM: Message edited by: bettyg ]

---

IP: Logged |

NMN
LymeNet Contributor
Member # 11007


posted

---

My situation is very similar to Brents. I am desperate to resolve these issues.

Has anyone ever known of anyone getting a Vitreous Biopsy done?? I am going to look into this. I would feel very confident if I could identify which pathogen is responsible.

--------------------
Pos BB and Bart(Q & H IGG pos)
Began treat 1 year after start of illness. Diagnosed Feb 2007.


---

Posts: 648 | From Ireland | Registered: Jan 2007 | IP: Logged |

jarjar
LymeNet Contributor
Member # 8847


posted

---

If it were not you but a 6 year old, what would you do.

I noticed they make an OmegaBrite Kidz formula.

---

Posts: 776 | From Utopia | Registered: Feb 2006 | IP: Logged |

NMN
LymeNet Contributor
Member # 11007


posted

---

Hi Marnie,
I remember us discussing this before. Your sister had her Severe eye inflammation resolve with Steroid injection was it not?

Do you think it is as much a case of breaking the cycle of the inflammation as much as treating the offending pathogen itself?

I am very p***ed off with my OPthamologist here in Dublin by his own admission knows nothing about lyme(and after 2 years of seeing has not bothered to learn), yet has still made the leap in saying my eye issues have nothing to do with my "condition", Yeah right!

He seems to be content with letting it go on until it reaches a critical level before he takes action.

I am going to see a LL OPtham in NY recommended by Dr H next month. I need someone knowledgable and experienced and whos not afraid to take action. The inflammation itself has to be tackled.

OPthamologists who tolerate this chronic inflammation are playing with our sight.

I also have a cataract in the same eye as well as so much floaters and junk that it makes my life a misery.

Here is a good article about Uveitis and also specifically Uveitis and cataracts. It also disusses a vitrectomies to remove the debris. I am going to look into this also.

http://www.uveitis.org/patient/support/newsletters/2_1_01.html

--------------------
Pos BB and Bart(Q & H IGG pos)
Began treat 1 year after start of illness. Diagnosed Feb 2007.


---

Posts: 648 | From Ireland | Registered: Jan 2007 | IP: Logged |

Lymeorsomething
Frequent Contributor (1K+ posts)
Member # 16359


posted

---

How do floaters fit into this scheme? They have been one of my steady symptoms....both eyes...

--------------------
"Whatever can go wrong will go wrong."


---

Posts: 2062 | From CT | Registered: Jul 2008 | IP: Logged |

Pinelady
Frequent Contributor (5K+ posts)
Member # 18524


posted

---

Find him the articles on the net of Bb found in autopsy in the eyes.

Warning very graphic.

I used CS drops for blister like blebs and they went away.

I also know a teacher who uses the drops for post MS symdrome she says she was diagnosed with.

She uses it for eye irritation. My guess it is still in her eyes. Or the damage is done.

I figured if they used Silver nitrate to prevent infection in newborns, Colloidal Silver could not hurt.

It did not burn the blisters and it felt very good.

--------------------
Suspected Lyme 07 Test neg One band migrating in IgG region
unable to identify.Igenex Jan.09IFA titer 1:40 IND
IgM neg pos
31 +++ 34 IND 39 IND 41 IND 83-93 +
DX:Neuroborreliosis


---

Posts: 5850 | From Kentucky | Registered: Dec 2008 | IP: Logged |

EyeBob
LymeNet Contributor
Member # 12572


posted

---

Search the database to find the many times that I've posted with the answer to what the floaters are.

To summarize....they are vitreous aggregates probably secondary to inflammatory processes. Some (I suspect the older people) report that they get better, most don't. Some report that things like Stephania Root helped, I have not seen the clinical evidence, but it might.

As far as Vitreous biopsies. I find it hard to believe that a retinologist would persorm such a procedure. If you find one who would, I would love to hear from them. As far as I know, the pathogen in question (Bb, bart, etc) has not been isolated from the vitreous so there's no reason that I am aware of to biopsy the vitreous.

BT

---

Posts: 297 | From New Hampshire | Registered: Jul 2007 | IP: Logged |

NMN
LymeNet Contributor
Member # 11007


posted

---

I have found one in the US who would but its gonna cost me 8000 dollars.

Heres at least one study showing BB persisting in the vitrious following IV Ceft therapy. I know there are others.

http://www.ncbi.nlm.nih.gov/pubmed/10048013

--------------------
Pos BB and Bart(Q & H IGG pos)
Began treat 1 year after start of illness. Diagnosed Feb 2007.


---

Posts: 648 | From Ireland | Registered: Jan 2007 | IP: Logged |

Lymeorsomething
Frequent Contributor (1K+ posts)
Member # 16359


posted

---

Bob, I wish I had time to wade through 8 pages of non-specific posts. My floaters started after the onset of my present illness. There must be some connection. I know about the general causes of floaters.

My eye MD said that no one knows if lyme is connected to floaters. So if you're going to tell me that lyme and/or co's do not play a part, I would respectfully disagree at this point as no one seems to be sure...

What's the mechanism as it relates to "lyme"? That's what I care about....

--------------------
"Whatever can go wrong will go wrong."


---

Posts: 2062 | From CT | Registered: Jul 2008 | IP: Logged |

NMN
LymeNet Contributor
Member # 11007


posted

---

My diagnosis of TBD came directly from the presence of floaters which resulted in the diagnosis of Uveitis which led to the diagnosis of lyme and Bart through blood workup.

I do not think Bob is saying floaters are nothing to do with lyme. I wish you had my eyes for a day Bob. I think you would cange your tune.

I absolutely hate it when Opthamologists trivialize floaters as if they are nothing. Mine are so bad I wont go out in the day time anymore.

I do not have a single clear space left to look at the world. Infection = inflammation = floaters

--------------------
Pos BB and Bart(Q & H IGG pos)
Began treat 1 year after start of illness. Diagnosed Feb 2007.


---

Posts: 648 | From Ireland | Registered: Jan 2007 | IP: Logged |
Contact Us | LymeNet home page | Privacy Statement

© 1993-2014 The Lyme Disease Network of New Jersey, Inc.
All Rights Reserved.
Use of the LymeNet Site is subject to the Terms and Conditions.

Powered by UBB.classic™ 6.7.3

---
Home | Flash Discussion | Support Groups | On-Line Library
Legal Resources | Medical Abstracts | Newsletter | Books
Pictures | Site Search | Links | Help/Questions
About LymeNet | Webmaster
---