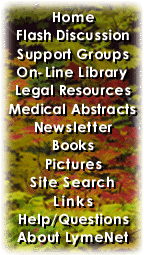 ---
LymeNet on Facebook
LymeNet on Twitter
---
---
The Lyme Disease Network receives a commission from Amazon.com for each purchase originating from this site.
When purchasing from Amazon.com, please
click here first.

Thank you.




Dedicated to the Bachmann Family


LymeNet needs your help:
LymeNet 2020 fund drive

The Lyme Disease Network is a non-profit organization funded by individual donations.

| | |
| --- | --- |
| | |
Author
Topic: Is it lyme and if it is what can I do?

Elizabeth C.
Junior Member
Member # 49365


posted

---

First test igG p58 positive
overall neg
Second test igG p58 and igG p23 positive
overall neg.

Both western blots were negative.
Stats Female 27 5'4 200 lbs
Location Northern VA

Symptoms
high ANA, SSA AND SSB positive >8 for both according to labcorp

shooting pains from knees down shins
Same for elbows down forearms
Migraine, tension, and icepick headaches
Dizziness

Morning sickness, not pregnant and also this sickness comes and goes throughout the day
Facial twitching
Muscle spasms

My eyes have started beading back and forth
Irregular heartbeat started 2008 which i think was anxiety related but now its all the time..

Chest pains and almost an electrical type feeling in chest ECG normal, 24 hr holter only recorded PVCS.

Tired all the time constant need to sit down(i have two year old twins I cant be sitting..)
Anxiety
Sun sensitivity in my eyes, always had it but its much worse now

All come and go throughout the year. I have only recently started tracking symptoms and when they occur so far seems sporadic. The migraines and other headaches are a constant.

My doctor claims most symptoms are anxiety. I have had anxiety a long time, no Rx, and these symtoms are not usual.

Also been referred to rheum who says Im perfectly healthy looking and that my ANA results shocked her when they came back and said they are highly indicative of sjogrens ..

She tests me every 3 months now to check my blood and urine.. But otherwise says she is only monitoring me.

I live on ibuprofen naproxen acetaminophen and maxalt for my migraines, Im scared Im damaging my body with all these otc medicines and just really think the system is incompetant when it comes to Lyme.

If anyone could shed some light here for me I have been referred to infectious disease who will not accept me as a patient unless I have a positive lyme panel I think it has to be more than 5 bands.. I only have 2.

After re-reading my results and showing my mom she thinks there could be something more to this. My grandpa is lyme positive and I lived at his home for two years, about two years ago. And have been there on and off my whole life.

I have began taking some supplements:
Magnesium 250mg twice daily
Selenium 200mcg twice daily

Because I have lousy insurance Im certain if I pursue MD help I will have to pay out of pocket and from what I've heard they just stuff you full of antibiotics and hope it kills it. . if there is something natural thats the route Id like to try first.

Any help is much appreciated so glad for forums like this. Thanks you to all who respond.

(breaking up your post into a couple lines at a time for easier reading for many here)

[ 11-27-2016, 07:17 PM: Message edited by: Robin123 ]

---

Posts: 2 | From Virginia | Registered: Nov 2016 | IP: Logged |

Lymetoo
Moderator
Member # 743


posted

---

Hi Elizabeth, Do you have any itching or rashes, asthma, hives by any chance?

I have Sjogren's also .. and Lyme. I do believe that Lyme can cause SJS. There isn't a lot that can be done about it, but it's good to know so you can keep the eyes and mouth moist. You will have many problems if you don't take good care of them.

Perhaps someone could recommend a good naturopath in your area, if you are interested in treating with herbs.

One thing I would try to do is get off the Tylenol. It can really damage the liver and I could give you a long list of repercussions of that. None are good.

Which lab did your Lyme test?

--------------------
--Lymetutu--
Opinions, not medical advice!


---

Posts: 94381 | From Texas | Registered: Feb 2001 | IP: Logged |

TF
Frequent Contributor (5K+ posts)
Member # 14183


posted

---

Hi, Elizabeth, and welcome to LymeNet! We will help you here all we can.

Since I have recently gotten rid of my headaches, I would like to give you some suggestions of supplements for you to try to see if they get rid of your headaches.

I worked with an excellent neurologist who tried many things to get rid of my "continual daily migraine" (his diagnosis) and, after all the drugs (none of which I could take--they all just doped me up terribly), he said he would try supplements on me. I am so glad he did.

This is what he recommended:

400 mg CoQ10 daily
400-500 mg time-release magnesium (I use MagTab SR plus some chelated mag) daily
400 mg B2 daily

In 48 hours of starting these supplements, my months-long headache ended.

I hope it works for you also.

CoQ10--he said to buy any kind. Shop around and get the cheapest one. He said to take 400 mg all at one time. I found that Vitamin Shoppe has the cheapest one.

Time-release magnesium--I buy mine on line. MagTabSR by Niche. Then, if you don't want to take 5 of them per day to get up to the necessary magnesium level, just take 3 per day and add in some regular, non-time release mag.

That is what I do just to save money and because I find the MagTab hard to swallow. I take one MagTab in the morning with a regular mag pill. Then, in the evening, I take 2 MagTab with another regular mag pill.

The magnesium MUST be time release for this to work for the headache. MagTab is a 12 hour time release pill.

Here is their website:

http://www.magtabsr.com/

Just buy a bottle of 100 to start out and see if it helps. (That is a 30 day supply if you take 3 per day.)

It will NOT give you loose stools.

B2--is a little hard to find. I found it at Vitamin Shoppe. I was not able to take the 400 mg per day. It destroyed my estrogen and made me like a full-blown menopausal woman after 2 weeks.

So, I take only 100 mg and it still works for me.

See this post of mine in which I tell my tale:

http://flash.lymenet.org/scripts/ultimatebb.cgi/topic/3/36714?#000000

I sincerely hope that this will work as well for you as it did for me.

If you could get rid of your horrendous headaches, it would make your life more bearable while you work on getting rid of the other symptoms, get a diagnosis, etc.

---

Posts: 9931 | From Maryland | Registered: Dec 2007 | IP: Logged |

Elizabeth C.
Junior Member
Member # 49365


posted

---

LymeTutu,

My testing wasnt dont at igenex(ive heard theyre the best) I believe it was done at Labcorp in NC.

I do not have any rashes like butterfly rash or anything on my face but when my left arm Is in the sun while driving in the summer I tend to get an itchy raised bumped rash that doesnt cease until I stay out the sun.

No dry mouth or eyes thats concerning .. Yet. >.<
Do you have any suggestions on ways to make sure I keep good care of mouth and eyes?
Im always drinking water and if necessary I do use eye drops but its like once a month.

TF,

I will Check out the magtab and get the COQ10 ive heard a lot of good things about it so think its time to get some.. hope something helps.

The magnesium I use now is chelated I forget the brand but its magnesium Glycinate.

I take b complex from vitamin shoppe that I believe has b2 I will check but certainly believe so.

Thank you both for such quick responses and so sorry for my late one.

**breaking up the post for easier reading for many here**

[ 11-27-2016, 07:19 PM: Message edited by: Robin123 ]

---

Posts: 2 | From Virginia | Registered: Nov 2016 | IP: Logged |

TF
Frequent Contributor (5K+ posts)
Member # 14183


posted

---

B complex may contain a little B2 (probably 100 mg) but it won't be enough.

The only safe way to get this much B2 is to buy just B2 itself.

It is unsafe to take B complex at the very high doses necessary to give you 400 mg of B2 because then you will be taking too much B6 which can be toxic.

See this thread in which B6 toxicity is discussed:

http://flash.lymenet.org/scripts/ultimatebb.cgi/topic/1/134434?#000007

---

Posts: 9931 | From Maryland | Registered: Dec 2007 | IP: Logged |

WPinVA
Frequent Contributor (1K+ posts)
Member # 33581


posted

---

Hi Elizabeth, It does sound suspicious for Lyme and you would need to be seen by an LLMD for evaluation and treatment. There are several good ones in the NoVa area. PM me or post to Seeking if you want some names. Different doctors take different approaches, and not all are wed to antibiotics.

If you want to try it on your own, one approach would be the Cowden protocol. I have a friend who did that mostly on her own for a year and is now well. But she was very lucky and in general it's a good idea to see an LLMD.

---

Posts: 1737 | From Virginia | Registered: Aug 2011 | IP: Logged |

Robin123
Moderator
Member # 9197


posted

---

Bands 23 and 58 are Lyme-positive bands, so you have tested positive. The CDC wants to see five positive bands but many feel that any specific Lyme-positive band is enough.

Most doctors do not know how to treat this disease and we must see a Lyme-literate doctor. You will need referrals, which you can get from here or by making a post in Seeking a Doctor.

Some Lyme-treating doctors just do antibiotics, and that works for some, but Lyme treatment is more than antibiotics and many doctors deal with the various treatments.

Lyme care lands in three areas - kill/deter the organisms, detox, and fortify the body. There is a multitude of treatment options in each of those areas. We're all different so the trick is to see what we each respond to.

Re the muscle twitching, upping magnesium will be helpful, since our cells run on ATP and that requires magnesium. Plus magnesium is used in over 300 enzyme reactions in the body. And its lack can be affecting your heart too.

If you respond well to mg glycinate, that's fine. You can test going to tolerance with it - ie the amount you can tolerate before you have any reactions.

My eyes respond very well to my drinking mangosteen juice - the juice stops all Lyme eye symptoms for me. It's an anti-inflammatory juice that neutralizes free radicals created by inflammation. I drink around an ounce a day

I like the Mango-Xan version as it's the most tart. Found in health food stores and online.

Re your concern about damaging your body with OTCs, I went undiagnosed for 25 years and was on all that stuff and more.

I think we need it to get by, but as you learn more about your treatment options, hopefully you will be discovering ways to reduce pain. I now pretty limit pain med to evenings so I can sleep.

Two young twins? Wow. Is there anyone who can help take care of them with you?

Here's a couple more energy-providing ideas - malic acid and mg is a supplement that can boost energy, and also flower pollen products.

Responses here will gradually educate you about what you can do, and you will feel better in time.

---

Posts: 12948 | From San Francisco | Registered: May 2006 | IP: Logged |

bluelyme
Frequent Contributor (1K+ posts)
Member # 47170


posted

---

Welcome sorry ..if you have the money and need to confirm i suggest the dna connexions test .no doc needed .
Good advice above ...the orher thing that has helped with sun sensativity in eyes and fatigue has been rife for toxoplasmosis and bee venom therapy

here if you need

--------------------
Blue


---

Posts: 1538 | From southwest | Registered: Dec 2015 | IP: Logged |

hopingandpraying
Frequent Contributor (5K+ posts)
Member # 9256


posted

---

Welcome to Lymenet! PM sent for VA.

Stay away from Infectious Disease Doctors (IDSA). They believe one dose of antibiotics is enough and don't believe in chronic Lyme. Here is a link for you to read about "Two Standards of Care":

http://lymedisease.org/news/lymepolicywonk/lymepolicywonk-two-standards-of-care-revisited.html

CDC guidelines are for surveillance purposes only, not diagnosing illness! I was told by one of the top LLMDs that one band is enough to have Lyme Disease.

You need to be evaluated and treated by a Lyme-literate doctor (LLMD). Non LLMDs have no clue about this horrible disease or its complex treatment!

A LLMD is one who has treated Lyme disease and the co-infections which come with it for many years and has gotten patients well. A good one will follow Dr. B's Guidelines, the "gold standard" for Lyme treatment.

Here is a link for them:

http://www.lymenet.org/BurrGuide200810.pdf

Unfortunately, LLMDs are far and few between. You need to go where they are.

Also most LLMDs do not accept insurance due to the politics surrounding this horrible disease. Read poster TF's explanation, "Why Lyme Doctors Don't Take Insurance":

http://flash.lymenet.org/scripts/ultimatebb.cgi?ubb=get_topic;f=2;t=025539;p=0

When calling for an appointment, ask if they have any cancellations or a waiting list. Patients have been able to get in sooner by doing this.

Check the online state Lyme groups at:
https://groups.yahoo.com/neo/groups/VirginiaLyme/info

Maybe they can help.

Some more resources for you (including Support Groups info):
http://whatislyme.com/websites-and-support-groups-by-state/

http://www.lymenet.org/SupportGroups/UnitedStates/Virginia/

The top LLMD, Dr. H, has written a book titled, "Why Can't I Get Better?". It is an excellent source of information.

Read "Cure Unknown" by Pamela Weintraub. Get it at your local library or buy it used on Amazon.

View "Under Our Skin" for free on http://www.veoh.com/m/watch.php?v=v21055812yWtmpgB8

Btw - I know you are new to Lymenet, but please break up your posts into 2-3 sentence paragraphs, as there are people on Lymenet who cannot read large blocks of text due to neurological problems from Lyme.

To do this click the pencil/paper icon, make your changes, then click "Edit Post". Thanks.

---

Posts: 8669 | From Illinois | Registered: May 2006 | IP: Logged |
Contact Us | LymeNet home page | Privacy Statement

© 1993-2020 The Lyme Disease Network of New Jersey, Inc.
All Rights Reserved.
Use of the LymeNet Site is subject to the Terms and Conditions.

Powered by UBB.classic™ 6.7.3

---
The Lyme Disease Network is a non-profit organization funded by individual donations. If you would like to support the Network and the LymeNet system of Web services, please send your donations to:
The Lyme Disease Network of New Jersey
907 Pebble Creek Court, Pennington, NJ 08534 USA
http://www.lymenet.org/
---
Home | Flash Discussion | Support Groups | On-Line Library
Legal Resources | Medical Abstracts | Newsletter | Books
Pictures | Site Search | Links | Help/Questions
About LymeNet | Contact Us
---
© 1993-2020 The Lyme Disease Network of New Jersey, Inc.
All Rights Reserved.
Use of the LymeNet Site is subject to Terms and Conditions.
---