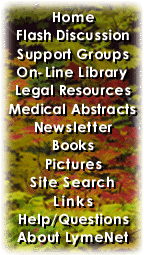 ---
LymeNet on Facebook
LymeNet on Twitter
---
---
The Lyme Disease Network receives a commission from Amazon.com for each purchase originating from this site.
When purchasing from Amazon.com, please
click here first.

Thank you.




Dedicated to the Bachmann Family


LymeNet needs your help:
LymeNet 2020 fund drive

The Lyme Disease Network is a non-profit organization funded by individual donations.

| | |
| --- | --- |
| | |
Author
Topic: I'm new here. Introducing myself and asking questions.

Leanne
Member
Member # 27350


posted

---

Hey, everybody. I want to introduce myself because I have a feeling I'll be spending a good bit of time on the forums over the next few months/years.

The tick bite occurred when I was about 8 or 9 years old. We lived in the woods, and we (4 siblings and myself) spent a good bit of time working in the garden, making bike trails through the woods, hiking, and splashing in the creek. Ticks were a common thing in South Carolina, and it wasn't unusual to pull one or two or three off every summer. It was a part of life. But there was one particular tick bite that was different from the others. This one, when I noticed it on my shoulder, had a rash around it about the size of a quarter. Mama pulled it off and the bite spot got all puffy and itched terribly. Over the next couple of days the rash spread to about the size of a silver dollar. The doctor said, when Mama called, "Don't worry about it--it's just a local reaction. If she doesn't run a fever, it's not Rocky Mountain Spotted Fever." (That's all he knew to warn Mama about, and that's all she knew to watch for.) I don't remember any of this except the rash and itchiness. I didn't know she'd called the doctor until I told her about my Lyme diagnosis a month ago. Neither of us remember exactly when the bite was, but Mama believes it was the same year (possibly within weeks or months of the tick bite) I came down with a month-long illness that they called mono. It was never diagnosed--it was assumed. I missed 4 weeks of school from a fever, nausea and dizziness. I have always marked that illness as the Beginning of It All.

The tick bite left a bubble that eventually left a scar. I have it on my shoulder to this day. It's about the diameter of a pencil eraser. None of us thought any more about that tick bite. We only remember it looking back because it was so odd.

I don't feel like I ever really recovered from that illness. Mama says I was weak and tired for months afterwords. I hated school; I was always behind; diagnosed with ADD and dyslexia; forgot stuff; remembered the wrong things......

Let me tell you about one event that sticks in my mind. I was in front of my locker pulling out my books for the next class. I was in 8th grade. Suddenly I "woke up" and had no idea what day it was, what time it was, and what class to go to. The hallway was empty. It was in early spring, so I'd had months and months to memorize my schedule. But I had no idea where I was or what I was supposed to be doing. By the time I figured it out, I was incredibly late to class and it was again chalked up to "the ADD" and I was excused.

I have a terrible sense of time. I have no knowledge of time passing. I recently wrote 1996 on something, then realize that wasn't right. I felt so stupid. Crazy. I usually don't know what day of the week it is, and my husband has to tell me. Every day is the same. I get up, wish I were in bed, and drag through all day, just waiting until the baby goes down for a nap so maybe I can doze off for a few minutes too.

I wrote my maiden name on something two years after I was married. DUH.

There was one time in my life when I had nothing to do and could sleep as much as I wanted. I was staying with an elderly lady, and she paid me to keep her company and cook for her. I had nothing else to do. It was wonderful. I slept 10-12 hours a night and took a 2-3 hour nap many afternoons. Isn't that a little unreasonable?

There are days when I will be sitting at an intersection in traffic and suddenly not know where I am. On a route I've been driving for four years. I've learned, on bad days, that I have no business driving. I've called my husband in tears, or (if I was too embarrassed to call him), I'd consult a map. To figure out how to get home from five miles away. Ridiculous. (Of course now I know why.)

Okay, anyway, the muscle cramps and incredible fatigue and confusion and dyslexia were a part of life for me. Just something I dealt with. I didn't often get sick, but when I got something I stayed sick for way too long.

I developed the normal acne, but then after a while it turned into something much bigger. Since I was about 13 or 14 I've had cysts that will ooze gross nastiness for MONTHS. There are school pictures of me one year with this huge, awful zit on my neck....and then in my class picture a year later, there's a scar there. Then the next year there will be that big cyst all bubbled up again in the exact same spot. It'll form a knot down under the skin after a while, about the size of the head of a straight pin, and then a year or so later it'll come back up, all infected again for months. They're mainly on my neck now, but in the past they were all over my face and back and .... entire upper body and arms. Even inner thighs and calf muscles. Very specific spots that keep erupting. (I've wondered if they're on certain acupuncture points or something, indicating a need for specific detoxification.)

I started seeing doctors when I was about 20. Every single one I saw said, "You're too young to feel this way. Get more exercise and you'll feel better." Well, exercise doesn't make me feel better. It makes me feel worse. They'd put me on antibiotics for my skin, which wouldn't help--they'd just give me yeast infections. It didn't take me long to realize the medical profession didn't have anything to offer me. "There's nothing wrong with you. All our tests indicate that you're fine."

I went alternative. What a relief! For the first time I had someone take me seriously. He said I had pre-MS symptoms and several food allergies. "Very toxic body," he said. His homeopathic stuff did help. His diet recommendations were helpful as well.

I moved, got married, moved several more times and continued seeing a variety of alternative practitioners, all who had their advice, "Very toxic--you need this herb, this vitamin, this supplement....." Everything helped temporarily. I always felt like each different practitioner put "It" (even thought I didn't have a name for It) into remission. I called it "remission" even though I didn't know what it was.

My siblings called me a hypochondriac. Medical doctors were clueless. I gave up on them. Alternative doctors said, "Very toxic. Try this remedy." Diagnosed by an electro-acupuncturist as having pre-MS symptoms, chronic fatigue, and fibromyalgia.

5 1/2 years ago I went on the Blood Type Diet. Best thing I ever did. I joined the forums and have been an active member there. I put "It" into remission again, and have only had minor flare-ups since.....until a year ago.

Somebody on the BTD forums had suggested Lyme to me a year or two ago when I was complaining about stuff. She'd had Lyme and was treated alternatively and recognized the odd symptoms. It stuck in the back of my mind, but I didn't give it more thought.

After my first baby was born I started having "episodes" where my nervous system felt like it was shutting down.

You know, I just realize this is going to get really, really long if I keep talking.

Suffice it to say that I can check off 90% of the symptoms on the Lyme list.

A month ago I saw a different ND who confirmed Lyme. She's treating me homeopathically. I can't tell much difference yet, but I'll see her again tomorrow.

I recently learned the bacteria can pass through the placenta and breastmilk, so now I'm paranoid about having given Lyme to my four children, ages 1, 3, 5 and 7.

I've taken a turn for the worse and I'm not really getting better. It kind of scares me. The nerve pain is astonishing some days.

I saw a neurologist, which was a big step for me. I'm not one to run off to see somebody the first time I feel weird. I know it sounds like I've seen everybody under the sun, but please understand that this has been over the course of 15 years. Every two or three years I see somebody---when I feel like I'm going to die. So the neurologist at Emory (in Atlanta) said he thinks I'm having chronic Migraine. Not migraine headaches (I have those too, but only about once ever 3-4 months). This is Migraine: a condition or state of being. As in....All the time, but not necessarily with the actual headache. Everything he said made total sense. I floated the idea of Lyme to him and, surprisingly, he said it was entirely possible. I kind of expected him to scoff, considering the CDC's position on Lyme in Georgia. He thought perhaps the Migraine was a side affect of the Lyme.

I went to the ER in May. That was the first time I've ever in my life been in the hospital. I'm one of those really crunchy moms who does home-birth and all that crazy stuff, so I've never been hospitalized for anything. I avoid them. But I had one of my "episodes" and this time I couldn't sleep. Sleep always resets something, and I can get rid of a "crash" or "episode" by sleeping--even dozing off for a few minutes. (The neurologist said this was typical of Migraine.) My legs and arms went paralyzed and totally numb. My feet and legs were blue. My husband called the paramedics and they transported me to the ER where I got a dumb doctor who, after hours of waiting for him to show up, said I had a panic attack.

At any rate, the ND I'm seeing is treating me and I have hopes that things will get better soon. I'm going to have her test the children to see if some of their odd symptoms (food sensitivities, chronic pain in the oldest child) could be Lyme.


Questions:

~~I've had this for 25 years. Some of you are much more "advanced" in the disease but haven't had it for very long. I'm thankful I've staved it off for as long as I have (I attribute it to a great diet). What can I expect from here on out, as far as progression goes? I've spoken with the president of the GA Lyme Disease Association who said I was doing really good for having had undiagnosed, untreated Lyme for this long. What's next, if this homeopathic treatment doesn't work?

~~Do any of you have skin boils? I know that eating plants in the nightshade family (potatoes, peppers, eggplant, tomatoes [to a lesser extent]) makes my skin unbelievably worse. I was just reading about scalp sores on the forums here. What about boils other places?

~~I keep reading about cysts. That the bacteria hide in cysts. Does that mean in the muscles? (Fibromyalgia?) Or skin cysts?

~~I mentioned that in the last year (since the birth of my 4th baby), things have been tough again. Instead of having mostly neutral days and an occasional bad day, I'm having mostly bad days and an occasional neutral day. I feel like my brain is dying, and it's scary. I have little people to take care of. It's not like I can sit around and shrivel up. I'm trying to home school them, for goodness' sakes!

~~ I can't hold an adjustment. I've seen multiple chiropractors often, and none of them can figure out why my neck won't hold an adjustment. They adjust and re-adjust and do all sorts of therapies, and I'm back very soon needing it all over again. Do any of you find this to be the case? That you can't hold a chiropractor's adjustment?

~~The neurologist told me to pay attention to how often I actually have headaches. I thought it wasn't very often, but the truth is, I keep myself very busy so I don't notice them. I've started paying attention, and they're pretty much every day, nearly all the time, to varying degrees. Caffeine helps. He wants to medicate me, but it would require that I wean the baby, and I'm not gonna do that just so I can take a drug. Do any of y'all have chronic Migraine?

That's all I can type right now. I'm exhausted beyond words.

--------------------
Funky tick bite ~1986
Home schooling mommy of 4 little ones.


---

Posts: 15 | From West GA | Registered: Jul 2010 | IP: Logged |

DeniseNM
LymeNet Contributor
Member # 11182


posted

---

I don't have any answers for you, just support!

It's great that you're being treated and actually had a neuro say Lyme was a possibility. I have tons of neuro symptoms, too, and it's really, really scary.

You'll probably want to see an LLMD, in addition to the ND. The Seeking a Doctor section on this forum can help with that.

I understand about not having time for this disease - who does!

Hopefully others will chime in with more help.

Hang in there!

--------------------
dx: MS in 1998
2007 - Lyme suspected
2009 - Positive Lyme, MS worse. Now: Copaxone shots for MS
gall bladder out 7/09
Ceftin, Zith, Septra
LDN
Acyclovir
Monolaurin, DHEA, Pregnonelon, Curcumin


---

Posts: 243 | From New Mexico | Registered: Feb 2007 | IP: Logged |

kidsgotlyme
Frequent Contributor (1K+ posts)
Member # 23691


posted

---

Hi Leanne. It's nice to meet you, but I wish it was under better circumstances.

You really need to get to a lyme literate doctor ASAP!

I know that you have staved off the infection through various routes, and you've definitely gotten a head start with your diet and nutrition.

It also sounds like your older child is going to need to be seen by someone also. The sooner you get him treated, the better chance of recovery.

The task ahead of you will be difficult, but you sound like the kind of person who will do what needs to be done for yourself and for your family.


Christie

--------------------
symptoms since 1993 that I can remember. 9/2018 diagnosed with Borellia, Babesia Duncani, and Bartonella Hensalae thru DNA Connections.


---

Posts: 1470 | From Tennessee | Registered: Dec 2009 | IP: Logged |

Lymetoo
Moderator
Member # 743


posted

---

Welcome!! Your story has some parallels to my own!

As far as progression... it's hard for anyone to say what you will go through. With good treatment, you will do fine and stop the progression.

Boils... My cousin had Lyme too and she had boils and big pimples all the time. Once she took antibiotics for several months, they went away never to return.

The cysts are in the blood. They are microscopic.

I can't hold an adjustment either. I've given up on chiropractic. Have been to at least 6 chiros over the years.

You might consider Bio-Cranial therapy. Google it. Some chiros do it and it will hold for months. I have found success with that, but it's not true chiropractic.

I got rid of my migraines (they were horrible) by treating for Lyme and babesia. You need to find out if you have babesia. It is a coinfection of Lyme and causes really bad headaches.

I'm off to bed!

--------------------
--Lymetutu--
Opinions, not medical advice!


---

Posts: 94473 | From Texas | Registered: Feb 2001 | IP: Logged |

Pinelady
Frequent Contributor (5K+ posts)
Member # 18524


posted

---

Whats next is a great LLMD to treat. You can get your life back---It is a long hard road, but it can be done.

If you have not seen the movie UOS you may want to get it and share to get a better truth and understanding of what Lyme really is.

http://underourskin.com/watch.html

--------------------
Suspected Lyme 07 Test neg One band migrating in IgG region
unable to identify.Igenex Jan.09IFA titer 1:40 IND
IgM neg pos
31 +++ 34 IND 39 IND 41 IND 83-93 +
DX:Neuroborreliosis


---

Posts: 5850 | From Kentucky | Registered: Dec 2008 | IP: Logged |

Cyndy
Member
Member # 26693


posted

---

Leanne I have sent you a private message with my Lyme doctor's name and phone # and where she is located. I too am from Georgia and I have found the greatest doctor. My PCP was worthless!!!
I have had a lot of the same symptoms you have and have gotten so so so much better. Yes it can be done. You can have your life back. And much more than that....your children can have their mother.

--------------------
Life was meant to be lived.....One must never, for whatever reason, turn his back on life. Eleanor Roosevelt


---

Posts: 14 | From Georgia | Registered: Jun 2010 | IP: Logged |

Leanne
Member
Member # 27350


posted

---

I've read enough to know that antibiotics aren't the best route to take. I've read about Samento and it sounds more encouraging.

Will a LLMD be able to guide me in the Samento direction?

--------------------
Funky tick bite ~1986
Home schooling mommy of 4 little ones.


---

Posts: 15 | From West GA | Registered: Jul 2010 | IP: Logged |

Lymetoo
Moderator
Member # 743


posted

---

Bless you Cyndy!! We need names for GA!

Leanne... Antibiotics are the best way to beat this. This is a BACTERIAL infection.

Call different offices and ask if they use herbal treatmtents. Some don't.

--------------------
--Lymetutu--
Opinions, not medical advice!


---

Posts: 94473 | From Texas | Registered: Feb 2001 | IP: Logged |

ThatColorGreen
LymeNet Contributor
Member # 16016


posted

---

i did the natural thing for a while.. it stopped my progression for a bit, then i started getting worse.

antibiotics are the reason i am alive.

ALL options need to be considered.
Ironically, [being in the position that i am] I would rather do everything the natural way.

However, there comes a time where in fact, som pharma drugs are needed.

do not cross them off your list just yet.

i went at least 15 years undiagnosed. i am now 25 and have been treated properly for about 18 months now.. and again... antibiotics, along with proper supplements are why i am here.

every person is different in their treatment protocols, but in the begininning, every option needs to stand before you.

please do not shut out such great treatments.

~green

--------------------
...trying to be the coffee bean, not the egg.


---

Posts: 420 | From East Coast | Registered: Jun 2008 | IP: Logged |

sixgoofykids
Moderator
Member # 11141


posted

---

My story is very similar to yours, except that I got much, much worse after another tick bite. Before that I was able to control it with sunshine, exercise, and diet.

I went on abx because I was bedridden and found an LLMD. After 20 months, I was about 40% on a bad day (in bed or couch all day but able to prepare food for myself) and 70% on a good day.

I did have times I was better than that, but this is where I was once I got off abx. I went to Germany for an alternative therapy. You can read about it in Oct. 2008 in my blog listed below. I am completely well today.

Though I think abx is a good therapy, I don't think it's the only way. I do not think samento is enough.

You might like Buhner's book Healing Lyme. Also, you might like my LLMD in NY and he probably would treat you herbally if that's what you wanted. Dr. K in WA would be a good fit for you, too, but he has a long waiting list.

--------------------
sixgoofykids.blogspot.com


---

Posts: 13449 | From Ohio | Registered: Feb 2007 | IP: Logged |

Leanne
Member
Member # 27350


posted

---

My ND wants me to get the mercury fillings out of my mouth, which will require than I wean the baby. I am NOT happy about that. I'm considering putting it off for a little longer, although I'm not sure how much time I have. It's $$$$$$ to get them removed, so it'll be some time anyway.

--------------------
Funky tick bite ~1986
Home schooling mommy of 4 little ones.


---

Posts: 15 | From West GA | Registered: Jul 2010 | IP: Logged |

kidsgotlyme
Frequent Contributor (1K+ posts)
Member # 23691


posted

---

Leeanne,

There was a point where I thought that antibiotics were not the route to go. After I watched the "Under Our Skin" documentary, I quickly changed my mind.

Because you have had this for such a long time, I would recommend that you at least go see a LLMD. It seems a very scary thing to think about taking long term antibiotics, but the alternative is even scarier.

I am a huge believer in alternative treatment. I have taken my daughter to so many different alternative healers. I finally gave in because I saw that it was not getting her better.

I am going to start her on the Buhner protocol soon along with the antibiotics.

Please keep reading and studying. You might change your mind, but if not, there are a lot of different treatments out there for you to try.

--------------------
symptoms since 1993 that I can remember. 9/2018 diagnosed with Borellia, Babesia Duncani, and Bartonella Hensalae thru DNA Connections.


---

Posts: 1470 | From Tennessee | Registered: Dec 2009 | IP: Logged |
Contact Us | LymeNet home page | Privacy Statement

© 1993-2020 The Lyme Disease Network of New Jersey, Inc.
All Rights Reserved.
Use of the LymeNet Site is subject to the Terms and Conditions.

Powered by UBB.classic™ 6.7.3

---
The Lyme Disease Network is a non-profit organization funded by individual donations. If you would like to support the Network and the LymeNet system of Web services, please send your donations to:
The Lyme Disease Network of New Jersey
907 Pebble Creek Court, Pennington, NJ 08534 USA
http://www.lymenet.org/
---
Home | Flash Discussion | Support Groups | On-Line Library
Legal Resources | Medical Abstracts | Newsletter | Books
Pictures | Site Search | Links | Help/Questions
About LymeNet | Contact Us
---
© 1993-2020 The Lyme Disease Network of New Jersey, Inc.
All Rights Reserved.
Use of the LymeNet Site is subject to Terms and Conditions.
---