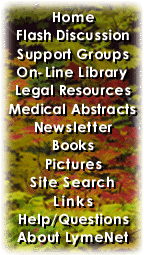 ---
LymeNet on Facebook
LymeNet on Twitter
---
---
The Lyme Disease Network receives a commission from Amazon.com for each purchase originating from this site.
When purchasing from Amazon.com, please
click here first.

Thank you.




Dedicated to the Bachmann Family


LymeNet needs your help:
LymeNet 2020 fund drive

The Lyme Disease Network is a non-profit organization funded by individual donations.

| | |
| --- | --- |
| | |
Author
Topic: Chinese Herbs for Lyme

rks
LymeNet Contributor
Member # 24316


posted

---

Came across this and thought some of you might be interested. I posted a Chinese herb for lyme article a while back, but this one lists more herbs with more detail, I believe.

http://healthnew.org/2010/10/how-you-can-cure-lyme-disease-with-chinese-herbs/

A number of Chinese herbs can be useful for the many different facets of Lyme Disease. Lyme Disease is a bacterial infectious disease caused by the spirochetal organism, Borrelia Burgdorferi. It is usually caused by a tick bite. The prevalence of the disease is greatest in the northeastern United States, but there have been cases of the illness in all lower 48 states.

The disease is easy to treat with antibiotics in its initial stages, but it is often not detected at that point. There is a bullís eye rash that is characteristic of the disease, but many people never get the rash. The rash looks different in people with darker pigmentation, making it easy to mistake it for other skin conditions, including bruising or eczema.

The wide variety of symptoms that a person can have in its later stages makes it hard to obtain a proper diagnosis, and the medical testing for the illness is still not very accurate in many cases.

People with later stages of Lyme need treatment on a number of different levels. At the very basic level, herbs that are anti-bacterial, specifically against spirochetal bacteria, are an important component of treatment. Herbs that have been shown to have activity against spirochetal bacteria include coptis (huang lian), andrographis paniculata (chuan xin lian), isatis (ban lan gen/qing dai), phellodendron (huang bai), scute (huang qin), forsythia (lian qiao), smilax (tu fu ling), and gardenia (zhi zi). Garlic is also a useful antibacterial supplement for those with Lyme Disease.

Lyme disease can lower body temperature and create poor blood circulation. A person is also likely to feel cysts, lumps, and swellings in different areas of their body that often change and move. The bacteria walls itself off, and creates an environment in which it can grow and thrive and the person with the disease ends up in severe pain, with horribly low energy, and neurological problems.

The disease thrives in a low temperature, low oxygen environment, and that is the environment it creates within the body. People with the disease often have signs and symptoms similar to someone with severe altitude sickness (also caused by a low oxygen environment). Chinese herbs that clear blood stasis and break blood stagnation can be very useful for this aspect of the disease.

The herb, pseudoginseng (san qi), can be extremely beneficial for people with Lyme Disease. It promotes blood circulation and oxygenation in the body, and can force open the cysts that protect the bacteria from being killed off. It also can help clear some of the brain fog that people with this disease have by improving blood circulation and oxygenation to the brain.

Frankincense (ru xiang), and myrrh (mo yao) can also help by improving blood circulation, especially to the joints, where the bacteria often hides in cartilaginous tissue where blood circulation tends to be poorer. An herb that is frequently used by people with Lyme Disease, teasel root, is beneficial because it improves circulation in the body and also has a warming affect.

All of these herbs can help significantly with the intense and chronic pain that those with later stages of Lyme disease experience.

Certain Chinese herbs can be used to reduce the personís sensitivity to cold and improve microcirculation in the body. Herbs such as clove, cinnamon, ginger, and siegesbeckia can be useful for this purpose.

The lymphatic system and the metabolism are often compromised in people with Lyme Disease. The bacteria frequently hides inside the walls of white blood cells, and results in swollen and congested lymph glands. People with the disease often have symptoms of hypothyroidism and a slowed metabolic rate even if all of their thyroid tests are normal.

In Chinese Medicine, herbs that treat phlegm are frequently used for conditions related to a slow metabolism and a congested lymphatic system. The Chinese herb, prunella vulgaris (xia ku cao), and scrophularia (xuan shen) are very useful for inflammation, congestion, and infection of the lymphatic system. Herbs such as citrus aurantium, kelp, epimedium, and Siberian ginseng, can be beneficial for improving a sluggish metabolism in people with Lyme Disease who have signs or symptoms of an underactive thyroid.

Another aspect of Lyme Disease is severe and debilitating fatigue and a total lack of energy. This can be due to a host of different factors. Poor oxygenation and blood circulation and lowered metabolism and body temperature are part of the picture. The personís adrenal glands may not be functioning properly either. Someone with Lyme Disease may also have a host of digestive problems that result in a lack of adequate nutrition.

The disease itself can trigger chemical changes in the brain that create severe depression and an inability to concentrate, which is debilitating as well.

In Chinese medicine, herbs that nourish the qi and blood can help this lack of energy. The herbs can improve the personís digestive functioning, support the functioning of the brain, support proper functioning of the adrenal glands, and improve the personís ability to handle stress.

They can also help the proper functioning of the mitochondria in their production of ATP in the cells, which helps a personís energy at a very fundamental level. Siberian ginseng, schizandra, licorice, and astragalus are all good herbs for improving a personís energy level, digestive functioning, and their ability to handle stress.

White peony, dong quai, and wolfberry nourish the blood and reduce fatigue. Polygonum and eucommia can help improve a personís adrenal response and can improve brain functioning. Bupleurum, longan fruit, zyzyphus seed, dragon bone, oyster shell, and magnolia bark can be beneficial for the depression, anxiety, lack of concentration, and sleep problems that people with Lyme Disease experience.

As you can see, Lyme Disease is a complex illness with many facets. Chinese herbal medicine has numerous herbs in its pharmacopia that can treat the many different aspects of this disease in a comprehensive and holistic manner.

---

Posts: 217 | From Earth | Registered: Feb 2010 | IP: Logged |

CherylSue
Frequent Contributor (1K+ posts)
Member # 13077


posted

---

Been there, done that. I tried traditional Chinese Medicine to the tune of $1,000 before I relapsed big time.

Antibiotics got me off of disability and back to work these past 2 years.

---

Posts: 1954 | From Illinois | Registered: Aug 2007 | IP: Logged |

Keebler
Honored Contributor (25K+ posts)
Member # 12673


posted

---

-
rks, I could not find the identity of the author. I looked around, clicked on the "author" link but got nowhere. Can you find that?

I am very concerned that the word "cure" was used. It is not correct and will misled readers. I've spent all I had and used all those, too, and no cure.

However, some of those are helpful support. In that way, they have been vital to me.

Most herbalists or NDs would never use the term "cure" - While this material seems very familiar, I do not recognize the title at all and would really like to know who wrote it and their experience with lyme and their lyme training.

Most of the LL NDs incorporate abx along with supplements.
-

---

Posts: 48021 | From Tree House | Registered: Jul 2007 | IP: Logged |

BoxerMom
Frequent Contributor (1K+ posts)
Member # 25251


posted

---

This unnamed "Author" has published over 5,000 articles on this site. S/he publishes many each day. Some have copyrights (not the author's!) that are out of date. Some are simply product descriptions.

It appears this author cuts and pastes from other websites. S/he is hoping to generate revenue from click-throughs on the ads that relate to the articles.

I agree the title with "Cure your lyme..." is misleading.

--------------------
Must...find...BRAIN!!!


---

Posts: 2867 | From Pacific NW | Registered: Apr 2010 | IP: Logged |

Keebler
Honored Contributor (25K+ posts)
Member # 12673


posted

---

-
http://flash.lymenet.org/scripts/ultimatebb.cgi/topic/2/13964?

Topic: How to find an ILADS-educated LL ND (naturopathic doctor) or acupuncturist, etc.

Includes how to find an ILADS-educated LL ND, an Acupuncturist, a doctor of Oriental Medicine (O.M.D.), or a doctor of Ayurvedic Medicine (D.Ay.), certified herbalists or nutritionists, etc.

Includes many articles and books (by ILADS-educated LL authors) on complementary / integrative methods - & RIFE links.
-

---

Posts: 48021 | From Tree House | Registered: Jul 2007 | IP: Logged |

timaca
Frequent Contributor (1K+ posts)
Member # 6911


posted

---

I am on oxymatrine, a Chinese herb, for Coxsackie B (a virus). My antibody titers have dropped, and I have felt better.

Best, Timaca

---

Posts: 2872 | From above 7,000 ft in a pine forest | Registered: Feb 2005 | IP: Logged |

nefferdun
Frequent Contributor (1K+ posts)
Member # 20157


posted

---

My experience is they might help in conjunction with abx but fail when used alone. I used massive amounts. They are also expensive. I could easily have traveled to see the best LLMDs in the country for what I paid for the herbs I got online from promoted sources.

--------------------
old joke: idiopathic means the patient is pathological and the the doctor is an idiot


---

Posts: 4676 | From western Montana | Registered: Apr 2009 | IP: Logged |

feelbetter
LymeNet Contributor
Member # 21957


posted

---

the only chinese herb that I know is Dr.Zhang's protocol,right?

---

Posts: 158 | From pittsburgh | Registered: Aug 2009 | IP: Logged |

Keebler
Honored Contributor (25K+ posts)
Member # 12673


posted

---

-
feelbetter,

Some have gotten better with just that protocol. I've done well with that for the time I could be on it. Some also incorporate abx with it. There are many other impressive complementary protocols (at that ND link).

And, as timaca posts, other supplements can offer benefit.

In the particular article above, I was not questioning the power of some herbs (used the right way) but that it was too simplified, therefore misleading.

The author appears to be anonymous - and appears to have stolen parts (if not all) of that work from other sources that I recognized, not giving credit to the authors but also over stretching with a promise of a "cure" - which none of the LL herbalist authors would do.

It is beyond bad journalistic form to not give authors credit for their work, it is illegal. We should know exactly who wrote that so that we can explore their further works to expand on the simple presentation, etc.

There is a way to email whomever posted that article (noted as "author") but it's very bad form to ask readers to send a blind email (their identity is hidden) to someone who will then have your personal email address and we don't know who they are or what they are going to do with our email. I've had my email hacked far too often to ever send another blind email.
-

---

Posts: 48021 | From Tree House | Registered: Jul 2007 | IP: Logged |

rks
LymeNet Contributor
Member # 24316


posted

---

Sorry, should have researched more, but was thinking more in the lines of each individual herb and what it's for, not as a lyme cure, but more of a compliment to add, if your doc agreed.

Going out for a drive to look at all the pretty fall colors!

Enjoy your day!!

---

Posts: 217 | From Earth | Registered: Feb 2010 | IP: Logged |

BoxerMom
Frequent Contributor (1K+ posts)
Member # 25251


posted

---

rks - Don't feel bad about posting this. The information is great. The issue is that the title and tone make Lyme treatment sound like a cake walk! (And that the article isn't credited to the actual author.) We would hate to imply to the newly diagnosed that this illness is easily treated with herbs.

Chinese herbs are powerful, especially in correct formulas and dosages (not included in article), and are excellent additions to a Lyme program.

--------------------
Must...find...BRAIN!!!


---

Posts: 2867 | From Pacific NW | Registered: Apr 2010 | IP: Logged |

Keebler
Honored Contributor (25K+ posts)
Member # 12673


posted

---

-
rks,

sorry - comments were not at all directed at you. I apologize if my comments were offsetting to you, yourself. That was not the intent at all, but to warn others that it may not be that easy.

I'm glad you posted it. It does have some valuable information about some wonderful herbs.

It was the manner in which that "author" seems to have lifted others' works - and then proclaimed a "cure" that bothered me.

We can all learn from that - though - and I hope someone with more energy than I can find who posted that and ask them to give the true authors credit and correct the title that did not at all go with the original works.

These ARE all wonderful herbs for support or to help in early remission - just not a "cure" as claimed by that poster. Or, it may be that they could help someone come around to a good remission but, as part of a larger plan.

Really, I am glad you posted it. It gives everyone food for thought.
-

[ 10-23-2010, 04:06 PM: Message edited by: Keebler ]

---

Posts: 48021 | From Tree House | Registered: Jul 2007 | IP: Logged |

rks
LymeNet Contributor
Member # 24316


posted

---

Keebler - not a problem. These are good and valid points brought up and I wish I would have thought about them a little before posting and I may have put a "warning" before the article, but sometimes I just see something that sounds interesting and post it. : )

It's good to know that others will speak up when things are overlooked.

Thanks! And thank you too BoxerMom!

On another note: went for a beautiful drive in the country today. The colors were nice, but still not at their peak. Maybe next weekend! Hope all can get a chance to see the beauty before they fade.

Have a great evening!

---

Posts: 217 | From Earth | Registered: Feb 2010 | IP: Logged |
Contact Us | LymeNet home page | Privacy Statement

Powered by UBB.classic™ 6.7.3

---
The Lyme Disease Network is a non-profit organization funded by individual donations. If you would like to support the Network and the LymeNet system of Web services, please send your donations to:
The Lyme Disease Network of New Jersey
907 Pebble Creek Court, Pennington, NJ 08534 USA
http://www.lymenet.org/
---
Home | Flash Discussion | Support Groups | On-Line Library
Legal Resources | Medical Abstracts | Newsletter | Books
Pictures | Site Search | Links | Help/Questions
About LymeNet | Contact Us
---
© 1993-2020 The Lyme Disease Network of New Jersey, Inc.
All Rights Reserved.
Use of the LymeNet Site is subject to Terms and Conditions.
---