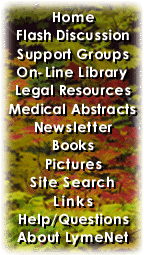 ---
LymeNet on Facebook
LymeNet on Twitter
---
---
The Lyme Disease Network receives a commission from Amazon.com for each purchase originating from this site.
When purchasing from Amazon.com, please
click here first.

Thank you.




Dedicated to the Bachmann Family


LymeNet needs your help:
LymeNet 2020 fund drive

The Lyme Disease Network is a non-profit organization funded by individual donations.

| | |
| --- | --- |
| | |
Author
Topic: Do you really believe it's lyme disease..?

feelbetter
LymeNet Contributor
Member # 21957


posted

---

Have been sick for 2 years+,seen many doctors and done lots of tests but couldn't find any cause.

Finally,Igenex test back positive(not CDC)only have bands on 31 and 41..

I believe all my sickness it's lyme but do suspect sometimes especially my husband and family always said to me how do you so sure it's lymr not other illness..

I really don't know what other illness I can have to fit my symptom...cancer..? tumor?
I don't think so..

maybe also I have been on the treatment for few month now but didn't see much improvment.

---

Posts: 158 | From pittsburgh | Registered: Aug 2009 | IP: Logged |

peter j
LymeNet Contributor
Member # 11825


posted

---

I am thinking lyme is only part of my clinical picture. XMRV or other viruses/immune deficits could explain much.

---

Posts: 275 | From Home | Registered: May 2007 | IP: Logged |

glm1111
Frequent Contributor (5K+ posts)
Member # 16556


posted

---

Google parasite symptoms because they can be very similar to Lyme symptoms. If you do have Lyme, parasites/worms can play a MAJOR role and should be considered a co-infection of Lyme.

Gael

--------------------
PARASITES/WORMS ARE NOW
RECOGNIZED AS THE NUMBER 1 CO-INFECTION IN LYME DISEASE BY ILADS*


---

Posts: 6418 | From philadelphia pa | Registered: Jul 2008 | IP: Logged |

sixgoofykids
Moderator
Member # 11141


posted

---

You can get a test to see if band 31 is really from Lyme. IGeneX has band 30/31 confirmation test.

--------------------
sixgoofykids.blogspot.com


---

Posts: 13449 | From Ohio | Registered: Feb 2007 | IP: Logged |

elizzza811
LymeNet Contributor
Member # 24713


posted

---

I think Lyme is only part of the picture, since I have symptoms which no antibiotic yet has touched...like this constant clenching of my jaw/teeth...no antibiotic has yet to touch this symptom. I do it day and night, and the only time I'm not clenching is if I consciously concentrate on relaxing my jaw, which is impossible to do 24/7. And it's not 'stress' related either...I do it when nothing particularly stressful is going on.

Personally? I think most of my symptoms are related to electrosmog (cell towers, wi-fi). In fact, even if this is all Lyme, the electrosmog in the environment is what enabled what would be a harmless bug access to cross the blood-brain barrier.

One book I just read...'Healing is Voltage'...the author claims Lyme is airborne and that everybody has it...that if you leave a slide of anybody's blood out on the counter for 48 hours? (I forget), spirochetes will begin to crawl out. Not sure I believe it, but that's what he says...and he says when your voltage drops, you develop Lyme Disease.

--------------------
Urge Congress on EMF Safety, FCC Must Change Exposure Guidelines for Microwave Radiation Exposure: http://tinyurl.com/2cjq54y
Halt Universal Broadband, A Public Health Hazard:
http://tinyurl.com/3x7xrmq


---

Posts: 495 | From USA | Registered: Mar 2010 | IP: Logged |

Tincup
Honored Contributor (10K+ posts)
Member # 5829


posted

---

"like this constant clenching of my jaw/teeth...no antibiotic has yet to touch this symptom. I do it day and night, and the only time I'm not clenching is if I consciously concentrate on relaxing my jaw, which is impossible to do 24/7."

Very common with Lyme. The jaw joints are affected. Some of us have had the problem for years, some got better when treated long term and in a relapse it came back.

````````````````````````````````````````````

Feelbetter...

Lyme can cause many many many symptoms, some come and go on their own, some last for years.

Some folks have only Lyme, some have coinfections.

We need help because we have no definitive tests to determine a cure. Support activism efforts every chance you get.

Hope you feel better soon!



--------------------
www.TreatTheBite.com
www.DrJonesKids.org
www.MarylandLyme.org
www.LymeDoc.org


---

Posts: 20353 | From The Moon | Registered: Jun 2004 | IP: Logged |

peter j
LymeNet Contributor
Member # 11825


posted

---

@elizzza. I've been thinking the same thing: Some symptoms which haven't been touched by abx could very well be something else.

---

Posts: 275 | From Home | Registered: May 2007 | IP: Logged |

Pinelady
Frequent Contributor (5K+ posts)
Member # 18524


posted

---

Thats what Lyme does so well---lets everything in while hiding the fact they are there...They have a cloaking ability built right in....

The present studies extended characterization of
the B. burgdorferi EbfC protein, demonstrating that this small protein
both specifically and nonspecifically binds DNA, can bind DNA
independently of context and alters DNA conformation.

Site-directed
mutagenesis approaches were also employed to investigate the mode of
interaction between EbfC and DNA. http://nar.oxfordjournals.org/content/37/6/1973.full#SEC5

But you should also be aware we have other organisms that are able to hide almost as well....Some must be treated with equally aggressive and prolonged care...

T.cruzi for one....

--------------------
Suspected Lyme 07 Test neg One band migrating in IgG region
unable to identify.Igenex Jan.09IFA titer 1:40 IND
IgM neg pos
31 +++ 34 IND 39 IND 41 IND 83-93 +
DX:Neuroborreliosis


---

Posts: 5850 | From Kentucky | Registered: Dec 2008 | IP: Logged |

disturbedme
Frequent Contributor (1K+ posts)
Member # 12346


posted

---

No one should say they think lyme is their only problem. There is so much more to it than that. More than 80% of the population carries parasites, for example.

Most people have viruses, parasites, fungal infections, mold, and other infections on top of the lyme and co-infections.

No one should ever think that they are only dealing with lyme and co-infections and just treat for that and nothing else or you'll never get better. You have to look at the big picture. Once your immune system is compromised with lyme or another bug, a lot of other bugs make you their home too.

--------------------
One can never consent to creep when one feels an impulse to soar.
~ Helen Keller

My Lyme Story


---

Posts: 2965 | From Land of Confusion (bitten in KS, moved to PA, now living in MD) | Registered: Jun 2007 | IP: Logged |

'Kete-tracker
Frequent Contributor (1K+ posts)
Member # 17189


posted

---

Quote:
"the electrosmog in the environment is what enabled what would be a harmless bug access to cross the blood-brain barrier"

Not sure which "bug' you refer to. The Lyme borrelia never have had a problem squiggling anywhere they want to throughout the brain, though it's not their preffered "turf".

It's some of the Drugs we're taking that help kill off the borrelia that have a tough time crossing this "blood/brain barrier"... to be at an efficacious level within the brain tissue.

This 'barrier', BTW, is characteristic of all brain tissue & has no specific location. It's an integral property to all 'blood capillary/ brain cell interface areas'.

As far as the "EMF electrosmog", it's not present approximately equally throughout the 'ether'... like air pollution is (i.e: smog).

The [field] strength of the R.F. field at any location drops off quickly with growing distance from the source, whether it be a cell phone tower antenna array or cellphone (800MHz-1900MHz), a WiFi card (~2400MHz) an FM tower (~100MHz), compact flourescent bulb (~65KHz/ varies) or the motor in your refrigerator (60Hz)!

So, the further away you keep yourself from any EMF signal "source", the less you are being exposed. We all know this instinctively.
But did you know that the actual "field strength" of any radiated energy drops off with the CUBE of the distance from the source? Yup.

This means that if you position the cellphone so that the internal antenna (usually running along 1 side now) is, say, 1" rather than 1/4" away from your skull, the "field strength"- measured traditionally in microvolts/meter or 'uV/m'- of the transmitted signal at the skull is only 1/4 CUBED = 1/64th as strong!

(Actually, it's a little more with some antennas, what with their directional or "polarization" characteristics, but that's beyond the scope of this simplified explanation.)

Also be aware that the local Cellular system "switch" (a computer in a bunker often on some hill nearby) is regularily telling your cellphone, via the tower, to turn it's power up & down so that it doesn't drown out other cellphones' signals... or be drowned out BY them. [There are about 4 or 5 pwr. levels your phone can run at.]
It can even command it to switch channels, like when it's passing you (your call) off to another tower while driving.

SO... when home, it's best to make the call "upstairs" or in a window with a clear "view" to the nearest tower.
That way your phone's heard clearly & told to "Turn down!", doesn't have to work as hard, radiates less... & you get less R.F. 'radiation' exposure.
Your battery lasts longer, too!!

That's it, class, for 'Cellphones 401'.
Quiz tomorrow at 9AM.
Remember, Don't Text while you drive.

---

Posts: 1233 | From Dover, NH | Registered: Sep 2008 | IP: Logged |

Wolfed Out
LymeNet Contributor
Member # 23727


posted

---

I'm convinced that I've had Lyme since I was a mid to late teenager. That's going back 10 to 13 years.

I had symptoms when I was younger. Twitching, crawling sensations, ringing in the ears, jaw clenching, hair loss, hives and rashes, visual distortions, chest pain, trouble breathing...

The thing is it always got worse when something else came into the picture. Some kind of flu or infection, STDs...

Going back to 17, I remember aggravated symptoms arising from steroid use; both inhaled steroids (the purple disc), and prednisone or prednisolone.

Always felt great immediately, but once I get off the steroids everything gets much worse, and takes a very long time to resolve. In the past several months to a year, and in this case a year and counting.

I think the immune system can do a pretty good job of keep Lyme from going crazy when it's running well and doesn't have an overload of other infections, viruses, or distractions to deal with.

How else can someone go 20+ years having Lyme Disease...A cancer patient can't go 20 years having cancer without trying to cure it. Yet, many people have gone 20 years without any Lyme treatment.

What does this all mean to me? At the beginning of my journey, I was ready to aim nuclear bombs at my body and kill this disease. But, I realize now it's not that simple.

Over the course of years, it's punished my adrenal glands, my thyroid, my joints, my brain...my body. The body needs help replenishing from the damage that has already been done.

People here talk about detox, exercise, supplements, parasites, metal overload, immune health, and mental well being. It's all just as or more important to dealing with this disease than just trying to kill it. Ask the people who have soaked themselves in antibiotics for years with little resolve.

All said, it's very unlikely to achieve great results within a couple months of treatment -- especially if your case is chronic, and most likely is.

I was in the same shoes as you. I saw several doctors; was diagnosed with depression, fibromyalgia, plantar fasciitis, and more; all my blood work always came back normal; and my Lyme tests were always negative.

I'm a less severe case you could say, and I've still been through hell and back trying to find answers when all doctors did was give me muscle relaxers and pain killers.

It wasn't until I found an LLMD who tested for all the likely infections that I came back positive for Babesia and Bartonella. It's been a journey ever since.

But, I added all the extra stuff to make a point. When I first came here, all I cared about was taking antibiotics and few supplements. Now, I realize that Lyme is a lifestyle. It's about revitalizing the body while targeting the infections, to make this process easier to accept and handle. It doesn't happen overnight.

I'm going on a year, and even though many of my symptoms are reduced or gone (probably 70% or more), I still feel like I have another year to go. I need to make sure I take care of every aspect of potential harm to my immune system:

Bacterial
Viral
Fungal
Parasitic
Candida/Yeast

Sorry for my rant. Most importantly, find a good LLMD to take this journey with. Someone who has a multi-faceted approach is who you need.

Get well!

---

Posts: 829 | From MD | Registered: Dec 2009 | IP: Logged |

randibear
Honored Contributor (10K+ posts)
Member # 11290


posted

---

i'd say if you rule everything else out, then it's lyme.

--------------------
do not look back when the only course is forward


---

Posts: 12262 | From texas | Registered: Mar 2007 | IP: Logged |

METALLlC BLUE
Frequent Contributor (1K+ posts)
Member # 6628


posted

---

Think of Lyme Disease the same way you'd think of advanced HIV infection. Once the immune system is compromised and or suppressed, other infections that normally aren't a significant issue can become pathogenic and cause disease.

Lyme Disease, specifically borrelia burgdorferi, seems to create the same pattern, albeit, not as extreme in most cases as that of AIDS.

Treatment is complex and requires running testing similar to that which you would run after being bitten by a tick, but also that which you might run for an AIDS patient. You'd look for co-infections, as well as herpesviadae species, including CMV, EBV, HHV6 and other herpes viruses or pathogenic infections known to enter latent stages and reactivate under stressful circumstances. Even Tuburculosis.

Look up infections which are common, but often latent and can reactivate. Then, look up all the infections ticks generally carry. Suspect those most common to where you live and have traveled first, then outward.

There are tests for tick-spread infections that are accurate, unlike the test for Lyme Disease. When you test positive for something like Q-Fever, yet you have all the symptoms of Lyme, but your Western Blot only shows Kd31, or 23, or even only 41, then you need to be very aware that the probability has significantly shot up that you have borrelia burdorferi as well lurking in your veins and bones.

Finally, if you have to pay out of pocket, go with Igenex. Igenex has proven themselves to be accurate and they have been independently reviewed manny, many times over the years. There has been a lot of controversy where IDSA affiliates wanted to shut down the lab and "prove" they were a sham. All that came of all the external investigations and independent testing was an extremely high rate of accuracy. Generally year to year, their Western Blot for Lyme -- as one example -- showed 98%, then 99%, then 97%, then 98%, etc. So, the test is a very good tool to have. You should never put all your faith in your test result anyway (if you knew anything about Lyme), but the point is, once you've run all the general testing for latent infections (reactivators) and tick-spread infections, then the next step is specialized testing for more accurate results.

--------------------
I am not a physician, so do your own research to confirm any ideas given and then speak with a health care provider you trust.

E-mail: [email protected]


---

Posts: 4157 | From Western Massachusetts | Registered: Dec 2004 | IP: Logged |
Contact Us | LymeNet home page | Privacy Statement

Powered by UBB.classic™ 6.7.3

---
The Lyme Disease Network is a non-profit organization funded by individual donations. If you would like to support the Network and the LymeNet system of Web services, please send your donations to:
The Lyme Disease Network of New Jersey
907 Pebble Creek Court, Pennington, NJ 08534 USA
http://www.lymenet.org/
---
Home | Flash Discussion | Support Groups | On-Line Library
Legal Resources | Medical Abstracts | Newsletter | Books
Pictures | Site Search | Links | Help/Questions
About LymeNet | Contact Us
---
© 1993-2020 The Lyme Disease Network of New Jersey, Inc.
All Rights Reserved.
Use of the LymeNet Site is subject to Terms and Conditions.
---