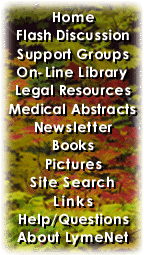 ---
LymeNet on Facebook
LymeNet on Twitter
---
---
The Lyme Disease Network receives a commission from Amazon.com for each purchase originating from this site.
When purchasing from Amazon.com, please
click here first.

Thank you.




Dedicated to the Bachmann Family


LymeNet needs your help:
LymeNet 2020 fund drive

The Lyme Disease Network is a non-profit organization funded by individual donations.

| | |
| --- | --- |
| | |
Author
Topic: Biofeedback - Has anyone done this?

Haley
Frequent Contributor (1K+ posts)
Member # 22008


posted

---

Hey guys. I'm getting ready to drop another couple thousand dollars to see if I can get my brain functioning. I know of three people that have completed treatments. They all say it is completely amazing.

My boss is asking me to do a presentation and a training. Little does she know that I can hardly remember my name. I have to get my brain back before I lose my job. No job, no insurance .....

I have done the brain mapping which shows I am in bad shape.

Any advice?

---

Posts: 2232 | From USA | Registered: Aug 2009 | IP: Logged |

Keebler
Honored Contributor (25K+ posts)
Member # 12673


posted

---

-
I had 3 QEEGs (brain mapping) done by: 1) Ph.D. psychologist who specialized in neurofeedback for autistic kids with good success, 2) an audiologist and 3) an ND who had been trained by CFS neuro expert, Myra Preston.

All three QEEGs showed the same degree of damage and deficiency.

I spent a couple years doing neurofeedback but not really addressing infection other than some basic herbs as that's all I could get in a state with no LLMD and no real LL ND at that time.

At a certain point the Ph.D. doing the brain training told me it just wasn't going to work no matter how hard I tried until I could address the brain infection.

If you have money to address infection and heavy metals, etc AND do neurofeedback, great. But remember it really is best to first treat infection and then do the neurofeedback.

Neither neurofeedback - nor biofeedback - can work magic in the presence of infection. I would be very careful and save your money on this until the infection treatment is further along.

You might also need to use that money to fall back upon if you need to take some time off of work.

Separately, BIOFEEDBACK is often covered by insurance for migraine relief. That can help to a degree to teach us breathing techniques but, again, it's not magic and simply cannot treat infection.

It take take years to address infection. Be very, very careful with your money.
-

[ 12-11-2010, 01:23 AM: Message edited by: Keebler ]

---

Posts: 48021 | From Tree House | Registered: Jul 2007 | IP: Logged |

BHealthyNow
LymeNet Contributor
Member # 22537


posted

---

My husband's uncle does biofeedback and I have worked with doctors professionally who use biofeedback. I wouldn't think that it would address the cognitive deficits from a bacterial infection.

I think it might help once you have the infection under control to address some of the residual issues.

--------------------
Lyme, Bart, possible Babs
Currently on IV Doxy, Bactrim, Zithromax, Nystatin, Mepron
Been on nearly every antibiotic since 10/09

About 60% improvement. Dizziness, air hunger remain.
http://lemonandlyme.blogspot.com


---

Posts: 333 | From Boise | Registered: Sep 2009 | IP: Logged |

kday
LymeNet Contributor
Member # 22234


posted

---

I've done both biofeedback and neurofeedback. I did 20 sessions each.

All covered by insurance with some workarounds.

Sadly, I felt no improvement with either one. I was mainly focused on trying to get my anxiety down (even though I had the same problems you describe), but I don't think it was of any help. In neurofeedback, my brain could look ok, and I could feel extremely anxious. Other days, certain part of my brain would be operating at abnormal frequencies and I would feel ok.

With biofeedback I used some breathing techniques and so on. I was able to get a nice sine wave going after some training, but this supposed "relaxed state" was not relaxed. In other words, these techniques would make the biofeedback machine think that I was in a relaxed state. However, I never was. When I practiced at home I didn't feel benefits either. I wish I could say that I did.

Hypnosis techniques helped me more, but I see it as more of a way of tricking your brain and body into thinking it's relaxed when that very well may not be the reality. It won't help get your brain functioning, but it could help you feel relaxed for short periods of time.

What helped me most was some serrapeptase and nattokinase (to remove fibrin in the brain and elsewhere), some antimicrobials, and effective detox. Effective detox can be different for everyone, so I won't get into that. I had lots of fibrin according to blood tests, and these fibrin digesting enzymes helped a lot with cognition. For me, they were very, very powerful. It wasn't one of those supplements where you can't gauge if it's working or not. In fact, once I found the right dose, they were actually hard for me to tolerate. Removing fibrin lets bacteria, viruses, and toxins loose and therefore you can feel bad when starting these enzymes. If you have excess fibrin (which you very well may have), fibrin digesting enzymes improve blood flow to the brain.

Sorry for the negative review of biofeedback. My practitioner was awesome and supportive. I was not so awesome. She kept bugging me to get a SPECT and QEEG since she knew my brain was messed up. I never had those done because egos get in the way of some doctors, and these tests are very expensive out of pocket.

That being said, since I am doing better now, I think it might be possible that neuro or biofeedback could be of benefit. I was too infested with infections at the time, and I think that may be why I didn't see any benefit.

---

Posts: 967 | From A deserted island without internet access | Registered: Sep 2009 | IP: Logged |

Haley
Frequent Contributor (1K+ posts)
Member # 22008


posted

---

Thanks everyone for this very helpful information. I guess it's neurofeedback that I am doing not biofeedback. I thought it was the same.

What I have often heard is that people feel more relaxed and have less anxiety after these sessions. I do not want to feel more relaxed I need to feel more focused. I feel as if I'm on 20 Valium and a bottle of wine everyday.

I can physically feel that there is infection in my brain. I think I may hold off for a while. Quite frankly, I'm desperate because I'm afraid I will lose my job if I don't start to regain some brain function.

Kday - how much of the enzymes were you taking?

---

Posts: 2232 | From USA | Registered: Aug 2009 | IP: Logged |

Haley
Frequent Contributor (1K+ posts)
Member # 22008


posted

---

Thanks Keebler. Your email really means a lot. I guess we just have to take it one day at a time. It's been about 1 1/2 years of medicine and nothing seems to touch the brain symptoms.

---

Posts: 2232 | From USA | Registered: Aug 2009 | IP: Logged |

Keebler
Honored Contributor (25K+ posts)
Member # 12673


posted

---

-
Well, I came back to edit something in - and somehow deleted my last post. And by now have forgotten what I had wanted to add.

However, 1.5 years may find you just about half way there. Remember in the film, Under Our Skin, the park ranger who took 3 years just to start to function more normally. Same with some others. Yes, it can be very hard but I hope you find some methods that help.

NOT accepting assignments that you know you are not up is a start. Declare with your HR manager a disability and see what kind of accommodations can be made so that you can continue working in manner that works for you and for your company.

Talk to those in your support group and at CALDA for how to do that and what to say, ask for, etc.

It sounds as if your boss has no idea that you are battling a health issue. If you have ANY vestibular symptoms, it may be easier and less invasive to list those with your HR director as the reasons you need accommodation under the ADA law.

Be sure you are addressing all possible coinfections, HEAVY METALS, parasites and food sensitivities. I assume you are gluten-free and dairy-free but there may be some other things to fine tune.

B-12 shots make also help your brain/energy function. I just know from my past long experience with neurofeedback that it would likely be a complete waste of time and money as long as there is infection and inflammation in the brain.

It would be like telling someone with a broken leg weight training and expecting them to run a marathon right away without addressing the broken leg and giving it what it needs to heal.

Just because most regular doctors ignore the complexity and severity of a chronic brain infection does not mean that we should take off running and expect magical thinking to get us there. Talk to your LLMD, change LLMDs if you need to but do remember that this is a very long and involved process.

Be kind to yourself and realistic in all matters. Good luck.
-

---

Posts: 48021 | From Tree House | Registered: Jul 2007 | IP: Logged |

Keebler
Honored Contributor (25K+ posts)
Member # 12673


posted

---

-
1) Contact your area lyme support group and talk to the leader about an attorney or a - work loss here - a employment person who can help with setting up accommodation and declaring the need for such at your work. By declaring this, it offers you a degree of legal protecton.

You may need nap time at work, seriously. For some, that can make all the difference. You may need lighting that is not fluorescent - or and area that is quieter, with less activity, scents, etc. A chair with a headrest or a couch to lie down for better thinking. Seriously.

You may need to avoid garments that have been dry cleaned, etc.

2) To find someone to help with accommodation matters, also ask the same with CALDA - http://www.lymedisease.org/

California Lyme Disease Association (CALDA)

3) Consider vestibular symptoms - you may find some things that help and that will help the brain. Otherwise, that could be your focus when asking for accommodation. I would avoid using the term "lyme" - learn how to do that by focusing on symptoms that are "neurological" "adrenal matters" "inner ear condition" etc.

4) I cannot stress enough the importance of being gluten-free to help the brain. I hope you've been there for a long time but, if not, it should help to a decent degree.

=======================

http://www.vestibular.org/vestibular-disorders/symptoms.php

VESTIBULAR SYMPTOMS (That also frequently go along with lyme & other tick-borne infections) - and what can help:

http://flash.lymenet.org/scripts/ultimatebb.cgi?ubb=get_topic;f=1;t=065801

Topic: TINNITUS: Ringing Between The Ears; Vestibular, Balance, Hearing with compiled links - including HYPERACUSIS

=================================

There are at least 743 drugs that are known to be ototoxic. Here are just 84 of them:

http://www.hearinglosshelp.com/articles/ototoxicupheaval.htm

==================================

http://tinyurl.com/yhdw78n (through Amazon)

You can look inside this book and read customer reviews here:

Ototoxic Drugs Exposed: Prescription Drugs and Other Chemicals That Can (and Do) Damage Our Ears

- by Neil G. Bauman

=============================

MITOCHONDRIAL DAMAGE affects brain function. Here are some things to help:

http://flash.lymenet.org/ubb/ultimatebb.php/topic/1/77325

Topic: To everyone with CARDIAC symptoms please read !

=========================

ADRENAL SUPPORT (supplements and behavior) is discussed here:
----------

http://flash.lymenet.org/ubb/ultimatebb.php/topic/1/89790

Topic: NATURAL SLEEP - Links to articles & supplements

============================

If you think you might need to address more in your treatment, you can compare methods here. Of course, your LLMD should be the one guiding you in this. Just comparing all the choices is a full time job in itself.

Also remember that while support methods are vital, all the support add-ons in the world can't work if the infection, heavy metals and underlying causes are not addressed or given the time and attention needed. And that can take way longer than we'd like. So hold on in the quest for health.
--------------

http://flash.lymenet.org/scripts/ultimatebb.cgi/topic/2/13964?

Topic: How to find an ILADS-educated LL ND (naturopathic doctor), L.Ac. (acupuncturist), etc.

Includes how to find an ILADS-educated LL ND, a L.Ac. (Acupuncturist), a doctor of Oriental Medicine (O.M.D.), or a doctor of Ayurvedic Medicine (D.Ay.), certified herbalists or nutritionists, etc. DO, DC

•• Includes many professional links, articles and books on complementary / integrative methods - & RIFE links.
-

---

Posts: 48021 | From Tree House | Registered: Jul 2007 | IP: Logged |

Keebler
Honored Contributor (25K+ posts)
Member # 12673


posted

---

-
DAILY B-12 SHOTS were the best when I could do that. See if your LLMD will set you up with that.

======================

GOTU KOLA
--------------

Gotu Kola (not a cola) can calm the nervous system while also helping with alertness. It helps give a sense of well-being without feeling "wired" or "hungover".

While not magic and it's not going to give you boundless brain energy, it can help in subtle yet solid ways as a support.

A good LL ND can help you more - and with other choices - but here are the basics.

Best brand I've found: Eclectic Institute Gotu Kola (but not the one with Gingko added as - for me - Gingko is too speedy).

=======================

www.ncbi.nlm.nih.gov/sites/entrez

PubMed Search:

Gotu Kola – 257 abstracts (aka: Centella asiatica)

Centella asiatica – 245 abstracts

Gotu Kola, brain – 29 abstracts

Gotu Kola, cognitive – 8 abstracts

Gotu Kola, depression – 8 abstracts

Gotu Kola, anxiety - 6 abstracts

Gotu Kola, startle – one abstract

(#1: Protective antioxidant effect of Centella asiatica bioflavonoids on lead acetate induced neurotoxicity.)

====================

http://www.vrp.com/articles.aspx?page=LIST&ProdID=art799&search_in=articles

GOTU KOLA -- An Under-Appreciated Herb: Multifaceted Benefits on Microcirculation for Cardiovascular and Cognitive Health -- By Linda Fugate, PhD

The best nutrition in the world will not do anyone any good if it doesn't reach our tissues. The gatekeeper to tissues is the microcirculatory system, which includes blood vessels smaller than 0.1 mm in diameter. The health of the microcirculatory system is now recognized as critical to the total health of the individual. (1)

Gotu Kola's Effect on the Circulatory System . . . .

From Wound Healing to Brain Health . . . .

. . . Gotu Kola's primary action is enhancement of the health of the circulatory system. Because circulation is critical to the health of the entire body, Gotu Kola offers benefits in a variety of conditions.

The antioxidant and collagen supportive functions of Gotu Kola are particularly important in enhancing healing of damaged tissues. . . .

- Full article – and citations – at link above.

=========================

From: The One Earth Herbal Sourcebook (Tillotson, et.al.)

http://oneearthherbs.squarespace.com/important-herbs/gotu-kola-leaf-centella-asiatica.html

GOTU KOLA LEAF (Centella asiatica,)

. . . bitter and astringent in taste and cooling in action. It is a brain and memory tonic, and an anti-poison, and very useful for wound and skin healing. . . .

. . . TAM doctors use it as a brain and memory tonic, and have found it especially useful in children.

In Nepal, during the ceremony for the first day of spring, gotu kola leaf is given to schoolchildren to help them in their studies by improving memory and concentration.

It is very safe and extremely effective. TAM doctors also use it to cleanse the system of toxins and reduce inflammation. TCM doctors use gotu kola to clear up boils and toxic fevers. . .

The primary effects of gotu kola include both wound healing and improvement of mental clarity and emotional balance. . . .

. . . • The Indian Central Council for Research on Ayurveda and Siddha, citing more than ten pharmacological and animal studies of gotu kola, also found evidence of the following characteristics:

CNS depressant [calming without causing drowiness], memory enhancer, •• anti-convulsant, •• antispasmodic, behavior and intelligence enhancer, and blood sugar regulator (Pandley et al., eds, 1996).

- Full chapter at link above.

===========================

http://findarticles.com/p/articles/mi_m0FDN/is_1_12/ai_n27234590?tag=content;col1

Centella asiatica

Alternative Medicine Review, March, 2007

-============================

One of the solutions mentioned (by Tillotson) for calming is Seven Forests Acorus Tablets. A search will bring up sources and the ITM link in the article takes you right to a research article about that.

I have taken many of the things suggested and, while no longer a child and not (exactly) ADD, I have a very sensitive system and would be glad to share my experiences with certain things if that helps.

===========================

From: The One Earth Herbal Sourcebook (Tillotson, et.al.)

http://oneearthherbs.squarespace.com/diseases/attention-deficit-disorder.html

Attention Deficit Disorder

================

www.itmonline.org/arts/add.htm

Chinese Herbal Treatment for Attention Deficit Disorder

Attention Deficit Disorder (ADD) is a broad syndrome that may include hyperkinetic syndrome, hyperactivity, and Attention Deficit Hyperactivity Disorder (ADHD).

=====================

Acorus (for CALMING) was mentioned in an link above as being calming. Here is more on that:

http://www.ncbi.nlm.nih.gov/sites/entrez

PubMed Search:

Acorus – 153 abstracts

Neuroprotective herbs – 35 abstracts

==================

http://www.itmonline.org/arts/neuro.htm

Neuroprotective Herbs and Active Constituents Approaches to Preventing Degenerative Diseases

by Subhuti Dharmananda, Ph.D.
-

---

Posts: 48021 | From Tree House | Registered: Jul 2007 | IP: Logged |

kday
LymeNet Contributor
Member # 22234


posted

---

I forgot to mention that B12 shots helped the brain tons. However, everyone is different, and not everyone can tolerate the same form of B12 injections. Some feel quite sick when starting B12 shots (another one of those get sick before you get better kind of things), and some people can only handle certain forms because of genetic mutations.

As for dosing of proteolytic enzymes, I actually just kept upping it until my peripheral IV line didn't clot anymore (note: I am no longer on IV antibiotics). It was about 9 pills a day of Doctor's Best serrapeptase and my veins never clotted again. However, dosing can be different for everyone. If you have a Lyme naturopath or a Lyme physician familiar with these enzymes, they may be able to help you figure out dosing (but yes, I did it on my own). I had some headaches and strange feelings in my head for a bit after starting it. Some people with Lyme get this, and some don't. It depends on your clotting factors. Mine were quite high. In terms of effectiveness in clearing out fibrin, Nattokinase may be stronger than Serrapeptase, and Lumbrokinase seems to be the strongest (by far) and the most expensive. Serrapeptase can help with some types of pain. For the best bang for the buck, Nattokinase is probably the best choice.

Note: It would probably be of benefit to get some coagulation panels done first to see if you have a problem (assuming your doctor knows what to order).

In the end, there are many things that can contribute to your lack of brain function. What works for me may not work for you, and what works for you may not work for me. This illness is like a complicated jigsaw puzzle. Keebler illustrates the complexity well, but at the same time, you may be wondering, "where do I start?".

---

Posts: 967 | From A deserted island without internet access | Registered: Sep 2009 | IP: Logged |

Haley
Frequent Contributor (1K+ posts)
Member # 22008


posted

---

I am bringing this back up to see if anyone has done neurofeedback recently.

I have taken the suggestion of Keebler and others to wait until my bacterial load is less. I think that I am at that point now. I know of 3 people that have done this and said it was amazing. I followed up long after the sessions were finished to see if the results were lasting. One person said it is the best thing she has ever done in her life!!!

Has anyone out there had results with nuerofeedback?

---

Posts: 2232 | From USA | Registered: Aug 2009 | IP: Logged |

Sheryl777
LymeNet Contributor
Member # 17804


posted

---

My LLMD said that they were having good results with LENS therapy (uses brain mapping). I know a family that did it and were more than pleased with the results.

---

Posts: 258 | From Spokane, WA | Registered: Oct 2008 | IP: Logged |
Contact Us | LymeNet home page | Privacy Statement

Powered by UBB.classic™ 6.7.3

---
The Lyme Disease Network is a non-profit organization funded by individual donations. If you would like to support the Network and the LymeNet system of Web services, please send your donations to:
The Lyme Disease Network of New Jersey
907 Pebble Creek Court, Pennington, NJ 08534 USA
http://www.lymenet.org/
---
Home | Flash Discussion | Support Groups | On-Line Library
Legal Resources | Medical Abstracts | Newsletter | Books
Pictures | Site Search | Links | Help/Questions
About LymeNet | Contact Us
---
© 1993-2020 The Lyme Disease Network of New Jersey, Inc.
All Rights Reserved.
Use of the LymeNet Site is subject to Terms and Conditions.
---