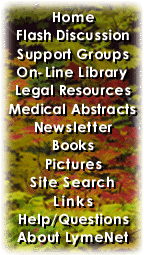 ---
LymeNet on Facebook
LymeNet on Twitter
---
---
The Lyme Disease Network receives a commission from Amazon.com for each purchase originating from this site.
When purchasing from Amazon.com, please
click here first.

Thank you.




Dedicated to the Bachmann Family


LymeNet needs your help:
LymeNet 2020 fund drive

The Lyme Disease Network is a non-profit organization funded by individual donations.

| | |
| --- | --- |
| | |
Author
Topic: Parasites in heart?

sian333
Member
Member # 26198


posted

---

Hi there.

I have been diagnosed with parasites in my gut, heart and lungs.

I had a live blood analysis which diagnosed the parasite, I will know this week exactly which parasite it is.

I've started a really really strict diet (Candida diet, gluten free, diary free, low carbs and low as possible glucose) and an intense course of medications. Many are natural, some are prescription.

Is it true that parasites can attack your heart and live in it? I wasn't aware that it could do this.

How long does it take to recover from parasites? I've been told it will take around 18 weeks if we attack it head on.

Currently, I'm only taking what is being called "a warm up" which is preparing my immune system, because I was told I'd obviously herx with the massive toxin release, and we're trying to avoid ER visits, as my heart symptoms are extremely severe.

I've only been on the minor meds for a couple of days and my muscles are already flaring, my gut is aching and my head is pounding. I guess I'm already "herxing".

Does anyone have experience with parasites in the heart? I want them out!

Any tips?

Thanks for reading. <3

---

Posts: 51 | From Australia | Registered: May 2010 | IP: Logged |

stork
LymeNet Contributor
Member # 24167


posted

---

What was the diagnostic method used to diagnose your parasites?

Best of luck in your recovery - I do hope it only takes 18 weeks.

--------------------
long road since 2010
abx got me over the hump
diet, detox, and herbs have got me to heal


---

Posts: 174 | From CT | Registered: Jan 2010 | IP: Logged |

sian333
Member
Member # 26198


posted

---

It was diagnosed with a live blood analysis, they looked at my blood under microscope and showed it to me.

You could see the parasites in a red blood cell.

I do hope it only takes 18 weeks - must stay positive!

---

Posts: 51 | From Australia | Registered: May 2010 | IP: Logged |

MariaA
Frequent Contributor (1K+ posts)
Member # 9128


posted

---

Hi,
I'm sorry you have heart problems- that's very commonly a Lyme problem and probably doesn't have anything to do with parasites. I can't imagine how a blood slide would tell them that you had parasites in your heart.


I've had live blood analysis and I think it's mostly hokum as a diagnostic tool. There are some reasons to think it useful in Lyme, for example when looking at clumping of red blood cells which can be related to inflammation and clotting/fibrin issues. However, the people who tend to sell it make all kinds of claims for what it allegedly does.

ZOne of the differences between live blood analysis and a conventional blood smear or other observational test at a normal laboratory, is that in true laboratory tests they have to prepare the blood slide in various ways, including staining and fixing, before you can actually see bacteria and blood parasites like babesia.

You have to know what you're looking for to know which stain or preparation method to use (ie some bacteria will stain in certain ways, others require a totally different type of stain before they're visible). When I had live blood analysis done, there was no such preparation, and I haven't heard of anyone doing proper preparation before doing it in the office in front of patients.


Live blood analysis is very controversial, and it's quite possible that the claims for what it supposedly analyses are very much inflated. There are many things in blood that can be mistaken for other things (the link below that I quote, actually explains that some of the 'stuff' includes proteins that precipitate, something I've heard from other medical people elsewhere, and he says that brownian motion (a weak force that causes motion in liquids and which applies to the blood slide samples) causes the particles to appear to move.)

I wouldn't consider it definitive diagnosis without other tests.

one issue is that it's promoted by salesmen who sell microscopes and trainings to alternative medicine practitioners (I'm pretty sure that regular MD's are prohibited by law from doing laboratory blood tests in-house, the point being to keep them from being tempted to run unnecessary tests because of profit).

******************

Here's an excerpt from what I think is a fairly good, though slightly over-pessimistic website by a scientist/pathologist. Most of his site is about how the body works and how things go wrong. The one page at the link below is his personal opinion about 'the evidence' for various alternative medical practices. I think he's not always right, but I don't think he has an agenda (like Quackwatch for example), and he's been good about admitting when he's wrong at times (like below when he says that they generally know what they're seeing, which is obviously optimistic!).




quote:

---


Live Blood Cell Analysis
http://www.pathguy.com/altermed.htm#live

In June 1998, I was shocked and sickened by an E-mail from a man who believed his body was filled with parasites that would kill him. It turned out that he'd suffered from unexplained pains (maybe fibromyalgia) and had visited two "Live Blood Cell" testers. They showed him his blood on a video screen under darkfield (a spectacular sight for anyone). Between the red blood cells were various smaller structures that both practitioners told him were "parasites." One said they were "possibly rickettsiae".

I am well-aware of "alternative practitioners" who show people their own blood cells on a TV screen, along with "holistic" interpretations. (You can find the technique described at various fringe sites on the 'web, some of which say the pictures are best interpreted by "medical intuitivists", i.e., people who admit they're following no rules of fair evidence for interpretation.) But I'd never stopped to consider the impact this might have on a client.

As a pathologist, I'm very familiar with darkfield exams, and the fact that when blood is cooled slightly, proteins precipitate and form unpredictable patterns. These are a familiar phenomenon of physical chemistry. Brownian movement creates the appearance of purposeful movement.

These structures just aren't parasites -- or if they are, we're going to have to rethink everything we know about chemistry, physics, and the basics of biology. For starters, they have no nucleic acid -- the hallmark of all living things, and of all infectious particles except the non-moving prion molecules. Yet the poor fellow believed he was going to die -- based on what these people showed him on a TV screen.

Of course there are no articles in the refereed literature demonstrating any use for "live blood cell analysis." Now there are surely some micro-organisms that we haven't yet discovered. As a resident, I kept seeing wiggly little bacteria in ulcer craters, and pointing them out. We now know that helicobacter is the basic cause of common ulcers. Science is self-correcting. Since then, I've kept my eyes open for other bugs, and am open-minded about the current work on chlamydia and atherosclerosis. Of course, there are surely many exotic infections -- hantavirus, ebola, and many others -- and thankfully we recogize them fast enough when they occur.

---

Here's a study on something somewhat related that shows that this sort of analysis doesn't result in good repeatability, among other issues:
http://www.ncbi.nlm.nih.gov/pubmed/16862741

--------------------
Symptom Free!!! Thank you all!!!!

Find me at Lymefriends, I post under the same name.
diet: http://lymefriends.ning.com/group/healthylowcarbrecipes
Homemade Probiotics thread
Herbal Links Thread


---

Posts: 2552 | From San Francisco | Registered: Apr 2006 | IP: Logged |

sian333
Member
Member # 26198


posted

---

See the problem is, I live in Australia and have been spending a lot to get Lyme tests. I have been tested a few times and it always comes back negative.

I have no evidence that I have Lyme, other than a handful of terrible symptoms. Doctors think I'm mental and some refuse to see me, despite a heart rate of 200bpm at times.

I have seen many cardio's and had an EP study and nothing was found to be wrong with my actual heart.

I got sick when I was travelling. We can't pin point when or where. My heart is greatly affected.

I know a lot of people don't believe in live blood analysis, but why would I be herxing on antiparasite medications if I didn't have parasites?

Isn't Babesia a parasite?

---

Posts: 51 | From Australia | Registered: May 2010 | IP: Logged |

MariaA
Frequent Contributor (1K+ posts)
Member # 9128


posted

---

i'm so sorry to hear that! I know it must be hard, and you must be really freaked out about heart issues without getting a diagnosis that'll get you help.

Some antiparasite meds also have antibacterial action. They also can make you sick, which could look like a herx. And Lyme itself can be a relapsing-remitting disease, or can flare up in cycles. Can you tell the difference? (I'm not questioning what you're saying, just suggesting some more things to think about)

babesia can't be seen this way, I think there's a stain used. It's also a process that ideally requires hours of examination of the slide (that's not what actually happens in most labs, hence lots of false negatives) because there's actually NOT very much babesia visible in the blood (one theory says that it might live primarily in bone marrow, and I think some doctors have found it there when anyone bothers to look). Your chance of seeing it on a live blood slide while in your doctors' office aren't that great.

There are several reasons why Lyme tests come back false negative, including that some very sick people don't make antibodies anymore. One way that people get around that particular problem is a process called 'antibiotic challenge', which is to use something like 3 weeks of an antibiotic like doxycycline, then wait a couple of weeks, then test. Sometimes that turns a test positive.

there are other reasons for negative tests, including antibody-antigen complexes, having a strain of Lyme that the test will not pick up, and having an actual positive test that the lab or doctor declares is a negative because their interpretation of the test is wrong (so it's very good to get a Western Blot rather than an ELISA, if you have that option, and to insist on getting the full report (ie what bands came up testing how), in case your doctors haven't been giving you that info. There's a good writeup linked here at the top of the medical forum.


Also, can you do any herbal treatment (it sounds like you have a naturopath or another alternative medical practitioner?) such as the Buhner Protocol?

--------------------
Symptom Free!!! Thank you all!!!!

Find me at Lymefriends, I post under the same name.
diet: http://lymefriends.ning.com/group/healthylowcarbrecipes
Homemade Probiotics thread
Herbal Links Thread


---

Posts: 2552 | From San Francisco | Registered: Apr 2006 | IP: Logged |

Shahbah
LymeNet Contributor
Member # 28735


posted

---

hum, parasite in the blood sounds like babesia, which is known to cause heart issues as well... Maybe you could start treating it and see how you react...

---

Posts: 723 | From Montreal | Registered: Oct 2010 | IP: Logged |

glm1111
Frequent Contributor (5K+ posts)
Member # 16556


posted

---

Stan333

Parasites/worms can be found in any organ in the body. Google Parasites In The Heart and scroll down (2nd one) to Parasites living on humans. It shows surgeons from Russia removing worms from a mans heart.

A while ago (maybe last year) mainstream media reported a story of a woman who had a worm in her brain that they removed. There is also a video on this if you google it. Why are so many people so nieve to think most people don't have parasites? They almost killed me.

I had EVERTHING pictured on

www.lymephotos.com

pour out of me after 6 mos of antiparasitics and 2 days after I started salt/c. Sounds like you have a VERY aware doctor and I would listen to him especially since you are herxing on antiparasitics.

Gael

--------------------
PARASITES/WORMS ARE NOW
RECOGNIZED AS THE NUMBER 1 CO-INFECTION IN LYME DISEASE BY ILADS*


---

Posts: 6418 | From philadelphia pa | Registered: Jul 2008 | IP: Logged |

lululymemom
Frequent Contributor (1K+ posts)
Member # 26405


posted

---

If it is babesia, try a round of cryptolepis and see if you have any improvement. Simple!

--------------------
IGM 41 IND, 83-93+ IGG 31 IND,34 IND, 41++, 58+, 83-93 IND

31 Epitope test neg.

Bartonella henselae 1:100


---

Posts: 2026 | From British Columbia | Registered: Jun 2010 | IP: Logged |

blinkie
Frequent Contributor (1K+ posts)
Member # 14470


posted

---

what treatment are you taking? I also react strongly to anti parasitics and have heart and lung issues.

---

Posts: 1104 | From N.California | Registered: Jan 2008 | IP: Logged |

sian333
Member
Member # 26198


posted

---

Hi there,

Thanks everyone for your responses.

GLM1111 - so do you think I could have something clinging on to my heart? Wow I looked at that video, how scary!

I am taking a lot of natural remedies at the moment, which my Doc/Naturopath gave to me in the preparation for the strong anti parasite meds. She said I could get dangerously ill if we go in guns blazing. So we're preparing my immune system and then starting the heavy drugs in January. I am already herxing from the ''preparation'' remedies, which to me seem very soft.

She is positive that it's parasites that have gotten in to my heart and lungs. I have severe tachycardia and palpitations...and I mean severe! And have seen many cardiologists and given the all clear.

---

Posts: 51 | From Australia | Registered: May 2010 | IP: Logged |
Contact Us | LymeNet home page | Privacy Statement

Powered by UBB.classic™ 6.7.3

---
The Lyme Disease Network is a non-profit organization funded by individual donations. If you would like to support the Network and the LymeNet system of Web services, please send your donations to:
The Lyme Disease Network of New Jersey
907 Pebble Creek Court, Pennington, NJ 08534 USA
http://www.lymenet.org/
---
Home | Flash Discussion | Support Groups | On-Line Library
Legal Resources | Medical Abstracts | Newsletter | Books
Pictures | Site Search | Links | Help/Questions
About LymeNet | Contact Us
---
© 1993-2020 The Lyme Disease Network of New Jersey, Inc.
All Rights Reserved.
Use of the LymeNet Site is subject to Terms and Conditions.
---