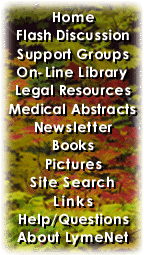 ---
LymeNet on Facebook
LymeNet on Twitter
---
---
The Lyme Disease Network receives a commission from Amazon.com for each purchase originating from this site.
When purchasing from Amazon.com, please
click here first.

Thank you.




Dedicated to the Bachmann Family


LymeNet needs your help:
LymeNet 2020 fund drive

The Lyme Disease Network is a non-profit organization funded by individual donations.

| | |
| --- | --- |
| | |
Author
Topic: Past medical testing (crimes) on humans

Tincup
Honored Contributor (10K+ posts)
Member # 5829


posted

---

If you aren't outraged by this ... well, I can't imagine anyone not being outraged. And Lyme should go on this list.


AP IMPACT: Past medical testing on humans revealed

By MIKE STOBBE, AP Medical Writer

Shocking as it may seem, U.S. government doctors once thought it was fine to experiment on disabled people and prison inmates.

Such experiments included giving hepatitis to mental patients in Connecticut, squirting a pandemic flu virus up the noses of prisoners in Maryland, and injecting cancer cells into chronically ill people at a New York hospital.

Much of this horrific history is 40 to 80 years old, but it is the backdrop for a meeting in Washington this week by a presidential bioethics commission.

The meeting was triggered by the government's apology last fall for federal doctors infecting prisoners and mental patients in Guatemala with syphilis 65 years ago.

U.S. officials also acknowledged there had been dozens of similar experiments in the United States — studies that often involved making healthy people sick.

An exhaustive review by The Associated Press of medical journal reports and decades-old press clippings found more than 40 such studies. At best, these were a search for lifesaving treatments; at worst, some amounted to curiosity-satisfying experiments that hurt people but provided no useful results.

Inevitably, they will be compared to the well-known Tuskegee syphilis study. In that episode, U.S. health officials tracked 600 black men in Alabama who already had syphilis but didn't give them adequate treatment even after penicillin became available.

These studies were worse in at least one respect — they violated the concept of "first do no harm," a fundamental medical principle that stretches back centuries.

"When you give somebody a disease — even by the standards of their time — you really cross the key ethical norm of the profession," said Arthur Caplan, director of the University of Pennsylvania's Center for Bioethics.

Some of these studies, mostly from the 1940s to the '60s, apparently were never covered by news media. Others were reported at the time, but the focus was on the promise of enduring new cures, while glossing over how test subjects were treated.

Attitudes about medical research were different then. Infectious diseases killed many more people years ago, and doctors worked urgently to invent and test cures. Many prominent researchers felt it was legitimate to experiment on people who did not have full rights in society — people like prisoners, mental patients, poor blacks.

It was an attitude in some ways similar to that of Nazi doctors experimenting on Jews.

"There was definitely a sense — that we don't have today — that sacrifice for the nation was important," said Laura Stark, a Wesleyan University assistant professor of science in society, who is writing a book about past federal medical experiments.

The AP review of past research found:

_A federally funded study begun in 1942 injected experimental flu vaccine in male patients at a state insane asylum in Ypsilanti, Mich., then exposed them to flu several months later. It was co-authored by Dr. Jonas Salk, who a decade later would become famous as inventor of the polio vaccine.

Some of the men weren't able to describe their symptoms, raising serious questions about how well they understood what was being done to them. One newspaper account mentioned the test subjects were "senile and debilitated." Then it quickly moved on to the promising results.

_In federally funded studies in the 1940s, noted researcher Dr. W. Paul Havens Jr. exposed men to hepatitis in a series of experiments, including one using patients from mental institutions in Middletown and Norwich, Conn. Havens, a World Health Organization expert on viral diseases, was one of the first scientists to differentiate types of hepatitis and their causes.

A search of various news archives found no mention of the mental patients study, which made eight healthy men ill but broke no new ground in understanding the disease.

_Researchers in the mid-1940s studied the transmission of a deadly stomach bug by having young men swallow unfiltered stool suspension. The study was conducted at the New York State Vocational Institution, a reformatory prison in West Coxsackie.

The point was to see how well the disease spread that way as compared to spraying the germs and having test subjects breathe it. Swallowing it was a more effective way to spread the disease, the researchers concluded. The study doesn't explain if the men were rewarded for this awful task.

_A University of Minnesota study in the late 1940s injected 11 public service employee volunteers with malaria, then starved them for five days. Some were also subjected to hard labor, and those men lost an average of 14 pounds.

They were treated for malarial fevers with quinine sulfate. One of the authors was Ancel Keys, a noted dietary scientist who developed K-rations for the military and the Mediterranean diet for the public. But a search of various news archives found no mention of the study.

_For a study in 1957, when the Asian flu pandemic was spreading, federal researchers sprayed the virus in the noses of 23 inmates at Patuxent prison in Jessup, Md., to compare their reactions to those of 32 virus-exposed inmates who had been given a new vaccine.

_Government researchers in the 1950s tried to infect about two dozen volunteering prison inmates with gonorrhea using two different methods in an experiment at a federal penitentiary in Atlanta. The bacteria was pumped directly into the urinary tract through the penis, according to their paper.

The men quickly developed the disease, but the researchers noted this method wasn't comparable to how men normally got infected — by having sex with an infected partner. The men were later treated with antibiotics. The study was published in the Journal of the American Medical Association, but there was no mention of it in various news archives.

Though people in the studies were usually described as volunteers, historians and ethicists have questioned how well these people understood what was to be done to them and why, or whether they were coerced.

Prisoners have long been victimized for the sake of science. In 1915, the U.S. government's Dr. Joseph Goldberger — today remembered as a public health hero — recruited Mississippi inmates to go on special rations to prove his theory that the painful illness pellagra was caused by a dietary deficiency. (The men were offered pardons for their participation.)

But studies using prisoners were uncommon in the first few decades of the 20th century, and usually performed by researchers considered eccentric even by the standards of the day.

One was Dr. L.L. Stanley, resident physician at San Quentin prison in California, who around 1920 attempted to treat older, "devitalized men" by implanting in them testicles from livestock and from recently executed convicts.

Newspapers wrote about Stanley's experiments, but the lack of outrage is striking.

"Enter San Quentin penitentiary in the role of the Fountain of Youth — an institution where the years are made to roll back for men of failing mentality and vitality and where the spring is restored to the step, wit to the brain, vigor to the muscles and ambition to the spirit.

All this has been done, is being done ... by a surgeon with a scalpel," began one rosy report published in November 1919 in The Washington Post.

Around the time of World War II, prisoners were enlisted to help the war effort by taking part in studies that could help the troops.

For example, a series of malaria studies at Stateville Penitentiary in Illinois and two other prisons was designed to test antimalarial drugs that could help soldiers fighting in the Pacific.

It was at about this time that prosecution of Nazi doctors in 1947 led to the "Nuremberg Code," a set of international rules to protect human test subjects.

Many U.S. doctors essentially ignored them, arguing that they applied to Nazi atrocities — not to American medicine.

The late 1940s and 1950s saw huge growth in the U.S. pharmaceutical and health care industries, accompanied by a boom in prisoner experiments funded by both the government and corporations.

By the 1960s, at least half the states allowed prisoners to be used as medical guinea pigs.

But two studies in the 1960s proved to be turning points in the public's attitude toward the way test subjects were treated.

The first came to light in 1963. Researchers injected cancer cells into 19 old and debilitated patients at a Jewish Chronic Disease Hospital in the New York borough of Brooklyn to see if their bodies would reject them.

The hospital director said the patients were not told they were being injected with cancer cells because there was no need — the cells were deemed harmless. But the experiment upset a lawyer named William Hyman who sat on the hospital's board of directors.

The state investigated, and the hospital ultimately said any such experiments would require the patient's written consent.

At nearby Staten Island, from 1963 to 1966, a controversial medical study was conducted at the Willowbrook State School for children with mental retardation.

The children were intentionally given hepatitis orally and by injection to see if they could then be cured with gamma globulin.

Those two studies — along with the Tuskegee experiment revealed in 1972 — proved to be a "holy trinity" that sparked extensive and critical media coverage and public disgust, said Susan Reverby, the Wellesley College historian who first discovered records of the syphilis study in Guatemala.

By the early 1970s, even experiments involving prisoners were considered scandalous. In widely covered congressional hearings in 1973, pharmaceutical industry officials acknowledged they were using prisoners for testing because they were cheaper than chimpanzees.

Holmesburg Prison in Philadelphia made extensive use of inmates for medical experiments. Some of the victims are still around to talk about it.

Edward "Yusef" Anthony, featured in a book about the studies, says he agreed to have a layer of skin peeled off his back, which was coated with searing chemicals to test a drug. He did that for money to buy cigarettes in prison.

"I said 'Oh my God, my back is on fire! Take this ... off me!'" Anthony said in an interview with The Associated Press, as he recalled the beginning of weeks of intense itching and agonizing pain.

The government responded with reforms. Among them: The U.S. Bureau of Prisons in the mid-1970s effectively excluded all research by drug companies and other outside agencies within federal prisons.

As the supply of prisoners and mental patients dried up, researchers looked to other countries.

It made sense. Clinical trials could be done more cheaply and with fewer rules. And it was easy to find patients who were taking no medication, a factor that can complicate tests of other drugs.

Additional sets of ethical guidelines have been enacted, and few believe that another Guatemala study could happen today. "It's not that we're out infecting anybody with things," Caplan said.

Still, in the last 15 years, two international studies sparked outrage.

One was likened to Tuskegee. U.S.-funded doctors failed to give the AIDS drug AZT to all the HIV-infected pregnant women in a study in Uganda even though it would have protected their newborns.

U.S. health officials argued the study would answer questions about AZT's use in the developing world.

The other study, by Pfizer Inc., gave an antibiotic named Trovan to children with meningitis in Nigeria, although there were doubts about its effectiveness for that disease.

Critics blamed the experiment for the deaths of 11 children and the disabling of scores of others. Pfizer settled a lawsuit with Nigerian officials for $75 million but admitted no wrongdoing.

Last year, the U.S. Department of Health and Human Services' inspector general reported that between 40 and 65 percent of clinical studies of federally regulated medical products were done in other countries in 2008, and that proportion probably has grown. The report also noted that U.S. regulators inspected fewer than 1 percent of foreign clinical trial sites.

Monitoring research is complicated, and rules that are too rigid could slow new drug development. But it's often hard to get information on international trials, sometimes because of missing records and a paucity of audits, said Dr. Kevin Schulman, a Duke University professor of medicine who has written on the ethics of international studies.

These issues were still being debated when, last October, the Guatemala study came to light.

In the 1946-48 study, American scientists infected prisoners and patients in a mental hospital in Guatemala with syphilis, apparently to test whether penicillin could prevent some sexually transmitted disease. The study came up with no useful information and was hidden for decades.

The Guatemala study nauseated ethicists on multiple levels. Beyond infecting patients with a terrible illness, it was clear that people in the study did not understand what was being done to them or were not able to give their consent. Indeed, though it happened at a time when scientists were quick to publish research that showed frank disinterest in the rights of study participants, this study was buried in file drawers.

"It was unusually unethical, even at the time," said Stark, the Wesleyan researcher.

"When the president was briefed on the details of the Guatemalan episode, one of his first questions was whether this sort of thing could still happen today," said Rick Weiss, a spokesman for the White House Office of Science and Technology Policy.

That it occurred overseas was an opening for the Obama administration to have the bioethics panel seek a new evaluation of international medical studies. The president also asked the Institute of Medicine to further probe the Guatemala study, but the IOM relinquished the assignment in November, after reporting its own conflict of interest: In the 1940s, five members of one of the IOM's sister organizations played prominent roles in federal syphilis research and had links to the Guatemala study.

So the bioethics commission gets both tasks. To focus on federally funded international studies, the commission has formed an international panel of about a dozen experts in ethics, science and clinical research. Regarding the look at the Guatemala study, the commission has hired 15 staff investigators and is working with additional historians and other consulting experts.

The panel is to send a report to Obama by September. Any further steps would be up to the administration.

Some experts say that given such a tight deadline, it would be a surprise if the commission produced substantive new information about past studies. "They face a really tough challenge," Caplan said.

___

AP news researchers Susan James and Julie Reed Bell contributed to this report.


http://www.sfgate.com/cgi-bin/article.cgi?f=/n/a/2011/02/27/state/n090117S72.DTL

--------------------
www.TreatTheBite.com
www.DrJonesKids.org
www.MarylandLyme.org
www.LymeDoc.org


---

Posts: 20352 | From The Moon | Registered: Jun 2004 | IP: Logged |

Rumigirl
Frequent Contributor (1K+ posts)
Member # 15091


posted

---

And to say that this was all in the past?!! It goes on today in way too many ways: most medical testing now goes on in third world countries where there is zero oversight (as noted in the article), PLENTY of vaccines, etc. are used on military personnel with no informed consent, testing of vaccines and meds are completely lacking, and then the vaccines and meds are foisted (or imposed) upon people, esp children. And on and on. Not to mention Lyme, etc.

---

Posts: 3747 | From around | Registered: Mar 2008 | IP: Logged |

Hoops123
LymeNet Contributor
Member # 18333


posted

---

Lab 257 and plum island have been discussed here many times and on the Jesse Ventura Tru Tv show on lyme. Unfortunately, it won't help us in our current situation, so I would say to stay focused on getting well and don't put too much of your energy into finding out "how could they have done this to us" but be aware of the competing interests that keep us from getting proper care - the government, CDC, ID doctors and the insurance companies. To properly treat all of us would bankrupt the medical system and would also lead to declining real estate values in certain endemic areas.

---

Posts: 749 | From State full of ticks | Registered: Dec 2008 | IP: Logged |

Camp Other
Unregistered



posted

---

I read this article earlier today. It is criminal and tragic what has happened to many people, and depressing commentary on society that so many have turned a blind eye to it - especially due to their prejudice.

Yes, it still goes on. It is important to be aware of what is going on in the world, and not close your eyes to it even if the truth hurts.

How to change it... now that is the next challenge.

---

IP: Logged |

onbam
Unregistered



posted

---

Hear, hear!

---

IP: Logged |

chiquita incognita
Unregistered



posted

---

A doctor whose lecture I attended, spoke of a "medication" that "Barely works" and which requires that patients stand up (don't you dare sit or lie down!) after swallowing it. Why? Because it will punch a hole in your esophagus otherwise.

Patients who developed this "Side effect" were lumped into the "pre-existing conditions" category in the so-called "Study". the FDA knew this and looked the other way, said the doc. And to stress again, the medication "barely even works" said the doctor who I am not naming.

We are all a human experiment.

LEt's not even mention chemtrails. I myself was skeptical, thinking this was all paranoid conspiracy theory. I researched it only to find out that alas, it is not. Congressional meetings and legislation by Rep Kucinich to stop it, made me aware of its reality. FBI Agent Ted Gunderson says "What is wrong with this congress" and why don't they stop chemtrail spraying.

What is in chemtrails? Those white streaks in the sky which linger after jet planes fly over...are not condensation as advertized. Not if they don't dissipate for a long time. They are....

www.mayanmajix.com/art2152.html

A mix of noxious microbes, viruses and bacteria
Barrium aluminum
Several carcinogens
Molds
And more....

All used for chemical warfare.

Why is the US Government spraying this on Us, the People, while we pay them to do it?

Why is the FDA approving "medications" that cause "Side effects" like leukemia? Did you know that some of our very own Lyme-specific/co-infections-specific anti-bx can cause coma, death, tumors, you name it?

Why is the FDA approving "foods " like aspartame that is linked to brain tumors?

Why amalgams with noxious mercury in our mouths?

Fluoride in the waters advertized as good for your teeth...actually causing bone fragility and fractures in the elderly, lowered IQ in children, alzheimers, tooth enamel discoloration?

Why why why???

We are all a human experiment, folks. Courtesy of the FDA. And on your own dime.

I say it's time for:

A) Major publicity: Letters to the editor, online blogs

B) Ask readers to widely forward and reprint your online exposees

C) DIal in to radio talk shows

D) Appeal to college newsletter editors, who will print underground things. They talk to their parents, awakening the slumbering giant.
So college newsletter editors are an important strategy.

E) Expose wrong-doers in office in these publicity items

F) Try your best to get the bad apples unseated

G) COnsider running for public office yourself> After you get well.

If you can stay well once you are in office and seeing all the corruption that makes you so mad that you can barely stay alive just from the stress.

NO CRIME ON MY DIME! THROW THE BUMS OUT!!! I MEAN IT!!! Jail is more like it.

---

IP: Logged |

chiquita incognita
Unregistered



posted

---

PS A lot of the "violent criminals" in jail may actually be innocent.

According to the ACLU, a lot of times when a "Criminal" is identified, it is a mistake. More than 20% of the time, as I recall. The reason is that victims and witnesses alike are so traumatized, that they have memory blanks. "Oh yea, I think that was the guy!" Well, it was not. And he sits on death row for a crime he never committed, and never could dream of doing.

So to experiment on "those violent evil whackos" is a faulty assumption. They may or may not deserve it.

Most of them are probably drug or alchohol-related crimes, which a person would never commit when sober.

Some of them may be infected by LYme just like you or me, lost their head and gone crazy. Poor things. We have to sympathize, not judge and hate. And certainly, not experiment on the already chemically compromised victims of their own bodies.

Some people choose evil and that is true. Most people in jail probably don't. Of the ones who choose it, I say they asked for it. That's probably extremely rare however.

Except when it comes to members of the FDA and pharmaceutical manufacturers. Greed is a powerful motivator, eh?

---

IP: Logged |

Jamers
Frequent Contributor (1K+ posts)
Member # 28016


posted

---

The military makes soldiers get a series of vaccines every year! Whether deploying or not, they must have them each year. For what I do not know, I wonder what they put into their bodies!

Medical testing on any creature is horrendous. It's not okay to do this to any living thing human or animal.

--------------------
Diagnosed Pos. Lyme Nov. 17, 2010, Igx.
Pos. Babesia Duncani March 2011, Igx.
Clinical diagnosis for Bartonella


---

Posts: 1127 | From North Carolina | Registered: Sep 2010 | IP: Logged |

chiquita incognita
Unregistered



posted

---

SOmeone I know had to have their 3 month old baby given a dump of vaccines, multiple ones...or the kid wouldn't be able to attend kindergarten.

To *cluster* vaccines on one so young! Kids ' and babies' detox enzymes aren't as developed as an adult's. They are much more vulnerable.

Many vaccines are spiked with thymerisol---a form of mercury, a neurotoxin tracked to MS and cancer----as preservative. Also, if in low enough amounts, they don't have to disclose its presence in the vaccine.

Then you are told that your vaccine is thymerisol-free.

How nice.

This coercion has got to be stopped. First of all people need to know, second we have got to put pressure on politicians. THey want ot remain in office.

Since when was our government declared to be A Gov't Of the Corporations, By the Corporations and For the Corporations?

Whose dime does the FDA work on anyway? Ours. Hold it over their heads!

---

IP: Logged |

rosiegeorge
LymeNet Contributor
Member # 27518


posted

---

The Declaration of Helsinki was put into place to safeguard research participants.

---

Posts: 157 | From Colorado | Registered: Aug 2010 | IP: Logged |

sparkle7
Frequent Contributor (5K+ posts)
Member # 10397


posted

---

re: The Declaration of Helsinki was put into place to safeguard research participants.

Not necessarily...

--------

http://www.bioethics.gov/documents/Federal-Register-Notice-PCSBI-Requests-Public-Comment-on-Human-Subjects-Protection-030211.pdf

DEPARTMENT OF HEALTH AND HUMAN SERVICES
Request for Comments on Human Subjects Protections in Scientific Studies

AGENCY: The Presidential Commission for the Study of Bioethical Issues, Office of the Secretary, Department of Health and Human Services.

ACTION: Notice.

SUMMARY: The Presidential Commission for the Study of Bioethical Issues is requesting public comment on the Federal and international standards for protecting the health and well-being of participants in scientific studies supported by the Federal Government. DATES: To assure consideration, comments must be received by May 2, 2011.

---

They wouldn't be having a commission to study this if it was outlawed or illegal. I believe there are quite a few loopholes in regards to doing testing on millitary, prisioners, & civilians.

Many people have no idea that they are test subjects. Some don't find out until many years later - when it may be too late. Historically, it's been done time & time again. I'm sure it's still going on now.

If you consider GM foods - we are all in a big experiment.

---

Posts: 7772 | From Northeast, again... | Registered: Oct 2006 | IP: Logged |

Annie C
Frequent Contributor (1K+ posts)
Member # 14


posted

---

TINCUP My oh my has I been gone this long. Today
I am living w/o Sarcasim. I like it. Very Glad to
see you at full throttle. Dare I say my today
got better reading your POST you best be tieing a
rope around it. Grreat Dataaa to Read. And I love throwing Monkey Poop at Monkys. It's true. I saw it on TruTV with that one time Govenor.

Rage is like a taste of reality. To give us a hunggar for wellness. And maybe for me clear thinking clears my path.

I cant spell any better. I think I'm getting some of my hearing back. Because I can't see as good.Or well either

I asked for a newer to me handle on Life. I was a No Show. Ergo No Go.

Next I click GO to add reply. I am now a Circle Finally. No corners.

--------------------
May God Bless you every day. And Never say never and do not give up no matter what. We need you to help others.


---

Posts: 1288 | From Tetons Wyoming | Registered: Oct 2000 | IP: Logged |

Cass A
Frequent Contributor (1K+ posts)
Member # 11134


posted

---

Dear Friends,

This type of experimentation is still going on today--and not all overseas.

The best person I've seen exposing it and actually getting horrific human rights abuses stopped is Vera Sharav. She started Alliance for Human Research Protection.

Here's a recent post from her on this same article. with a link to a list of experiments.

Best,

Cass A


The list of horrific experiments cited by the Associated Press is hardly
exhaustive. See, Human Experiments: a Chronology of Human Research for an
extensive (though not up to date) list compiled by AHRP.
http://www.ahrp.org/cms/content/view/188/118/

The President's Bioethics Commission will be meeting to examine unethical
human experiments that have made headline news reports.

A fitting recent example of a horrific human experiment which cries out for
an independent examination is AstraZeneca's CAFE trial which tested the
efficacy / safety of the antipsychotic, Seroquel. In this trial,
researchers at the University of Minnesota recruited psychotic patients,
some of who were involuntarily committed by the court. Such patients could,
therefore, not have been competent to give informed consent.

Dan Markingson was recruited as a human subject (2004) while he was a court
committed patient at the University of Minnesota hospital.

His mother's protestations were ignored by the researchers who would not
withdraw him from the trial --even as his condition worsened.

Dan's horrific suicide, he stabbed himself to death in the bathtub with a
box cutter, can be attributed to his coerced enrollement in the trial.

See comprehensive articles: Dr. Carl Elliott in Mother Jones (Oct. 2010)
http://www.zinio.com/reader.jsp?issn=0362-8841&o=ext
and City Pages earlier this month:
http://www.citypages.com/2011-02-02/news/charles-schulz-under-scrutiny-for-s
eroquel-study-suicide/ and at: http://www.ahrp.org/cms/content/view/775/9/

The case against AstraZeneca's corrupt practices--including research
fraud--is well documented in courts of law: multi-million dollar civil and
criminal settlements include the Department of Justice.

However, the medical research community has taken no action--not even a
repremand--against the academics who disregarded the safety and welfare of
human subjects while collecting hundreds of thousands of dollars from
AstraZeneca.

On November, 2010, eight University of Minnesota faculty members of the
Department of Bioethics, sent a letter to the university's Board of Regents
requesting the appointment of an outside panel of experts to investigate
gross ethical issues raised by the 2004 suicide of Dan Markingson.

So far, no action.

The Alliance for Human Research Protection urges the President's Bioethics
Commission to examine the AstraZeneca CAFE trial conducted at the University
of Minnesota.

Read more... http://www.ahrp.org/cms/content/view/774/


Contact: Vera Hassner Sharav
[email protected]
212-595-8974

---

Posts: 1243 | From Thousand Oaks, CA | Registered: Feb 2007 | IP: Logged |

chiquita incognita
Unregistered



posted

---

It may sound radical, but the more I read here, and the more I read everywhere else, we have got to jail these guys as murderes.

Again I know it sounds radical, but given the facts I don't think it is. Not at all.

Read this: Kids in Nigeria who were born to illiterate parents, used as study subjects and many of them died. Lawsuits resulted in the pharmaceutical company being slapped on the wrist with merely about 2 months of their gross sales and zero jail time for anybody involved:

articles.mercola.com/.../pfizer-accused-of-massive-corruption-in-killing-african-children.aspx

The FDA keeps on turning its head and looking the other way.

They took an oath back in medical school: First, Do No Harm.

HOld them to it!

They are murderer's accomplices in such acts as all of the above matters posted in this entire thread.

And they are also killing Americans. It is not an accident that the National Institutes of Health posted an article stating that 40% of Americans will contract cancer during their lifetime, while 21% of these will die from it each year. This does not "Just happen". It's carcinogens in our food supplies, drugs, water quality, and more that the FDA is approving left and right, at human expense. While we pay them to do it.

We Pay Them.
Remind them! Hold It Over Their Heads!

Pressure DOES work! I've seen Senators reverse their positions 180% as literally one million signatures from Moveon.org came in (I no longer belong FYI).

---

IP: Logged |

onbam
Unregistered



posted

---

elenacook.org
filedropper.com/lymeshow
undertheeightball.com
http://underourskin.com/blog/?p=191


What's radical is that there is an epidemic of a contagious, brain-destroying infection that the feds are denying the existence of. They absolutely should be jailed.
A general rule that America seems to be utterly oblivious to is that the people who cause all these problems can't be trusted to fix them.

[ 03-04-2011, 02:40 PM: Message edited by: onbam ]

---

IP: Logged |

rajon
Member
Member # 29277


posted

---

THEY are all out to get us!

It's all just one big conspiracy!

Run, Chicken Little, run!

BUYER BEWARE!

!!!!!!!!!!!!!

---

Posts: 81 | From Rhode Island | Registered: Nov 2010 | IP: Logged |

sparkle7
Frequent Contributor (5K+ posts)
Member # 10397


posted

---

Maybe the sky really is falling? LOL... It's all just a big joke, right...? It's normal to be ill for 5, 10, 15, 20 + years. And big pharma is laughing their way to the bank off of it, too.

Early Deaths at an All-Time High: The Thinning of the Human Herd?


http://tinyurl.com/4qeg5mt

I don't know how long people can keep denying that anything bad is going on.

**edited name of LLMD**

[ 03-09-2011, 07:06 PM: Message edited by: Lymetoo ]

---

Posts: 7772 | From Northeast, again... | Registered: Oct 2006 | IP: Logged |

seekhelp
Frequent Contributor (5K+ posts)
Member # 15067


posted

---

I can't say I find it all too funny.

---

Posts: 7545 | From The 5th Dimension - The Twilight Zone | Registered: Mar 2008 | IP: Logged |

Camp Other
Unregistered



posted

---

Annie C,

Hi. Sounds like you were gone a long time, and judging from your member number - wow, you're one of the first ones here on LN.

Now... could you please explain your post, because I could not follow it?

chiquita incognita,

Okay. Chemtrails etc. Can you do me a favor and prove all this?

everybody reading,

I believe human experimentation has happened overseas on unsuspecting populations and that there has been unethical conduct and experimentation here by certain companies. However, is there enough supporting evidence to give a blanket charge to every company that creates pharmaceuticals - including life saving medications like insulin for people born diabetic?

And here is an issue: rajon is pretty much saying something that reflects *exactly* the kind of statement that certain parties in the media and detractors have said or implied about Lyme patients. Do you *want* to be viewed that way?

If you provided more hard evidence for your statements and charges, then maybe people would pay more attention. As it stands, this does sound a lot like conspiracy theory to me.

And while the FDA has made choices I disagree with, if all these claims you make are true and can be proven, then someone should already be indicting them.

---

IP: Logged |

Cass A
Frequent Contributor (1K+ posts)
Member # 11134


posted

---

Dear Friends,

(Tincup--thanks for the HUGS!! Here's back atya!!)

Vera Sharav has been doing quite exhaustive and in-depth research on this area for at least 10-15 years that I know about.

I have never found her reports to be falsified. Each one is quite specific, relating to specific, documented events.

If one wishes to generalize from these, so be it. It is true that the pharmaceutical industry has come up with many life-saving drugs and treatments.

The situation here is that the business model for the pharmaceutical industry includes violating basic human rights, masking adverse consequences, paying doctors to report that the drugs work, making patients for profit through labeling of conditions as diseases needing DRUGS, and creating lifetime customers by not actually curing people but just treating symptoms.

It is clear from the huge, huge fines paid over the last few years by each of the largest pharmaceutical companies (Eli Lilly, etc.) for these types of behavior that the individuals in charge consider these successful business practices, as the fines are but a small fraction of the profits of each of these companies.

Exposure of SPECIFICS and getting SPECIFIC INDIVIDUALS SENT TO JAIL are the actions most likely to result in positive changes to this business model and a reduction in human rights abuses.

Best,

Cass A

---

Posts: 1243 | From Thousand Oaks, CA | Registered: Feb 2007 | IP: Logged |

sparkle7
Frequent Contributor (5K+ posts)
Member # 10397


posted

---

FYI -

Peter Rost, M.D., is the author of The Whistleblower, Confessions of a Healthcare Hitman. The Whistleblower is at once an unmasking of how corporations take care of malcontents and a gripping story of one man's fight to maintain his family and his sanity. Starting in 2003, the book details the illegal, even criminal business practices the author witnessed at his corporation, as well as his crusade to legalize the reimportation of drugs.

-----

Nonconsensual Medical Experiments on Human Beings

copyright 1997 by Ronald B. Standler

http://www.rbs2.com/humres.htm

---

Medical Apartheid: The Dark History of Medical Experimentation on Black Americans from Colonial Times to the Present
Harriet A. Washington

http://www.amazon.com/Medical-Apartheid-Experimentation-Americans-Colonial/dp/0385509936

---

The Dark History of Medical Experimentation from the Nazis to Tuskegee to Puerto Rico

http://www.democracynow.org/2010/10/5/the_dark_history_of_medical_experimentation

---

Medical Experiments Used to Refine Torture

By: Glen Stassen
Posted: Tuesday, June 8, 2010 6:03 am

http://www.ethicsdaily.com/news.php?viewStory=16184

and

Complaint on CIA medical experimentation filed by human rights groups - June 09, 2010

http://blogs.nature.com/news/thegreatbeyond/2010/06/complaint_on_cia_medical_exper_1.html

------

I could go on - the info is available on the internet.

---

Posts: 7772 | From Northeast, again... | Registered: Oct 2006 | IP: Logged |

Camp Other
Unregistered



posted

---

sparkle7,

I'm going to look at all your links in a moment, and some from posts below yours as well.

A reliable, useful source about pharmaceutical companies harm to others is here - I don't know if you know about it, so I'm posting in case you don't:

http://dida.library.ucsf.edu/

The Drug Industry Document Archive
University of CA, San Francisco

The Drug Industry Document Archive (DIDA) contains thousands of documents and resources about pharmaceutical industry clinical trials, publication of study results, pricing, marketing, relations with physicians and involvement in continuing medical education.

Most of these previously secret internal documents were made public as a result of lawsuits against a number of pharmaceutical companies including: Merck & Co., Parke-Davis, Warner-Lambert, Wyeth, and Pfizer.

---

I have more to say later, since you folks have given me a reading list and I'm not through it yet.

A quick note to chiquita incognita:

I need another reference source about chemtrails to look at other than this one you supplied:

www.mayanmajix.com/art2152.html

I'll start with sparkle7's extensive list, but I will tell you why this specific link does not inspire confidence in me:

- The article is said to be written by one Aajonus Vonderplanitz, Ph.D, who with little searching around the internet is revealed to be a self-proclaimed doctor of Nutrition who came up with the Primal Diet where everyone eats raw food - including raw eggs and meat. The link would be more convincing to me if the author had a background in chemistry and/or environmental science - even someone who worked for the Solar Living Center in Ukiah would be more credible.

- This apparently isn't even really the doctor's real name and is a pseudonym.

- Coming from a Mayan spirituality web site makes it less relevant to me than if it were posted on an environmental non-profit research group or well-documented health web site. There is nothing wrong with Mayan spirituality - it's just that I am more likely to find the other sources more intensely familiar with the issue of environmental toxicity and to supply strong documentation.

- The breakdown of chemicals and organisms listed in the article is offered with no citation and/or reference to how the information was collected and who discovered it.

Citations are important to me, as is independent confirmation of the facts. On the internet, many things have been posted which I thought were true at first which later turned out to be false. This is as minor as thinking a web site is real about a church or politician and finding out later it was a parody. In some cases it has been hard to tell -I thought the Westboro Baptist Church wasn't a real church at first. I was wrong.

- There is also no mention of how often these specific chemicals and organisms are already found in our environment - including ones that were present before airplanes existed.

See: http://www.sciencedaily.com/releases/2008/02/080228174801.htm

for an example

This is not to say chemicals are not getting sprayed in the air - I'm pretty sure they do all the time in farm country when crop dusters and huge pesticide sprays come through. Horrible.

But I'd like to see more about whether or not the specific organisms you list weren't already in the environment to begin with - same with other compounds - and being able to make a percentage comparison would be useful. That way, one could compare the chemtrail component percentage against what would be found in the environment without or pre-trail spray.

Now I'm going to take a look at the other links mentioned, and it may take a while. Perhaps sparkle7's links address these points already and provide supporting evidence for what your linked page has contained.

---

IP: Logged |

Camp Other
Unregistered



posted

---

Cass A,

Just want to thank you for this link:

See, Human Experiments: a Chronology of Human Research for an extensive (though not up to date) list compiled by AHRP.
http://www.ahrp.org/cms/content/view/188/118/

A lot of what was written there has been documented elsewhere, and I've read about these horrors throughout history. So many people have suffered due to non-consensual experimentation, and I consider that the sign of a loss of our humanity and a return to barbarism.

I think that anyone involved in a scientific experiment should be fully informed of all the risks and risks should be minimized as much as possible for participants. The risk a healthy 20 year old may take on may differ from a 40 year old cancer patient who may die if not put on a clinical trial - but both have the right to know what their risks are, including risk of death - which should be avoided entirely if at all possible.

I have an issue with subjecting children and those who cannot give fully informed consent to experiments which greatly affect their minds.

Keeping research safe, sane, and consensual is important. I think most people would agree with this sentiment.

---

IP: Logged |

Camp Other
Unregistered



posted

---

sparkle7,

I haven't had a chance to get through all the links you've posted yet. I did look at the carnicom link and just wondered about a few things:

- Do you know what his methods were for sample prep?

- How did he eliminate the risk of contamination?

- Why did he select food coloring for a control reading?

- Did he do a baseline naOH test? Where's the output for that?

- Where does he explain to the reader what the significance of 375 nm absorbency peak is? A lot of substances can produce a 375 nm absorbency peak of varying durations (e.g. chelates of lead that interacted with DMTD).

Maybe I need to read the rest, but right about now I've got Thomas Dolby's "She Blinded Me With Science" stuck in my head...

I need to play something else to get it out...

I'll look at the rest of some of your links tonight, but not many as I need to make it an early night.

---

IP: Logged |

Razzle
Frequent Contributor (1K+ posts)
Member # 30398


posted

---

Some of you may be interested in "Murder By Injection," by Eustace Mullins...

--------------------
-Razzle
Lyme IgM IGeneX Pos. 18+++, 23-25+, 30++, 31+, 34++, 39 IND, 83-93 IND; IgG IGeneX Neg. 30+, 39 IND; Mayo/CDC Pos. IgM 23+, 39+; IgG Mayo/CDC Neg. band 41+; Bart. (clinical dx; Fry Labs neg. for all coinfections), sx >30 yrs.


---

Posts: 4165 | From WA | Registered: Feb 2011 | IP: Logged |

Camp Other
Unregistered



posted

---

Tincup,

Why not ask me directly about that which I post elsewhere? I am disappointed you would say I am jerking people around. That is not my intent.

If you're talking about my comments elsewhere about how people here will be viewed negatively because they will be thought of as indulging in conspiracy theories because they are not providing enough evidence for me to accept that chemtrails are real - you would be correct.

Having someone here say, "About "detractors"... I don't care at this point." bothers me. I *do* care, and I am genuinely concerned that the public and various journalists will read what has been written and write more trash articles about the community like those found in the Chicago Tribune. And elsewhere... I don't even need to say where, you can imagine.

That said, I also think what has been posted in this same thread about medical testing and experimentation on people, children, and disabled people is horrific, sad, and true - and I would like to see it stop.

This thread has had a lot of topical drift, and I don't treat each topic with the same weight - especially if the weight of evidence is not the same.

---

IP: Logged |

Camp Other
Unregistered



posted

---

One more thing:

I'm willing to look deeper into the issue of chemtrails if your references meet the kind of criteria that I asked chiquita for - Pinelady has been providing pretty good ones to look at on the thread on Chronic Lyme testing issues over here:
http://flash.lymenet.org/scripts/ultimatebb.cgi/topic/8/2632?#000022

I really rather see more citations and learn more so I can support what you have to say than find myself being mocked by the media because they think I believe in some conspiracy theory. With enough evidence, conspiracy theories become more plausible and may eventually turn out to be proven. But evidence is essential, as well as quality of evidence.

---

IP: Logged |

Camp Other
Unregistered



posted

---

sparkle7,

I've gotten as far as this site, but preferred this link to start with:
http://www.willthomas.net/Chemtrails/About_Chemtrails.htm

I'd like more information on the experiments named if you have it - this person is discussing climate control - this is something I can actually ask someone else about who has worked with climatologists.

---

IP: Logged |

sixgoofykids
Moderator
Member # 11141


posted

---

closing thread at the request of the poster who started it.

--------------------
sixgoofykids.blogspot.com


---

Posts: 13449 | From Ohio | Registered: Feb 2007 | IP: Logged |
Contact Us | LymeNet home page | Privacy Statement

Powered by UBB.classic™ 6.7.3

---
The Lyme Disease Network is a non-profit organization funded by individual donations. If you would like to support the Network and the LymeNet system of Web services, please send your donations to:
The Lyme Disease Network of New Jersey
907 Pebble Creek Court, Pennington, NJ 08534 USA
http://www.lymenet.org/
---
Home | Flash Discussion | Support Groups | On-Line Library
Legal Resources | Medical Abstracts | Newsletter | Books
Pictures | Site Search | Links | Help/Questions
About LymeNet | Contact Us
---
© 1993-2020 The Lyme Disease Network of New Jersey, Inc.
All Rights Reserved.
Use of the LymeNet Site is subject to Terms and Conditions.
---