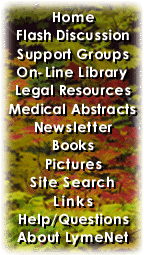 ---
LymeNet on Facebook
LymeNet on Twitter
---
---
The Lyme Disease Network receives a commission from Amazon.com for each purchase originating from this site.
When purchasing from Amazon.com, please
click here first.

Thank you.




Dedicated to the Bachmann Family


LymeNet needs your help:
LymeNet 2020 fund drive

The Lyme Disease Network is a non-profit organization funded by individual donations.

| | |
| --- | --- |
| | |
Author
Topic: Lyme induced autism

emartinez
Member
Member # 29979


posted

---

Our 18 month old was diagnosed with Lyme disease. He also has many autism symptoms, although eye contact is good. If his autism symptoms were/are caused by Lyme, does that mean if we cure the Lyme, his autism symptoms would go away? Or, does the Lyme cause his autism symptoms that are permanent, wether or not the Lyme is cured?

---

Posts: 18 | From CT | Registered: Jan 2011 | IP: Logged |

Razzle
Frequent Contributor (1K+ posts)
Member # 30398


posted

---

You may find some help through the Lyme Induced Autism Foundation:

http://www.lymeinducedautism.com/

Personally, I would think treating the Lyme would at least help to reduce the severity of the Autism symptoms, but with no personal experience with autism (Lyme induced or otherwise), I really don't have much knowledge in this area.

Another place to look for help with autism symptoms is Dr. Amy Yasko...her website:

http://www.dramyyasko.com/

I have no financial connections with any websites, doctors or organizations mentioned in this post.

--------------------
-Razzle
Lyme IgM IGeneX Pos. 18+++, 23-25+, 30++, 31+, 34++, 39 IND, 83-93 IND; IgG IGeneX Neg. 30+, 39 IND; Mayo/CDC Pos. IgM 23+, 39+; IgG Mayo/CDC Neg. band 41+; Bart. (clinical dx; Fry Labs neg. for all coinfections), sx >30 yrs.


---

Posts: 4166 | From WA | Registered: Feb 2011 | IP: Logged |

jenniferk32
LymeNet Contributor
Member # 30718


posted

---

Hmm well, I'm a special education teacher with a specialty in autism, so I've tried to keep up on the latest research about it, and there is some new amazing research that is getting to the root cause of autism.

I read it in an article in Discover magazine a few months ago, and the main topic was actually schizophrenia, but they are linking autism to the same thing they are discovering schizophrenia is caused by.

Apparently, inside of all human DNA there are hundreds of thousands of what are called retroviruses. They are inactive viruses that humans have passed down from generation to generation over millions of years. They are bundled up tightly into "stack" like structures that prevent them from escaping and causing active disease.

The theory about schizophrenia is that it is caused by one of those retroviruses that escaped. After conducting interviews with massive amounts of parents of people with schizophrenia, they found a common link: nearly all of their kids had some sort of severe illness in infancy. Pneumonia, another virus, etc.- something that had them hospitalized. The theory is that a baby's immune system is not able to cope with illnesses at such a young age.

So the baby's immune system being in overdrive somehow allows the retrovirus that causes schizophrenia to "escape" and become active. There was some explanation as to why schizophrenia doesn't activate until early adulthood, but I can't remember why.

Anyway, they tested people with schizophrenia and they found some viral protein or something that they didn't find in non-schizophrenic people. They are saying that it's that retrovirus (again, I can't remember the exact details). They are speculating that it is the same retrovirus that causes autism, and that early childhood health trauma is what is activating it.

So now scientists are thinking maybe it's not such a coincidence that more and more kids are getting autism now- and that vaccines may be pushing that trend along. Not because of mercury in the vaccines, but because too many vaccinations too close together may be sending baby's immune systems into overdrive and releasing the retrovirus. I'm sure that environmental toxins and poor nutrition probably have a huge role too.

So with lyme, I'm thinking that it is possible that there is a link. Maybe your baby's immune system was unable to cope with lyme infection and it unleashed the retrovirus that they are thinking is causing autism.

If that theory is true, then I would say no, curing lyme will not make his autism go away. If the virus is already there, it's not going to go away until they find a cure.

In any case, early intervention is a huge part of managing autism. And I have seen so many people pay thousands upon thousands of dollars on supposed "miracle cures," like hyperbaric chambers and special diets that the kids hate, and programs "guaranteed" to cure your child.

So if he IS diagnosed with autism, don't buy into any of that. I've never, ever seen one single child whose parents have done any of that who has improved. Not even slightly.

I'm very sorry if your child indeed has autism. Just love him and do the best you can and don't beat yourself up thinking it's your fault or that you're not doing enough for him. Love is the most important thing, not raising a little genius scholar or anything.

Of course, I am not a medical doctor and this is just my opinion and speculation from what I have read. I'll look for the article online and if I can find it I'll post the link.

---

Posts: 107 | From Hesperia, CA | Registered: Feb 2011 | IP: Logged |

jenniferk32
LymeNet Contributor
Member # 30718


posted

---

So I found the article and did a little more research...apparently there are different types of retroviruses, and the ones that are passed through generations are called endogenous retroviruses. Then there are others like HIV that have not gone into hiding in the DNA yet.

The one they are speculating that causes autism is XMRV, but the theory of how it comes about is the same...Kid gets sick in infancy, immune system can't handle it and autism is released.
Or the vaccines put the immune system in overdrive.

Either way, in my opinion it could be the lyme that caused the virus to release. But AGAIN, I'm not a doctor, so please don't substitute this for a doctor's advice. But here is the Discover article, a huffington post article about autism and a retrovirus, and the wikipedia page about retroviruses and the difference between endogenous ones and the others:

http://discovermagazine.com/2010/jun/03-the-insanity-virus/article_view?b_start:int=0&-C=

http://en.wikipedia.org/wiki/Retrovirus

http://www.huffingtonpost.com/david-kirby/is-autism-associated-with_b_316986.html

---

Posts: 107 | From Hesperia, CA | Registered: Feb 2011 | IP: Logged |

Lauralyme
Frequent Contributor (1K+ posts)
Member # 15021


posted

---

Quote:
So if he IS diagnosed with autism, don't buy into any of that. I've never, ever seen one single child whose parents have done any of that who has improved. Not even slightly.


I strongly disagree. In my LLMD's office where they specialize in autism, the children show remarkable improvements just four months after the first appointment! They are suddenly talking for the first time

Autism is treatable when the treatment starts early enough.

--------------------
Fall down seven times, get up eight
~Japanese proverb


---

Posts: 1146 | From west coast | Registered: Mar 2008 | IP: Logged |

GiGi
Frequent Contributor (5K+ posts)
Member # 259


posted

---

Guide to Handling Autism

http://www.cancertutor.com/Autism/ComprehensiveGuide.doc

I have not read the whole article I recently ran into. Also look for all publications, here and on the internet of Dr. Dietrich Klinghardt, MD PhD who is actively involved in treating autism. I have posted several of his protocols.

Look for "DAN" (Defeat Autism Now) - a group of people active in this field. I am sure there are other groups, but this one I am familiar with personally because Dr. K. helped me getting well and rid of Lyme.

If you have Lyme, look into KPU, also mentioned in the article I posted. Most autistic children have Lyme, but a number of other underlying problems that need to be addressed.

Best wishes to you!

Lots of good things happening to these children.

---

Posts: 9834 | From Washington State | Registered: Oct 2000 | IP: Logged |

Susie R
LymeNet Contributor
Member # 30780


posted

---

My 21-year-old son has autism. If I knew then what I know now, here's what I would have done:

1. Taken him completely off grains and fed him a completely organic, GAPS-type diet. (You can google GAPS diet and check it out.) I think this is actually critical. I have no idea if my son would have been 'cured' of his autism, but I do know he would have been healthier than he is now.

2. Done intensive behavioral intervention as available. Social stories, group social skills building, etc. from an earlier age.

3. Titrated his stressors better---not avoided them, just gone slower.

4. Worked with a really good naturopathic doctor to maximize his brain functioning and plasticity.

Just so you know, until my son got ill with Lyme, he was doing really, really well. There was lots of progress along the way. When he was a toddler, he had really disordered speech and did all the rocking and flapping that you see. But he graduated from high school with a NY Regents Diploma and got a 3.8 GPA in his first year of community college. He is a sweet and delightful young man.

I put a sign on my refrigerator that helped me cope during the hard early years: PROGRESS, NOT PERFECTION. It helped me remember that we were moving on our own, unique journey at our own unique pace.

Susie

---

Posts: 234 | From albany, ny | Registered: Mar 2011 | IP: Logged |

philly78
Frequent Contributor (1K+ posts)
Member # 31069


posted

---

My son was diagnosed as being on the autism spectrum.

Well, at first, I was told he had autism. That was at age 4 when he still wasn't speaking, rocking and flapping, not making eye contact and pretty much staring off into space all the time. He also had ritualistic behaviors and OCD characteristics. (Actually, he still has a few) He used to walk on his tippy toes all the time too. Another thing I was told was that he had hypotonic muscles. He was overly sensitive to sounds...not so much to light though. When we brought him to the circus, we had to leave because he had a fit. Even when we went to Disney World when he was 7, we couldn't do the Halloween parade because it was too much stimulation.

Developmentally, he was like an 18 month old. I brought him to a place near me called Theraplay that worked with his motor skills. I also enrolled him at another place for social development. So we did the behavioral interventions starting at age 4.

We didn't do the GAPS diet but I did avoid sugars and artificial things as much as possible. He still ate grains but everything was whole grains. At the time, I was left with very little money after spending for other things so we couldn't do organic either.

Anyway, we made tremendous progress! My son went from not be able to speak...look me in the eye...not hugging me....barely being coordinated enough to walk...etc to a healthy 11 year old boy!

He is in the gifted program at school but also has a learning disability with an IEP. He is labeled twice exceptional. I went from being told he would be severely autistic to now being told he has PDD-NOS (pervasive developmental disorder, not otherwise specified.) For school purposes, he is labeled as "high functioning autism" because the school does not differentiate between the two.

He now goes to baseball games, watches the fireworks and doesn't have as many problems with crowds as he used to. Does still happen though.

As for what triggered all of this, we're still not sure. But he was born 2 months premature so my guess is that may have played a part. But you know what? I wouldn't change a thing about him!

He is doing great and Susie....I love that quote! Progress not perfection. It is perfect and I have to remember that when I get stressed about silly things. For example, my son STILL cannot ride a bike. But I'm over it. I've come to conclusion that he may just never be able to and that is okay with me.

As for the original question concerning your 18 month old, my best advice would be to take things one day at a time. Susie offered some good advice and imo, the behavioral interventions made a huge impact.

Time will show what the answer is. What is important now is getting him the proper tx for his lyme and imo, doing the behavioral interventions. Dietary changes can also be considered. Find what works best for you. I know how picky eaters kids can be!

I wish you the best of luck!

--------------------
When faced with pain you have two choices....either quit and accept the circumstances, OR make the decision to fight with all the resources you have at your disposal.


---

Posts: 1000 | From PA | Registered: Mar 2011 | IP: Logged |

emartinez
Member
Member # 29979


posted

---

Thank you all for your replies. They are very helpful...

---

Posts: 18 | From CT | Registered: Jan 2011 | IP: Logged |

jenniferk32
LymeNet Contributor
Member # 30718


posted

---

I just wanted to clarify that I didn't mean don't try Lyme treatment. I am in agreement that if the autism is caused by lyme then maybe it can be helped by treatment. I just meant don't buy into the seemingly "latest and greatest" and very expensive treatments that promise miracle results.

---

Posts: 107 | From Hesperia, CA | Registered: Feb 2011 | IP: Logged |

chiquita incognita
Unregistered



posted

---

EMartinez
I think you will find that different medical schools of thought have different perspectives.

I am not a doctor but am widely read in holistic medicine.

One oriental medicine doctor who specializes in pediatrics, Randall Neustaedler, works with autism. YOu can google his articles or find them on www.healthy.net and do a subject search. He also has written a few books and is a very good guy. You can tell how much he loves children as he writes, and how well versed he is in the science and how experienced he is. He is one of the better known naturopathic pediatricians. He also has written about the impact of vaccines on the child's brain in the most heart-felt and detailed terms but I no longer recall which book this was. You can google him on Googlebooks to find out.

Also the site www.healthy.net is highly trustworthy information. Here only the renowned naturopaths post their articles. You can do a subject search in the search box and see which articles come up. Again only highly famous and trustworthy authors. (Their series "What Doctors Don't Tell YOu" is not by their practitioners, but still is very well researched information. I tend to go for the articles by the docs and practitioners, myself but the WDDTY still have a lot of good information).

Dr Mark Hyman has written articles about autism and they are posted to the Huffington Post. He's another very knowledgeable source who is all about educating the public.

I have read indeed about the mercury and heavy metal connection, pesticide exposure, other causes and apparently they can be in some cases reversed.

A doctor I know also affirmed "yes" to that question, autism can be reversed in many cases. Maybe not in all, but in many yes, that was his answer.

The nerves are the slowest body system to heal, said the specialist who healed me of environmental illness back in the 80s. He said they are slower than bones. But they can heal.

You just need *the right* medical intervention with the *right* physician.

Jennifer, no good holistic practitioner will ever "guarantee" a result. Neither will any mainstream doctor.

I would not close my mind to the influence of environmental toxins and metals. They are more and more being traced as one of the causes of autism, according to the sources I have read (every one of them).

Most illnesses have many contributors. It's not usually any one thing acting alone. The viral theory makes sense but remember, there can be other causes too and as long as the *right* ones are addressed, and as long as there is medically supervised therapy to rejuvenate the nervous system, then there should be progress, I would think.

Speaking of rejuvenating the nervous system, chiropractic neurologists may have a lot to offer www.acnb.org

I am quoting based on reading I have done and am not personally experienced with this, myself.

I hope these leads prove helpful to you.

I am so sorry to read about your son. We are thinking of you. Best wishes, CI

---

IP: Logged |

chiquita incognita
Unregistered



posted

---

I love the Multi Pure water filter for the taste of the water but especially, for the very long list of chemicals, metals, MTBE etc that it removes from the water. You can see the performance data sheet on the company's website www.multipure.com

Our waters are so badly contaminated with so many long lists of chemicals and heavy metals that it is no wonder that autism and other issues are on the rise.

Lead poisoning in kids causes concentration and mood issues, I would wonder about its contribution to autism too (don't know for sure though).

Fluoride ditto, it is associated with lowered IQ in children and contrary to myths, has not been associated with reduced cavities, according to almost every holistic doctor's articles I have read. In fact the EPA itself did a report stating exactly that thing, listing its concerns about the health impacts of fluoride in our waters, and said they saw no benefit from it...yet hte FDA ignored the EPA's reports. This is in the book Healthy Healing by Linda Rector Page ND.

Given its impact on cognitive and other functions I would wonder about its impact on autism and the brain.

No one of these things may be the "Cause" yet to remove chemicals and metals from the environment can, in my experience, have cumulative benefit for immune and nervous system recovery, each alike.

A reverse osmosis filter will be required to remove any fluoride and jet fuel from the water (if present). The drawback is that it demineralizes the water but if the additives and pollutants are contributing to the mound on the camel's back, then to reduce the mound is important eh?

Again this is not "Cure" by any means, just reducing some contributors.

Mercury I *know* is highly suspect in autism www.drhuggins.com he is a toxicologist, immunologist and dentist who has done 35 years of research about mercury and its health impacts. A database of 65,000 patients world-wide and their recoveries from various malaises after dental amalgams were safely removed and detoxification was done thereafter. Plus 35 years of clinical studies, laboratory animal experiments, etc this is no small body of research.

Mercury exposure can come from more than just dental amalgams and mercury-spiked vaccines. Or even from eating fish. It is produced by geological processes so it is not always, of necessity, related to pollution from industrial sources. It can be in the water just because of what the earth is doing, and that's where a water filter is very, very important. If it's in your waters then you might consider organic foods from *outside* your area, not within it, to avoid metal exposure. Check around to see where you can get food that is grown and tested to be metal-free.

Best wishes, CI

---

IP: Logged |

chiquita incognita
Unregistered



posted

---

Sorry for so many messages but I just came across this article and it's interesting. The role of inflammation in autism and auto-immune attack. There are also links at the bottom of the article for further reading, the role of vaccines et al. Mercury is said not to be the sole cause but that it's a multi-factorial matter.

http://articles.mercola.com/sites/articles/archive/2011/05/12/does-inflammation-play-a-role-in-autism.aspx


Perhaps it might be helpful to check out websites about environmental illness, because the thought in this above article is that multiple factors (environmental) contribute to auto-immune attack, brain inflammation and autism.

Where mainstream medicine calls auto-immune attack a mystery, holistic medicine has a lot of answers.

Food allergies, nightshade foods, heavy metals, environmental chemicals and infections can all play a role in causing auto-immune attack, according to my chiropractic neurologist.

See also Elizabeth Lipski CCN' MS's booklet Leaky Gut Syndrome. This may not apply to your baby's case, but it still explains part of the physiology contributing to auto-immune attack in ways that will empower health choices throughout life, which directly relate to auto-immune attack (again as only one part of the greater cause). Could be important for your son later on. And if he is allergic to soy and has been fed soy formula, that too could lead to leaky gut, which leads to auto-immune attack and neurological issues including even MS and schizophrenia. No small matter at all. Check out the booklet, it's very well written and explains it all. And there are very simple solutions.

Again this is only part of the picture but the physiology applies across the board...will explain a lot about why mercury vaccines can cause the problem, even without directly mentioning them at all...you'll see. Check it out. The booklet costs about $6 on Amazon's site.

Best wishes, CI

---

IP: Logged |

Garden
LymeNet Contributor
Member # 31671


posted

---

I'd encourage you to read some of Judy Converse's books. The difference in my child is stark. Teachers, extended family members, and her friends' parents have commented on how much has changed.

We have changed her diet (removed inflammatory foods), added supplements (she had horrible nutrient deficiecies when tested - their were clearly malabsorption/malprocessing issues), and we are now addressing out of control systemic yeast (I wish I had done that first). She is also taking supplements to heal leaky gut so that we can start to bring some of her no-no foods back.

A special diet is not enough. You need to look under every rock and treat as necessary for your child. It really is not unlike someone who treats for Lyme with abx only and does not address the resulting yeast. They won't feel well. They may even say "I did the abx and I don't feel well, so abx don't work." It's all about addressing every piece of the puzzle.

I also need to say that if you do a special diet, you need to do it 100% perfectly. No cheating. No "oops". No cross-contamination. Any of those will undermine the effort and make it look like it doesn't work.

Give it a six month trial and you are very likely to see, as stated above, progress - not perfection.

The same little girl who literally clung to my leg and refused to participate at birthday parties, while having a panic attack, is now not only in a large gymnastics class, but is skipping the next class to go into an advanced one in the fall. Buh-bye anxiety and gross motor delays!

--------------------
Garden

"Fibromylagia" for 8+ years
Pos IgeneX WB per both Igenex and CDC
Pos Neuroscience MyLymeImmuneID
Started tx for Lyme in March 2011


---

Posts: 245 | From East Coast | Registered: May 2011 | IP: Logged |

LSG Scott
LymeNet Contributor
Member # 21624


posted

---

philly 78 quote"For school purposes, he is labeled as "high functioning autism" because the school does not differentiate between the two"

probobly not,
i would bet your son was most likely labeled autism
because if the school has a bigger number of kids in the autism spectrum than the more funding they get.

i now it sounds sinister but it's true look into it.

--------------------
LSG Scott


---

Posts: 512 | From Boston, Cape Cod, Mass | Registered: Aug 2009 | IP: Logged |

hadlyme
LymeNet Contributor
Member # 6364


posted

---

My LLMD spoke at a national Autism conv. about lyme induced autism.

Definitely can be one of the triggers for it.

--------------------
Lyme, Babs, Fry Bug..... Whatever it is, may a treatment be discovered to make us all whole again!


---

Posts: 941 | From AZ-MT | Registered: Oct 2004 | IP: Logged |
Contact Us | LymeNet home page | Privacy Statement

Powered by UBB.classic™ 6.7.3

---
The Lyme Disease Network is a non-profit organization funded by individual donations. If you would like to support the Network and the LymeNet system of Web services, please send your donations to:
The Lyme Disease Network of New Jersey
907 Pebble Creek Court, Pennington, NJ 08534 USA
http://www.lymenet.org/
---
Home | Flash Discussion | Support Groups | On-Line Library
Legal Resources | Medical Abstracts | Newsletter | Books
Pictures | Site Search | Links | Help/Questions
About LymeNet | Contact Us
---
© 1993-2020 The Lyme Disease Network of New Jersey, Inc.
All Rights Reserved.
Use of the LymeNet Site is subject to Terms and Conditions.
---