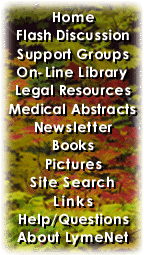 ---
LymeNet on Facebook
LymeNet on Twitter
---
---
The Lyme Disease Network receives a commission from Amazon.com for each purchase originating from this site.
When purchasing from Amazon.com, please
click here first.

Thank you.




Dedicated to the Bachmann Family


LymeNet needs your help:
LymeNet 2020 fund drive

The Lyme Disease Network is a non-profit organization funded by individual donations.

| | |
| --- | --- |
| | |
Author
Topic: I need clarification on what I can and can't eat on a gluten-free diet?

jenniferk32
LymeNet Contributor
Member # 30718


posted

---

My inflammation is pretty bad with lots of symptoms increasing lately. My doctor told me no dairy, sugar, caffeine or alcohol which I already was doing (well....with a little cheating now and then).

Now he wants me to go gluten-free. He said follow the BROWS acronym and I think it meant no barley, rye, oats, wheat and I don't know what the S means??? I would say sugar but he was talking about gluten when he said BROWS.

Also, does the "R" for sure mean rye, or is it rice? If it is Rye, then I can have rice, right? And what about other grains like quinoa, or starches like corn?

Sorry, he was talking fast and my head is really fuzzy today so I think I missed a lot of what he said.

Can anyone give me some kind of list of foods I can and cannot have?

Also, a local market sells a brand of soy cheese, but it has a small mount of whey in it...is it the casein or the whey in dairy that is inflammatory or is it both?

I've had purely soy cheese and it's disgusting, but this stuff is actually quite good. So I wonder if I can use it?

Also, for the sugar thing, what about a little agave in my tea?

Thanks

---

Posts: 107 | From Hesperia, CA | Registered: Feb 2011 | IP: Logged |

scorpiogirl
Frequent Contributor (1K+ posts)
Member # 31907


posted

---

Hi, the only thing I can think of for S is Soy.

Anyway here is MY list from my LLMD.

Ok to eat:
Brown rice
Corn
Quinoa
Millet
Buckwheat
Amaranth
Coconut oil
Olive Oil
Grapeseed oil
Stevia
Onion
Garlic
Baked corn chips
Lean protein
Most Veggies

Things to AVOID:
the BROWS
Dairy
Peanuts
Artificial Sweeteners
Foods High in Glucose (Sucrose and Dextrose)
Bananas
Amylose (roots food and those grow underground)
Cereals
Chocolate
Fast Foods
Sodas
White Rice

I'm having problems giving up white rice and fruits!! So I can't say I'm 100% compliant. How about you?

--------------------



---

Posts: 1391 | From Lyme Land | Registered: May 2011 | IP: Logged |

jenniferk32
LymeNet Contributor
Member # 30718


posted

---

Well I just saw him today and he said I could eat whole fruits, no juice. That's no problem with me since I prefer whole fruits anyway.

He said nothing about root foods. I assumed potatoes are okay and I read that sweet potatoes are especially anti-inflammatory. Beans are okay, right? I was planning on using them as the bulk of my protein since organic meat is hard to find and expensive where I live.

Anyway, it's been about 8 hours since he told me this and so far I'm 100% compliant, lol.

---

Posts: 107 | From Hesperia, CA | Registered: Feb 2011 | IP: Logged |

Andie333
Frequent Contributor (1K+ posts)
Member # 7370


posted

---

I'm trying this, because of the inflammation Jennifer mentioned. I'm terrible with sugar (weakness I'm trying to reverse), but I'm doing ok with gluten. Rice is a vulnerable place for me, too...but it doesn't seem to hurt me like gluten does.

If you'd like to know some good products, I'm happy to steer you toward some things I've loved and others I've liked. A new shop opened near me with all gluten-free food: 3 moms with gluten-allergic kids all banded together. Now, people are coming from several counties away to get their food.

I feel grateful to live in an urban enough area to have a place like that. There's also a coop near me with a lot of gluten-free offerings, and a prohibitively expensive Whole Foods (they make a great gluten free corn bread, which you can find in the frozen section).

Now, I'm at a place that I hardly even miss gluten. Occasionally, I'm tempted beyond willpower. It just happened yesterday with hot rolls served with lunch. I had two, and the pain in my joints was so excruciating within a couple of hours that I really regretted that slip.

How are the two of you doing?

---

Posts: 2549 | From never never land | Registered: May 2005 | IP: Logged |

chiquita incognita
Unregistered



posted

---

Some gluten intolerant people can eat corn and oat gluten, others can't. It's something you have to see how you respond to yourself.

Yes rice is on the gluten-free diet and rye is not, rye has gluten.

S is probably for Spelt. THis is a wheat-free grain of course but it also is on the no-no list if you are gluten intolerant. I found that out the hard way...

Here is a list of cross-contaminated foods to watch out for:

http://www.celiac.com/articles/182/1/Unsafe-Gluten-Free-Food-List-Unsafe-Ingredients/Page1.html

You can get lots of information from the Gluten Intolerance Group (gig.com I think it's .com)....

Going gluten free was more than a change in diet for me, it was a change in my quality of life itself.

I hope this works out really well for you.

I do lots of baking for myself.

Here is my thread about gluten-free baking, lots of people posted tons of great links and recipes and great ideas: http://flash.lymenet.org/scripts/ultimatebb.cgi/topic/3/27041?

Best wishes, CI

---

IP: Logged |

scorpiogirl
Frequent Contributor (1K+ posts)
Member # 31907


posted

---

Hi we didn't talk about beans. LOL...

But I remember now why she told me no to foods that are grown under ground. It has something to do w/ high glycemic index and since I have some problems I should avoid those.

She also said fruits for the most part are ok but don't go eating say watermelon and honey dew all day! Haha... I can give up chocolate and ice cream just don't tell me I can eat fruits or I'll eat them by the bucket!

Oh if you don't already know quinoa is an excellent source of protein. Its considered a complete protein, meaning that it includes all nine essential amino acids. And it's very cheap. I get the LARGE bag from Costco. It's organic too! If you need some ideas on how to make them let me know. We eat Quinoa quite a bit in our house just b/c it tastes good.

Costco also carries organic chicken if you live near one. Good job for being compliant even if only 8 hours!

--------------------



---

Posts: 1391 | From Lyme Land | Registered: May 2011 | IP: Logged |

scorpiogirl
Frequent Contributor (1K+ posts)
Member # 31907


posted

---

Andie

I'm a cheat! Like today I had a sandwich (so much for no gluten). So I would say a few times I week I cave and have something on my Avoid list!!

It's very hard for me since one of my favorite things to do in life is get together with my friends and try different kind of foods. I don't eat volume but I enjoy trying things. So when I am with them I'm completely NON COMPLIANT!! Eck!

--------------------



---

Posts: 1391 | From Lyme Land | Registered: May 2011 | IP: Logged |

rera2528
LymeNet Contributor
Member # 29886


posted

---

Eating gluten free needs to be about what you CAN eat, not what you cannot. There are many fantastic grains out there that are gf.

Also, there are many types of flours that you can experiment with to make your own blends for baking and cooking. When I was eating yeast, I loved making gf bread.

Of all of my current limitations, gf is the easiest! No yeast and no sugar are MUCH harder!

If you have an iPod, there is a great app, "Is that gluten free?" that I use when grocery shopping.

---

Posts: 447 | From Vermont | Registered: Jan 2011 | IP: Logged |

ukcarry
Frequent Contributor (1K+ posts)
Member # 18147


posted

---

Many people with gluten intolerance can manage rye, barley and oats occasionally without a problem: for example, my mother, who has coeliac disease, has no problems with oats. But it is probably better to be strict over this, at least whilst you are trying to see whether going gluten-free makes a difference.

In UK it is possible to buy gluten-free oats now as well.

I was told to take care not to have potatoes too often: I find quinoa great though as a very nutritious change from brown or red rice or potatoes.

We have it in a salad like tabouleh, as a side dish [cooked in stock, with lemon squeezed over at the end] or in a pilaf with, for example, onions, garlic red pepper, thyme ,peas or spinach, chicken [optional] or with some hot spices such as cayenne, cumin, or paprika With different spices/veg it is good with fish, meat, poultry or in vegetarian or vegan dishes.

If you are eating dairy, you can cook the red pepper, onion and thyme pilaf and eat it with feta, oregano and olive oil baked in foil/baking paper.

By the way, on the sugar-free front, I find xylitol very palatable as an occasional sugar-replacement.

For me, cheese is the hardest to stay off and I must confess to be eating it again, though largely sheep's or goats' cheese. I stick to coconut or rice milk and dairy-free spread though.

A lot of people are intolerant of corn, so I should try not to eat that [or indeed anything else] too often. When you are following a restricted diet, it is all to easy to become sensitive to other foods just because you're eating a lot of them.

Good luck on the Gluten-free diet: at least there are far more gluten-free foods available now than 25 years ago when my mother was diagnosed.

---

Posts: 1647 | From UK | Registered: Nov 2008 | IP: Logged |

hopeful4
LymeNet Contributor
Member # 8486


posted

---

Here's what BROWS stands for:

Barley
Rye
Oats
Wheat
Spelt

Although Oats can be purchased in a "gluten-free" bag by Bob's Red Mills, my doctor has me avoiding oats as well, due to the high risk of cross-contamination with gluten products.

BROWS foods are to be avoided on a gluten-free diet.

Gluten causes inflammation, and most of us need to avoid that.

Also, BROWS foods may be "hidden" ingredients in packaged foods, dressings, and sauces. For example, soy sauce is often made with wheat. However, you can purchase a wheat-free soy sauce.

So label-reading on all pre-packed foods is necessary. That is because even very small amounts of gluten that are eaten can cause an inflammatory reaction that is very long-lasting. Because our reactions to gluten aren't usually noticed by us on a conscious level, we may think it's OK to cheat now and then, but really, we're only hurting ourselves.

Sorry, the agave in your tea is a no-no. It raises your blood-sugar level.

I stopped sugar foods, even many fruits, back in 2003, when diagnosed with breast cancer. (Sugar is a no-no for cancer patients.) I found that I began to enjoy the taste of foods more, because the sugar is such an overwhelming taste, it obliterates the taste of other foods.

It is an adjustment making all of these dietary changes, but I have to say, I feel much better off of gluten, sugar, and dairy.

Good luck.

---

Posts: 873 | From WA | Registered: Dec 2005 | IP: Logged |

scorpiogirl
Frequent Contributor (1K+ posts)
Member # 31907


posted

---

Bummer...I don't know how to bake and even if I did I don't have the energy to right now... so I'm just trying really hard to avoid bread products. I figured if I cheat once a week it's not the end of the world right?

As far as sugar goes... does this apply to fruits and veggies as well?? This is the area that I'm struggling with the most! I can give up desserts like cake, pie, ice cream, cookies etc b/c I rarely eat them anyway. But I do eat A LOT and I mean a lot of different variety of fruits such as, mangos, star fruits, all kinds of melons including watermelons, all kinds of berries (but mostly blue), cherries, mangosteens, longans, jackfruit, promegranate, oranges, pears, apples, grapes and pineapple. The only one fruit that I truly hate is banana! So when that made it to my list to avoid... I was fine with that. LOL.

Fruits and some veggies like carrots and beets also have a lot of natural sugar, but it's still sugar. So I'm concerned about the volume of fruits and veggies that I am consuming. Any thoughts on this?

And what percentage would you say you're compliant? I think I might be around 70-80% on a good week.

As far as dairy products I'm actually allergic to it so I have been good at avoiding it most of my life except for when it's hidden and in a minute amount. All it does is gives me stomach upset if I accidentally eat some.

--------------------



---

Posts: 1391 | From Lyme Land | Registered: May 2011 | IP: Logged |

jenniferk32
LymeNet Contributor
Member # 30718


posted

---

Scorpio Girl- My llmd said that whole fruits are fine. I know they have natural sugars in them, but they also have fiber. Doesn't that slow the rise in blood sugar?

Still, I'm sticking to only 1 or 2 pieces a day, more for my sweet cravings than for nutrition!

And baking isn't hard if you just follow a recipe! I found a recipe for GF bread that looks pretty good and seems easily doable. But it calls for Xantham Gum and I have no idea where to find it! There's a store near me that sells lots of things in bins, and they may have some. I know they have all the required flours for cheap.

But I'm not going to go crazy making muffins and pancakes and all that stuff. I'm just going to stick with the GF bread if it tastes good.

I'll leave the recipe link in the next thread.

---

Posts: 107 | From Hesperia, CA | Registered: Feb 2011 | IP: Logged |

chiquita incognita
Unregistered



posted

---

Hi Jennifer
On my gluten free thread you will see what I posted about xanthan gum:

I researched it on Pubmed and found out that it is used to mix and harden cement. Dogs fed xanthan gum for a period of months, in high dosages (no longer recall how much/how long) had enlarged livers.

I avoid it. It is used to hold GF doughs together. I substitute eggs instead, and add an extra egg or two to the standard wheat recipes but use rice flour instead. The result is light and fluffy (but rice flour goes stale quickly, needs to be eaten in short order and lots of moisturizers used like pumpkin puree, apple sauce, neufchatel cheese et al).

Hope this helps.

Best wishes, CI

---

IP: Logged |
Contact Us | LymeNet home page | Privacy Statement

Powered by UBB.classic™ 6.7.3

---
The Lyme Disease Network is a non-profit organization funded by individual donations. If you would like to support the Network and the LymeNet system of Web services, please send your donations to:
The Lyme Disease Network of New Jersey
907 Pebble Creek Court, Pennington, NJ 08534 USA
http://www.lymenet.org/
---
Home | Flash Discussion | Support Groups | On-Line Library
Legal Resources | Medical Abstracts | Newsletter | Books
Pictures | Site Search | Links | Help/Questions
About LymeNet | Contact Us
---
© 1993-2020 The Lyme Disease Network of New Jersey, Inc.
All Rights Reserved.
Use of the LymeNet Site is subject to Terms and Conditions.
---