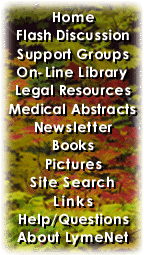 ---
LymeNet on Facebook
LymeNet on Twitter
---
---
The Lyme Disease Network receives a commission from Amazon.com for each purchase originating from this site.
When purchasing from Amazon.com, please
click here first.

Thank you.




Dedicated to the Bachmann Family


LymeNet needs your help:
LymeNet 2020 fund drive

The Lyme Disease Network is a non-profit organization funded by individual donations.

| | |
| --- | --- |
| | |
Author
Topic: 3 Years of Tx - CD 57 Results

tickssuck
LymeNet Contributor
Member # 15388


posted

---

I have been throwing multiple orals at Lyme and Company since March 2008. Started IV November 2010 and am currently still on IV. My symptoms are very neurological and I am still VERY symptomatic and ill.

Phone consult today with my LLMD, I do not have the blood results to read in front of me. But, I was told my CD 57 is very low, as in 9. This particular test (I think Lab Corp, but not positive) my LLMD said a healthy person with no infections should be over 200. I am not surprised in one sense since I still feel so very sick. At the same time, hard to remain hopeful when I have been treating for sooo looong.

I take supps, binders, detox etc. etc. I am bummed and wonder if there will ever be an end in sight. I flat out asked my LLMD if people really ever get well. Of course, she said yes. I guess I'm just lookin' for some hope here. Anybody else relate to this rock bottom CD 57 after treating for so long?

I know this test is not an end-all/be-all to my Lyme situation. At the same time, it certainly indicates a problem along with the fact I feel terrible.... Thanks. TS

---

Posts: 566 | From West Coast | Registered: May 2008 | IP: Logged |

canefan17
Frequent Contributor (5K+ posts)
Member # 22149


posted

---

antibiotics suppress immune function

Don't expect CD57 to rise as long as you are on abxs.

---

Posts: 5394 | From Houston, Tx | Registered: Aug 2009 | IP: Logged |

tickssuck
LymeNet Contributor
Member # 15388


posted

---

Hmmm....I tried to find some info on abx lowering or causing natural killer cells to remain low, can't find this.

I thought some LLMD's were actually using this as a benchmark for when to stop tx while a person is treating with abx?

Any input? I did just read depressing info about super low (mine) cd57 and refractory illness. Maybe I have to face reality.....I'm scared. TS

---

Posts: 566 | From West Coast | Registered: May 2008 | IP: Logged |

canefan17
Frequent Contributor (5K+ posts)
Member # 22149


posted

---

My CD57 was 17 when I first started.

Just keep treating the disease and follow your symptoms.

Most of these blood tests are practically worthless. (other than they tend to depress the patient upon the "bad" news)

[ 06-01-2011, 10:20 PM: Message edited by: canefan17 ]

---

Posts: 5394 | From Houston, Tx | Registered: Aug 2009 | IP: Logged |

tickssuck
LymeNet Contributor
Member # 15388


posted

---

Yes canefan17, you're definitely right about that..."depressed patient" would be a good description of me right now! This little happy face is just my cover up! TS

---

Posts: 566 | From West Coast | Registered: May 2008 | IP: Logged |

glm1111
Frequent Contributor (5K+ posts)
Member # 16556


posted

---

According to Dr. K. going after parasites first and Lyme second is KEY in getting rid of this disease.

Suggest you check into going after parasites. Most docs are not aware unless they are followers of Dr. K. Do a search on here for parasites.

Gael

--------------------
PARASITES/WORMS ARE NOW
RECOGNIZED AS THE NUMBER 1 CO-INFECTION IN LYME DISEASE BY ILADS*


---

Posts: 6418 | From philadelphia pa | Registered: Jul 2008 | IP: Logged |

Lymeorsomething
Frequent Contributor (1K+ posts)
Member # 16359


posted

---

Mine was down for a long time and then spiked on the Cowden protocol. I'm not saying there is a connection but may be worth a try for you.

--------------------
"Whatever can go wrong will go wrong."


---

Posts: 2062 | From CT | Registered: Jul 2008 | IP: Logged |

TF
Frequent Contributor (5K+ posts)
Member # 14183


posted

---

From page 8 of Burrascano:

"THE CD-57 TEST

Our ability to measure CD-57 counts represents a breakthrough in LB diagnosis and treatment. Chronic LB infections are known to suppress the immune system and can decrease the quantity of the CD-57 subset of the natural killer cells. As in HIV infection, where abnormally low T-cell counts are routinely used as a marker of how active that infection is, in LB we can use the degree of decrease of the CD-57 count to indicate how active the Lyme infection is and whether, after treatment ends, a relapse is likely to occur. It can even be used as a simple, inexpensive screening test, because at this point we believe that only Borrelia will depress the CD-57. Thus, a sick patient with a high CD-57 is probably ill with something other than Lyme, such as a coinfection.

When this test is run by LabCorp (the currently preferred lab, as published studies were based on their assays), we want our Lyme patients to measure above 60; a normal count is above 200. There generally is some degree of fluctuation of this count over time, and the number does not progressively increase as treatment proceeds. Instead, it remains low until the LB infection is controlled, and then it will jump. If the CD- 57 count is not in the normal range when a course of antibiotics is ended, then a relapse will almost certainly occur."

http://www.ilads.org/lyme_disease/B_guidelines_12_17_08.pdf


Notice a few points Burrascano makes. He says that the coinfections do not lower the CD-57. Only lyme does.

He says that a very low CD-57 indicates an active infection with lyme disease.

He says that the CD-57 will stay low during treatment and then it will JUMP when the lyme is controlled.

If you believe Burrascano knows what he is talking about, and if your CD-57 was done by LabCorp, then it means that your lyme doc has not yet controlled your lyme disease. That would be a concern to me after the amount of time you have spent with this doc and I would seriously consider changing doctors.

My conclusion after being around lyme and lyme patients for 9 years is that many doctors treat lyme disease, but only a few know enough to get rid of it for a person. You have to find one of those few. The doc is the key to getting rid of this disease.

If you are not making progress, consider if it makes sense to continue doing what you are doing. You have been on IV for at least 6 months now.

I had undiagnosed lyme disease (and babs and bart) for at least 10 years before a doc tested me for lyme. In April, it was 6 years since I completed my lyme treatment and I am still symptom free, enjoying my life. I have the same life I had before lyme disease.

I had a total of 3 lyme doctors. I wasted 2 years on my second doc. Then, I switched to a Burrascano type doctor and he got rid of all of my diseases in 1 year.

Since then, I have been telling people to go to doctors who follow the Burrascano protocol. At least 4-5 of my friends got rid of lyme this way, many taking only about 1 year of treatment. They all had at least lyme, babs, and bart.

So, you may want to STUDY the Burrascano Guidelines and see how your doc's treatment compares. Are the doses as high as Burrascano recommends? Are you on medication combos like he recommends? Are you doing all of the many other things he recommends (like taking supplements, etc.) You are looking for possible ways to improve what you are doing.

For really tough cases, you may need one of the very best doctors there are.

See bottom of page 20 where Burrascano says this:

"In patients who have chronic Lyme, who do not fully respond to antibiotics, one must search for an explanation. In many cases, these patients are found to have pituitary insufficiency of varying degrees. The abnormalities may be extremely subtle, and provocative testing must be done for full diagnosis. Persistent fatigue, limited stamina, hypotension, and loss of libido suggest this possibility.

Similarly, a small but significant number of these patients harbor toxic levels of heavy metals. Challenge testing by knowledgeable, experienced clinicians is necessary for evaluation. Treatment must be directed toward correcting the specific abnormalities found, and post-treatment retesting to assess efficacy of treatment and endpoint of therapy should be done. Suspect this when poor immune responsiveness and persistent neuropathic signs and symptoms are present."

See the last sentence especially. If your CD-57 by LabCorp is truly 9, then you have "poor immune responsiveness" and you have said you have persistent neuropathic signs and symptoms. So, it may be time to consider heavy metal toxicity testing if you have not already done so.

That's the best of my thoughts right now. I hate to hear of people treating for years and years with no improvement. That's why I still hang around lymenet. I like to help people get to the good doctors right off the bat and get rid of this horrendous disease and get on with their life.

I wish you the best.

---

Posts: 9931 | From Maryland | Registered: Dec 2007 | IP: Logged |

tickssuck
LymeNet Contributor
Member # 15388


posted

---

Thanks TF, good points and appreciate input.
PM sent.

Anybody else? I'm all ears! Thanks. TS

---

Posts: 566 | From West Coast | Registered: May 2008 | IP: Logged |

thehause
LymeNet Contributor
Member # 21237


posted

---

It would be wise to get tested for XMRV. XMRV has been shown to also lower CD57 count and impair immune system function.

---

Posts: 372 | From west of the mississitty | Registered: Jul 2009 | IP: Logged |

landerss
LymeNet Contributor
Member # 17732


posted

---

tickssuck, i've had my CD57 tested three times in the past couple of years and it's always been under 11!

and yet, after 2.5 years of treatment, i'm off antibiotics right now and doing byron white herbals. i feel pretty decent, can run 10 miles if i want to (though not fast anymore, as in the pre-Lyme days), and work full-time.

so, i'm just not sure about us folks with low CD57s...maybe i'm going to relapse big-time eventually, but i feel pretty well with a low value on this test.

sorry to hear you're still struggling so hard...

--------------------
Increasingly ill over past 10 yrs; treating since October '08.


---

Posts: 180 | From Philadelphia, PA | Registered: Oct 2008 | IP: Logged |

nefferdun
Frequent Contributor (1K+ posts)
Member # 20157


posted

---

I would listen to what TF says. I believe it is wrong to say you need to get off abx before your CD-57 rises. Just the opposite is true in my opinion. You need to not get off abx until your CD-57 jumps to over 100.

You may have co-infections that are keeping you from recovering. You may have sent your Bb into the cyst form and what is making you so sick now is another infection which your treatment is not hitting.

This is often the case and why I am still sick. I have been treating as long as you since Feb 2008. I didn't realize I had babesia until last year when I tested positive for B Duncani.
Now I realize many/most of my symptoms were babesia and the antibiotics could not touch it. I needed anti-malarials.

--------------------
old joke: idiopathic means the patient is pathological and the the doctor is an idiot


---

Posts: 4676 | From western Montana | Registered: Apr 2009 | IP: Logged |

randibear
Honored Contributor (10K+ posts)
Member # 11290


posted

---

who's bryron white??

--------------------
do not look back when the only course is forward


---

Posts: 12262 | From texas | Registered: Mar 2007 | IP: Logged |

MichaelTampa
Frequent Contributor (1K+ posts)
Member # 24868


posted

---

My CD57 has risen a good bit during treatment with abx--from 27 to, at one point, something in the 90's I believe. I would say after that long of treatment and still feeling terrible and very low CD57 does make one wonder if your treatment is effective. Perhaps it's possible, that you were just very very sick to start, but gosh, makes me think you should be trying something different.

Of all you listed, I didn't see that you're treating parasites, and so I'll second what Gael said about that.

Does your doc, or you, or anyone, energy test your treatments (abx, supplements, binders, etc.)? I would strongly recommend finding someone to energy test everything you are taking to see if those things are just wrong, or maybe not everything you need. Your situation is an excellent example of why that can be important. I would have them test, at least for the key things, not only, is the item good for you, but is the dosage right, and on a scale of 1 to 10, 1 being "oh, okay, a little helpful, but not that much" and 10 being "this is absolutely terrifically helpful, as much so as one could hope".

Byron White is an herbalist, and there is a brand of herbs with his name on it for treating lyme (A-L, A-Bart, and A-Babs). As it happens, I use them and I think they're pretty good.

---

Posts: 1927 | From se usa | Registered: Mar 2010 | IP: Logged |

tickssuck
LymeNet Contributor
Member # 15388


posted

---

Again everyone, thanks a lot for your input. I have treated Babs, for about 5 months with Mepron/Zith, also with Malarone. I've treated Bartonella heavily and am restarting A-Bart in a week or so. Parasites have not been addressed and I will discuss this with my LLMD at next appt, or do most of you just read up on it here and do it yourself? Maybe I should just add Humaworm (I'll read a little about it all) and add it on my own?

In the past, I have had someone do energy testing, but not currently. Maybe I should look into this again.

At dx, yes I would say I was very, very sick. Now am just very sick (note only one very). This stuff is very hunkered down in my nervous system and brain. I was infected in 2004 and diagnosed in 2008. I did not go undiagnosed for decades like so many of you; however, it went straight to my brain and took me down very rapidly.

This board is a life line to me. I don't have any type of support group here as Lyme is just not as common, or at least not as many are diagnosed. The one good Lyme friend I do have nearby is often so sick in bed, or when up is caring for her 4 very ill sons who also have Lyme. They too have been treating for 3 years, all on PICCs and are spinning their wheels, so to speak, like me.

Unless I'm in the middle of a terrible herx, I can actually function. However, I feel so terrible all the time. My nervous system is so hyped and, hard to explain, but my perception, like vision to brain process is very messed up - which makes me very uncoordinated.

I will keep plugging away. I did just switch to a new LLMD last month, well known and respected. Maybe he will find what's holding me back.

Thanks everyone - appreciate your time and insight. I will try to keep up the fight, though as many of you know, at these low points, it's hard to keep optimistic, but I'm trying. TS

---

Posts: 566 | From West Coast | Registered: May 2008 | IP: Logged |

daniel
LymeNet Contributor
Member # 22201


posted

---

quote:

---

Originally posted by canefan17:
antibiotics suppress immune function

Don't expect CD57 to rise as long as you are on abxs.

---

i dont think so, its a mythos. people say "when u take abx, then your immune system goes into holidays.. so its weak".. abx helping the immune system to fight the disease.. my cd57 was about 200 when i got sick.. after starting abx and beeing on them, my cd 57 rised up to 394! .. so.. i think u cant just say "when u take abx your immune system is low"

---

Posts: 371 | From velocity of light | Registered: Sep 2009 | IP: Logged |
Contact Us | LymeNet home page | Privacy Statement

Powered by UBB.classic™ 6.7.3

---
The Lyme Disease Network is a non-profit organization funded by individual donations. If you would like to support the Network and the LymeNet system of Web services, please send your donations to:
The Lyme Disease Network of New Jersey
907 Pebble Creek Court, Pennington, NJ 08534 USA
http://www.lymenet.org/
---
Home | Flash Discussion | Support Groups | On-Line Library
Legal Resources | Medical Abstracts | Newsletter | Books
Pictures | Site Search | Links | Help/Questions
About LymeNet | Contact Us
---
© 1993-2020 The Lyme Disease Network of New Jersey, Inc.
All Rights Reserved.
Use of the LymeNet Site is subject to Terms and Conditions.
---