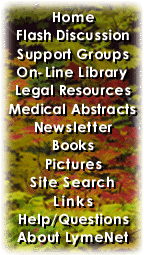 ---
LymeNet on Facebook
LymeNet on Twitter
---
---
The Lyme Disease Network receives a commission from Amazon.com for each purchase originating from this site.
When purchasing from Amazon.com, please
click here first.

Thank you.




Dedicated to the Bachmann Family


LymeNet needs your help:
LymeNet 2020 fund drive

The Lyme Disease Network is a non-profit organization funded by individual donations.

| | |
| --- | --- |
| | |
Author
Topic: Interesting Site & Info About Mycoplasma

momintexas
Frequent Contributor (1K+ posts)
Member # 23391


posted

---

From this site:

http://www.life-sources.com/pages/Mycoplasmas-%26-Cell-Wall-Deficient-Forms.html

NOTE: This site never mentions Lyme & it does mention steroid use is sometimes needed during treatment (which we all know about). Notice the interesting part about Nystatin below.

"Markers For Immunity

When cellular-immunity becomes compromised, certain ubiquitous and ordinarily latent pathogens, such as the herpes viral family (epstein-barr, CMV, HHV-6 and others), have the ability to proliferate to detectable levels. As such, numerous misinformed and/or unethical health care providers are diagnosing epstein-barr or CMV when, in actuality, these pathogens are only symptoms (markers for immunity) of an underlying mycoplasma infection."


"SYMPTOMS

From a clinical standpoint, the many different mycoplasma subtypes/isolates can cause a wide variety of symptomalogies depending upon such things as the patient and degree of infection. Some of the more pathogenic mycoplasmas, which can cause fulminate illness, include subtypes hominis, fermentans (incognitus), pirum, genetalium, pneumoniae and penetrans.

ACUTE/PRIMARY

Acute/primary systemic mycoplasma infection can present with numerous and various life-threatening symptoms such as (night) sweats, neuropathy, rash (cheeks, trunk, etc.), pharyngitis, sleep disorder, heart palpitations, sensation of terror and/or irritability (hypothalamus controls emotions such as rage, fear and pleasure), muscle and joint pain, sensory and reflex hypersensitivity (e.g. sound intolerance), parkinsons-like twitching, motor disorder, adenopathy, confusion and anxiety, coagulated ejaculate, spleenomegaly, bleeding gums, rapid weight-loss, nausea, racing metabolism (thyroid/endocrine), sepsis (overwhelming infection), diarrhea and bowel disorder, shaking, weakness, temperature fluctuations, chills, drooling, blurred vision, metallic taste in mouth, numbness in extremities and back of head during attempted sleep, crippling spine, neck and back pain, difficulty turning neck, skin irritated by fabric coverings, and elevated herpes antibody titers. However, the onset of mycoplasma infection can be insidious and/or localized (for example, arthritis or confined to the uro-genital tract as with pelvic inflammatory disease) depending on the particular mycoplasma subtype and isolate involved.

CHRONIC

In addition to certain of the primary symptoms, the chronic state clinical picture often includes learning disability, cognitive disorder, memory loss, fatigue, myoclonus, abdominal pain, painful granulomas under armpits, rib malformation and prominence above spleen in young children, 'allergic shiners' (dark circles under the eyes), chostochonderitis (inflamed sternum/cartilage), headaches, nose-bleeds, hair loss, bone pain from metastasize, stammering, stunted growth, bruises, central nervous system disease, cancers (glioma, blastoma, etc.), and organ failure. Absent therapy, the (not so) long-term pattern is calculated to result death.

HALLMARK

One hallmark symptom of systemic mycoplasma infection, which results from abnormal stimulation of cytokines, involves a chronic red discoloration of the anterior pharyngeal pillars. Often referred to as 'crimson crescents,' this phenomenon can be easily detected by a patient with a flash-light and mirror; Standing in front of the mirror with your mouth open wide, you can point the flash-light into the mirror so that the beam will reflect back into your pharynx. On either side of your throat, behind the molars and in front of the tonsils, the crescents are an intense crimson color and are well demarcated along the margins of both anterior pharyngeal pillars. In patients without tonsils, the crimson crescents assume a posterior position in the oropharynx.

CHILDREN

In the case of small children, the communication cycle is not functionally developed to the point where these symptoms (especially the central nervous system symptoms) can be well articulated. Often, crying is the only way for a child to indicate that something is physiologically wrong. Furthermore, mycoplasma infections can simulate numerous nonspecific childhood illnesses - such as foot and mouth disease, flu, stomatosis, roseola, fifths disease, and otitis media - that can be readily misdiagnosed by a pediatric practitioner.
The Main Human Mycoplasma Pathogens.
Pathogen / Implicated Disease

Mycoplasma genitalium


Arthritis, chronic nongonococcal urethritis, chronic pelvic inflammatory disease, other urogenital infections and diseases, infertility, AIDS/HIV

Mycoplasma fermentans


Arthritis, Gulf War Syndrome, Fibromyalgia, Chronic Fatigue Syndrome, Lupus, AIDS/HIV, autoimmune diseases, ALS, psoriasis and Scleroderma, Crohn's and IBS, cancer, endocrine disorders, Multiple Sclerosis, diabetes

Mycoplasma salivarium


Arthritis, TMJ disorders, Eye and ear disorders and infections, gingivitis, periodontal diseases including even cavities.

Mycoplasma hominis and Ureaplasma urealyticum


Two mycoplasmas commonly found in the urogenital tracts of healthy persons. However, over the years, the pathogenic roles of these mycoplasmas have been proven in adult urogenital tract diseases, neonatal respiratory infections, and a range of other diseases usually in immunocompromised patients.

Mycoplasma pneumonia


Pneumonia, asthma, upper and lower respiratory diseases, heart diseases, leukemia, CNS disorders and diseases, urinary tract infections, Crohn's and Irritable Bowel Syndrome, autoimmune diseases.

Mycoplasma incognitus and
Mycoplasma penetrans


AIDS/HIV, urogenital infections and diseases, Autoimmune disorders and diseases

Mycoplasma pirum


Urogenital infections and diseases, AIDS/HIV"


"Protocol

Unlike viruses, which do not respond to antibiotic treatment, mycoplasmas are susceptible to antimicrobial therapy on a long-term protocol basis. With an appropriate course and brand of antimicrobial therapy (where an entire year or two would not be atypical), immunocompetent (HIV-negative) mycoplasma patients can revert back to a mycoplasma negative phenotype and permanent asymptomatic status. Of course, detecting the infection early - such as during the overwhelming acute infection known as sepsis - would require minimal treatment duration relative to a patient that first endured years of illness before being correctly and honestly diagnosed."


"Antibiotic

Other candidate antibiotics that have demonstrated efficacy against extragenital mycoplasma infections include doxycycline, minocycline, zithromax, rifampin, gentamicin, the lincosamides, trovafloxacin (hominis) and sparfloxacin. All of these antimicrobials are approved for use in the United States."


"Penicillins

Since mycoplasmas have no cell-wall, penicillins are contraindicated and will actually exacerbate the clinical picture.

Nystatin

For those individuals who are responding favorably to nystatin therapy for a purported candida albicans infection, realize that nystatin is a polyene macrolide which does show activity (although weak) against some mycoplasma subtypes. Therefore, any favorable clinical response may actually be against a mycoplasma pathogen rather than any systemic yeast problem."


"Free Radicals

Since mycoplasmas generate toxic oxygen radicals which contribute to the oxidative stress observed in infected individuals, generalized antioxidants (such as vitamin E and C) do have a role in management of the mycoplasma infection symptoms. However, they will not cure and/or eradicate the underlying mycoplasma disease.

Avoidance

Cholesterol and the amino acid arginine, which is commonly found in chocolate, stimulate growth of mycoplasmas and should be avoided at all costs. However, there is a strain of mycoplasma hominis which has been given the ability to produce arginine as a characteristic mechanism of the disease; as such, this pathogenic strain can 'whip itself into a froth' notwithstanding the careful avoidance of arginine by a patient.

Stress

Additionally, psychological stress should be avoided since it is known to contribute to progression of mycoplasma disease; Since the mycoplasma pathogen infects the central nervous system, this intersection presents a vicious physiological/psychological circle which can often lead to suicide. Of course, it is not surprising that mycoplasma patients are often misdiagnosed as somatization or, in the case of the gulf war veterans, post traumatic stress disorder.

Air Travel

Mycoplasma grows well at low-pressure (high altitude) conditions. Therefore, it is advisable to avoid unnecessary airline travel while infected with this disease."

---

Posts: 1408 | From Tx | Registered: Nov 2009 | IP: Logged |

Sheryl777
LymeNet Contributor
Member # 17804


posted

---

Is there a test for it?

---

Posts: 258 | From Spokane, WA | Registered: Oct 2008 | IP: Logged |

karenl
Frequent Contributor (1K+ posts)
Member # 17753


posted

---

Has anyone treated myco pneumonia with success?

---

Posts: 1834 | From US | Registered: Oct 2008 | IP: Logged |

jackie51
Frequent Contributor (1K+ posts)
Member # 14233


posted

---

That's a scary site to read.

We're treating one of my kids for this. No, we have not had success. Is it getting better? I think so, but one symptom persists and that is the night terror/anxiety.

There are days I just don't like being a grownup.

---

Posts: 1374 | From Crazy Town | Registered: Dec 2007 | IP: Logged |

momintexas
Frequent Contributor (1K+ posts)
Member # 23391


posted

---

Sheryl777 - Yes, there are tests for it. There are specialty labs as well as LabCorp that can do it.

Karenl - I wouldn't call us a success story yet, but there is definite progress with definite bumps along the way.

apljack - How long have you been treating your child for it?

---

Posts: 1408 | From Tx | Registered: Nov 2009 | IP: Logged |

jackie51
Frequent Contributor (1K+ posts)
Member # 14233


posted

---

momintexas--we seem to be going round and round. Initially, she got 2 weeks of amoxycillian for a cat scratch. Then, 30 days of bactrim for same. Onto a neurologist, who had her on amoxycillian for high strep titers. Titer came down, myco was sky high. Now on erythrmycin for 3-1/2 weeks with 2-1/2 weeks left.

---

Posts: 1374 | From Crazy Town | Registered: Dec 2007 | IP: Logged |

nhlymeguy
LymeNet Contributor
Member # 30783


posted

---

What the heck is this?...is it supposed to be a co-infection? is it supposed to be transmitted by ticks...or is all just here-say like everything else we seem to go through.

---

Posts: 222 | From NH | Registered: Mar 2011 | IP: Logged |

tricia386
Frequent Contributor (1K+ posts)
Member # 29623


posted

---

I have this...

--------------------
Lyme activated in April 2010 by gardasil vaccine.
DX: Lyme,Babs,Myco,Bart 11/10
Treatment Started: 3/28/11


---

Posts: 1752 | From Albany, NY | Registered: Dec 2010 | IP: Logged |

momintexas
Frequent Contributor (1K+ posts)
Member # 23391


posted

---

nhlymeguy - I'm not sure I understand your question, but it can come from ticks but it is also a highly contagious airborne infection as well.

If your immune system is compromised and this infection sets in (however you may have picked it up) - it can be extremely hard to get rid of.

---

Posts: 1408 | From Tx | Registered: Nov 2009 | IP: Logged |

slayadragon
Member
Member # 16153


posted

---

This seems to be one of the many pathogens associated with Chronic Fatigue Syndrome. Others include HHV6, EBV and other herpes viruses; tickborne infections; gut parasites, bacteria and fungi; enteroviruses and other viruses; chlamydia pneumoniae; and (insofar as it's not contamination) the retrovirus XMRV.

I don't know how they can say that mycoplasma causes all those symptoms, therefore. I would be more likely to believe that a problematic immune system causes it to be present at the same time as all kinds of other pathogens. Just because those symptoms are present when mycoplasma is present doesn't mean that it CAUSES all those other symptoms.

I wonder which ones are caused by mycoplasma itself.

---

Posts: 35 | From Chicago Area | Registered: Jul 2008 | IP: Logged |
Contact Us | LymeNet home page | Privacy Statement

Powered by UBB.classic™ 6.7.3

---
The Lyme Disease Network is a non-profit organization funded by individual donations. If you would like to support the Network and the LymeNet system of Web services, please send your donations to:
The Lyme Disease Network of New Jersey
907 Pebble Creek Court, Pennington, NJ 08534 USA
http://www.lymenet.org/
---
Home | Flash Discussion | Support Groups | On-Line Library
Legal Resources | Medical Abstracts | Newsletter | Books
Pictures | Site Search | Links | Help/Questions
About LymeNet | Contact Us
---
© 1993-2020 The Lyme Disease Network of New Jersey, Inc.
All Rights Reserved.
Use of the LymeNet Site is subject to Terms and Conditions.
---