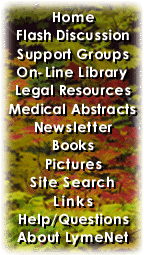 ---
LymeNet on Facebook
LymeNet on Twitter
---
---
The Lyme Disease Network receives a commission from Amazon.com for each purchase originating from this site.
When purchasing from Amazon.com, please
click here first.

Thank you.




Dedicated to the Bachmann Family


LymeNet needs your help:
LymeNet 2020 fund drive

The Lyme Disease Network is a non-profit organization funded by individual donations.

| | |
| --- | --- |
| | |
Author
Topic: Update on Hubby (Long)

seibertneurolyme
Frequent Contributor (5K+ posts)
Member # 6416


posted

---

I know some of you follow my husbands progress. Wish I had more good news to share.

Don't know if we made the right decision or not, but hubby and I have come to the conclusion that pulsing babs meds is not an option for him. His previous LLMD has taken him back as a patient since the new LLMD's would not continue IV meds or even replace the PICC line. But due to medical board restrictions the prior LLMD can only prescribe orals and cannot replace the PICC either. And no – he does not feel better just because he has the PICC line out for the first time in 8 ½ years.

Hubby tried taking an antibiotic holiday per the pulsing schedule with the new LLMD's. He only lasted 1 ½ days before I put him back on some antibiotics. He actually lasted for 4 days when we switched from the quinine and clindamycin protocol to the lariam protocol a couple of months ago so this was not good news.

Hubby woke up after the first day off of antibiotics (except he did continue the levaquin) with dry heaves at 9:00 a.m. Went on to throw up breakfast a couple of hours later. I had to use some of my emergency stash to give him an IM shot of Ativan to calm down all the shaking. I put him back on minocycline and a lower dose of malarone to finish the week. He also took his lariam. He did stay off the artemisinin and diflucan for the whole week.

The break must have helped some – his WBC has increased but is still low. Same for RBC – still low but the best it has been in a couple of months. Platelets dropped though and I really don't understand that – still in the normal range since the lab changed their ranges. 140 is now low instead of 150 – hubby is at 148.

We were just not willing to risk getting back into the daily cycle of dry heaves after getting that stopped after 9 years with the IV Rocephin. And both of us thought that that is what would have happened if he had stayed off antibiotics for the rest of the week

At this point I don't know if it is just babs or some combo of that plus ehrlichia/anaplasma and/or serratia which is the major issue. Hubby has had worse pressure/brain swelling headaches since doing the 2nd week of artemisinin and dizziness is a major issue. Low grade fevers seem to be trying to resolve – stays below 99.5 most days.

Per the prior LLMD hubby is continuing with the Levaquin indefinitely. His 21 day scrip from the hospital is done. The other major change – we are going to try oral doxycycline since the IV is what put him in the hospital. He switched from the minocycline today and is starting with just 100 mg daily and ramping up over a couple of weeks.

Will go back on the prior dose of malarone and artemisinin and lariam and diflucan starting Sunday. The combo of doxy and levaquin should work on both serratia and ehrlichia/anaplasma and rocky mountain spotted fever. Of course no one really believes all of those test results are real unless he was reinfected. At this point I really don't know what to think – just want all the potential infections covered so he has a fighting chance.

I hope it is an uneventful week – not really expecting things to go south again until he gets to a higher dose on doxy. And then if the babesia meds cause hemolysis he should have enough antibiotics on board to cover whatever hidden infection tries to surface – if we are lucky and guessed right.

Hubby does think the diflucan is helpful for babesia used in combo with the other meds. He has taken it by itself in the past and did not get the same reactions he gets to it currently. It usually causes increased sweating and sometimes a mild fever.

That's about all I have to report. Will update in another week or so after the next round of bloodwork.

Bea Seibert

---

Posts: 7306 | From Martinsville,VA,USA | Registered: Oct 2004 | IP: Logged |

TerryK
Frequent Contributor (5K+ posts)
Member # 8552


posted

---

Thanks for the update. I'm so sorry things are going better. You two are such troopers.

Praying Steve gets a breakthrough soon!

Terry

---

Posts: 6285 | From Oregon | Registered: Jan 2006 | IP: Logged |

scorpiogirl
Frequent Contributor (1K+ posts)
Member # 31907


posted

---

Ah... that's terrible! I'm soo sorry he's suffering! I can totally relate. I sending you both prayers and hopefully you will figure out something.

--------------------



---

Posts: 1391 | From Lyme Land | Registered: May 2011 | IP: Logged |

glm1111
Frequent Contributor (5K+ posts)
Member # 16556


posted

---

Bea,

I am so sorry your hubby is still suffering. Have you considered doing any antiparasitics such as alinia, albendazole, etc (Dr. K. prootocol for parasites)? Or maybe try some antiparasitic herbs.

If my memory serves me correctly, I remember seeing a post where he had some ascaris. It's possible that he didn't get rid of that infection and could be harboring more G.I. parasites, larva and eggs.

It could contribute to the dry heaves if there are parasites still in the small intestine. Just thought I would throw that possibility out to you, as to why he continues to be so sick despite all of the tx.

Gael

--------------------
PARASITES/WORMS ARE NOW
RECOGNIZED AS THE NUMBER 1 CO-INFECTION IN LYME DISEASE BY ILADS*


---

Posts: 6418 | From philadelphia pa | Registered: Jul 2008 | IP: Logged |

Jane2904
Frequent Contributor (1K+ posts)
Member # 15917


posted

---

So sorry hubby is not doing well. I will keep you both in my prayers.

---

Posts: 1357 | From Massachusetts | Registered: Jun 2008 | IP: Logged |

lyme in Putnam
Frequent Contributor (1K+ posts)
Member # 11561


posted

---

You're so on top of his illness. God bless you.

--------------------
He took u to it, He'll you through


---

Posts: 2837 | From NE. | Registered: Apr 2007 | IP: Logged |

lou
Frequent Contributor (5K+ posts)
Member # 81


posted

---

Minocycline made me very dizzy. It is a known side effect, but don't know if that could explain his dizziness.

---

Posts: 8430 | From Not available | Registered: Oct 2000 | IP: Logged |

seibertneurolyme
Frequent Contributor (5K+ posts)
Member # 6416


posted

---

Gael -- Hubby did 4 months of alinia at half dose and then another 4 months at full dose back in 2008. I don't really think G.I. parasites are an issue. The dry heaves used to also trigger seizure-like episodes so that is another reason we were not willing to stay off the antibiotics to see if that would settle down on its own. Pretty sure with the stiff neck that brain inflammation is the trigger. Don't think resuming antibiotics would have stopped the heaving if parasites were the cause.

Lou -- Hubby doesn't think the mino is causing the dizziness, but we did use that arguement to get the doc to agree to switch to doxy. Hubby says the dizziness is different since being on the high dose artemisinin but he can't really explain how it is different.

Thanks for thinking of us.

Years ago when he had such a hard time taking antibiotics and couldn't tell if they were helping or not Steve never thought he would actually feel better on antibiotics than he did off of them.

His current LLMD thought the artemisinin was suppressing his WBC and that must have been at least partly correct since it did improve off of that herb.

Bea Seibert

---

Posts: 7306 | From Martinsville,VA,USA | Registered: Oct 2004 | IP: Logged |

karenl
Frequent Contributor (1K+ posts)
Member # 17753


posted

---

Bea,

I think the same as Gael, did not write as I think you are not open to this.
The dry heaves are often parasites in the lungs -tiny ones and their eggs.

Also the fever would always be after 4 -6 weeks.

You know all tests are wrong.

---

Posts: 1834 | From US | Registered: Oct 2008 | IP: Logged |

scorpiogirl
Frequent Contributor (1K+ posts)
Member # 31907


posted

---

Bea,

I'm curious since I don't know hubby's full history and what he has tried... but the few posts I have read you didn't mention and homeopathic remedies or even photon light therapy, rife machine, acupunture etc... have you tried those? I mean it sounds like you have tried a lot of drugs and he is still sick?

Perhaps you have tried and they didn't work. I don't know...but I just hit a wall myself. So I am going to give PE-1 a try. I had high hope for IV antibiotics but I feel so toxic from them all. And the minute I got of Invanz all my symptoms came back! To me that's not a successful treatment. Just so frustrating.

--------------------



---

Posts: 1391 | From Lyme Land | Registered: May 2011 | IP: Logged |

seibertneurolyme
Frequent Contributor (5K+ posts)
Member # 6416


posted

---

Karen – As far as G.I. parasites I would probably agree that right now I am not that open to that as a possible major issue for hubby. His weight is good and he has not had gastritis for 3 years which for him is a record since he got sick over 10 years ago. My treatment philosophy is to treat the obvious first and then if that doesn't work look for other issues.

Hubby's last blood slide from Clongen in April after the first high fever showed some sort of blood borne protozoa and also a coccobacilli (maybe serratia?). The doc could not DNA sequence the protozoa. But hubby's titer for babesia duncani came down from 1:2048 in December to 1:512 in March. So in my opinion we are on the right track concentrating on babesia.

I do know that some of the antiparasitic meds work systemically and might help with blood borne parasites. But getting someone to prescribe them is another matter. I do want to put hubby back on flagyl at some point which many LLMD's think works some on babesia.

Scorpio – Here is a link I posted when I first found LymeNet years ago.

http://flash.lymenet.org/ubb/ultimatebb.php/topic/1/35062


Since that time hubby has tried IV colloidal silver and many different herbs. He had never done multiple oral meds until 2008 and really had not done intensive IV treatment until the fall of 2010. Now that his catastrophic insurance has kicked in and IV meds would be paid 100% ironically we are having trouble finding docs to prescribe them.

As far as homeopathy – hubby used so much nux vomica in the past one doc thought he might be allergic to it. That same doc prescribed homeopathic cannabis – that was a bad experience as well. Have not tried photons – but did try cold lasers and did not see much benefit. Have not done Rife – can't afford a machine and don't have a lot of confidence in that therapy. Hubby actually had one acupuncture treatment a couple of months ago. As in years past did not think it was beneficial as he does not have major pain issues. He would love to do massages – but the last one he did was the day of his first high fever and the massage therapist will not do massages as long as he is running daily fevers.

Personally we are very open to herbal therapies, but feel like especially for babesia meds are necessary. And we still feel that that is the major issue. Hubby felt like he was actually starting to see progress with the quinine and clindamycin – but the docs we were seeing would not continue prescribing that combo.

Hubby's CD57 increased from 70 before the IV rocephin (7 months) and IV zithromax (4 months) to 111 a month ago. To us that change was real and mirrored his improved neuro symptoms.

Hubby has not called me the night nurse in probably a year. Even when he was confused with his last high fever he at least knew I was his wife even if he couldn't recall my name.

Yes he is still pretty sick, but he has made so much progress neurologically.

The new LLMD's wanted hubby to do a glutathione IV in their office. Since we stopped doing that about 3 years ago we thought it was worth trying. The $140 was not totally wasted as we now know not to order the glutathione suppositories. The ALA max supplement a prior doc suggested has worked very well to help hubby produce enough glutathione that the IV's are no longer needed. A former PCP who did muscle testing once jokingly told hubby that he might as well drink the glutathione he was so deficient in it. So the supplements I have hubby on must be helping.

Yes, it is hard to know what will or will not work for any one person. And we have learned a hard lesson regarding bacteriostatic doses of meds versus bacteriocidal.

But the good news is that after only 2 days at 100 mg of doxy hubby can tell it is going to work differently than the minocycline. I have learned to trust his judgement. He is very sensitive to meds and very tuned in to how his body is responding to them. I really can't find anything in the literature regarding doxycycline and babesia in humans but it is used for malaria so maybe it will work some on the babesia. Time will tell.

I always wondered why some people who get early treatment with doxy do not go on to develop babesia later on. Maybe the doxy has something to do with that or just that if they are treated early their immune system can fight off babesia all on its own.

Bea Seibert

---

Posts: 7306 | From Martinsville,VA,USA | Registered: Oct 2004 | IP: Logged |

glm1111
Frequent Contributor (5K+ posts)
Member # 16556


posted

---

Bea,

Not to be a pain about this, but there was a post about a yr ago (aka myco) on doxy and Ivermectin success with killing the Filarial Worm infection.

I believe it said that the doxy killed the babies. Just wondering if that's why hubby might be responding to the doxy, and if adding Ivermectin could be of benefit? Could be worth a shot.

Gael

--------------------
PARASITES/WORMS ARE NOW
RECOGNIZED AS THE NUMBER 1 CO-INFECTION IN LYME DISEASE BY ILADS*


---

Posts: 6418 | From philadelphia pa | Registered: Jul 2008 | IP: Logged |

robbiem
LymeNet Contributor
Member # 32092


posted

---

Hi Bea

I aplaude your dedication to your husband. That's amazing. He is very lucky to have you by his side. I hope you are able to get some quality time for yourself caring for him.

I agree with Gael--when I read your post, I thought the same thing.

I was put on a very potent homeopathic remedy for babesia, and was really getting pounded by it. My doctor, who is an osteopath, told me at my next visit that he feels that I am not responding as expected because of other parasites. He is now treating me for those, and I feel noticably better thus far than when I was on the babesia concoction.

I know some people are not as inclined towards the herbal supplement route, however, sometimes it is really a good idea to switch off of the meds for a time.

Antiparsitics do not need to be prescribed. There are quite a few products out there that can be bought w/o prescription online that work as good if not better than a prescription.

Best to you both
Robbie

---

Posts: 192 | From New England | Registered: May 2011 | IP: Logged |

gambler
LymeNet Contributor
Member # 8441


posted

---

The first time I took Minocycline, I turned gray. The second time I was so dizzy and miserable, I wanted to die but I stayed on it for 3 months, the next day after going off it, I felt so much better. I hope that going off Minocycline does helps your husband.

I've followed your posts for years, I'm not as sick as your husband but we seem to have a lot of similar symptoms and reactions. Also, Diflucan is one of my favorite drugs, and I told my LLMD that I'm sure it helps something besides yeast.

I'm so sorry for both of you that he is suffering so much.

---

Posts: 243 | From chicago | Registered: Dec 2005 | IP: Logged |

CD57
Frequent Contributor (1K+ posts)
Member # 11749


posted

---

Bea -- wanted to share something I recently learned from a (finally) good doc with whom I had an "ah-a!" moment. He said that glutathione deficiency has direct correlation with higher levels of symptoms/active virus in HIV cases, so it's likely that this state allows for more bacteria and parasites too. I am also deficient in glutathione so we are trying everything to boost mine -- I don't seem to make it well. To that end, glutathione cream, ALA Max, glut pushes, anything. I wish I had paid attention to this in the past as I knew about it. Now I do and believe things will change for both your hubby and me.

---

Posts: 3528 | From US | Registered: Apr 2007 | IP: Logged |

James1979
Unregistered



posted

---

Why aren't you doing coffee enemas for boosting the glutathione? They say it raises the body's levels by 700%.

How do you test for glut? Is it a blood test?

---

IP: Logged |

karenl
Frequent Contributor (1K+ posts)
Member # 17753


posted

---

Bea,

I am not talking about GI parasites but those in the brain ( !! they even cause strokes, seizures ), lungs and everywhere.

He reacts to diflucan, they found now it is a med against parasites.

Also I agree with Gael the doxy + ivermectin would be great. You should try but start ivermectin with a bit of a 3mg tablet.
I guess it will give your husband lots of energy, it is a great combo.

Whatever you did in the past was not helpful, so think out of the box.
As long as he is not free of parasites he will not be better and nothing will work.
Traetment with half of alinia is not good for anything, too low. You need the full K protocol and repeat it as he was so sick.

But just get started, he can be 30 % better after several days. Pm me if you need details.
Did you read lymetwister's success?

If his doctor is prescribing these dangerous meds he takes, the ivermectin is harmless and forever on the market.

It is time he can go on with his life now.

---

Posts: 1834 | From US | Registered: Oct 2008 | IP: Logged |

rera2528
LymeNet Contributor
Member # 29886


posted

---

Bea--on the mino/doxy bit. I took doxy my first 3 months, then switched to mino for 3 months. I felt much worse on mino. Doxy was hard at first, but I had pretty significant gains cognitively/neuro. I was also on other meds, but the second I was off mino, I felt clearer. I completely understand how your husband can feel the difference.

I wish you continued strength and resilience as you begin this new phase of treatment and questioning.

---

Posts: 447 | From Vermont | Registered: Jan 2011 | IP: Logged |

karenl
Frequent Contributor (1K+ posts)
Member # 17753


posted

---

Bea,
there is a rife frequ. for serratica - he could rife for this to avoid so many abx.

---

Posts: 1834 | From US | Registered: Oct 2008 | IP: Logged |

Haley
Frequent Contributor (1K+ posts)
Member # 22008


posted

---

HI Bea,

I have sort of been following your Hubby's journey. I never read that prior post that you put here. You really have done it all.

Clearly, my treatment has been nowhere near as extensive as Steve's. I will tell you what is currently "working" for me. Of course who knows what will be happening in a week or two. I have been off and on IVs for over 2 years; I have done every IV med there is. I do plan on doing 4 more weeks of IV Clinda and then I will try to transition to herbs or herbs and oral abx.

On my two weeks off of Clinda I am on Tindamax and I am beginning to follow Buhner's advice. I believe the combination of the 2 are really doing something.

I read Buhner's book and I feel that he has more of a handle on this than anyone else out there.

I simply started with what I had in my cabinets which was anti-parasitic herbs and Smilax. According to Buhner the anti-parasitics kill the spirochete. I believe that is why so many people have success with anti-parasitics. It's not because everyone has worms.

I am so afraid of getting my hopes up but I have a gut feeling about the Buhner stuff (possibly combined with abc).

I also wanted to mention that there is a liquid Doxy. My doctor just told me about it. It is suppose to be easier on the stomach.

Hang in there.

---

Posts: 2232 | From USA | Registered: Aug 2009 | IP: Logged |

Pinelady
Frequent Contributor (5K+ posts)
Member # 18524


posted

---

I think we have millions undiagnosed with T.cruzi and others like it...The tests are just as bad if not worse than Lyme, yet it is a parasite---go figure---this tells me it too is hiding in the proteins and must be treated...I also believe this is why we have not heard a peep out of Kaiser for the last 3 yrs. for Morgellons...Esp. since they now find T.'s can envelop in fungi.

http://www.ncbi.nlm.nih.gov/pubmed/21952685 2011 Immunoendocrinology of the thymus in chagas disease.
During immune response to infectious agents, the host develops an inflammatory response which could fail to eliminate the pathogen or may become dysregulated.
In this context, our data clearly point to the view that the thymus is a target organ of T. cruzi infection.
---------------------------
http://www.ncbi.nlm.nih.gov/pubmed/21947093 Rev Esp Quimioter. 2011 Sep;24(3):123-126.

Side effects of benznidazole treatment in a cohort of patients with Chagas disease in non-endemic country.

Carrilero B, Murcia L, Martínez-Lage L, Segovia M.
Source

Manuel Segovia,Servicio de Microbiología, Hospital Universitario Virgen de la Arrixaca, Carretera Madrid-Cartagena sn,30120 El Palmar Murcia, Spain. [email protected]
Abstract

Chagas disease is a disease endemic in Latin America, caused by the parasite Trypanosoma cruzi. Benznidazole is the most commonly used drug for the etiological treatment of the disease although its effectiveness varies according to the phase of the same and toxic side effects are frequent. This prospective study describes the side effects of benznidazole treatment of a cohort of 373 chronic patients. Of these 40.2% presented adverse reactions. The most frequent side effect were dermatological reactions 32.4% (121 of 373) followed by digestive intolerance 9.1% (34 of 373). Surprisingly, three cases of migratory arthritis were observed. Patients treated with benznidazole must be followed up so that the long term incidence of side effects can be studied.-------------the proof is in the treatment. Its stealth.
-----------------------
http://content.karger.com/produktedb/produkte.asp?DOI=000329494&typ=pdf

During immune response to infectious agents, the host develops an inflammatory response which could fail to eliminate the pathogen or may become dysregulated.

In this case, the ongoing response acquires a new status and turns out to be detrimental.

The same elements taking part in the establishment and regulation of the inflammatory response (cytokines, chemokines, regulatory T cells and counteracting compounds like glucocorticoids) may also mediate harmful effects.

Thymic disturbances seen during Trypanosoma cruzi (T. cruzi) infection fit well with this conceptual framework.
------------------
http://cmr.asm.org/cgi/content/full/14/3/584 July 2001 Listeria Pathogenesis and Molecular Virulence Determinants The undecapeptide contains the Cys residue that confers on CDTXs the characteristic after which this group of toxins was formerly designated (i.e., "thiol activated or oxygen labile"), that is, inhibition by oxidation or thiol-reacting compounds and reactivation by thiol-reducing agents (8, 633). It was formerly assumed that activation by thiol-reducing agents was due to the breakage of an intramolecular bond. However, once the sequences of many of these toxins became available, it was clear that only one Cys residue was present in most of the toxins of the family.

Three different iron uptake systems have been described in L. monocytogenes. One involves the direct transport of ferric citrate to the bacterial cell by a citrate-inducible system (2). Another system involves an extracellular ferric iron reductase, which uses as a substrate naturally occurring iron-loaded catecholamines and siderophores (2, 21, 111, 112, 133). The third system may involve a bacterial cell surface-located transferrin-binding protein (263), although the existence of such a mechanism has been questioned (43).
--------------------
PLoS Neglected Tropical Diseases: Role of the gp85/Trans-Sialidases in Trypanosoma cruzi Tissue Trop
www.plosntds.org
However, we cannot rule out the participation of other intermediate filament proteins as putative receptors for the parasite because many of these structural proteins have overlapping expression patterns and are often expressed by different cells in multiple tissues.
Worth mentioning is the strong binding of FLY phage to the heart vasculature, one of the most affected organs in patients with symptoms of chronic Chagas' disease. Almost 70% of the patients show some form of heart dysfunction
--------------------
Tests that cannot even find organisms even in DNA and now 1 in 38 being diagnosed with Autism who incidentally also have thymus disorders....It is time to dispense with the money making junk science that gave us the word---"Autoimmune"...There is no such thing..It is hidden infections they refused to find and treat---like the 2001 discovery of B.miyamotoi they didn't bother to tell us about....
-----------------
http://www.ncbi.nlm.nih.gov/pubmed/21949551 Curr Chem Biol. 2011 May;5(2):108-117.
RNA Granules Living a Post-transcriptional Life: the Trypanosomes' Case.
During physiological starvation conditions in trypanosomes, components from

P bodies fuse with other ribonucleoprotein complexes to form mRNA granules, where transcripts are stored and protected from degradation in a quiescent state.

Other novel types of foci with unknown function that are related to RNA metabolism can be found in these parasites,

namely heat-induced granules containing the 5' to 3' exoribonuclease XRNA, and starvation-induced granules containing transfer RNA halves.

Thus, trypanosomes make use of non-membranous structures as a strategy to compartmentalize ribonucleoprotein complexes in the cytoplasm,

aiding to cope with stressful situations avoiding mRNA translation or degradation. The relevance of stress-induced foci in trypanosomes has yet to be scored, although recent evidence suggests that these cytoplasmic organelles are required for survival under adverse growing conditions.
---------------------------
This is stealth...
http://www.ncbi.nlm.nih.gov/pubmed/21944888 2011 Sep Abstract
The etiology of Chagas' disease, caused by a protozoan parasite Trypanosoma cruzi, has been the focus of considerable discussion,

although chronic phase still remains not fully understood.

This study showed that zinc and melatonin treatment did not affect the percentage of both CD4(+) and CD8(+) T lymphocytes subsets in chronically infected animals.

Increased levels of IL-2 and IL-10, as well as, enhanced thymocyte proliferation in T. cruzi infected groups under zinc and melatonin therapy was observed as compared to untreated group.

Conversely, during the chronic phase of infection, macrophages counts were reduced in melatonin and zinc-melatonin treated animals. The combined actions of zinc and melatonin have beneficial effects in counteracting parasite-induced immune dysregulation, protecting animals against the harmful actions of chronic T. cruzi infection. Furthermore, our results provide an experimental basis for further studies on the role of immunomodulatory therapies.

Basically this says we really don't know yet------
-----------------------
You get the idea==these critters may take a lot more than a dose of parasite treatment to kill..esp. if they too are swapping genes and hiding out in the heart....
I would not give up trying to kill them just because they are like lyme--too dang hard to find. And who knows what all they are carrying with them...

--------------------
Suspected Lyme 07 Test neg One band migrating in IgG region
unable to identify.Igenex Jan.09IFA titer 1:40 IND
IgM neg pos
31 +++ 34 IND 39 IND 41 IND 83-93 +
DX:Neuroborreliosis


---

Posts: 5850 | From Kentucky | Registered: Dec 2008 | IP: Logged |
Contact Us | LymeNet home page | Privacy Statement

Powered by UBB.classic™ 6.7.3

---
The Lyme Disease Network is a non-profit organization funded by individual donations. If you would like to support the Network and the LymeNet system of Web services, please send your donations to:
The Lyme Disease Network of New Jersey
907 Pebble Creek Court, Pennington, NJ 08534 USA
http://www.lymenet.org/
---
Home | Flash Discussion | Support Groups | On-Line Library
Legal Resources | Medical Abstracts | Newsletter | Books
Pictures | Site Search | Links | Help/Questions
About LymeNet | Contact Us
---
© 1993-2020 The Lyme Disease Network of New Jersey, Inc.
All Rights Reserved.
Use of the LymeNet Site is subject to Terms and Conditions.
---