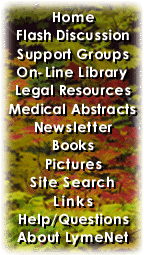 ---
LymeNet on Facebook
LymeNet on Twitter
---
---
The Lyme Disease Network receives a commission from Amazon.com for each purchase originating from this site.
When purchasing from Amazon.com, please
click here first.

Thank you.




Dedicated to the Bachmann Family


LymeNet needs your help:
LymeNet 2020 fund drive

The Lyme Disease Network is a non-profit organization funded by individual donations.

| | |
| --- | --- |
| | |
Author
Topic: Son feels "disembodied"-Minocin

showmemom
Member
Member # 34213


posted

---

DS, 12, who has been treating for a year, just switched to Minocycline, along with Rifampin which he has been taking for a while.

He started Monday, two days ago, and is only taking two pills a day to start. He says he feels strange. Today he was trying to describe it and he said "disembodied". I think I know what this means, but could anyone else give me more of a descriptive answer as to what he is feeling.

I want to support him as much as possible. He is having a rough week at school and very hyper alternating with depression (especially at night). We went for a drive to get out of the house, it was good for both of us.

We did bump up the water and activated charcoal. Also, ordered the Humaworm, but don't think we will start that until Thanksgiving break.

Again, if anyone could describe to me what he is feeling it would be a big help.

Thanks!
Showme

[ 11-10-2011, 09:07 AM: Message edited by: showmemom ]

---

Posts: 55 | From Missouri | Registered: Sep 2011 | IP: Logged |

Lymetoo
Moderator
Member # 743


posted

---

Maybe "depersonalization?" .. which I know nothing about.

hope he feels some relief very soon



--------------------
--Lymetutu--
Opinions, not medical advice!


---

Posts: 95340 | From Texas | Registered: Feb 2001 | IP: Logged |

Keebler
Honored Contributor (25K+ posts)
Member # 12673


posted

---

-
Minocycline is also well known to cause vertigo, dizziness, nausea. That combination would make anyone not feel in their body.

Liver support is vital to help protect the inner / middle ear effects. B-6, too.

Ginger capsules, too. But not too late in the day as ginger can be stimulating for some.

Take a look at Vestibular symptoms. Most of these go with lyme, anyway. But minocycline and azithromycin (zithromax) - and sometimes Biaxin - tend to exasperate these due to the ototoxic nature (and that is why liver support is so very important at all stages of treatment).

---------------------

http://www.vestibular.org/vestibular-disorders/symptoms.php

Vestibular Symptoms
-

---

Posts: 48021 | From Tree House | Registered: Jul 2007 | IP: Logged |

Brussels
Frequent Contributor (5K+ posts)
Member # 13480


posted

---

Are you giving him binders? Candida herxes are worse than borrelia for me!

---

Posts: 6196 | From Brussels | Registered: Oct 2007 | IP: Logged |

melliellie
Member
Member # 25004


posted

---

Depersonalization:
My daughter had this during a herxes. She said it felt like she was in a bubble. She could see and hear everyone, but she felt like a disinterested observer. At one point she said, " I should be taking notes, writing this down, this is so interesting." No emotional connection to it. Very unsettling.

Someone else on here described it as "being invisible" or "living in a plexiglass box" My daughter agreed with both descriptions.

Liver support and detox were key for her. She became chemically sensitive at the time too and anything "extra" in her environment made it worse: perfume, smoke, onions cooking.

Maybe something at school is adding to your son's symptoms?

---

Posts: 10 | From Michigan | Registered: Mar 2010 | IP: Logged |

melliellie
Member
Member # 25004


posted

---

Another note: during the depersonalization episodes, she would insist that she needed to be outside in the sun. She felt sure this would help. I never did figure that part out, but I am sure her body was trying to tell her something. She was on D3 already, but maybe she needed more? Wonder if anyone else has ever felt that in conjunction with depersonalization.

---

Posts: 10 | From Michigan | Registered: Mar 2010 | IP: Logged |

gagamooppop
LymeNet Contributor
Member # 34314


posted

---

Have been feeling "out of body" for a while now, I would say this is one of my main complaints as you have no idea what is going on.

You feel like you're there, but you're not. Very spacey, zombie-like feeling. Going outside for me makes it worse as it becomes a totally trippy feeling and then the anxiety sets in and I start getting nervous thinking what the H is going on with me.

Only way I get through it is by laying down, relaxing and not thinking about it, but to me it seems like it can't be controlled and perhaps something that will clear up with treatment...hopefully...

---

Posts: 183 | From ... | Registered: Oct 2011 | IP: Logged |

thomasx
LymeNet Contributor
Member # 13431


posted

---

So, I think that feeling "disembodied" may be an expression of the loss of the normal feeling and awareness of your body caused by neuro effects of lyme and coinfections. Under normal circumstances, one is quite aware of all sorts of "touch" sensations. When your neuro is assaulted, you no longer feel these same things physically and you feel less connected to your body. I hope that makes sense. It improved in me with proper treatment.

---

Posts: 386 | From Southeastern PA | Registered: Oct 2007 | IP: Logged |

jwall
LymeNet Contributor
Member # 22999


posted

---

Melliellie,
I have the same exact thing as your daughter. I get this from time to time and my chemical sensitivities become worse too during. I HAVE to be outside when I feel like this. I cannot stay inside. Being outside helps me so much - I am not sure why. Maybe because I feel trapped inside with the walls and no fresh air. I'm not sure. I have the same detachment issues. This has all come and gone. It is very unsettling when it is here. It got much worse on minocycline - chemical sensitivities, feeling really out of it, unable to feel attachment to anything like pondering what is the point of life (not the thought of suicide, but more thinking a lot about what is the point of living. I am not normally a depressed peson and I'm not sure it is depression, but more of wondering)...that kind of thing. I also do sometimes get the spacey, zombie trippy feeling when being outside (usually in late afternoon when I am getting tired), but it almost feels like a brain/vision thing - like some kind of seizure. I'm not sure how that relates.

---

Posts: 618 | From NC | Registered: Oct 2009 | IP: Logged |

nefferdun
Frequent Contributor (1K+ posts)
Member # 20157


posted

---

I also experienced it with bartonella. I called it zombie like - completely apathetic to myself, others and life. I had to pretend to care and force myself to engage. With bart I also felt irritation with snaps of rage.

On the other hand, treating bart brought out babesia. That was like "dementors" were sucking the life out of me - despair, hopelessness, the essential spark of my being was gone. Babesia causes depression and inability to think.

Both diseases have terrifying mental effects where you feel lost.
I would think it would be hard for him in school because he would not feel motivated with bart. With babesia (watch out for it), he would not be able to remember and focus.

I sure feel for the children that have this. I hope the combo works. When I got on the right medication, the mental aspects of bart cleared up pretty quick. I have to always be alert for it's return as it is so subtle you don't realize it until you have gone under.

--------------------
old joke: idiopathic means the patient is pathological and the the doctor is an idiot


---

Posts: 4676 | From western Montana | Registered: Apr 2009 | IP: Logged |

randibear
Honored Contributor (10K+ posts)
Member # 11290


posted

---

let's see. i've had hallucinations, the "out of body" type thing, severe panic attacks, and pretty good rages.

those are the milder ones!!!

--------------------
do not look back when the only course is forward


---

Posts: 12262 | From texas | Registered: Mar 2007 | IP: Logged |

Keebler
Honored Contributor (25K+ posts)
Member # 12673


posted

---

-
I want to caution everyone, especially parents, to be extremely careful when talking to ANY "regular" doctor and trying to describe symptoms.

Even for adults, it can be hard to describe what it feels like to have an awful flu day in and day out.

When you add the toxicity of lyme, the liver stress that makes that even worse, all the neuro stuff - and all the vestibular stuff - it does seem out of sorts.

And, yes, depersonalization is both a separate diagnosis and one that can go with various illness, as a result.

Depersonalization, though, is not an exact label. And, it's not always the exact term even for lyme symptoms that do see out of body. You can search Google for the psychiatric definition.

But - that term can land one in the psych ward - or get one's file labeled a psych case and once labeled, that will follow the patient for a life-time. Notes made by doctors in files cannot be erased, no matter how wrong or negligent in considering mitigating factors.

Do tell the LLMD about symptoms, whether physical or psychological. They will understand that many of the "psychological" symptoms are actually physiological.

But "regular" doctors will not. Also, please, everyone - carefully look over the Vestibular Symptoms link. For years, I thought I was crazy. I'd try to describe how it felt that my eyes just were not working right and I was looking out through some other windows that were wavy, etc.

I was labeled psychologically unbalanced. THEN a good neurotologist (ear specialist who is also a neurologist, or near) realized that my middle ear structure was damaged. Lyme can do that. But it can also happen by itself.

Anytime the body is exposed to toxins, the vestibular system is the FIRST warning system, producing symptoms that tell us something is wrong. And it makes us feel weird in ways that are hard to explain or make sense of.

Toxicity is a huge issue with lyme and all that goes with it.

Of course, when someone is poisoned, they will fell out of sorts is ALL kinds of ways. Of course.

But be VERY, VERY careful with what you say to any doctor. Parents, too, need to know that it is not uncommon to be accused of "Munchausen by Proxy Syndrome" - so again, be careful out there.

Lyme brings its own language and those who are not ILADS educated can do all kinds of damage with our medical files.

===================================

www.thehumansideoflyme.net

The Human Side of Lyme -

This site has many great articles about the emotional and psychological impact of this very toxic illness.

This site will bring many connections of: "ah, so that's what's going on" or "yeah, that's what I mean ... "

Often, it can help to talk with an ILADS-educated LL therapist, counselor, psychologist or psychiatrist.

Unless they are ILADS-educated and Lyme Literate, it can be a waste of time and actually make things worse. Few others can really understand this if they are not ILADS-educated.

=========================

http://www.vestibular.org/vestibular-disorders/symptoms.php

Vestibular Symptoms
-

---

Posts: 48021 | From Tree House | Registered: Jul 2007 | IP: Logged |

randibear
Honored Contributor (10K+ posts)
Member # 11290


posted

---

keebler, excellent point.

don't forget, ya'll, that i lost my life insurance because some duck wrote that i was suicidal in my medical records.

oh of course the insurance company said I didn't renew -- LIE!!!!

he did not believe in lyme and stupid me at the time kept telling him all these symptoms.

so yes, be very careful.

--------------------
do not look back when the only course is forward


---

Posts: 12262 | From texas | Registered: Mar 2007 | IP: Logged |

Keebler
Honored Contributor (25K+ posts)
Member # 12673


posted

---

-
Randi,

I used to think it was healthy to admit that, yes, I was feeling suicidal. It helps to voice that, I thought.

I also had ramifications and, believe me, regular doctors are probably more comfortable with aliens from some far off world than with a patient who says it so very, very bad that it's nearly impossible to go on living.

They will not hear "oh, wow, this is REALLY rough" and wonder "Well, then, how may I help figure this out this complex illness and help this person feel better?" or even "how can I offer some kind of hope for better treatments?"

All I got was a succession of psych pills that made it so much worse that I DID come very close to ending it. The pills made it worse by millions. I was too toxic to be able to metabolize any psych drug. And then I found out that my liver really didn't have the capacity to do so, anyway.

One psychiatrist could not figure out why I got WORSE on the drugs, not better. He just shook his head and said he' never seen anyone like me. But he did nothing beyond just shaking his head. Nothing. You'd think he'd explore a bit further.

Nope. Never in my experience by any doctor who was not ILADS-educated and truly LL. They just deposit the sad patient in a trash bin, literally.

Some naturopathic doctors were very good as having such discussions but, again, those not LL did not have the proper tools to move anywhere with this and compassion alone does not go far without actual help to conquer the disease.

I don't care if they understood the suicidal impuslse - no one could really understand WHY, that it was ONLY because I was so sick and no one had any answers.

I had two different psychologists (at two different times) tell me during calls that were " so close to ending it calls" that I was a "cool" person -- somehow they both must have thought that I wanted to die because of low self-worth.

Nope. I already KNEW that I was a "cool" person. But the degree of illness was just too much, "cool" or not.

And, I gotta say the the suicide hotline folks were no better. No one got the part about being so sick with no answers and no doctor willing to look for answers.

So, at least the dx of lyme, et.al. helped me a lot to at least put some name on it and learn more (which none of the MDs in my state every did).


Now, it IS good to voice emotions, even the most troubling of them. Voicing give us power and brings light to the issues and emotions.

Again, only the ILADS-educated seem to be able to have such conversations.

The site linked above, "The Human Side of Lyme" should be required reading for every one who is a medical person, a family member, or a friend of - well, anyone (with or without lyme). It's an excellent place to begin to understand.
-

---

Posts: 48021 | From Tree House | Registered: Jul 2007 | IP: Logged |

lyme in Putnam
Frequent Contributor (1K+ posts)
Member # 11561


posted

---

Its a horrible feeling, I've had it for 2 years now. It does go. I've read that in some people it causes depersonalization, but I haven't been on it in over a year and I still have it. Its a horrible symptom that does clear with treatment,it has for me before, but its been a while since Ive had clarity in thinking and not the "invisible" feeling. My son did three years of treatment and he's dormant. He was 9 when he started and stopped at 12. He almost 17 now weird things are happening to him again. blood work tomorrow. Hope he feels better soon.

[ 11-11-2011, 06:57 AM: Message edited by: lyme in Putnam ]

--------------------
He took u to it, He'll you through


---

Posts: 2837 | From NE. | Registered: Apr 2007 | IP: Logged |
Contact Us | LymeNet home page | Privacy Statement

Powered by UBB.classic™ 6.7.3

---
The Lyme Disease Network is a non-profit organization funded by individual donations. If you would like to support the Network and the LymeNet system of Web services, please send your donations to:
The Lyme Disease Network of New Jersey
907 Pebble Creek Court, Pennington, NJ 08534 USA
http://www.lymenet.org/
---
Home | Flash Discussion | Support Groups | On-Line Library
Legal Resources | Medical Abstracts | Newsletter | Books
Pictures | Site Search | Links | Help/Questions
About LymeNet | Contact Us
---
© 1993-2020 The Lyme Disease Network of New Jersey, Inc.
All Rights Reserved.
Use of the LymeNet Site is subject to Terms and Conditions.
---