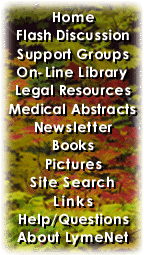 ---
LymeNet on Facebook
LymeNet on Twitter
---
---
The Lyme Disease Network receives a commission from Amazon.com for each purchase originating from this site.
When purchasing from Amazon.com, please
click here first.

Thank you.




Dedicated to the Bachmann Family


LymeNet needs your help:
LymeNet 2020 fund drive

The Lyme Disease Network is a non-profit organization funded by individual donations.

| | |
| --- | --- |
| | |
Author
Topic: Interview with Dr. from Fry Labs. Very Interesting Information. No Magnesium

lymetwister
Frequent Contributor (1K+ posts)
Member # 19590


posted

---

http://www.iadvocatehealth.org/protozoal_infection0.aspx

Kind of Long to Paste here. If you visit the site and use the control button on keyboard and scroll your Mouse at the same time, you can enlarge the print.

What do you guys make of what Dr. F has to say ?

[ 01-11-2012, 02:31 PM: Message edited by: Lymetoo ]

---

Posts: 1227 | From District of Columbia | Registered: Mar 2009 | IP: Logged |

lymetwister
Frequent Contributor (1K+ posts)
Member # 19590


posted

---

Now the link isn't working, so I have to paste it all here... weird !

Here ya go:

Part I
The following is Part I of the transcript of a recent interview with Steven Fry, MD. Some parts are somewhat technical. We have tried to provide brief definitions or explanations throughout.

Analysis and explanation will follow Part II.

Please do not expect your physician or other health care provider to know about what is covered here. You will not even find most of this information on Dr. Fry's lab's website. Understand that it will be some time before some of the remaining studies that test "causation" are completed and this information is more widely known and used.
Interview
Braman: What Iíd like to do by way of outline is: If you can just share a little bit about how you came to get into this rather unique field, what you are currently doing, what you are finding from the testing that you are doing, and what you are seeing in terms of patient outcomes -- just kind of an overview. And then in part two Iíd like to move into what you are seeing and finding relative to the lifestyle effect on these conditions and the lab findings that you are doing -- so kind of a part 1 and a part 2.

Fry: Okay. So, I first got into this area -- well, let me backtrack a little bit and give you my background. I have a bachelors degree in Microbiology, a masters degree in Molecular Biology, then I went to medical school, then I did a transition internship, then I did two years of surgical pathology, and ended up in general practice. And while I was in general practice, I got intrigued by those patients who were perfectly healthy, and then would go on a trip, or something would happen, and they would develop a flu-like illness, and they would develop what we now call chronic fatigue syndrome.

Then the real breakthrough was about seventeen or eighteen years ago when I had one of my patients who had fibromyalgia, which is very similar to chronic fatigue syndrome -- in many ways I feel like they are the same disease, or the same disease entity. She gave me a book written by Henry Scammell, I think the title was ĎWhy Arthritisí, [probably actually ďThe Arthritis BreakthroughĒ by Henry Scammell with Thomas McPherson Brown, MD] it was on the best sellers list in the early 90ís. It talked about Thomas McPherson Brown, the rheumatologist, who was one of the chief rheumatologists at Washington University. He was using antibiotics -- primarily tetracyclines -- to treat autoimmune disease. So she brought me this book, and I was a little hesitant, but I read the book and I was really impressed by it, and I said, ďWhatís the harm here putting her on minocycline? I mean I put teenagers on minocycline for acne.Ē So you know, the risk benefit ratio was huge in that sense. And I started her on minocycline, and she got amazingly better on a course minocycline. Her fibro got better, her lupus got better, and so I started to pursue that, and with more and more patients I started to use tetracyclines for therapy.

And then finally I started -- you know, there was a network of physicians who worked with Dr. Brownís former technique, and I got on, I guess, a group that was referring patients through that -- I was one of the few in the southwest doing it. And I started getting patients with lupus, and rheumatoid arthritis, and one thing led to another, and I would start doing patients with MS [multiple sclerosis].

And then about eleven years ago I was impressed by an article out of Italy on chronic fatigue syndrome, and I just borrowed money, bought a nice research grade microscope, and started developing some stains. And in about six months I developed a stain that was picking up bacteria attached to red blood cells. I thought it was bacteria at the time, turns out it was. And then we started to see ring shapes that looked very similar to malaria, but it really wasnít malaria. Anyway, one thing led to another, and it turns out that what we were looking at was actually a variety of different bacteria attached to red blood cells. Now the old coin name would be bartonella, or hemobartonella, and it turns out on a molecular level it was a lot of different kinds of bacteria. And the intracellular bacteria, or intraerythrocytic [inside red blood cells] bacteria that we were looking at really wasnít bacteria, it was this protozoan [single-celled organisms that include amoebas and the malaria organism] that weíve discovered. And at first I thought it was babesiosis, and over the years, and a lot of money, and a lot of time, turns out it was actually a malaria-like organism with an extremely complex lifecycle that forms biofilm communities in the blood, it is a blood-loving parasite. And after mapping the genome of it, and we didnít really name it until we had done that -- itís probably a new genus, in the phylum [???]. You know, similar to malaria, similar to babesiosis, even more complex genetically, sort of in between a helminth [parasitic worm] and a protozoan.

So itís really a complex organism. And because of the biofilm, and its slower rate of growth, itís really not that invasive, itís not like staph, or strep, or malaria. And it hides itself from the immune system, and hides itself from antibiotics, and likes to attach to the surfaces.

And over the years I evolved from using simple antibiotics like tetracyclines to more complex formulations that were really geared more towards malaria-like, or protozoa-like organisms. And that seemed to work a little bit better.

And then a year and a half ago I was introduced to Colin Campbell's work, John McDougallís work, and I said, ďYou know, these patients that they claim are getting much better on a low-fat diet, a whole foods plant based diet, well these are the same patients Iím treating.Ē So we started to look at that analytical level and saying, ďHey, does this organism that weíre working on basically have a fat requirement?Ē Well it does. We were able to grow it in a culture, give it fat, and it grows a lot better with fat than without. Actually it doesnít grow very well at all without any fat. And then we followed patients who went on a low fat diet, and we were able to calculate that the levels of this organism were decreased, sometimes disappearing, on a whole food, plant based, low fat diet. So, in the last year, my practice, I would have to say it is a lot more successful because Iíve combined this dietary lifestyle approach with traditional antibiotics. And thatís where I am today. Does that make sense?

Braman: So over what period of time -- what was it, eleven years -- that this has occurred?

Fry: Actually, youíd have to say that itís been about 20 years. About 20 years ago I got interested in fatigue syndrome. Now let me explain something, as I saw these patients and talked to them and got their histories, you know, trying to really dig in to the real core of this whole problem, a lot of these patients with autoimmune disease start with fatigue syndrome. Most people donít realize it, and other neurologists will acknowledge that, actually I was at a CCSVI [chronic cerebrospinal venous insufficiency] training session, at the neuroimaging center in Buffalo, and we were lectured by one of the leading MS experts -- heís there, and he agrees, a lot of these MS patients have a prodrome [preceding syndrome] of fatigue, and it is really fatigue syndrome. So I feel that, you know, there is this spectrum of disease, starting with fatigue, that leads to fatigue, joint pain, muscle pain, brain fog, myalgic encephalitis. Then these people go on to develop a really true, full blown arthritis, or lupus, or, ALS [amyotrophic lateral sclerosis Ė Lou Gehrigís disease], Parkinsonís, that sort of thing. So the mechanism of the disease is primarily for the neurodegenerative disorders, is a vascular sludging, and most probably vegetations that we can actually see in ultrasounds in these patients, and that is some work that we are very interested in, and weíre probably going to start a collaborative study with one of the centers on that one.

Braman: So with what kind of ultrasound, what kind of vegetations are you finding?

Fry: Well, they are doing -- this goes back to Paulo Zamboniís work. I think heís a vascular specialist at the University of Ferrara in Italy. His wife came down with multiple sclerosis and he wanted to find out what it was and hypothesized it was a vascular problem, and then after a lot of work developed an ultrasound technique and was able to visualize, using ultrasound, a defect in flow in either the deep cerebral veins or the petrosal veins of the brain or the internal jugular veins coming down from the brain. The next step to that was that he was able to show that in patients who had internal jugular vein obstruction or decreased flow he could go in with a balloon catheter and open this up. Some of these MS patients could get improvements and some dramatic improvements in their condition. Of course thereís a relapse rate with this that is actually quite high.

But it makes sense if itís a microorganism that is growing there and youíre kind of, you know, clearing things up -- that would make a lot of sense. So now this has been repeated by Dr. Hubbard, whoís just recently submitted a 265 patient study showing similar results. Actually, that was a 6-month study. So these patients with MS have obstruction in the flow of the brain, and Dr. Hubbard used the word ďswampĒ. Thereís reduced flow, bad flow, backflow. We feel the same way, that the brain is probably a sensitive organ or tissue. So if you change the flow environment in any way, whether it is less oxygenation, less nutrients, you are going to see some subtle changes and thus demyelination. It would be a subtle change, and I want you to know that they have documented remyelination in some of these patients where they have done this balloon procedure.

So here is a model of MS. In MS the researcher Roy Swank showed that patients with MS who are on a low fat diet, basically did not die of MS, and if they were on a regular diet they died of MS. And I think John McDougall was associated with the study, also out of University of Oregon, a five year study which should be near completion. I donít know if heís going to talk about it at ACAM meetings this week. Iím going to make sure I see that lecture, and Iím just curious to see if that data has been completed and if it shows the same thing that Roy was able to show. So if you tie in that concept with our concept it makes a lot of sense.

Now another interesting point, if we want to talk about MS and neurodegenerative disease, is that MS, there are about 75 papers dating back to the 1880Ďs where physicians and laboratorians have discovered a malaria-like organism in patients with MS. There are 75 papers. There is a review article, a medical hypothesis, a two-part article that discusses this, and actually used antimalarial drugs in the 1920ís and early 1930ís in MS patients with significant improvement. But there was so much malaria in the U.S. at that time that they concluded that they really probably just had underlying malaria, and that was the cause of their MS. So if you put all the dots together it is a very fascinating argument if you believe that, in effect, this agent could be the underlying cause.

Braman: Wow! Now when you were talking about vegetations and ultrasound, can you actually see vegetations on the ultrasound image?

Fry: Yes, and when you see these vegetations, some are valves, and actually they categorize the type of vegetations. Or actually, they donít use the word vegetations as Zamboni does, and I use that vegetation concept or idea. But there are growths, or filaments, or webs, or other structures that they see, that certainly arenít normally found in the vasculature. And if you look at Zamboniís work -- there is one you can see online -- Paolo Zamboni, you can pull it up, and there is an ultrasound and you can see the valve moving, but also you see a lot of other smaller and filamentous type material. Actually we have seen in blood samples filamentous material similar to that in patients with chronic fatigue. I think it is the same thing, and what we are seeing in the blood are really material that has just detached from the vasculature in long linear strands.

Braman: And has there been any work using -- you mentioned using a balloon to help clear things up -- what about things like thrombolytics [ďclot-bustingĒ or dissolving medications]?

Fry: Well, you know, thrombolytics are used in therapy on patients with proven vascular obstruction with clot. Now if you want to think of lumbrokinase as a thrombolytic -- you know, a lot of the alternative medicine folks out there are using lumbrokinase, serrapeptidase, and other agents like that to whittle away at these diseases. And of course you know Dave Berg who advocates a lot of this thinking, that itís really...I think Daveís old way of thinking about it is, some agents, whether itís infection or say a heavy metal like mercury or something like that was, whether it was a virus or bacterial agent -- chlamydia or whatever -- was stimulating this coagulation phenomena producing a coagulation disorder. And of course heís got the ISAC panel that he used to use to determine what type of coagulopathy these patients had and whether or not they had a hereditary disposition.

Now if you throw in this concept that these patients might have gross obstructive disease with a biofilm-forming protozoan, then itís sort of...kind of brings all this thought together. So really in these patients they have -- for instance, in the CSF of fibro patients, they have brain fog -- I think thatís due primarily to sluggish flow either through some obstructive process due to these vegetations that Iím talking about, or even just the viscosity issue with a larger microorganism forming biofilm communities in the circulatory system.

To really mainstream [medicine] this is a radical concept, but the idea of biofilm communities elsewhere is no longer a radical concept. But I think a hematopoetic biofilm community of protozoans is a radical concept. But -- you know -- we have pictures. And, you know, the pictures are pretty astounding, pretty amazing. I developed this hypothesis years ago, that this is a biofilm problem, modified for additional techniques, and... there was, right in front of us. It was always there. And again, Iím not the first to report it either.

Braman: And so the biofilm -- theyíre a web, or fibers, or sludgy blood?

Fry: Well, actually, not quite. Basically a biofilm...when we think of biofilm, bacterial biofilms... in training back in the Ď70s when I went to undergraduate school we called it ďthe slime layer.Ē And microbiologists have known about slime layers and syncytial microbes for a long, long time. And the best analogy would be to think of a slug that you see crawling around, and you know that slimy stuff on there, itís a similar material. Itís a mixed mucopolysaccharide, there is hyaluronic acid in it. And actually the biofilm is a very complex structure with a lot of function attached to it. And so DNA is the -- I think the ďrebarĒ for biofilm. DNA is not only an informational molecule, it is also a structural molecule. So with this rebar of DNA, thatís basically a grid system. Secreted are mucopolysaccharides, peptides, that sort of thing. So it is able through the biofilm -- it can actively transport nutrients in and export noxious byproducts from metabolism out.

The only problem is that it also excludes antibiotics and drugs. Also biofilms prevent the microorganism from being even seen by the immune system, and we think that is whatís going on with these patients. So if you have ever heard of the Jarisch-Herxheimer [clinical worsening due to the infectious agent dying off] reaction, we think what is going on in a Jarisch-Herxheimer in these patients.... I mean usually when you treat these patients with drugs, say a lupus patient with Plaquenil, they feel terrible initially and it flares up their disease. So whatís going on in that particular situation, I believe, is that the drug is getting to the organism somewhat and weakens it enough so that its antigens are exposed on the surface, and system can see this enough to produce a profound inflammatory response. And I think that is what the Jarisch-Herxheimer actually is.

Itís not necessarily cellular death; itís really the cytokines produced by the immune system trying to destroy the pathogen, but it canít really get at it very well. And a real limitation to therapy is this Jarisch-Herxheimer reaction or inflammatory response. And, possibly, if we found the greatest drug in the world to kill this microorganism, the use of this drug would be limited because of this profound inflammatory response once you start to get at that organism.

Braman: How are you currently treating this and what results are you seeing?

Fry: Well Iím actually pretty conservative, Iím really kind of the McPherson BrownÖ you know, go slow, steady, conservative approach. Letís not get people so debilitated they canít go back to work. Almost all of these patients are low in Vitamin D. So the first thing I start patients on is Vitamin D. Some patients start Vitamin D -- they get ill when they start, then they start feeling better. So, in terms of nutrition, vitamin D. And then I put them on a low-fat diet. And the amazing thing -- the majority of my patients who initiate an ultra low-fat diet have a Herxheimer reaction. So we can actually explain that now because weíve weakened the microorganism. It probably needs fat because of this high energy requirement to produce this biofilm in a harsh host environment, and as we restrict fats it weakens the organism, the immune system can see it, and we get a flare.

A lot of my patients have a flare reaction, or Herxheimer reaction, when they change their diet to a low-fat diet. And then I start with tetracyclines -- usually doxycycline or minocycline. I like those two because it hits a lot of other microorganisms at the same time. Theyíre pretty safe, theyíre inexpensive, and both drugs are also antimalarial drugs. Theyíre used prophylactically and for application for treatment around the world for malaria. So they actually have antiprotozoal activity that most people arenít aware of.
Then I proceed to azithromycin because that seems to work in some patients. Itís a safe drug. You can take it for long periods of time without major problems. And then on to more of the traditional antimalarial drugs like Plaquenil in combination with tetracyclines -- thatís been done for a long, long time. I think the hesitancy in the rheumatology community for minocycline or tetracycline: 1) is theyíre not sure how itís working, and 2) these patients have a flare or Herxheimer reaction thatís very hard to manage. And that may be one of their observations, not really understanding the underlying mechanism and whatís going on there.

I thought for a long time these patients may have had babesiosis because it seemed to look like it in the microscope and I was using azithromycin and atovaquone and patients have profound Herxheimer reactions on that combination, but once they get through it they seem to actually do very well. And weíre always looking at other drugs in the laboratory, and thatís another story -- what drugs seem to work in the lab. I donít think our model of disease is developed enough...we use microtiter plates, weíre able to culture it. I just donít think our model of disease is good enough yet to make great conclusions as to invitro [in the lab] sensitivity. Iím pretty sure that people have different strains of this microorganism. One drug might work on one person, and not on another person. So I suspect that there are really significantly different strains of this organism out in the community.

Braman: So you are able to culture this and grow this in the lab?

Fry: Oh, no, we can grow it. There is no question we are growing it. So weíre growing it quite well, itís just that Iím not really happy -- there are a lot of technical issues with drug sensitivity. A lot of these drugs require second order kinetics. They have to go through the liver, so it is just a matter of time and money to really get serious about doing drug sensitivity studies. But we have some interesting data created now, and confirmed by PCR [polymerase chain reaction Ė a technology for measuring very specific DNA sequences] so.... Really what we developed is a biofilm assay for this organism, I mean, thatís really what weíre measuring now. And those studies are really backed up by PCR, quantitative PCR.

Braman: So are you actually able to eradicate it in people, or is it an indefinite...?

Fry: We cannot eradicate it in patients, as far as we know, and we cannot eradicate it completely in the test tube yet with any known agents that could be delivered in therapeutic doses. Now we have some patients who are feeling very well, who, where by our normal procedure, we canít find evidence of disease, but if we go through a sample and keep looking, and looking and looking we can find some. Most patients that are ill, with our technology itís very easy to detect disease. These patients that are doing much, much better, who are on a low fat diet, weíre able to find it, though rarely in those patients. So I cannot say that we have eradicated it in any patients. My patients who do great, who are on a low fat diet, if they start eating a regular American diet again, they relapse. So I have not cured anybody.
Part II
Braman: So how does it compareÖgive me some kind or picture or sense of what percentage of people with what conditions are you finding this in, and how does that compare with normal, or people who donít have these conditions?

Fry: Well, thatís an excellent question, and that is actually the purpose of the Phoenix Study. Weíre trying to go through IRB approval for this study, a 390 patient study. Ninety patients consisting of 30 with CFS, 30 with MS, and 30 with ALS, compared to 300 normal controls. Now we find this organism profoundly in everybody with autoimmune disease. Now you have to consider the spectrum of autoimmune disease. That includes diabetes [type 1], MS, probably ALS, autism is considered an autoimmune disease in some circles, lupus, rheumatoid arthritis, sclerodermas, sarcoidosis, chronic fatigue is acknowledged as a possible autoimmune disease, I am sure it is, and fibromyalgia. So we have a lot of people out there with chronic inflammatory disease who I think have this. I think weíve got now probably 20 or 25 different categories where we are able to isolate this organism. Where we are fully convinced that this is the cause of their disease because when we are able to knock down this microorganism in their blood, their symptoms resolve, and sometime resolve dramatically. So we have a cause-and effect confirmed by microscopy and PCR in these patients. So we think that is the cause of their disease.

Now the question is, what is the incidence or prevalence of this microorganism in the community. We think it is very high. In that study we recruited 300 normal controls. Now our criteria, this is probably the most difficult part of the study, recruiting patients who are perfectly healthy with no complaints. I think the older our patient population gets itís going to be much, much more difficult to find individuals who really do not have chronic headaches, chronic fatigue, chronic joint pain, and a lot of these other symptoms. And they have to be perfectly healthy with no complaints, on no medication, and no history in the past of having any of these autoimmune diseases. So it is a really tough challenge.

So, if we believe that mosquitos are a prime vector, and we have proven mosquitos carry it, mosquitos are all over. We actually have this kind of ballpark guess, you know, in the population, we think 10 to 20 percent per decade of life is the increase or acquisition level of this micro-organism in the community. So we think a lot of normal people have it, but maybe genetically inclined to where in their immune systems handle it, maybe diet and exercise play a role, their own immune systems and their genetics play a role in this. So if it is true that this is the cause of lots of cardiovascular disease, when you talk to a cardiologist they say ďHey, the event that caused this cardiovascular disease we think happens by the time people hit the age of thirty.Ē And if this is the same phenomena then that may be right. It may be our estimate of 10 to 20 percent per decade, is too low. Maybe it is higher. But we think it is a ubiquitous pathogen all over the world.

Braman: All over the world?

Fry: Yes.

Braman: And you said that you have pretty much proved that it is found in mosquitos, and/or transmitted by mosquitos?

Fry: I canít say transmitted. Thatís a whole Ďnother study. I would need some animals to do that study. That requires money; animals are pretty expensive. If you want to get it published, youíve got to do it the right way. I think we were going to look at four Guinea Pigs for four months; that was around $10,000 for that little study, just for the animals from an animal resource at the nearby university. We actually did the study. We went down to an area in the Phoenix metropolitan area where a lot of people are getting chronic fatigue, I know, cause Iíve been taking care of patients here in the community for the last twenty years. We then caught, I think we caught about 20 or 30 mosquitoes. 81 percent of the mosquitoes, two different species of mosquitoes, were PCR positive for protomyxoa. That is the name of the organism. So mosquitoes certainly have itónow whether they are transmitting it, you know, and whether they are a vector or not, thatís a whole Ďnother issue. And I donít know how transmissible it is by a mosquito bite.

Braman: Is there any indication of any other source, or transmission?

Fry: We suspect, oh, I have a number of patients who really seem to get sick after what looks like water or food contamination. And then Iím convinced that ticks are certainly a vector. Two out of two ticks that weíve tested were positive by PCR. We now have a nurse in upstate New York. Weíre going to start a one hundred tick sample study, hopefully weíll get a hundred ticks from the area of upstate New York. Weíre actually going to run a number of different vector borne disease assays looking for babesiosis, ehrlichiosis, anaplasmosis, rocky mountain spotted fever by PCR, and protomyxoa by PCR, and survey that population of ticks. This will all probably be from the same general area in upstate New York. So we will get a larger tick study in that one area to see if they actually carry it.

Braman: And has the, what you called protomyxoa, is that an internal name or has this been officially recognized in some standard process as a new bug?

Fry: That is a, we think it is at least a new genus. Itís maybe a higher order, and we can find nothing similar to it that is close enough genetically, so actually that is the name we developed. It was a scientific name we developed or came up with. Protomyxoa is Greek for ďslime forming protozoanĒ. And we call it protomyxoa rheumatica because we think it is associated with the autoimmune or rheumatic disorders. We have not submitted our DNA database, or our DNA map to the international registry for IP [intellectual property] reasons. We are a private diagnostic laboratory; this is our technology, and we just havenít done that yet. We are protecting our trade secrets and technology. Eventually this will get out; thatís our plan, thatís our intention. We plan to partner with one of the major institutions for validation. It just takes time and money.

Braman: So how far away do you think you are from this hitting mainstream knowledge and use?

Fry: Well, one of the problems is publications. We have a very small publication. We presented this information at the 2009 Biofilm Meetings. And we had no problem getting our abstract accepted. Weíve submitted this article really in fuller form to four mainstream peer-review neurology journalsóthis is a study in ALS; that is one of our main interests. And they have declined to review it, or theyíve rejected it. And one of my colleagues is the former editor of one of these journals, the former president of one of the national societies, he says, ďLook, this is too political, too new, really a radical concept.Ē And actually the CCVI information showing obstructions in MS patients is now considered a very radical concept. So it is just going to take time, and we realize that. So now we are looking at lesser journals, reconstructing that small paper to get that out. And of course, larger studies we have on the books, we are trying to get IRB [institutional review board Ė a system for ensuring the ethical guidelines are followed in medical research] approval for a number of studies right now. And that takes time and money. But we just keep plugging away at it. We are almost done, we are using one of the larger IRBís, institutional IRBís available for groups like ours. And we have a consultant with them, and we are designing a study, and it is pretty much, itís almost done, it has some rough edges to clean up. Then weíve got to pursue additional funding to make that project happen. But that is in collaboration with two neurologists in the Phoenix metropolitan area.

Braman: So you are getting some uptake in the traditional system?

Fry: Sure, yeah, and I have some of my colleagues that are patient, theyíre open-minded. And, you know, when you show someone one these pictures, that we get from some of these patients, itís really pretty amazing. Itís hard to believe itís there, it is hard to believe these patients are alive with that kind of infection. But if you understand the underlying disease process, you can understand why they are still alive with a disease like this. They are not well, they donít feel very good, but, you know, they are able to stay alive. And we believe this is chronic inflammatory disease.

Braman: So have you sequenced the DNA of this organism yet?

Fry: Actually weíve mapped the genome and filed an IP on that, but weíve mapped the genome, yes. And that is how we know where we can place it phylogenetically, and know it is new, and know it is unique.

Braman: Interesting. So if you have gotten to the step of actually sequencing the whole genome, you know you are dealing with an actual bug. Not just in pictures, as impressing as that might be. But if you have the DNA in hand, and it is consistent, and it is mapped, then you know you have a ďcritterĒ, if you will....

Fry: Right, and so really the gold standard in microbiology today is the molecular signature, well, we have that now. And not only do we just have a signature for a portion of the genome, we have the entire genome mapped. At least, an isolate from one patient. And with that information we know it is unique, itís not like anything else. Actually it is probably close to a couple other organisms, but not close enough to say that itís probably in the same order, same phylum, but not the same order. And really, this type of organism we think is a little different than what we are used to dealing with genetically. And it is just a unique organism. Itís a slime forming complex protozoan, trying to become a helminth [parasitic worm], trying to become a worm. And that may suggest why it is really resistant to a variety of different medications. Itís a tough bug. It has a lot of gene sequences that are very, very similar to human. And that is probably the confounding aspect to it. Because it has resiliency of human tissue, and it has similar requirements. And this is probably an organism that developed over the eons and borrowed genes from itís hosts. And, you know, kept some that it liked, and discarded some it didnít like. And of course itís got itís own genetic information, and itís, you know, itís progenitor with some ameba, or some protozoan in the past. But it is a little more complex than say, malaria or babesiosis genetically. Actually it is sort of in-between, again, a helminth and a malarial type organism.

Braman: And has this been.... you mentioned you have found it in mosquitos and ticks. Do we have any reason to think that this may be in peopleís dogs and cats, or cattle and chickens, in this country?

Fry: Actually, we did a study on one of my employees, the spouse works in a veterinary lab, and we were able to get random samples. And, dogs have it. And actually, the older the dog is the greater likelihood of having this organism. Younger dogs donít have it, the older dogs have it. And so we think the same thing we will find in humans. Younger humans donít have it, older humans do. So, that was a small study, about eight or nine dogs, one cat. Actually, we looked at one cat, one cat did not have it, the cat was two years old. But the dogs, the older dogs had it, the younger dogs didnít.

Braman: Interesting. Now if this.... If everything ďpans outĒ if you will, and gets out there, this would be a phenomenal impact on health and healthcare.

Fry: We think so.

Braman: What do you see in the future for this, and I mean, how do you think this is going to impact healthcare.

Fry: Well, for most patients, most of the healthcare dollar is spent on taking care of chronic inflammatory disease. Diabetes, cardiovascular disease, the autoimmune diseases, you knowówe think the mechanism is again, slugging or clotting. So for instance, in the type-two diabetic, you might like my model of why a low fat diet works. And Iíve seen it in my practice. So patients with type two diabetes, non-insulin dependent diabetes, if you put them on a low fat diet, their diabetes gets better, and sometimes they can go off their medication completely. So our model of this disease is that vascular slugging, and deposition of plaque occurs, and I said the word plaque, and this is what biofilm communities do, they form sludge, or plaque, or growths. And this is producing slugging and clogging up the small vasculature and capillaries leading into these, into the islet cells [cells in the pancreas that produce insulin]. So if you sort of clean.... You know, the islet cells arenít dead. If you clean things up, if you restore flow, then you get endocrine function again, and you get insulin production again. And I think that is the phenomenon that we are seeing in these patients who go on an ultra low-fat diet.

Now in the type-one diabetic, I think what they doóyou know, if you talk to type-one diabetics, and Iíve actually seen this in my practice, usually they have this flu-like prodrome before they go into crisis, and they develop insulin dependent diabetes. I think those individuals probably get this organism, and it basically strokes out their islet cells, and they lose insulin functioning, insulin capability, completely. And so if we look at this, maybe we can vaccinate people against this organism, and then we may be able to eradicate diabetes, we may be able to eradicate cardiovascular disease, we may be able to get rid of autoimmune disease. That would extend the natural lifespan for many, many years in humans. So that is the implication of this, we think. And we get surprised all the time with new information.

So here we have a ubiquitous micro-organism that seems to accumulate as time goes on, and it really wasnít a problem when life expectancy was probably in the 40ís and 50ís, which wasnít too long ago. But now, as we have older populations that are in their 60ís, 70ís, and 80ís, they are dying of heart attacks, they are dying of strokes, they are dying really of autoimmune disease. And so now this organism becomes a much bigger factor as the population ages. And it becomes really more important, so... I mean earlier humans were dying of infectious diseases primarily, now humans are dying from other diseases, and we think this organism could be the underlying cause.

So it has a lot of implications for healthcare. For example, what if we started treating autoimmune disease patients more aggressively with anti-malarial drugs and diet. If you could really make the rheumatologists and the neurologists believe that, hey, this is the cause.... So listen to what Roy Swank [MS research who showed that a plant-based low-fat diet was of large benefit to many MS patients] says, lets put everybody on a low fat diet, lets emphasize that, why donít we try them on a course of minocycline or doxycycline. You know, minocycline is already in the literature worldwide for treating MS, ok, this is not something new. What if we got a little more aggressive with some of the chloroquines, the problem again with practitioners who have tried this in the past, Iím sure, is this Jarisch-Herxheimer reaction.

Braman: So on a scale of potential impact this could be huge. I mean this could be one of the biggest medical breakthroughs in what, the last century...?

Fry: Well, itís possible, but only time will tell. We are very convinced this organism exists, we are very convinced that we can alter its disease course. Again, when we show a dramatic reduction in this by PCR and by visualization in the blood stream, we see clinical improvement in patients, sometimes dramatic. So here we have an organism cause-and-effect with intervention, and if weíre right, then a lot of people have this disease, and, you know, we really just call it ďchronic inflammatory diseaseĒ. We donít really know what the underlying cause is. Well this could be a new cause. So it has wide implications.

It is just a matter of time, and work, and money to get these publications out and these studies done. And then to win over our critical colleagues to get this published. I mean here, you know, the fellows who review papers and all thisóyou know, itís a club. And when you come up with a radical concept, they have to protect their turf and their journals, and their way of thinking about things.

I remember talking to Barry Marshall before he got his Nobel Prize years ago, and he went through a lot of flak from saying that H. pylori [bacteria] was the cause of ulcers. Not a radical concept, but in those days it was. And when I was introduced to Barryís work in what was it, Ď80 or Ď81, I think that he was kind of frustrated, but people started to listen to him. So any new concepts are difficult. The thing is, if you put it in perspective, and you put all this information togetheróI mean physicians, writers, and researchers have been saying this for over 100 yearsóyou know, this is not a new idea. This has been out there a long time.

Braman: They have been saying what for one hundred years?

Fry: Well, you know, at least in the case of MS, writers have been saying that it was a malaria-type organism for over one hundred years. So, Iím not the first one to say that a process like this is going on.

Braman: Right...

Fry: Yeah, it is just that we have done a lot more in developing techniques to basically get a high yield on anybody that has this organism to say they have it. And that is the main focus of our laboratory, coming up with more tests to define the organism for clinical diagnostics and clinical therapeutic purposes.

Braman: I rememberóI donít know if I mentioned it to you beforeóbut there was one point where I was seeing as a patient a nurse who used to run research projects for a major medical university. And she became ill. She saw all the specialists. Nobody could help her. So she started looking, and eventually figured out some fairly alternative stuff that made it so she could function. So when she came to see me, we ran a bunch of tests, and again, I had been looking at a lot of other stuff for years trying to help people, and dig beyond just the typical. And I found a lot of evidence for chronic infectious agents, and/or coagulation issues. And I still rememberóI used to process the specimens myself, I would draw it, I would process it, I would separate it, etc.óI was stunned that this ladyís test came back negative for the things we were testing. But what really stunned me was that after I spun her blood and went to separate it, it was stringy. I mean it was literally, visibly stringy.

Fry: Yeah, and that stringy stuff is not clot, itís protomyxzoa in filaments. Weíve seen it, too. And weíve actually taken that stringy stuff from blood and looked at it under a microscope, done a PCR analysis, and thatís actually a linear biofilm community, filamentous, of protomxzoa. There are actually other organisms embedded in there, but it is primarily protomyxzoa. So what you are seeing is this organism.

I have to tell you, I was talking to a patient in the summer. He wasnít my patient, someone elseís CFS patient, a real sick fellow. And he said ďYeah, when they draw my blood all these stringy things come out. The nurse just said it was a clot.Ē And I said, ďNo, thatís probably this micro-organism, that filaments are there.Ē So you can imagine that in the vasculature, you know, getting in the way, producing chronic inflammation, reducing flow, and that can make you pretty sick, tired and exhausted.

Braman: Is there anything else that you think would be helpful for people to understand about what you are doing? Clinical pearls, perspective...?

Fry: Well, one of the things that I find very detrimental overall, and this is very controversial in the alternative community, is that a lot of practitioners are prescribing mineral supplements. Magnesium, ok, and it seems to make people better for a little while. But magnesium is a major component of biofilm, so we feel and observe that when patients are taking magnesium supplements I can never get them any better with antibiotics or any sort of therapy, and when I take them off their supplements eventually they seem to start getting better. And so magnesium as a supplement to these ill patients dramatically enhances the biofilm forming capability, and basically you are building armor around this micro-organism. So in the short term, when you give magnesium to these biofilm communities you hide them even more from the immune system, so you get a relief that is less inflammation. But in the long term you are building up slugging, more biofilm, and enriching that community, which makes it harder and harder to get rid of. So again, this is very controversial, I get a lot of criticism for this. But I think in the long-haul Iím going to be proven correct in this analysisóthat the supplements really arenít good for people. And I donít know if this is a pearl or not, but that is just one observation.

Braman: Oh, absolutely.

Fry: Yeah, I observe that clinically, and then becoming a biofilm educated microbiologist, I sort of put it together, and now there are actually a couple of studies that confirm this in biofilms, exactly that. So what the magnesium does is it stabilizes the DNA and actually becomes an integral portion of it. There is a biochemistry behind it.

Braman: Very interesting. Any other pearls or insights?

Fry: No, just need more time and more money (laughs) for our studies and eventually we will get there. Right now, weíll primarily support it by revenue coming in from our laboratory running these tests, and weíve had a few very generous individuals that have helped out somewhat. We just got a small grant actually from the Coulter Foundation. And they are watching us now, and hopefully that will grow a little bit. But again, we have to produce some data, and of course we have to go through IRB approval to generate data on large numbers of patients. We are working on that and hopefully we can stay ahead of the game and keep the funding and the project going. And I think we will.

I think there is enough interest now in the community to where doctors have been sold on this idea, they are very curious, they want to order these tests on the patient, and we can show them photographs and DNA data that show they, indeed, have an infectious agent. And the question is the frustration with therapy. Itís very difficult to treat, and it is hard for most practitioners to convince their patients to change their diet. So that is a big stumbling block. So I think eventually that diet is helpful, but we are going to have to come up with a drug that works where people wonít have to diet. And then a method, of courseóthe linchpin is a method of reducing their inflammation during therapy. And this is the hardest thing to get patients to go through. Some patients start to flare, and then they say, ďThatís it, Iím done. I donít want any part of this.Ē So, itís an obstacle.

Braman: So how do you spell protomyxzoa?

Fry: Ok, so itís p-r-o-t-o-m-y-x-z-o-a, protomyxzoa. And thatís Greek. And thatís our name. We filed that with the patent office in connection with the gene sequence. And we are probably going to file that within the next 12 months in the international databases. We could be wrong; I donít think we are. Itís just Iíve got some very good people working with me. We have three different technologies now, with actually a fourth one coming online soon, that say this is what it is and it makes a whole lot of sense. And if you go back and pore through the literature there is a lot of supporting research done on what we are saying. And now we have this macroscopic evidence thatís pretty amazing, and that puts the puzzle together. And again, the traditional techniques for looking at blood, traditional molecular techniques for analyzing blood, donít work. This is the big struggle over the last decade. And getting this technology together it was not obvious.

Braman: And why donít the traditional techniques work?

Fry: That is intellectual property.

Braman: Oh, ok.

Fry: Thatís the trick. There are a number of tricks, and it took a long time to figure out the tricks. We can reliably now detect this organism in people that have it. Weíre very convinced of that. And we are actually coming up with better ways. The real problem is going to be, if you are getting a patient a lot better and canít find it through the techniques we develop, do they still have disease, when can you stop therapy? And that is our goal right now in therapeutic diagnostics, thatís where we are going with this. But the diet is huge, lifestyle modification, diet, exercise, get in the hot tub, get in the steam room, get rid of all the sugar, you know, the high fructose corn syrup, get rid of the fatty diets. And some of these patients have dramatic improvements with lifestyle changes. I have people who donít want to take antibiotics. They change their lifestyle, they do get better. So you folks are on the right track.

Braman: And you said steam rooms and saunas. Are you finding those helpful?

Fry: Yeah well, you know, the ancient Romans, the American Indians, the Swedes had this figured out a long time ago. This disease has been around forever, and you know, it is like my handyman who is in his late 60ís says: ďWell, why do you do the hot tub everyday?Ē cause it makes me feel a whole lot better, okay. So I think that this organism probably has an intolerance for heat. And we know that when we heat the body up we get vasodilation, that probably improves blood-flow, and also it probably has an effect on the immune system. It probably blunts some of the inflammation. So that is another adjunct that I recommend my patients do one of those modalities, and it seems to help.

Braman: Excellent.

Fry: Again, thatís lifestyle modification.

Braman: Absolutely. Hey, I want to thank you so much for taking the time to do this.

Fry: No problem.

Braman: Iím excited about this. I think itís fabulous, and I think itís the kind of thing we need to do in looking at things from multi-modal perspectives, and putting the pieces together.

Fry: You know Iíve tried to stay open minded here and tried to fit this all into a model, and it seems to fit.

How You Can Participate
1. Financial support. It is your donations that make the wheels turn.
2. Sign up for our email communications.
3. Follow the Institute on Facebook and/or Twitter.
4. Tell your friends.
5. Be ready to participate when we start doing "Social Learning".
Written 11/21/11 and 11/28/11.

---

Posts: 1227 | From District of Columbia | Registered: Mar 2009 | IP: Logged |

feelfit
Frequent Contributor (1K+ posts)
Member # 12770


posted

---

already posted by Bea Siebert.

---

Posts: 3975 | From usa | Registered: Aug 2007 | IP: Logged |

seibertneurolyme
Frequent Contributor (5K+ posts)
Member # 6416


posted

---

As to the question of magnesium -- my opinion is that if it makes you feel better then it is probably helping you. That is pretty much my approach to all supplements -- if you can tell a difference from taking the supplement then I would say take it.

Remember this is only one doctor's opinion regarding magnesium.

As to the biofilm -- that is still unproven from a scientific viewpoint. None of the docs research has been published in medical journals at this point. Not saying he is or is not correct -- just that it is mostly all theoretical at this point.

But need to remember that he is saying that the F bug -- FL1953 or protomyxzoa is what is forming the biofilm. Not everyone that has lyme and tickborne diseases has that particular coinfection.

Actually from reading the article I am pretty convinced that hubby actually has some species of babesia and not the F bug. We have never paid the $500 plus to test for the F bug specifically.

Also this is a question I had asked previously and I still don't think has been answered. It all goes to causation versus correlation. If people restrict fat in their diet they also generally are restricting iron and folic acid -- meat is the primary source of iron especially.

Protozoa such as babesia and malaria and FL1953 would need iron and folic acid as well as fat. If restricting fat helps it could actually be the reduction in iron or folic acid that is killing the bug. Regardless -- I have a real hard time believing that a change in diet could starve out the bug and actually kill it.

I would advise anyone to discuss need for magnesium or fat in their diet/supplements before making major dietary changes. The good fats are critical for brain health and nerve function.

Hubby has never had major neuropathy issues, but he has seen his mild peripheral neuropathy in his hands improve by the addition of oral phosphatidylcholine to his diet. He has had this symptom off and on over the years but even adding flagyl to his meds has not made it worse if he stays on either phosphatidylcholine or lecithin.

There is at least one journal article stating that babesia robs the body of phosphatidylcholine. So is he feeding the babesia -- probably, but the alternative of permanent nerve damage is not one we are willing to risk. If he was not currently treating for babesia then taking the supplement might be a bigger problem in my mind.

This is not medical advice, just my opinions based on hubby's experiences.

Bea Seibert

---

Posts: 7306 | From Martinsville,VA,USA | Registered: Oct 2004 | IP: Logged |

GiGi
Frequent Contributor (5K+ posts)
Member # 259


posted

---

This article was linked on another thread yesterday. Yes, it is interesting and puts emphasis on the CCSVI, a problem that is not new.

Due to the recent death of my husband, I had reason to do the CCSVI intervention myself and I can veryfy much of what Dr. Fry expresses in this interview. Remove/activate/pushthrough the biofilm.

I feel wonderful. The fear of obstructed jugulars and azygous vein has been taken care of. A further next scanning will hopefully show the areas open and blood flow unrestricted, without backflush.

I was alerted to this because my husband had the scanning done a few months before he passed and it looked pretty severe. That got me curious, and I did the Ultrasound scanning and found I was even worse, though peripheral areas had taken over the work of the plugged up veins. After all, I had active Lyme starting in 1996. After my husband died now a couple months ago, I did not wish to live with that problem, because lack of blood circulation into the brain and central nervous system is not conducive to keeping the brain healthy. I felt good, but started to have swelling of lower leg and blood pressure irregularities, which was a problem I never had even during my worst lyme years fifteen years ago. I felt eventually, even though I felt great, without any Lyme symptoms, hampered ciruclation would catch up with me. I loved my husband, but I am still ready to live a while longer - in a healthy way!!
Dr. K. tells me they dealt with biofilm when he was still in medical school several decades ago.

I did not want to supply a hiding place for any leftovers of dormant critters. I did the treatment on the very day I celebrated my 80th birthday at the Centennial Imaging Center in Las Vegas, with a group of doctors that I had known about for quite some time. Irregular blood pressure could easily be explained away with a beta blocker and so could occasional swelling, occasionally more severe swelling of legs/ankles/with old fracture. Not for Dr. K. and not for me.

So for now it is taken care of. I will be re-scanned within a few weeks to see what if any changes. The swelling of my legs is totally gone, starting within days of the procedure, and my blood pressure is settling down into normal territory.

I took abx for a few days, and bind metals that are always a part of any mobilization, keep blood thinned/circulated with Aesculus and some other stuff keeping circulation strong in the outer peripheries, mainly legs and feet where metals always try to settle (followed by the bugs). I have no reaction to anything except I can feel the muscles in my face getting tighter at times - hopefully it will wipe out the wrinkles! I had always assumed that I had to live with the residuals of damaged facial nerves/muscles. But who knows. Dr. K. did his Neural Therapy the next day on me supporting the nerve ganglia to release neurotoxins.

I started back into Jane Fonda's new "Walk Out" and her other DVD's she recently came out with and I enjoy them immensely. Just what I needed -- get moving! I don't care for running off to gyms and have prepared a permanent area in our home where I turn on a small tv and do my 20 minutes before breakfast.

And I will continue to eat fat and I love some reasonable sweets - I doubt that any brain can live without them!

Yes, I believe CCSVI is a big handicap for us.
I wish my husband had had enough time to do the intervention, but I know he is smiling down on me for having it done.

We will most likely not ever know all the different critters hanging themselves onto our DNA. It is obvious that it is neither of the many that we know of. They all are masters at changing and it doesn't really matter. We need to change the terrain. Even Dr. B. had to face cancer eventually, and Dr. K. just lost his former wife to cancer shortly after my husband passed.

Life goes on. Do what you can to avoid and work on the biofilm. I will keep you posted what my veins look like in another month or so. We do know that the toxic load (parasites, metals, bugs) has to be reduced considerably before attempting the CCSVI clearing to gain the lasting benefit.

Take care.

P.S. I have not taken any amount of magnesium in a long time. If digestive system works and the right foods are taken and absorbed, supplements often cause more problems than we want. I totally agree with Dr. K. and with the comments in the article. The effort has to be focusing on the deficiencies that are present at the early stages of the disease and correcting them. That does not mean we have to take tons of supplements every day. We become "allergic" to most of them; i.e. the body cannot regulate them or put them to use. They get deposited somewhere where they are not needed. Energetic testing will tell every day what we need or don't need. When I use my sunlamp in the dark season for 15 minutes, I definitely get a "no" that day or the next day when I test D3.

[ 01-03-2012, 05:29 PM: Message edited by: GiGi ]

---

Posts: 9834 | From Washington State | Registered: Oct 2000 | IP: Logged |

nefferdun
Frequent Contributor (1K+ posts)
Member # 20157


posted

---

So I am going to get serious about the plant based low fat whole foods diet. I have been inching my way there telling myself chicken is better than red meat and a little dairy is not going to kill me. Thanks for this article. I am doing this!

I have not kept up with Fry. Is this the BLO that he used to be studying? This thing would be in addition to babesia duncani, ehrlichia and borellia that I tested positive for. No wonder I never recover.

--------------------
old joke: idiopathic means the patient is pathological and the the doctor is an idiot


---

Posts: 4676 | From western Montana | Registered: Apr 2009 | IP: Logged |

lymetwister
Frequent Contributor (1K+ posts)
Member # 19590


posted

---

So, here is my Question:

I had CCSVI and was 90% and 60% occluded. My Azygos vein was "Webbed". All 3 were fixed. I never felt better at all.

I have the WA1 Babesia Duncanci. Is it possible to have this other bug too ?

Might make sense why I feel so sick all the time. Since I'm back to Rife, I would think I could hit everything/anything. Who knows ?

Sorry for the re-post, I missed the first one.

---

Posts: 1227 | From District of Columbia | Registered: Mar 2009 | IP: Logged |

NanaDubo
Frequent Contributor (1K+ posts)
Member # 14794


posted

---

Fry labs can do the testing for the "slime producing protazao" -

check your supplements for magnesium stearate - usually made from GMO and often rancid palm oil. I have read that can greatly contribute to biofilm.

I have taken a little dose of Rechts Regulat daily for 3 years and my doctor is having me take Beyond Balance biofilm treatment for the last 6 months. We will see if that will be enough.

Thankfully Jane Fonda's new Walk Out is gentler than her old workout from the 80's!!!!!!!!! Keep up the good work Gigi.

---

Posts: 1129 | From Maine | Registered: Feb 2008 | IP: Logged |

seibertneurolyme
Frequent Contributor (5K+ posts)
Member # 6416


posted

---

Nefferdun -- no this is not the same as the BLO or bartonella like organism or haemobartonella. That is a bacteria. I think the F lab sort of abandoned study of the bacteria when they discovered this new protozoa. There is a very brief mention of the bacteria somewhere in the article.

Lymetwister -- I do think it is possible to have both babesia and the F lab protozoa. And I think to some extent they may each require slightly different treatment. Just like with all the coinfections -- there is some overlap in symptoms and meds. That is what makes it so complex to identify and treat.

Actually one of the things that convinces me hubby actually has babesia is that babesia meds (both malaria and anti-parasite meds including ivermectin) actually just make him feel better and make symptoms go away. He has very little herxing or inflammatory response as doctor F seems to indicate happens with his protozoa.

But then again hubby has been treating with high dose lumbrokinase for a couple of years now so maybe there is less opportunity for anything to hide out in his bloodstream.

If Clongen strikes out with the remaining tests then we may actually try to come up with the dollars to do the F lab testing. Hubby and I would really really like to have a more definitive DNA i.d. of just what infections he is dealing with.

Bea Seibert

---

Posts: 7306 | From Martinsville,VA,USA | Registered: Oct 2004 | IP: Logged |

GiGi
Frequent Contributor (5K+ posts)
Member # 259


posted

---

Quoting Lymetwister, "I had CCSVI and was 90% and 60% occluded. My Azygos vein was "Webbed". All 3 were fixed. I never felt better at all."

Lymetwister, What did you do with the mobilized neurotoxins/bugs that you started to clear when you had the Intervention? Were you treated to clear them out of the system?

I tested positive with energetic testing right after the procedure for every critter that I thought I had gotten rid of years ago. It lasted about a week, with little actual typical symptoms.

But I take preventive abx, several, for 20 days, and I support the blood circulation in any way I can. First Heparin in capsule form (a fairly new med) for a few days and then Boluoke and other circulation support.

The intervention for me was done at Centennial Medical Imaging in Las Vegas with a Siemens MRI Scanner and an associated surgical center nearby. Originally, my first scanning was done locally by one of the Vascular Access places with Ultrasound only. But I was advised to go to Las Vegas where they use this specific Siemens equipment for scanning and treatment.
I would have loved to watch it while it was going on, but felt every move in a very gentle way as it was being done.

Restenosing is a possibility. But I would do it another time if I had to. So far, all signals are go Ė I got rid of some very bothersome symptoms within days of the procedure. The high blood pressure scared the daylights out of me! and donít know what was worse Ė swollen ankles and possibly injuring myself and not healing Ė the infamous open leg and/or on the road to a stroke.

I walked through the gambling casinos passing by many oldsters with walkers, in wheelchairs, smoking their pleasures, men wheeling their wives and the other way around, but I refrained and bought some books for my grandchildren's Christmas. Different worlds.

Take care.

To learn more, you may want to go to the Betterhealthguy.com - and read the CCSVI Summit Notes he took. Super job. I posted them several months ago. Interesting reading.
http://web.me.com/thriiive/CCSVI_Summit/Notes.html

[ 01-03-2012, 07:36 PM: Message edited by: GiGi ]

---

Posts: 9834 | From Washington State | Registered: Oct 2000 | IP: Logged |

randibear
Honored Contributor (10K+ posts)
Member # 11290


posted

---

so hmm, is this a yes or no on magnesium??

--------------------
do not look back when the only course is forward


---

Posts: 12262 | From texas | Registered: Mar 2007 | IP: Logged |

GiGi
Frequent Contributor (5K+ posts)
Member # 259


posted

---

If magnesium is needed, try magnesium glycinate.
And avoid all supplements that have magnesium stearate in them, as a filler, that normally is listed on the container. Almost all supplements have either mag stearate or titanium dioxide (carcinogen) - none of them are beneficial. Check your vitamin bottles. You will be amazed how much mag stearate we are swallowing when supplementing anything.

Dermal magnesium is also available.

---

Posts: 9834 | From Washington State | Registered: Oct 2000 | IP: Logged |

Life+Lyme
LymeNet Contributor
Member # 33568


posted

---

I have a microbiology hypothesis: Lyme patients are low on Magnesium, right? Well, what if the organisms leach the magnesium from the body and use it to erect its biofilm covering?

Just a thought!

--------------------
You name it, I've got it.
Full-time medical anomaly.


---

Posts: 432 | From Southeast | Registered: Aug 2011 | IP: Logged |

Catgirl
Frequent Contributor (5K+ posts)
Member # 31149


posted

---

I wish I could do this. I can't eat just a whole foods, no or low fat diet and not get yeast. That would only leave me veggies and quinoa (everything else gives me yeast). I would lose too much weight (already lost a lot).

--------------------
--Keep an open mind about everything. Also, remember to visit ACTIVISM (we can change things together).


---

Posts: 5418 | From earth | Registered: Mar 2011 | IP: Logged |

kelmo
Frequent Contributor (1K+ posts)
Member # 8797


posted

---

Life+Lyme..when my daughter started seeing Dr. F six years ago, he told us about magnesium and biofilm on our first visit.

I had not been aquainted with Lymenet at the time and one of my first posts was about this topic.

My posts were gently hammered and I rarely brought it up again.

What he told us the first visit was NOT TO SUPPLEMENT. You will get magnesium in foods you eat. Cantaloupe has a lot of magnesium, as does wheat.

He told us that as the biofilm is compromised, the magnesium is released back into the body.

He has tested my daughter throughout the years, and she has never been low in magnesium.

My daughter found a book that has been very helpful to her. Other than the McDougall diet, Felicia Silverstone's book "The Kind Diet" is very good.

My daughter has been following a vegan diet for one year now. She has not lost a pound. She eats sugar only in fruit and very, very little breads. Maybe once a week, she has a bread.

Gigi...I'm so sorry for your loss. I didn't know. My heart breaks for you.

---

Posts: 2903 | From AZ | Registered: Feb 2006 | IP: Logged |

Garden
LymeNet Contributor
Member # 31671


posted

---

I just checked my supplements. My Thorne and Allergy Research Group had no problem fillers, but my BlueBonnet Vit D had magnesium steareate. And of course, I give it to my kids

I'll be replacing those....

--------------------
Garden

"Fibromylagia" for 8+ years
Pos IgeneX WB per both Igenex and CDC
Pos Neuroscience MyLymeImmuneID
Started tx for Lyme in March 2011


---

Posts: 245 | From East Coast | Registered: May 2011 | IP: Logged |

robbiem
LymeNet Contributor
Member # 32092


posted

---

Bea

I know that some of the LL docs who are starting to focus on the Fry bug are treating with Babesia meds --- Ivermectin being now one of the favored ones I believe.

If your husband feels better on Babesia meds including the Ivermectin as you mentioned, perhaps you shouldn't rule out the Fry bug necessarily at least just yet.

Robbie

---

Posts: 192 | From New England | Registered: May 2011 | IP: Logged |

nefferdun
Frequent Contributor (1K+ posts)
Member # 20157


posted

---

GiGi I too am sorry you lost your husband such a sort time ago.

I was very surprised to hear you just turned 80 - way to go! You sure do not seem to be suffering in any way mentally. I will turn 65 this month and my mind has been deeply affected by this.

Kelmo,, how is your daughter doing? Are you on a vegan diet as well? It is very hard to completely convert but I will try - again.

Thanks for the explanation Bea.

--------------------
old joke: idiopathic means the patient is pathological and the the doctor is an idiot


---

Posts: 4676 | From western Montana | Registered: Apr 2009 | IP: Logged |

Catgirl
Frequent Contributor (5K+ posts)
Member # 31149


posted

---

I found this link a few days ago. It kind of makes more sense to me (link) that when you supplement, then the lyme doesn't feel it's being starved and comes out of hiding to eat the supplements, and drops it's biofilm shield.

http://flash.lymenet.org/scripts/ultimatebb.cgi/topic/1/113475?

Gigi, I am so sorry for your loss. Hang in there.

--------------------
--Keep an open mind about everything. Also, remember to visit ACTIVISM (we can change things together).


---

Posts: 5418 | From earth | Registered: Mar 2011 | IP: Logged |

Dave6002
Frequent Contributor (1K+ posts)
Member # 9064


posted

---

LESS IS MORE
Dietary Supplements and Mortality Rate in Older Women
The Iowa Women's Health Study

Jaakko Mursu, PhD; Kim Robien, PhD; Lisa J. Harnack, DrPH, MPH; Kyong Park, PhD; David R. Jacobs Jr, PhD
Arch Intern Med. 2011;171(18):1625-1633. doi:10.1001/archinternmed.2011.445

Background Although dietary supplements are commonly taken to prevent chronic disease, the long-term health consequences of many compounds are unknown.

Methods We assessed the use of vitamin and mineral supplements in relation to total mortality in 38 772 older women in the Iowa Women's Health Study; mean age was 61.6 years at baseline in 1986. Supplement use was self-reported in 1986, 1997, and 2004. Through December 31, 2008, a total of 15 594 deaths (40.2%) were identified through the State Health Registry of Iowa and the National Death Index.

Results In multivariable adjusted proportional hazards regression models, the use of multivitamins (hazard ratio, 1.06; 95% CI, 1.02-1.10; absolute risk increase, 2.4%), vitamin B6 (1.10; 1.01-1.21; 4.1%), folic acid (1.15; 1.00-1.32; 5.9%), iron (1.10; 1.03-1.17; 3.9%), magnesium (1.08; 1.01-1.15; 3.6%), zinc (1.08; 1.01-1.15; 3.0%), and copper (1.45; 1.20-1.75; 18.0%) were associated with increased risk of total mortality when compared with corresponding nonuse. Use of calcium was inversely related (hazard ratio, 0.91; 95% confidence interval, 0.88-0.94; absolute risk reduction, 3.8%). Findings for iron and calcium were replicated in separate, shorter-term analyses (10-year, 6-year, and 4-year follow-up), each with approximately 15% of the original participants having died, starting in 1986, 1997, and 2004.

Conclusions In older women, several commonly used dietary vitamin and mineral supplements may be associated with increased total mortality risk; this association is strongest with supplemental iron. In contrast to the findings of many studies, calcium is associated with decreased risk

---

Posts: 1078 | From Fairland | Registered: Apr 2006 | IP: Logged |

seibertneurolyme
Frequent Contributor (5K+ posts)
Member # 6416


posted

---

Dave,

The study you posted just shows how statistics can be manipulated and misinterpreted. Without knowing the underlying health issues of the people who did or did not take supplements the info is pretty meaningless.

If healthy people took supplements and died sooner than healthy people who did not take supplements that would be relevant.

But maybe the unhealthy people took supplements and actually lived longer than they would have if they had not taken the supplements.

Bea Seibert

---

Posts: 7306 | From Martinsville,VA,USA | Registered: Oct 2004 | IP: Logged |

seibertneurolyme
Frequent Contributor (5K+ posts)
Member # 6416


posted

---

And sometimes it is a quality of life issue as well. I think just about anyone on this board would rather take magnesium or calcium or potasium supplements to ease muscle spasms rather than an aspirin or a prescription pain med or muscle relaxant.

That is one of the reasons that blindly following one docs protocol does not work. People please talk to your LLMD's before stopping your supplements especially if you think they make you feel better.

Bea Seibert

---

Posts: 7306 | From Martinsville,VA,USA | Registered: Oct 2004 | IP: Logged |

nefferdun
Frequent Contributor (1K+ posts)
Member # 20157


posted

---

I tested positive for babesia duncani so I know I have it. If so many people are infected with this newly discovered pathogen I assume I am one of them. Are there any classic symptoms? I know he mentioned fibromyalgia and chronic fatigue. Anything else?

This increases my resolve to go vegan. Doing without meat is easy ( I haven't had red meat in three years) but cheese and yogurt are hard to give up. At this point, I will do almost anything to get well.

--------------------
old joke: idiopathic means the patient is pathological and the the doctor is an idiot


---

Posts: 4676 | From western Montana | Registered: Apr 2009 | IP: Logged |

Dave6002
Frequent Contributor (1K+ posts)
Member # 9064


posted

---

Bea Seibert,

You are right in that the experiments might have some defects. Ideally one should have age-, gender-and health status-matched subjects in order to get meaningful results.

I noticed the number of subjects in the study is almost forty thousands. With such big number of subjects, the study may be at least suggestive in that vitamin and mineral supplements may be associated with adverse effects in general.

Dr. Fry mentioned that magnesium as well as fat are major components of the biofilm of the protomyxzoa, no magnesium and low-fat diet were suggested for those patients that protomyxzoa might be the causative pathogen.

---

Posts: 1078 | From Fairland | Registered: Apr 2006 | IP: Logged |

terv
LymeNet Contributor
Member # 29410


posted

---

quote:

---

Conclusions In older women, several commonly used dietary vitamin and mineral supplements may be associated with increased total mortality risk; this association is strongest with supplemental iron

---

I agree with the iron association. I have read that they are starting to think that women's higher risk for heart attacks after menopause could be due to them losing their "monthly phlebotomy" rather than decreased estrogen.

Iron is also food for cancer and many bacteria. They have found if you have cancer or are sick with an infection, your body will reduce the amount of iron floating around in the blood (decreased TSAT%) and store it in the liver(increased ferritin). One will also see a drop in hemoglobin. That is called iron withholding syndrome. It can result in anemia of chronic disease and if you take iron supplemenation you are feeding the problem.

If you think you are low on iron you should try and determine the reason rather than throw iron at the problem.

---

Posts: 766 | From Somewhere | Registered: Nov 2010 | IP: Logged |

Abxnomore
Frequent Contributor (5K+ posts)
Member # 18936


posted

---

But Marnie said doctors in Eastern Europe cured lyme with IV magnesium, didn't she?

---

Posts: 5187 | From Lyme Zone | Registered: Jan 2009 | IP: Logged |

nonna05
Frequent Contributor (1K+ posts)
Member # 33557


posted

---

My Lord what to do???I just started Mag shots 3 times a week... Yes /No /Maybe/PLEASE

---

Posts: 2563 | From Denver,CO | Registered: Aug 2011 | IP: Logged |

kelmo
Frequent Contributor (1K+ posts)
Member # 8797


posted

---

I would NOT. My daughter's first visit was after doing epsom salt baths every day for three months. She was a puffed up, inflamed balloon.

If IV Magnesium were a cure, you would think that everyone would be well. they probably felt good for a little while. But, who can trust the reporting in that area?

---

Posts: 2903 | From AZ | Registered: Feb 2006 | IP: Logged |

seibertneurolyme
Frequent Contributor (5K+ posts)
Member # 6416


posted

---

noona,

I think it comes down to which infections you think you may have and which doc you trust the most.

Dr B saw over 10,000 tickborne patients as a treating physician. He was pretty big on supplementing with magnesium.

Dr F is saying that magnesium may be bad for people who have his protozoa -- no one knows what percent of tickborne patients that is at this point. If you have tested positive for his protozoa then his treatment approach might make more sense.

But you have to understand that with both Dr B and Dr F neither one has come up with a treatment that works for 100 % of their patients.

Since tickborne illnesses are not a quick fix it doesn't hurt to try supplements or to avoid them and see if you can tell a difference one way or the other. I don't think there is one right answer that fits everyone.

And just because you take a supplement doesn't mean you have to stay on it forever. It is good to take a break from any supplement from time to time and see if it is still beneficial.

Bea Seibert

---

Posts: 7306 | From Martinsville,VA,USA | Registered: Oct 2004 | IP: Logged |

dal123
LymeNet Contributor
Member # 6313


posted

---

Does this mean we should not be doing epsom salt & peroxide baths for detox?

I take a steam bath, 10 mins & hot whirlpool nearly everyday if possible.

Take care!

---

Posts: 532 | From Texas | Registered: Oct 2004 | IP: Logged |

Catgirl
Frequent Contributor (5K+ posts)
Member # 31149


posted

---

I take mag and the majority of supplements in Dr. B's protcol, and I have to say, I feel better (been taking supplements for about a month now).

I think getting better requires some form of balance between our immune systems and the lyme. I imagine if you improve the immune system while you're treating the lyme, at some point the immune system will take over (in fact, I think Dr. B has said this in his DVD, "Putting Lyme Behind You").

Lyme depletes so many supplements from our bodies which is why we are deficient in so many vitamins, minerals and enzymes.

--------------------
--Keep an open mind about everything. Also, remember to visit ACTIVISM (we can change things together).


---

Posts: 5418 | From earth | Registered: Mar 2011 | IP: Logged |

nefferdun
Frequent Contributor (1K+ posts)
Member # 20157


posted

---

For me, the big eye opener in this interview is the vegan diet - not magnesium.

What do the rest of you think? Do you believe Dr. Fry is credible?
I don't know that much about him. Do other LLMDs respect his work? I would really like to know more.

Unfortunately with babesia we need to take anti-malaraials that require high fat to be absorbed, and fat is what he says is feeding the new pathogen he has discovered. I wonder how he treats babesia?

--------------------
old joke: idiopathic means the patient is pathological and the the doctor is an idiot


---

Posts: 4676 | From western Montana | Registered: Apr 2009 | IP: Logged |

Dave6002
Frequent Contributor (1K+ posts)
Member # 9064


posted

---

For me, the big eye opener in this interview is the pathogens hiding in biofilms resistant to antibiotics and the immune system, and the very-slow-growing pathogens may cause poor blood circulation, resulting in all symptoms we may have such as fatigue, low body temperature and pains.

Another eye opener is the autoimmune is involved in these diseases caused by the pathogens (such as Protomyxoa he identified).

The diet is important, but the more important is to destroy the biofilms and expose the pathogens to the antibiotics and the immune system.

Once the pathogens are killed, the autoimmune problem may be resolved

---

Posts: 1078 | From Fairland | Registered: Apr 2006 | IP: Logged |

kelmo
Frequent Contributor (1K+ posts)
Member # 8797


posted

---

Dave...you got it!

---

Posts: 2903 | From AZ | Registered: Feb 2006 | IP: Logged |

betty1939
LymeNet Contributor
Member # 18240


posted

---

Here's an interesting question that I thought about...I am all for cutting out fats out of diet to get rid of this fry bug if I have it. I tested positive for lyme, babesia microti, and hemobartonella as well as mycoplasma. I've been eating healthy but not fat free.

But... if you have this fry bug in your brain making biofilm, isn't your brain made up mostly of fat and how then do you get rid of the fry bug and decrease biofilm when it has so much fat to draw from in your brain???

I ask this question, because all my symptoms are head and neck symptoms which don't seem to get any better with babs meds, lyme meds, or bart meds. It has been very frustrating and I am wondering if I too might have this fry bug.

--------------------
Lyme IGG/IGM positive 12/08
Babesia Microti IGM positive 12/08
Hemobartonella positive 1/11
mycoplasma 6/11


---

Posts: 162 | From Ohio | Registered: Nov 2008 | IP: Logged |

nonna05
Frequent Contributor (1K+ posts)
Member # 33557


posted

---

In the longgevity conference video..,, David Wolf, not MD, natuaral stuff to hilt ,said if you take something called Fulvic acid ? it destroys the bio-film so the Doxy can do it's job. Anybody

---

Posts: 2563 | From Denver,CO | Registered: Aug 2011 | IP: Logged |

sickofsick
LymeNet Contributor
Member # 29258


posted

---

Our experience has been improvement in my daughter's breathing trouble and blood hypercoagulation/trouble having blood drawn.

(diagnosed with FL 1953, taking Buoloke for biofilms for 6 mos)

---

Posts: 312 | From Utah | Registered: Nov 2010 | IP: Logged |

nonna05
Frequent Contributor (1K+ posts)
Member # 33557


posted

---

Improvement with what ???Mag????/breathing/ Fulvic acid Or blood treatments?/

Can this be why my calves hurt SOMETIMES???????

Like veins/artery issue..I thought maybe cause laying in bed so much, then it stops for a while. Tonight it's back. I thought it cycles or was part of a herx..
Just feel like crap.

---

Posts: 2563 | From Denver,CO | Registered: Aug 2011 | IP: Logged |

Deb133
LymeNet Contributor
Member # 18544


posted

---

We are just starting my daughter on Ivermectin. 1/2 every other day. She has been on Malarone/zith and liposomal art.

Hopefully, this will turn things around for her.
We have Buoloke perhaps we should start taking it. Waiting to see what LLMD has to say next week.


Debg

---

Posts: 499 | From Malta, NY | Registered: Dec 2008 | IP: Logged |

kelmo
Frequent Contributor (1K+ posts)
Member # 8797


posted

---

Betty, the biofilm and toxic crud clogs up vessels. The tiny capillaries in the brain get filled with sludge.

Dr. F has a patient with vasculitis in her legs that has completely cleared.

---

Posts: 2903 | From AZ | Registered: Feb 2006 | IP: Logged |

CD57
Frequent Contributor (1K+ posts)
Member # 11749


posted

---

Kelmo, with ivermectin or what?

I thought there was no treatment for this thing yet? He told me to take B/P a long time ago.

Tindamax we know gets to biofilm. Perhaps Tindamax and Ivermectin would be a good combo.

---

Posts: 3528 | From US | Registered: Apr 2007 | IP: Logged |

kelmo
Frequent Contributor (1K+ posts)
Member # 8797


posted

---

Ivermectin is a good choice.

---

Posts: 2903 | From AZ | Registered: Feb 2006 | IP: Logged |

amk33
LymeNet Contributor
Member # 13206


posted

---

Can someone pm me the dose for ivermectin to treat
Fry bug? Thanks.

---

Posts: 418 | From NJ | Registered: Sep 2007 | IP: Logged |

kelmo
Frequent Contributor (1K+ posts)
Member # 8797


posted

---

I just posted on another thread that we should be very careful about recommending dosage to others.

1/4 of a 3mg pill could give you a massive herx from hell.

I have read here that people are buying it in all kinds of forms from vet shops.

Please be careful.

---

Posts: 2903 | From AZ | Registered: Feb 2006 | IP: Logged |

LymeMECFSMCS
LymeNet Contributor
Member # 13573


posted

---

The supplement issue does seem really complicated -- for example, what if one is doing regular saunas and coffee enemas and thus depleting minerals? And what about heart problems? When people with Lyme can die of arrythmias, it seems a little dicey to not take magnesium or potassium if they help. I suppose regular juicing and careful attention to diet would take care of that, but not all of us can do that.

Also, while I was interested in what Fry said about possible links to "CFS" of this protazoa, I wonder if he is really defining CFS or defining chronic Lyme. A study last year found the spinal fluid markers of the two conditions are very different, and that they have unique spinal fluid signatures, so I keep being hopeful that people will stop saying that chronic Lyme is CFS or vice versa. People *can* get both -- I did -- but in my experience the two illnesses (despite having similar lists of symptoms that might *look* the same if you were just checking off a symptom list) are vastly vastly different.

But still, could he be saying that those with *both* conditions who really have both of them might have this coinfection? Because that seems pretty monumental if it's true.

Dr. C. (CFS doc) has used artemesia in recent years for CFS, considering it an antiviral, but we all know it's more of an antimalarial drug, so I wonder if it too is hitting this organism?

---

Posts: 927 | From Massachusetts | Registered: Oct 2007 | IP: Logged |
Contact Us | LymeNet home page | Privacy Statement

Powered by UBB.classic™ 6.7.3

---
The Lyme Disease Network is a non-profit organization funded by individual donations. If you would like to support the Network and the LymeNet system of Web services, please send your donations to:
The Lyme Disease Network of New Jersey
907 Pebble Creek Court, Pennington, NJ 08534 USA
http://www.lymenet.org/
---
Home | Flash Discussion | Support Groups | On-Line Library
Legal Resources | Medical Abstracts | Newsletter | Books
Pictures | Site Search | Links | Help/Questions
About LymeNet | Contact Us
---
© 1993-2020 The Lyme Disease Network of New Jersey, Inc.
All Rights Reserved.
Use of the LymeNet Site is subject to Terms and Conditions.
---