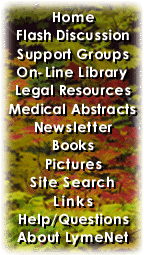 ---
LymeNet on Facebook
LymeNet on Twitter
---
---
The Lyme Disease Network receives a commission from Amazon.com for each purchase originating from this site.
When purchasing from Amazon.com, please
click here first.

Thank you.




Dedicated to the Bachmann Family


LymeNet needs your help:
LymeNet 2020 fund drive

The Lyme Disease Network is a non-profit organization funded by individual donations.

| | |
| --- | --- |
| | |
Author
Topic: Does Vestibular Rehab Therapy Supposed to be so Brutal?

seekhelp
Frequent Contributor (5K+ posts)
Member # 15067


posted

---

I started vestibular rehabilitation therapy last week. I'm into my third session. I have to say I'm really demoralized.

I feel HORRENDOUS. Can barely walk straight. MASSIVE head pressure and balance issues. Neck very stiff. Ears pounding.

The therapy facility is nice and says they are starting very slow. No crazy exercises, but I'm doing 7-8 different ones. This is the first time I ever tried this type of therapy. I have no known/documented ear diseases. I've had ENG testing 3-4x..all normal. No Meniere's.

No doc has ever ordered MRI of my ears. Not sure if that's important/meaningful if other tests are normal. Everytime I do the exercises, I turn ice cold.

I had to drive home about 1/2 mile today. I couldn't even look to my left to get in the left lane. Had to turn right, then right to accomplish it.

What the hell is wrong with me? How can I be so so messed up when the ear tests show nothing. A world specialist neuropthamologist at Cleveland Clinic suspected I have an inner ear disorder due to a viral attack years ago. Who knows. Easy to say as it's impossible to prove/disprove.

I showed my PT person a copy of Dr B's therapy recommendations. He read them. He printed off a copy of an article about Lyme from the National Institute of Health (NIH) website and asked me if I really think I have Lyme. I should bring in my THOUSANDS of pages of literature I've read and have him read it if he's so sure. Geez..

I've learned one thing. Without having your ears working, you're completely screwed. No hope of a normal life. It's probably better to be missing a hand.

I'm afraid continued vestibular rehab therapy may make me worse yet. I can't take worse unless there's a payoff at the end. Anyone go through this directly and come out better at the end?

---

Posts: 7545 | From The 5th Dimension - The Twilight Zone | Registered: Mar 2008 | IP: Logged |

Keebler
Honored Contributor (25K+ posts)
Member # 12673


posted

---

-
I could not do it, for the most part.

I did not have a vestibular therapist who knew WHY my symptoms were so much worse than those she's seen through her entire career.

I had told her about the kind of sudden falls that would occur, they'd happen during testing so it was in my record. Yet, the first time I had a sort of faint / sudden "sit-down" I recall looking up at her still in my quiet shock, hoping she could say,

"Oh, yes . . . this is what is going on and here is how we can fix that."

Instead, she said: "well, why did you do that? What's going on there?"

I looked at her like, "well, YOU tell ME!" At that moment, I could tell my body was just alien to her. She had no clue.

Now, seek, Qi Gong worked a million times better for me than a formal vestibular therapy.

Yes, there are some specific exercises that can be done on our own, some "Yoga for the Eyes" exercises but something like Qi Gong was so much better for me.

===============================

Rather than an MRI of your ears, a very specific CT scan would be best to evaluate what is called

Superior Canal Dehisence


At this site, directions for exactly how to order the CT scan. Best done by those who really know about SCD, most ENTs really do not. Many neurotologists do not know either, partly because the research is relatively recent.

I saw a report on ABC news a few years ago, got the scan and it does appear that I have this - but am not a candidate for surgery (for many reasons). SCD can be caused by lyme but, of course, most ear doctors know so little about lyme . . . .

For me, SCD still does not explain everything so it's still a multi-functional deal. However, if this is present, some have had their lives back with surgery.

http://scdssupport.org/

Superior Canal Dehisence Support
-

[ 01-04-2012, 04:51 PM: Message edited by: Keebler ]

---

Posts: 48021 | From Tree House | Registered: Jul 2007 | IP: Logged |

Keebler
Honored Contributor (25K+ posts)
Member # 12673


posted

---

-
VISION

I hope you were able to see the replay of the ILADS conference (the replay was a Saturday a week or so before Christmas.

The first video of that replay (and not on the original play date) . . .was Padula's vision presentation with a lyme patient.

It was amazing. Just amazing. It gave me hope.

This patient with lyme tried to walk down the hall and I saw myself. Then he put on the glasses and, like magic, he could walk.

Dr. Padula is NOT a LLMD but he knows about lyme and explained how the ears are not the only system that control balance . . . and how lyme can affect that in the brain and with vision (but not necessarily the eyes themselves).

The yoked prism glasses can help train the brain what is right again.

I just tried to find my notes and links on that but, on this new-to-me little PC laptop, I still can't figure out how to organize my file notes like on my past defunct Apple.

I will look for that later and come back and post direct links and the DVD purchase detail.

In the meantime, you might search:

yoked+prism+glasses, William+Padula
-

---

Posts: 48021 | From Tree House | Registered: Jul 2007 | IP: Logged |

Keebler
Honored Contributor (25K+ posts)
Member # 12673


posted

---

-
Found my file notes - but can't clean them up now so I'll just post my rough work. I can't even remember what some of the abbreviations are for but I hope this helps.

His use of slides helped my note taking but I can't now figure out some of this. TBD is for tick-borne disease.

================================================

Again, he is NOT a LLMD, however his presentation at the ILADS conference will help many lyme patients, no doubt.

http://ilads.org/ilads_media/lyme-disease-videos/

3/4 of the way down, alphabetical order, you'll see Padula's on the list.

DVD is $15. (Presentation w/ his slides and video of the patient walking)

ILADS Oct. 28, 2011 Toronto Conf.

Vison lecture – web stream replay on 12-17-11


UNDERSTANDING SYMPTOMS RELATED TO VISUAL DYSFUNCTION FOLLOWING A TICK-BORNE EVENT

William V. Padula, OD

[ see below these lecture notes for some of his website links ]

Eyes & BRAIN -

Binocular dysfunction – conference, accomm. Not the problem.

Lyme Affects BRAIN FUNCTIONS that affect sensory motor function for poster, movement and balance, - affects cognitive function.

Organization problem.

Relationship to poster and balance

Often, with eye problems, come Minor strokes can go undiagnosed.

Neurovisual processing rehab. –

Prescibed lenses to affect balance with sensory organization in motor processing.

Atten, concentration, special orientation.

Pains, blurring, disorientation, etc.

Why present with TBD (if eyes are healthy?

80% of what is learned goes through eyes.

BIMODAL VISUAL PROCESSING

1) FOCAL PROCESS (aiming eyes , detail, conctran – all con – Reactive)

2) AMBIENT (special, posture, balance movement, antipates changes . always PROactive)

TBD knocks out organization with motor system – becomese fore right now, can't orientate to future as in: 2) ambient

Where does the special info GO? Drop down to the m midbrain BEFORE It ever falls on the occipital process.

Superiour Coliculus. Provided info from perfirual - must integrate but . . .

VESTIBULAR OCULAR TRIAC (3 systems) is NOT the only system for balance.

TBD causes problems with:

1. Post trauma vision syndrome. (with spacial collapse) produces…. Movement of print on the page, etc.

He finds with LD pts,

N1, N 75 instead of going strait up, with LD, goes straight DOWN, ccreast cong. Interference.

2. Anterior Visual Midline syndrome

Person will often lean or drift to one side or forward, etc.

Usually, not just left or right but a combineation.

LD can cause High Postural tone, spasticity – high shoulder, limited head, neck movement . ..

FILM was amazing. The patent was just like me.

(All the times doctors saw me walk like this and said it couldn't be so !!)

GLASSES IMMEDIATELY HELPED HIM WALK. AMAZING – could see right there on the video. Immediate change.

========================================

http://www.padulainstitute.com/William_Padula.htm

William V. Padula, OD, DPNAP, FAAO, FNORA


Dr. Padula has written numerous publications including two books titled: Neuro-Optometric Rehabilitation and

Neuro Visual Processing: An Integrated Model of Rehabilitation.

He has developed three award winning professional video tapes about vision, Post Trauma Vision Syndrome and Visual Midline Shift Syndrome.

He is the primary author of a chapter on vision in Brain Injury Medicine.

He has also been awarded four U.S. Patents and is currently in private practice in Guilford, Connecticut.

==========================================

http://www.cfids.org/archives/2001/2001-4-article02.asp

CFIDS Journal (Chronic Fatigue & Immune Dysfunction) - Fall 2001

Visual Dysfunction in CFS

By William V. Padula, O.D., FAAO, FNOR

yoked-prism glasses

===============================================

His office may know of lyme-literate doctors in your area. While there are others who may not be lyme literate who work with the yoked-prism glasses, it would be best to find one who gets the whole picture.

I have no idea if any insurances cover this. However, I think Rotary clubs might be an organization that would consider a grant as they often support vision projects.

Medicare does not cover vision matters but if this is seen as a brain matter, maybe. But the doctors who assess are eye doctors, so Medicare may not help at all.

Still, if someone can get out and tolerate being in public spaces, some organizations might help and the eye doctors' office may have some ideas.
-

[ 01-04-2012, 05:16 PM: Message edited by: Keebler ]

---

Posts: 48021 | From Tree House | Registered: Jul 2007 | IP: Logged |

chastain
LymeNet Contributor
Member # 34236


posted

---

hi there...i tried vetibular therapy for 2 months, and it made me so much sicker. some people benefit tremedously, others not at all. i was one of those, unfortunately. you are not alone in your frustration with this. if its making you much worse i would reconsider doing it. i wish you relief and health as soon as possible. love jess

---

Posts: 651 | From ct | Registered: Sep 2011 | IP: Logged |

Keebler
Honored Contributor (25K+ posts)
Member # 12673


posted

---

-
ADRENALS and vestibular.

Sorry for so many different posts but this one deserves its own space.

Just one reason I could not continue going for vestibular therapy is that I was just in a state of adrenal shock, of sorts.

The therapy was just far, FAR to much for me.

===============================

In that "tinnitus" thread, you will see a post for

FELDNENKRAIS technique and how one woman with lyme did so much better with a Feldenkrais therapist, regarding vestibular therapy.

I've also had some Feldenkrais and would far prefer that to the run of the mill vestibular P.T. that I got.

There are some excellent P.T.s who are also trained in vestibular matters, however, with some who has lyme & co, even an excellent one may not have the knowledge, experience & skills we need.

Ask at your area support groups for names of other therapists who have worked well for those with lyme.

--------------------------------------------

http://flash.lymenet.org/scripts/ultimatebb.cgi?ubb=get_topic;f=1;t=065801

Topic: TINNITUS: Ringing Between The Ears; Vestibular, Balance, Hearing with compiled links - including HYPERACUSIS


See the FELDENKRAIS note -- and the "Yoga for your Eyes" link, too.
-

---

Posts: 48021 | From Tree House | Registered: Jul 2007 | IP: Logged |

opus2828
LymeNet Contributor
Member # 15407


posted

---

In my case, vestibular therapy made me feel worse. They came to the conclusion that my symptoms were caused by migraine which was caused by lyme.

My therapist told me that anytime symptoms get worse with the therapy, they suspect migraine as the cause.

The problem is coming from the brain and not the ears. Until the brain calms down, it cannot learn with the therapy and symptoms go crazy.

Supposedly migraine can cause all kinds of balance issues, head pressure, vertigo, dizziness, neck pain, vision problems, motion sickness and problems and of course headaches.

If you want more info. PM me.

---

Posts: 581 | From CT | Registered: May 2008 | IP: Logged |

Haley
Frequent Contributor (1K+ posts)
Member # 22008


posted

---

Seekhelp - I wish I had some advice; I can only say that I am in the same boat.

Just recently have acquired numerous ear problems. mainly tinittus and dizziness. I believe its due to the meds so now I can't really take meds.

I am so scared that I will never be the same again. Its so true... if your ears are not working your screwed. I never realized that until now.

I felt like I was floating before... now I feel like I'm on another planet. Please let us know if you find solutions.

Keebler.... will check out Qi Gong. not sure what that is.

---

Posts: 2232 | From USA | Registered: Aug 2009 | IP: Logged |

bcb1200
Frequent Contributor (1K+ posts)
Member # 25745


posted

---

I believe the ear problems are mainly due to lyme and TBD's. Dizziness / vestibular issues was my worst symptom pre treatment.

I was originally diagnosed with Labyrinthitis (which can be caused by Lyme) and sent on my way by an ENT.

I tried vestibular rehab therapy.

It works great if whatever damaged your vestibular system is gone and no further damage is being done.

But if, for example, lyme and TBI's are to blame then you must eliminate them first, otherwise they are going to continue to attack your vestibular system and you will continue to do poorly in vestibular rehap therapy.

--------------------
Bite date ?
2/10 symptoms began
5/10 dx'd, after 3 months numerous test and doctors

IgM Igenex +/CDC +
+ 23/25, 30, 31, 34, 41, 83/93

Currently on:

Currently at around 80% +/- most days.


---

Posts: 3130 | From Massachusetts | Registered: May 2010 | IP: Logged |

Keebler
Honored Contributor (25K+ posts)
Member # 12673


posted

---

-
It's important to keep in mind the connection between toxins and the inner ear.

The vestibular system (inner & middle ear) is the very first alarm system for toxins in the body.

As long as there is a toxic infection, treated with drugs that have some toxicity of their own and need to be metabolized by our organs of detoxification (liver, kidneys, lungs, skin) . . .

and those organs are overloaded, overwhelmed, stagnant or whatever other terms apply,

then the vestibular system just is going to be overwhelmed, too. then we are in the middle of our own "Tilt-a-Wheel" in so many ways.

Notice how every one of these is also a symptom of lyme or other tick-borne infections - heavy metals - or other toxicity:

--------------------------------

http://www.vestibular.org/vestibular-disorders/symptoms.php

Vestibular Symptoms

=================================

Bottom line, do consider other things with the vestibular system (with ears, eyes, brain) that may be causing the problems but also

along the way, as we address infections (including parasites), molds, heavy metals, etc.

LIVER SUPPORT is vital. Creating and maintaining our spaces as chemical free as possible is part of that.

And patience. Liver support / antioxidant detail is about 3/4 of the way down:

http://flash.lymenet.org/scripts/ultimatebb.cgi?ubb=get_topic;f=1;t=065801

Topic: TINNITUS: Ringing Between The Ears; Vestibular, Balance, Hearing with compiled links - including HYPERACUSIS
-

---

Posts: 48021 | From Tree House | Registered: Jul 2007 | IP: Logged |

fourwinds
LymeNet Contributor
Member # 14114


posted

---

Hi Seekhelp,

This post timely for me as I just added Cefdinir to my mix and have now been having episodes of extreme vertigo to the point I can't get out of bed.

Am having Pain in what I believe are the Occipital lymph glands in the back of my head (toxin build up) and very stiff neck.

I, too, was diagnosed with Labyrinthitis, before I knew I had Lyme and co's.


I sent an email to my LLND and her input was it could be "wax in my ears" LOL. Uh, no wax...

Thanks for the links Keebler...

Guess I just ride it through... vertigo is not fun.

---

Posts: 396 | From EAPennsylvania | Registered: Dec 2007 | IP: Logged |
Contact Us | LymeNet home page | Privacy Statement

Powered by UBB.classic™ 6.7.3

---
The Lyme Disease Network is a non-profit organization funded by individual donations. If you would like to support the Network and the LymeNet system of Web services, please send your donations to:
The Lyme Disease Network of New Jersey
907 Pebble Creek Court, Pennington, NJ 08534 USA
http://www.lymenet.org/
---
Home | Flash Discussion | Support Groups | On-Line Library
Legal Resources | Medical Abstracts | Newsletter | Books
Pictures | Site Search | Links | Help/Questions
About LymeNet | Contact Us
---
© 1993-2020 The Lyme Disease Network of New Jersey, Inc.
All Rights Reserved.
Use of the LymeNet Site is subject to Terms and Conditions.
---