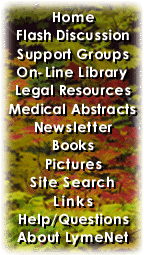 ---
LymeNet on Facebook
LymeNet on Twitter
---
---
The Lyme Disease Network receives a commission from Amazon.com for each purchase originating from this site.
When purchasing from Amazon.com, please
click here first.

Thank you.




Dedicated to the Bachmann Family


LymeNet needs your help:
LymeNet 2020 fund drive

The Lyme Disease Network is a non-profit organization funded by individual donations.

| | |
| --- | --- |
| | |
Author
Topic: Help! I need to find a Patient Advocate.

Rumigirl
Frequent Contributor (1K+ posts)
Member # 15091


posted

---

I am at my wits end with the constant, daily struggle with dealing with my insurance company's denials and obstructions, with labs messing up my tests, with constant problems with doctor's and their offices not being willing to help, in spite of paying them a fortune, with the Infusion company/nursing agency, with home-care nursing horrors, with pharmacies, and on and on.

It takes hours and hours every day to deal with all this, and even then, I cannot begin to keep up. I am in such bad shape that to do all this advocating myself, plus ordering meds and supplements.and minimal chores, I have to prop myself up with an inordinate amount of stimulants in the form of supplements, meds, and caffeine. Otherwise, I'm bed/couch ridden, unable to do what there is no one else to do.

My husband is totally maxed out with trying to do the major support work financially and with chores. His health is completely breaking down as a result of the long-term stress.

All this leaves me unable to spend the time I need to resting, doing treatment, working (which I HAVE to do to the best of my ability in order to pay my humungous medical, supplement, and treatment bills), or to have any quality of life at all.

It's been this way for years, and I am worn out, mad, and discouraged. I've tried to find such a person(s) before, but didn't find anyone.

I know how to file appeals and keep after all the various parties, but I can't do it all and get well. It's more than a full-time job, and I have to pay for the privilege! My insurance company, Oxford, gets worse and worse.

Where and how can I find help with all this?? It's so huge and constant, it's hard to imagine getting help with it all, except if I paid a ton and found an extremely experienced and competent person. I need free and/or vaguely reasonably priced help.

As far as I knew, I haven't been eligible for disability, although I recently found out that there is a chance that MAYBE I am, but if so, only for a very short while. And, of course, it takes a long time to even see if you qualify.

Please, I need concrete avenues to look for this kind of help, either free or paid. Thank you!

I'm having surgery next Tuesday, to finally have my gallbladder removed (losing it to rocephin), so I need help even more now. Thank you! Sorry this is so long.

---

Posts: 3753 | From around | Registered: Mar 2008 | IP: Logged |

Keebler
Honored Contributor (25K+ posts)
Member # 12673


posted

---

-
You might ask the patient services department at the hospital where you are going. They often have "patient advocates" and, even if not for what you need, they may be able to direct you.

Also, see if your state has an "insurance ombudsperson" listed in your phone book.

Good luck with your adventure next week. Hope everything comes out okay (smiles to you).
-

---

Posts: 48021 | From Tree House | Registered: Jul 2007 | IP: Logged |

trubeee
LymeNet Contributor
Member # 34030


posted

---

I can completely relate Rumigirl, how is it that given your condition you're not eligile for disability? It's been so long now but maybe you should talk to your local SS office or DSS?? Would they be able to guide you or are they more or less clueless? Maybe there are community supports you're not aware of?

Adding to say how sorry I am you're going through all this, as if being sick isn't enough - I'm just embarking on my journey through all this and even so far it's been pretty nightmarish. Hang in there!

[ 01-13-2012, 10:03 AM: Message edited by: trubeee ]

---

Posts: 195 | From - | Registered: Sep 2011 | IP: Logged |

seibertneurolyme
Frequent Contributor (5K+ posts)
Member # 6416


posted

---

I totally understand where you are coming from. Hubby and I keep busy just dealing with his paperwork and your situation is so much more involved.

This is just a suggestion that may or may not work. I would look for a high school or college student that wants a little extra cash. You could at the least delegate some of the more mundane things like follow-up phone calls and waiting on hold to that person.

Or maybe hire someone to deal with counting out supplements and placing those orders. You could provide the supplement companies a credit card to keep on file and not need to give that info to the person who is doing the ordering.

I recently got a new credit card and it has really been helpful. Now I can order an entire months worth of supplements at once and be done with it. Always running out of something or trying to figure out how to pay for it is very time consuming.

My paypal credit card was the easiest one I ever applied for. They didn't even ask for income. They just ran a credit report. The rate is ridiculous, but I am paying that one off every month so that really doesn't matter.

I think you need to think about what could be delegated and split up the work.

I let hubby make the phone calls and I write most of the letters. We have different communication styles and that seems to work for us. Actually we usually proof read each others letters and that works for us.

If you can find someone who could be trained to actually do some of the patient advocating I think that would actually be less costly than using one of the patient advocate services.

Bea Seibert

---

Posts: 7306 | From Martinsville,VA,USA | Registered: Oct 2004 | IP: Logged |

Tincup
Honored Contributor (10K+ posts)
Member # 5829


posted

---

So sorry to hear you are drowning under all this pressure. I've been there too, as have many others.

Here a a few thoughts...

1. If you are a senior or disabled, your state Senior Center programs may be able to offer help in the way of volunteers?

2. Hire a book keeper to do your bills. I would imagine it would be hard to let go (as it was for me), but it is absolutely amazing when this is lifted off your mind.

3. Hire a part time housekeeper. This can make you uncomfortable at first, perhaps, but it can be a beautiful thing to know someone is taking care of some of the basics for you. And when they leave for the day, the "clean" will make you smile and relax.

4. Your State Insurance people, govt people, may have suggestions for you to help take the load off. You might cc the Attorney General in your state to see if they can help.

5. Your local (state) legislators offices often provide help for various issues. Maybe a hand or word from them will kick start the process to make it more tolerable?

Hang in there!!!! I know it is rotten to be so stressed, but it will get better!!!



--------------------
www.TreatTheBite.com
www.DrJonesKids.org
www.MarylandLyme.org
www.LymeDoc.org


---

Posts: 20353 | From The Moon | Registered: Jun 2004 | IP: Logged |

sammy
Frequent Contributor (5K+ posts)
Member # 13952


posted

---

Oh Rumigirl, I wish I had some advice for you. I just wanted to let you know that sadly I understand, I could use that kind of help too.

I always have a "to do" list of people that I need to call for insurance related problems, things not being paid, partially paid, stuff being denied... it's never ending. It makes me cry just thinking of all I need to do. It is too much stress and burden for those of us that are already so sick.

And this is already in addition to all of our constant doctors appts and other medical needs.

Here in my state, social security hopes that you will give up or die before you qualify for benefits. I applied (my multiple doctors encouraged me to do so) over 2yrs ago. They denied my application and appeals even with the help of a lawyer.

According to my lawyer, all 3 of the social security docs that I saw said that I was too sick to work. It did not help my case. It also did not help that I have at least one diagnosis that more than met their Blue Book qualifications on the SSDI website. That alone should be a deciding factor. Everything else adds more support to the claim.

Because of the state of our economy our social security system has apparently been bombarded with applications. So people that are truly sick like us that need help are having to wait for years while everyone is "fairly" evaluated. I've been told that I will have a hearing in 18mo- 2 years. Sad.

Sorry about the social security rant... I got a little side tracked there. Just wanted to give you a little glimpse of reality.

Rumigirl, maybe things aren't so bad in your state. If you need to go that route I guess you'll have to see. I've also heard that age will also play a roll in their decision. So maybe you will have a better chance where you are. We can hope and pray. If the time came where you needed this.

Big hug Rumigirl. I will be praying for you and your upcoming surgery. It should make you feel better getting this sick gallbladder out. Now you will finally be able to heal and get on with your much needed treatment.

---

Posts: 5237 | From here | Registered: Nov 2007 | IP: Logged |

hopeful4
LymeNet Contributor
Member # 8486


posted

---

So sorry you are deluged with everything. I've been through it, too, plus husband going through it, so I can relate so much to the situation you find yourself in.

People here have given great ideas. Do you have a friend, relative, or person from your place of worship who could initially help you get started?

Perhaps begin with a list of people's suggestions, then prioritize the calls and help you need?

Regarding Social Security Disability, just go ahead and apply. I did it by going into the SSD office with my daughter's help. That began the process.

At first it was denied, that is just what they do. Then, I got the help of a SSD attorney. He would not be paid unless I received the award, so no money up front.

I had to go through 2 appeals, but, then received a back award as well as monthly checks. Then, I became eligible also for Medicare.

Here is a website that may be helpful: http://scottdavispc.com/articles/list

About your surgery:
Do you have some support lined up for meals and housecleaning? It could be of help to you, and also give you some needed time to recover.

Best wishes for your surgery to go well, and speedy recovery!

---

Posts: 873 | From WA | Registered: Dec 2005 | IP: Logged |

Rumigirl
Frequent Contributor (1K+ posts)
Member # 15091


posted

---

Thank you, guys! There are many great suggestions here. Bea, I was thinking of you as I wrote this post, as I know how much you have to do all the time. And you, too, sammy.

I do know that I need to hire someone to help me with advocating and all kinds of other clerical type stuff, and that I will likely need to train them in this stuff. I also need to hire a housecleaner, as either my husband or I squeak it out now (too much for either of us now), or it goes undone.

I also do need to apply for SSDI. I'm overwhelmed at that prospect. I think I should go through an SSDI lawyer, so I do it right the first time. SS always said that I wasn't eligible for SSDI in the past, as I have been sick so long, I hadn't paid in enough to qualify.

I need help with Medicare stuff, too. I made numerous calls to Medicare to figure out the intricacies of Medicare vs or along with private insurance through my husband's job, but according to a friend, I got the wrong info from Medicare!! And now that Oxford precipitously cut off my IVIG treatment (in fact took away authorization that they had already given), I wonder if I made a mistake to go ahead and pay for private insurance again this year.

This "unauthorization" is what put me over the edge with all this stuff. And my dr, who already has nearly washed his hands of me, won't write a letter to get reauthorization. I feel so alone with this undending battle. I can't even seem to find a dr who I can stay with, who will help me, as for one reason or another, they keep dumping me, moving out of state, or suddenly saying, "Post-Lyme Autoimmune Disease," when I have never been adequately treated at all! Drs don't seem to want to deal with complex patients like myself. And the Medical Boards don't help any.

Medicare does not cover home-nursing visits and many other modalities that are critical to my care. And my drs don't accept medicare. And I would have to pay a fortune out of pocket for meds, too. (Sorry, these posts get disjointed, as there are so many related issues here).

Oxford in their "unauthorization" of IVIG is demanding that I have a spinal tap and EMG, in spite of having several extremely positive punch skin biopsies showing CIDP. Besides the fact that these are more invasive testing, they will likely show nothing and only be a reason for them to deny me IVIG.

Sammy, I can't believe what you have gone through in not getting SSDI. Have you gone through your state senator and state Attn Gen's Health Bureau?? If not, please do. What about going public through a news channel that investigates this stuff? I know it would be hard to make your case public, but sometimes that's what it takes. Or what about another appeal? Lord have mercy!

---

Posts: 3753 | From around | Registered: Mar 2008 | IP: Logged |

sammy
Frequent Contributor (5K+ posts)
Member # 13952


posted

---

Rumigirl, I'm so sorry to hear that you keep getting dropped by your doctors and now your IVIG treatments are cut off. No wonder you've been so sick. This just breaks my heart.

To answer your question about contacting my state senator, no I have not tried that yet. I had no idea what to say or how to start. I used to be an excellent writer but now it is something that I struggle with thanks to Lyme.

My IVIG nurse is somewhat of a political advocate. She will be very involved in the reelection campaign for our senator. One of the main issues, as always is healthcare. This is also an issue that she said is a personal interest of his.

So she is going to help me write a letter. (Thank you for reminding me to do my part). I have to write the bare bones part. She will do the finessing.

She wants me to tell how I got sick. What my life was like before and what it is like now. Include financial struggles, insurance difficulties and cost, social security process and delays, etc.

My nurse was just appalled when she heard my story. Healthcare in our country needs to change.

---

Posts: 5237 | From here | Registered: Nov 2007 | IP: Logged |

lpkayak
Honored Contributor (10K+ posts)
Member # 5230


posted

---

this is a major problem for many. i have tried over and over to get this type of help and keep failing and giving up. it almost feels to me as if it is part of the whole "conspiracy"

i couldnt read the whole thread-and sorry for the negativity...but i have needed major help for this since i had a second head injury 7 yrs ago

there is a real need here...wish someone could solve the problem

--------------------
Lyme? Its complicated. Educate yourself.


---

Posts: 13712 | From new england | Registered: Feb 2004 | IP: Logged |
Contact Us | LymeNet home page | Privacy Statement

Powered by UBB.classic™ 6.7.3

---
The Lyme Disease Network is a non-profit organization funded by individual donations. If you would like to support the Network and the LymeNet system of Web services, please send your donations to:
The Lyme Disease Network of New Jersey
907 Pebble Creek Court, Pennington, NJ 08534 USA
http://www.lymenet.org/
---
Home | Flash Discussion | Support Groups | On-Line Library
Legal Resources | Medical Abstracts | Newsletter | Books
Pictures | Site Search | Links | Help/Questions
About LymeNet | Contact Us
---
© 1993-2020 The Lyme Disease Network of New Jersey, Inc.
All Rights Reserved.
Use of the LymeNet Site is subject to Terms and Conditions.
---