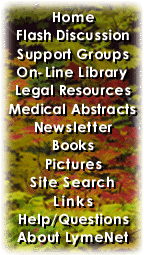 ---
LymeNet on Facebook
LymeNet on Twitter
---
---
The Lyme Disease Network receives a commission from Amazon.com for each purchase originating from this site.
When purchasing from Amazon.com, please
click here first.

Thank you.




Dedicated to the Bachmann Family


LymeNet needs your help:
LymeNet 2020 fund drive

The Lyme Disease Network is a non-profit organization funded by individual donations.

| | |
| --- | --- |
| | |
Author
Topic: How many people are now wearing PLUS SIZE clothing bcuz of lyme?

lymegal23
LymeNet Contributor
Member # 28573


posted

---

I'm a 25 year old female. My whole life I have been a size medium in junoirs for shirts, and a 9 or 11 in pants in junoirs

Ever since like four months after treating my lyme disease, I started gaining alot of weight all around my mid section. My stomach isnt bigger but its like theres a spare tire all around my hips. My weight all went to my upper thighes and my hips. I've done alot of research on here about high cortisol levels. and I think thats whats to blame here. I hardly gained any weight at all in my arms and upper body. bra size is the same.

I am now wearing a size XX LARGE OR XXX LARGE shirt because of this problem. I am shopping in plus size departments and stores. I need to buy pretty much ALL NEW CLOTHES

what a pain! anyone else going through this?

---

Posts: 995 | From somewhere out there | Registered: Oct 2010 | IP: Logged |

jlp38
LymeNet Contributor
Member # 27221


posted

---

Seems like everyone here is either an xxs or an xxl. Not sure why that is. It stinks either way.

---

Posts: 707 | From Colorado | Registered: Jul 2010 | IP: Logged |

betty1939
LymeNet Contributor
Member # 18240


posted

---

When I first got sick I lost a bunch of weight, then I started gaining weight even though I was eating healthy, and now I can't gain weight and I'm smaller than I was at 25 and I'm 49 and in menopause so should be gaining weight. It's crazy!

--------------------
Lyme IGG/IGM positive 12/08
Babesia Microti IGM positive 12/08
Hemobartonella positive 1/11
mycoplasma 6/11


---

Posts: 162 | From Ohio | Registered: Nov 2008 | IP: Logged |

lpkayak
Honored Contributor (10K+ posts)
Member # 5230


posted

---

im big...but i have been now since i gained 80 lbs with my last baby. 27 yrs ago. i had had lyme a long time before she was born but it wasnt dx or txed

i lost and gained and lost and gained thet weight for yrs...as arthritis got worse moving was harder

and i have been unable to get back down to a normal weight-im either xxl or xxxl but im only 5'1" so its prettty bad.

i take meds for both thyroid and adrenals...test low in both

i heave read that 80% of ppl with lyme deal with obesity and 20% have trouble gaining and weigh too little

--------------------
Lyme? Its complicated. Educate yourself.


---

Posts: 13712 | From new england | Registered: Feb 2004 | IP: Logged |

manybites
Frequent Contributor (1K+ posts)
Member # 33750


posted

---

Me too .I used to be size 8 and since lyme disease I am wearing large XXL size .I have the same problem.

I can not even loose weight is impossible.

---

Posts: 1379 | From disable | Registered: Aug 2011 | IP: Logged |

Dogsandcats
Frequent Contributor (1K+ posts)
Member # 28544


posted

---

I am in the plus size club...

The roughest trips are when I look for clothes at Target.

They seem to put the plus size really close to maternity....real close. I pick something up, look at the size and the tag says "growing mommy"....

It has been that way at our target for years. Over 20 years ago, about six months after giving birth, a neighbor saw me shopping at this Target for clothes....and she said.....
"OH are you pregnant again?"

--------------------
God will prepare everything for our perfect happiness in heaven, and if it takes my dog being there, I believe he'll be there.

Billy Graham


---

Posts: 1966 | From California | Registered: Oct 2010 | IP: Logged |

Truesun
LymeNet Contributor
Member # 19735


posted

---

Hi,

I was gaining weight big time. My Dr. said it could be the body trying to protect itself from the toxins being released. We started treating adrenal fatigue to see if this helps. I also have started back on Atkins since Dr. Andy Cutler said this helps with some mercury poisoned people and I have always felt better on it in the past.

I have stopped the rapid weight gain now but it is ridiculous. I gained around twenty pounds from October to January. I can't buy new cloths. That money goes to supplements. I know you can all understand that!

Hope this helps a little

--------------------
Misdiagnosed for many years. Treated for many things besides the real issue. Lyme diagnosed April 2008. Parasites diagnosed recently. Past to both my sons. Trying to remain hopeful and thankful.


---

Posts: 144 | From Ohio Valley | Registered: Mar 2009 | IP: Logged |

Keebler
Honored Contributor (25K+ posts)
Member # 12673


posted

---

-
Be sure to read the POTBELLY book in that link above. It explains SO much about how infections can cause substantial weight gain, even for someone with stellar habits.

It changed my feelings about my size from disgust to love and understanding - & working on humor.

Now, 1X stand for extra special (even if extra swollen).

It's NOT what we think, really. That book has been a life saver, and the adrenal book along with it.

I have to because they irritate me but I cut out the tags to all my clothing. Not bought anything new in over ten years anyway, but I never see any tags. Tags can be damaging to us. Get rid of them.

As for mirrors, with compassion, I see someone who adheres to excellent food choices but who, still, just happens to be swollen due to other circumstances.

I've trained myself to not compare myself to bodies I see in the media (even Angelina's leg). I can admire others' strength & beauty and know that, somewhere in there, I've got a leg, too. It's just not showing itself right now.

Acceptance is vital to be able to get on with what really matters. No room in my puffy body for negativity. No room at all. Gotta let that lightness of heart have a chance.

When the inside health is better, so will the outside health. The swelling will subside.
-

[ 02-29-2012, 01:38 PM: Message edited by: Keebler ]

---

Posts: 48021 | From Tree House | Registered: Jul 2007 | IP: Logged |

randibear
Honored Contributor (10K+ posts)
Member # 11290


posted

---

initially i lost weight down to 120 and wore a size 6-8.

now, oh my gosh, i'm at 210 and wear a 16/18.

depression over my weight is a major problem. i just look into a mirror and cry. i cannot accept what i have become. to me it's horrifying.

plus the weight causes more problems -- sleep apnea, trouble breathing, etc.

it's just a vicious cycle.

--------------------
do not look back when the only course is forward


---

Posts: 12262 | From texas | Registered: Mar 2007 | IP: Logged |

merrygirl
Frequent Contributor (1K+ posts)
Member # 12041


posted

---

I m buying 4x shirts. They are roomy but i have in general come to accept it. I eat like crap and too tired and painful to move. What do i expect?

I have to say people strangers that is have a harder time with it.

Before i started retx last week, i went and had some drinks.

I think i cut a couple punk kids at the bar and they made a commment. Lucky for them, i am happy when drinking. I still regret not smashing my beer over their head, but oh well.... nxt time

---

Posts: 3905 | From USA | Registered: May 2007 | IP: Logged |

Keebler
Honored Contributor (25K+ posts)
Member # 12673


posted

---

-
I think the next time anyone makes a disparaging comment, you have the right to douse them with any beverage. That would be fun, for a change, send it right back to them - and then run, run, run.

Being heavy can lead to the "oh, well" effect and sometimes consume toxic stuff just to snuff the flames. It just pains me that anyone would feel badly about themselves just because of size.

And I so wish that all junk food would disappear as food can be fabulous and still good for us but the additives they add to junk food are very addictive from the first bite.

About the self-loathing I read here, it's heart breaking.

I used to carry that but it's such waste of time and a terrible toxin in the worst way. It's hard but so important to keep reminding ourselves of the making of real worth, in our character.

Talking here, though, mostly about usually having a good nutrition plan that is delicious and healthful. Even then, size can swell.

It's not so much the weight that causes other problems (which it can) but first, the problems that CAUSE the weight gain also cause other problems.

The underlying problem is not the weight. The weight is a result of issues yet to be resolved.

The weight is part of the whole deal. It's not at what we think. That POTBELLY book is essential at understanding the complexity of this.
-

---

Posts: 48021 | From Tree House | Registered: Jul 2007 | IP: Logged |

Keebler
Honored Contributor (25K+ posts)
Member # 12673


posted

---

-
Site: http://www.potbellysyndrome.com/

The Potbelly Syndrome: How Common Germs Cause Obesity, Diabetes, and Heart Disease.

Book link, you can look inside the book and read readers' reviews here:

http://www.amazon.com/exec/obidos/ASIN/159120058x/ref=nosim/httpwwwpotbel-20

===============================

The authors above show HOW that can happen but - other than the obvious "treat the infections" advice which is vital - don't detail the range of support techniques for the adrenals along the way.

While not a LL doctor and not discussing lyme (but does acknowledge infections as stress), THIS author offers great advice that can benefit those with lyme.

While it's a great resource for herbal and nutritional supplements, it's not just about what supplements can help, or about low dose Cortef (hydrocortisone), but also about some self-care, habits, and such that some of us may never think about as being so important:

http://www.adrenalfatigue.org/

Website: Adrenal Fatigue - James L. Wilson, DC, ND, PhD

His book link: http://www.adrenalfatigue.org/adrenal-fatigue-the-21st-century-stress-syndrome-book

Amazon link where you can look inside the book and read 146 reader reviews, who rate this a 4.5 out of 5:

http://www.amazon.com/Adrenal-Fatigue-Century-Stress-Syndrome/dp/1890572152/ref=sr_1_1?s=books&ie=UTF8&qid=1320162262&sr=1-1
-

---

Posts: 48021 | From Tree House | Registered: Jul 2007 | IP: Logged |

Keebler
Honored Contributor (25K+ posts)
Member # 12673


posted

---

-
A beautiful, strong woman:

Google: Adele, photos

60 Minutes had a very nice feature with her about a month ago. Lovely woman.
-

---

Posts: 48021 | From Tree House | Registered: Jul 2007 | IP: Logged |

CountryMouse
LymeNet Contributor
Member # 32073


posted

---

I tend to have a potbelly when candida is heavy in my gut. It makes me swell so that I look about 6 months pregnant. I treat with nystatin and diflucan.

Believe it or not, you can literally have pounds of bacteria in your gut! Make sure you are "regular" in the motility dept, that keeps the candida down too. Yeast also makes you crave sugar, and most sugar goodies have fat in them, so that makes you gain weight too.

One more thing, Lyme loves the thyroid and liver. If you are on thyroid meds and are only taking a T4 supplement, the liver could be too sick to convert the T4 to usable T3, thus lowering your thyroid hormones and making your metabolism too slow. I take a T3 and feel loads better on it.

--------------------
Country Mouse

6/2011 IgX:
IGG: 31 IND, 41+++, 45+, 58+
IGM: 31+, 39 IND, 41 IND, 83-93 IND
Band 31 confirmed to be Lyme epitope by Igenex 7/2011

8/2011 IgX: POSITIVE
IGG: 31+, 34 IND, 39 IND, 41++, 45+, 58+
IGM: 31+, 34 IND, 39 IND, 41++, 83-93+


---

Posts: 169 | From Western Mass | Registered: May 2011 | IP: Logged |

Bitten in Bergen
LymeNet Contributor
Member # 34067


posted

---

HA!

Thanks SO much for raising this issue. And thank you, thank you, thank you for the great links on adrenal issues.

I was a "svelte" 120 pounds when I got married (age 30) and I'm 5 foot 6. After lyme and 2 kids, I am now age 48, over 160 pounds and wearing plus sized pants (18W)and counting - I used to wear size 10.

As with some others here, all of my weight went mostly to my torso (hips, belly, thighs).

Family is very unhelpful regarding my weight gain. Doesn't help that I have a husband with a high metabolism who can eat junk food to his heart's delight and still have a flat stomach (grrr!!!).

But the great links have given me hope and solace. Will definitely look into this further, since I have not had any adrenal testing. I have lyme & babesia. I was also on steroids and steroid inhalers for a few years during the time that my babesia air hunger was being misdiagnosed as asthma.

Be strong, everyone! Thanks so much for this forum!!

---

Posts: 348 | From NJ | Registered: Sep 2011 | IP: Logged |

Keebler
Honored Contributor (25K+ posts)
Member # 12673


posted

---

-
Steroids can cause weight gain, undeserved (that is even with good food plan) and I think "steroid-gained weight" can be much harder to drop. Sure was for me. [Sure wish I had known that steroids were a huge "NO" for lyme at that time.]

As for those in your life who are not helpful or kind, I have little patience. In my view they have a couple choices:

About food or weight or clothes comments:

Stop the crap. No snide comments. No jokes. No huffing, puffing or eye rolling.

They would have to take some sort of class or private tutoring regarding love and acceptance, included communication training on the correct way to talk to someone, even a stranger, but also one that would teach empathy.

No kidding, someone is snide to me and they are out the door, out of my heart, and out of my life.

If they have been made aware of the discomfort or pain their words cause and still persist, that is abusive behavior and I'm done with that (and maybe them). Period.

Some people really don't know and think they may be kidding. Others know they are abusive and say they are kidding. Education is vital here.

Counseling can help with how to address this. The communication skills that counselor teach are excellent for many facets of relationships but you and your family could go for some guidance just for the way you talk to each other.


Now, if they have junk food around, well, that's tricky. My wish would be to ban all junk food but, here I just spouted off about being accepting and all that. So, they have the right to eat what they want, too, keeping it to themselves (hopefully not taunting you).

Still, there can be courtesy guidelines in every home. If it's hard for someone to have visual clues of certain foods sitting on the counter or even on the top shelf of the fridge, you all could work on how to store that. INSIDE containers that you can't see into, out of sight when not "in use" --

you might also arrange for classes on certain styles of cooking that everyone would enjoy and could eat. Mediterranean, etc.

Find healthier choices for all the flavors, etc.
-

---

Posts: 48021 | From Tree House | Registered: Jul 2007 | IP: Logged |

'Kete-tracker
Frequent Contributor (1K+ posts)
Member # 17189


posted

---

Was skinny me while life. 6' & 140 lbs from 18 to 30 then ~155 until just before the Lyme.

Now that my thyroid got hit Real bad (even lumps that have since dissipated), I've been on thyroid pill every mornng ever since.

My weight's now ~175 & pant waist-size has jumped a few inches. Really sucks to not be able to wear favorite pants.

And "bad cholesterol" #s not particularily good for 1st time in my life. Imagine- ME- having to watch my diet.

---

Posts: 1233 | From Dover, NH | Registered: Sep 2008 | IP: Logged |
Contact Us | LymeNet home page | Privacy Statement

Powered by UBB.classic™ 6.7.3

---
The Lyme Disease Network is a non-profit organization funded by individual donations. If you would like to support the Network and the LymeNet system of Web services, please send your donations to:
The Lyme Disease Network of New Jersey
907 Pebble Creek Court, Pennington, NJ 08534 USA
http://www.lymenet.org/
---
Home | Flash Discussion | Support Groups | On-Line Library
Legal Resources | Medical Abstracts | Newsletter | Books
Pictures | Site Search | Links | Help/Questions
About LymeNet | Contact Us
---
© 1993-2020 The Lyme Disease Network of New Jersey, Inc.
All Rights Reserved.
Use of the LymeNet Site is subject to Terms and Conditions.
---