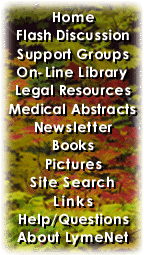 ---
LymeNet on Facebook
LymeNet on Twitter
---
---
The Lyme Disease Network receives a commission from Amazon.com for each purchase originating from this site.
When purchasing from Amazon.com, please
click here first.

Thank you.




Dedicated to the Bachmann Family


LymeNet needs your help:
LymeNet 2020 fund drive

The Lyme Disease Network is a non-profit organization funded by individual donations.

| | |
| --- | --- |
| | |
Author
Topic: Anyone use essential oils to treat Lyme?

Messa
LymeNet Contributor
Member # 38065


posted

---

One of my drs said my body isn't strong enough to handle antibiotics. I mean my gut is in bad shape. Cannot afford Iv.

Has anyone Treated Lyme with do terra essential oils?

Has any other natural protocol worked?

I need to find a protocol that works for me. And find it soon!

---

Posts: 415 | From USA | Registered: Jun 2012 | IP: Logged |

Keebler
Honored Contributor (25K+ posts)
Member # 12673


posted

---

-
1. You say your gut is in bad shape. I would not suggest any use of any strong plant oil for your stomach right now, then. There are many other ways to approach this with other herbs - see the next two posts.

A bit later, you may tolerate a GEL CAP of Oregano oil - but best on the advice of a LL ND or someone with similar education and expertise.


2. Just in case you also have MCS (multiple chemical sensitivities), there may be only a few essentials oils that are tolerable. I find those from citrus sources to be the only ones for me, or mint.

The flower or spices ones are just to strong, even one drop in a carrier oil on a tissue or small dish as a disfuser. Lavender oil, especially, can be very rough for those with MCS.


3. Essential oils have their use but be careful as they are absolutely not for internal use straight. Very careful calculation about dilution and form help prevent burns that can be very serious.

When highly concentrated plant oils are used - it is only with a certain number of plants such as lemon, oregano, etc. but that would also not necessarily be ESSENTIAL oils.

Essential oils are super - super - concentrated.

Certain plant oils that are helpful but not at all enough to treat lyme - are

Oregano oil -- which would be either in a gelcap or tincture form very diluted.

As AROMA THERAPY: THIEVES' oil - a drop or two put in much more carrier oil (like almond oil) and could be rubbed onto certain acupuncture points of the body or

used in AN INFUSER so to put into the air - or a drop or two on a tissue to breathe from a certain distance from the nasal passage. Too close could burn the nose.

If you explore the use of essential oils, be sure you find an expert to guide you.

I am certain that there is no LL herbalist who would rely on this method solely.

Some cannot handle even very diluted or gelcap Oregano oil but for many - it can be very helpful in fighting candida. The GelCaps are safer as they don't burn the esophagus on the way down.

But, for those who can handle it, Oregano oil - in a tincture bottle dilution can be wonderful to swish in the mouth and attend to oral candida. Some can swallow a few drops of the dilution when added to about 1/2 cup of water.

GAIA, HERB PHARM, are just two companies that have the tincture bottles for Oregano Oil. GAIA also has GEL CAPS.

PEPPERMINT OIL, as a topical dilution can help relieve pain -- and internally as an ENTERIC COATED tablet - dissolving further down the digestive tract so as not to burn the more tender tissue higher up.

There are other oils that can be very good - just be sure to have great respect for the kind of oil, the dilution recipe, etc. You don't want to get burned.

============================

For aroma therapy, this company is top quality. Not for internal use, however:

http://www.youngliving.com/en_US/

Young Living Essential Oils
-

[ 08-09-2012, 05:24 PM: Message edited by: Keebler ]

---

Posts: 48021 | From Tree House | Registered: Jul 2007 | IP: Logged |

Keebler
Honored Contributor (25K+ posts)
Member # 12673


posted

---

-
When considering herbal / nutritional / adjunct methods:

if at all possible - because each person & each case is different - it's best to consult with an ILADS-educated LL (lyme literate) doctor who has completed four years of post-graduate medical education in the field of herbal and nutritional medicine -

- and someone who is current with ILADS' research & presentations, past and present.

Many LL NDs incorporate antibiotics (depending upon the licensing laws in their state). Some LLMDs and LL NDs have good working relationships.

When possible, it's great to have both a LLMD and LL ND and even better when they have a long-standing professional relationship.

-----------------------

http://flash.lymenet.org/ubb/ultimatebb.php/topic/2/13964

How to find an ILADS-educated LL:

N.D. (Naturopathic Doctor);

L.Ac. (Acupuncturist);

D.Ay. (Doctor of Ayurvedic Medicine);

D.O.M. (Doctor of Oriental Medicine);

Integrative / Holistic M.D., etc. (Be aware that those in this category can have various levels of formal herbal &/or nutritional education, perhaps even just a short course. Do ask first.)

Links to many articles and books by holistic-minded LL doctors of various degrees who all have this basic approach in common:

Understanding of the importance of addressing the infection(s) fully head-on with specific measures from all corners of medicine;

knowing which supplements have direct impact, which are only support and which are both.

You can compare and contrast many approaches.

BASIC HERBAL EDUCATIONAL & SAFETY links,

BODY WORK links with safety tailored to lyme patients,

LOW HEAT INFRARED SAUNA detail,

BIONIC 880 (& PE-1) links, and

RIFE links.
-

===============================

http://flash.lymenet.org/scripts/ultimatebb.cgi?ubb=get_topic;f=2;t=013239;p=0

What ILADS is

& WHY you need an ILADS-educated, Lyme Literate Doctor (whether LLMD or LL ND, or both)
-

---

Posts: 48021 | From Tree House | Registered: Jul 2007 | IP: Logged |

Keebler
Honored Contributor (25K+ posts)
Member # 12673


posted

---

-
I assume you've been on a Gluten-Free and Dairy-Free diet to help your gut but, if not, both are extremely important to consider.

-------

Be sure to get assessed for h.Pylori

& for parasites by a LL doctor. Not all parasite tests are accurate.

More detail in this link set but others may be along soon, too.

http://flash.lymenet.org/scripts/ultimatebb.cgi?ubb=get_topic;f=2;t=015508;p=0

Diagnosing Lyme Disease (&/or whatever else is going on)

Other tick-borne infections and other chronic stealth infections - as well as certain conditions that can hold us back - are discussed here.
-

---

Posts: 48021 | From Tree House | Registered: Jul 2007 | IP: Logged |

Keebler
Honored Contributor (25K+ posts)
Member # 12673


posted

---

-
http://flash.lymenet.org/scripts/ultimatebb.cgi?ubb=get_topic;f=1;t=118724;p=0

H. Pylori Herbal Treatment LINKS


http://rhrplus.com/b2evolution/blogs/index.php/Articles/antimicrobial-herbs-for-helicobacter-pyl

Antimicrobial Herbs for Helicobacter Pylori
By DD Rose on Apr 25, 2009 | In Bacteria, Microbial Research

http://www.raysahelian.com/helicobacterpylori.html

Helicobacter pylori vitamins, herbs, supplements, diet and food, natural and alternative treatment for the infecton, by Ray Sahelian, M.D.


http://h-pylori-symptoms.com/resources-2/articles/the-11-best-herbs-vitamins-for-fighting-h-pylori/

The 11 Best Herbs & Vitamins for Fighting H Pylori

http://oneearthherbs.squarespace.com/diseases/the-gastrointestinal-tract-digestive-problems.html

The Gastrointestinal Tract - Digestive Problems (Tillotson, et.al.)

2/3 of the way down:

. . . Recent scientific evidence indicates that the H. pylori bacterium plays an influential role in ulcer formation . . .

. . . dental plaque can harbor a supply of H. pylori, which may allow continual re-infection (Dosai, et. al 1991).

In cases of gastric ulcers, we must first address diet, stress, food allergies, liver health and digestive power. It is sometimes possible to obtain symptomatic relief with cooked okra, cabbage juice or bananas.

A few weeks or months of DGL licorice therapy can also serve to strengthen the stomach and intestinal membranes. This is very effective, even in some cases of H. pylori infection. In stubborn cases that do not respond to simple therapy, research indicates that mastic gum (Pistacia lentiscus) is emerging as a beneficial anti-ulcer therapy (Huwez, et. al 1998). . . .

= = = = =

http://www.ncbi.nlm.nih.gov/pubmed?term=Helicobacter%20pylori%2C%20herbs

PubMed Search:

Helicobacter pylori, herbs – 10 abstracts

Search web for: H.+Pylori, Townsend+Letter
-

---

Posts: 48021 | From Tree House | Registered: Jul 2007 | IP: Logged |

Messa
LymeNet Contributor
Member # 38065


posted

---

Thanks so much for all the info!

Yes I am gluten free, sugar free, egg free and dairy free.

I will look over all of this and consider.

---

Posts: 415 | From USA | Registered: Jun 2012 | IP: Logged |

tickle
LymeNet Contributor
Member # 36441


posted

---

I think probiotics might be the missing link here. As well as a gluten free diet.

The time many of us spend on antibiotics is very harsh on the intestinal flora, which is essential for health.

My LLND has my daughter and I using human origins probiotics, in the form of Genestra HMF Intensive proviotics. You can, and likely should probiotics via a probiotic enema. This gets them where they need to be in the lower bowel much more efficiently than oral dosages alone.

The protocol I'm using now is all herbal, along with the probiotics and other natural supplements.

---

Posts: 161 | From vancouver island | Registered: Feb 2012 | IP: Logged |

tickle
LymeNet Contributor
Member # 36441


posted

---

http://www.treatlyme.net/articles/2012/1/31/a-basic-first-treatment-recipe.html

[B][/B] Please note that when a person starts a Lyme Disease treatment it is common to have some worsening. This is usually due to a Herxheimer die-off reaction. You can read more on this site about this reaction and steps you can take to treat it.

1. Sleep:
(Use either a natural medicine or prescription medicine. Do not mix natural medicines and prescription medicines together at the first treatment but you can do so later.)
Natural medicines: (You can mix these two together or use in combination with the prescriptions medicines if needed.)
L-Theanine/GABA. 200mg of Zen (Allergy Research) 1 to 3 pills a night 1 hour before bed. Do not exceed 1200mg a day if using for nerve pain or anxiety during the day too. Excessive amounts in the day are very sedating, AND/OR
Herbal Combination Product. End Fatigue Revitalizing Sleep Formula (Integrative Therapeutics) 1 to 4 pills 1 hour before bed.
Prescription medicines:
Zolpidem (Ambien) 10mg 1 pill 30 min before bed (Use if your primary problem is getting to sleep. It is short acting.) AND/OR
Clonazepam (Klonipin) 1mg .5 to 2 pills 30min to 1 hour before bed. (Use if your primary problem is staying asleep. If you have both a falling and staying asleep problem try the Ambien first.)
Rationale: Sleep is often disturbed in chronic Lyme disease. Lack of adequate sleep worsens pain, increases fatigue, and suppresses the immune system. It appears that in response to infection, the excesses inflammatory cytokines produced by the immune system decrease the output of sleep inducing hormones to the sleep centers of the brain. A restorative amount of sleep is 7-9 hours of sleep a night. Sleep in the few hours before midnight is most restorative.

2. Cytokine Control and Herxheimer Die-off Reaction Prevention
Natural medicine:
Curcumin. Meriva 500 (Thorne) 500mg, 1 to pill 3 times a day. Read more about curcumin on this site.
Prescription medicine: (There are no effective and safe options.)
Rationale: Cytokines are inflammation chemicals made by the immune system in chronic Lyme Disease. They cause most of the Lyme Disease symptoms. At the beginning of treatment when killing lyme germs with antimicrobials or yeast with antifungals, the cytokines are made in even greater amounts causing a person to feel much worse. This is called a Herxheimer die-off reaction. You can read more about cytokines and Herxheimer Die-Off Reactions here on this site.

3. Hormones:
Adrenal Insufficiency (Start with either the natural medicine or prescription medicine. Do not use both together in the first treatment.)
Natural medicine:
Ashwagandha. Ashwagandha (Ayush) 1-2 pills in am and 1-2 pills between 1-2 pm or Ashwagandha 1:1 Standardized Extract (Medi Herb) 1/2 to 1 tsp in am and 1/2 to 1 tsp between 1-2 pm. Taking late in the day may disturb sleep. Read more about Ashwagandha on this site.
Prescription medicines: (I rarely use this because there is a very small risk of immune suppression using prescription hydrocortisone. On the other hand, ashwaganda is a supportive herb that does not suppress the immune system, but helps the adrenals work better.)
Cortef 5mg 1 to 2 pills in am and 1-2 pills between 1-2pm. Taking late in the day may disturb sleep.
Low Thyroid
Natural medicines: (None that are safe and effective. Some recommend iodine but too much can make thyroid conditions worse.)
Prescription medicine:
Dessicated Thyroid 30mg or Armour Thyroid 30mg 1 pill in the morning 30min before anything else and on an empty stomach with water only.
Rationale: Low hormones occur often in chronic Lyme disease. Inflammatory cytokines made by white blood cells to fight Lyme decrease the effective functioning of an area of the brain called the hypothalamus and pituitary. This part of the brain produces chemicals that induce sleep and that regulate hormonal systems. Normally this part of the brain releases messengers such as thyroid stimulating hormone (TSH), adrenocorticotropin hormone (ACTH), and follicle stimulating hormone (FSH) to stimulate the thyroid, adrenal glands, and sex hormone organs respectively. Because of the dysfunction caused by the cytokines, these regulatory messengers are released based on an incorrect interpretation by the brain of the hormone environment. Thus measurements of these messengers is an unreliable way to determine the hormone status. Another way to check hormone status is to measure the actual hormone levels like T4/T3 (thyroid), or cortisol/dhea (adrenals), or estrogen/progesterone/testosterone (sex hormones). These tests give a broad range of normal however. A person could have normal range testing for each of the hormones but still have clinically low hormones. Because of the unreliability of testing, treatment for low hormones should occur if there are clinical symptoms of low hormones as long as treatment does not increase hormone levels above the upper end of normal. Hormones provide many functions in the body. Proper levels improve energy and help the immune system to work more effectively.
Symptoms:
Adrenal Insufficiency: fatigue, recurrent infections, poor recovery from infections, low blood sugar with shakiness and irritability relieved by eating, low blood pressure and dizziness on standing, afternoon crashing, and sugar cravings.
Low thyroid: fatigue, achiness, low body temperatures, cold intolerance, weight gain, constipation, changes in menstrual periods.

4. Essential Micronutrients
Natural medicine:
Multi-vitamin. End Fatigue Daily Energy Enfusion
(Integrative Therapeutics). Take one scoop daily. If sensitive then Mediclear (Thorne) is an alternative. Take one scoop 2 times a day.
Rationale: To heal and feel better requires a multi-vitamin with an essential set of vitamins, minerals, amino acids, and antioxidants. A good multi-vitamin improves functioning of the immune system, muscles, brain and nerves, hormones, organs including the kidney and liver, detoxification, and decreases inflammation. It also protects the body from the toxic effect of prescriptive antibiotics.

5. Yeast Treatment and Prevention
A. Probiotics: Required for Yeast Prevention and Treatment
Natural medicine:
Probiotic. HMF Forte (Seroyal/Genestra) is one of the few probiotics on the market shown to repopulate the intestines in scientific studies. Take at least 2 pills daily at least 1 hour away from antibiotics. During an active yeast infection consider increasing to 4 pills daily either one time a day or divided in to two doses.
B. Yeast Prevention Antifungals:
(Use either the natural medicine or prescription medicine. Do not use both together.)
Natural medicine:
Herbal Combination Product. Phytostan (Integrative Therapeutics) 2 pills 2 times a day.
Prescription medicine:
Nystatin 500,000IU 2 pills 2 times a day
C. Yeast Treatment Antifungals:
(For people with a yeast screening score of 140 or higher (see below). When complete treatment, then start yeast prevention antifungals as above. Use the natural medicine or prescription medicine option but not both together.)
Natural medicine:
Herbal Combination Product. Phytostan (Integrative Therapeutics) 2 pills 2 times a day. This will take 3-4 months to get yeast overgrowth under control.
Prescription medicine:
Nystatin 500,000IU 2 pills 2 times a day, and
Fluconazole (Diflucan) 200mg 1 time daily for 30 days. Use in combination with nystatin to prevent drug resistance. This combination will take 30 days to get yeast under control.)
Rationale: Too many yeast in the intestines (yeast overgrowth) is a common problem that occurs in those with chronic Lyme disease either during treatment or prior to beginning treatment. Antibiotics used to treat Lyme can lead to too many yeast. Immune suppression prior to starting antibiotics can also cause yeast overgrowth. Yeast overgrowth can result in an ongoing systemic allergic reaction to the yeast that can suppress the immune system. It may also lead to inflammatory cytokine and oxidizing agent excess that lead to many of the Lyme disease symptoms and pain. Food allergies and sensitivities can be the result of yeast overgrowth too.
There is not a useful diagnostic blood test or stool test for yeast overgrowth. While some may test for antibodies in the blood to intestinal yeast, antibodies are common even when yeast are in balance. In addition it is normal to have stool cultures grow yeast, and so a culture does not indicate if yeast are in excess. For that reason, yeast are diagnosed using a screening questionnaire. This questionnaire evaluates for the possibility of yeast overgrowth based on yeast overgrowth risk factors and intensity of symptoms. In general, people benefit from treatment if the score is 140 or higher. At the beginning of a Lyme disease treatment, often before antibiotics are started it is essential to treat yeast. Doing so can limit the severity of die-off reactions from treating Lyme because removing yeast removes one source of inflammatory cytokine excess.

6. Lyme Infection Treatment
(Take either the natural medicines or the prescription medicines. Do not take both together.)
Natural medicines
Banderol and Cats Claw. Banderol and Samento (Nutramedix) 5 drops 2 times a day of each herb and increase the dosing every 2 days by 1 drop per dose till taking 20 drops 2 times a day. Based on the manufacturers recommendations, take the herbs at least 15 minutes from each other. Take on an empty stomach. Do not take beginning 30 minutes before through 2 hours after having food, medicines, or supplements. Read more about Banderol and Samento on this site including when to increase the dose up to 30 drops 2 times a day and what to do if you have a die-off reaction while increasing the dose.
Prescription medicines
Doxycycline 100mg 2pills 2 times a day or 4 pills 1 time a day. Take with food to prevent nausea. Do not take with calcium supplements or calcium fortified milk or milk substitutes like rice milk OR
Clarithromycin (Biaxin) 500mg 1 pill 2 times a day.
7. Detoxification
Reduce the total load of negative influences on your health:
eat organic foods,
avoid gluten, scents, alcohol and tobacco, and
decrease emotional stress.
8. Coinfection Treatments for Bartonella or Babesia
If you have one of them do not start treatments for the coinfections at the first visit. Wait one month to adjust to Herxheimer reaction from treating the Lyme infection and to stabilize on the supportive supplements.

9. Additional Natural Medicines and Prescription Medicines
Many other natural medicines to manage symptoms and problems exist. Wait one month to start these. Often using the recommended natural medicines and prescription medicines in this first treatment regimen will correct existing problems. Thus you may not require other medicines.

10. Herxherimer Die-off Reactions
If you worsen as you start treatment, it is likely due to a Herxherimer Die-off Reaction. Read this article to find out more and to see what herbal medicines and nutritional medicines you can take to manage this.


This is so good, I think I'll start a thread to share this.

---

Posts: 161 | From vancouver island | Registered: Feb 2012 | IP: Logged |

Brussels
Frequent Contributor (5K+ posts)
Member # 13480


posted

---

I used essential oils during lyme, mostly rubbed on the skin, near the problematic points.

There was a lady here in this forum, many years ago, that convinced me of this type of use (rubbing). It sounds less strong than ingestion, but it is in fact, many times, the opposite. As ingestion does not reach all parts we want and by rubbing near the problematic points, I got better effects sometimes.

Try to search for her old posts, she posted as Farah. She had many suggestions of oils, specially mixtures.

I still rub oils here and then. They particularly help to relax and clean areas like lymph nodes, for example. Or when a joint is in pain, it helped me a bit there too. When you got infections like in pimples, nothing works better than some thyme or oregano oil on them (they simply dry out).

I still use these oils for viral warts (my daughter has on skin some warts) and they prevent the warts to come back again, I find.

Anyway, as with other treatments, such rubbed oils are not curative for lyme, but they can help, in my opinion.

For headaches, for example, tummy pains (very well known here in my town, moms rub some oils on the tummy of babies to stop cramps), I used for my own gastritis for years (another oil on acupuncture points), it worked well for reducing the pain... And so on.

as for the bad gut, most lyme sufferers have bad gut. If they don't have, after months or years on antibiotics, they will get a bad gut, no matter how many millions of probiotics they take.

Even if you do not take antibiotics, the gut is usually bad for most lyme sufferers. Just read the posts here for years to understand that both lyme and candida / funghi are together, they walk hand in hand.

There are other alternative ways than antibiotics. I took antibiotic for 10 days this year, after about 4 years antibiotic free. I took it for a bladder infection during a trip (as I had nothing else with me), and I swear I saw the damage in the gut already.

10 days of Bactrim...

I fought lyme without antibiotics due to weak body in general, and candida. And tummy pains after most antibiotics.

Probiotics will only help minimally. The gut needs a complete treatment, like said above, with allergy free foods, clean of heavy metals, pesticides, GMO food, parasites, infections, etc. Even less exposure to electrosmog might be necessary...

Look into herbs, homeopathics, Chinese herbs, Buhner herbs, photons, sound treatment (I forgot the name of the machine people were posting about), whatever.

Good luck!

---

Posts: 6196 | From Brussels | Registered: Oct 2007 | IP: Logged |

tickle
LymeNet Contributor
Member # 36441


posted

---

http://www.nourishingdays.com/2010/04/digestion-and-elimination-understanding-the-importance-of-gut-flora/

Gut flora is the basis of our immune system.
It's highly underrated, and now thought that problems with gut flora, which allow proliferation of cdif and it's toxins, are a major cause of autism.

Imagine how it affects those of us with chronic infection. It is important. Just as, or even more important, than diet and medications.

Problem is, it's a new science. We only recently understood that there ate 10x the number of bacteria living in our guts as there are human cells in our bodies. If you have a bad gut, you won't heal. Period.

I don't understand enough about it to know exactly how to improve our gut flora, but the HMF probiotics are ones which actually DO take up residence in our gut.

Probiotics do not help minimally - that's old knowledge now - they help tremendously, and any program to give us our health back must begin with addressing the gut flora issues.

This encompasses the issue of candida, which competes with healthy gut flora.

I feel strongly about this, having learned quite a bit about it only recently.

---

Posts: 161 | From vancouver island | Registered: Feb 2012 | IP: Logged |

seibertneurolyme
Frequent Contributor (5K+ posts)
Member # 6416


posted

---

Have not read the other responses.

But my first thought is to figure out what is causing your G.I. issues. Hubby is probably on the strongest med cocktail he has ever been on yet he says that since adding in factive a week ago his bowels are the most normal they have been since he started back on IV meds 2 months ago.

If you have bartonella or an overgrowth of several other bad gut bacteria such as klebsiella (can't remember the others but know there are a couple more) then the fluroquinolone drugs (cipro, levaquin or factive) can greatly improve G.I. health).

But hubby did add in a new and different probiotic around the same time as he added the factive so can't be 100% sure which is helping.

Hubby is on IV rocephin, IV zithromax, flagyl (pulsing oral and IV), ivermectin, malarone, lariam, and factive. He stopped the rifampin when he added the factive. Also on herbs including sida acuta, stephania, artemisinin, ECGC green tea extract and more.

Hubby has bad nausea whether he takes meds or herbs or not -- sometimes it improves on certain babesia treatments. Phenergan is part of his symptom control meds.

But his gastritis is long gone since treating G.I. parasites when he first got sick 11 years ago and then again a few years ago after treating bartonella.

In your situation I would probably start with the Buhner herb protocol. See the Healing Lyme book and his website for more recent updates.

http://BuhnerHealingLyme.com

The Buhner protocol is probably the cheapest of the herbal protocols and it is one of the easiest to adjust doses. Just start with 1 herb at a time and at most 1 capsule 3 times daily of each herb rather than starting at the therapeutic dose of 4 capsules 3 or 4 times daily.

Bea Seibert

I would also suggest a google search and reading the article called "Bell's palsy of the Gut." That article does a really good job of explaining the multiple ways that tickborne illnesses can affect G.I. function.

Also research leaky gut -- herbs such as licorice and slippery elm can greatly help heal the G.I. Just be careful with glutamine if you have neuro symptoms -- some lyme patients cannot tolerate that supplement -- can cause seizures in some people.

---

Posts: 7306 | From Martinsville,VA,USA | Registered: Oct 2004 | IP: Logged |

riverspirit
LymeNet Contributor
Member # 19435


posted

---

Hello, I live with chemical sensitivity and normally do not tolerate most essential oils. My sensitivities differ from Keebler's sensitivities.

I'm able to handle Dr. Bronner's Lavender soap, for example. And, like Keebler, i can handle peppermint.

Recently i discovered a laboratory that tests for parasites. What is cool about this lab is that you do not have to go through a doctor to work with the laboratory and parasitologist. You can work directly with the doctor that tests your specimens. He came highly recommended by someone who is highly regarded in the lyme community and who is a proponent of natural and non-toxic healing modalities.

What is interesting about this Doctor who runs the lab (he knows a lot about lyme and co-infections) is that he works with medical grade essential oils and prescribes essential oils to treat the infections/parasites he sees in the specimens.

Despite my chemical sensitivity, i am now taking these essential oils, in lower than normal doses. Am in the middle of treatment.

So yes, someone is treating "lyme" with essential oils, as a doctor, but his specialty is parasitology.

Hope you find something that works for your system ~

riverspirit

---

Posts: 164 | From North America | Registered: Mar 2009 | IP: Logged |

pamoisondelune
Frequent Contributor (1K+ posts)
Member # 11846


posted

---

I have used Farah's oils a bit and found them effective. That is, i didn't use exactly Farah's oils, but a modified recipe based on her general procedures.

One weekend away i forgot my Malarone pills, and my ribs started hurting. For 10 days they got sorer and sorer.

Finally, i rubbed the ribs with a mixture similar to Farah's type ----- the bugs vamoosed fast!!

I've posted this before. From memory, i think i used 1 tsp olive oil, plus about 25 ? drops of combined essential oils. I think i used Thyme oil (the strongest, very strong), peppermint, lemon, eucalyptus, and citronella.

Other times, i used to rub Thyme oil on my thumbs and back of finger joints to stop infections (not sure what, lyme, babesia, mycoplasm, or something).

(However, i have a strong gut and no big GI problems.)

Now, i just use my GB4000 rife machine to knock down the lyme, babesia, bartonella, etc, and i have few symptoms.

PollyPolygonum

---

Posts: 1226 | From USA | Registered: May 2007 | IP: Logged |

Messa
LymeNet Contributor
Member # 38065


posted

---

Thanks brussels. Ive been using oils for symptoms. Fatigue, nausea.....I love them. Do terra has an oil blend called elevation. When begin feeling that deep Lyme fatigue I rub it on the back of my neck and adrenals. It's helped a lot!

Everyone is different and my body is in no way able to take antibiotics.

My LLMD doesn't do natural so I guess I'm going to have to switch. I hate to go through seeing a new doctor. Oh for the day when chronic Lyme is respected the way cancer is respected.

I'm going to check out Bruhners stuff until I can get in to see someone. Thanks all!

Oh! Brussels, you mentioned rubbing oil on lymph nodes. Does the oil help them drain? What oils help? Can you tell me more about this? Thank you!

---

Posts: 415 | From USA | Registered: Jun 2012 | IP: Logged |

Brussels
Frequent Contributor (5K+ posts)
Member # 13480


posted

---

It's been soo long I used them. Farah's recipy was good, in my opinion, but I think she got in trouble as she was a practioner claiming oils could help. Not allowed, I suppose, as she vanished, her website disappeared, and I wonder how she is today.

Maybe POlly Polygonum above can help you with the recipy? It was divine to feel how relaxing the oils were.

Today I simply rub any good oil on the whole body, and I do feel relaxed. My theory is that these oils that are good transporters (is this English?) will bind to things that water does not. So rubbing on skin and having them penetrate on certain areas, will ALONE do some job of cleaning.

I did it SO MANY TIMES, and always, I got relaxed. So with the years, I learned to rub on the lymphatic nodes area (places we usually do not use oils, like under the arm, groin, behind knees, soles, neck and other places we are used to rub like shoulders, face, buttocks, belly).

Then if you ADD something with active principles, like lemon, geranium, etc, you got to know that they will work as medicine doing whatever they are supposed to. Like never rub eucaliptus all around, you will get too chilly.

Or the mistake I did, I rubbed too much coriander oil, Gosh, I had THE HERX of my life: it was probably a huge amoung of heavy metals that came out at once. Then I learned the lesson. Do it slow.

There are milder oils, like lemon, lavendel, that can be used most of the time for normal people (without chemical sensititivities as said above), and others used with care, with a purpose. I'll see if I find the old threads of Farah, and put them here or bump them.

I am sure that right oils rubbed on swollen lymph nodes can give effects depending on the problem (infection ?, toxins, which toxin etc). I know by experience, that a cold can be very well fought with rubbed eucalyptus or similar oils (I use a mixture called Olbas Oil in Germany).

You rub them on the throat, back of the neck, shoulder , a bit on chest, and some acupucnture points, wow, you see you stuck nose opening almost immediately and the sore throat diminish very fast. Keep on treating the upper lymph (under the jaw, above shoulder, under arm), you get the cold symptoms much smaller fast.

I guess you learn a lot by trying. Dr. K. uses Rizols, which he swears. I hated the taste, so never got much into them as I found other alternatives.

---

Posts: 6196 | From Brussels | Registered: Oct 2007 | IP: Logged |

sparkle7
Frequent Contributor (5K+ posts)
Member # 10397


posted

---

FYI -

http://flash.lymenet.org/scripts/ultimatebb.cgi/topic/1/42308?

(excerpt from Farah)

The oils I primarily used were Eucalyptus, Frankincense, Lemon, Patchouli, Lavender, Geranium, and Thyme. I used Bay Laurel for lymph gland swelling, also. I sell ready made formula on my site, but all of these oils are widely available, and people can come up with effective blends themselves with these oils. Eucalyptus is also antimalarial and is likely to have effect against babesia.

-----

I haven't done any essential oil therapies exactly but I believe that a well known Dr. S is recommending clove oil for bart. I think they can be very useful but you have to be careful.

The thing about herbs is that there are so many ways to go about using them for health purposes. If one way doesn't work or is too much - you can try something else. You don't have to worry as much about stopping too soon or finishing the full protocol like abx.

If the oils are too strong, you can dilute them with a carrier oil. You can also put them in capsules or use as a massage like Brussels suggested.

-----

Here's another excerpt from farah from the above link -

I like books by Valerie Ann Worwood as a primer to get to know all the ways to use essential oils.

The best books on using essential oils for infectious diseases have been written by medical doctors in France. They are in French and are still untranslated.

Most aromatherapists generally recommend dilutions of 5%-10% essential oil to base carrier oil for most health problems.

For Lyme disease, generally a dilution of 15%-25% works better. It takes a little while to acclimate to using them at this concentration.

When I first started using them at these concentrations, I would have mild transient nauseous feelings.

I would reduce the amount I applied when I had these feelings. After a few days, the mild nauseous feeling went away.

I wouldn't use oils that are severely irritating to the skin in this way, such as cinnamon or clove.

I would apply the oils to areas where I would have symptoms and I would herx, and the symptoms would fade. Then the symptoms would frequently move to another area that I hadn't applied the oils to.

I felt like I would chase the disease around my body, but that the symptoms would fade in severity and the windows of time when I was well got wider and wider.

I started using the oils when my digestion could no longer tolerate antibiotics, I didn't have insurance, and didn't really know what else I could do to help myself.

I had tried the oils in normal amounts recommended in books by aromatherapists, and they didn't do anything for me.

-----

Thank you farah wherever you are...!

---

Posts: 7772 | From Northeast, again... | Registered: Oct 2006 | IP: Logged |

sparkle7
Frequent Contributor (5K+ posts)
Member # 10397


posted

---

PS - The doTerra look nice. They remind me of the Living Young oils. They are a bit pricey, though. You can buy some of the oils for less elsewhere & make your onw blends...

Swanson has a brand called Now that's pretty good & not as expensive. I guess it depends whether you buy organic or regular. It might be a good idea to get the organic since it's concentrated product if it's affordable.

---

Posts: 7772 | From Northeast, again... | Registered: Oct 2006 | IP: Logged |

Catgirl
Frequent Contributor (5K+ posts)
Member # 31149


posted

---

Awesome link!!! Thanks everyone for posting all of this (I had no idea about these oils)!

Brussels, thank you for mentioning rubbing in the oils. I can't ingest oils (think I have protomyxzoa). I'm hoping topically is okay.

--------------------
--Keep an open mind about everything. Also, remember to visit ACTIVISM (we can change things together).


---

Posts: 5418 | From earth | Registered: Mar 2011 | IP: Logged |

birdie67
LymeNet Contributor
Member # 35994


posted

---

Hi JellyBelly,

Any luck with oils for brain fog?

Thank you

---

Posts: 486 | From USA | Registered: Jan 2012 | IP: Logged |

sparkle7
Frequent Contributor (5K+ posts)
Member # 10397


posted

---

I don't know if Young Living has a Lyme combo but they have this for parasites-

http://www.youngliving.com/natural-cleanse/Parafree

It's a bit expensive... Yes, the quality can vary greatly! I read reports about mishandling of herbs or using inferior quality. It's something one could study for hours & hours.

It would be hard to tell if the more expensive ones are better unless you compared them side by side & could also study the sources of the herbs, growing conditions, wild vs. farm raised, etc. It's alot of work.

I'd really have to think about plunking down $50-100 on a little bottle of essential oils. I'd love to but I don't have the wallet for that kind of stuff at the moment.

There are so many great blends - I'd love to just spend all day smelling them. What I find even more confusing/frustrating then spending the big chunk of cash is which one to get...

I think farah did a good job of narrowing it down to some affordable choices. You could buy a few each week & add or subtract them. Bay oil is really nice. It has a great smell. Frankinscense is nice, too. It's quite uplifting.

---

Posts: 7772 | From Northeast, again... | Registered: Oct 2006 | IP: Logged |

sparkle7
Frequent Contributor (5K+ posts)
Member # 10397


posted

---

Interesting question birdie67 -

I found this - http://www.jeannerose.net/articles/alzheimers.html

Jeanne Rose has been writing books about herbs for many years. Maybe some of the stuff she worte would be helpful for brainfog, as well.

--- excerpt-

Clear thinking & breathing -
Douglas Fir, Pine, Eucalyptus

---

Posts: 7772 | From Northeast, again... | Registered: Oct 2006 | IP: Logged |

sparkle7
Frequent Contributor (5K+ posts)
Member # 10397


posted

---

Peppermint is another good one for brainfog-

Preliminary research supports nebulized peppermint oil for tiredness, exhaustion, depression and pain.

A 2004 study by Phillip Zoladz, Bryan Raudenbush and Sarah Lilley suggests peppermint oil inhalation improves alertness, attention to detail, virtual recognition memory, working memory and mood while reducing fatigue.

Earlier research by Shannon Barker, Pamela Grayhem, Jerrod Koon, Jessica Perkins, Allison Whalen and Bryan Raudenbush in 2003 also demonstrated increased cognitive performance with inhaled peppermint oil.

Peppermint oil inhalation increased pain tolerance in another study by Bryan Raudenbush, Jessica Koon, Brian Meyer, and Nicholas Flower in 2002.

Pain reduction accompanied a decrease in reported frustration and measured blood pressure.

While topical and diffused peppermint oils exhibit antibacterial activity in research, more human studies are needed to research the impact of nebulized peppermint oil on coughs, colds, infections, and other respiratory conditions.

Read more: http://www.livestrong.com/article/222093-peppermint-oil-in-a-nebulizer/#ixzz25kqmE2Ju

---

Posts: 7772 | From Northeast, again... | Registered: Oct 2006 | IP: Logged |

birdie67
LymeNet Contributor
Member # 35994


posted

---

@JellyBelly- Let me know if you find one

@Sparkle- Thanks so much for the info and link. Very interesting! I think I may pick up some peppermint oil tomorrow and try it. Seems like it may be helpful, even if temporary. Thanks again.

---

Posts: 486 | From USA | Registered: Jan 2012 | IP: Logged |

sparkle7
Frequent Contributor (5K+ posts)
Member # 10397


posted

---

That would be great JellyBelly56. It's always good to learn. Sometimes, I forget stuff I studied many years ago - so having a refresher is always good.

With the oils - just be careful with them & study about them. Some can be used either externally or internally & some can't. Some people may be sensitive to them. Try them but start slowly & work it up - just like any other thing you might be taking.

Good luck, birdie67. I might try it, too. Olbas is a good one. I think Brussels mentioned it. It's one of those all purpose oil combos. Most health food stores have it.

http://www.olbas.com/

Ingredients: Essential oils of Peppermint, Eucalyptus, Cajeput, Wintergreen, Juniper and Clove.

---

Posts: 7772 | From Northeast, again... | Registered: Oct 2006 | IP: Logged |

Razzle
Frequent Contributor (1K+ posts)
Member # 30398


posted

---

Essential Oils are not the same as fats found in foods.

doTerra is not FDA approved for anything; this is a misnomer promoted by certain individuals selling doTerra products. doTerra paid to register the phrase, "Theraputic Grade Essential Oil" with the FDA. This in no way implies any sort of certification by the FDA of doTerra essential oils.

There is no governmental program to certify essential oils in the USA. Anyone who says differently is lying.

--------------------
-Razzle
Lyme IgM IGeneX Pos. 18+++, 23-25+, 30++, 31+, 34++, 39 IND, 83-93 IND; IgG IGeneX Neg. 30+, 39 IND; Mayo/CDC Pos. IgM 23+, 39+; IgG Mayo/CDC Neg. band 41+; Bart. (clinical dx; Fry Labs neg. for all coinfections), sx >30 yrs.


---

Posts: 4165 | From WA | Registered: Feb 2011 | IP: Logged |
Contact Us | LymeNet home page | Privacy Statement

Powered by UBB.classic™ 6.7.3

---
The Lyme Disease Network is a non-profit organization funded by individual donations. If you would like to support the Network and the LymeNet system of Web services, please send your donations to:
The Lyme Disease Network of New Jersey
907 Pebble Creek Court, Pennington, NJ 08534 USA
http://www.lymenet.org/
---
Home | Flash Discussion | Support Groups | On-Line Library
Legal Resources | Medical Abstracts | Newsletter | Books
Pictures | Site Search | Links | Help/Questions
About LymeNet | Contact Us
---
© 1993-2020 The Lyme Disease Network of New Jersey, Inc.
All Rights Reserved.
Use of the LymeNet Site is subject to Terms and Conditions.
---