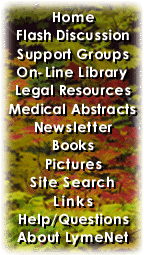 ---
LymeNet on Facebook
LymeNet on Twitter
---
---
The Lyme Disease Network receives a commission from Amazon.com for each purchase originating from this site.
When purchasing from Amazon.com, please
click here first.

Thank you.




Dedicated to the Bachmann Family


LymeNet needs your help:
LymeNet 2020 fund drive

The Lyme Disease Network is a non-profit organization funded by individual donations.

| | |
| --- | --- |
| | |
Author
Topic: To switch or not to switch: that is a question

Minime
Junior Member
Member # 39163


posted

---

I have a question about usefulness of PPO insurance (as opposed to self-pay) while treating chronic Lyme decease.

Brief background: I have been infected with bacterial infection, presumed to be Lyme and/or Bartonella (based on circumstances, symptoms, only partially conclusive IGenex tests, and ruling out much of everything else) for the past 12 years. Iíve managed to keep it well under control so far by following Dr. Burrascano guidelines, through periodic 2-3 months long doxy regiments as self-treatment. While I never continued treatment until complete symptoms cessation, that used to make the disease completely dormant for the sequential 6, 2.5, 1.5, and 2.5 years periods, then the symptoms would re-emerge, and I would repeat the treatment. Iíve done 4 of these cycles so far and most recent one does not seem to be bringing the usual relief. And that means that either Lyme progressed or that it became doxy-resistant. So I, perhaps belatedly, decided to work with LLMD since I am not comfortable doing longer ABs treatment on my own or experimenting with other ABs.

So I located LLMD doctor in my state who is ILADS member. The interesting fact (and the reason for this post) is that he happened to be in-network for my employerís United Healthcare PPO insurance. I am currently on HMO and have been of HMO for all these year but in a month there will be new enrollment period and Iíll be given a chance to either stay on HMO or switch to the PPO.

But PPO is considerably more expensive, both premium and copay-wise, we are talking $5-6K per year difference in my estimate. My family and I are currently happy with HMO and the only reason to switch would be potential cost savings from seeing this particular LLMD who is, I repeat, in-network of the PPO.

My dilemma is whether to switch to PPO or stay on HMO and pay this LLMD out-of-packet for consultations and treatment. So I considered 3 components involved--consultations, diagnosis, and treatments:



From what I know, attempts of Lyme diagnosis involve blood testing by labs like IGeneX which do not accept insurance anyway, so no money to be saved by switching to PPO there. And regular CBC/Chem/Liver panels for monitoring can be done for as little as $20 nowadays, so it is not big deal, Iíve done many already during self-treatment.
Treatment by LLMDs involves ABs therapy. But my HMO already includes prescription coverage and inexpensive or short term ABs would likely to be covered through it anyway (it does not matter what doctor writes prescription, it worked in the past for several months of doxy prescribed by family friend doctor). And expensive ABs treatment, like IV ABs and long term expensive oral ABs are not very likely to be covered by PPO either, would it?
The only likely savings are potentially lower consultation fees since it is well known fact that even if the visit/treatments not covered by insurance, the rates negotiated by insurance for in-network doctors are significantly lower than rates cash customers pay. But how often does one see a doctor during treatment? Probably once a month? So even saving, say, $100-150 on each visit, it is only $1-2K/year savings.


QUESTION: Is indeed staying on HMO and consequently saving $5-6K/year which I can use for paying LL doctor out-of-pocket and paying for labs and drugs (while using HMO drug insurance for oral prescriptions whenever it works) an optimal strategy? Or do you think switching to PPO where this doctor is in-network is still a good idea for some reason (like non-blood expensive testing, etc).

Perhaps people who have experience with LL doctors taking PPO can answer this question. Perhaps I am missing something important and that makes all the difference?

Thank you very much!

---

Posts: 8 | From Chicago | Registered: Oct 2012 | IP: Logged |

Spindleshanks
LymeNet Contributor
Member # 32556


posted

---

I can't answer all of your questions but I can tell you that some of the lab work from specialty labs will be covered by a PPO. They give you a super bill and you send it in to the PPO and often they will reimburse a portion depending on your plan.

Also with a PPO if you have an acupuncturist or chiro you want to see but isnt in net you can still go and submit the bills.

All plans are so different and depends on states and so much more but I hope this gives you some other things to consider.

---

Posts: 253 | From CA | Registered: Jun 2011 | IP: Logged |

desertwind
Frequent Contributor (1K+ posts)
Member # 25256


posted

---

If you switch to a PPO then you have out of network benefits so your LLMD does not neessarily have to "take" your insurance.

It just means you can see who ever you want in or out of network and get reinbursed per your insurance companys agreed amount.

My PPO pays 80% of the "standard" fee for my LLMD visits and pretty much all of my bloodwork and scripts.

For me the extra for PPO is worth it because it allows me to see whoever I want - and without a referal.

---

Posts: 1671 | From Tick Infested New Jersey | Registered: Apr 2010 | IP: Logged |

Lymetoo
Moderator
Member # 743


posted

---

Are you sure the LLMD in question is a really good one?? It would make a difference in your decision. I've had a PPO forever and I really like it.

They will usually pay 60-80% of out of network Dr fees.

--

Why don't LLMD's take insurance??? ( some do )

The reason .. HERE:

http://flash.lymenet.org/scripts/ultimatebb.cgi/topic/2/15615?#000005

SEE "TF's" REPLY ON THE ABOVE LINK. PERFECT EXPLANATION!!!

--------------------
--Lymetutu--
Opinions, not medical advice!


---

Posts: 95426 | From Texas | Registered: Feb 2001 | IP: Logged |

map1131
Frequent Contributor (5K+ posts)
Member # 2022


posted

---

FYI, I had a great PPO plan thru my employer. The first 2 visits to LLMD, they paid out of network 80%.

After my 3rd appt, all the flags came out from PPO and they sent me a letter stating they would no longer pay on this doctor.

I appealed in writing. Told them I couldn't find a lyme literate doctor in this city. They called every ID in Louisville and asked them if they treated lyme. They all said yes. Funny I remember calling all these ID with facts about my case and NOT a one of these IDs would touch me.

The facts were I was chronic lyme and had already been down the abx route with my PCP for over 2++ yrs. I lost and insurance won.

Everything was out of pocket. I even tried turning in claims and they were denied. This was in '02-04. So I'm not sure if insurance companies have changed their stand on tx of chronic lyme. I doubt it.

Pam

--------------------
"Never, never, never, never, never give up" Winston Churchill


---

Posts: 6444 | From Louisville, Ky | Registered: Jan 2002 | IP: Logged |

Minime
Junior Member
Member # 39163


posted

---

Spindleshanks and desertwind: thank you, yes, I realize that there is out-of-network coverage as well in PPOs. It just that I am afraid that story that Pam told is going to be very likely for OON. For in-network, they are much less likely to deny coverage I figure.

Lymetutu: no, I am not at all sure. If you know of any good way to find out, please suggest! I got his name through Lyme Disease Association dr referral system. He is ILADS member. Few patient reviews I found on the web are positive, though none of the patients who wrote the reviews were Lyme patients, or, at least, not possible to tell from the reviews that they were. Thanks for the link, it confirms what I suspected.

Pam: thank you for sharing your story. While it appears to contradict experience of Spindleshanks and desertwind, this is exactly why I hesitate to switch. But this doctor is in-network, so I don't think insurance would be likely to reject covering his fees. I still doubt they would cover non-standard blood testing and long or expensive ABs.

Folks, it would help me tremendously in my decision if you could give me ballpark idea of how much annual costs of treatment are. I realize it would be very different for everyone (eg depending on oral vs IV ABs). But perhaps if I could get ballpark from several of you who are going through treatments (eg Spindleshanks, desertwind, Pam)I would get at least a rough idea what I am up against here. At this time, I am not sure if I am looking at $3K or $30K annual bill! Neither I am sure what costs the most (ABs, tests, consults). Would you please point me in the right direction?

---

Posts: 8 | From Chicago | Registered: Oct 2012 | IP: Logged |

dal123
LymeNet Contributor
Member # 6313


posted

---

too many problems with HMOs and too many questions asked, one year I joined a HMO because all my Drs were on it, Bad year and will NEVER use a HMO again and had to wait one year to get Abadan mole removed bec the HMO would not approve saying it did not look like cancer, Surprise, once it was removed the biopsy was very suspicious and told me if I had waited any longer on that HMO I'd be in trouble, PPO s are worth it!!! they pay for my meds no questions asked even though prescribed by a LLMD.

---

Posts: 532 | From Texas | Registered: Oct 2004 | IP: Logged |

lymeinhell
Frequent Contributor (1K+ posts)
Member # 4622


posted

---

I spend about $400/mo on supplements, and I'm off abx and in remission, and have been that way for 8 yrs now. I have my life back, but I was sick so long I make sure to maintain the diet, supplements, sleep and exercise program I implemented during my treatment/recovery to ensure I maintain my good health.

During treatment, it was more like $600-$700 out of pocket in herbals and various non prescription stuff every month. I was on orals only. I am sure there were times when it exceeded that. For such things as detox body wraps and detox foot patches (which were extremely expensive when I used them years ago). For me, this was the most costly part of my treatment - and neither a PPO or HMO is going to cover it.

I used a PPO during treatment and did not have any issues with any drug coverage. Blood work that was sent to labs that were not the insurance co's 'preferred lab' were covered, (which would not be the case with an HMO).

Does your LLMD use one specific lab, or does he work to accomodate your insurance? I had to see mine every 4 weeks (or sometimes every 2) the first year, and typically there was always bloodwork involved.

While it's true IgeneX does not take insurance, you would get reimbursed from your PPO once you had met a certain deductible. (Which was the case for me in year one). I think that would be something to think about.

In addition, if you need things like MRI's or SPECT Scan or one of the zillion other tests that are often used, an HMO can make it difficult to get 'approval' for such things.

I am not sure your 'consult fees' statement is true, as many LLMD's dont take insurance at all, and everyone pays the SAME PRICE. That was my experience anyway.

--------------------
Julie
_ _ ___ _ _
lymeinhell

Blessed are those who expect nothing, for they shall not be disappointed.


---

Posts: 2257 | From a better place than I was 11 yrs ago | Registered: Sep 2003 | IP: Logged |

Catgirl
Frequent Contributor (5K+ posts)
Member # 31149


posted

---

Herein lies the problem with lyme disease. The best lyme docs simply don't take insurance. For that reason alone, I would never join an HMO with lyme. No doc wants to be told what he can or cannot treat you with, especially a lyme doc.

--------------------
--Keep an open mind about everything. Also, remember to visit ACTIVISM (we can change things together).


---

Posts: 5418 | From earth | Registered: Mar 2011 | IP: Logged |

TF
Frequent Contributor (5K+ posts)
Member # 14183


posted

---

If you stay with the HMO, you better be SURE that they will pay for the prescriptions the lyme doc writes. I think they will not.

If they don't, you are talking about shelling out lots of money for prescriptons out of pocket.

I know my PPO paid for all of my lyme doctors' prescriptions with no questions asked.

My friends with HMOs don't get treated that way. I don't believe you will either.

There is a reason why HMOs are so much cheaper than PPOs. You need to discover how they treat lyme patients.

The cost of the montly lyme doctor visits (I paid out of pocket since my lyme doc didn't take insurance) is small compared to the cost of the prescriptions. And, as you progress, you may only see the doctor once every few months.

Also, you better be very, very sure that the HMO will cover the costs of the monthly blood tests the doc orders to check to see how your liver, etc. is handling the meds.

If the HMO is going to deny these as unnecessary, you are going to be paying a lot for the tests also.

You won't have any of these worries if you switch to a PPO. There will be no questions asked. The tests will be paid for.

You will just pay your copays for all of these things.

I can't imagine a lyme patient being better off with an HMO. I've been around this illness about 10 years. I got rid of lyme 7 1/2 years ago after going undiagnosed for at least 10 years and treating for a total of 3 years (3 different doctors total), but continue to come on this board to help people through the learning curve.

Your choice of doctors is the most important decision you will make regarding this disease. Many doctors treat lyme disease, but only a few know enough to get rid of it for a person.

That is what I have learned. So, you may find that you eventually have to leave this doc to actually become well again. With a PPO, you can move up to a top notch lyme doctor whenever you need to and eventually get rid of this disease.

In my experience, most insurance-taking lyme doctors are not the ones who are getting rid of lyme disease for people. To do lyme treatment properly, you just can't take insurance. You would go broke on their reimbursement rates. And, insurance won't let the doctor treat the patient properly.

---

Posts: 9931 | From Maryland | Registered: Dec 2007 | IP: Logged |

debilyn
LymeNet Contributor
Member # 35753


posted

---

Minime,

It is hard to say how much your treatment will be. I happen to see a LLMD whose children are in remission, and this doc takes my PPO.

So, I pay a co-pay for each monthly office visit. I pay approx 600 per month for what my insurance doesn't cover for blood tests, supplements, and perscriptions.

I am on four oral medications to treat Lyme and Bart plus a slew of supplements, and I have been treating since February.

Still don't feel much improvement, maybe 15%, so who knows? I may outgrow my current LLMD and need to move on, but I will try this protocol for at least a year.

For IVs, it costs considerably more, I think.

---

Posts: 331 | From West Coast | Registered: Jan 2012 | IP: Logged |

Andie333
Frequent Contributor (1K+ posts)
Member # 7370


posted

---

My experience, sadly, has been similar to what Pam described: I have a PPO which has only now started pushing back on reimbursement.

The rationale they use: clear and customary charges.

So, on average, visits are now only covered about 25%. That means a lot of money coming out of pocket.

My fear is that it's going to get ever tighter. Still, I can't imagine ever having an HMO.

---

Posts: 2549 | From never never land | Registered: May 2005 | IP: Logged |

shannon12
LymeNet Contributor
Member # 36149


posted

---

my HMO used to pay for my iv's in full, were willing to pay for a nurse to come every day,(I chose for them not to) copay's reasonable for rx's, most $15, never required any letters of medical necessity.

when we switched to the ppo I have now, my premium went up, denied all iv's , denied my biaxin(even w/a medical necessity letter), now I'm off it, rx's copay's some up to $30/each.

So my HMO was better than this ppo.

---

Posts: 229 | From Forty Fort, PA | Registered: Feb 2012 | IP: Logged |

peonyprincess
Member
Member # 38611


posted

---

TF & Lymeinhell, so glad you are both better. I have ppo insurance through work and see an out of state LLMD. So far all meds paid for and have been having lab work done locally to make sure it is covered. After meeting deductible they reimburse me for office visits up to a percentage.

Thinking about switching LLMD's -TF you said you switched three times...was this because of treatment styles or what? My current LLMD is all about ABX and nothing else, the new one I want to see for second opinion treats the whole person with supplements, herbs etc.

Wondering why you switched and did it affect your insurance?

---

Posts: 68 | From NE | Registered: Aug 2012 | IP: Logged |

bcb1200
Frequent Contributor (1K+ posts)
Member # 25745


posted

---

In my experience PPO's are much more flexible vs HMO's. They will reimburse IGENEX and your out of network testing as long as you've met the required out of network deductible.

In my opinion, you need to make a cost-benefit analysis. What is the TOTAL ANNUAL COST of your HMO? Take into consideration the cost per paycheck times x paychecks / year + co-pays + anything you have to pay out of pocket that they don't cover (i.e. 6 visits to your LLMD @ $200 each).

Then compare tot he TOTAL ANNUAL COST of your PPO. Total cost per paycheck. Annual deductibles you will likely hit. Co-insurance you need to pay, etc. Be sure to figure in tax breaks. If this costs $1000 more out of your paycheck and you are in the 25% tax bracket, it really only costs you $750 more, etc.

Look at total cost and make a decision.

In my opinion, for lyme, generally speaking PPO's are better. But I don't know if I believe they are $5000-6000 more than an HMO.

--------------------
Bite date ?
2/10 symptoms began
5/10 dx'd, after 3 months numerous test and doctors

IgM Igenex +/CDC +
+ 23/25, 30, 31, 34, 41, 83/93

Currently on:

Currently at around 80% +/- most days.


---

Posts: 3116 | From Massachusetts | Registered: May 2010 | IP: Logged |

poppy
Frequent Contributor (1K+ posts)
Member # 5355


posted

---

You should check with support groups in your area and see what they say about this doctor, what kind of treatments and tests he uses. Might give you a better idea of costs involved.

You have been on monotherapy all this time, might be that just adding another drug to the doxy will make it work again. Might not be that expensive. Do you think you could have been bitten again, or are having coinfection symptoms instead? Are these the same symptoms you have had all along?

My PPO quit paying even for mail order IV drugs, citing IDSA guidelines. Don't know when they will stop paying for orals too. I was already paying everything on IV except the drugs, and that can add up.

---

Posts: 2888 | From USA | Registered: Mar 2004 | IP: Logged |

Minime
Junior Member
Member # 39163


posted

---

TF: thank you for your advice and glad to hear you were able to get it under control. I did not mean to say that HMO will cover lyme treatment. I think, I can at best hope they will cover oral ABs. What I was saying is that I still need to carry insurance for myself and my family, and if I continue to carry HMO vs PPO, that frees up to $5-6K/year I would be able to use to pay LLMD out of pocket as cash. Because, as you say, ďmost insurance-taking lyme doctors are not the ones who are getting rid of lyme disease for people.Ē

Debilyn: thanks so much for giving some number for me to think about

Andie333: yes, I am afraid of running into yours and Pamís scenario of paying $5-6K extra per privilege of carrying PPO (total of extra premiums, expected copays, and deductibles for me and my family with 2 young kids) and discovering that I still have to pay out of packet for Lyme treatment because PPO does not cover it. If I choose HMO, at least I have this amount of money I know I can spend before breaking even. Thatís why I CAN imagine having HMO (for non-lyme-related issues).

Shannon12: thank you for sharing your story, I actually just switched my PCP under my HMO to a doctor that I learned about recently that happened to work with Lyme patients, though he is not ILADS member. He states that he believes the problems to be autoimmune system in nature but he also believes that ABs are useful in treating these issues. In short, I personally think he is trying to walk a thin line between not fighting IDSA guidelines but shifting a problem into different domain which is not under their control and which still treated with ABs. He compares it to rheumatoid arthritis as another example of autoimmune disease which is often relieved by antibiotics. I have first appt scheduled with him at the end of the month, we will see.
I am not getting my hopes up, I think that ILADS member is a better candidate but costs me nothing but $20 copay to talk to this one, so why not.

bcb1200: thanks, I have done that already and thatís how I arrived to $5-6K difference between costs of HMO and PPO, though I admit I did not factor in taxes

poppy: this is an excellent suggestion. I should definitely try and learn what other Lyme patient think about the specific doctor I am considering. But I do not know how to locate support group in my area. Do you know how I would go about it? Also, is it OK to post on this forum, (if I understand correctly I must do so with only single last name doctor initial and state???) to get some feedback from forum members, who knows, perhaps someone tried him already? And are there other forums to try to get feedback about him?
In regard to your other suggestion, yes, combo could be useful I guess. During my 2nd flare up treatment, I used Baxtrim DS for 21 day while going through 2.5 doxy regiment, on suggestion on family friend doctor. I have no idea if that made much difference. I could have been bitten again after my first long 6 years-long remission as Iíve gone on camping trip in Wisconsin woods then (it was 6 years ago). I do not think I could have been bitten again during any of my 3 later remissions though. But I had to use corticosteroids on my feet skin for fungal and that could have been causing breaks in remissionsóor not.

---

Posts: 8 | From Chicago | Registered: Oct 2012 | IP: Logged |

map1131
Frequent Contributor (5K+ posts)
Member # 2022


posted

---

Minime, go to top left of this page. See colored green/orange square. Click on support group. US then Illinois and you will see several in that state.

Pam

--------------------
"Never, never, never, never, never give up" Winston Churchill


---

Posts: 6444 | From Louisville, Ky | Registered: Jan 2002 | IP: Logged |

TF
Frequent Contributor (5K+ posts)
Member # 14183


posted

---

peony: I changed doctors as I became educated about what good lyme treatment looks like. I went to the first doctor because he could see me in 2 weeks. I was so sick, this was the best thing for me.

I went to the second doctor because he was recommended by a lyme support group. I wasted 2 years with him.

I then studied the Burrascano Guidelines, attended 2 lyme conferences and heard Burrascano speak, and called lyme support groups asking specifically for a doc who followed Burrascano. That's how I got my third and final doc--the doc who cured me.

If you study the Burrascano Guidelines, you will see that antibiotics is only part of the equation. Supplements, diet, and a certain type of exercise (weightlifting every other day for an hour) are the other 3 parts of the equation.

My second doc was giving me only antibiotics. It didn't work.

---

Posts: 9931 | From Maryland | Registered: Dec 2007 | IP: Logged |

Rumigirl
Frequent Contributor (1K+ posts)
Member # 15091


posted

---

And if you are only getting one antibiotic, and you are having more symptoms to boot, it sounds like you probably don't have the best dr. The best drs don't work in network, because it takes too long per visit for it to be workable. That's the biggest issue for you here: what dr to see, rather than banking on this one.

PPO's do give you far more latitude in terms of treatment, testing, drs, everything. NOt that anything is a given! Not easy to know everything in advance.

---

Posts: 3747 | From around | Registered: Mar 2008 | IP: Logged |

TF
Frequent Contributor (5K+ posts)
Member # 14183


posted

---

Minime,

Here are some typical costs so that you can see what many people have to pay for lyme treatment:

First appt with good lyme doctor--$750

Routine monthly appt--$250

Igenex testing for lyme and coinfections (first appt)--$650

Other tests ordered at first appt--$300 to $800 if insurance doesn't cover them

Supplements each month--$500 (includes probiotics and some of the supplements Burrascano says are required--CoQ10, etc.)

If you must be treated for babesiosis, cost of Mepron for one month--$2,000 to $3,000

Expect to be on the Mepron for a minimum of 5 months and likely for a year. (Know that virtually everyone who has had lyme for at least a year has babesiosis and bartonella also.)

Monthly blood tests--$200 or more

So, as you can see, the primary question becomes: will the insurance that I pick cover my meds and my tests?

$5,000 to $6,000 will be used up rather quickly on this disease.

---

Posts: 9931 | From Maryland | Registered: Dec 2007 | IP: Logged |

Minime
Junior Member
Member # 39163


posted

---

map1131: thank you, I will contact the support groups

TF: thank you very much for detailed review of typical costs. This is indeed very very helpful. So, if PPO covers good portion of it, PPO is definitely worthwhile. The problem is that if PPO does not cover much or anything, these will become cash expenses in addition to extra $5K I spent to upgrade to PPO. Probably no way in advance to know what PPO covers. Your response to peony is very interesting too. Thank you for sharing your story!

Rumigirl: I am not currently with any LLMD. As stated in my post above, I have been self-treating in the past 12 years, concentrating not on curing the decease (since it is not obvious that chronic Lyme can be cured) but on keeping it remission through periodic Burrascano-guidelines guided 2-3 months long treatments. This has been very cost effective and minimum inconvenience. I would be content continuing this strategy if it continued to work. It is possible that I will give it another try if I fail to find good LLMD.

---

Posts: 8 | From Chicago | Registered: Oct 2012 | IP: Logged |

map1131
Frequent Contributor (5K+ posts)
Member # 2022


posted

---

Minime, this illness is so costly even if you find a LLMD that takes your insurance. So much needs to be done outside the traditional medical box and those things generally are not covered by insurance.

You live in Illinois and I'm not sure if your state covers some basics that are very helpful like body work, accupunture, alternative tx?

The supps/vits/herbs alone can add up to major dollars a months. If you fail to find the LLMD you want then you could go the alternative route and look for a lyme literate naturopath. Or even consider buying a rife machine. Much cheaper than LLMD & abx.

It's good to have an alternative type doc working with you on vits/supps and even supporting your questions with rife therapy.

Some LLMDs support rife tx and will tell you openly to go for it. They just can't call that the "medical" tx advice.

More and more technology such as laser, lights, freqs treatments are being ok by the FDA these days. So maybe rife approval will be in near future.

Out of pockets hurt big time.

Pam

--------------------
"Never, never, never, never, never give up" Winston Churchill


---

Posts: 6444 | From Louisville, Ky | Registered: Jan 2002 | IP: Logged |

baileypup
LymeNet Contributor
Member # 22824


posted

---

I have BC/BS PPO, and it has covered most everything except my out-of-network doctor's appointments. It's covered some of the doctor's cost, but not the majority.

My maximum out-of-pocket with my PPO is $1400, so that is the most I pay. Check your PPO's out-of-pocket cap, because that will also benefit you.

I've been on Mepron for 2 1/2 years, as well as Tindamax. Both of these drugs are expensive and many HMO's do not cover their cost or give you the run around. I do have to pay a $100 deductible for these drugs, but it is not thousands of dollars out-of-pocket. I would not have gotten better without this drug.

---

Posts: 964 | From san diego | Registered: Oct 2009 | IP: Logged |

TF
Frequent Contributor (5K+ posts)
Member # 14183


posted

---

Minime,

I am glad you are following me on how the PPO can be of great benefit. For example, with my PPO, 3 months of mepron would cost me $90 (through the mailorder prescription plan. The lyme doc goes to bat for the patient if the insurance company gives them a hard time, and the patient gets the meds). That has been the experience of friends of mine who had the same insurance plan as me (federal govt) and needed mepron.

That is a savings of $6,000 to $9,0000 for that 3 month period alone for that prescription alone.

Also, with my PPO, tests cost me $5 or up to $20, no more. So, it all really rests on finding out how this particular PPO has treated other lyme patients.

Maybe you could post naming your proposed PPO plan specifically and see if any patient can tell you how they were actually treated.

I was very happy with my PPO. As I said, they never denied anything. They didn't get involved in my care. They just paid according to the published benefit brochure. They didn't care how long I was treated (3 years) or how many meds or tests were ordered for me simultaneously, how often, etc. They stayed out of it completely.

If you can find an HMO that would stay out of it and just pay, that would be great. I just have never heard anyone tell me that their HMO worked that way--no matter what disease they had.

I have heard that the HMO won't pay for certain drugs (some say you have to pick your drugs from their list; if it is not on their list, it is not covered), won't pay for a test more often that X days apart, etc. And, this is from folks who don't have lyme disease.

HMOs manage care. That is the philosophy behind them. So, they will want to "manage" your lyme treatment, I would think.

THEY manage your care, not any doctor. That is how they keep the premiums down--by determining what care you will get and what care you won't.

---

Posts: 9931 | From Maryland | Registered: Dec 2007 | IP: Logged |

Minime
Junior Member
Member # 39163


posted

---

TF: RE: "Maybe you could post naming your proposed PPO plan specifically and see if any patient can tell you how they were actually treated"

I posted the name of PPO in my original post, let me repeat it here: United Healthcare. Specifically, United Healthcare Choice Plus (and there is also Choice Plus HRA option). Anyone here used it by any chance????

In regard to your PPO, were you on one of the private plans or one only available to federal govt employees (similarly to how excellent Thrift Savings Plan is only available to fed govt employees)? Because it may be very different from private plans if so...

I do realize that PPO is likely to be better, thought there are people in this thread, like shannon12, who had the opposite experience, so barring information about specific PPO, one has to get lucky too it appears.

---

Posts: 8 | From Chicago | Registered: Oct 2012 | IP: Logged |

TF
Frequent Contributor (5K+ posts)
Member # 14183


posted

---

I had the Federal Blue Cross Blue Shield, standard option, PPO. It is only open to Federal employees.

I suggest you start a new post called something like "Need Experiences with United Healthcare Choice Plus." Then, in that post, just say something like "I need to know how this health care plan treated people who were in treatment for lyme disease. Did they pay for your meds, your tests, etc."

This way, folks will see in the title of the post what you want to talk about. Make it easy for people to see the name of the health plan you are trying to gather info on.

Leave out all the details about your experience, etc.

---

Posts: 9931 | From Maryland | Registered: Dec 2007 | IP: Logged |

Minime
Junior Member
Member # 39163


posted

---

Great suggestion, will do so in a moment

---

Posts: 8 | From Chicago | Registered: Oct 2012 | IP: Logged |
Contact Us | LymeNet home page | Privacy Statement

Powered by UBB.classic™ 6.7.3

---
The Lyme Disease Network is a non-profit organization funded by individual donations. If you would like to support the Network and the LymeNet system of Web services, please send your donations to:
The Lyme Disease Network of New Jersey
907 Pebble Creek Court, Pennington, NJ 08534 USA
http://www.lymenet.org/
---
Home | Flash Discussion | Support Groups | On-Line Library
Legal Resources | Medical Abstracts | Newsletter | Books
Pictures | Site Search | Links | Help/Questions
About LymeNet | Contact Us
---
© 1993-2020 The Lyme Disease Network of New Jersey, Inc.
All Rights Reserved.
Use of the LymeNet Site is subject to Terms and Conditions.
---