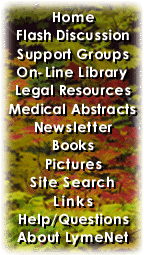 ---
LymeNet on Facebook
LymeNet on Twitter
---
---
The Lyme Disease Network receives a commission from Amazon.com for each purchase originating from this site.
When purchasing from Amazon.com, please
click here first.

Thank you.




Dedicated to the Bachmann Family


LymeNet needs your help:
LymeNet 2020 fund drive

The Lyme Disease Network is a non-profit organization funded by individual donations.

| | |
| --- | --- |
| | |
Author
Topic: MRSA staph infection- advice please

Dawn in VA
Frequent Contributor (1K+ posts)
Member # 9693


posted

---

I asked my LLMD to swab my nose and it grew a positive culture.

We don't know if it's just colonized in my nose or if it's my blood. Just had a blood and urine culture done yesterday at LabCorp, but says that it's not very sensitive and we should treat for sinus MRSA anyway to be safe in the meantime.

Treatment is CRAZY! High dose Levaquin + high dose Vancomycin
(oral... I know many will dispute, and so much online stuff does- that oral only works in intestines and is not absorbed systemically by body to work anywhere else), but LLMD says other patients' sinus MRSA has been cured using it...

PLUS 2 types of nasally-inhaled ABX.

AND I'm trying to treat C.pneumoniae AND Strep B. Everything interacts so I can only choose to treat the MRSA stuff right now.

The vanco. orally really scares the poo outta me; concerned about doing it AND levaquin- which is already very tough on me by itself (I was on crutches b/f from tenditinis and didn't have time to ramp on on Mg b/f starting this time.)

Plus it really affects my brain- spacey as a fruit loop and panic attacks I never get otherwise, plus joint and emotional herx.

I'm babbling.

Anyway, what has gotten you guys through to the other side of MRSA staph?

--------------------
(The ole disclaimer: I'm not a doctor.)


---

Posts: 1349 | From VA | Registered: Jul 2006 | IP: Logged |

Dogsandcats
Frequent Contributor (1K+ posts)
Member # 28544


posted

---

Up

--------------------
God will prepare everything for our perfect happiness in heaven, and if it takes my dog being there, I believe he'll be there.

Billy Graham


---

Posts: 1966 | From California | Registered: Oct 2010 | IP: Logged |

TF
Frequent Contributor (5K+ posts)
Member # 14183


posted

---

I have not had lyme disease for a number of years. But, I recently got rid of a MRSA sinus infection. You may be interested in my story and treatment.

My problems started Dec. 1, 2011. I got a terrible sinus headache that was there 24/7. This headache was so bad and without any letup that I had to start using narcotic pain killers to deal with it. I got severe pain in my ears, eyes, and upper teeth. I then got ringing in my ears 24/7. It got so bad that I got severe sound sensitivity.

I could not stand to be near the microwave oven when it beeped. If plates were being put in the cupboard or taken out, I had to run out of the kitchen. I could not stand the sound of the clashing of the plates as they touched one another. I was continually yelling at my husband to not talk so loud. Even the sound of my own voice hurt my head more, so I practically whispered all the time.

I was treated "blindly" for this sinus infection for 6 months, trying various antibiotics by mouth, mostly augmentin. Eventually I went to an ENT and eventually (after 6 months of sickness) he got a culture from my nose that showed the MRSA in my right sinus and 2 other normally hospital acquired infections in my left sinus.

I knew the problem was in my right sinus, in my cheek sinus. The meds would help me some, but the problem would obviously be in the right cheek sinus and it would always start up again a few days after I finished the one-week course of meds. (I was also put on steroids along with the meds--medrol dosepak--when being treated by my pcp).

The ENT decided that I needed the openings to my sinuses enlarged so that my sinuses could drain. So, he did a balloon sinuplasty procedure. When he did, he saw that the right cheek sinus was full of pus and he flushed it out. This never showed up on any of the CT scans that had been done on my sinuses over the 6 month period. They all showed my sinuses as clear!

So, now that I had the names of the germs, I could get appropriate treatment. The ENT started me on Levaquin and tobramycin (all inhaled). The tobramycin caused pain in my ears, so I stopped it after a week and mupirocin was substituted for the tobra. He also had me on inhaled budesonide (a steroid) to stop the swelling in the sinuses to let them drain.

The ENT said that my MRSA was a "young" infection, and so it was susceptible to a number of meds, not just vancomycin. I got a copy of this culture report. It listed a number of meds that would be effective against my MRSA infection and the other 2 infections I had.

I first started out on oral Levaquin (5 days)to "kick start" my treatment while I waited for the liquid meds to be sent to me from Calif.

Then, I used a nebulizer machine to breathe in the levaquin, mupirocin, and budesonide. When the nebulizer broke after a week, they switched me to an atomizer to administer the meds.

I used the levaquin for 2 months and the mupirocin for 1 month. This was June and July 2012.

I was recultured in August and a totally different infection showed up. I then switched ENTs and was treated with nasal irrigation instead. This worked well. I would use a squirt bottle to rinse my sinuses. THen, when just 2 oz of water were left, I would add the mupirocin to the water and finish the rinse.

I believe that the new ENTs approach was much better. He said that he did not believe atomizers worked very well for people who had not had sinus surgery (which removes pieces of tissue in your nose and makes everything very open up there). He believes that for people like me, the irrigation bottle works best. He also did not use budesonide (the steroid), which made me very happy.

He used a stronger mupirocin solution--3 mg as compared to the first ENTs 1 mg solution. Perhaps that was because the 3 mg was going to be mixed with some water.

He also had me use only distilled water in my nasal irrigation bottle. And, he had me clean it every day with a Clorox solution.

Anyway, I got rid of my MRSA sinus infection by using the atomizer and Levaquin for 2 months, with mupirocin the first month also. (And, budesonide all the time).

I was told by every doctor I saw (including my lyme doctor) that it takes 2 meds to get rid of MRSA. So, if your MRSA infection is susceptible to mupirocin (and I hope it is), you may be able to use Levaquin and mupirocin and skip the vanco.

Also, after 3 weeks of treating the final infection with the mupirocin, I got C. diff. So, that was the end of treating the sinus infection. I have just completed 2 rounds of antibiotics for the C diff. First, I got flagyl for 10 days--500 mg 3 times per day. Then, when the C. diff returned, I was given vancomycin for 10 days. (Finished that on Friday.) I am now waiting to see if the C. diff is gone.

So, what I learned through all of this is that you need to up your probiotics even while using antibiotics that are just squirted up the nose.

In my case, I really believe I got the C diff because my first ENT got so frustrated when a different infection showed up in August (MRSA was gone) that he put me on 4,000 mg per day of Augmentin. So, I think that put me over the top. I had been on antibiotics for 10 months, but mostly inhaled antibiotics. Still, the gastro says that these go systemic. He says that it is less likely to get C diff from the inhaled antibiotics, but still it can happen.

So, that was the very first sinus infection I had ever had in my life. And, it was a doozy! I believe it is all behind me now since I have gone a month without getting those terrible sinus infection symptoms back.

This is my allegy season (mold allergy), so I am irrigating my sinuses twice per day with a drop of Grapefruit Seed Extract in the water to kill any fungus that may try to grow. I also take prescription Clarinex and Singular and use Astepro twice per day. All of this is to control the allergy that I have each fall. By controlling the allergy, hopefully I will not ever get another sinus infection in my life.

I hope that you can compare my symptoms to yours and decide whether you really believe you have a sinus infection at all. I got horribly sick with mine. It was very, very obvious from the start what was wrong.

You don't say what made you ask the lyme doc to culture your sinuses. Do you have symptoms of a sinus infection? (I actually lost my sense of smell, or it was greatly diminished. It is nice to be able to smell things now after nearly a year of not being able to smell.)

Also, do you have a copy of the culture report? Does it list other meds besides vanco that are effective against your particular MRSA infection?

Let me know if I can help you further. I would be happy to do so. This MRSA was a real ordeal for me.

---

Posts: 9931 | From Maryland | Registered: Dec 2007 | IP: Logged |

Larae30
LymeNet Contributor
Member # 35220


posted

---

How is MRSA different than MARCoNS?

--------------------
Treating lyme, bart and babs


---

Posts: 506 | From NE | Registered: Dec 2011 | IP: Logged |

map1131
Frequent Contributor (5K+ posts)
Member # 2022


posted

---

Wow TF, what a horrible ordeal. It's unreal how one bacteria can be knocked down and out and then another bacteria comes forward.

The bacterias of today are really super bacterias and I worry enough change is being done.

Pam

--------------------
"Never, never, never, never, never give up" Winston Churchill


---

Posts: 6403 | From Louisville, Ky | Registered: Jan 2002 | IP: Logged |

TF
Frequent Contributor (5K+ posts)
Member # 14183


posted

---

Larae30,

Here is the definition I found for MARCONS:

"a new super staph bacteria called MARCONS which stands for "Multiply Antibiotic Resistant Coagulase Negative Staph." In his book, Mold Warriors, Dr. S finds these bacteria in the noses of his Lyme patients that have severely weakened immune systems."

http://goodbyelyme.com/free-articles/biofilm/marcons

There isn't much about this on the web, so I don't know if Dr. S just coined this term or what. Maybe it is only used in the lyme community?

My infection was staphylococcus aureus (oxacillin resistant--MRSA)

My other infections were enterobacter agglomerans and pseudomonas aeruginosa.

I had all 3 at the same time.

My MRSA infection was senstive to 5 antibiotics. So, that's why the ENT called it a "young" MRSA. As the infection evolves, eventually, it can be resistant to all meds but vancomycin. So, that would be the most serious MRSA infection, as I understand it.

I don't know much about MARCONS, so you would have to explain how MARCONS differs from what I am describing.

---

Posts: 9931 | From Maryland | Registered: Dec 2007 | IP: Logged |

Larae30
LymeNet Contributor
Member # 35220


posted

---

I tested + for MARCoNS this week and am starting a nasal spray and supposedly Rifampin also helps and I am already on that. I have been having a lot of sinus issues.

--------------------
Treating lyme, bart and babs


---

Posts: 506 | From NE | Registered: Dec 2011 | IP: Logged |

trimom
LymeNet Contributor
Member # 25843


posted

---

Many people test positive in nose swabs for MRSA. Most don't get treated uless they have active infection.

---

Posts: 120 | From MA | Registered: May 2010 | IP: Logged |

Carol in PA
Frequent Contributor (5K+ posts)
Member # 5338


posted

---

You can take systemic enzymes like Serrapeptase to keep the sinuses open.
I have not had any sinus infections since being on Wobenzym...I used to get them every year.


Systemic enzymes reduce fibrin in the blood, which reduces biofilm and thins mucous.
When the mucous is thin enough to drain, the sinuses do not get plugged up and infected.


Silver solution in the sinus rinse would kill bacteria, wouldn't it?
I don't know if that's safe, though.

---

Posts: 6932 | From Lancaster, PA | Registered: Feb 2004 | IP: Logged |

randibear
Honored Contributor (10K+ posts)
Member # 11290


posted

---

My gosh it's a wonder you're alive!! B

--------------------
do not look back when the only course is forward


---

Posts: 12262 | From texas | Registered: Mar 2007 | IP: Logged |

MichaelTampa
Frequent Contributor (1K+ posts)
Member # 24868


posted

---

I recently tested for this. My doc does not like abx for this, nor do I think I would tolerate them. He recommended:
- neti pot with nanosilver
- neti pot with probiotics (very small amount mixed with water)
- an herbal formula specifically for staph, developed by Monastery of Herbs, which makes a variety of herbals for a variety of infections/issues

Dr. K. has said getting NCR (neurocranial restructuring) treatments to reshape skull and nasal passages can help as well, as if things do not drain well, bacteria can stay in pockets easier.

---

Posts: 1927 | From se usa | Registered: Mar 2010 | IP: Logged |
Contact Us | LymeNet home page | Privacy Statement

Powered by UBB.classic™ 6.7.3

---
The Lyme Disease Network is a non-profit organization funded by individual donations. If you would like to support the Network and the LymeNet system of Web services, please send your donations to:
The Lyme Disease Network of New Jersey
907 Pebble Creek Court, Pennington, NJ 08534 USA
http://www.lymenet.org/
---
Home | Flash Discussion | Support Groups | On-Line Library
Legal Resources | Medical Abstracts | Newsletter | Books
Pictures | Site Search | Links | Help/Questions
About LymeNet | Contact Us
---
© 1993-2020 The Lyme Disease Network of New Jersey, Inc.
All Rights Reserved.
Use of the LymeNet Site is subject to Terms and Conditions.
---