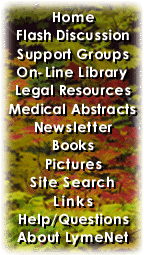 ---
LymeNet on Facebook
LymeNet on Twitter
---
---
The Lyme Disease Network receives a commission from Amazon.com for each purchase originating from this site.
When purchasing from Amazon.com, please
click here first.

Thank you.




Dedicated to the Bachmann Family


LymeNet needs your help:
LymeNet 2020 fund drive

The Lyme Disease Network is a non-profit organization funded by individual donations.

| | |
| --- | --- |
| | |
Author
Topic: Urine Color Question

Judie
Frequent Contributor (1K+ posts)
Member # 38323


posted

---

Yesterday my gut went. I've been doing great on antibiotics (and a ton of probiotics) for several months.

I had THE WORST diarrhea yesterday (the kind where I didn't know if I'd make it to the bathroom in time and it kept happening over and over).

My ENTIRE body ached in places I never knew existed, I had chills and my body was so weak I could only get up to crawl to the bathroom between sleeping and writhing in pain.

It was so bad, I called my LLMD. The office (after much consulting) told me to stop everything and get a C Diff test then we'd go from there.

Bowels are better today, BUT my urine has been a dark brown/red color for 2 days.

I'm drinking electrolyte water and can finally keep down some broth.

The office is closed for the weekend.

I'm scared. I usually drink TONs of water. I'm probably more at a normal amount now (like 6-8 glasses).

Was I diluting something that was already going on?

Any ideas of what's happening here???

I have not eaten any beets or taken anything that would change the color. In fact there are LESS things in my body than there has been in years. My stool is not dark.

This IS NOT vaginal, definitely urine.

I'm going to call the doc on Monday, but wanted to see if this has happened to anyone else.

---

Posts: 2839 | From California | Registered: Jul 2012 | IP: Logged |

Keebler
Honored Contributor (25K+ posts)
Member # 12673


posted

---

-
If you don't feel better, get to the E.R.

Try to eat some sugar. Yes, regular table sugar. This could save your life if this is a porphyria attack but it may be that IV glucose &/or IV heme would be needed if serious.

A porphyria attack can be fatal so it's really important to get medical care - and understand the importance of glucose as a potentially life-saving measure.

Now, this may not be porphyria but, it's very common for those with lyme and you can't risk not considering it.

It could also be kidney stress. Be sure to avoid IBUPROFEN as that is very hard on kidneys since it actually constricts blood vessels.

Details below.


http://www.nlm.nih.gov/medlineplus/ency/article/001208.htm

PORPHYRIA (pour - fear - REE - ah)

Porphyrias are a group of rare disorders passed down through families, in which an important part of hemoglobin, called heme, is not made properly. Heme is also found in myoglobin, a protein found in certain muscles.

. . . Urine may turn red or brown after an attack. . . .


http://flash.lymenet.org/scripts/ultimatebb.cgi/topic/1/91842?#000000

In regards to lyme: PORPHYRIA

SECONDARY PORPHYRIA; HPU / KPU
-

---

Posts: 48021 | From Tree House | Registered: Jul 2007 | IP: Logged |

Keebler
Honored Contributor (25K+ posts)
Member # 12673


posted

---

-
In addition to sugar as an emergency measure, get as much BETA CAROTENE in you as possible.

CARROT JUICE is a good start but some greens powders also contain a good amount of BETA CAROTENE.

Also be sure to keep up PROBIOTICS (as normally sugar is off limits due to candida but, it may be required to save a life during a porphryia attack - so just do the best you can with countering with probiotics).

The Porphyria thread above has other detail, too, but the top two things immediately would be sugar and beta carotene. Of course, no substitute for medical care if needed.

SAVE A URINE SAMPLE if you can while the color is red / brown. Put in a VERY clean tightly sealed container IN THE FRIDGE - inside a baggie so you can take that in for testing. Mark the collection date and your name on the container.

How to collect that: IN THE DARK, as much as possible, keep the bathroom as dark as possible as you collect it. After sealing the container, clean off the outside very quickly, still in VERY dim light.

COVER ENTIRELY IN ALUMINUM FOIL - still in the dark until well covered - twice. Keep cool and keep in the dark. Do NOT uncover to peek at this later. Light can destroy the sample.

If they do a blood test, the collection syringe should first be wrapped with foil.

Same with any stool collection they may need, it has to stay in the dark as soon as possible with foil (but can be frozen so that the aroma during travel to your appointment is not overwhelming).

Hope this works out. Take care.
-

---

Posts: 48021 | From Tree House | Registered: Jul 2007 | IP: Logged |

Sammi
Frequent Contributor (1K+ posts)
Member # 110


posted

---

Do you have Babesiosis? Dark urine can be a symptom of Babs or a kidney/bladder infection. I have dark urine from Babs.

Definitely let your doctor know. It may be a good idea to have a urine test.

I wonder if you have some kind of virus causing the other symptoms?

I hope you feel better soon.

---

Posts: 4679 | Registered: Oct 2000 | IP: Logged |

TF
Frequent Contributor (5K+ posts)
Member # 14183


posted

---

I had the dark brown/red urine after being very sick with a stomach problem. I didn't eat much or drink much for days.

After being checked out at the ER, they sent me home. After a few days of the brown/red urine, I went back to the doctor and they tested the urine and said it was from dehydration.

So, I believe you are dehydrated from what you went through. Force yourself to drink lots and lots of water today and see if it doesn't look more normal tomorrow.

I was also just diagnosed with C diff. Once I started being treated for it, I could barely eat and even drinking a few sips was difficult. So, get in all the drinking NOW!

I hate to say it but you are giving a perfect description of C diff. Just like when I got it in Sept. I am still dealing with it.

---

Posts: 9931 | From Maryland | Registered: Dec 2007 | IP: Logged |

Judie
Frequent Contributor (1K+ posts)
Member # 38323


posted

---

Thank you so much everyone for feedback.

TF - I'm sooooo hoping it's just dehydration. I honestly couldn't keep anything down the first day and kept going and going. C Diff sounds terrible! TF,I have some questions for you if you don't mind (PM me if you don't feel comfortable posting here)

What are you doing to treat it?

Can you eat or drink anything now?

Does this put Lyme/co-infection treatment on hold?

Did you experience body aches, fatigue and chills too?

I told my ND the symptoms, but she thought it was stomach flu and that C Diff didn't cause the other stuff (she misdiagnosed my EM rash as a spider bite, so I know her diagnosis can be off sometimes and she's not Lyme literate, but she's good for other things)

My urine is getting very diluted now, but I can still see that the color is off. I'll force myself to drink more today.

My bowels are better (soft, but no diarrhea). Still fatigue and aches.

I finally got the test kit for C Diff, but by the time someone could pick it up for me it was after the worst diarrhea had ended and honestly my guts were cleared out and I had to wait til the next day.

Gosh, I hope C Diff test will still pick up if C Diff is there even if things have calmed a bit.

Does anyone know?

The lab wants several samples over the course of several days, so I won't be knowing anything til next week and I don't know what delay Thanksgiving is going to add.

Still very weak and exhausted, but definitely doing a little better.

---

Posts: 2839 | From California | Registered: Jul 2012 | IP: Logged |

TF
Frequent Contributor (5K+ posts)
Member # 14183


posted

---

I went to my primary on Sept 24 due to 8 days of diarrhea. (I got rid of lyme years ago. But, for the last 10 months, I have been on antibiotics for a severe sinus infection that was 3 infections, one being MRSA. That's how I got the C diff.)

I had a fever of 101.5 and my doctor said it sounded like C diff since I had been on antibiotics for so long (even though nearly all of them had been squirted up my nose.) She said it would take days to get the diagnosis the regular way--collecting a stool sample and taking it to the lab. She said I should go to the ER and get diagnosed that day--much quicker. (You may want to do the same. The ER understood completely and was very nice about it.)

So, I went the next morning with a stool sample. I collected it about 4:30 a.m. (I was up all night with the diarrhea) and refrigerated it until I went to the ER. Since it was refrigerated, the ER accepted it for testing.

The test will pick up the C diff even if things have calmed down. The C diff will stay in your body for a good while, so there is no sense even testing right after treatment. That is what I read on the net. I have been studying C diff.

So, the ER gave me a bag of fluids by IV and that really made me feel pretty good. It helps the dehydration that occurs when you have that much diarrhea. Yes, I had body aches, terrible terrible chills (that is the fever the nurse told me), abdominal pains when the bowels moved, a fever off on on, weakness in the legs and fatigue.

When I was awakened at night (every 2 hours), I had about 5-10 seconds to make a mad dash to the bathroom to avoid a catastrophe. As I said, you gave a perfect description of what I went through. It is the worst experience.

I still ate and drank with the diarrhea, but just not normal amounts. In fact, I took Immodium for 2 days in a row and felt perfectly normal. But, if you might have C diff, you are NOT to take Immodium.

If you have C diff, the first thing you have to do is to stop the antibiotics. In my case, it was to treat a sinus infection. So, I prayed that the infection would not come back. There is no way I could have handled C diff and my sinus infection also. Praise God, it has not come back, and I stopped treating it Sept 25, so I think I am good!

The treatment for C diff is first flagyl (500 mg 3 times per day) for 10 days. They gave me that at the ER, plus advised me to see a gastro within 3 days. They gave me a name. If it comes back after the course of flagyl, then they put you on vancomycin.

Look into a good gastrointerologist right now. If you have C diff, you want the best one you can find. It can take a month to get in with a good one, so start now. In the meantime, you will have to go to somebody low on the totem pole for treatment. My first gastro didn't know what he was doing (my assessment) and I was most likely his first C diff patient.

Now, as of Monday, I am in with a good gastro. A world of difference. He treats with 21 days of vanco, the last week being a tapering down of the med (retail cost for this was about $3,000). The first gastro would only give me 10 days at a time (no tapering) and I would relapse after each 10 day course.

It took about 24 hours for the flagyl to stop the diarrhea, but I was in agony with the flagyl for the first 3 days.

I wished I were dead. I couldn't eat or drink. I first took the flagyl on an empty stomach since I couldn't bring myself to eat once I started the flagyl. I think that was a mistake. After 3 pills that way, I made myself eat a tablespoon of food with each pill. The C diff (or is it the flagyl?) causes a nausea or revulsion for food and drink. So, search for something that you think you can eat. I had to really force myself to drink even a few swallows of anything.

This went on for about 3 days, then gradually I got better.

My lyme doc emailed me to be sure to be on the anti-yeast diet and take 2 Florastor per day, plus take probiotics. He said to stay on the Florastor and probiotics for a good 6 weeks after getting rid of C diff. So, there is some good advice for you. He says that gastros don't give patients much advice for this condition. A homeopath or other such practioner would tell you more.

Anyway, after the first 3 days of feeling awful, I gradually got better each day. I finally felt normal a number of days before the flagyl ran out. I was eating normally, but just small amounts would fill me up.

When the C diff came back 5 days after finishing the flagyl, it wasn't as terrible as when I was on the flagyl. So, catch it very quickly as soon as you relapse and you won't get so very sick.

All told, I lost 14 pounds with this episode. As long as you are on treatment, you will be fine/basically normal. It is what happens when treatment ends (a relapse) that you have to worry about.

I have been doing well, still on the vanco, and have gained back 4 pounds. I eat a little less than normal. I generally don't feel like eating anything until about 2:30 in the afternoon. So, that is what is left of the revulsion to food.

Ask whatever you want. I am happy to share.

Hope you have good insurance because this vanco is so high. And, it is difficult to find. Many pharmacies will have only 4 or 8 pills to give you. Then, they have to order the rest. It is best if they have at least a 3 day supply for you so that you don't have to worry about running out of meds if their order doesn't come in.

You take the vanco 4 times per day, so it is hard to fit in probiotics. I also drink kefir. But, you can take the Florastor any time, so that is easy.

I have spent about $200 on Florastor so far, and if I continue to take it for 6 weeks past cure, I am sure I will spend at least another 200. (I get it at Walmart, OTC) So, for all of the reasons above, I hope it is NOT C diff in your case.

One girl on LymeNet told me that she eventually got herself to a gastro who is a C diff expert. So, if you happen to be able to find such a doc, make an appt with him.

C diff can recur as much as 6 weeks after you stop your C diff meds. I carry an "emergency toilet" in my car with me at all times. (A pan and a roll of toilet paper.) That's how bad that diarrhea is when it hits. No opportunity to do anything but pull off the road. So, I am traveling prepared.

I must say that I don't believe the diarrhea will stop if it is C diff. (Or, if not diarrhea, at least you will have many bowel movements throughout the day. I would have a number of them, and then relief for the rest of the day. Then, it would keep me up all night. This is prior to diagnosis.) So, perhaps your ND will turn out to be right.

The doc told me it sounded like I had a pretty severe case. Some people just have to stop their meds and that is enough to stop their C diff.

Wish you all the best.

---

Posts: 9931 | From Maryland | Registered: Dec 2007 | IP: Logged |

Judie
Frequent Contributor (1K+ posts)
Member # 38323


posted

---

Wow, thanks TF! You described EXACTLY what I've been experiencing these past couple of days.

Sounds (and feels) like hell what you went through!

I totally forgot to mention the nausea. I have such an aversion to food. I'm forcing myself to eat.

I had to have someone else pick up the test kit because I knew there was no way I'd make it in a car (or even be able to drive).

Yes, I stopped ALL my herbs and antibiotics (nothing was staying in anyway).

Gosh, I hope this is just the stomach flu.

I already have a follow-up appointment with a GI in December (the best in the area). I've been having terrible stomach pains for quite some time with no "real" diagnosis of the problem and had a colonoscopy this year (the GI doc wants me to read a book on IBS since he doesn't know what to make of it, but no bowel problems til now).

One Lyme doc thought it was nerve pain from the inflammation. I also treated for H pylori earlier this year, but still have pain.

The pain got WAY WORSE in the area with this problem.

---

Posts: 2839 | From California | Registered: Jul 2012 | IP: Logged |

TF
Frequent Contributor (5K+ posts)
Member # 14183


posted

---

C diff can also cause vomiting. The doctors have all asked me if I had that. Also, can cause blood in the stool.

If you have blood, then you have a more serious case.

C diff is nothing to dally with. I was told by my first gastro that it can cause mega colon which can lead to surgery and even death. Many people get hospitalized for C diff.

I suggest you call your great gastro on Monday and see if you can get in with him before Thanksgiving on an emergency basis. You will save yourself a lot of misery if you get treated by him instead of any old gastro who can see you at the drop of a hat.

This way, as soon as you get the lab results, you can call him and he can call in an appropriate prescription and he will be your doctor throughout the entire experience. I have had to call the gastro a number of times and had him paged.

I would not trust a gp to treat me for C diff. That would be a big mistake. You want someone with a lot of expertise.

Because I started out with an inexperienced gastro, I have relapsed twice. The new gastro basically came out and told me the old gastro was not treating me long enough. I want to spare you.

So, see if you can get in with your gastro next week. If he is treating you, you have a much better chance of not relapsing. Each relapse consumes your life for a few days at least. No sleep, can't leave the house, lose more weight, feel lousy, etc.

---

Posts: 9931 | From Maryland | Registered: Dec 2007 | IP: Logged |

abigail
LymeNet Contributor
Member # 14936


posted

---

I have an assumed C-diff infection and my urine is also red or brown. My urine culture came back positive for Enterococcus faecalis which is normally found in colon. Have all the urinary symptoms. They are putting me on another antibiotic. Joy.

--------------------
Dying is easy. Living is harder.


---

Posts: 257 | From owensboro kentucky | Registered: Mar 2008 | IP: Logged |

Keebler
Honored Contributor (25K+ posts)
Member # 12673


posted

---

-
Even if C. diff., porphryia can also be involved. Actually, any infection can trigger and worsen porphryia attacks in those who deal with that.

It's important to be aware that porphyria attacks can be fatal. Therefore, important to learn as much about it as possible and how to prevent or lessen an attack for those who are affected.

Attacks can also cause neurological damage that may not get better after the attack (though it may).

Spirulina can be very helpful, as can other things listed in the Porphyria links above.

After ruling out diet or Rx reactions (for Rx that always cause urine color changes in everyone - but also know that some C P-450 pathway Rx that can trigger porphyria),

ANYONE with colored urine needs to consider porphyria.

Urine can be various colors - or no color change at all, depending upon the type. There are at least eleven kinds and each is a bit different, and tested differently, too.

There are many deaths each year for people who did not know they had porphyria, and even for those who did. Most doctors are not at all well educated about this and many of the drugs prescribed can make it far worse.

IMO, porphyria attacks are likely connected to many of the tens of thousands of Rx-related deaths each year in hospital.

We should all learn more about this, so that all we know and love may be protected, just in case.
-

---

Posts: 48021 | From Tree House | Registered: Jul 2007 | IP: Logged |

Judie
Frequent Contributor (1K+ posts)
Member # 38323


posted

---

Thanks Keebler and everyone.

My urine has thankfully returned to normal color. I will mention porphyria to my LLMD too.

By the way, I love carrot juice, but I was too weak to get out the juicer. Had some nice carrots in broth though.

---

Posts: 2839 | From California | Registered: Jul 2012 | IP: Logged |
Contact Us | LymeNet home page | Privacy Statement

Powered by UBB.classic™ 6.7.3

---
The Lyme Disease Network is a non-profit organization funded by individual donations. If you would like to support the Network and the LymeNet system of Web services, please send your donations to:
The Lyme Disease Network of New Jersey
907 Pebble Creek Court, Pennington, NJ 08534 USA
http://www.lymenet.org/
---
Home | Flash Discussion | Support Groups | On-Line Library
Legal Resources | Medical Abstracts | Newsletter | Books
Pictures | Site Search | Links | Help/Questions
About LymeNet | Contact Us
---
© 1993-2020 The Lyme Disease Network of New Jersey, Inc.
All Rights Reserved.
Use of the LymeNet Site is subject to Terms and Conditions.
---