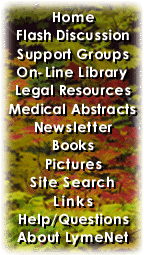 ---
LymeNet on Facebook
LymeNet on Twitter
---
---
The Lyme Disease Network receives a commission from Amazon.com for each purchase originating from this site.
When purchasing from Amazon.com, please
click here first.

Thank you.




Dedicated to the Bachmann Family


LymeNet needs your help:
LymeNet 2020 fund drive

The Lyme Disease Network is a non-profit organization funded by individual donations.

| | |
| --- | --- |
| | |
Author
Topic: Lack of happiness

Imisssugar
Junior Member
Member # 39520


posted

---

Iím having an issue that Iím not sure if itís psychological or Lyme. I donít feel happiness, love, or empathy hardly at all any more. This was something that started up gradually and coincided with other Lyme symptoms, beginning about 20 months ago (my Lyme symptoms began about 2 years ago, and my bite was a year prior). It was mild at first, even when my Lyme symptoms became severe. I have been in treatment for over a year and while my other symptoms have gotten better, this has gotten worse.

I also went through a divorce during that time. My life was in a lot of upheaval for a while but Iím finally feeling settled into my new life living alone.

At first, happiness was just missing some of that happy feeling. At some point, I realized that I would have facial expressions of happiness without having the accompanying feeling. I also realized that feelings of love were really weak compared to normal. Several months later I started to notice my ability to feel empathy for the people who I usually care about was almost nil. I have to remind myself to respond like a normal human being to other people's difficulties. Feelings of love are almost non-existent.

I still do feel sadness. I have a history of depression but have not experienced depression in about 8 years. I am sad sometimes, itís hard being alone. But I wouldnít call this depression. Maybe because my earlier depression was pretty bad. This just doesnít seem that bad.

I stress out about this because Iím dating someone. I was definitely in love in the beginning but now my feelings are pretty faded. Weíre long distance which sucks. But itís hard for me to figure out if I should move closer when I have the opportunity to, if I hardly feel like Iím in love. I donít know that Iím capable of love now though. And I have no idea when I will be.

I used to love my cat so much. Now I donít feel that at all. Itís sad that heís my baseline but Iím not close with my family.

When I first recognized that happiness and love werenít working in my brain properly, I thought it was Lyme and figured it would get better as I got treated. My Lyme is almost all neurological symptoms. All those symptoms have improved, most of them have improved greatly. The only one that is still a big problem is difficulty staying asleep.

I donít know if I should just hang in there with antibiotics or see a psychologist. My LLMD expected to be able to get me off abx by now and I think he wants to get me off soon.

I also donít know whether to hang in there with this relationship or not. It makes me really sad to think about it ending but I also feel bad that I canít reciprocate feelings. 

Any thoughts would be appreciated.

---

Posts: 6 | From NV | Registered: Nov 2012 | IP: Logged |

Ellen101
Frequent Contributor (1K+ posts)
Member # 35432


posted

---

I think you should speak with your LLMD about what is going on and also look into meeting with a therapist. You have been through a tremendous amount. Between going through a divorce and enduring treatment for lyme you could be dealing with some PTSD.

---

Posts: 1747 | From United States | Registered: Dec 2011 | IP: Logged |

Ellen101
Frequent Contributor (1K+ posts)
Member # 35432


posted

---

Also, is there a chance that any of the meds you are on are adding to your lack of feeling/emotions? I know mepron can cause severe depression and I myself had to take a break a few times just to lessen the overall feeling.

Check your meds and their side effects to be sure.

---

Posts: 1747 | From United States | Registered: Dec 2011 | IP: Logged |

Lymetoo
Moderator
Member # 743


posted

---

Sure sounds like a bad case of depression to me... but who am I to say?

and yes, some medications can do this to you

Tell a Dr or psychologist how you are feeling ASAP!

Welcome!

--------------------
--Lymetutu--
Opinions, not medical advice!


---

Posts: 95729 | From Texas | Registered: Feb 2001 | IP: Logged |

lymenotlite
LymeNet Contributor
Member # 33166


posted

---

Are you on mepron? That would account for a lot.

---

Posts: 705 | From WA state | Registered: Jul 2011 | IP: Logged |

Imisssugar
Junior Member
Member # 39520


posted

---

Thanks for the replies, everyone.

I wouldn't have thought of PTSD, that sounds so drastic. My separation and divorce were pretty nasty though, scary at times.

I was on Mepron for the past four months, and got off it a couple weeks ago. I was on it about a year ago too, probably around the same time that I first noticed a big difference in all this emotional stuff. I'm not sure if Mepron is the whole problem, since I was off Mepron for about 6 months and I don't think I noticed much difference in that period. Things were slightly better, but not markedly better. Maybe it contributes to it, though.

I'll check the side effects of my meds. Do you think supplements too? Some I'm sure are harmless (fish oil) but some seem more medicinal (artemesia).

I have talked with my PCP and my LLMD's nurse (not sure if she passed the info along) about this stuff. It's a little hard to admit to another human being that you don't feel empathy properly so I probably didn't elaborate as much as I did here. My PCP called it dysthymia and said anti-depressants don't help much with that. My LLMD's nurse empathized but that was about it.

I was on an anti-depressant for a long time, and even overlapping with this period of emotionlessness. Actually part of my motivation to get off of it (despite bad withdrawl) was because I was worried being on it for too long was causing this.

I'll look into LDN, thanks for the recommendation.

I suppose I should get to a psychologist (maybe a psychiatrist?). I was seeing a therapist after the separation but after 4-5 months I felt like it wasn't really doing much for me.

---

Posts: 6 | From NV | Registered: Nov 2012 | IP: Logged |

KentuckyWoman
LymeNet Contributor
Member # 38894


posted

---

Imisssugar:

Perhaps I could lend some "constant" to this beaker test.
I am not being treated for Lyme yet. I'm still waiting for my official diagnosis. So, since I've been sick almost 2yrs with no meds I can offer my input.

I have experienced this very phenomenon myself. I have a 'disconnected' plug on my emotions at times.
Many here have posted how they have uncontrolled weeping or laughter with Lyme, which I have as well. It's the neurological symptoms.

But the disconnected feelings is also just as disconcerting. I'm not depressed. I'm generally a happy person.

I've noticed this with my libido, my emotions, my feelings, all of it. When, before I got sick, I knew myself well enough of when i was happy/sad/ etc that I can honestly say, "This is not ME!"

If I were in your shoes, and IFFFF I decided to seek counseling, I'd be very sure that the Dr has a good handle of Lyme and what it does neurologically.

And I would never personally succumb to meds for all this stuff bc I'm trying very hard to isolate the Lyme and its variables in my system without complicating it with med side effects.

I even have times when my eyes do not focus properly to read. Can't get them wiped out, adjusted or whatever to be able to read.
Since my neurological symptoms come and go, I just do something else, until i have function back again.

I have found though, that there is some danger in the disconnect of emotions. I have to battle ever-so-hard to fight the "Tourette" syndrome stuff I get. I have outbursts of anger over absolutely nothing. I curse in my head, when I am not a cursing person. I feel like a beast. It can be offensive, hurtful. And the danger also of "stinkin' thinkin'" in all its ugly forms. I tell myself that "it will pass" like i do when I have my seizures.

I much prefer to "ride out" the symptoms with the faith that it will pass and get better. Praying for sooner rather than later.

And if I have to do damage control. I try to do so asap with those I've damaged. I try to explain the neur symptoms of Lyme (BRIEFLY) and apologize that I am not myself. It's the best I can do even though I know they won't forget the sting I've caused.
fwiw
KW

--------------------
KentuckyWoman
tired of medical run-arounds

Two roads diverged in a wood, and I, I took the one less traveled by,
And that has made all the difference.
~ ~ Robert Frost


---

Posts: 221 | From Kentucky | Registered: Sep 2012 | IP: Logged |

randibear
Honored Contributor (10K+ posts)
Member # 11290


posted

---

i'm so glad you posted this. i understand completely.

there are days that i feel like mr. spock. totally devoid of any feeling. i go through the motions of doing things and just accept what comes along.

friend has cancer -- uh huh, ok...not going home for christmas, good, i'll be ok, friend's dog died, so sorry...

nothing, no tears, no upsets, nothing. blood in stool, ok, fine, so what...

no anger, no sorrow, no joy, nothing..

emotional numbness.

the last time i was really emotional was when randi died and that lasted months.

i don't think it's the holidays. i just don't give a damn anymore.

--------------------
do not look back when the only course is forward


---

Posts: 12262 | From texas | Registered: Mar 2007 | IP: Logged |

Robin123
Moderator
Member # 9197


posted

---

I'd say definitely Lyme, as it can interfere with serotonin and other neurotransmitters. You don't have to feel bad about it - it's very physiologally based and not your personality doing this!

I got somewhere with taking pulsatilla 12x homeopathic pills - I took just one in the evening and woke up happy and forgot why!

Another question, if you feel at all like you aren't present - if we don't have enough thyroid, then our metabolism isn't happening - I felt much more present when I went on it. Can't say I felt "happier," just more present.

I like the LDN suggestion above - I've heard it works for about half of Lyme patients who try it. You go up from 150mg to 300mg to 450mg, as I recall.

---

Posts: 13069 | From San Francisco | Registered: May 2006 | IP: Logged |

momlyme
Frequent Contributor (1K+ posts)
Member # 27775


posted

---

"There are two kinds of illnesses today. Acute illnesses that have a name diabetes, fractures, appendicitis and these are being treated and released at hospitals. Then there is the much larger category of chronic illness which is being denied to exist by the medical community.

This can be explained by a loss of zest, loss of enthusiasm, loss of joy, loss of sex drive, these people are still living but living a half life.

These chronically ill, donít dance, donít sing, they are usually not suicidal, but they have lost the vibrancy of life, color, smell, excitement, sensuality and motivation."

These are notes from a video interview with Dr. K... I took notes on the entire video and the video and the notes are available here:
http://total-nutrition-today.com/health/loss-of-zest/

--------------------
May health be with you!

Toxic mold was suppressing our immune systems, causing extreme pain, brain fog and magnifying symptoms. Four days after moving out, the healing began.


---

Posts: 2007 | From NY/VT Border | Registered: Aug 2010 | IP: Logged |

poppy
Frequent Contributor (1K+ posts)
Member # 5355


posted

---

When you have lyme and all its attendant problems and it seems that the whole world has turned its back on you, emotional numbness is a logical response. People who have had the stuffing knocked out of them are not going to react normally.

---

Posts: 2888 | From USA | Registered: Mar 2004 | IP: Logged |

Imisssugar
Junior Member
Member # 39520


posted

---

Randibear and KentuckyWoman:
Thanks for sharing your experiences. Iím sorry that youíre going through that but it does help me to know that there are other Lymies out there experiencing the same thing.

----------
KentuckyWoman:

Thatís a good point about seeking a psychologist who understands Lyme. Otherwise they will be looking and looking for other things and probably have no idea that Lyme might be the cause.

The biggest reason that Iíd consider meds is because I have an antidepressant that I know has helped me in the past. I know how it affects me and I know the side effects are minimal. However, I worked really hard to get off that very medicine, tapering down my dosage for months, and would really prefer to stay off of it. Because I know itís very easy to end up on it for years after you stop needing it.

I think when these symptoms started, I just accepted them as part of Lyme. Itís the fact that now Iím doing so much better with my other symptoms (which is really awesome, I am re-joining life). But this one has not improved, if anything it has gotten worse. Iím concerned that my LLMD will want to stop antibiotics while Iím still experiencing this symptom, if everything else is better. He already has alluded to stopping because Iím mostly better except for having really interrupted sleep (which would cause fatigue in anyone).

----------
Robin123:
Thanks for the recommendations! And for assuaging my guilt. I really do have a lot of guilt about this.

On pulsatilla, is it this? Should I try just one a day?

I have been feeling more present, but my LLMD has also been after me to take my thyroid supplement twice a day instead of once. So thanks for the reminder.

Thatís helpful info on the LDN, thanks for that.

----------
Momlyme:
Thanks for the video and notes!

---

Posts: 6 | From NV | Registered: Nov 2012 | IP: Logged |
Contact Us | LymeNet home page | Privacy Statement

Powered by UBB.classic™ 6.7.3

---
The Lyme Disease Network is a non-profit organization funded by individual donations. If you would like to support the Network and the LymeNet system of Web services, please send your donations to:
The Lyme Disease Network of New Jersey
907 Pebble Creek Court, Pennington, NJ 08534 USA
http://www.lymenet.org/
---
Home | Flash Discussion | Support Groups | On-Line Library
Legal Resources | Medical Abstracts | Newsletter | Books
Pictures | Site Search | Links | Help/Questions
About LymeNet | Contact Us
---
© 1993-2020 The Lyme Disease Network of New Jersey, Inc.
All Rights Reserved.
Use of the LymeNet Site is subject to Terms and Conditions.
---