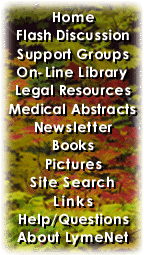 ---
LymeNet on Facebook
LymeNet on Twitter
---
---
The Lyme Disease Network receives a commission from Amazon.com for each purchase originating from this site.
When purchasing from Amazon.com, please
click here first.

Thank you.




Dedicated to the Bachmann Family


LymeNet needs your help:
LymeNet 2020 fund drive

The Lyme Disease Network is a non-profit organization funded by individual donations.

| | |
| --- | --- |
| | |
Author
Topic: Test positive with IGeneX but Neurologist disputes results

hanna2010
Member
Member # 39482


posted

---

I started treatment just over a month ago; Ceftin and Tindamax. I had a pretty bad Herx reaction to the point where I was having "jerks", getting claw like hands and feet, my speech was impaired and I had a hard time walking.

I had many other symptoms but my point is, I went to my doctor and she wanted me to see a Neurologist to rule out MS. I had just had a MRI in June so I brought that with me along with my QEEG.

The office visit was a living nightmare. Once the doctor realized I was being treated for Lyme he started giving me an attitude.

He wanted to know who diagnosed me with Lyme. I told him who and also showed him my IGeneX results. He then looked at my MRI and then gave me his opinion.

I don't have MS or Lyme. There were no marks on my brain MRI and Lyme patients have marks, his words, not mine. He said I didn't have enough positive bands to prove Lyme although I had two positive Lyme specific IgG bands and one IND.

He said that the antibiotic treatment is causing my symptoms, not Lyme. I tried to explain to him about the Herx reaction but he spoke right over what I was trying to express to him.

I always bring a typed list of my symptoms and since he cut me off after telling him only four of my symptoms, I offered my list to him. He never acknowledged my efforts and just continued to talk over me.

Finally, I was ready to bolt out of there because I was so upset. I told him I didn't want to discuss Lyme with him. He kept talking again not acknowledging me. He said he wanted me to see an Infectious Disease doctor and have a spinal tap done. Why?

He left me so confused and flustered. I am not going to the IDS doctor or having a spinal tap done. My doctor agrees and wants me to continue my antibiotic therapy.

Has anyone ever dealt with such ignorance? Am I doing the right thing? I am constantly left so confused. Dealing with mental issues and brain fog does not help the situation. I am constantly questioning whether or not I truly have Lyme because of the reactions from doctors.

I go to a cardiologist today because my doctor found mitral valve prolapse and wanted me to have it checked out. I honestly want to cancel. I can't go through the scrutiny again.

---

Posts: 27 | From Jacksonville, Florida, USA | Registered: Nov 2012 | IP: Logged |

C.M.B
Member
Member # 39693


posted

---

Hi Hanna2010...I am new here and am waiting to be evaluated for Lyme on Jan 11 by an LLMD...

...but recently had visit with a neurologist that was almost as frustrating, and that I had waited eagerly for, for 4 months.

The cardiologist may not be as bad an experience; I don't have any good input except to say that if another doctor is un-insightful and uncooperative, it's a shame, but does not change the facts of the effects of the lyme infection you and your LLMD know that you have

I was really surprised by how unhelpful the neurologist I went to was--and this is completely without even the complication of the lyme disease/co-infection controversy since I have not been evaluated yet and did not bring up my suspicions.

The muscle spasms, for one thing, were a huge concern to me and one of the major reasons I had been referred to a neurologist. But every time I said "spasm" he insistently tried to get me to say "cramp" instead.

I emphasized these were involuntary, rhythmic contractions/pulsations of the muscles, painful and could be clearly seen as well, and have on occasion happened all over my body at once.

To the extent that the MRI operators remarked on my MRI scan results, which were negative, that I was having "muscle spasms" in my back during one of the scans--when I told the neurologist this also to emphasize that I'm talking about spasming, not cramping, he said "In other words, 'she moved'" as if what I was describing was voluntary.

I also told him I was having significant muscle and joint pain, and when he asked me to rate it 1-10 with "ten being a hyena gnawing on your arm", I said "7" because a hyena eating me is probably worse than I can imagine.

He replied, "OK, so, it's uncomfortable," and he wouldn't let me chime in on that again to clarify that if all the other symptoms were taken away, the pain is bad enough to be distracting, take my breath away, and interfere with doing regular or occupational activities.

I also told him I have lost ability to draw and sculpt, have started using my left (I'm right-handed) hand for most things such as driving for example, and had tested positive for peripheral neuropathy on a nerve conduction study.

His ONLY idea was "Y'know what, I'm going to do that test again, and disprove their diagnosis of neuropathy, because there's nothing neurologically wrong with you."

Maybe there are different types of neurologists. He had a degree in neurology and osteopathy, do not know if that marks a special subset of neurology.

But this guy did not see any bodily system other than the limbs and the brain discreetly as being of 'neurological value'.

That was two weeks ago and I'm still scratching my head as to why every aspect of this guy's approach seemed so disconnected, and have wondered if others have had similar puzzling experiences with neurologists.

Hanna, I hope you get a break from these herx reactions soon and can find other cooperative doctors when you need to see someone other than your LLMD!

---

Posts: 22 | From West Warwick, RI | Registered: Dec 2012 | IP: Logged |

dbpei
Frequent Contributor (1K+ posts)
Member # 33574


posted

---

I am so sorry you are going through this. Unfortunately, it is all too common a story. I would keep that appt. with the cardiologist because it could be important. There are some very lyme friendly cardiologists. you won't know until you have that appointment.

Following my sudden hearing loss and strange symptoms, I saw a neurologist also. My MRI did show a brain lesion. I was tested with Western Blot, but it came back negative by IDSA standards (2 bands positive). My neurologist ruled out lyme, but had me return for 2 more MRI's and an MRA during the next year. The lesion was always there, but did not grow larger or multiply.

It is time for me to have another brain MRI and I am reluctant to go back to the same neurologist because I don't have the energy to argue about chronic lyme. I did send her a copy of the brain spect scan that supported diagnosis of lyme disease. Never heard back - and she never scheduled that MRI.

I am going to talk to my LLNP about this and see if she thinks it would be helpful to have another MRI. I would like to know if there are any changes.

My PCP and I had a horrible argument about my diagnosis of lyme disease from my LLMD. I never went back to her after that. I had been going to her for a number of years, but it was just horrible to have to defend my treatment and try to educate her. She was an infectious disease doc.

Disheartening and disgusting that they are so ignorant about this illness - with the number of people out there suffering.

Perhaps your LLMD could order a brain spect scan to see whether there is evidence of any hypoperfusion (poor blood flow likely due to lyme)

A CD 57 test might also validate your diagnosis of lyme. If it is low, it is almost always lyme disease. Good luck to you.

---

Posts: 2380 | From New England | Registered: Aug 2011 | IP: Logged |

poppy
Frequent Contributor (1K+ posts)
Member # 5355


posted

---

Never tell any specialist like this who is treating you for lyme. The next thing that may happen is that your doctor will be reported to the medical board and they could take his license. Then you will have no lyme doctor. I wish new lyme patients would educate themselves about the controversy before going to ignorant doctors who will cause them and their lyme doctors trouble.

If your lyme doc sends you to a specialist, do not mention lyme at all. You are there to get whatever testing or evaluation was wanted. It would be better if they did not put any diagnosis on it, just describe what they see. Putting a diagnosis on it, probably wrong, is going to cause you trouble.

When they ask why you are there, just describe the issue and let them take it from there. But a word of warning: since they know nothing correct about lyme, they may tell you it is something else, and make inappropriate treatment suggestions.

And BTW, there is no test that can confirm MS.

---

Posts: 2888 | From USA | Registered: Mar 2004 | IP: Logged |

TF
Frequent Contributor (5K+ posts)
Member # 14183


posted

---

You ask if anyone has dealt with such ignorance. The answer is that most of us on this board have had the same experience.

My primary treated me for 30 days for lyme (the standard doxy treatment) and then had his nurse tell me to go to a neurologist when I called in wanting more meds, complaining about feeling like I was being stabbed by thousands of pins and needles. I went to the one he named.

The man looked at my positive lyme test (from Quest or LabCorp) and promptly ordered more tests--spinal tap, brain scan, etc. I had all his tests done.

The brain scan showed 2 UBOs (unidentified bright objects) which the report said are likely areas of hypoperfusion and the report said "lyme cannot be ruled out." The spinal tap was negative.

So, at the next appt, the neurologist yelled at me that I didn't have lyme in my brain! "You don't have lyme in your brain. Do you hear me? You don't have lyme in your brain!"

He offered me no treatment and didn't tell me to come back.

When I said, "But doctor, how can you say that I don't have lyme in my brain when the report says 'lyme cannot be ruled out?'"

Then he said, "Well, I don't THINK you have lyme in your brain."

He basically treated me like a mental patient.

This is how we all get our education on how the mainstream medical community treats lyme patients. They want you to go away. They don't want to treat you. They are angry that you exist. You have to have mental problems because they don't want to believe what you are telling them--your symptoms, etc. And, they are angry that you have a positive lyme test also.

This is all because you are living proof that their beliefs about lyme disease are WRONG. They hate all lyme doctors because the lyme doctors are taking the stand that the mainstream medical community is wrong. So, they are just plain angry and take it out on you, the patient.

So, just stay away from ID docs and neurologists. And, if you have to go to any doctor other than your lyme doctor, just try to avoid telling them that you are being treated for lyme and avoid telling your lyme doctor's name.

You just got your education. Don't be confused. If you have never watched the program a Boston TV station did on the lyme controversy about 4 years ago, you may want to view it. Then, your confusion should go away. Here it is on YouTube, in 2 parts:

http://www.youtube.com/watch?v=PVPRWiukp_M

---

Posts: 9931 | From Maryland | Registered: Dec 2007 | IP: Logged |

hanna2010
Member
Member # 39482


posted

---

I wanted to clarify that I told the specialist I was seeing a Lyme friendly doctor but refused to tell him who I was actually seeing. He tried continuously to find out who but I wouldn't tell him.

Also, I refused to tell my primary care doctor and he will now not return my calls.

Also, I put the wrong information in regards to my IGeneX lab report. I was positive IgM with bands 31 and 41 positive and IND for band 39.

Sorry about the confusion.

---

Posts: 27 | From Jacksonville, Florida, USA | Registered: Nov 2012 | IP: Logged |

lpkayak
Honored Contributor (10K+ posts)
Member # 5230


posted

---

hanna...i couldnt read all of above i just want u to know many of us have had troueble with neuros...there are very, very few who know anything about lyme. at my last appt they told me all my pain sx were from too much b vitamins. and i have a pos mri - they said that was from high lipids.

they had just been to a workshop on lyme run by idsa.

so...stay here and keep talking and fighting and get support here,

unfortunately your experience is common. try to surround yourself with LL medical ppl and support ppl

soon i may be able to interact with you more...im in a ruff patch right now

--------------------
Lyme? Its complicated. Educate yourself.


---

Posts: 13712 | From new england | Registered: Feb 2004 | IP: Logged |

seibertneurolyme
Frequent Contributor (5K+ posts)
Member # 6416


posted

---

hanna,

Sorry for all the abuse from the docs. Unfortunately most on this website have had similar experiences.

The reality is that you responded to the antibiotics -- so far you are having a herx reaction which is of course not fun. But that is proof that you do in fact have an infection. If you were taking antibiotics that you did not need you would most likely just have diarrhea or maybe have an upset stomach. But you would not be having the type of response you are having.

As hard as it is you have to ignore the neurologist and just move on.

As for the cardiologist -- generally they are a little more friendly but not always. But you don't want to have a heart attack or stroke so you do need to keep that appointment.

It is always good to rule things out. And if you have endocarditis or severe heart involvement from lyme or babesia then you need to know that as that would probably require IV antibiotics.

Just stay strong and don't get too upset if the doc has a negative attitude.

They are rare, but there are a few docs out there who actually are interested and like to learn and put their patients first. You never know until you meet the doc what their attitude will be.

Some docs don't like educated patients -- they feel threatened by them.

You are doing the right thing by making symptom lists and following up on your symptoms. Your LLMD is also trying to help by ruling out other things. Plus it actually helps the LLMD protect themselves if they send you to specialists.

As time passes you will learn which symptoms are "normal" for you. You just have to trust your instincts and stick to the doctors who really seem to be trying to help.

As for a PCP, if you do not feel comfortable sharing your LLMD's name with them then you may need to look for another PCP. It is very important to trust your docs.

Bea Seibert

---

Posts: 7306 | From Martinsville,VA,USA | Registered: Oct 2004 | IP: Logged |

kimmie
LymeNet Contributor
Member # 25547


posted

---

OMG....Where is the alligator pit?

I'll see if I can find it!

---

Posts: 747 | From Utah | Registered: Apr 2010 | IP: Logged |

Keebler
Honored Contributor (25K+ posts)
Member # 12673


posted

---

-
FF replied: "You ask if anyone has dealt with such ignorance. The answer is that most of us on this board have had the same experience."

Bea wisely advises: "As hard as it is you have to ignore the neurologist and just move on."
(end quotes).

Glad Kimmie found the alligator pit post. That will help prepare you to avoid lyme ignorant docs.

Exactly. Sadly. Therefore: From now on, guard your LLMDs name. You don't need to be showing your tests or defend yourself to other doctors. It's never a good outcome.

http://flash.lymenet.org/scripts/ultimatebb.cgi?ubb=get_topic;f=2;t=013239;p=0

WHY you need an ILADS "educated" or "minded" Lyme Literate doctor (whether MD or ND, or both) - starting with assessment / evaluation.

ASK your LLMD when you need to seek other doctors for any other reasons or clarifications. The LLMD should be able to guide you as to which doctors are safest for those with lyme.

Your area support groups may also have names of lyme friendly specialists and GPs.
-

---

Posts: 48021 | From Tree House | Registered: Jul 2007 | IP: Logged |

Lymetoo
Moderator
Member # 743


posted

---

Welcome! I'm glad you have been well taken care of here!!

Go to the Alligator Pit!! It will make you feel SO much better!!

(see kimmie's link above)

--------------------
--Lymetutu--
Opinions, not medical advice!


---

Posts: 96109 | From Texas | Registered: Feb 2001 | IP: Logged |
Contact Us | LymeNet home page | Privacy Statement

Powered by UBB.classic™ 6.7.3

---
The Lyme Disease Network is a non-profit organization funded by individual donations. If you would like to support the Network and the LymeNet system of Web services, please send your donations to:
The Lyme Disease Network of New Jersey
907 Pebble Creek Court, Pennington, NJ 08534 USA
http://www.lymenet.org/
---
Home | Flash Discussion | Support Groups | On-Line Library
Legal Resources | Medical Abstracts | Newsletter | Books
Pictures | Site Search | Links | Help/Questions
About LymeNet | Contact Us
---
© 1993-2020 The Lyme Disease Network of New Jersey, Inc.
All Rights Reserved.
Use of the LymeNet Site is subject to Terms and Conditions.
---