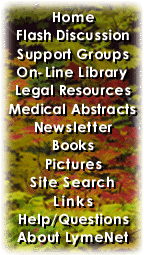 ---
LymeNet on Facebook
LymeNet on Twitter
---
---
The Lyme Disease Network receives a commission from Amazon.com for each purchase originating from this site.
When purchasing from Amazon.com, please
click here first.

Thank you.




Dedicated to the Bachmann Family


LymeNet needs your help:
LymeNet 2020 fund drive

The Lyme Disease Network is a non-profit organization funded by individual donations.

| | |
| --- | --- |
| | |
Author
Topic: How many have Treated for a Long Time and Just seem to get Worse ?

lymetwister
Frequent Contributor (1K+ posts)
Member # 19590


posted

---

I have to ask this b/c I know I'm not alone. I've had so many theories along this crazy journey, but more recently, my thoughts are shifting once again towards something else.

Again, I know I'm not alone here, so I want to get a head count on how many have treated for perhaps over a year and just seem to have gotten worse.

In addition, I want to see the number of people that Herx and Herx and Herx, but see no Improvement at the end of their Herx's.

So, I always said FMS, CFS, etc. is Lyme. I said this b/c there was no way to test by Blood analysis for these other ailments and the symptom overlap was so similar.

I've been reading and watching videos created by Dan Neuffer found here: http://cfsunravelled.com/l13ve/ You might have to put in your email to watch them. They are on youtube, but hidden in a regular search.

If you watch these videos, this guy makes a ton of sense. Now, I'm one of the Lyme cases where my bloodwork didn't shout Lyme. I did have a Babs PCR at one time, but it's been gone for a while now.

I'm not saying that this would apply to everyone at all, but for those that have been treating and treating, perhaps this is something to look at. A lot hit home with me after watching these videos.

My Autonomic Nervous System is so whacked out and when I treat, it just gets worse. A long time ago, I suggested perhaps some of us were Herxing from the Drug (Toxin load on the liver) rather than any type of die off. My LLMD suggested I was having Brain Herx's and to continue pushing through. I have done this so many times, I keep seeing Encephalitis or Encephalitis like symptoms with the addition of Flu Like symptoms lasting up to 2 weeks with each treatment.

If you fit into this category, please respond. I like Salt/c b/c even if you weren't killing anything, your supporting your adrenals. I encourage any of you that can relate to what I'm saying to watch these videos and chime in.

I will add that even high doses of Vit. D3, B12, Folate, etc. have often produced similar symptoms in me.

I would think this does not apply to the ones that do well on Abx and get worse when they stop.

Just some thoughts I'm tossing around. I know of at least 4 or 5 people on here that I have spoken to regularly over the years that fit into this category with me.

---

Posts: 1227 | From District of Columbia | Registered: Mar 2009 | IP: Logged |

CD57
Frequent Contributor (1K+ posts)
Member # 11749


posted

---

Gary -- the fact that Vit D and those Bs have produce similar symptoms indicate that you should be looking into MTHFR genetic testing. Are you on Facebook? Request to join the MTHFR Gene Mutation page.

Read this, posted by a doc who posts on that page:

MTHFR mutations, insufficient Vitamin D and poorly functioning Vitamin D Receptors [VDR] likely together weaken and adversely influence our Immune Function

1. The MethylTetraHydroFolate Reductase [MTHFR] Single Nucleotide Polymorphism [SNP] mutations reduce the body's ability to methylate many bio-chemicals that are important for our immune function; and this includes the various CYTOKINES. The Cytokines made by the white blood cells [WBCs] function as signaling chemicals and mediators of inflammation and for the purpose of killing of microbial invaders. The inability to methylate bio-chemicals involved in our immune function may be just one of the negative influences of the MTHFR mutations on our immune system's function.

2. The initiation of the TRANSCRIPTION of our DNA depends a great deal upon the function of our Vitamin D Receptor [VDR]. There are VDR gene mutations which may reduce the function and effectiveness of the Vitamin D Receptor and thus influence the PRODUCTION of WBC's and the transcription of the genes for the making of CYTOKINES.

3. An inadequate amount of VITAMIN D would compromise the function of our immune system.

4. Once infected by the Lyme causing bacteria BORRELIA BURGDORFERI [Bb] this infection in and of itself reduces the function and effectiveness of the VDR by 50%.
If the DNA of our immune white blood cells [WBC] cannot be properly transcribed then this will not only affect the production of WBCs, such as may be the case with the CD57 NK cell absolute count, but would also weaken our white blood cell's ability to make cytokines.
Without appropriate signaling between the different types of white blood cells uncontrolled chronic inflammation would lead to pain and self-damage.

Without the ability of the immune system to function and communicate properly, the body would be unable to rid the body of a microbial invader such as Lyme Disease and or perhaps other bacterial, viral or parasitic invaders etc.

---

Posts: 3528 | From US | Registered: Apr 2007 | IP: Logged |

CD57
Frequent Contributor (1K+ posts)
Member # 11749


posted

---

what do the videos say is to be done?

---

Posts: 3528 | From US | Registered: Apr 2007 | IP: Logged |

CD57
Frequent Contributor (1K+ posts)
Member # 11749


posted

---

Those videos are fascinating. I still think I have microbes causing symptoms. He doesn't talk about this much?

---

Posts: 3528 | From US | Registered: Apr 2007 | IP: Logged |

lymetwister
Frequent Contributor (1K+ posts)
Member # 19590


posted

---

Laxmom,

Do you find that although you don't feel great and are full of symptoms, at least with NO treatment, you can't do a bit ?

This is 100% the case with me. That guy hit so many things on the head. I have serious Blood flow issues in the brain, that I can feel them in the brain, but those same issues are affecting the ANS and just like this guy speaks about, it's affecting the rest of the body. Interestingly, most of what I feel in my head is on the right side.

I agree about having infections too, I'm just not so sure what they are anymore. Wouldn't it be nice if a non Lyme med could knock it out ?

He and I are suppose to talk in the next few days. He is Australia so I have to be patient, but I will try and get more information and post back.

---

Posts: 1227 | From District of Columbia | Registered: Mar 2009 | IP: Logged |

kim812
LymeNet Contributor
Member # 17644


posted

---

I found those videos to be very interesting. I know my ANS is very wacky and am not sure if there is really anything that can be done to right it at this point nine years later.

My doctor still thinks I have active infections (Bart and Lyme) even though I have treated off and on for 6 years. I feel terrible when I am off the Bart meds and better (not great) when on them. I am not sure what my infections are anymore either....

I would love to read his book because I would like to know more about what he has to say. I have been diagnosed with CFS in the past and when I became sick I was also under a ton of stress but had symptoms first and then the stress.

I became hypothyroid while sick as well....he really made so much sense too when talking about the cortisol. I have been on cortef in the past and it really didn't help me.
Thanks for posting that link...it was extremely interesting to me as I still am not well.

---

Posts: 343 | From North Carolina | Registered: Oct 2008 | IP: Logged |

cozynana
LymeNet Contributor
Member # 34270


posted

---

I am in the same boat as the rest of you. I too, feel poisoned when on drugs.

However. I can take most herbal products and do well. I Can not take B vitamins, but can eat foods high in
Vit. B.

Also know my ANS is a mess. Wow, could we have a Lyme doc just work with us and get it fibured out?

I hope to be tested for the MTHFR gene soon. I know my DO will test it, but it will be out of pocket.

Do
you guys know if mainstream acknowledges MTHFR and will test for it?

---

Posts: 620 | From Ks | Registered: Oct 2011 | IP: Logged |

tick battler
Frequent Contributor (1K+ posts)
Member # 21113


posted

---

lymetwister - I am curious if you have tried an herbal protcol such as Dr. K's lyme cockttail or the Cowden protocol or salt/C?

My autonomic nervous system is a mess but is finally healing since I have avoided RX drugs and have started salt/C and rife aggressively. I can't even rife with handheld units because I start to vibrate so much. I have two kinds of rife machines and I can handle the tube ray machine which you don't have to hold.

My lyme is either gone or under control through samento/cumanda/burber and GSE, but I was sickened with parasites when drinking contaminated well water for a week on vacation two years ago. I tried flagyl and tindamax and alinia and many other courses of treatment and would improve but then worsen. After a year of this, I started getting vibrating and tingling through my body which would worsen with any RX drug I took and even some herbs.

I am able to take some herbs but my main protocol is salt/C and rife daily and I am finally seeing progress.

If you have not tried ART testing or EDS testing with someone who is very experienced, I would strongly recommend that. Then you will know what you are dealing with and which meds/supps you can handle. I find it much more accurate than blood tests.

tickbattler

---

Posts: 1763 | From Malvern, PA | Registered: Jul 2009 | IP: Logged |

CD57
Frequent Contributor (1K+ posts)
Member # 11749


posted

---

Tickbattler, how interesting about the vibrating,

I am bad on meds, worse off them. We also think I have bart and Lyme but I'm not sure anymore. The meds don't really seem to kill whatever I have but just cause massive inflammation. I sort of find it scientifically impossible that the bugs could still be alive and thriving every day to cause this level of CNS symptoms that I have. I notice I am better when I have less sleep the night before, so this must have to do with cortisol. I am better at certain times of the day vs others (late night being the best).

Bottom line: Treatment seemed to bring out some kind of beast which has never gone back in its hole.

---

Posts: 3528 | From US | Registered: Apr 2007 | IP: Logged |

CD57
Frequent Contributor (1K+ posts)
Member # 11749


posted

---

Forgot to mention Buhner herbs worked for a month, then stopped working. Cowden was never strong enough to do anything at all. Abart and Abab seem to elicit a response, then stop working too.

---

Posts: 3528 | From US | Registered: Apr 2007 | IP: Logged |

kim812
LymeNet Contributor
Member # 17644


posted

---

CD57...I feel better on less sleep as well. If I am up half the night I seem to function better during the day..I know wierd but true.

I was doing okay without treatment including still able to run and work 25hr week. Then when I started on abx in fall of 2006 within a month I couldn't run anymore and I now am only able to work a couple days a week.

Plus when I started abx it caused me to have a sore throat which lasted 10 entire months so I think the meds also awakened bugs that were probably being well controlled by my healing body.

---

Posts: 343 | From North Carolina | Registered: Oct 2008 | IP: Logged |

CD57
Frequent Contributor (1K+ posts)
Member # 11749


posted

---

Kim, what do you make of that? what does your doc say? I still have the sore throat 6 yrs later! I did re-test positive for Bart at Galaxy Labs but am incredulous that all this is still bart and Lyme after IV and oral abx and herbs and ozone and a bunch of other stuff. My LLMD seems to be out of ideas?

---

Posts: 3528 | From US | Registered: Apr 2007 | IP: Logged |

lax mom
Frequent Contributor (1K+ posts)
Member # 38743


posted

---

CD57: I feel best late night also...around 10pm I feel pretty good...What's up with that?

The other night I told my husband, if I could feel the way I do at 10pm, all day long, I'd be fine.

cozynana: your Dr can order the MTHFR test and insurance usually pays. It's not the extensive test, just the basic that shows A1298C and C677

I feel like I'm going to die when I'm on more than 1 antibiotic. Off all meds and supps, I feel great for a week or two...then the original symptoms come back (mainly brain fog so thick I can't figure out how to form a sentence).

Off antibiotics, it feels like this disease might kill me down the road, slowly...but on multiple meds, it feels like I'm going to drop dead immediately.

lymetwister: that's awesome that you've contacted him! Can you let me know what you have found out about stress and this disease?

--------------------
♥ ♥ ♥ ♥ ♥
(aperture)
http://flash.lymenet.org/scripts/ultimatebb.cgi?ubb=get_topic;f=1;t=115161;p=0


---

Posts: 2519 | From USA | Registered: Aug 2012 | IP: Logged |

kim812
LymeNet Contributor
Member # 17644


posted

---

CD57, I have been with my doctor for almost 7 years and it is getting to the point where he is as baffled as I am.
He still feels it is an active Bart infection and that I was not treated properly for it. He had sent me to NY for a try but they helped me even less.

I have had IV and oral as well along with herbal supplements etc...
He wanted me to test at Galaxy labs since I was bit again last summer but my insurance wouldn't cover it. Do you mind me asking how much the Bart test was?

I can't believe you still have the sore throat. Rocephin IV got rid of it for me after 3 days of treatments and it has never come back.

I think it is either permanent damage or somehow the infection is still active. My LLMD is getting out of ideas also as to what could be the problem....

I am incredulous as well but I have chronic fatigue as a huge problem and the only thing I can think is an infection must be causing it since I have been tested and retested for everything.

---

Posts: 343 | From North Carolina | Registered: Oct 2008 | IP: Logged |

lymetwister
Frequent Contributor (1K+ posts)
Member # 19590


posted

---

Salt/c probably helps you with Adrenal function, minerals, and some Detox from the Vit. C

Too much Salt/c and I get bad ANS stuff.

I think the problem is our bodies are so Toxic to start with and b/c nothing is working, no matter what we put in them, the body doesn't know what to do with them, can't utilize them correctly b/c everything is screwed up.

I read the free ebook on CFS from Dan. His videos are Awesome and this guy is Smarter than any Dr. I've seen in 6 years. He is a Physicist and at least for me, I think he is onto something huge. The guy is cured and he had so many symptoms many of us do.

I think that my Herx's are not true "Die Off", but rather further accumulation of Toxic waste from the Drugs themselves. My Lyme testing was terrible. I had a Pos. PCR for Babs, but it's gone. I can't find it in my blood and I made many Giemsa Smears, searched for hours on end. I saw what may be artifact, but nothing that would make me so sick.

I thought this all along, but at the same time, what else could it be. Maybe there is no Bloodtest for a screwed up ANS. Just watch his videos again and everything he says is 100% correct. The ANS controls everything in the body from Blood flow to Digestion. It would account for every symptom I feel.

I just had another MRI and it's 100% Normal, My SPECT scan is 100% Normal. My CBC and Chemistries are 100% Normal. From what I feel in my head, this should be IMPOSSIBLE, but it is isn't.

In my case, I was in an abusive marriage and then I began to get symptoms just 3 months after I suddenly lost my brother. My head and Neuro symptoms didn't start for another 2 years. In fact just 3 days after I took my first Abx, Amoxicillin I had my first Brain Fog. I wasn't very toxic back then. As I kept taking the meds, looking back, I've been dousing myself with Gasoline. Those first 2 years were full of Anxiety that Xanax didn't touch my Anxiety. My POTS began in the first year too as did bouts of Shortness of Breath that I realized quickly were bursts of Histamine.

I'm going another direction after reading his ebook. No more putting drugs into me. I thought I was ok, b/c I didn't have Nightmares seeing my brother die or flashbacks of how my wife was so abusive, but perhaps I have never dealt with the Negative emotions through Talk Therapy. Maybe these are suppressed emotions that I need to get out, perhaps causing every single symptom I have.

Sounds crazy doesn't it ? Funny thing is my Lyme Questionnaire showed 76% of those that said they had Lyme also had Chronic ongoing Stress just prior to getting sick. I'm not talking about Stressed out from work, I'm talking about something very very Emotional or Physical or Both. Something that is life changing.

The other factor that I have found in just about every person on the support groups is that most are Type A personality.

Onset of illness in CFS/FMS is late 30's, early 40's. I'm 3 for 3 from the above and I know a bunch here are as well.

Please don't take me wrong, as I'm not saying everyone on here doesn't have Lyme, I'm just saying after all of this time and things I questioned about myself, my Dr.'s trying to treat this that seemed so baffled, etc. that it must be something else.

CFS/FMS is something no one really understands to well from a Medical perspective. Heck, I said all along if they had CFS/FMS, it had to be Lyme b/c Lyme is the only thing you can actually test for and the others are just made up names for a set of symptoms and the symptoms overlap so much.

But now, I think I was wrong, and even more, dead wrong. And now, I hope I'm correct :-)

Time will tell, but I'm getting on board with Dan and his ways of healing.

---

Posts: 1227 | From District of Columbia | Registered: Mar 2009 | IP: Logged |

sparkle7
Frequent Contributor (5K+ posts)
Member # 10397


posted

---

It's hard to figure all of this out. The emotional aspect is very important but there really are actual toxins & pathogens making us ill.

I thought my symptoms were psychosomatic many years ago so I saw a psychotherapist for about 6-9 months. It was great but my illness was not psychosomatic. We really do have something that is making us ill - for the most part.

Maybe try to see if you can find someone who does ART or some kind of energetic testing like the ASYRA? You caould also try the babuschka principle like GiGi has posted about. I think it's basically treating:
parasites
yeast/mold
heavy metals
bacteria
viruses

They all feed off of each other.

---

Posts: 7772 | From Northeast, again... | Registered: Oct 2006 | IP: Logged |

AnnaL
LymeNet Contributor
Member # 18464


posted

---

I've been sick for just over 5 years, and in treatment for about 4.5. I'm just as sick now as I was in the beginning.

I've tried various oral, IM, and IV abx, as well as herbal protocols.

I don't know if I'm going to get better (either in terms of 10% or 20% improvement, or in terms of "all better").

At the moment I'm waiting for MTHFR test results, and also have an appt with an environmental medicine doc to look for a potential trigger like mold allergies (I'm in a rainy city).

I did get sick right after a long period of physical and emotional stress. And I've cleared out entire closets worth of "baggage," but it's like the universe keeps knocking me down. FML.

---

Posts: 398 | From By the Salish Sea | Registered: Dec 2008 | IP: Logged |

kim812
LymeNet Contributor
Member # 17644


posted

---

Lymetwister-I agree that Dan's videos were very informative and right from the start I thought the guy was really making so much sense.
How did you download the book for free? I don't have a kindle but do have an Ipad.

I would love to read what he has to say because nothing has really helped me get well. I am somewhat there but still disabled by chronic fatigue.

I also had a huge amount of stress right before getting sick. Although I think maybe my first symptoms at the time cause alot of the stress because I was told I could possibly have ALS back then and of course freaked me out. I also had a family pet pass away that same time.

I am giving abx one more go around and then I am done. I think most of my problems are exactly what Dan said in the video...I have problems with emotions...unable to cope with the smallest of stress...chronic fatigue...nerve pain...flight or fight mode always turned on. My body feels hyper and then drained constantly. I am actually under no stress as I only work a couple days a week and have a great life but my body must perceive it as stress.

I think whatever attacked me is long gone and I am left with a messed up system. I want to go in a different direction because I am tired of putting more meds into my body but I am committed to this one last go around.

Every scan I have had is normal also...its been almost 9 years now and I can't believe that this has ruled my life for so long.
The only test I ever had positive was a Bart test in 2007 so I can only think it wasn't fully treated.

I would be interested in how you do using Dan's methods although from the video I am not exactly sure what they are. Good luck!

---

Posts: 343 | From North Carolina | Registered: Oct 2008 | IP: Logged |

lymetwister
Frequent Contributor (1K+ posts)
Member # 19590


posted

---

I wasn't saying counseling is gonna make me better, but I think it's a good starting point for me b/c of the Trauma I had.

He also recommends intense Meditation at least once a day to help retrain the ANS. There is more in his ebook.

Kim, he was giving the ebook away free on Amazon. You can download it from there. Just make an account and put it in your basket and checkout. B/c it's free it's available right away. There is a Kindle PC app for free too. If you have trouble, let me know.

So more from his ebook. His theory is to treat symptoms so that you are a bit more comfortable as needed, but to get at the ANS ultimately. He gives many strategies in his Ebook.

Again, if you have Massive infections causing your symptoms, he believes these must be treated. If you think it's just your ANS, then that is the way he believes one needs to go. So, for all of us that have done everything for infections, Herx herx herx and no better, this is for you if you so choose.

For me, I was scared to stop b/c I thought I had so much infection and I had hammered it so hard, but it was just a matter of time before I got to the other side, but honestly, this guy is a savior to me b/c I can't take anymore of whatever Herxing is for me. Again, I think my Herxing is just Toxin accumulation from the drug itself. I'm pretty sold on this as I Herxed from Supplements very similar to Abx Herxing. Not just Vit. D, but other things that my body can't use right now b/c it's either confused or the ANS has these things in shut down mode.

To me, this is much more feasible than running on wild goose chases after MTHFR or HLA DR, etc. So you get your result, then what ? Oh yeah, I herxed from CSM too.

Probably why weather affects people so much and EMS etc. All of these things have a role on the ANS, which is simply how the body adapts and adjusts to everything, not just to what we put in our bodies, but everything outside our bodies. It's more of a concept if you will, but a viable one.

---

Posts: 1227 | From District of Columbia | Registered: Mar 2009 | IP: Logged |

nefferdun
Frequent Contributor (1K+ posts)
Member # 20157


posted

---

There is a lot more to the methylation panel than just MTHFR. If you are not detoxing well, you probably have CBS. In fact 90% of chronically ill people do. Look at heartfixer.com

In my opinion people that are not recovering probably have protomyxzoa. I can shout it from the roof tops but it lands on deaf ears. If you have it, diet is critical to getting it under control and most people refuse follow it.

People with CBS also do better on a vegan diet because the animal products produce a lot of ammonia. You should avoid foods with sulfur which are cabbage family, kale, spinach, mustard, soy, carageneen, all animal products and soy. When you get your urine sulfate levels down, you can see what you can tolerate.

If you don't treat the mutations, you will not be able to detox. You will probably have hypercoagulated blood so medication cannot penetrate deeply into the tissue and you can't detox. This is a perfect breeding ground for the biofilm that protects the pathogens - protomxzoa is a biofilm producing protozoa.

If you want to get better, try doing something different. It is crazy doing the same thing over and over expecting different results. Try following the low fat vegan diet and taking the methyl cycle supplements. You need folinic acid, hydroxy B12 and neurological health formula to start.

Take phosphatidylserene daily and once a week take LipoPhos EDTA which will boost the BHMT mutations to help reopen your pathways and clear heavy metals. It will also detox your liver and help degrade biofilm.

The LipoPhos has 6 rams of phosphyatidylcholine which is the most essential fat your body needs. On the day you take it, you should add this to your fat grams not exceeding 15 for the day. Obviously you needn't worry about not getting the "good fats" when you are treating this way because you are also taking phosphyatidylserene daily. You can even throw in a fish oil capsules if you want. It is very little oil.

Protomyxzoa is a blood parasite. Ivermectin hits it really well so give it a try. If you ache all over and feel miserable you are probably herxing from it. PR causes profound fatigue, headaches, body pain, joint pain, stabbing nerve pain, facial and tooth pain, insomnia, air hunger, muscle twitching, loss of muscle use, brain fog, auto immune diseases, urinary tract irritation.. ... . If you have been treating babesia for years without improvement, it is often confused with protomyxzoa.

After you begin treating PR and get a little improvement, try taking Low Dose Naltrexone to boost your immune system.

When you have PR, you never walk away cured. It is a struggle to get into remission and takes a life long commitment to stay there. The good news is it is a healthy diet - good for everyone.

--------------------
old joke: idiopathic means the patient is pathological and the the doctor is an idiot


---

Posts: 4676 | From western Montana | Registered: Apr 2009 | IP: Logged |

lymetwister
Frequent Contributor (1K+ posts)
Member # 19590


posted

---

Nefferdun,

Your post above is exactly the type of post that people need to let go of. You obviously feel very strong and passionate about what you typed, so I won't sit here and attempt to tear it apart.

But what Dan is saying, is to let go of all of this type of thinking to "try and figure it out". Heal the ANS and all the things Below it will also heal. There are at least 50 or more theories on this board floating around with similar posts to yours. These types of posts put the "Confusion" into everyone as to "how to proceed" with treatment to get well. i.e. Do I treat Babs, yeast, mold, other infections, Genetic Mutations, etc. My dear friend Gael focuses on Parasites as does Gigi, but Gigi says Heavy Metals must be treated first, and so on...

Personally, and I think I speak for many that chimed in on this thread, this type of approach can only lead to a dead end. Certainly, if you have identified a true infection that needs to be dealt with, then so be it, but if the treatment is not working, then perhaps even the positive lab result is not the cause of your symptoms.

Dans approach is to "Let Go" of this type of thinking and take a giant step backwards and to look at the bigger Picture illustrated below:



Certainly, it can't hurt anyone to try this approach. It costs nothing. Not only did he cure himself, but he has helped so many, and those same people had our symptoms. We all have things differently, but also very much the same.

It simply won't work unless you are ready to "let go" of the above type of thinking.

Again, if you are sold on Abx, Herbs, what have you and you honestly believe this is what will get you well, then this is not for you. Those that have exhausted themselves to a point that something else out there must exist, than this is a great place to go IMHO.

I am merely trying to explain the concept of all of this by continuing to post in this thread as many are having trouble understand what this is all about, but again, it's about getting the ANS to work the way it once did.

In Dans diagram above, you can clearly see the ANS controls everything in the body, so treating the gut only leaves all of these other body organs untreated. To try and treat them all at once is impossible for one, but in the end, once you stop, the ANS above is left in a state of being Dysregulated b/c it was NOT addressed during all of that treated, thus what most call a Relapse.

Make Sense ?

---

Posts: 1227 | From District of Columbia | Registered: Mar 2009 | IP: Logged |

feelfit
Frequent Contributor (1K+ posts)
Member # 12770


posted

---

I am one of those who only became worse after treating. Like Kim, I was managing somewhat before being diagnosed and able to run, work-out, tolerate social situations etc.

However, when I began treating, all hell broke loose. And I don't believe that my reactions were merely an assault on my ANS.

I do believe that there are many reasons for tx failure. A toxic body is one them. when my once athletic body was overburdened with STRESS (major), illness took over.

However, I don't believe that it is merely stress affecting the CNS/ANS. I believe that methylation plays a MAJOR role- It's not a 'wild goose chase', a simple google search will bring up many, many scientific papers on methylation, epigenics, etc.

There are numerous accounts of ppl, adults and children, having incredible results addressing methylation. It works. The trick is to stick with protocol.

The same with HLA-DR and mold illness. As a person with a genetic make up that makes it difficult to rid my body of both borellia and mold- I have visibly witnessed my body swell with exposure, there is no denying a cause and effect.

Additionally, normal SPECT, MRI, or any other scan or blood test seems to mean very little when dealing with some of these pathogens. Take BARTONELLA, for instance, in this article, most brain scans and blood work were completley normal, but a few lost their lives to the infection. It was not detectable in blood or brain: http://www.ashdin.com/journals/jnp/235640.pdf

So, IMO, coming from a background in Social Work/Mental Health- Do I believe that talk therapy and meditation have merit? ABSOLUTELY. Is there a mind/body connection? ABSOLUTELY.

Is connecting to a higher power calming, centering? ABSOLUTELY. But, i do not believe that it can heal a toxic gut or wipe out active infection, reduce off the chart cholesterol or triglyceride levels- or fix serious physical manifestations of brain involvement, such as brain swelling, eye drooping/drainage. Nor will it regenerate joints that have disintegrated, etc.

Bottom line, I agree, if you have no sign(s) of infection- then perhaps working on your mental/emotional health will be the key - it certainly can't hurt.

I did years of transcendental meditation, prayer work and copious amts. of 'talk therapy'. My mental health and ability to react differently to perceived stressors and interpersonal relationships improved greatly. it had very little effect on my illness.

BTW, I also think that Dan's theories make sense, but I don't believe it is the final answer for those of us who have not had great treatment response.

---

Posts: 3975 | From usa | Registered: Aug 2007 | IP: Logged |

lymetwister
Frequent Contributor (1K+ posts)
Member # 19590


posted

---

The Mental emotional stuff is just part of what he suggests. Have you read his entire ebook Feelfit ?

I was talking about the as it pertained to me. We all have this differently with alot of overlap.

Certainly if mold is your problem and you have a way to address it, than that is your direction.

Dr. V. in Maryland is all over Methylation. I have yet to see any of his patients get well from this approach. He also tests for MTHFR and the other mutations.

When I was pumping Immunocal, I thought for sure it had to be the answer for everyone as the literature suggested we all had depleteted glutathione and that raising Gluathione would help the body detox and fix the broken immune response. The group I started on FB had 120+ members. About 15 people were taking the Immunocal, but most everyone dropped out b/c they were getting too overstimulated and emotional on it, myself included. I was Herxing on Immunocal, which doesn't kill anything. I chalked it up to my Immune system kicking in finally getting at my infections, but in the end, it was just too much even at the low doses.

So what happened ? It appears to be another example of how the body just doesn't know how to utilize what was being introduced into the body, or so it seems.

I can't say any of this is 100% certain. I have asked Dan to chime in on this conversation. I know he is a busy guy and I spoke to him by phone last night on Skype for well over an Hour. The guy is nothing short of a Genius IMHO.

My question to him was "What do I do to get well" ? He told me that for everyone, the approach would be different. What works for one, doesn't work for another. My story to him was a familiar one. This is why he suggested the Talk Therapy for me to start with along with Daily meditation, both of which I have never done.

Remember, he is not a Dr., nor is any of this a true Science. He only states that he has seen many get well addressing the ANS and many remain sick going after all of the systems and systemic problems specifically.

Hopefully, we will see some postings from him in the near future on here. I am not the expert on any of this folks. I only watched his videos, read his ebook, and consulted with him. With that said, everything he presents hits home with me in a very big way. I'm only sharing. To each his own.

---

Posts: 1227 | From District of Columbia | Registered: Mar 2009 | IP: Logged |

feelfit
Frequent Contributor (1K+ posts)
Member # 12770


posted

---

actually, it may work for you then, twister. If one has stress, emotional setbacks, family issues,trauma (illness alone is trauma)then, certainly, addressing those things will play a big role in balancing mental harmony.

No amt. of meditation or talk therapy is going to grow back an amputated limb- addressing the mental components of the loss may lead to acceptance and peace with the loss of the limb, better coping skills, etc.. ...but first one must recognize and accept that the limb is missing!

If you believe that your body is merely dealing with an ANS messed up by stress, then by all means, learn meditation engage in talk therapy.

BTW, Dr V's interest lies with MTHFR, one genetic SNP involved in methylation. Perhaps many of his patients have other SNPS that would make addressing MTHFR first a horrible proposition. CBS mutation is an example of this. It has to be addressed before MTHFR. You may not have seen any of his pts. become well, but I'm sure that he has, or why would he continue doing what he does and why would he have a large pt. base.

I'll bet that if you had the whole genetic profile done, you'd have issues with BHMT, MOA, etc.. Genes you received from your parents.

If you understand the concept of methylation (most don't, it's complicated) everything makes sense. I can look at my SNPS and they fall in line with my blood testing.

You described these things as 'wild goose chases' therefore negating Nefferdun's success and that of others.

You're right, if it feels right to you, run with it. But, because it feels right to you, it may not feel right to the next person.

Look what happened to Immunocal. You touted it as 'the cure for all illnesses' and I don't believe that one person that followed you on the immcuocal path had much success or found the 'cure for all illness'. In fact, as you've stated, all 15 could not tolerate. It was suggested that if one has sulfur issues, using glutathione directly could cause great harm (think CBS mutation). One girl coded on IV Glutathione.

Just examples of how 'other' factors come into play that have nothing to do with ANS and more to do with the defective pathways by which certain nutrients are used.

As I stated before, I think Dan's trend of thinking has merit and so does your falling into line with his concepts-for you.

Nefferdun is feeling pretty good these days, doing what felt right for her. Appreciate your sharing, but nothing is black/white with any of this. I believe that for most of us, becoming more functional takes a multi-faceted approach and there is no quick fix...

even meditation takes practice and then it has to be applied in everyday life.

I'm rooting for you! I say if it feels right, do it!

---

Posts: 3975 | From usa | Registered: Aug 2007 | IP: Logged |

lymetwister
Frequent Contributor (1K+ posts)
Member # 19590


posted

---

Well said, and I don't understand the Glutathione thing. On paper it looked to be the fix.

Yes, I don't understand the 23andme stuff. I've read it over and over again. I see people saying they have these mutations, but then I see these same people asking what does it mean. There are a few people that claim they can interpret the results, but then, what does that mean ?

I found this in a forum: http://www.mthfrsupport.com/1/post/2012/05/other-gene-mutations-that-must-be-addressed-before-starting-an-mthfr-protocol.html

Looks like many are still trying to figure out what it all means. From the work of Dr. Yasko, it appears most of her work is with Autistic children.

I really don't mean to toss any of it out the window as there may be something to it, I just don't understand how one can be living a good life and then all of a sudden these mutations begin to interfere with someones life. And from the poles I've ran, it seems to be related to Stress in everyones life. I don't think anyone can answer this question at this time or perhaps ever.

Thanks for your support :-)

---

Posts: 1227 | From District of Columbia | Registered: Mar 2009 | IP: Logged |

kim812
LymeNet Contributor
Member # 17644


posted

---

lymetwister...I am so with you on this topic. I was a healthy...athletic...48 year old and in the best shape of my life when I suddenly came down with severe cramping in only my left calf and foot. It was excruiating and painful. Then the nerve pain started within a week. About 2 weeks later I came down with a 24 hour flu along with massive stress and haven't been well since.

I was rarely sick as a child or adult. It has been years of testing....testing...medications...herbals....all kinds of supplements and I still sit here today with the same two symptoms I started with. I don't have the cramping anymore but the nerve pain has increased over the years and I still have daily chronic fatigue...some days worse than others.

I really feel that had I not started on abx treatment I would be well today. In the 2 years prior to getting treatment I was still basically functional...running..actually training for a 1/2 marathon. Once I started on those meds it was all over for me. I haven't run since and I feel I am less physically able than I was way back then.

I don't believe that me who was a runner...extremely healthy person would suddenly have all these other problems people mention on this site. Yes I was tested for many of them but nothing has ever showed up on anything...and yes I did go to the great doctor in NY who also could not get me well.

So I agree that Dan is on to something and I was so impressed with his knowledge and insights. What he says it exactly what my body feels like.

I think we all are trying to get well in however means we feel is right for us. I need to do something different...
Maybe I still have some type of infection but if I do then no one knows what it is or can find any evidence of it. I think it hit me and left behind damaged goods....

Thanks for the info on the book. I am going to try and download it and will let ya know how I make out. ...thanks for starting this thread.


Just downloaded the book to my Ipad! Thanks!

---

Posts: 343 | From North Carolina | Registered: Oct 2008 | IP: Logged |

lax mom
Frequent Contributor (1K+ posts)
Member # 38743


posted

---

My illness isn't due to psychological issues that require talk therapy.

I had been in therapy for about 20 years and talked my issues to death.

Once I started having fevers, that is what finally alerted me that this wasn't psychological.

I don't feel that fevers, non-functional NK cells via testing and high inflammation via blood tests are caused by psychological issues...fatigue, sure...brain fog...sure...even dizziness, nausea and lots of other symptoms.

I haven't read his entire e-book because of brain fog.

My thinking is that my susceptibility to all these infections and wrecked immune system has to do with my body burden...and stress helped tip me over the point where my body couldn't fight off things anymore.

In my case the genie is out of the bottle and putting him back in isn't as simple as just reducing stress.

I wish I could read the whole book and see if he offers any other ways to heal.

BTW my ANS is a wreck too. In fact my LLMD just ordered a tilt table test to rule out ANS dysfunction.

--------------------
♥ ♥ ♥ ♥ ♥
(aperture)
http://flash.lymenet.org/scripts/ultimatebb.cgi?ubb=get_topic;f=1;t=115161;p=0


---

Posts: 2519 | From USA | Registered: Aug 2012 | IP: Logged |

nefferdun
Frequent Contributor (1K+ posts)
Member # 20157


posted

---

I am not looking for something to get me well. I am in remission. I have been off drugs for many months, except LDN which I will take for life. If I had not done what I did, I would not be here. I just bet there are many more people out there that would benefit from treating PR. That is why I bring it up.

--------------------
old joke: idiopathic means the patient is pathological and the the doctor is an idiot


---

Posts: 4676 | From western Montana | Registered: Apr 2009 | IP: Logged |

tick battler
Frequent Contributor (1K+ posts)
Member # 21113


posted

---

nefferdun,
Thanks for the info on PR - I have been looking at that angle for my husband and agree with your approach. I think this is the Fry bug that he eventually identified? Did he used to call it hemobartonella or was that something else? About 4 years ago we had some testing at Fry labs which showed something called hemobartonella. Wondering if this could have been PR before it was named PR!

Energetic testing shows no lyme or coinfections in my husband but he has not been tested for PR because the frequencies to test it are not in our practitioner's EDS machine. I have been testing him with rife frequencies for each of these things and he is not reacting to the frequencies, so this confirms the accuracy of the testing. He does test for EBV, CMV, mycoplasma and mono, so that could be the cause of his fatigue, but I want to look into the PR.

Thanks,
tickbattler

---

Posts: 1763 | From Malvern, PA | Registered: Jul 2009 | IP: Logged |

lymetwister
Frequent Contributor (1K+ posts)
Member # 19590


posted

---

I understand Neff, I wasn't trying to discount what worked for you. Hope you didn't see it that way. Many of us are dealing with other things than Lyme, Babs, and Bart. Your example is perfect really.

But by starting this thread, I was shifting away from infections being at the root cause based on the research of Dan.

Laxmom, there are many ways to deal with ANS, I was just saying what I planned on doing so I can get some quality of life back. I honestly never felt like I needed to talk to anyone either b/c I know in my heart every symptom I have is Neurological. Even when I cry, it's not a real depression. I know the difference.

What I was saying in my own case is that perhaps I never really dealt appropriately with my losses, so this was something I was going to try along with Meditation, which I've never done. Continue to read his book as you can b/c there are other things to be done. Of course diet and excercise are 2 of them. He does talk about adressing gut issues, NLP programming, etc.

It may or may not help me to talk to someone. Certainly, it can't hurt. I really want to dig deep, not just surface stuff. Time will tell with that.

I'll make my point one last time: I just don't feel in my case that infections are causing my symptoms. It just feels like Toxins when I put drugs in me. Even powerful Herbs make my ANS or CNS go crazy. There are so many things not working right. For me, I know for a fact my Vit. D is very low, my Testosterone is very low, my Neurotransmitters are whacked out, my Cortisol is all over the place when I tested 4 x during a single day, I have the Postural Tachycardia, other Postural stuff.

So, again, when I take things that arn't even killing drugs like Vit. D, I Herx. CSM makes me Herx as do Probiotics. Certainly not as hard or as long as a drug like Coartem for Babesia or Mepron, but nevertheless, I Herx.

This tells me I Herx when I'm not killing anything, so it has to be something else. I can just so relate to Dan and his writing. I have an ANSAR test that shows my ANS is all over the place. I have so much Sympathetic Dominance, it's not funny. I'll post my graph. All of the Orange is Sympathetic. I only get a dip (Parasympathetic (Blue)) when I bear down as if to have a Bowel Movement. Again, this is my Graph measuring me. It clearly shows my ANS is Dysfunctional.


I guess, just keep reading as I'm not sure what else to say right now.

---

Posts: 1227 | From District of Columbia | Registered: Mar 2009 | IP: Logged |

lymetwister
Frequent Contributor (1K+ posts)
Member # 19590


posted

---

No this is a test developed by Harvard and M.I.T. I've had it done twice over the last 4 years. There are more graphs in the results, but this is a summation of what my ANS looks like.

Many with CFS who are more tired and lack energy would probably show more blue, but not necessarily. This graph kind of represents being stuck in "Fight or Flight" mode for me. It would account for the Overstimulation I feel especially when stressed.

Keep in mind, it's not just adrenaline that is being released. It's also excessive Cortisol, Glutamate, Histamine, etc. that paints this picture.

---

Posts: 1227 | From District of Columbia | Registered: Mar 2009 | IP: Logged |

lax mom
Frequent Contributor (1K+ posts)
Member # 38743


posted

---

How did you go about getting the test done? I bet my ANS would cause the machine to explode.

I have to say, all this talk about the ANs has me more open to meds that would calm me and help me sleep.

For ex., my Dr wanted me to up my Klonopin, add Doxepin (which helps histamine too) along with regular Melatonin AND timed release Melatonin for sleep. I also had Lyrica that I was trying to get by with only taking 50 mg at night.

I had fought it all. I don't know why. However, I am now taking it all, along with 100mg Lyrica 2x/day and Metoproprol. It is all helping.

I don't know what exactly is helping in particular...I also started Argentyn 23 and Mino...but the entire group of meds is helping.

I go to a neurologist trained in ANS dysfunction on Monday...I hope to get further insight.

--------------------
♥ ♥ ♥ ♥ ♥
(aperture)
http://flash.lymenet.org/scripts/ultimatebb.cgi?ubb=get_topic;f=1;t=115161;p=0


---

Posts: 2519 | From USA | Registered: Aug 2012 | IP: Logged |

seekhelp
Frequent Contributor (5K+ posts)
Member # 15067


posted

---

What an overwhelming thread! It just brings me back to MORE confusion on everything. I can honestly say and I mean this with no disrespect to anyone that I kinda wish I never got on Lymenet. I wish I would've just went to a Lyme doctor, followed their advice and not let the fear/confusion of 10 million opinions/ideas drive me.

Research is good to a degree, but at some point it becomes literally all you do. You literally can become your illness dreaming hundreds of complex reasons for every symptom.

This can be a life or death situation with TBIs so I fully understand the need to be persistent. It's just everytime I jump on here I get more and more and more perplexed and frustrated knowing I don't have the doctors or means to pursue all everyone else has here. Then I think...they did it all and STILL 99% are ill. It's a tough pill to swallow.

There is no way out of chronic, long-term illness without some PTSD.

The oddest thing is many here have abilities still to put together extremely complex ideas/thoughts even with an illness that stops us from functioning day to day. That alone is so strange!

My spouse truly believes that if they were to have all these specialty labs done even though they are healthy to a good degree, their results would be abnormal. If I had the means/cash to test, I would love so much to know if this is a valid opinion. We base decisions off all these odd labs/tests never knowing how the general public would look on them at times.

---

Posts: 7545 | From The 5th Dimension - The Twilight Zone | Registered: Mar 2008 | IP: Logged |

lymetwister
Frequent Contributor (1K+ posts)
Member # 19590


posted

---

Very true Seek,

We have no Controls, however we do know some things. i.e. Low Testosterone can cause moodiness and depression as can Low vit. D. High Cortisol can cause Anxiety as can high Histamine, Glutamate, etc.

When a thread such of this is started, it only gives another path for those that have literally hit dead ends. The intentions are nothing but sincere. Although no one here appears to have taken this path that Dan has outlined the way he has done it, he has many testimonials of many getting well, thus his own perseverance to spread the word. He is not a Dr., but a Physicist who apparently did enough work to make him smarter than most Dr.'s.

If Neff got well on LDN alone, than this shows you there are other ways. LDN didn't do much for me.

I post my Ansar test so others can see the result of what is going on within my ANS. I'm sure many would show a similar picture if taking this test.

Laxmom, the reason those meds are helping you is simple to me. Beta Blocker decreases Adrenaline, thus Heart Rate. The AD you are taking does down regulate Histamine. In the brain, too much Histamine will cause crazy anxiety, Klonopin is like a long acting Xanax (Benzo), Lyrica works on Neuropathic pain, and Melatonin is needed b/c most of us don't make it, thus the insomnia most complain of. It's a good set of meds to help for NOW. Sure getting off many of them down the road will be a b*tch, but worry about that later and give yourself some quality of life for now.

ANS Dr.'s in my experience arn't much help. They focus on POTS rather than Autonomic Dysfunction. They ones that focus on POTS don't look at the Hyperadrenergic type, and they suggest inappropriate drugs like Florinef. Some of the Drugs like Mestonin can really screw you up if they don't get it right. I hope the specialist knows these things. Many specialtists still need training from my experience.

So Seek, here is the way I see everything:

If we have Lyme and Lyme meds help and I'm also talking about Babs, etc., than this is the way to go, but if one just Herx's continuously for years with no improvement, one must look in another direction as something is very wrong.

It is possible to Herx from a med without killing anything. I think it's safe to say we are all Toxic to start with, so adding Toxic drugs can exacerbate symptoms. One must be careful in Forums not to fall into "Traps", where people say you probably have this or that.

I say, it's good to check out these possibilities, but to do every possible treatment is impossible. To test for every infection is impossible as well. LLMD's have our best interest in hand, but they too have tunnel vision that it has to be Lyme. The new FL1953 bug is yet another log on the fire and as time passes, we keep seeing more logs.

So, without the internet, how would anyone know about these logs ? The information is awesome to look at, but one must be careful not to say "I must have this". What I am presenting hear is yet another Path for everyone to look at, nothing more. I'm not pushing it on anyone, just for people to explore as a possible root cause.

Loot at my Survey Below: Pretty significant yes ? Pretty safe to say Stress is at the heart of all of this for 76% of us. It's a good starting point when we need to Re-start. Not sure what else to say. Just trying to get better as we all are.

---

Posts: 1227 | From District of Columbia | Registered: Mar 2009 | IP: Logged |

kim812
LymeNet Contributor
Member # 17644


posted

---

I am constantly in the flight or fight mode...I am overstimulated easily from all sorts of things which then my body can not calm down from.
I herxed for a year and didn't feel any better..had a sore throat for 10 months while in abx..

I do feel when on abx it just riles up my body and my symptoms go nuts with no real success. I could write a book on all the tests..doctors..meds...I have been on like most of us could.

This thread has been very informative and an eye opener for me. It is time to look in another direction for me personally and now I have to find a doctor who will be open minded to all this.

My life is ticking away day by day and after 9 years of this it is time...

---

Posts: 343 | From North Carolina | Registered: Oct 2008 | IP: Logged |

lax mom
Frequent Contributor (1K+ posts)
Member # 38743


posted

---

After a year of treating Lyme and feeling like death, it is nice to have a bit of quality of life at the moment due to the combo of meds I'm on...even if it's rough down the road.

Oh how I just wish my nervous system would get it's act together so I could comprehend his book!!!!!!!

This thread is very helpful for those of us who have treated and treated but are no better off that when we started.

Also it could help the newbies work on the ANS first so that they avoid all the suffering and false starts.

--------------------
♥ ♥ ♥ ♥ ♥
(aperture)
http://flash.lymenet.org/scripts/ultimatebb.cgi?ubb=get_topic;f=1;t=115161;p=0


---

Posts: 2519 | From USA | Registered: Aug 2012 | IP: Logged |

RC1
LymeNet Contributor
Member # 31923


posted

---

I think the bottom line is that none of us can detox well. I think that the 80% of people who were treated with 4 weeks of Doxy and are cured would have never gotten sick with it to begin with.

Everyone I know has been bitten by ticks but they are not getting Lyme disease.

I had fight or flight for many years and also lost my ability to sleep unaided. What started this whole thing for me was living in a house that had mold. Your body uses cortisol to reduce inflammation, I thought that I developed some kind of anxiety disorder at the time.

Little did I know that I can't detox mold well and this was what was causing my symptoms prelyme. I also believe that the mold is the reason my immune system couldn't take on the Lyme. Then to add insult to injury I don't detox Lyme well either.

When I started treating I became disabled. I herxed straight for a year. I was in pretty rough shape prior to treating so I was damned either way.

A couple of turning points for me, when I found out about the detox issues (HLA typing) we did major home renovations, and I started on Cholestrymine. That was when I finally started to see real progress.

The list is a mile long for all of the stuff I have done, I have researched my brains out. Spent a lot of time on here with you guys. I think everything I did got me a little bit further along to being well. Now I am treating parasites.

I want my health back. I have worked very hard and it's paying off. I am having days at a time when I am symptom free. It has been a long hard road, no doubt.

I also want to add that I wasn't under a lot of stress when I got sick, I was actually in one of the least stressful periods in my life.

---

Posts: 845 | From Northeast | Registered: May 2011 | IP: Logged |

lymetwister
Frequent Contributor (1K+ posts)
Member # 19590


posted

---

Another member pointed me to this article:
http://www.cortjohnson.org/blog/2013/02/18/cdc-definition-whacked-study-suggests-new-interpretation-for-chronic-fatigue-syndrome-mecfs/

Talks about Overstimulation with CFS. And.. the source being at the Brainstem according to the Pubmed study.

Brain stem controls the entire CNS including heart rate and breathing.

So much coming together for me in such a short period of time.

Anyone interested in a facebook group for this thread, please contact me. We can keep it here, but I sure don't want to bother anyone.

I'd say I'm 40% better holding all treatments since doing two rounds of Coartem. It's not from any die off and bacterial loads dropping, but rather keeping toxic drugs out of my body thus prohibiting any type of Cytokine storm.

---

Posts: 1227 | From District of Columbia | Registered: Mar 2009 | IP: Logged |

springshowers
Frequent Contributor (1K+ posts)
Member # 19863


posted

---

Yes
This was me for years ! Never felt better and herxes like crazy !
Supposed herxes .. I don't think they really were all her exes but combo of killing and added toxins from not detoxing well enough .

For me as I have said here and to you
Detox was my answer and I now can treat !
I have a new body and since I broke free I am
Improving and improving and responding like I should.

I was stuck in hell for many years actually

When I say detox I mean 1000 x more than you
Think you need . And support your system and
Let a doctor know what your going and be monitored
And make sure you stop adding toxins to your body
And or living in toxic environments and stop eating
Anything but whole natural foods from the earth
And detox detox detox every hour of every day
That your not eating or sleeping.
If you can get help from a wellness clinc for
Things like lymph drainage with cold laser or whatever
You don't have access to at home.


You can change your body so you can treat
This infections

Until then I believe people like you / us will and can
Go on circles forever and treating even can make you
Way worse ...

---

Posts: 2747 | From Unites States Of America | Registered: Apr 2009 | IP: Logged |

springshowers
Frequent Contributor (1K+ posts)
Member # 19863


posted

---

And be patient
It took me many months and
It may be that you don't see results
Until after many months.

I stuck with it and I did notice changes
That kept me motivated but it was not
Big changes until around 3 months and
It was like after working so hard to dig
Away at the layers it gave free and then
Felt like water was flowing for the first time.

I tested myself and took
Some anti biotics I had known I reacted
Badly to. I tested a few and it was amazing.
I no longer felt that " herx" horrible feeling
Reaction that I used to think o had to go
Through to get to the other side
Rubbish

---

Posts: 2747 | From Unites States Of America | Registered: Apr 2009 | IP: Logged |
Contact Us | LymeNet home page | Privacy Statement

Powered by UBB.classic™ 6.7.3

---
The Lyme Disease Network is a non-profit organization funded by individual donations. If you would like to support the Network and the LymeNet system of Web services, please send your donations to:
The Lyme Disease Network of New Jersey
907 Pebble Creek Court, Pennington, NJ 08534 USA
http://www.lymenet.org/
---
Home | Flash Discussion | Support Groups | On-Line Library
Legal Resources | Medical Abstracts | Newsletter | Books
Pictures | Site Search | Links | Help/Questions
About LymeNet | Contact Us
---
© 1993-2020 The Lyme Disease Network of New Jersey, Inc.
All Rights Reserved.
Use of the LymeNet Site is subject to Terms and Conditions.
---