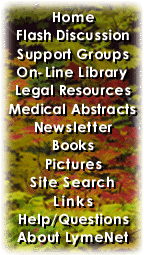 ---
LymeNet on Facebook
LymeNet on Twitter
---
---
The Lyme Disease Network receives a commission from Amazon.com for each purchase originating from this site.
When purchasing from Amazon.com, please
click here first.

Thank you.




Dedicated to the Bachmann Family


LymeNet needs your help:
LymeNet 2020 fund drive

The Lyme Disease Network is a non-profit organization funded by individual donations.

| | |
| --- | --- |
| | |
Author
Topic: How to get child out of house

Hoops123
LymeNet Contributor
Member # 18333


posted

---

Any suggestions on getting a 13 y/o with lyme out of the house? He has totally withdrawn from all social activities and he is on 2 meds that are suppose to help with that ...

---

Posts: 749 | From State full of ticks | Registered: Dec 2008 | IP: Logged |

Kern33
Member
Member # 36267


posted

---

would it be possible to get a dog for him/her? Maybe it could help a little to take a dog for a walk for a couple of minutes?

---

Posts: 78 | From Germany | Registered: Feb 2012 | IP: Logged |

Hoops123
LymeNet Contributor
Member # 18333


posted

---

That's a good idea, unfortunately, we have eliminated all outdoor pets at her home for fear of bringing ticks into our environment.

---

Posts: 749 | From State full of ticks | Registered: Dec 2008 | IP: Logged |

Keebler
Honored Contributor (25K+ posts)
Member # 12673


posted

---

-
Does he have ANY vestibular issues (inner/middle ear, balance) at all? Hyperacusis? Sensitivity to scents? Cell phone or car locking systems' beeps and buzzes? Flashes (that are all around us now with all the cell phone cameras)?

If so, let HIM decide what, when and how to get out.

If he has either vestibular or adrenal issues, their simply may be NO medicine that can help - until lyme & co are all resolved.

Some of the "social meds" could be making him a bit more tired or dizzy? Hope not but that can happen, especially with lyme.

Some meds intended to stimulate can also clobber the adrenals, and create crashing fatigue - again - usually far worse for those with lyme.

I hope whichever doctor prescribed the 2 meds intended to help him socialize, well, that it comes from ONLY a LL doctor.

Still, You and his LLMD might try to determine if he needs adrenal support - if ENERGY & endurance is an issue. Who wants to go out if they loose all energy after a few minutes?

If dizzy or nauseated, GINGER CAPSULES might help.

I've not been able to get out in public (other than a park where there is zero vehicle traffic) for over 4 years now (and even before that it was very limited).

However, I've not really had access to a full treatment protocol so don't get discouraged about your son.

But, I know that as much as I want to go out, it's just not safe for my body at this time.

I suffered tremendous injury trying to push it for years but seizures from flashes, sounds (even a parking lot can be a disaster zone, even with ear plugs in as sharp sounds travel through ear plugs).

If his balance is off at all, he's likely doing what his body is telling him is best.

You - or a friend - might just talk to him and see what he thinks his body CAN do and what HE would LIKE to do, within paraemeters. HE should set the tone and pace of the exploration, though, even when just brainstorming.

Even basic conversation can be just way too much often. The way lyme affected you may not be the same as it affects him.

Much of the time, I can't even talk on the phone. That has to be okay - and without any social stigma.

Trust his estimation and decision but also engage to find all kinds of ways for him to enjoy life outside.

If I could drive or even had someone in my life who did not require $15. an hour for any help, just getting into a state park, past the parking lot -- and getting lost in the trees on the paved path -- that would be what I'd like to do.

But, I'll also say that I really have no one in my circle of friends who is a good companion to me when I'm out. They are either clueless or oversympathetic and clueless.

They just can't get it and I don't want to always have to be explaning why I may literally fall off the path or walk into a tree if a dog barks a hundred yards away. It's just too much work to have to steer my body and a nice conversation.

And - even as a well balanced and mindful adult - it's just mortifying. I'm actually surprised I've not yet died from sheer embarrassment. Really. I think the only thing worse than having lyme (and all that goes with it) is having lyme and having to pretend to live a normal life around others. It's a very precarious place.

Yet, we are social animals and we do need connections.

Still, he may want to just go somewhere alone. If so, he will likely engage with strangers for brief periods and that can be nice, too.

Hopefully, though, he has a couple friends who are just easy to be around and might enjoy some of the same things he can do.

There ARE places in nature where one can be "in the clear" - if there are public parks with some kind of old house or museum, those will likely have move open places out of doors to sit.

I think it's absolutely essential that he - or anyone - be out in nature. To be cut off from nature can kill us, I think. We just have to do it with wisdom and stay clear of branches, etc.

Not sure if that would be his cup of tea but do just engage to brainstorm with him. Make a list of various levels of possibile outtings.

He may be able to tolerate a libary - and some have musical entertainment on a smaller scale.

House concerts for various kinds of music provide a nice venue, good price and nice size.

Art galleries for the kind of art he might like . . . .

Museums for all kinds of things are out there.

Even just over to a friend's house would be nice. Still, if he is too ill, please trust his judgment. And, if that is the case, I'd go for all kinds of travel DVDs, and the kinds of things you'd see on PBS and NOVA to expand his vision.

A Qi Gong or Tai Chi class - or a tutor coming to your home to teach him? Maybe a few friends would like to do a class together. This would help with balance and all kinds of things. There are some very "cool" guys who do Tai Chi, just so he would know that.

Some kind of hobby that can be done both alone and with friends - and NOT the computer. Something "unplugged" -- maybe learn a musical instrument or hone one he already enjoys.

Might you & he enjoy putting together some version of house concerts of his own? You just bring in some talent, have a few friends over for a couple bucks and a young musician or a small group can make enough to cover some of their expenses.

Just Google "House Concerts" to find out more.

Now, this may not be for you -- but maybe someone in your or his circle would be interested and he could be the scouting agent. Most house concerts are not with electrical equipment but totally acoustic - so as to not intrude on neighbors.

Just talking about what kind of things he might like to do can be helpful. I'd be so lost without my list of wishes, builing on hopes.

But, please, whatever you do, don't force him. I know what feeling too ill is like around others. It's not at all enjoyable. Yet, if there are ways to make accommodations, he may trive.
-

[ 03-16-2013, 03:49 PM: Message edited by: Keebler ]

---

Posts: 48021 | From Tree House | Registered: Jul 2007 | IP: Logged |

Sammi
Frequent Contributor (1K+ posts)
Member # 110


posted

---

Are there any support groups or other kids her age nearby who have Lyme who she could do things with?

---

Posts: 4679 | Registered: Oct 2000 | IP: Logged |

Judie
Frequent Contributor (1K+ posts)
Member # 38323


posted

---

Perhaps focusing on what the teenager needs to feel more comfortable socializing will help.

Make sure ANY outing is very short at first and never push. It's better to under do.

Is there a specific reason the teenager feels anti-social, for example:

Does she just feel sick, alone and crummy?
--a support group with others would be helpful

Is she just feeling too vulnerable around people?
--make sure you're with her until she feels more confident and pick environments that make her feel safe that aren't too crowded.

Does she feel like she doesn't have anything in common with other teens?
--find a class she can take that's not too stressful, like an afternoon art class on the weekend.

A targeted, simple approach may help. Just small steps.

Good luck!

---

Posts: 2839 | From California | Registered: Jul 2012 | IP: Logged |

canadianmama
LymeNet Contributor
Member # 36298


posted

---

I don't know what your son's symptoms are like right now,but when my son was really poorly we would wrap him in sleeping bags and pillows and take him for drives to scenic locations.

We would encourage him to at least stand once on the ground at our destination so he could technically claim he had "been" there. Then we marked that place off on a map and picked a new destination for next time.

How about having people over? That was also a transitional thing that we did. I would always reassure my son that his room was his safe space and if he needed time away from the visitors he was free to retreat to his room without question.

One thing I have noticed with my son is that he needs to feel really sure that when we go out he can "call it" at any point and we will return home. I always keep blankets in the car and if need be I settle him in with a comic book and blankets immediately then I go pack us all out of where ever we are.

We had a few trips out that ended really quickly when we were first getting him out of the house again, but now he manages much longer times away from home.

Fortunately my son has really progressed and now goes to a homeschool program two days a week and really enjoys being out.

I'll send you a PM maybe our boys could be pen pals, that has also been good for him to connect with other kids with lyme.

---

Posts: 372 | From british columbia | Registered: Feb 2012 | IP: Logged |

Ellen101
Frequent Contributor (1K+ posts)
Member # 35432


posted

---

quote:

---

Originally posted by Hoops123:yo
That's a good idea, unfortunately, we have eliminated all outdoor pets at her home for fear of bringing ticks into our environment.

---

We have 2 dogs and yes the threat of ticks is there, but we treat our yard as well as our dogs. What about when your don is active again and goes to friends houses that have pets, or plays soccer or baseball outside. Its important for kids to be kids and not have them live in fear. Our boys love our dogs and have such a wonderful time with them.
Is your son attending school? Are their any friends he is close to that you could encourage him to have over? Any particular hobbies or interests you can capitalize on?
A teenager that totally withdraws from social interaction needs to be monitored closely for depression. Is he receiving counseling?

---

Posts: 1747 | From United States | Registered: Dec 2011 | IP: Logged |

KentuckyWoman
LymeNet Contributor
Member # 38894


posted

---

we often have the concept that "kids should be out playing" from our own growing up years. It is true. But, with Lyme, all bets are off. The whole playing field is completely different. All the rules of living that we have ingrained in us do not apply in most cases with Lyme.

I would not worry if he is not wanting to 'get out' unless you REALLLLY suspect depression. Lyme will take away ALL initiative for a long time. He may lose an entire year with "lack of initiative" as the Cassio Guide says.

I am only just now emerging from a 2 year stint with this battle, and getting "out" was the last thing I wanted to do during any of this. It was only that my husband had to drag me out to Dr visits.

Stimulation, light, sound, even something as "pleasant" as chirping birds can really grate on a lyme patient's senses. Restaurants are a nightmare.

Once my body started to respond to immuno-support and now treatment for lyme, I am feeling more like myself of wanting to 'get out' more. I still tire very easily and have to pace myself, but the feeling of getting out is returning slowly but surely.

Don't shy about asking your LLMD about these matters too, because if he has experience with many lyme patients, he might be able to help sort out the teen vs illness issues.

HUGS and best wishes with his care.


13 is also a difficult age to assess all of the lyme-related issues on top of the usualy age-related things that might be going on.

--------------------
KentuckyWoman
tired of medical run-arounds

Two roads diverged in a wood, and I, I took the one less traveled by,
And that has made all the difference.
~ ~ Robert Frost


---

Posts: 221 | From Kentucky | Registered: Sep 2012 | IP: Logged |

Catgirl
Frequent Contributor (5K+ posts)
Member # 31149


posted

---

I really like Canadianmamma's response (cool mom). Keebler's info and advice too.

--------------------
--Keep an open mind about everything. Also, remember to visit ACTIVISM (we can change things together).


---

Posts: 5418 | From earth | Registered: Mar 2011 | IP: Logged |

Carol in PA
Frequent Contributor (5K+ posts)
Member # 5338


posted

---

quote:

---

Originally posted by Hoops123:

He has totally withdrawn from all social activities...



---

I think he'll be more interested in getting out when he feels better.
Sitting outside and looking at the clouds can help a little.

If it's warm weather, put your bare feet on the ground in order to "ground" yourself.
This helps to bleed off the excess electrons that build up, and may help to reduce pain.


Meditation with the Centerpointe system is good.
https://www.centerpointe.com/

The SOTA Biotuner may be helpful.
http://www.sota.com/bio-tuner.html


Is he getting fish oil with very high ratio of EPA?
http://www.omegabrite.com/why/effects.html

Is he taking magnesium and eating foods high in magnesium?


Try all this now, because when they get older they sometimes say no to everything.

---

Posts: 6941 | From Lancaster, PA | Registered: Feb 2004 | IP: Logged |

beaches
Frequent Contributor (1K+ posts)
Member # 38251


posted

---

Hoops, I can so relate to this, except I have a girl.

How about getting him into Modell's to buy some kind of generic sports apparel?

Is he able to bowl? There are local leagues everywhere. And bowling isn't too strenuous for kids with Lyme, and it's likely no one will ever know he has LD, which is a HUGE thing for our kids.

If he's still connected to any of his school friends (a miracle in itself), what about him organizing a movie night with a few of them? My daughter did this awhile back and it went OK, but just OK and it didn't happen again, due to her relapsing.

As far as having friends over, when your kid has been sick and out of school for years, it's not very realistic to expect a big turnout for anything.

That's just the reality parents of kids with these DDs live with every day. I wish I could say that my kids were bombarded with phone calls and texts from their "friends" and I was bombarded by same by their mothers, whose kids, BTW practically lived at my house when things were good.

I very much appreciate what everyone here has posted, but honestly, until you yourself have a sick kid laying in bed for weeks/months, you just can't really understand what it's like for a parent or a kid.

---

Posts: 1885 | From here | Registered: Jul 2012 | IP: Logged |

canadianmama
LymeNet Contributor
Member # 36298


posted

---

One more thing that may or may not be appropriate for your family is facebook.

My son has cousins and friends that live in other provinces and joining facebook allowed him to have contact with them.

My son is quite tech savy and internet safety conscious so it was a good fit for him. Still thinking safety he is facebook friends with his parents, grandparents, cousins and approved friends only.

I hear you beaches, having a sick kid is so hard to deal with. It's like having a newborn in energetic needs, but it's not exciting and fun it's scary and "un-fun"

I always think that trying to stay positive no matter what is key. We watch lots of light comedies, read funny books and generally ban all media with dark themes.

Let us know how your doing.

---

Posts: 372 | From british columbia | Registered: Feb 2012 | IP: Logged |

beaches
Frequent Contributor (1K+ posts)
Member # 38251


posted

---

Hi canadianmama,

We haven't done the FB thing yet, but that is surely going to come about in the near future.

My daughter is quite tech savvy and safely conscious too--perhaps it's due to them being at home sick for so long. The good thing is that they ultimately find outlets for themselves, with or without our help.

For sure, CM, we must as moms always must remain positive no matter what. We try to watch comedies too. One of our faves is Modern Family. It is so very politically incorrect but we all find it so very, very funny.

And we make it a habit to watch "American Idol" and "Dancing with the Stars" just so we can watch as a family.

My DD also happens to love shows like "Revenge" and "Body of Proof" and she always did from a young age. I just make sure I watch this stuff with her!

---

Posts: 1885 | From here | Registered: Jul 2012 | IP: Logged |

canadianmama
LymeNet Contributor
Member # 36298


posted

---

Hi Beaches Yes every person has different taste in media. My son is particularly sensitive to "scary" things, so the ban is something he imposed and I help him keep everyone in our house on that.

Of course my 3 year old is fine with it, but the other adults can sometimes find it restrictive and hard to understand. I have to back him up and explain, again, that while what is being suggested may be age appropriate his needs right now are to not trigger his anxiety.

I was worried about the FB thing, but it has been really great. He can express himself by posting jokes and links and gets feedback from our extended family.

I agree they do find outlets to be themselves through all this discomfort, thankfully.

---

Posts: 372 | From british columbia | Registered: Feb 2012 | IP: Logged |

orrn
LymeNet Contributor
Member # 6672


posted

---

I also fear my daughter is not getting out enough. We both have LD and it is so hard to find a time when we are both feeling ok. If any of the parents would be willing to have their young teenagers "chat", my daughter would LOVE to talk with other teens with LD. I think it would make her feel not so alone. Please send me a private message and we could work something out. Thanks and lots of luck to all the other parents dealing with this.

---

Posts: 239 | Registered: Dec 2004 | IP: Logged |

beaches
Frequent Contributor (1K+ posts)
Member # 38251


posted

---

UP

---

Posts: 1885 | From here | Registered: Jul 2012 | IP: Logged |

Razzle
Frequent Contributor (1K+ posts)
Member # 30398


posted

---

When I was too sick to go to school (9th grade; didn't know about Lyme then), I was on homebound tutoring and really stuck in the house (nearly bedbound). It was hard to feel motivated to do anything.

But we had 2 dogs, one of which was my responsibility, and as I started to feel better, I'd go take the dogs out for a walk every day.

But what really perked me up was a visit from a really close friend of mine from a school I'd been in but moved away from.

We kept in touch by letters, but then her parents pulled her out of her school early so she could come over and visit with me.

We had so much fun just talking and such, and it did wonders for my spirits and attitude. And that helped my recovery more than anything else.

I don't know if there are any friends he has that he hasn't seen in a while, but who might be able to cheer him up a little just by visiting to chat, or play a video game or watch a movie...or whatever...but it might help some.

--------------------
-Razzle
Lyme IgM IGeneX Pos. 18+++, 23-25+, 30++, 31+, 34++, 39 IND, 83-93 IND; IgG IGeneX Neg. 30+, 39 IND; Mayo/CDC Pos. IgM 23+, 39+; IgG Mayo/CDC Neg. band 41+; Bart. (clinical dx; Fry Labs neg. for all coinfections), sx >30 yrs.


---

Posts: 4165 | From WA | Registered: Feb 2011 | IP: Logged |

sickofsick
LymeNet Contributor
Member # 29258


posted

---

I think at that age the social connections matter more than anything. My daughter was devastated that she seemed to be forgotten by her friends. So, rare visits or calls meant a lot. She lost confidence and just didn't feel well enough to initiate anything. Facebook was a lifesaver which allowed her to remain connected. Keep in mind that it also made her aware what she was missing and how out of the loop she was.

We had some fun mother/daughter outings driving to doctor's appts. We got books on tape that she needed to read for school.

She really benefits from attending the local support meetings, even though she is the only kid that goes.

Don't push her. She will participate as she feels up to it.

---

Posts: 312 | From Utah | Registered: Nov 2010 | IP: Logged |
Contact Us | LymeNet home page | Privacy Statement

Powered by UBB.classic™ 6.7.3

---
The Lyme Disease Network is a non-profit organization funded by individual donations. If you would like to support the Network and the LymeNet system of Web services, please send your donations to:
The Lyme Disease Network of New Jersey
907 Pebble Creek Court, Pennington, NJ 08534 USA
http://www.lymenet.org/
---
Home | Flash Discussion | Support Groups | On-Line Library
Legal Resources | Medical Abstracts | Newsletter | Books
Pictures | Site Search | Links | Help/Questions
About LymeNet | Contact Us
---
© 1993-2020 The Lyme Disease Network of New Jersey, Inc.
All Rights Reserved.
Use of the LymeNet Site is subject to Terms and Conditions.
---