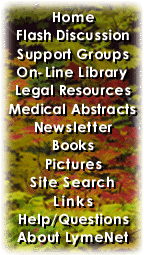 ---
LymeNet on Facebook
LymeNet on Twitter
---
---
The Lyme Disease Network receives a commission from Amazon.com for each purchase originating from this site.
When purchasing from Amazon.com, please
click here first.

Thank you.




Dedicated to the Bachmann Family


LymeNet needs your help:
LymeNet 2020 fund drive

The Lyme Disease Network is a non-profit organization funded by individual donations.

| | |
| --- | --- |
| | |
Author
Topic: Mom needs advice -Teen too sick to eat, take abx

sickofsick
LymeNet Contributor
Member # 29258


posted

---

My daughter has been treating TBDs aggressively with antibiotics, herbs, supplements for 20 months. (lyme, q fever, bartonella, protomyzoa rheumatica, biofilms, yeast, parasites)

Since becoming sick, she has had stomach pain and nausea. She has many, many other symptoms, but this is one of the hardest to deal with.

If she can't take her pills, I presume she won't get better. If she doesn't eat right, she won't get better. She doesn't currently do a special diet. To me, it is more important for her to eat SOMETHING. She needs something substantial with her abx.

Her most recent combo seems the hardest for her to tolerate (doxy, rifampin, zith, crytoplus, parazomin).

Mornings are the worst. She often feels so sick that she can't take pills or eat--she leaves for school without either 1-2 times a week. Then things calm down some midday, and she eats some school lunch (yuck) and supplements.

By afternoon she does have more of an appetite and can eat quite a lot for dinner. She gravitates toward the carbs, eats minimal veggies, healthy stuff when encouraged. These are definitely not her go-to foods!

It feels like catch 22, she needs to eat to treat! She has done two blood tests for food intolerances; results were unremarkable. We have done some ED and muscle testing that don't point to strong stressors. Kinesiology last week didn't point to food problems.

We strictly followed the lyme diet a year ago and I didn't think it changed much.

I am considering hypnosis to change her eating habits. Anyone heard of that?

Also, been told about Carroll food testing. Any experience with it?

I suspect that she could increase detox, right now her main things are epsom salt baths and ToxiHMF. Many things that I have heard of are hard to make happen with a young girl.She didn't tolerate far sauna well.

I constantly worry that pills or diet is making her worse. I worry that she may become like some that are struggling with inability to eat/starvation. Her weight is good.

Her ability to function is much better than it was. She attends school fulltime after being home for two years.

Suggestions? Tough to be the caretaker!

---

Posts: 312 | From Utah | Registered: Nov 2010 | IP: Logged |

faithful777
Moderator
Member # 22872


posted

---

I was the same way when I got sick. I had to go on IV abx with a few orals. It is the only thing that helped me start the road to recovery. My appetite was better in the evening too.

Lyme can really affect the GI tract.

Detox is important too. If she can tolerate some of the detox supplements that would help.

--------------------
Faithful

Just sharing my experience, I am not a doctor.


---

Posts: 2682 | From Colorado | Registered: Oct 2009 | IP: Logged |

Ellen101
Frequent Contributor (1K+ posts)
Member # 35432


posted

---

Rifampin is a really tough Med to handle. Doxy can be tough on the stomach. Has she tried digestive enzymes? I was recently put on them after a tooth extraction and I'm amazed how much better my stomach feels since starting them. Perhaps she could take them in the evening and they may help with the morning discomfort.

I recently had food allergy testing done and was amazed at the foods I was consuming daily that showed up. Has she been tested/treated for parasites?
It must be so hard when your child is dealing with all this. Sounds like she has made wonderful progress.

---

Posts: 1747 | From United States | Registered: Dec 2011 | IP: Logged |

didogs
LymeNet Contributor
Member # 40101


posted

---

I agree with Ellen-rifampin is so tough to take. It has gotten bettr for me with time. I am sorry you are going through this. How about a rice cake or even handful of cereal? I know it's not best but that is what has worked for me. And I feel like something is better than nothing.

It is great she is functioning more and back to school. It must be so hard for you and her. Teens are so stubborn to begin with!

---

Posts: 238 | From new england | Registered: Feb 2013 | IP: Logged |

kgg
Frequent Contributor (1K+ posts)
Member # 5867


posted

---

My hat is off to her. There is no way my stomach would tolerate her meds! I can't do two doses of Doxy and I am nauseated. And to think she gets up and goes to school!

When she feels better stomach wise, she will eat better. I would not focus on her diet, unless it is a constant sugar intake. But if she is eating a lot of bread/starch, it probably is what her stomach will tolerate.

I think the only thing I would change, is to encourage her not to take her pills on an empty stomach. That would add insult to injury. Even if she has to take them later in the day, her stomach will thank her for it.

Hang in there Mom, you are doing a great job!
Karen

---

Posts: 1617 | From Maine | Registered: Jun 2004 | IP: Logged |

hopingandpraying
Frequent Contributor (5K+ posts)
Member # 9256


posted

---

Have you talked to your LLMD about this? Perhaps she needs to go on IV antibiotics which bypass the stomach, since she is having so many issues. See what her doctor says about this.

---

Posts: 8936 | From Illinois | Registered: May 2006 | IP: Logged |

sickofsick
LymeNet Contributor
Member # 29258


posted

---

Thanks for responses. LLND stressed gluten free diet at last appt.

I have also wondered if IV might be better. Our Dr. doesn't treat w/ IV. We would have to see someone else, which I have considered.

---

Posts: 312 | From Utah | Registered: Nov 2010 | IP: Logged |

glm1111
Frequent Contributor (5K+ posts)
Member # 16556


posted

---

Parasites/worms can hibernate in the G.I. track and cause a lot of the symptoms you describe. Check the symptom list at Humaworm.

You mentioned parasites in your post, and am wondering if she was treated. Parasites can take several yrs to get rid of and tx has to be ongoing consecutively, not just intermittently.

Gael

--------------------
PARASITES/WORMS ARE NOW
RECOGNIZED AS THE NUMBER 1 CO-INFECTION IN LYME DISEASE BY ILADS*


---

Posts: 6418 | From philadelphia pa | Registered: Jul 2008 | IP: Logged |

Razzle
Frequent Contributor (1K+ posts)
Member # 30398


posted

---

Lack of appetite in the morning may be from adrenal exhaustion. An Integrative or Naturopathic Physician (preferrably Lyme-Literate) can help with this.

She may need DHEA.

Other things:

Antihistamines, or high dose Vitamin C with Quercetin may help... Good for detox, and can improve appetite.

Does she take a daily multi-vitamin? B-complex deficiency can also cause appetite problems.

--------------------
-Razzle
Lyme IgM IGeneX Pos. 18+++, 23-25+, 30++, 31+, 34++, 39 IND, 83-93 IND; IgG IGeneX Neg. 30+, 39 IND; Mayo/CDC Pos. IgM 23+, 39+; IgG Mayo/CDC Neg. band 41+; Bart. (clinical dx; Fry Labs neg. for all coinfections), sx >30 yrs.


---

Posts: 4166 | From WA | Registered: Feb 2011 | IP: Logged |

canadianmama
LymeNet Contributor
Member # 36298


posted

---

Just wanted to say hello. I sure hear you on being the caretaker of an ill child. It's so nerve racking!

I too notice that mornings are not times when I can get my son to eat much, but he will eat almost a whole meal right before bedtime.

Could she take her first dose at lunch and then take an extra dose with a late evening snack?

Wishing you well, and congratulation on the headway you have made!

---

Posts: 372 | From british columbia | Registered: Feb 2012 | IP: Logged |

LAXlover
LymeNet Contributor
Member # 25518


posted

---

Have you tried a delicious smoothie for her? My dd loves different flavors and it's heavy enough to help with meds. We also make her a batch of SCDiet pancakes each weekend and freeze them for school mornings.

She like a smoothie with coconut milk (I make homemade but you probably could buy some without added junk), bananas and either frozen strawberries or blueberries. No need for a sweetener when you use coconut milk and over-ripe bananas. Another favorite is peanut butter smoothie when she's feeling fine.

She used to take some leftover breakfast smoothie to school in her thermos as part of her lunch. She also LOVES ZICO coconut water and feels better after drinking it. It's an aquired taste but has tons of potassium.

I can give you my recipe for gluten free pancakes made with almond flour if you would like. Just message me.

-LAXlover
75% of family with Lyme & co.
DD - IMO Lyme-induced "Crohn's"

--------------------
LAXlover


---

Posts: 371 | From Northern Baltimore Area | Registered: Apr 2010 | IP: Logged |

LymeMom Kellye
LymeNet Contributor
Member # 24807


posted

---

I can so relate to your stress and worry! I have tons of posts on here about my daughters experience with not being able to eat or take abx. She lost a ton of weight and I was only able to get one food at a time down her. Sometimes it would be Mac n cheese, chips/salsa etc. it would be one or two foods and she couldn't eat anything else. I got to the point that whatever she would eat she got. I felt it was so much better to get something down her rather than focusing on diet. We had tried SCD, Lyme Diet, raw diet, vegan etc. nothing helped.

She took a break from abx for about six months and treated her gut. It really helped. She gained back all the weight she lost and an additional 20. But then all of her tbd symptoms came roaring back.

She couldn't tolerate oral abx. She started IV last August and has made tremendous improvement! Her gut is so much better! We don't have any IV docs here and have had to travel across country to get the treatment she needs.

However, the LLMD has her on a serious Babesia protocol and her gut is all messed up again. I truly think it is the Babesia and other parasites that are responsible.

Today the only thing she could eat was mashed potatoes and French bread. I am hopeful that with continued treatment her gut will get better.

IV has been helpful but not the end all be all I had hoped for. I think being a mom to a sick teenager is the hardest thing I've ever done. I'm sorry that I don't have any solid answers for you, but did want to reach out and let you know you're not alone.

Best wishes to you and your daughter.

---

Posts: 333 | From Lyme Here Too | Registered: Mar 2010 | IP: Logged |

Keebler
Honored Contributor (25K+ posts)
Member # 12673


posted

---

-
at times when I had the stomach flu, quinoa flakes were a great stop-gap measure and sustained me for a day or two at a time. I made with hot Ginger tea, just put in a mug, covered for a few minutes. Never even had to cook it.

Either "sweet" spices like cinnamon (and a touch of stevia) - or "savory" herbs like thyme can add to the flavor. Thyme and rosemary can also ease digestion.

Mint could also be added to help the stomach and add variety.

or - melt in a spoonful of a nut butter to the boiling water before you add the flakes for that extra "yum factor".

Make as "liquidy" for a drink - or as thick as you like, all the way to a hot cereal gruel. Just keep the mug covered so it can steep a little while.

First, mix the flakes into a paste, then add the hot water, slowly, mixing it a bit at first. Cover. Steep for 5 minutes. It will thicken but more water can be added after it "cooks" if you want it more like a drink.


http://www.thekitchn.com/ingredient-spotlight-quinoa-flakes-183642

Spotlight on QUINOA FLAKES


http://www.quinoa.net/199.html

Ancient Harvest Quinoa - nutrient detail

Not on this page, but when I checked previously, I was delighted to find that although ground, the flakes still have an excellent glycemic index due to the protein and fat content. This should not spike blood sugar.
-

---

Posts: 48021 | From Tree House | Registered: Jul 2007 | IP: Logged |

Keebler
Honored Contributor (25K+ posts)
Member # 12673


posted

---

-
GINGER CAPSULES can help calm nausea.
-

---

Posts: 48021 | From Tree House | Registered: Jul 2007 | IP: Logged |

sickofsick
LymeNet Contributor
Member # 29258


posted

---

I wanted to thank all for the support.

Another rough night last night throwing up.

I have wondered if this is a cycle, as it is about a week apart???

---

Posts: 312 | From Utah | Registered: Nov 2010 | IP: Logged |

baileypup
LymeNet Contributor
Member # 22824


posted

---

Wow, your daughter is a trooper! The fact that she's going to school and functioning better is a testament to both of your diligence and hard work.

Whatever food she can tolerate and whatever sounds good to her is how she should eat. Don't worry if she is not gluten free as long as she is not negatively reacting to food. The fact that her weight is ok is a good sign. I've gotten 90% well and never followed a special diet - it's not necessary for everyone.

I would focus on what might be the culprit in making her feel sick and if she misses a day of taking abx, then so be it. Is it a lack of detox or is one med causing the problem? I could not tolerate Rifampin, but it's different for everyone. Sometimes parasite meds can cause the nausea and sickness.

Is she taking a binder like charcoal to absorb the released toxins? That's an EASY solution and and a go-to for me any time I feel toxic or nauseous. There are no side effects and only benefits. You might have her take it with her to school and any time she feels ill, just take two or three capsules and she may feel instantly better.

Are her bowels moving, because that may be why she feels sick in the AM? If she takes Oxy-Powder magnesium or something every night, she'll clear out the toxins in the morning. It's amazing how much better you feel instantly.

I have so much respect for mom's like you who have to deal with your kids being sick. She will continue to get better - trust your gut and hers. If she feels she's reacting to a certain med or she needs to eat a certain food, then she probably is right and let your/her instincts guide you.

---

Posts: 964 | From san diego | Registered: Oct 2009 | IP: Logged |
Contact Us | LymeNet home page | Privacy Statement

Powered by UBB.classic™ 6.7.3

---
The Lyme Disease Network is a non-profit organization funded by individual donations. If you would like to support the Network and the LymeNet system of Web services, please send your donations to:
The Lyme Disease Network of New Jersey
907 Pebble Creek Court, Pennington, NJ 08534 USA
http://www.lymenet.org/
---
Home | Flash Discussion | Support Groups | On-Line Library
Legal Resources | Medical Abstracts | Newsletter | Books
Pictures | Site Search | Links | Help/Questions
About LymeNet | Contact Us
---
© 1993-2020 The Lyme Disease Network of New Jersey, Inc.
All Rights Reserved.
Use of the LymeNet Site is subject to Terms and Conditions.
---