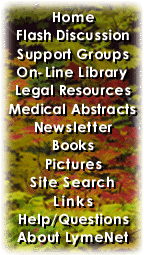 ---
LymeNet on Facebook
LymeNet on Twitter
---
---
The Lyme Disease Network receives a commission from Amazon.com for each purchase originating from this site.
When purchasing from Amazon.com, please
click here first.

Thank you.




Dedicated to the Bachmann Family


LymeNet needs your help:
LymeNet 2020 fund drive

The Lyme Disease Network is a non-profit organization funded by individual donations.

| | |
| --- | --- |
| | |
Author
Topic: 2 Weeks Without Any Medication......

carolann2013
LymeNet Contributor
Member # 39964


posted

---

I have my second appt with my doctor Aug. 28th.

I am not totally satisfied with the treatment thus far.

I have been debating on whether to go back or find another doctor, possibly one in Washington DC.

I decided to see what happens if I stop all medications. I am going on my second week.

I really cannot tell any difference between taking the medication (and supplements) and not taking them.


I have been on my current doctors protocol since April. The medication did knock the edge off of the pain.

But I still felt tired all the time. Wanted to sleep all the time. Weak. Still had the ear problems, still the brusied feeling, soles sore on the bottom and at times on the top.

Minor shooting pains here and there. Needles and pins feelings...and several other symptoms.

So, any ideas what this has proven. Two weeks with no medication or supplements and I can't tell any different now and when I was taking them.

Do I take the money it will take to go to the Missouri doctor and go to Washington DC doctor? Or do I take my concerns to Missouri and see what he is going to do next?

Theories are welcome. Advise very welcome.

---

Posts: 213 | From Tennessee | Registered: Jan 2013 | IP: Logged |

GretaM
Frequent Contributor (1K+ posts)
Member # 40917


posted

---

If you don't mind me asking, what was your abx before you stopped for 2 weeks?

And did your doc mention if he/she was treating just lyme or some Co-nfections also?

Personally I had to stop abx for 2 weeks because of a diareha scare-it took the full 2 weeks and then I got knocked on my butt with a babs flare. (didn't know I had babs until I stopped abx for lyme).

The lyme didn't flare while I was off the abx. But I think that is because it's a slow grower. Maybe that is why you haven't flared yet?

Also, I find lyme flares just before my period, you may notice it is worse without your abx then.

Just brainstorming

---

Posts: 4358 | From British Columbia, Canada | Registered: Jun 2013 | IP: Logged |

carolann2013
LymeNet Contributor
Member # 39964


posted

---

First month I took doxy (by itself), second month I tried Ceftin but had to quit, made me a little sick. Should have stayed on it by what I have since learned. Could have been a herx.

There was another antibiotic, can't think of it right now that I took for a month.

Next I was on Zithromax by itself for a month and then I personally added Flagyl..

Took that for a month and for the last two weeks I have been on nothing.

Of course during that time I was taking my supplements, probiotics, nystatin (diflucan when yeast got out of hand), coconut cream, magnesium, vitamin d3, vitamin c, potassiium.

I have been taking antibiotics since last April.

---

Posts: 213 | From Tennessee | Registered: Jan 2013 | IP: Logged |

Lymetoo
Moderator
Member # 743


posted

---

You're probably still herxing and that is why you still feel tired, etc. I felt awful for about 2 yrs sad to say!

Lyme is slow growing so being off meds for 2 wks won't tell you much.

If you have lots of money, then move on. Otherwise, stay put for awhile! Perhaps when he begins treating you for coinfections, you'll make more progress.

--------------------
--Lymetutu--
Opinions, not medical advice!


---

Posts: 95340 | From Texas | Registered: Feb 2001 | IP: Logged |

seibertneurolyme
Frequent Contributor (5K+ posts)
Member # 6416


posted

---

I know some will not agree but there are several problems with the treatment you have received so far. Monotherapy -- one drug only at a time rarely works. The sore soles of the feet are probably bart, but you have not really been treated for that.

In my opinion I would look for another doc -- but to be successful you will need to follow the docs instructions and not stop meds without consulting with the doc first.

You may not see real improvement for lyme for several months -- 3 to 6 months even on continuous meds. But with good bart treatment those symptoms should improve quickly -- within a month anyway and symptoms would come back within a week of stopping meds if the infection is still present.

The Dr B suggests treating bart first as it is supposedly one of the easiest infections to treat -- but not for everyone obviously. Treatment used to be one month only -- but now most docs treat for a minimum of 3 - 4 months although a really bad infection could easily take a year on high dose multiple meds.

My suggestion in looking for another doc is to ask the nurse if the doc treats bart first or at least concurrently (at the same time) as lyme.

You may not notice a change in symptoms by dropping supplements for one of 2 reasons -- you are still deficient in the supplements and never saw an improvement because your levels never got to normal or you have not been off them long enough to become deficient again and for additional symptoms to appear.

The reality is that almost everyone -- even healthy people -- are magnesium deficient. And vitamin c is another one that needs high daily doses to do much good. Supplements are important, but getting the right meds is even more important.

Good luck.

Bea Seibert

---

Posts: 7306 | From Martinsville,VA,USA | Registered: Oct 2004 | IP: Logged |

carolann2013
LymeNet Contributor
Member # 39964


posted

---

LymeToo,

I am as poor as a church mouse!!!!

---

Posts: 213 | From Tennessee | Registered: Jan 2013 | IP: Logged |

Kudzuslipper
Frequent Contributor (1K+ posts)
Member # 31915


posted

---

You have only seen your doctor once since April? Did you consult them when you stopped ceftin? Or added flagyl? It's one thing if you don't have confidence in your dr. But it takes time to build a repore and a relationship. It takes respect to get respect. You can't go this alone and you can't expect a dr to help if you don't consult them.

My llmd built up to a multi drug protocol. I felt miserable for 4 months. Worse than before treating. When it got too bad, I called and she adjusted my meds. I saw her in one month after her first protocol. Then about every two or 3 months, unless she tried something very new, then it was one month. South of this is trial and error. But you have build a relationship. Long term. Not like going to a specialist for a one time problem.

After 2 weeks off might be a good time to consult. Tell them what's been going on.

I agree with treating Bart. My best (and worst ) was on Cipro.

---

Posts: 1725 | From USA | Registered: May 2011 | IP: Logged |

carolann2013
LymeNet Contributor
Member # 39964


posted

---

Kudzuslipper,

Yes I did call him when I took Ceftin. I told him it was making me have terrible headaches and he said to go to the next antibiotic on the list. I did.

I think it was Zithromax next. I took it for about a month. The headaches did go away. Nothing really changed as far as symptoms. I was reading on here and also Buscano's book and both said that nothing will get better until you bust the cysts.

So I, myself, added flagyl during the second month I took the Zithromax. The book said that Zithromax alone wouldn't do anything. Did that for about a month and nothing really changed.

I figured I would stop everything and see what happened. Then I would tell the doctor.

I was clinically diagnosed with Lyme. No tests. No bands to read, nothing. The only test I took was the one my general doctor gave me two years ago.
It came up negative. But Dr. C said it did show Borderline Rocky Mtn. Spotted Fever.

---

Posts: 213 | From Tennessee | Registered: Jan 2013 | IP: Logged |

Kudzuslipper
Frequent Contributor (1K+ posts)
Member # 31915


posted

---

oh ok. I'm sorry if I misinterpreted. it's so hard to build a relationship with these dr.s you see so infrequently.

and I am saying this from hindsight-- having been off abx for 8 months and feeling mostly better... but I think one of the main reasons they space appt's so far apart...is it takes that long to see if something is working. of course, if you feel worse you need to call... but in my experience, all of a sudden I would feel better. Some protocols worked better than others but I believe they all worked on something different.

how long did you take the flagyl? you need to take it for at least a month to 6 weeks. or pulse it every two weeks on and every two weeks off. you need to be able brackett the bugs reproduction cycle.

can I ask, when you first started abx, did you feel worse? did you herx? if you are not positive, and you have not herxed, meaning you feel worse than you did before...I may keep looking for a reason for your symptoms. not everything is lyme.

My pcp was the first to dx me without a CDC positive test. but she said they treat for one band in china, so let's just see... sure enough, after a week, I herxed so on bad on ceftin I felt like I was 100 years old. that was enough of a proof for her to keep me on it and refer to a LLMD. those first 3 months were the hardest, The 100 year old aches would lift a bit for a few days and then came back. she switched me to zythro and doxy... and then I went to the LLMD, who tested and put me on a multi drug protocol. I would stay on each of these for no less than 2 months at a time. each new protocol caused a herx and then I would flair at the same time each month.

I found keeping a diary of symptoms helped me see progress. and also helped me communicate better with the dr. But mostly...it showed me that my worst days-- where everything hurt and I couldn't think were at the same time each month so I could predict them, and knew that it was just going to be about a week-- I could get through it. but over the months (18) the better days got more and more, the bad days fewer and fewer.

if you really think you have Lyme don't give up. If you really think you have lyme and you would feel more confident with another dr and can physically and monetarily do it. then I think you should switch. I agree that mono treatment is not enough long term. but many doctors want to ease in. let your body build up to the assault.

---

Posts: 1725 | From USA | Registered: May 2011 | IP: Logged |

carolann2013
LymeNet Contributor
Member # 39964


posted

---

I have to say, that I don't feel bad. I don't feel really good. Still tired, still some aches. Ears are still funny.

I think I can tell that my feet are starting to act up. Toes hurt. Bottoms of feet hurt. Knees are starting to hurt again.

I think my neck is starting to stiffen up a little.

Still very tired.

I am going to give it another week. I am going onto my third week with no antibiotics or any supplements.

I sure had many many symptoms of lyme and crazy symptoms that were totally non-related. It is possible that maybe I didn't have lyme. Hard to believe that it wasn't.

Dr. that clinically diagnosed me was pretty positive I had it.

I am anxious to see what the next week brings.

---

Posts: 213 | From Tennessee | Registered: Jan 2013 | IP: Logged |

carolann2013
LymeNet Contributor
Member # 39964


posted

---

Had to start antibiotics up again.

This time around "the protocol" calls for Biaxin and plaquenil. I am also taking Diflucan.

I see my doctor next Wednesday. I feel that this may be the last time that I see him. I remember when I first got my appointment with him (Last April) I was so excited.

After reading the posts for months and conversing with some of you, I see that I am not really getting anywhere. This is very disappointing.

The medications (protocol) that I have been taking has only 'knocked' the edge off of all of my symptoms. Helps keeps me going day to day.

I don't feel like I am getting cured. I stopped all medications and supplements for nearly three weeks.

I didn't have the sharp pains in my joints. The pain was migrating daily. Immobilizing whatever limb it affected for that day.

This time after stopping the meds,the pain is in back and hip, migrating from one side to the other.

Feet began to be sore again. Lots of burning. Lots of the 'bruisy' feeling in lots of different places.

I have also noticed that my gums are getting in very bad condition. I fear that I will lose my top teeth.

I still have big problems with the ears. Headaches are more common.

So if nothing else, I have figured out that the medication and supplements have helped somewhat. But where one symptom (a major symptom) is no longer with me, a dozen more smaller ones are taking its place.

I will question the doctor about co-infections, I will question him about combinations of abx. I will question him about his thoughts on Buscanno's Advanced Topics in Lyme.

After reading the posts here, reading the books, e-books, etc. I know a little more than when I first started. I have more questions.

Good luck to me!

---

Posts: 213 | From Tennessee | Registered: Jan 2013 | IP: Logged |

poppy
Frequent Contributor (1K+ posts)
Member # 5355


posted

---

How long have you had this? For a long untreated case, April to August is not really enough to see a trend.

---

Posts: 2888 | From USA | Registered: Mar 2004 | IP: Logged |

GretaM
Frequent Contributor (1K+ posts)
Member # 40917


posted

---

Perhaps a Co-infection is now taking the reins...

When I began treatment for lyme...
About 3 months in Babesia flared.

When I started treating babesia...
Bartonella flared.

This TBI's are funny things.

If you mean April 2013 to present...I don't feel that is adequate time. I think all of us WISH it was that quick, haha. I know I sure do

I had RMSF as well, but the doxy took care of that right quick, thank goodness.

I agree with the others, one needs to use a combo of abx, and herbs, and also needs to stick to it long enough to hit a few life cycles.

Honestly, I think every person is different, and responds to med combos differently.
You have to find what works for you.

But bartonella sounds like it may be a player.

---

Posts: 4358 | From British Columbia, Canada | Registered: Jun 2013 | IP: Logged |

LymeSwimmer
LymeNet Contributor
Member # 40540


posted

---

Just to echo some of the sentiments here and some of my own anecdotal thoughts

in the 2.5 years that I was on Abx I never really had an 'aha' moment where I saw a dramatic improvement. But when several months went by I could look back and really see tangible results and improvements in my condition. Its a slow but continuous battle.

I strongly second keeping a daily journal of your symptoms/feelings - not only is it a great reference but it will help chart how you are feeling and may be the only way to get an indication of improvement.

Also, IRRC back when I first started treating Lyme the introduction to Abx seemed to cause an increasing severity to my symptoms for quite some time - it seemed like I had a full on herx for many, many months until it settled down to a more standard 4 week herx period, although even within that 4 weeks major herx timeline, I still had many flares, herxes, etc.

But all of this said, you are really the only true advocate for your health and I would definitely have all of these discussion with your Dr. and work out a plan that you are comfortable with

Thoughts and prayers for you

---

Posts: 118 | From New England | Registered: Apr 2013 | IP: Logged |
Contact Us | LymeNet home page | Privacy Statement

Powered by UBB.classic™ 6.7.3

---
The Lyme Disease Network is a non-profit organization funded by individual donations. If you would like to support the Network and the LymeNet system of Web services, please send your donations to:
The Lyme Disease Network of New Jersey
907 Pebble Creek Court, Pennington, NJ 08534 USA
http://www.lymenet.org/
---
Home | Flash Discussion | Support Groups | On-Line Library
Legal Resources | Medical Abstracts | Newsletter | Books
Pictures | Site Search | Links | Help/Questions
About LymeNet | Contact Us
---
© 1993-2020 The Lyme Disease Network of New Jersey, Inc.
All Rights Reserved.
Use of the LymeNet Site is subject to Terms and Conditions.
---