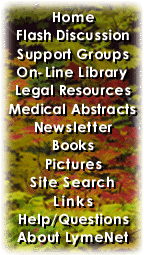 ---
LymeNet on Facebook
LymeNet on Twitter
---
---
The Lyme Disease Network receives a commission from Amazon.com for each purchase originating from this site.
When purchasing from Amazon.com, please
click here first.

Thank you.




Dedicated to the Bachmann Family


LymeNet needs your help:
LymeNet 2020 fund drive

The Lyme Disease Network is a non-profit organization funded by individual donations.

| | |
| --- | --- |
| | |
Author
Topic: Exercise vs. mitochondrial recovery

Razzle
Frequent Contributor (1K+ posts)
Member # 30398


posted

---

Ok, I know Dr. B says we can't recover from Lyme unless we exercise.

But what does one do when one becomes so exhausted from exercise (even tiny amounts) - like chronic fatigue exhausted...

I know Lyme causes problems with mitochondria/cellular energy production... And exercise makes this worse...

So how do we find a balance between enough exercise to get well, but not too much to increase the mitochondrial damage?

Just trying to figure this out...thanks for any inputs...

--------------------
-Razzle
Lyme IgM IGeneX Pos. 18+++, 23-25+, 30++, 31+, 34++, 39 IND, 83-93 IND; IgG IGeneX Neg. 30+, 39 IND; Mayo/CDC Pos. IgM 23+, 39+; IgG Mayo/CDC Neg. band 41+; Bart. (clinical dx; Fry Labs neg. for all coinfections), sx >30 yrs.


---

Posts: 4165 | From WA | Registered: Feb 2011 | IP: Logged |

Lymetoo
Moderator
Member # 743


posted

---

I would think you just move as much as you are able. Then try to increase that level little by little?

--------------------
--Lymetutu--
Opinions, not medical advice!


---

Posts: 94840 | From Texas | Registered: Feb 2001 | IP: Logged |

lpkayak
Honored Contributor (10K+ posts)
Member # 5230


posted

---

The trouble i have is the exercise doesntake me stronger so i canincrease. It seems to wear me out and not make me stringer like it should

Thats what as kesme think i have a mito problem

--------------------
Lyme? Its complicated. Educate yourself.


---

Posts: 13712 | From new england | Registered: Feb 2004 | IP: Logged |

MichaelTampa
Frequent Contributor (1K+ posts)
Member # 24868


posted

---

perhaps hormone supplementation is necessary in some cases, in order to make exercise not completely wear you down (thyroid, hydrocortisone, testosterone, dhea, pregnenolone)

---

Posts: 1927 | From se usa | Registered: Mar 2010 | IP: Logged |

sixgoofykids
Moderator
Member # 11141


posted

---

What kind of exercise are you trying?

Anything cardio shouldn't be attempted at that stage.

Have you tried some kind of resistance? I like Pilates, but there's also weights, exercise bands, yoga, etc., that can be taken at a very slow pace so you move but don't fatigue. Then those same exercises can be done at a quicker page later when you get healthier.

--------------------
sixgoofykids.blogspot.com


---

Posts: 13449 | From Ohio | Registered: Feb 2007 | IP: Logged |

Catgirl
Frequent Contributor (5K+ posts)
Member # 31149


posted

---

Razzle, I struggled with this too. It wasn't until I started doing parasite treatment for me to see the difference. Prior to that, the exercise actually weakened my immune system (viruses would slip in).

I did Burrascano's exercise, but that didn't matter. I would improve a tiny bit, then a virus would pop up and start to drag me down. My other co infections popped back up as well, one by one.

It took me a while to figure out that exercising every other day was just too much for my immune system. I had to do every 3 or 4 days. So I went a long time doing it every 3 or 4 days. I felt a little better, some improvement, but something was in my way. I thought perhaps an unknown co infection (turned out to be parasites).

Long story short, not much progress until hard core parasite treatment (not easy). Now I work out every other day, no problem (light weights). The exercise kills the lyme.

I strongly encourage people to treat for parasites. IMO, they are the key.

--------------------
--Keep an open mind about everything. Also, remember to visit ACTIVISM (we can change things together).


---

Posts: 5418 | From earth | Registered: Mar 2011 | IP: Logged |

VV
LymeNet Contributor
Member # 38828


posted

---

Same here. I've not been rewarded for exercise in 3 years. Makes me weaker, even my mind. It also tends to make my nerves worn out and jumpy.

---

Posts: 922 | From Philadelphia | Registered: Sep 2012 | IP: Logged |

Pebbles
LymeNet Contributor
Member # 43614


posted

---

That's great Catgirl!!! I am taking a break for the summer and just focusing on detoxing. The summer heat is just too hard on me to do anything else. As soon as fall hits I am going to start parasite treatment as I am in the same situation Razzle.

There is a very good Qi Gong video that I really like that is very gentle. I usually do this everyday, even though I am exhausted and I usually feel better afterwards. The I will do some weight lifting every other day or every 3rd day when I am up to it.

https://www.youtube.com/watch?v=g-jSBBwr8Ko

---

Posts: 116 | From Upstate NY | Registered: Apr 2014 | IP: Logged |

Judie
Frequent Contributor (1K+ posts)
Member # 38323


posted

---

Gentle stretching is a place to start so you don't get stiff. Do it sitting or laying down. Hopefully that won't be too exhausting.

My exercise now is the exercise bike. I started with 15 minutes. My eyes would be closed while doing it because I was so tired. I went slowly.

I did it at night so i could just wash up afterwards and go to bed.

I had to stop walking. Too much effort to stay standing. The bike helps with knee pain too.

---

Posts: 2839 | From California | Registered: Jul 2012 | IP: Logged |

springshowers
Frequent Contributor (1K+ posts)
Member # 19863


posted

---

I agree with Stretching as place to start.
My docs are finding my hips and shoulders are damaged and back and all from high inflammation over years of illness and the tendons get tight and then simple movement starts fraying and deteriorating and then you can get damage to joints.

I did stretching while ill but not enough. Or consistently enough. I'm am in PT and realizing my joints are way worse than I thought and if I had only kept things stretched out consistently may have avoided it.

Stretch the hips and shoulders the most. They are the mechanics for back and neck. Also stretch the back.

Gently even while in bed you can do this.

It will put you ahead of the curve as well helps keep those areas with blood flow and healthy. I learned its the tightness of ligaments that pull the ball into the socket too tightly that causes the damage just with normal use.

We all are set up for this 10 fold as ill people and you may not realize its happening.

If you get past ability to keep stretched then you can add gentle exercise. Even arm lifts and leg lifts and those things do more than you realize consistently.
Aerobic is added last and is what usually causes worst post malaise stopping you from being able to do it. But it gets better in time. I now can swim laps in the pool ever other day and worked up from two minutes to an hour at a time. And I walk every day too.

I go to manual hands on PT trying to get my body back better working order. It like my facia and ligaments all around ribs even front and back got stuck in tight and you have to manually manipulate them to get them back.

He taught me to just pull on skin up and down and side to side on run area to get the layers to start letting go again.

That's another form of stretching we never do that I'm realizing is needed too if you are too stagnant.

Be well
Just wanted to share those ideas.

---

Posts: 2747 | From Unites States Of America | Registered: Apr 2009 | IP: Logged |

Kudzuslipper
Frequent Contributor (1K+ posts)
Member # 31915


posted

---

Slow. Slow. Slow. I broke me ankle a year ago. My lack of fitness really freaked me out for the first time in my life. (I have never really exercised) I could not do crutches... And my balance and strength was so bad, I had a really hard time getting around with the boot.

The good thing that came out of it was the physical therapist took me under her wing... After my ankle healed, I gave her dr. B's guidelines... And we worked with weights a bit... But I really wanted to be able to walk better. So in January she started me on the treadmill. I started out at 6 minutes and 1 mile an hour. I did this every other day during the week adding either 30 seconds or speed each time... There were days I hurt like hell and was tired and she would have me back off...
It was really hard at first (pathetically, I
Mean 6 minutes) But eventually, I started getting a bit more energy. And I realized, I didn't hurt any more than usual!

I am now up to a mile in 24 minutes. (Still pathetic I know... But good for me) If I go through a flare, and I'm hurting I back off and go slower... And for the first time in my life I am seeing the positives of doing it. I panic a bit if I miss a day. But if I try to do too much more time or speed... I am out of it for days...

My inflammation numbers have gone down. My killer T cells have gone up... And when I'm feeling well, I feel much better than I ever have.

But when I feel bad, it is very hard, but I still try to do it for fear of losing ground. In April, when I had a major flare or re-infection, I had to slow way down and just got back up to the mile.

So Slow. Slow. Slow. Even if you feel like you can do more when you're actually doing it... Don't. Build up really slow! Good luck!

---

Posts: 1725 | From USA | Registered: May 2011 | IP: Logged |

Razzle
Frequent Contributor (1K+ posts)
Member # 30398


posted

---

This is a great discussion - thanks everyone for your comments.

Here's what I'm dealing with:

When my gut is working, I can do resistance exercises (i.e., weights) daily and increase every 3-4 days fine. I find if I don't do the exercises daily, I can not increase ever...just don't seem maintain gains on the alternate day thing...

After a year or so of great exercising like this, my gut started to slow down and I started getting more and more tired after doing my exercises. So I slowed down on the exercises but kept doing them.

When my stomach crashed (could it have something to do with the mitochondrial thing, or adrenal insufficiency, or some other issue? I simply do not know), I could barely get out of bed. I had absolutely no energy for anything.

Here it is a year later, and I'm still dealing with having no energy for anything. Walking across the room wears me out.

Leaving the house for a doctor appointment exhausts me for the rest of the day and all the next day (or longer, depending on how much energy I spent while away from home).

It's all so frustrating to get to where I feel like I'm making some really good progress on strength and stamina, and then all of a sudden I crash and can't do a thing.

--------------------
-Razzle
Lyme IgM IGeneX Pos. 18+++, 23-25+, 30++, 31+, 34++, 39 IND, 83-93 IND; IgG IGeneX Neg. 30+, 39 IND; Mayo/CDC Pos. IgM 23+, 39+; IgG Mayo/CDC Neg. band 41+; Bart. (clinical dx; Fry Labs neg. for all coinfections), sx >30 yrs.


---

Posts: 4165 | From WA | Registered: Feb 2011 | IP: Logged |

Leeintn
Member
Member # 25999


posted

---

I was a runner prior to becoming sick so I was forced to stop running BUT continued to exercise.


It wasn't until I completely stopped exercising

(which was the hardest thing I've had to do)

that I began to have more energy and felt better.

Before my lyme dx, I saw a CFS/ME specialist in
2010 who

told me to wear a heart rate monitor and do not

let my HR go above 100 !! That doesn't take much.

So, I have finally learned NOT to push my body.

Maybe try a heart rate monitor and keep a log

on how you feel after exercise.

Hope that helps you

---

Posts: 83 | From Tennessee | Registered: May 2010 | IP: Logged |

Brussels
Frequent Contributor (5K+ posts)
Member # 13480


posted

---

Your immune system needs energy to function.

And so does your body to excrete toxins, a lot of energy is required. Even to digest food, your body needs a lot of energy.

If you are tired and you still exercise, it can't be good.

No matter what doctors keep saying, exercising when you barely have energy to stand up and walk is bad.

It's not my opinion, it's just an impossibility.

I never really exercised when I felt crap. Never. If I did, I crashed even further.

When I had a bit of energy, I didn't exercise either. My body needed that bit of energy to go on surviving.

Just when I felt good enough, and I felt I had a bit of extra energy, I started exercising mildly.

My rule of thumb was: after exercise, I should feel more energetic, not less! If I felt tired, I backed down.

I'm lyme free today (for more than 5 years), and I only started exercising more seriously when my lyme got under control.

I'm back to swimming, cycling, horse riding. During lyme, even taking a shower was hard.

Mild exercises, when you can AFFORD these, are good. But when you can't, I would avoid exercises like I avoided ticks!!!

Dr. K. used to say that high performance athletes do get often sick with lyme, specially because too much physical effort makes the immune system down.

---

Posts: 6196 | From Brussels | Registered: Oct 2007 | IP: Logged |

CherylSue
Frequent Contributor (1K+ posts)
Member # 13077


posted

---

Great info on exercise! Thanks.

---

Posts: 1954 | From Illinois | Registered: Aug 2007 | IP: Logged |

surprise
Frequent Contributor (1K+ posts)
Member # 34987


posted

---

I just want to add there was a 10-11 month time frame at the beginning of treatment where I couldn't exercise at all,

and my muscles felt like they were atrophied - shrank, I felt so very weak, weighing in at 95 pounds. Not good.

I do think exercise is fundamental. Baby steps. But paramount. It also improves my mental outlook tremendously.

--------------------
Lyme positive PCR blood, and
positive Bartonella henselae Igenex, 2011.
low positive Fry biofilm test, 2012.
Update 7/16- After extensive treatments,
doing okay!


---

Posts: 2518 | From USA | Registered: Nov 2011 | IP: Logged |

Marnie
Frequent Contributor (5K+ posts)
Member # 773


posted

---

Lithium and PQQ trigger mitochondrial biogenesis (make more mitochondria). Documented.

Good, but when mitochondria are MADE, they need nutrients to function. They have to have "something" else IN them, like CoQ10/Q!

MitoQ.

Sorry, expensive.

Otherwise...Google: Mitochondrial nutrients food

Or go here:

http://onlinelibrary.wiley.com/doi/10.1002/acr.20592/pdf

Above lists nutrients to help with mitochondrial dysfunction see table #2 which mentions lyme and table #5.

http://www.immed.org/MASTER%20DOCUMENTS%2008.23.2013/Mito_Dysfunction-NicolsonATHD13.pdf

Garth N. (above) has a long list. I think it can be shortened…dramatically... once the infection doing the damage has been eliminated.

We MAKE CoQ10

"Your body makes CoQ10,

and your cells use it to produce energy your body needs for cell growth and maintenance. It also functions as an antioxidant, which protects the body from damage caused by harmful molecules.

CoQ10 is naturally present *in small amounts* in a wide variety of foods, but levels are particularly high in organ meats such as heart, liver, and kidney,

as well as beef, soy oil, sardines, mackerel, and peanuts.

In 1961, scientists saw that people with cancer

had little CoQ10 in their blood.

They found low CoQ10 blood levels in people with myeloma, lymphoma, and cancers of the breast, lung, prostate, pancreas, colon, kidney, and head and neck.

Some research has suggested that CoQ10 helps the immune system and may be useful as a secondary treatment for cancer."

http://www.webmd.com/heart-disease/heart-failure/tc/coenzyme-q10-topic-overview

Some DRUGS lower CoQ10.

CoQ10 is IN our mitochondria (powerhouses).

To read up to date (2014) research, skim some of these:

http://www.ncbi.nlm.nih.gov/pubmed/?term=CoQ10

There are new forms of "Q" that are very recent discoveries that appear to dramatically impact diseases favorably i.e., MitoQ and SkQ1.

PQQ (mitochondrial biogenesis) is in foods too and elsewhere...

PQQ and MitoQ. I'll let you know...gonna try both. I ordered MitoQ.

Might be best taken with bkfst because in some people PQQ + CoQ10 (not MitoQ) may interfere with sleep. Genetic differences in uptake and metabolism, perhaps?

---

Posts: 9402 | From Sunshine State | Registered: Mar 2001 | IP: Logged |

Brussels
Frequent Contributor (5K+ posts)
Member # 13480


posted

---

I guess there are so many levels of sickness...

As I told above, I could barely walk, so to me, exercising was an impossibility. I only wanted to be able to take a shower sometimes, and that consumed my whole energy for the day already.

So there was NO WAY for people in that state to find exercise was good. I even think it may be dangerous!!

If you can walk without spending all your energy after 5 minutes, I would start from there. Just baby steps, as the post above says. It was not my case.

Really, I think the best rule is: 20-30 minutes AFTER exercising, do you feel better or worse than BEFORE exercising?

If you feel worse, you overdid. People should feel energized from exercise, not exhausted. At least, when you still have to fight lyme 24h/24h/ 7 days a week for years!!

If you are in good health, 1-2 day of exhaustion after overdoing exercise is nothing. You can get your whole life back again in day 3. It's not the case for people fighting for their lives!

---

Posts: 6196 | From Brussels | Registered: Oct 2007 | IP: Logged |
Contact Us | LymeNet home page | Privacy Statement

Powered by UBB.classic™ 6.7.3

---
The Lyme Disease Network is a non-profit organization funded by individual donations. If you would like to support the Network and the LymeNet system of Web services, please send your donations to:
The Lyme Disease Network of New Jersey
907 Pebble Creek Court, Pennington, NJ 08534 USA
http://www.lymenet.org/
---
Home | Flash Discussion | Support Groups | On-Line Library
Legal Resources | Medical Abstracts | Newsletter | Books
Pictures | Site Search | Links | Help/Questions
About LymeNet | Contact Us
---
© 1993-2020 The Lyme Disease Network of New Jersey, Inc.
All Rights Reserved.
Use of the LymeNet Site is subject to Terms and Conditions.
---