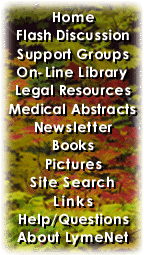 ---
LymeNet on Facebook
LymeNet on Twitter
---
---
The Lyme Disease Network receives a commission from Amazon.com for each purchase originating from this site.
When purchasing from Amazon.com, please
click here first.

Thank you.




Dedicated to the Bachmann Family


LymeNet needs your help:
LymeNet 2020 fund drive

The Lyme Disease Network is a non-profit organization funded by individual donations.

| | |
| --- | --- |
| | |
Author
Topic: Dr Alan MacDonald Addresses London Launch of SAA

Eight Legs Bad
LymeNet Contributor
Member # 13680


posted

---

(Please visit URL http://www.spirochaetalalzheimersassociation.org/launchmtg.html to see the photos from Dr. MacDonald's presentation)

Dr. Alan MacDonald Addresses Inaugural Meeting of SAA -London, June 2014

Dr. Alan MacDonald Addresses Inaugural Meeting of SAA -London, June 2014

Outside, a blanket of smog-laden heat descends on King's Cross. Inside the hall, things are hotting up too, as the inaugural meeting of the Spirochaetal Alzheimer's Association gets underway.

The audience is diverse. Some are from the Alzheimer's community, some from the Lyme Disease community. Some are health professionals, and a scattered few are journalists or simply concerned members of the public who fear that one day, they or their loved ones may get dementia. All sit hushed as American pathologist Dr. Alan MacDonald takes us through the journey that led him to first suspect, then confirm, the presence of Borrelia bacteria in Alzheimer brain tissue.

Borrelia are part of the bacterial category known as spirochaetes. They are known causes of Relapsing Fever, a major killer in Africa, and the tick-borne illness Lyme Disease, which is now reaching epidemic proportions in many parts of the world.

Dr. MacDonald describes how mainstream medicine in the 70's and 80's came to view Lyme Disease through a series of slowly-widening 'keyholes' - seeing it first as solely an arthritis and a rash. Later on the view widened to encompass Bell's Palsy, meningitis and heart rhythm disturbances.


'Then what happened?' he asks rhetorically. 'Blood tests! ..Not-so-good blood tests have put the brakes on looking through the keyhole, and seeing the wider and wider manifestations of Lyme Disease....'

The Lyme patients in the audience nod. They know only too well that the two-tier antibody testing protocols in wide use throughout the world, including Britain, are a poor detection method.

'We build upon [our knowledge] by talking to patients, and by listening to patients. Listening to patients. Because everything in the medical textbook came from somebody who listened to a patient...and wrote it down.'

The words 'listening to patients' seem to hang in the air, an admonishment to 'experts' who have abandoned the practice.

'Long Island was the epicentre of Lyme Disease in the 1980's,' Dr. MacDonald recalls, referring to the NY region where he spent most of his career. He describes how an intensive research operation was put in place to determine the extent of the manifestations of the disease.

'All of the specialists were encouraged to look in tissues...and each of the specialities was able to present cases...'

Yet these highly significant findings were ignored, due to the dogmatic belief that only patients positive on the blood tests could have Lyme Disease. Clinical diagnosis, which had provided all knowledge of the disease in the past, was dead.

Even Dr. MacDonald's subsequent discovery that the Borrelia was causing miscarriages and killing infants was ignored.

In 1985, whilst attending a conference in Vienna, Dr. MacDonald heard European researchers refer to Tertiary or Third-stage Lyme Disease of the brain. Immediately he thought of another 'tertiary' spirochaetal disease of the brain - third-stage Syphilis. Tertiary syphilis often manifested as dementia.

Could at least some of the modern plague of Alzheimer's be a tertiary manifestation of Lyme Disease?

'I couldn't wait to get a plane home and get my hands on some Alzheimer's tissue...'

His suspicions were soon to be confirmed.


'Everything that syphilis can do, Lyme can do,' he explains, referring to the ability of syphilis to attack virtually every organ in the body, mimicking scores of other diseases and earning it the name 'The Great Imitator.' Lyme Disease has been dubbed 'The New Great Imitator'.

'In 1985 and 86 I confirmed Borrelia in Alzheimer brain samples , and I even grew it from each of the brains...You can't do that with syphilis�you can't grow it in a test tube. So we have more proof with Lyme Disease and dementia than we have with syphilis!'spirochaetes in Alzheimer brain tissue

He recounts how his work was published in the most prestigious academic journals. And then came the backlash.

'They accused me of fraud...until Dr. Judith Miklossy...duplicated all my observations. She found Borrelia spirochaetes in 14 cases of Alzheimer's. Then they stopped calling me fraudulent.'

He recalls how Dr.Miklossy also found other spirochaetes in Alzheimer brain tissue. These were oral Treponema responsible for gum disease.

Dr. MacDonald relates how he began his investigations using monoclonal antibodies to detect Borrelia, later switching to DNA-based techniques such as the Polymerase Chain Reaction (PCR) positive PCR test finds Borrelia in Alzheimer brainand most recently, Molecular Beacons - extremely accurate DNA probes.

On the screen we see distinct bands on a strip, relating to seven of ten Alzheimer brain specimens which were PCR-positive for Borrelia.

'DNA sequence analysis - this is the most precise identification technology available today...You can go to the electric chair on the basis of this technology...'

We watch Borrelia appear in microscope photos , glowing in fluorescent shades of red or green. cystic borrelia, some with internal granulesSome have the traditional spiral shape for which spirochaetes are known, but many are shaped like worms, balls, tiny granules, etc..

Dr. MacDonald explains that these different forms can inter-convert.

For example, a spiral transforms itself into a protective round 'cystic form' when faced with conditions it dislikes - the wrong temperature, antibiotics, your immune system.

He points to a stylized image of spiral.

'This can break itself into this...' He indicates a collection of granules. 'One of these can make 30...or 60...of these. So there's a multiplying effect.' Each granule is independently infective in its own right.

He discusses a well-known hallmark of Alzheimer's disease -granulovacuolar degeneration. This shows up under the microscope as small dots within the nerve cells of the brain. We see them on the screen - only this time, they bear the tell-tale tint of a DNA-based stain. The stain is specific for Borrelia, nothing else.

'When you get these granules inside a nerve cell, they kill the cell from the inside out,' he warns ominously. The cell is from the hippocampus, a memory centre of the brain notoriously targeted for destruction in Alzheimer's. He jabs the screen. 'That cell is toast.'

We see microscopic images of long spirochaetes disintegrating into a chain of the dot-like granules, in both syphilis and Lyme.

'Can you connect the dots?' he challenges. The double meaning is clear.

He discusses the famous 'amyloid plaques', round areas of diseased brain tissue which are another hallmark of Alzheimer's. He relates how an academic tug-of-war took place for years over which of two aberrant proteins might be the cause - beta-amyloid in the plaques, or mis-formed tau protein.

'It turns out probably neither side was correct.'

'A Tale of Two Plaques' , proclaims the title on the screen. We see, juxtaposed, two sets of plaques, one from Alzheimer brain tissue, the other from third-stage syphilis.

'Do these two look somewhat similar to you?' He asks sardonically. In fact, they look identical.

He describes how Borrelia, in common with many other bacteria, forms Biofilms - organized communities of microbes which co-operate to establish a chronic infection.

We see pictures of Borrelia biofilms - in the test tube, in the tick, in human tissue. The spirochaetes have a variety of shapes, and, as he points out - each is specialized to perform different functions. It sounds for all the world like a human town, with residents working at different jobs.

He points to black spaces in the micrographs. 'These are water channels - so water and nutrients can get in...You have sewer systems in London, right?...They have sewer systems too, for waste to get out..'

He describes how biofilms cause notoriously persistent infections such as those around catheters and hip replacements.

'Once biofilms grab you, they never let you go. Unless...' he adds, perhaps sensing the dismay gripping some members of the audience, '...unless you have a Biofilm treatment protocol.'

A large Alzheimer plaque appears on the screen. He explains that the black is the surrounding brain tissue. The fluorescent green colour is Borrelia DNA. The plaque is totally covered in fluorescent green.

Borrelia DNA covers Alzheimer Plaque
click to enlarge

'It is my hypothesis that Alzheimer plaques are formed by biofilms of Borrelia...Is mankind prepared to widen the keyhole view of Lyme Disease?'

The lights come on. Our speaker is deluged with questions. One man recalls how Lyme Disease turned him from an athlete to an invalid. The psychiatrist Sir Simon Wessely testified against him in court, alleging he had a psychological problem. After taking antibiotics, the man noted a dramatic improvement in his 'psychological' problem.

Dr. MacDonald relates how an Alzheimer's patient was given intensive antibiotic treatment for an infection in the shunt inserted to drain excess fluid from the ventricles of his brain. Suddenly his memory deficits began to improve. Skeptical doctors refused to continue the treatment and sadly, he deteriorated again and died.

The meeting draws to a close. Outside, the last rays of sun expire over Euston Road. In the distance, cranes, like giant dinosaurs, mark the site of construction of MedCity, a massive initiative aimed at making London and the Southeast into a world-class centre for medicine and biotechnology. Alzheimer's research is to be a major priority - but what kind of Alzheimer's research?

Although recent reviews, such as the one by Mawanda and Wallace, have highlighted the likelihood of an infective cause, the lion's share of research funding continues to go to those who would dissect the minutiae of tau protein or amyloid, or investigate tiny variations in the human genome which may pre-dispose (but do not cause) the majority of Alzheimer's.

Decades of research have so far produced neither cure, nor even a treatment that can significantly halt the progress of the disease.

By 2021, the UK is predicted to have one million dementia sufferers - most of them victims of Alzheimer's. Worldwide, the human toll is staggering, not to mention the potentially destabilising economic costs of round-the-clock care for millions of people. Dr. MacDonald has asked if mankind is prepared to widen the keyhole view of Lyme Disease. The question is, can we afford not to?

This site is not intended to provide medical advice for individuals. For advice regarding your own health, please be sure to consult your doctor. You may freely share the information on this website with your medical practitioner or other healthcare professional. Adapted from a design by FreeCSSTemplates.org.SAA is not responsible for the content of external sites.
-

--------------------
Justice will be ours.


---

Posts: 786 | From UK | Registered: Oct 2007 | IP: Logged |

Keebler
Honored Contributor (25K+ posts)
Member # 12673


posted

---

-
Thanks so much for this detail. Your involvement is very much appreciated. And always glad to see what MacDonald is working on, sharing, etc. What a gem of a person and researcher, he is. It also takes a lot of courage to do what he and others in that ILADS (& comrades) arena do.
-

---

Posts: 48021 | From Tree House | Registered: Jul 2007 | IP: Logged |

ukcarry
Frequent Contributor (1K+ posts)
Member # 18147


posted

---

Yes, I agree with Keebler: this was very interesting to read and imagine. It sounds as if Dr Macdonald is a great presenter too.....many thanks.

---

Posts: 1644 | From UK | Registered: Nov 2008 | IP: Logged |

lpkayak
Honored Contributor (10K+ posts)
Member # 5230


posted

---

Wow. Ty. Alan is a really good guy too. Easy to talk with even if you are foggy. He sees thru it and answers your questions in a way that is easy to understand

If you ever get a chance to hear him speak it is worth the travel trouble. I saw him in new haven and there was plenty of time to talk after

He says the biofilm grows near hip replacements. I wonder if it also grows near knee rrplacements. I am not responding to.my knee surg last sept the way the doc expected

--------------------
Lyme? Its complicated. Educate yourself.


---

Posts: 13712 | From new england | Registered: Feb 2004 | IP: Logged |

springshowers
Frequent Contributor (1K+ posts)
Member # 19863


posted

---

He is Great.

Biofilms grow there
But also other places in the blood and in the veins and becomes a vascular issue. Esp in the Drain out areas / Veins where its NO rich and returns vs Oxygen rich areas.

Biofilms are such an issues in infections and he is a great researcher and great guy to help the community and to prove chronic infection disease in Lyme especially as well as the biofilm problems and why its so hard to get to get fully well for many people.

---

Posts: 2747 | From Unites States Of America | Registered: Apr 2009 | IP: Logged |

Eight Legs Bad
LymeNet Contributor
Member # 13680


posted

---

All artificial devices put into the body can become a focus for biofilms (of many different kinds of bacteria).

An interesting point made by Dr M at the London meeting was that when a person is bitten by a tick, they can be instantly infected with a whole clump of biofilm which was in the tick's body fluid.

So borrelia can short-cut what might otherwise be a long process in other bacterial infections.

Elena

--------------------
Justice will be ours.


---

Posts: 786 | From UK | Registered: Oct 2007 | IP: Logged |
Contact Us | LymeNet home page | Privacy Statement

Powered by UBB.classic™ 6.7.3

---
The Lyme Disease Network is a non-profit organization funded by individual donations. If you would like to support the Network and the LymeNet system of Web services, please send your donations to:
The Lyme Disease Network of New Jersey
907 Pebble Creek Court, Pennington, NJ 08534 USA
http://www.lymenet.org/
---
Home | Flash Discussion | Support Groups | On-Line Library
Legal Resources | Medical Abstracts | Newsletter | Books
Pictures | Site Search | Links | Help/Questions
About LymeNet | Contact Us
---
© 1993-2020 The Lyme Disease Network of New Jersey, Inc.
All Rights Reserved.
Use of the LymeNet Site is subject to Terms and Conditions.
---