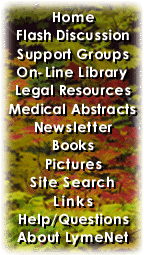 ---
LymeNet on Facebook
LymeNet on Twitter
---
---
The Lyme Disease Network receives a commission from Amazon.com for each purchase originating from this site.
When purchasing from Amazon.com, please
click here first.

Thank you.




Dedicated to the Bachmann Family


LymeNet needs your help:
LymeNet 2020 fund drive

The Lyme Disease Network is a non-profit organization funded by individual donations.

| | |
| --- | --- |
| | |
Author
Topic: Irritated

Summer3
Frequent Contributor (1K+ posts)
Member # 35286


posted

---

So I've been thinking lately and I have a lot of resentment. I'm in my 20's, live in the Northeast, all mainstream doctors I see know I'm an avid hiker and runner and have multiple ticks attached per year. I don't generally discuss Lyme treatment with them (current or past treatments).

This past summer (and for 3 years since I first got sick), my heart and fainting got worse. My heart stopped in 2nd degree heart block during one of my many fainting episodes per week.

Forget the bias doctors have about "chronic" Lyme. You know my cardiologist never asked me about recent tick bites, tested me for acute Lyme, asked how I've treated it in the past? He's basically blind to the entire issue except for knowing I "think" I have this supposedly non-existent disease. And this is not an unintelligent doctor! Despite his avoidance of the Lyme issue, he's actually extremely smart, head of his dept. at a major university hospital, and spends 90+ minutes at an appointment every time, etc. I can't figure this out.

So now I have a pacemaker because Lyme treatment wasn't helping either and I can't let my heart stop. I've tried everything I can afford but never was able to afford IV antibiotics. I'm grateful for the pacemaker and the doctor who did it because to be honest my age and gender demographic makes it nearly impossible to be taken seriously by cadiologists......but I find it ridiculous that mainstream doctors in the northeast don't even SUSPECT acute Lyme in a female patient in their 20's, non-smoking, non-drinking, underweight, no structural heart damage, who's heart suddenly stops in heart block after known tick exposure. WTH are they thinking?

---

Posts: 1129 | From USA | Registered: Dec 2011 | IP: Logged |

Razzle
Frequent Contributor (1K+ posts)
Member # 30398


posted

---

No doctors are taught about the realities of Lyme in medical school. Or what little they do get is the IDSA/CDC bull* about it being hard to get and easy to cure. And that the disease is joint pain, flu-like symptoms and a round, red target-like rash.

They are not taught about the heart issues Lyme can cause. Because the research $$ have been denied to those who are willing to look beyond the IDSA/CDC paradigm.

I think the best summary is the words of the late Dr. Bergdorfer - "The controversy in Lyme disease research is a shameful affair. And I say that because the whole thing is politically tainted. Money goes to people who have, for the past 30 years, produced the same thing—nothing."

--------------------
-Razzle
Lyme IgM IGeneX Pos. 18+++, 23-25+, 30++, 31+, 34++, 39 IND, 83-93 IND; IgG IGeneX Neg. 30+, 39 IND; Mayo/CDC Pos. IgM 23+, 39+; IgG Mayo/CDC Neg. band 41+; Bart. (clinical dx; Fry Labs neg. for all coinfections), sx >30 yrs.


---

Posts: 4162 | From WA | Registered: Feb 2011 | IP: Logged |

SickSci
LymeNet Contributor
Member # 43849


posted

---

Actually, even the CDC now includes "Lyme carditis" as part of its case definition.

You probably already know, but Bartonella is also notorious for cardiac issues; have you been tested/treated for bart? I've found that clarythromycin/Mycobutin has drastically reduced my afib.

You have every right to feel frustrated though. So so sorry you had to get a pacemaker at such a young age. It is frustrating that specialists rarely look at patients in a wholistic way now (ie considering infectious causes of conduction abnormalities...)

--------------------
-------------
- Working Dx: Protozoa x3, Bartonella
- Tx: Biaxin, Mycobutin, Ivermectin, boluoke, serapeptase, allimed, silver ACS 200 spray, Mg, Iodoral, fish oil, Vit's B, C, D, NAC, etc


---

Posts: 121 | From Nc | Registered: May 2014 | IP: Logged |

BoxerMom
Frequent Contributor (1K+ posts)
Member # 25251


posted

---

You've every right to be incredulous. And pissed.

I'll just add that docs are taught they are smarter and better educated than their patients. Then they run in circles that perpetuate this claim.

They are taught that patients with unexplained symptoms are making them up. They are taught to treat us as mentally ill, manipulative and attention-seeking.

And they are taught this specifically about us. Over and over.

You can be the most calm, rational, Lyme-literate person on earth, and you will not get through this programming.

Infectious disease should be considered in every medical work-up. But GPs and specialists have to refer us out for anything other than cold/flu, and ID docs are the worst of the worst for Lyme.

And they refuse to accept a medical model for chronic infections in anything other than HIV and TB. They are so behind the curve that they are dangerous.

And this feeds right back into the ego bit. They refuse to be wrong. But are happy to wage war against the ones who are right. (This also protects their money trains and reputations.)

And we get screwed.

Summer, I hope you'll just keep treating your infections. Orals are the slow road. I can't afford IV either, and I'm in year seven of orals, but I keep gainng ground. It is slow, for sure, but I'll backslide if I stop.

Babesia caused my heart symptoms. I had valve problems and conduction issues. They still flare when Babesia flares, but are resolved otherwise.

Our situation is unreal, and the medical world should be horrified.

Maybe someday.

--------------------
Must...find...BRAIN!!!


---

Posts: 2867 | From Pacific NW | Registered: Apr 2010 | IP: Logged |

lpkayak
Honored Contributor (10K+ posts)
Member # 5230


posted

---

I swear they just want to get rid of us. They cant be thst stupid. The longer i deal with this the more i believe the conspiracy stuff

--------------------
Lyme? Its complicated. Educate yourself.


---

Posts: 13710 | From new england | Registered: Feb 2004 | IP: Logged |

Keebler
Honored Contributor (25K+ posts)
Member # 12673


posted

---

-
Conspiracy, by some, yes. The documentary UNDER OUR SKIN points that out very well, by the IDSA leaders who profit from not admitting the complexities of lyme and totally ignoring the other tick borne infections.

The pharmaceutical industry is also at huge fault here in so many ways but I can't get into all that now.

Mostly, though in our "regular" family doctors and even the specialists, my very extensive experience trying to obtain medical help over decades . . .

seems to be a taught bias against those with chronic illness. It's a sort of disgust that I've sensed more often than not with doctor who were not about to find out what was wrong.

Long ago I was told "well, aren't all blonds dizzy?" and it's gone down hill from there.

And ego. The price of admission to the doctor's lounge is very high, indeed. And to earn that is quite an accomplishment.

I do think bias against a certain "type" of patient is taught in most medical schools, though.

Add to that - when what they see does not match with what they paid tens and/or hundreds of thousands dollars to be taught over grueling years.

If a person comes along and does not match what they've been taught and, worse yet, complains in pain and has lack of energy - that is just so against their work ethic, too.

They've been tired for years, too. But they just have no concept of the extent tiredness can go with lyme so think it's the same.

Patients who look okay or can muster energy and wit to manage enough to get there and seem "normal" to complain, I think, just sets the bias off to a blazing start.

Most doctors can't really see and most don't care to try harder. It's not in their contract. Some are fine with discarding those with chronic illness.

And I know there are also doctors out there who don't want to be locked into the tight constrainsts (too tired to check that and hands too numb now)

they wish they could do more. they have debt to pay off, families & staff to support - and want to keep their licenses.

Along with the brave LLMDs who go on to learn much more to really help,

after getting over some major bias issues against me for loosing balance sometimes but not others (so "must be faking it" they concluded -- and it would take years before other tests proved them wrong)

there have been a few excellent vestibular experts who have helped to extraordinary degrees -- still, though, they could not let lyme enter into the equation. but they could prove some of the damage done to the vestibular system where some other regular doctors degraded me for those issues.

One GP once even said in response to a test I showed him about severe sensory dysfunction "well, I NEVER HEARD OF THAT" (yes, shouting)

That same GP dismissed me as a patient after a round of intense seizures in his office when someone just on the other side of the wall, in the parking lot was honking in long repeated segments. Seized all during the honking, relaxed when they were not on the horn.

Who ever that was, it took about 10 minutes for their party to finally get into the car and leave.

Well, after the certified letter being dismissed, I was able to find out from his office manager that "he thought that was a stunt and he'd have none of that in HIS practice."

Similar experiences occurred all over the city for as long as I could at least get out some. But when they occurred at a doctor's office, it NEVER went well.

Kicked out several times if a seizure hit - mostly they were triggered from very small sounds that most could not imagine being loud or startling. But they sure are to me. And now, I do have some inner / middle ear CT scan that proves at least one major reason.

But I am certain, no one of those who degraded and discounted my symptoms in the past would even care. And if they did, they would like still want to keep it all condensed to ONE thing. Complexity is not their forte. It's still not just my ears.

The bias, the ignorance & the ego - in a system that encourages it. A mighty force.

And, for what it's worth, lyme / tick borne disease is extremely complex - far beyond what I'd guess even the most dedicated LLMD and LL ND might have ever thought as they started to learn

All through my education in journalism, research & to become a college instructor in the field, I was taught that we can't possibly know everything and if there are things that are not clear, find out as much as you can. Look around and beyond.

This, I (so very wrongly) assumed was the ethic of all professions. I was wrong to assume that and certainly learned the hard way over decades this is not the job description of a doctor anymore (if it ever was).

There is no simple path. And no path that works for every patient. And that just doesn't work for the system.

Especially now that the pharmaceutical industry funds so many medical scholarships / loans and designs the curriculum, too, doctors are indentured not just to how they work but how they are supposed to think.
-

[ 12-07-2014, 04:06 PM: Message edited by: Keebler ]

---

Posts: 48021 | From Tree House | Registered: Jul 2007 | IP: Logged |

Keebler
Honored Contributor (25K+ posts)
Member # 12673


posted

---

-
The intent of detail below is not just to understand what force just hit us, so to speak but how to avoid repeats.

It's not about expressing anger (I'm not good with that and tend to just try to figure out how to jump the fence and move along). It's about just becoming informed and then knowing to avoid bad doctors and find good ones.

Some explanations here about how most regular doctors (and even "regular" specialists) think of those they declare only in need of a psychiatrist instead of comprehensive medical assessment & care.

Many reading this site have likely been declared a "difficult patient" somewhere along the line, likely very early on.

We need to understand their world. For as much as we want them to understand ours, we also need to understand theirs - and then we can better know if they are capable to tackle the kinds of medical issues we face, or not.

http://flash.lymenet.org/scripts/ultimatebb.cgi?ubb=get_topic;f=3;t=030921;p=0

Topic: "DIFFICULT PATIENT" label & HOW DOCTORS THINK & "code" terms
-

---

Posts: 48021 | From Tree House | Registered: Jul 2007 | IP: Logged |

sebreg
Member
Member # 44928


posted

---

dang keebler that just about sums up all my experiences with conventional mds and infectious disease. If there isn't a straight up lab confirmation dx of infection they refuse to even consider the possibility of infection in a person of my societal background. Especially parasitic infection, then their alarm bells go off and they go straight for the psychiatric angle on you. I understand their thinking, I mean, I worship at the altar of science, logic, and reasoning but I wish doctors would think more outside the box for chronic cases of illness like mine.

I've lived a long time with chronic illness and pain and I was finally diagnosed via Fry Lab Test with protomyxzoa (granted not FDA approved or acknowledged by scientific community so skepticism is warranted here) but abx and anti-parasitic treatment for this possible illness has helped a lot and is giving me my life back.

I ask these drs how could I have improved so much on an anti parasitic protocol if there is no infection within my body?

Placebo. This is what they tell me.

Until the science bears out our patient experiences and can accurately reflect that there is a specific chronic infection in our bodies there will be no acknowledgement from mainstream mds. I suppose I understand that, it is part of their training to follow a strict pattern of reasoning, evidence, and science-based approach. But when you are dealing with chronic illness and are not receiving any help I believe they shouldn't be so lazy or dismissive of patients and be willing to explore more angles. But I suppose they also face liability issues from taking "risks" in treatment.

I don't really fault the mds, most are honestly trying their best, but I just wish things were different and that they could have provided more help for me.

Btw summer I'm truly sorry to hear about your experiences. My thoughts go out to you.

---

Posts: 30 | From Phoenix, AZ | Registered: Nov 2014 | IP: Logged |

Keebler
Honored Contributor (25K+ posts)
Member # 12673


posted

---

-
sebreg,

Sorry you got that "placebo effect" tossed in your face. I hope you can walk away from that kind of punishing attitude. It's not what anyone needs in a doctor.

You say that you "don't really fault the mds, most are honestly trying their best . . ." (end quote.

Actually, it IS their fault, to a huge degree, and should be fully held responsible at the level of the IDSA who just reject the truth about chronic lyme / TBD.

As for the doctors further down the chain, still, they get paid for being half*** doctors even if they are ignorant about lyme / TBD.

I can only be so understanding and it does not reach that far as to let them off the hook to remain ignorant - but I do know some of them are bullied themselves by the IDSA and they have their own bills to pay.

So . . . . but back to those at the helm who set the tone at the IDSA and all the ID doctors so entangled in that web:

I've never really looked into the abuse tendency of SOME doctors but this may not be all about lyme as much as their abusive attitude and general disgust of patients with complex cases. But that's a whole other side of sickness.

The IDSA certainly does seem to harbor terribly ill tendencies toward a group of people, though. Whether it's bred into them, brain / personality damage from lack of sleep in med school

or somehow those who are abusive and dismissive in nature find a haven in this group, who's to say but it just seems that there is very deeply rooted to hate those who are really ill.

And, of course as the film "Under Our Skin" points out they have big money on NOT treating lyme.

I don't think you read my post like this yet

To be clear, I was not encouraging us learning how they think so that we could not be "difficult" or fit in, be the "good" and docile patient and have them work with us. Those kinds of doctors are best avoided by those with lyme / TBD.

We can learn about how their business constraints may make it harder for them, and be understanding of that for those who might wish they had freedom to learn more and be better for those with lyme.

But, mostly about the ones who are just determined to be personally dismissive / medically abusive,

if we can learn to identify and understanding their (flawed) thought / judgment / patient put-down process we are all the better place to know enough to walk away and just keep going

until we find the real doctor who have learned more about lyme / TBD and who actually want to help those dealing with the harsh realities of it.

My heart just sinks each time someone has to post they need help, treatment was denied, etc. I wish we could all have better identified so much sooner the bad doctors so that damage might not have happened.

Of course, then there's the sheer (word?) of not being able to afford the good doctors / treatment . . . the huge puzzle of "how, then . . . what's else?" to figure out, etc.

Words just escape me.
-

[ 03-12-2015, 08:06 PM: Message edited by: Keebler ]

---

Posts: 48021 | From Tree House | Registered: Jul 2007 | IP: Logged |

A.G.
LymeNet Contributor
Member # 44713


posted

---

Have you had iv lyme treatment? I had a horrible time on orals but somehow am tolerating iv (corrected)better???

Are there any programs that could help Summer with this treatment if it were needed and $ were an obstacle as it is when ins won't pay.

[ 03-12-2015, 09:55 PM: Message edited by: A.G. ]

---

Posts: 115 | From US | Registered: Sep 2014 | IP: Logged |

TerryK
Frequent Contributor (5K+ posts)
Member # 8552


posted

---

Summer - so sorry for your heart issues.

I'm a bit mystified because heart block is one of the FEW complications that main stream medicine acknowledges. http://www.cdc.gov/lyme/signs_symptoms/lymecarditis.html

The cdc admits it is a complication of lyme disease and can be very serious.

I'd dig up as much information from main stream and make sure my doctor understands that this is a well known and accepted complication of lyme.

Terry

---

Posts: 6281 | From Oregon | Registered: Jan 2006 | IP: Logged |

sebreg
Member
Member # 44928


posted

---

Keebler thank you for your thoughtful responses. I completely agree, we need to educate ourselves, not so that we may be submissive docile patients, but so that we can accurately assess whether doctors will make honest good faith efforts to truly help us. And if they won't we just thank them and go on our merry way to find someone who will work with us and try to truly help us.

It never ceases to amaze me how chronic illness is treated by many doctors. Many are compassionate to a certain degree, but they just tell me I will get better over time, I am young and healthy looking but have had so much pain and fatigue for years upon years, sitting and waiting is not fair to myself, I already tried that and all it got me was years of bedridden quality of life.

I suppose they see a healthy young man so if he is complaining of terrible pain/fatigue a large degree of it could be psychological. Plus I imagine most mds practice a certain factory style medicine, you have A, then you treat with B. Chronic illness is never so easy and simple and requires much more nuance, experimentation, and critical thinking.

I was truly lucky in certain respects, after years of no help from medical establishment I was randomly referred to Dr F here in ***** from a friend of ours. I went to Dr F as a favor to them, I was honestly so sick of seeing doctors, but he is the one he brought me back from the dead. I'm not saying he is the greatest ever, different people have different things to say about Dr F, but he has really helped me and I would be stuck at 0 without him.

I'm just always so surprised at how pedestrian drs thinking can be on these chronic illness issues. They refuse to listen to patients, and be open-minded. I understand that it is easy for patients to develop crackpot theories, but many of us have been sick for years with some sort of chronic infection, which is causing real damage.

And there is so much arrogance on the mds part, I mean there is still so little we know about the body and infections, lots of infections and genetic variations we can't even test for, so many times these things won't show up in tests. I mean, your patient has 0 quality of life, what is the risk in trying an unconventional treatment like abx, or anti-parasitics if the patient is willing to assume this risk of treatment?

obviously I'd rather work with an md who has lots of experience in chronic cases, as, even if a general md would be willing to prescribe these treatments, I wouldn't trust them enough in their knowledge for course of treatment and long-term strategy.

I have gone thru periods of anger in regards to this issue of lack of help from medical establishment, I experienced a lot of preventable suffering, $ spent, effort wasted, time "lost", but I have to try and be as peaceful and compassionate as I can as ultimately the anger only hurts myself and those around me. Sadly, I imagine if I were an md I would probably think along their same lines.

But this experience has opened my eyes, I still respect the profession greatly, but you have to see that there are limits and that you have to find the right open-minded critical thinking md that you can work with (sadly that is easier said than done, finding the right dr can be exhausting, having funds to pursue this angle can be an impediment, even having enough health to go out and see drs!, etc).

And instead of anger I have to try and focus my energy on the fact that I'm improving and getting better, finally found a doctor who has helped me, and find joy and gratitude for that. That said sometimes I just feel that these nerds deserve a good punch in the face

Thank you all for listening, it is very helpful being able to talk about this issue especially with those of you who understand and have been through this. But I'm so sorry you have had to experience it.

***edited city of LLMD per LN rules***

[ 03-13-2015, 11:00 AM: Message edited by: Lymetoo ]

---

Posts: 30 | From Phoenix, AZ | Registered: Nov 2014 | IP: Logged |

sebreg
Member
Member # 44928


posted

---

oops sorry about including the city of doctor, thanks for editing my mistake

And sorry Summer for hijacking this thread with my issues. Hope we can hear back from you, hang in there hope you are doing better.

---

Posts: 30 | From Phoenix, AZ | Registered: Nov 2014 | IP: Logged |

TerryK
Frequent Contributor (5K+ posts)
Member # 8552


posted

---

Summer - After looking around at various guidelines and journals I see that mainstream "wisdom" states that 3 weeks of abx typically cures the infection even once it has settled in the heart tissues.

So frustrating that even this manifestation warrants the standard inadequate treatment.

There is no excuse for a cardiologist not considering lyme when you have been exposed. I would guess you would have to be CDC positive to warrant IV treatment though.

So sorry you have to deal with this.

---

Posts: 6281 | From Oregon | Registered: Jan 2006 | IP: Logged |

Summer3
Frequent Contributor (1K+ posts)
Member # 35286


posted

---

I am not doing substantially better after the pacemaker. My pacing percentage is at 100%. My ventricular pacing percentage (a measure of heart block/how long my heart is stopping in a day is over 2 hours per day now and increasing at each check).

I've still never had IV abx or been offered them despite a positive Lyme test (CDC positive in 2011 via Igenex) and documented heart block plus severe autonomic dysfunction and a neurologist verifying small fiber neuropathy "likely from Lyme."

Don't know what I'm going to do. Trying to see if I can find a source for cheap vials of Rocephin to do it IM.

--------------------
http://www.lymepie.blogspot.com


---

Posts: 1129 | From USA | Registered: Dec 2011 | IP: Logged |
Contact Us | LymeNet home page | Privacy Statement

© 1993-2020 The Lyme Disease Network of New Jersey, Inc.
All Rights Reserved.
Use of the LymeNet Site is subject to the Terms and Conditions.

Powered by UBB.classic™ 6.7.3

---
The Lyme Disease Network is a non-profit organization funded by individual donations. If you would like to support the Network and the LymeNet system of Web services, please send your donations to:
The Lyme Disease Network of New Jersey
907 Pebble Creek Court, Pennington, NJ 08534 USA
http://www.lymenet.org/
---
Home | Flash Discussion | Support Groups | On-Line Library
Legal Resources | Medical Abstracts | Newsletter | Books
Pictures | Site Search | Links | Help/Questions
About LymeNet | Contact Us
---
© 1993-2020 The Lyme Disease Network of New Jersey, Inc.
All Rights Reserved.
Use of the LymeNet Site is subject to Terms and Conditions.
---