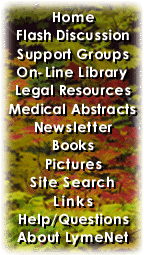 ---
LymeNet on Facebook
LymeNet on Twitter
---
---
The Lyme Disease Network receives a commission from Amazon.com for each purchase originating from this site.
When purchasing from Amazon.com, please
click here first.

Thank you.




Dedicated to the Bachmann Family


LymeNet needs your help:
LymeNet 2020 fund drive

The Lyme Disease Network is a non-profit organization funded by individual donations.

| | |
| --- | --- |
| | |
Author
Topic: dental dilemma

Ellen101
Frequent Contributor (1K+ posts)
Member # 35432


posted

---

It has been awhile since I have been on here as thankfully I have been feeling really good. I recently visited a new dentist. I have a back tooth that broke and previously had a composite filling in it as the dentist I was using no longer used amalgam.

This new dentist is advising to fill it with amalgam as composite will not hold on a molar long term, as I now know. She is concerned also about putting a composite material in so close to the nerve as it is very deep. She feels if I go this route I will most likely need a root canal or lose the tooth.

She is advising the placement of a medication then amalgam. I expressed my concern about mercury which she seemed to be well versed about. While she understood my concern she also shared with me the equally concerning effects of composite materials. She feels there is a place for amalgam and does ffel some of the literture circulating is over blown.


According to her many in her field have profited from this which bothers her immensely. I am now on the fence as to
how to proceed...

---

Posts: 1747 | From United States | Registered: Dec 2011 | IP: Logged |

Keebler
Honored Contributor (25K+ posts)
Member # 12673


posted

---

-
I've had composite fillings on 4 back molars for over 15 years and they are doing just fine.

The integrity of that tooth and other details are not the same, of course, but it just seems very curious that she is so concerned about composite near a nerve but not mercury.

Can you connect with the leader of your area lyme support groups to see what dentists may be serving well those in the group(s)?

A second opinion seems a good idea. And, as far as I'm concerned any dentist that that "feels some of the literature [about mercury] is overblown" would not be a dentist I would want.

And, even if she agrees, I would not TRUST her to do composites correctly. They are very tricky to do, much harder and she just may not want to take that extra time and effort for your health.

She may not get the same reimbursement from insurance for composite fillings. I know my dentist does not. Still, she refuses to have mercury in her office anymore.

And . . . even if composites may not be as strong (but who's to say she's right about that) . . . it's not like you could not learn not to crack ice or river rocks with your back teeth, eh?

I do not put a lot of pressure on back teeth as the soft tissue in my mouth is just so painful that I stick to mostly softer foods that won't stab me. But you could learn which foods not to chomp down on, just to be on the cautious side.

When I had some bonding done on a chipped front tooth decades ago, dentist told me just not to bite with that front tooth. Easy to follow those instructions.
-

---

Posts: 48021 | From Tree House | Registered: Jul 2007 | IP: Logged |

Ellen101
Frequent Contributor (1K+ posts)
Member # 35432


posted

---

She actually has no problem doing composite if that is what I want but wanted me to be aware of the risks. The amalgam would not be near the nerve as she would be applying a medicated material near the nerve. Unfortunately she cant do this with the composite.
Yes I am sure they last on some molars but a lot may depend on the too th structure. Unfortunately mine is not in good shape.
As she put it she would obviously make more money if she only did composites as well as advocated for the removal and replacement of all amagams but she feels that is wrong.

I feel just like with lyme there is a lot of controversy in dentistry as well. I do look at my elderly friends/relatives that have had nothing but amalgam fillings with no health issues to speak of.

---

Posts: 1747 | From United States | Registered: Dec 2011 | IP: Logged |

Keebler
Honored Contributor (25K+ posts)
Member # 12673


posted

---

-
Well, you do have a point here: "I do look at my elderly friends/relatives that have had nothing but amalgam fillings with no health issues to speak of. "

But once a person does suffer such damage, all bets can be off.

I wonder how a medication under an amalgam filling can last there for the entire time of the filling, though? Or maybe the medication is to help save the root, and that would sure help.

Good luck with whatever you decide.
-

---

Posts: 48021 | From Tree House | Registered: Jul 2007 | IP: Logged |

Keebler
Honored Contributor (25K+ posts)
Member # 12673


posted

---

-
News reports tonight of Botulism from potluck food with a group in the Midwest. The doctor at the hospital spoke to how the toxin from the infection "attaches itself to nerves" -- twice used that term.

Apparently, there is an antidote of sorts for botulism if gotten in time before the "toxins attach themselves to nerves"

Well, it would be nice were there to be some kind of antidote for lyme and the toxins are similar in severity . . . but here's what has me thinking about how once nerves are infected . . . then things that might not bother others can really bother those whose nerve fibers have been attacked by toxins.

And, in the case of many with lyme, that fight is rather on-going so we may not have the same wiggle room as other people.

This is just one reason that I wish ALL doctors, dentists, health professionals were really lyme / TBD literate. Because lyme changes so much about how a body works (or does not, or at least not as expected).

Just thinking.

Beyond that, or maybe within that, we know that lyme can destroy both myelin sheath and mitochondria. Both affected may also be why mercury could then be more of a risk.
-

---

Posts: 48021 | From Tree House | Registered: Jul 2007 | IP: Logged |

Brussels
Frequent Contributor (5K+ posts)
Member # 13480


posted

---

Ellen, in my opinion, I would try to be away from amalgams as the devil.

I had 13 amalgams, started putting them at the age of 7, thanks dentists.

I do think that MANY health, immune problems, digestive problems came from amalgams.

I took them all off during lyme. A bit like 'them' or 'me': that was what my doctor explained (and the naturopath).

Dr. K. sometimes has to ask patients: do you want to live? Or do you prefer to keep your amalgams and your dead teeth?

They have to go out, never in. You may lose the tooth, but I swear that amalgams will go through the tooth to the root, to the gum, by chewing to your stomach, GI tract, liver, then kidneys, by breathing to your brain.

I had 7 dead teeth. Some died when I was young, due to deeper cavities. The rest died due to root infection. I do think that amalgams were the main culprit. They made my whole jaw weak, I have both jaws full of CAVITATIONS, meaning, bone infection.

I lost some teeth from infection, that came from root out. And my whole jawbone, is not healthy, but full of imperfections, due to bone infection that starts by the root of teeth.

I blame amalgams for that. Great part, amalgams!

Then during lyme, I started taking chlorella, to take off heavy metals. And realized, that my chronic gastritis went away. I had chronic gastritis for about 20 years (since age of 13...).

Thanks again, to amalgams. I only discovered that, because my gastritis vanished when I started chlorella!!! Vanished for good, til today.

My daughter is born full of mercury. Where does it come from? With that, so many allergies. Lyme disease, TBE, problems of mineral absorption.

Had I known that mercury is such a big poison, I would never have left these dentists do what they did. But they simply do, as though mercury was inoffensive.

My life has been a fight against candida, for the last 30 years. Candida has the same symptoms of lyme, it affects so many parts of your body. And I swear, they are HARDER to eliminate than borrelia.

Read about borrelia and mercury, candida and mercury, immune problems, hormonal problems. You will give a second thought about putting this powerful poison in your mouth. First thing I would do, run away from that dentist.

That is just my opinion. How did my daughter got so much mercury inside her, since birth? I gave that to her. It means, my body was full of it. Loaded.

---

Posts: 6196 | From Brussels | Registered: Oct 2007 | IP: Logged |

Judie
Frequent Contributor (1K+ posts)
Member # 38323


posted

---

See my posts here:

http://flash.lymenet.org/ubb/ultimatebb.php/topic/1/131624

I actually agree with your dentist. You may be able to do something like fleck's cement and zirconium.

If you can find an old-school dentist who does gold foil, that's really the best.

Composite gave me more problems that I could ever imagine.

---

Posts: 2839 | From California | Registered: Jul 2012 | IP: Logged |

hadlyme
LymeNet Contributor
Member # 6364


posted

---

Whoooaaa....

I know dentistry, and I know all the materials they use with fillings... composite or alloy.

She CAN use the same medicated layer on the tooth first AND then place the composite material!

All dental materials are made for inter usage with the bonding strengths and bonding to each other.

If anything, the materials that need to be placed closer to the 'exposure' are more likely to bond BETTER with the composite fillings.

Sounds like she has OLDER types of materials if she's saying it works better with alloy/amalgam!

I would maybe get a second opinion.... I know it might cost, but, really, it's your mouth and yes, molars with a prep close to the nerve (exposure) can be built up with composite and still be strong.

Yes, amalgam IS stronger to it's defense. And yes, we don't know the long term effect of putting all those layers of bonding agents and basically plastic in our mouths yet. Time will tell.

--------------------
Lyme, Babs, Fry Bug..... Whatever it is, may a treatment be discovered to make us all whole again!


---

Posts: 941 | From AZ-MT | Registered: Oct 2004 | IP: Logged |

LisaK
Frequent Contributor (1K+ posts)
Member # 41384


posted

---

Hmmm, I don't know. but i broke my back molar a couple years ago right in half and they dentist filled it with the white composite. I have had no issues. maybe you should get another opinion.

--------------------
Be thankful in all things- even difficult times and sickness and trials - because there is something GOOD to be seen


---

Posts: 3456 | From Eastern USA | Registered: Jul 2013 | IP: Logged |

Ellen101
Frequent Contributor (1K+ posts)
Member # 35432


posted

---

I have an appt on Monday and I will need to go over things again. It was a lot of info to take in and I think I may have misunderstood a few things she said.

I may be confused as to what can be used together etc. I know in the end she did say she will proceed in whichever way I would like her to,just wanted to point out the pros and cons of both, which I appreciated.

Brussels your daughter was born full of mercury? I have never heard of that. How did they determine that?

While it would be great to assume my health issues were due to amalgams in my mouth I honestly don't believe that is the case.

---

Posts: 1747 | From United States | Registered: Dec 2011 | IP: Logged |

Brussels
Frequent Contributor (5K+ posts)
Member # 13480


posted

---

We did the EDTA or DMPS (I'm not sure which) : then checked her urine for heavy metals.

Later, we only used energy testing. As always, heavy metals were her main issues.

She got from me, as heavy metals were (and still are) one of my main problems.

Dr. K. has been trying to clean patients and himself from these heavy metals, and believe me or not, every time he starts something new (on himself even!!), metals will pour off again and again (ex: KPU protocol).

It means, even he doesn't know how to eliminate heavy metals for good. Even he is still learning (as the KPU is a new protocol he started recently, in the last 7 years....).

Few things I wouldn't play around: one is heavy metals; second vaccines; third electrosmog in excessive amounts.

I wonder if anyone knows how to deal with these 3 topics well and solve problems when they appear later....

I guess we are all learning, and spending our lives, money, energy to try to solve damage from these 3 things.

If you check about 'breast milk' and 'mercury' you will find some info.

This info comes from dr. K's site:
------
Intrauterine problems:

Toxicity: during pregnancy and breastfeeding large quantities of toxins, up to one third of the mothers total body burden, are passed on to the fetus.

Dental practices should warn mothers not to have mercury containing silver amalgam fillings placed during pregnancy.

We know that a filling outgases 50% of its high mercury content over the first seven years of its existence.

But, what about the mothers that have fillings?

Fillings should, ideally, come out before conception. If the mother is already
pregnant, the fillings can be safely removed, provided they are removed by the few dentists that know how to do it correctly (trained by IAOMT).

The mother's body uses the unborn baby as a garbage can.

Nature always favors the survival of the elders over the young ones. It is absolutely important and correct to attempt to detoxify a mother during pregnancy rather then accepting the risk of not detoxifying her.

I use chlorella, NDF, electric foot baths and other safe treatment protocols to pull toxins from the mother's blood without interfering with nutrient transport or uptake.
------------

That is how she was born, then breastfed with my mercury and lead, plus vaccinations she got before I knew about that all.

She got fully allergic to wheat, cow milk, many fruits, nuts and products. No way to give her chemicals (ready made foods), preservatives, additives, colorants, etc. She would react with strong skin inflammation, or mouth inflammation and tummy pains, since the age of 10 months.

We tried continuously to treat her, following dr. K's protocols, and arrived to eliminate some load of toxins. But she is still allergic to many things, her immune system is very weak, her bones were weak, her nails stopped growing at the age of 5 or 6 (till now, she is 11!!).

She got all lyme infections, even TBE, very bad. We eat only 95% organic, I cook almost every single meal, I know all ingredients that she is ingesting. We avoid electrosmog, white sugar, we did loads of heavy metal chelation protocols, it's like we, never stopped. It's a life of treatment.

My gastric problems (lasted at least 2 decades) disappeared almost completely the day I started on high doses of chlorella.

No doctor could find out the problem, they always came with different diagnosis, lactose, gastritis, bacteria, etc. Nothing could relieve my pain (except for constant acupuncture).

I know so many people who have almost my same story, meaning, chlorella ends up with their digestive problems or pains, that I do wonder, if they were not all contaminated. These people become fans of chlorella, like myself.

Just see lymenet. I am here long enough to know that EVERY SINGLE person will suffer with candida at a point. And many will have such problems (like myself) and not be able to get rid of them, for DECADES.

Google candida and heavy metals, you may find some stuff too.

In my mind, if virtually all lyme patients suffer from candida (even the people, like myself, that barely took any antibiotic), what are the common causes of such infectious diseases?

---

Posts: 6196 | From Brussels | Registered: Oct 2007 | IP: Logged |
Contact Us | LymeNet home page | Privacy Statement

Powered by UBB.classic™ 6.7.3

---
The Lyme Disease Network is a non-profit organization funded by individual donations. If you would like to support the Network and the LymeNet system of Web services, please send your donations to:
The Lyme Disease Network of New Jersey
907 Pebble Creek Court, Pennington, NJ 08534 USA
http://www.lymenet.org/
---
Home | Flash Discussion | Support Groups | On-Line Library
Legal Resources | Medical Abstracts | Newsletter | Books
Pictures | Site Search | Links | Help/Questions
About LymeNet | Contact Us
---
© 1993-2020 The Lyme Disease Network of New Jersey, Inc.
All Rights Reserved.
Use of the LymeNet Site is subject to Terms and Conditions.
---