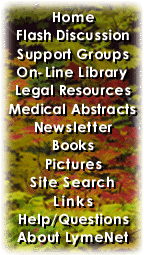 ---
LymeNet on Facebook
LymeNet on Twitter
---
---
The Lyme Disease Network receives a commission from Amazon.com for each purchase originating from this site.
When purchasing from Amazon.com, please
click here first.

Thank you.




Dedicated to the Bachmann Family


LymeNet needs your help:
LymeNet 2020 fund drive

The Lyme Disease Network is a non-profit organization funded by individual donations.

| | |
| --- | --- |
| | |
Author
Topic: Please help: joint injuries from electricity????

zeitgeist
Member
Member # 17280


posted

---

My lab test from Igenix in 2008 showed a positive result for Lyme Disease. I took doxycycline in 2008 for 6 weeks.

When I went to a well-respected alternative doctor, he said that my positive Igenix test results were a "false positive", and that the test read the way it did because of "mycoplasma". So this doctor gave me some Myers protocol IV treatments based on my high Epstein-Barr virus antibodies.

I went to a new family doctor who I found out about from a girl I met on this site who lives in my area.

Within the last couple years, my family doctor chose to test himself for Lyme Disease with Igenix, and he found out that he has Lyme Disease as well. This doctor believes very strongly in herbs, so I started the Byron White herbs for a while, then recently I was put on different herbs: "Researched Nutritionals BLt Microbial Balancer #1" and "Researched Nutrionals Crypto-Plus Microbial Balancer #2".

These new herbs are what I am taking for both Lyme Disease and Babesia (which I didn't test positive for, but my doctor thinks I have symptoms of).

Last year, this family doctor sold me a Harmonic Quad machine to fight the Lyme Disease bacteria. This machine had a preset frequency pattern that could not be be changed. The more I used this device, the more my left thumb started to hurt. I was supposed to hold with both hands the two metal rods that came out of the unit. I tried putting those rods under my armpits or behind my knees or in my socks, but my left thumb still hurt.

That was injury #1 from electricity. Now I'll tell you about injury #2 from electricity.

I have really bad insomnia, anxiety, depression, and joint pains. While I was browsing the internet one day, I came across a device called the Fisher-Wallace Stimulator. It supposedly treats insomnia, anxiety, depression and pain. Has anyone heard of this device? It is battery-powered.

I used the Fisher-Wallace Stimulator on my temples as the instructions indicated for anxiety and insomnia, and I felt an immediate calm when I put the wet sponges on my temples and turned the electricity on. The instructions are different however when using the device for pain. Then you put one wet sponge on the back of the neck, secured with a strap, while the other wet sponge goes on the part of the body with pain. For me that was my left foot.

After I used the unit for pain, immediately I felt like something was wrong with my neck. It didn't hurt while the machine was on, but it certainly did after I turned it off. That pain has now lasted about 3 months, and I have been trying everything I can think of to reduce this awful pain, tightness, stiffness, aching.

I have been to my chiropractor many times now for this neck injury, and I do have a brilliant chiropractor. Every time I go, my neck and shoulders are very stiff and tight and pop loudly during his adjustments. I also get neck and lower back traction/decompression at his office.

On top of that, my husband bought an ultrasound machine like they use in physical therapy, and he uses that on my neck and shoulders almost every day, sometimes even twice a day. My neck has literally never felt this bad, even when I suffered from whiplash 10 years ago in a car accident.

A chiropractor I was seeing at the time for the whiplash suggested I try soft-sided hyperbaric oxygen chamber therapy. The whiplash injury did get slowly better from HBOT, chiropractic, and osteopathy.

The problem is, right now what I'm doing so far is not working to heal my incredibly sore neck and thumb. Of course I am no longer using either of these electrical devices.

My doctor thinks that maybe these electrical devices have somehow "stirred up the Lyme bugs and made them angry" (I'm paraphrasing, not his exact words) and that's what's causing my problems.

What do you all think I could try now for my injuries? Has anyone else heard of this type of injury? Would it be worthwhile to try HBOT again (it's quite expensive, and insurance does not cover it)?

Please someone give me some comfort, because I'm suffering so bad right now. I am so glad we have a forum where we can discuss things like this and also exchange ideas.

Thank you,
Zeitgeist

---

Posts: 44 | From Indianapolis | Registered: Sep 2008 | IP: Logged |

canadianmama
LymeNet Contributor
Member # 36298


posted

---

Darn, it does sound like the machine you used wasn't a fit for you.

My GUESS, (sorry for the caps just being clear):

The electricity worked a bit like a rife machine and killed a huge number of bacteria in your neck all at once.

Lyme loves necks, especially previously injured ones. This sudden load of toxins are causing nerve pain.

My thoughts for you:

Detox packs on our neck as well as a great internal detox protocol

If you can HBOT would be very helpful to help with the nerve pain.

Vit B for nerve healing too.

Do more research on Ultrasound machines and their potential impact on Lyme.

My son was injured by a electric device used by a "holistic allergist"
Unfortunately it set a new low point base line that took lots of detox and Lyme treatment to recover from. But he did!

Be careful with how many chiro adjustment you get it is your Chiro well versed in Lyme disease? It could be doing more harm then good even if it feels good at the time.

Healing will happen, keep on with your doctor and the herbs, IMO.

All the best!

---

Posts: 372 | From british columbia | Registered: Feb 2012 | IP: Logged |

Brussels
Frequent Contributor (5K+ posts)
Member # 13480


posted

---

Another GUESS, for neck, at least:

places with injuries (serious injuries) can cause problems for life unless the 'scar' or interference field is treated properly.

Possibly the machine unlocked the scar /injury, or started treating the scar, and then a pandora box will be open. It can be good, though, if it is that...

Dr. K., after treating a scar, will expect patients to collapse. Treating ancient injuries needs proper following, I feel.

Some of the devices can also activate older infections, specially if they flush toxins present in the area. Long term, if that is your case, that can be good.

but who knows what happened...?! I usually use energy testing to figure out. I know that some currents are not good for me, at certain moments, and then I avoid such currents (even a TENS machine!). Sometimes, they test good, and I go for it, even though, it can open a pandora box.

I suspect that when the pandora box is too big for me to deal with, the energy tests say 'no', as my body could be too weak to deal with it.

Anyway, I hope you find a solution for pain.

I've been using different devices for very long. When toxins are pulled off, they are extremely painful sometimes (specially in any joint). I can be literally crying, when I feel my knees are detoxing badly.

It happened with chelators or infrared. When such toxins go out, finally, and I took proper binders so that they don't just circulate, the joint gets slowly better again (gain strength and get painless).

but infections also cause joint pain, so it is difficult to know what causes what (unless you get someone to test you...)

Crossing fingers your pain is already better.

---

Posts: 6196 | From Brussels | Registered: Oct 2007 | IP: Logged |

D Bergy
Frequent Contributor (1K+ posts)
Member # 9984


posted

---

I would try DMSO on the afflicted area. Sometimes an area gets into an inflammation cycle and breaking the cycle brings it back to normal.

Dan

---

Posts: 2916 | From Minnesota | Registered: Aug 2006 | IP: Logged |

Lymetoo
Moderator
Member # 743


posted

---

I would try upping high quality magnesium in the diet .. even epsom salt baths or foot soaks each night. Use magnesium oil on affected areas.

If your skin is too sensitive for it, dilute it 50/50 with distilled water and spray it on the neck area. Sure helps me.

--------------------
--Lymetutu--
Opinions, not medical advice!


---

Posts: 94976 | From Texas | Registered: Feb 2001 | IP: Logged |

Keebler
Honored Contributor (25K+ posts)
Member # 12673


posted

---

-
With time, and laying off of such shocks to your system (yet still absolutely addressing lyme / TBD), you will feel better. It may take some time, though.

Others' replies here are very good. I think you likely have many different reasons for the reactions.

From my own disasters with various "micro-current" and some electrical stimulation machines in some PT offices -- long before I know what was going on with me . . . I simply offer you how I made sense of my walk though a similar neighborhood - even if long after the fact.

Now, some kinds of machines may give very MILD pulses - and those may be just fine. That does not sound like what you describe and not what I'm talking about here, either.

Dr. B's guidelines specifically say for PT, NO ELECTRICAL STIM

I'll see if I can find that but it would be later.

I wish I had known that long before I had several "microcurrent" machine sessions similar to what you describe. This approach really clobbered me in many ways.

Later, learned:

Spirochetes HATE vibration. Some of these machines that do electrical pulses can just send the spirochetes into a panic, setting off more toxins, and burrowing deeper & also going into their protective cyst form.

This is one consideration.

Also that the myelin sheath is often not "there" or not very thick or has literal holes in it. And when nerves are hit with electrical pulses, they just don't have the insulation they need.

Adrenals can also take a severe hit with such devices.

Be absolutely positive any chiropractor who touches you is LL - so as to know NEVER to suddenly twist the spine or neck. With lyme, the spine can be very inflamed and lots of damage can occur if suddenly twisted. Spirochetes also really hate that and will go haywire.

there are some machines that are of help such as rife machines and some very "low impact" massages, perhaps. Still, IMO, ONLY someone very much LL should be guiding treatment with these as so often only very short treatments are safe.

The first times I had rife treatment, the practitioner was nearly clueless as to the complexity of lyme and just did all kinds of frequencies for a full hour. Disaster. But I had no idea then there was method to follow.

As for ultrasound, be sure you have someone certified training to guide you - and be sure not to get too close to spine or brain. Ultrasound can be too strong, too, so just be sure to have someone who has the best training in this to guide you.
-

[ 05-05-2015, 05:46 PM: Message edited by: Keebler ]

---

Posts: 48021 | From Tree House | Registered: Jul 2007 | IP: Logged |

Keebler
Honored Contributor (25K+ posts)
Member # 12673


posted

---

-
Re: Dan's suggestion for DMSO - has be very helpful for many. My skin got very irritated, though, but many do fine with it. I think I left it on for too long or did not have the right kind of lotion to wipe it off. Also likely that the strength was too much for my skin. All that can be worked out.


Follow up to LymeToo's suggestion, often magnesium deficiency can make our muscles contort, spasm, and twist us like the finalist in a human pretzel competition.

SO many ways this can help:

http://flash.lymenet.org/scripts/ultimatebb.cgi?ubb=get_topic;f=1;t=123746;p=0

Topic: MAGNESIUM - Informational Links set


http://flash.lymenet.org/ubb/ultimatebb.php/topic/1/89790

Topic: NATURAL SLEEP & ADRENAL SUPPORT
-

---

Posts: 48021 | From Tree House | Registered: Jul 2007 | IP: Logged |

Keebler
Honored Contributor (25K+ posts)
Member # 12673


posted

---

-
Here's that excerpt, with "electrical stim" being electrical stimulation, one would suppose.

http://www.ilads.org/lyme/B_guidelines_12_17_08.pdf

ADVANCED TOPICS IN LYME DISEASE DIAGNOSTIC HINTS AND TREATMENT GUIDELINES FOR LYME AND OTHER TICK BORNE ILLNESSES

Sixteenth Edition - October, 2008

Joseph J. Burrascano, Jr., M.D.

Page 32 - Rehab - Physical Therapy Prescription

Physical Therapy (if needed)

. . . #2 . . . DO NOT use ice or electrical stim unless specifically ordered by our office. . . .
-

---

Posts: 48021 | From Tree House | Registered: Jul 2007 | IP: Logged |

Keebler
Honored Contributor (25K+ posts)
Member # 12673


posted

---

-
MASSAGE can be very helpful. Find someone who is very much LL, of course, so they understand some basics and will work with you, as you need. I found massage so much better than any other approach - for adjunct physical comfort, that is.
-

---

Posts: 48021 | From Tree House | Registered: Jul 2007 | IP: Logged |

GretaM
Frequent Contributor (1K+ posts)
Member # 40917


posted

---

Great insight from others.

I get zapped every once and a while in my job, and the following weeks afterwards are really bad. I think this is because it irritates and already irritated central nervous system and peripheral nerves.

It could be because it kills the buggers too, but for me I think it is because it irritates already irritated nerves.

Sorry you are going thru this.

---

Posts: 4358 | From British Columbia, Canada | Registered: Jun 2013 | IP: Logged |

Catgirl
Frequent Contributor (5K+ posts)
Member # 31149


posted

---

Both babesia and lyme love the neck.

Agree with what Canadianmama said, too much killing, so toxins may be stuck there, you may need something for drainage (red root, burdock root, garlic) and even some serrapeptase to help clean it out. You can also try taking more fish oil. Hot wraps help too.

--------------------
--Keep an open mind about everything. Also, remember to visit ACTIVISM (we can change things together).


---

Posts: 5418 | From earth | Registered: Mar 2011 | IP: Logged |

zeitgeist
Member
Member # 17280


posted

---

Thank you for all the help, the insight, and the useful tips.

Since I seem to have inadvertently killed some spirochetes by using my two electronic devices, now how do I get rid of the build-up of toxins and bodies of bugs?

I have heard people talk about "binders". I am taking chlorella, and I heard that charcoal is also a binder, but I've heard a doctor on TV mention that charcoal depletes your body of vitamins, minerals and prescription medications. So that makes me afraid of it.

My husband just installed a far-infrared sauna in our basement, but I haven't used it much yet. Would this help me detoxify with my neck and thumb?

I have already started taking Magnesium citrate. I took 600 mg in one day and it seemed like that was too much. I could take an epsom salt bath, however my neck would not get much soaking because I can't really get my neck under the water in our small bathtub.

I have used coffee enemas in the past to help my liver work better. Maybe those could help now; I'm not sure.

Suzanne Sommers says there is something called glutathione patches and cream. Does anyone know about this?

In a catalog I get, there is a something called a Bio-Energizer detox spa for $65 (the foot-bath type). Has anyone used this type of device? Or is this the type of electrical device I should stay away from right now?

Anyone have any experience with accupuncture or homeopathy? If anyone can think of any other ways to detox I am willing to listen to your suggestions.

Thanks so much for your input!

---

Posts: 44 | From Indianapolis | Registered: Sep 2008 | IP: Logged |

gz
LymeNet Contributor
Member # 43818


posted

---

Lemon water good for liver support. Also dandelion root, milk thistle, and NAC among others.

You can soak a washcloth in epsom salt solution and place around neck. Topical mag oil helpful for local applications.

Careful with sauna until you know how it will affect you. I was feeling great until I started FIR sauna, it seems to have stirred things up heavily for me (very unexpected!). The heat was still great pain relief though.

Red root helps me with drainage, dry brushing is good too. Coffee enemas help me detox better than anything else.

Hope you are feeling better soon!

---

Posts: 474 | From US | Registered: May 2014 | IP: Logged |

Catgirl
Frequent Contributor (5K+ posts)
Member # 31149


posted

---

Babesia (and lyme) love the neck, so you need to treat babs with more than just herbs. It is so hard to kill this co infection, IMO just herbs won't cut it, not even close.

I've used detox foot baths before, they are great for heavy metals and toxins, but not the neck, at least it never did anything for mine. Better to use drainers.

I would do what everyone said above (great advice from everyone). :)

--------------------
--Keep an open mind about everything. Also, remember to visit ACTIVISM (we can change things together).


---

Posts: 5418 | From earth | Registered: Mar 2011 | IP: Logged |

Donna Campbell
Member
Member # 52157


posted

---

Ohh man, i hope you are well, your story is...kind of terrible.

---

Posts: 41 | From Newark | Registered: Jul 2020 | IP: Logged |

Kylie
Member
Member # 52158


posted

---

Dude, that sounds really terrible, I mean, I have also suffered from Lyme, and I have a lot of friends who have also suffered from it, however, no one has ever faced such a situation. However I have read about some similar cases actually. As someone said above, mostly in this case the machine actually rediscovered the scar. After reading this kind of stories, I am really thakfull that my treatment went well. I remember reading on another forum, a guy was also taking this treatment. The machine actually had an short circuit, and he got some terrible injuries. The doctors actually stood in there trying to say that it was his fault. And made him call for the best and fastest electric works, so they would repair the machine. Nice treatment from the medical staff.

[ 12-09-2020, 10:38 AM: Message edited by: Kylie ]

---

Posts: 22 | From Kansas Kansas City | Registered: Jul 2020 | IP: Logged |
Contact Us | LymeNet home page | Privacy Statement

Powered by UBB.classic™ 6.7.3

---
The Lyme Disease Network is a non-profit organization funded by individual donations. If you would like to support the Network and the LymeNet system of Web services, please send your donations to:
The Lyme Disease Network of New Jersey
907 Pebble Creek Court, Pennington, NJ 08534 USA
http://www.lymenet.org/
---
Home | Flash Discussion | Support Groups | On-Line Library
Legal Resources | Medical Abstracts | Newsletter | Books
Pictures | Site Search | Links | Help/Questions
About LymeNet | Contact Us
---
© 1993-2020 The Lyme Disease Network of New Jersey, Inc.
All Rights Reserved.
Use of the LymeNet Site is subject to Terms and Conditions.
---