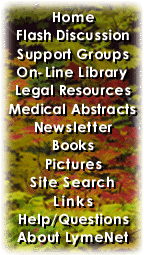 ---
LymeNet on Facebook
LymeNet on Twitter
---
---
The Lyme Disease Network receives a commission from Amazon.com for each purchase originating from this site.
When purchasing from Amazon.com, please
click here first.

Thank you.




Dedicated to the Bachmann Family


LymeNet needs your help:
LymeNet 2020 fund drive

The Lyme Disease Network is a non-profit organization funded by individual donations.

| | |
| --- | --- |
| | |
Author
Topic: Panicking. Thinking of going to the emergency room

Kate8989
Junior Member
Member # 46664


posted

---

I can barely type this. I am so nauseous from all the ABXs.

Since I started the meds, my brain fog has gotten even worse. Is that a herx reaction?

Above all, I have been going through bouts of severe depression and anxiety. I am taking doxy and cefdinir. I know I'm having side effects. I've never been so exhausted in my life. By 2 p.m., I'm pretty much unable to use my brain for the rest of the day.

I'm so frustrated and FINISHED with dealing with this disease. I know it may sound extreme, but I've never been so overwhelmed. I know I've had this disease for at least 5 years, and this is the first time I'm being treated.

The nausea from meds, the joint pain and feeling like I'm 90, the exhaustion and shortness of breath..the whole combo is making me nuts.

If I go to the emergency room, will they give me something to calm down? I'm really in bad shape.

---

Posts: 6 | From Nj | Registered: Sep 2015 | IP: Logged |

Lymetoo
Moderator
Member # 743


posted

---

Kate .. Are you taking the meds in the middle of a FULL MEAL and NOT lying down for at least an hour after taking them? (esp doxy)


This does sound like a herx, compounded by the effects of the doxy on your poor stomach.

Kate .. How many days have you been taking the meds? You need to call your LLMD and see about temporarily stopping them .. or at least backing off the amount until your bacterial load comes down a bit.

Moving to Medical Questions for more help.

--------------------
--Lymetutu--
Opinions, not medical advice!


---

Posts: 94890 | From Texas | Registered: Feb 2001 | IP: Logged |

Keebler
Honored Contributor (25K+ posts)
Member # 12673


posted

---

-
"If I go to the emergency room, will they give me something to calm down?" you ask.

No, they will not.

Call your LLMD's office and ask to talk with the nurse for an urgent matter. Ask about lowering the dose and what they suggest for your symptoms at this time.

Why that's better than the ER?:

Since lyme treatment is not "normal" in mainstream medicine. They will not understand the nature of the infection or what happens to a person's body with lyme and with treatment.

They will mark your file as "drug seeking" and label you with some kind of mental illness, anxiety or the like and then it will be harder to be taken seriously in the future for what is the underlying cause / reason for such overwhelming symptoms.

Some of the drugs used to "calm" can be very rough on the liver and then also often not be the right call with all else on board.

Your LLMDs' office will know, though, what might work with your current Rx.

Insurance may not cover the cost of ER if not a true emergency in THEIR eyes. For as terrible as this feels to you, it won't be evident for them.

The sensory issues at the ER would likely make matters much worse, too.

I've been the same place, asking the same question as you after I had a forced steroid inhaler pumped into my mouth - a trick when the doctor told me exhale and then just pulled the inhaler from behind his back after I'd expressed hesitancy. For days, I thought I would be zoomed out of my skin and land on the moon.

I kept telling a friend, surely the ER can fix it. She was very wise with the same advice I give you - and now I see that. At that time, it was miserable and - because of steroids - it took my body much longer to calm down.

For you, it may be a matter of hours but I would decrease your dosages a bit, call your doctor's office nurse and talk to them about how to tame this down a bit as the herx is too strong.

But, if you think again that the ER can "calm you down" be very realistic about that. It's not what they do. And your very treatment could then be in jeopardy.

I'd later been to the ER with seizures and actually kicked out because they'd never seen seizures from sounds before and thought I was faking.

So, no, I would not - not - go to the ER to try to calm down. The lights, noise, frantic rushing about and attitude there is not going to achieve that.

In addition to practical matters LymeToo suggests,

QUIET may be the best thing for a while. A DARK, QUITE room. Sounds like adrenal overload, for starters - very common with lyme for many reasons.

Whatever you can do to quiet your surroundings, and let your body rest . . . do that. When thoughts race, you might have to force yourself to think of a place in nature, maybe watch a DVD of nature or soft music but closing eyes and just having dark is important, too.

In addition to good liver support, MILK THISTLE is a basic . . . a basic adrenal helper is Fish Oil, or the herb CORDYCEPS.

Slow steady deep diaphragmatic breathing can help lower those stress hormones, too.

If you need to talk to a mental health counselor, of course, make that call. Talking can be helpful yet best if you find one who is very much lyme literate. Your local lyme support group should have some names.

Be sure to avoid anything in your diet that is stimulating in nature.

Take care. Tender, loving care. In the best sense.

[ 10-21-2015, 06:32 PM: Message edited by: Keebler ]

---

Posts: 48021 | From Tree House | Registered: Jul 2007 | IP: Logged |

Keebler
Honored Contributor (25K+ posts)
Member # 12673


posted

---

-
Doxycycline cautions:

1. Even autumn or winter sun, even early morning or late afternoon sun can burn. "Doxy burns" can be very rough.

avoid sunlight on your skin (even "bounced" sun - or through a window) even for weeks after stopping doxycycline if you go onto a different antibiotic.


2. Food with doxy is vital to protect stomach. But no dairy. Do not take with any multi minerals, either. The food minerals will lessen the medicine level and make it not as effective.

A substantial meal, in the middle with some food before and after the doxycycline really matters.

Protect stomach but do not take a PPI - proton pump inhibitor (they have some negative effects). take doxy with a substantial snack or meal - in the middle so you've got some food before and after

Avoiding gluten can help with the stomach, too.

3. keep torso as close to upright as possible for at least 30 minutes after doxycycline taken so as to help protect esophagus from the irritation it can cause if lying down.

Depending upon the angle of the particular chair, the most upright position of a recliner MIGHT be okay if you must rest your head or put your feet up, just don't slink down.

PROTECT EARS / HEARING - when taking certain Rx, the ears need protection. Ear plugs with a hair dryer . . . decibel rated muffs with a blender, vacuum, lawn equipment, etc.

Careful around loud music and best to avoid in the ear pods. There is a link in the Liver Support thread that explains why.
-

---

Posts: 48021 | From Tree House | Registered: Jul 2007 | IP: Logged |

Keebler
Honored Contributor (25K+ posts)
Member # 12673


posted

---

-
If a friend can go a good food market for you, I suggest they get you

QUINOA FLAKES - the soft kind you mix in boiling water to make a thick paste or hot cereal.

DGL - it's a special kind of licorice (with the stimulating part removed), chewable. Nicely coats stomach

Marshmallow root powder . . . slippery elm powder in a capsule or powder to mix into a paste and then add a little water for a thick drink to coat you stomach.
-

---

Posts: 48021 | From Tree House | Registered: Jul 2007 | IP: Logged |

beaches
Frequent Contributor (1K+ posts)
Member # 38251


posted

---

Call your doc asap if you haven't already. I personally wouldn't rule out going to the ER, especially if your LLMD or primary has priveleges there.

---

Posts: 1885 | From here | Registered: Jul 2012 | IP: Logged |

Keebler
Honored Contributor (25K+ posts)
Member # 12673


posted

---

-
Some food products can trigger some of the "overwhelmed" symptoms you describe, especially MSG -- or supplements that might contain Glutamate.

Such products might have been okay before but now, with toxic lyme and treatment that also adds work to your liver, it can really tip the brain / nerve function regarding over-excitability.

When the liver is overwhelmed, depression and anxiety can really feel worse. The liver support in a link above, but also to help that aspect:

Avoid Kelp and any seaweeds. Detail:

http://flash.lymenet.org/scripts/ultimatebb.cgi?ubb=get_topic;f=3;t=029690;p=0

Excitotoxins; MSG; Aspartame; & "Natural" Flavors (that are not likely natural at all).

Gluten information here, too.

You mention depression, too. Gluten can make that worse. I sure felt depression lift with a gluten-free diet.

And a gluten-free diet helped my gut, too.
-

---

Posts: 48021 | From Tree House | Registered: Jul 2007 | IP: Logged |

Keebler
Honored Contributor (25K+ posts)
Member # 12673


posted

---

-
Kate,

You are certainly on my mind and while even all the ways to help may be overwhelming, just know that this can get better. This thread can be used for your reference all along the way, too.

Main point now is that you need some nurturing, too.

I hope you have a friend (or two, or more) who can be there for you, help you with some practical matters like cooking healthful food as

often, a good meal, can help so very much. Never skip any meal or snack because you are tired. That can be a quick trip down the tubes.

An excellent breakfast can be last night's chicken soup (but not if from a can or cartoon as too many additives). If you don't know how to cook a whole chicken and make broth, make it a project for your circle of friends to learn.

This is one of the many "riches" that will come our way: learning to cook delicious foods that will both nourish and nurture you and delight your senses. Food matters tremendously.

A good snack, a bit of carrot, celery and almond butter.

If you can have a friend / family member who can help you with shopping and food prep . . . and / or . . .

give you a foot rub (both feet, really!), hand or ear rub, all that will help, too. You can rub your own ears. Lots of great acupressure points in ears and just rolling those gently around helps me. Hope for you, too.
-

---

Posts: 48021 | From Tree House | Registered: Jul 2007 | IP: Logged |

Robin123
Moderator
Member # 9197


posted

---

I had to back down in the dosage of my initial abx. Maybe you're taking too much for you to handle.

Also, I'd say you need to be on a good detox protocol.

---

Posts: 13013 | From San Francisco | Registered: May 2006 | IP: Logged |

hopeful4
LymeNet Contributor
Member # 8486


posted

---

Sorry to hear that you are going through this. I agree you should call your LLMD. I remember when I first started treatment, also 5 years after becoming ill, the antibiotic dosages caused such a huge response, that I could not handle it, mentally or physically.

My doctor reduced the dosage, and had me pulse the abx, meaning so many days on, and so many days off. So I was still hitting the lyme and co-infections, but just a bit slower so that I could stay partially sane and slightly functional, rather than intensely sick and totally miserable.

Also, I wonder if you may have an allergy to one of the meds. I could not tolerate doxy, and was switched to different abx.

All in all, this is no easy task. I hope you get some help and relief ASAP.

---

Posts: 873 | From WA | Registered: Dec 2005 | IP: Logged |

dbpei
Frequent Contributor (1K+ posts)
Member # 33574


posted

---

kate, so sorry for what you are experiencing. Doxy made me very nauseous and miserable when I first took it. It definitely sounds like you are needing to lighten your load of toxic die off and probably need to reduce your dosage. But besides following the advice above, there is something else I can add.

There is another version of doxycycline that is easier on the stomach. It is called Doryx (Doxycycline Hyclate). I recently started this and it is so much better this time around. It might be more expensive than regular doxy, but it depends on your insurance co. I am getting a generic version and it is not costing me more. Could you ask your doctor about prescribing this instead?

I also take probiotics at least 2 hours away from my ABX. I have kefir every day as well. Both are helping my gut to arm itself with good bacteria. I have learned to make my own kefir and would be happy to share info on that with you if it is something you want to learn more about, once you are feeling a little better.

As far as repairing the gut, in addition to DGL tablets, you might want to look into buying some Aloe Vera Juice - unsweetened and pure. I add this to a small amount of pomegranate juice and have a few ounces daily. It helps to heal the lining of your stomach.

Good luck to you! It can be so difficult dealing with all of this. You have come to the right place.

---

Posts: 2354 | From New England | Registered: Aug 2011 | IP: Logged |

Ellen101
Frequent Contributor (1K+ posts)
Member # 35432


posted

---

If you cannot reach your doctor you should go to the ER. It is impossible for anyone on here to say for sure if you are experiencing a herx or a side effect. Unfortunately many are quick to assume it is a herx and if so you have to deal with it to feel better. This is not the case and some LLMD's have discovered that herxing puts major stress on the body causing inflammation leading to more issues.

http://www.tiredoflyme.com/4-reasons-why-you-still-feel-bad-despite-detoxing.html

---

Posts: 1747 | From United States | Registered: Dec 2011 | IP: Logged |

seekhelp
Frequent Contributor (5K+ posts)
Member # 15067


posted

---

I agree with Ellen101. Lots of speculation here, but no one knows truly what is wrong. It's all guessing. They may be right, but rolling those dice is a big game from a keyboard.

---

Posts: 7545 | From The 5th Dimension - The Twilight Zone | Registered: Mar 2008 | IP: Logged |

Lymetoo
Moderator
Member # 743


posted

---

What happened to our Kate?

--------------------
--Lymetutu--
Opinions, not medical advice!


---

Posts: 94890 | From Texas | Registered: Feb 2001 | IP: Logged |
Contact Us | LymeNet home page | Privacy Statement

Powered by UBB.classic™ 6.7.3

---
The Lyme Disease Network is a non-profit organization funded by individual donations. If you would like to support the Network and the LymeNet system of Web services, please send your donations to:
The Lyme Disease Network of New Jersey
907 Pebble Creek Court, Pennington, NJ 08534 USA
http://www.lymenet.org/
---
Home | Flash Discussion | Support Groups | On-Line Library
Legal Resources | Medical Abstracts | Newsletter | Books
Pictures | Site Search | Links | Help/Questions
About LymeNet | Contact Us
---
© 1993-2020 The Lyme Disease Network of New Jersey, Inc.
All Rights Reserved.
Use of the LymeNet Site is subject to Terms and Conditions.
---