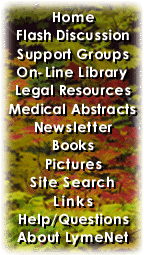 ---
LymeNet on Facebook
LymeNet on Twitter
---
---
The Lyme Disease Network receives a commission from Amazon.com for each purchase originating from this site.
When purchasing from Amazon.com, please
click here first.

Thank you.




Dedicated to the Bachmann Family


LymeNet needs your help:
LymeNet 2020 fund drive

The Lyme Disease Network is a non-profit organization funded by individual donations.

| | |
| --- | --- |
| | |
Author
Topic: Microwave WIFI cooks us

Carol in PA
Frequent Contributor (5K+ posts)
Member # 5338


posted

---

When I clicked on that link my computer crashed.

I'm too chicken to try it again.



---

Posts: 6947 | From Lancaster, PA | Registered: Feb 2004 | IP: Logged |

Brussels
Frequent Contributor (5K+ posts)
Member # 13480


posted

---

I hope it didn't cook your computer!!

---

Posts: 6196 | From Brussels | Registered: Oct 2007 | IP: Logged |

sparkle7
Frequent Contributor (5K+ posts)
Member # 10397


posted

---

From 2005...

Cell Phones May Have Played A Part In Johnnie Cochran's Brain Tumor
http://www.cnn.com/TRANSCRIPTS/0510/16/hcsg.01.html

I don't know where one is going to live where we aren't exposed to this. They aren't going to take down the cell phone towers (or whatever else is being done) any time soon.

---

Posts: 7772 | From Northeast, again... | Registered: Oct 2006 | IP: Logged |

sparkle7
Frequent Contributor (5K+ posts)
Member # 10397


posted

---

BTW - thanks for posting this. Is there anything we can do to mitigate it?

---

Posts: 7772 | From Northeast, again... | Registered: Oct 2006 | IP: Logged |

Keebler
Honored Contributor (25K+ posts)
Member # 12673


posted

---

-
I'm too chicken to click onto the link now, too, after Carol's experience.


"anything we can do to mitigate it? " - if taking about microwave ovens, I suppose:

Not using / not even having a microwave seems the best option. I had one a couple decades ago for a couple years but then just got rid of it. Never even miss it. It does not take long to heat water or food on the stove / in the oven.


"anything we can do to mitigate it? " - if taking about bigger microwaves signals beaming all from various places that I'd read about a while back, that's a really good question.

Cell phones, well, glad I just don't need one of those. But, then does anyone, really? We got along without them before.
-

---

Posts: 48021 | From Tree House | Registered: Jul 2007 | IP: Logged |

beaches
Frequent Contributor (1K+ posts)
Member # 38251


posted

---

I very rarely use the microwave. Just as easy (and healthier) to heat food in the oven or cooktop.

But cell phones are a necessity, especially when you have children. And especially in a post 9-11 world where nutjobs can enter schools and theaters and start shooting. I need to easily be able to reach my kids and husband. It's an unfortunate reality.

---

Posts: 1885 | From here | Registered: Jul 2012 | IP: Logged |

Brussels
Frequent Contributor (5K+ posts)
Member # 13480


posted

---

Mine didn't crash...
------------

It's not microwave from the oven, but wifi microwaves:

---------------------------

Barrie Trower WiFi kills, 19 sept 2013


Microwave radiation, that already exists, cause miscarriage in 57.7 % of women, if they are exposed to these levels that already exist in classrooms in the UK in the first trimester of pregnancy. Professor published that.

children have more water or conduct better microwaves than adults (about 20% more). Peer reviewed papers.

Low level radiation on ovarian follicles of school girls (exposed 25 hours a week in schools).

Brighton University lecture given by Barrie Trower: another professor confirmed Trower findings about permanent damage in eggs of girls. Other mammalian species present more than 60% of still birth, or birth defects when exposed to low level radiation.

Trower found about 57% for humans (birth defects in the next 25-35 years).

Goverment knew about these problems. They are deliberately causing harm to children.

No Medical Doctor wanted to contact the government for a complaint. He wrote to the Prime Minister to get an appointment with him.

We have been developing stealth microwave weapons with the Americans for 60 years!

They have been using these weapons, and this is DOCUMENTED, in Northern Island, in women. I know because I've been talking to the people who develop these guns.

It's a brilliant STEALTH WEAPON, because it is undetectable. (it's a sterilization weapon).

In my report (it's for free, you can download it), I listed at least a dozen cases where our scientists worked and EXPERIMENTED on our population, for no other reason that personal profit or interest.

Example: 60s, when I was in the Navy, a report came asking for volunteers (20,000) for FLU INJECTIONS.

It had nothing to do with FLU, but it was the Ministry of Defense experimenting on all sorts of biological concoctions to see how they would affect young fit men.

Police and military people are brilliant for epidemiological studies, because you have their work time table, their sleep and food programs.

they killed 20,000 loyal service men (confirmed by Newspapers: Port Down veterans raised death rates after chemical warfare tests with sarin, lewisite and sulphur mustard).

they died miserable deaths. English scientist and English civil servants, they do not follow laws of this country. They can cause death, and to date, not a single civil servant, not a single government scientist who caused this, will respond to justice.

The reason is that there is a program called Active Denial, whereby it will take 50 years for this to come to court. There is one in court now.

they say in the trial:
1- everybody is dead, there is no one to charge.
2- memories are impaired, therefore claims are not genuine
3- official secret's act, we can't disclose information (this happened in one trial where we experimented with genitals of men in Congo). None of our people will appear in the documents.

there is subgroup of scientists and civil servants that act OUTSIDE the law, totally protected against any charges. They cannot be taken to court. They answer to nobody.

The reporter said he also saw so many volunteer reports coming to him while he was working. Trower volunteered for that experiment that killed 20,000 men.

Military gets cash bonus and a weekend in London to participate in the experiments. He was young and wanted to go to London. Trower showed to his officer, and his office tore the document in front of him saying 'Grow up, boy!' and had him away.

the reporter said he did not participate in the end (despite cash bonus) because someone told him back in the 70s that they were experimenting with some dangerous stuff.

I know that the military know about the danger we are causing to our school children.

there are 14 epidemiological studies proving that microwave cause cancer and birth defects and other illnesses.

The answer I get from government officials is that 'there is no conclusive proof'. They do not read what I sent to them, and lie.

there are 8 High Court cases proving it.

The industry themselves, in their own epidemiological study says 'microwave can cause cancer'.

there is a wealth of documentation.

There is somebody at the top that want our country to be totally wified.

this subject has been brought to parliament twice and each time a minister stood up and lied. It's always the same lie.

There is a phenomenal amount of money that is coming in. It's worth to get all those millions of pounds, the power coming with the money, it's probably worth the death of thousands of people.

It's a dream to the military and governments, because every time you push the button of your mobile phone, 40 countries can log in and find where you are, what are you saying etc. It's a dream for our MI5 and MI6 (British Secret Service)

Even if your mobile is off, they can still be activated, and the secret service can find out where you are (there are devices installed inside your mobile phone / smart phone).

It's a perfect spy device. They can listen to you, no matter where you are.

There are security benefits. It has blackmailable opportunities. (I know what you said, what you've done, I have proofs, so you got to work for me for free or we send you to prison).

Newspaper article: NSA Spying and Intelligence Collection: Giant Blackmail Machine and Warrantless Wiretapping' Program.

-----------------------------------------
All microwaves are dangerous. The less you receive, the more dangerous it is.

We have defense systems that defends our bodies against electric storms, developed since prehistory. (it's called protein 53)

We have Nuclear core complex that protects us too. Antioxidants that protects from harm caused by radiation. there are cells beside your eyes that can detect radiation and help protecting your body against radiation.

we have that defense mechanims. Children do not.

Low level radiation comes in below the level that activates the body defense mechanism. Microwaves build up slowly, all EMR, doses are cumulative. It's like a slow growing cancer.

By the time you realize you've got it, the damage is done and it's too late. Low level is more dangerous than high, example: wifi in the classroom.

there is also an ORDER. If you are a Navy officer, you will understand that different bodies have different resonances.

(Brussels: a bit like what Rife said).

The smaller you are (embryo) you resonate the most (from the wavelengths). Than you have infants. Then children. Then pregnant women, other women, the elderly, the sick people, and finally healthy fit young men.

There is an ORDER.

The WHO, our government, the US goverment published this: the lists are always following that order: embryo get more damage, then infant, children, pregnant women.... etc. All lists are the SAME COURSE.

What are your qualifications? (report is asking Trower)

I trained in the 1960s microwaves in the Royal Navy. I studied all aspects of microwave technology. Radar (booby traps in mines), I studied harmful effects of radars because we are all exposed.

I have a degree of Physics, I studied Nuclear and Atomic Physics. Dissertation: absorption of microwaves and I looked at the very end of microwave absorption spectrum into the infrared.

I wanted to see when you got to the end of the microwave frequency, would you still absorb it? that was my dissertation.

I have my teaching diploma in Human Physiology. I taught Advanced Physics in college, both theoretical and practical.

I wrote the Tetra Reports. I've been in Microwaves since I took my first library books in 1959 to get passed my first navy exam. I started then, and traveled the world, talked to scientists. I never let up.

[ 10-26-2015, 03:34 AM: Message edited by: Brussels ]

---

Posts: 6196 | From Brussels | Registered: Oct 2007 | IP: Logged |

Brussels
Frequent Contributor (5K+ posts)
Member # 13480


posted

---

Microwave as a weapon: The Russians wanted to listen to what the Americans were talking in Moscow.

they couldn't put a listening device in, because the Americans would detect it. They wanted a listening device activated from a distance.

They presented the embassy with a carving that went behind the desk of the ambassador. The carving had a device in it.

When they beamed microwaves from outside, the device absorbed it. It works like a capacitor, and transmitted the speech.

As soon as the Russians turned off the source of beamed microwaves, it stopped working.

So Americans found nothing when they tested for transmissions (as the beaming was off). It was deemed safe.

Quite a few years, the Russians beamed the microwaves into the embassy to listen to the conversations. Many years, indeed.

The American women were starting to have many problems: miscarriage, still births, breast cancer, ambassador got leukemia...

Then Americans found out microwaves coming in the embassy were causing the illnesses.

Instead of stopping it, they allowed their own people to get even more microwaved, but then they had the exact dose (for their study).

They produced a first report saying microwaves are harmless.

A second report said that the embassy people were just fractions above the average of cancer and miscarriages.

In the third report came Goldsmith. He was employed by the WHO.

He said that of the microwaved women, 47.7 % had miscarriage in the first 7 weeks of pregnancy. The levels of microwave these women received were lower there than what our children get today in a classroom (in the UK).

They found out that they could put pulses in the radiation, and that could interfere with our brain waves. It's called ENTRAINEMENT.

They can entrain the brain for causing severe aggression, severe sexual aggression, total hopeless suicidal tendencies, and if they get the right frequency, they can cause cancer, heart failure.

I have a list from what I gathered from spies. Tetra is using a known weapons frequency. Which is what I put in my report. You can't use this, as this is using a known weapon's frequency.

Tetra frequency causes aggression, confusion, hopelessness.

There was a trial of a policeman who was exposed to Tetra (cell phone mast radiation), and he didn't get charged after the court read my report (that he had been ENTRAINED to be extremely aggressive due to exposure to those weapons frequencies coming from Tetra / cell phone antenna). He was deemed not responsible for his acts!

[ 10-26-2015, 03:41 AM: Message edited by: Brussels ]

---

Posts: 6196 | From Brussels | Registered: Oct 2007 | IP: Logged |

Brussels
Frequent Contributor (5K+ posts)
Member # 13480


posted

---

There is an upper government who controls our government. They are running the country, it's not the people we elect.

They advise ministers and prime ministers, who keep changing. They do not change.

The upper Government manipulate government from behind. They remain and tell the lies. When the puppet comes (prime minister or minister) to say microwave are safe, there is no proof.

They hear from these liars that are protected under the official Secret's Act and are above the law.

I would like a judicial inquiry where people can be called: govt civil servants, govt scientists, all people saying these microwaves are safe. Myself included. If you lie, you go to jail, that is what we need in that inquiry.

I would like some sort of judicial hearing.

---

Posts: 6196 | From Brussels | Registered: Oct 2007 | IP: Logged |

Brussels
Frequent Contributor (5K+ posts)
Member # 13480


posted

---

How can we protect our people and our children?

We can't. The Government says there is no convincing proof.

Until we can stop people from the govt scientists lying to medical services, ministers, area health officers, prime minister...

He had been contacted by milionaires, even one billionaire who wanted to sue the industry (I suppose due to an affected family member), because there is solid scientific evidence of damage of microwaves.

Court costs is 100,000 pounds a day. It takes 3 years to call witnesses from our part (industry says). Then there is your part of the trial.

Moral: There is no money enough to sue the industry. Even for billionaires.

---

Posts: 6196 | From Brussels | Registered: Oct 2007 | IP: Logged |

Brussels
Frequent Contributor (5K+ posts)
Member # 13480


posted

---

This video of Trower is not the best, there are so many, hard to choose.

Trower was working at the Navy and in charge of studying microwaves for the Navy.

He has a pretty clear view and knowledge of microwave radiations as a weapon, its ill effects on the body (as he had to produce reports to protect navy workers).

As a physicist, his dissertation was on how microwave is absorbed by the body, in the end spectrum of microwave (near infrared wavelengths).

He's been IN microwave studies since 1959, before entering the Navy in the UK.

I've been watching more of his interviews, and what he says is exactly what dr. Patrick Flanagan says (how such microwaves can entrain the brain to kill, aggression, to cancer, ...)

.... or what dr. Klinghardt literally says - microwaves are the MAIN problem of public health today.


https://www.youtube.com/watch?v=1kxqfE2VfD8

2014, a lecture in German by Klinghardt: he said there was a new Greek study, of someone who looked JUST into our proteins.

200 proteins were studied, and checked for low level microwave radiation (meaning, wifis, cordless phone radiation..): 145 (if my memory is right) proteins were IRREVERSIBLY DAMAGED.

There is no coming back. Proteins are the BUILDING BLOCKS of life. They form our cells, all enzymes. No protein, no life, it's a simple as that.

He added as clear as that: Do you want to die? Get you wifi on.

If you have most of your enzymes PERMANENTLY damaged, there is no way out for life.

People with lyme just think adding killers will kill their lyme disease.

When there are no more functioning proteins, no more building blocks for cells and metabolism in the body, how can killers ONLY fix lyme disease?

If you think what radiation experts say, that radiation is cumulative. You may feel nothing now. Once you feel the damage, it may be too late.

That is how they explain people getting cancer with X-rays: by cumulative effect. At a certain point, there is a cascade coming down.

The point is that there is no known treatment against that.

Other videos of Trower mention the protein damage (he read that too), and also immune system damage (what Klinghardt keeps saying).

Are smart phones really smart?

---

Posts: 6196 | From Brussels | Registered: Oct 2007 | IP: Logged |

Razzle
Frequent Contributor (1K+ posts)
Member # 30398


posted

---

Did anyone correlate negative effects of WIFI with heavy metal toxicity? I personally believe WIFI/microwave is most toxic in those who have heavy metal toxicity.

Also, I've read research that suggests antioxidants can counter or prevent damage from microwave/WIFI. I don't imagine institutional food (such as in schools or military mess halls, etc.) is all that high in antioxidants...

--------------------
-Razzle
Lyme IgM IGeneX Pos. 18+++, 23-25+, 30++, 31+, 34++, 39 IND, 83-93 IND; IgG IGeneX Neg. 30+, 39 IND; Mayo/CDC Pos. IgM 23+, 39+; IgG Mayo/CDC Neg. band 41+; Bart. (clinical dx; Fry Labs neg. for all coinfections), sx >30 yrs.


---

Posts: 4166 | From WA | Registered: Feb 2011 | IP: Logged |

Brussels
Frequent Contributor (5K+ posts)
Member # 13480


posted

---

Antioxidants cannot heal damaged DNA in the ovaries of school girls. that is what these videos are about.

Children are not small adults. Their bodies damage is 10 times bigger than adults (in their nerves, whole tissues, brain, everything). This is due to their body resonance (that absorbs much more radiation than adults).

Resonance is purely physics! Like pathogens with Rife frequencies. Not only pathogens or objects have a resonant frequency. We all have.

And it happens that children resonate more than adults.

There is no medicine for damaged DNA (it is permanent damage).

We'll see about 60% of birth defects, autism, infertility, still births, etc in the next generation of microwaved school girls.

And the most scary part: damage does not stop on the next generation, but will go further generations, as seen on mammal studies!!

Then parents buy them smart phones, let them wified the whole day at home, so even if schools take the wifi out, and parents don't, well, we're cooking our children and we'll see results in the next decade or so.

Dr. Klinghardt started saying, take the heavy metals off, you'll react less etc. That was about 10 years ago.

A recent lecture, after more studies he read, he is saying: "Do you want to die? Turn on your wifi."

His discourse changed dramatically in intensity in that 2014 lecture.

Proteins are PERMANENTLY damaged, about 75 % of proteins your body tries to build are damaged. That is huge.

No protein = no proper cells = no proper tissue = no metabolism (enzymes are made of proteins).

Permanently damaged means, no antioxidant can help there, unfortunately.

If an antioxidant can help, it is not permanently damaged. Probably some small % is not permanently damaged, I suppose?

But the more heavy metals, the more you 'feel' radiation, that is right. And the smaller you are, the more you feel (fetus, children, women,... the degree of absorption changes with the resonance of the body).

Trower worked for the Navy, and was researching microwave reactions in the body (for protection and for weaponry).

You feel weird on your cell phone and computer? Well, your child takes about 10 times more radiation than you. And on top, your are damaging DNA in your child's eggs, so that your grandchildren will be damaged. That is what Trowel is trying to scream to the public.

And just to add a bit of more trouble: some Cell Phone masts are using Weapons frequencies!!? That is the 'mystery'.

Why are they choosing a well known weapon's frequency for our cell phone masts? That is what Tetra is about.

I try not to believe on crazy conspiracy theories (to keep my mind sane), but it all sounds way too weird. Almost as though it is done with clear intention of damaging us!

---

Posts: 6196 | From Brussels | Registered: Oct 2007 | IP: Logged |

Catgirl
Frequent Contributor (5K+ posts)
Member # 31149


posted

---

quote:

---

Originally posted by Razzle:
Did anyone correlate negative effects of WIFI with heavy metal toxicity? I personally believe WIFI/microwave is most toxic in those who have heavy metal toxicity.


---

Yes Razzle I've noticed this with me. I've gotten a lot of heavy metals out and my head is getting better (not as excruciating as it was). I still have a lot more to go though. EMF pendants help too, Q link, etc.

I have a cell phone but it is completely off unless I need it, then I turn it on, text or call, get my message and off it goes. I'm going to order something to put on it to reduce it's effects.

--------------------
--Keep an open mind about everything. Also, remember to visit ACTIVISM (we can change things together).


---

Posts: 5418 | From earth | Registered: Mar 2011 | IP: Logged |
Contact Us | LymeNet home page | Privacy Statement

Powered by UBB.classic™ 6.7.3

---
The Lyme Disease Network is a non-profit organization funded by individual donations. If you would like to support the Network and the LymeNet system of Web services, please send your donations to:
The Lyme Disease Network of New Jersey
907 Pebble Creek Court, Pennington, NJ 08534 USA
http://www.lymenet.org/
---
Home | Flash Discussion | Support Groups | On-Line Library
Legal Resources | Medical Abstracts | Newsletter | Books
Pictures | Site Search | Links | Help/Questions
About LymeNet | Contact Us
---
© 1993-2020 The Lyme Disease Network of New Jersey, Inc.
All Rights Reserved.
Use of the LymeNet Site is subject to Terms and Conditions.
---