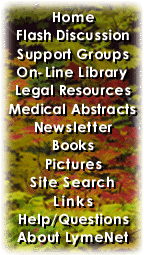 ---
LymeNet on Facebook
LymeNet on Twitter
---
---
The Lyme Disease Network receives a commission from Amazon.com for each purchase originating from this site.
When purchasing from Amazon.com, please
click here first.

Thank you.




Dedicated to the Bachmann Family


LymeNet needs your help:
LymeNet 2020 fund drive

The Lyme Disease Network is a non-profit organization funded by individual donations.

| | |
| --- | --- |
| | |
Author
Topic: I've relapsed :(

Ocean
Frequent Contributor (1K+ posts)
Member # 3496


posted

---

I used to visit this site years ago. Got better and busy with living for 4 amazing years! And this spring will mark two years for me relapsing with lyme

I am doing cold laser again, but it's not helping as quickly or as much as before (maybe I am just impatient). I was told I had PTSD and I think I did for a bit from my ex husband so I didn't seek lyme treatment at first as I was "hopeful" it was a mental thing and not lyme.


I am 37 years old, got sick when I was 17 and have had 6 years of health during that time span. I am so tired of this fellow lymies!

As I finished up my cold laser treatment back in Dec 2009, my husband one night came and told me he'd been living a disgusting sexually perverted (extending to a crime against one of our children) life behind my back which he told me with a smile (he is a real honest to God Psychopath), "Well, with you being so sick, it was easy to hide it from you."

I had to go to the police to report him and have been a 100% custodial single mom for the past 6 years.

Even all that stress did not cause me to relapse though I feared it would.

I can't work right now due to brain fog, dissociation, feeling weird and anxiety. I am an RN, but I forgot to give a medication twice (I worked with Chemo so it is a huge deal) at my clinic and was so worried I would give a patient the wrong med so I quit.

I could not live with myself if I hurt someone else accidentally by giving them a wrong medication! I moved my three kids and I back from our beloved Oregon to a cheaper area and around family.

My life that I adored for 4 years is now gone. I just feel weird all the time, memory problems, fatigue, you know what it's like.

Today I just feel like screaming! I am so angry! I am so angry this "thing" was misdiagnosed for 12 freaking years. That I have to be sick AND be a single parent for my precious kids. I am "it" for my kids. They don't have another parent.

And I am missing their childhoods from this (insert curse word) disease! Half the time I just wish I would die. I am sick of fighting, sick of existing but not living, not being able to work at a job I loved with patients I adored.

And I sit here wondering how it is just all gone. Those 4 years I was healthy, people would ask in spite of what my ex had done how I could smile. How I could be so happy and free? Because I had conquered a living hell for almost all of my adult life.

I was able to work and support myself and my kids, go to restaurants, go hiking, just do the things EVERYONE who is healthy takes for granted!

Please give me some hope. Have you relapsed and come back out? I feel so so hopeless today. My kids hate it here, they want their old schools and friends and I do too.

I want to go back to living. I want to be able to get up in the morning and go to work and have medical benefits and take my kids to soccer and just have what is expected and normal in this life.

I'm truly sorry for this rant, but I can't stop crying today and it's not even 8 am.

Thank you for listening,

Ocean

--------------------
http://www.healingfromlymedisease.blogspot.com/

Sick since 1996...Diagnosed 10/2008

IgM:23-25 IND, 31+++, 39 IND, 41 +++
IgG: 31 IND, 41++, 58+


---

Posts: 1619 | From Ohio | Registered: Jan 2003 | IP: Logged |

poppy
Frequent Contributor (1K+ posts)
Member # 5355


posted

---

I remember you, because of the screen name which created a picture in my mind.

Sorry this has happened. You have certainly been thru hell, to have lyme and a rotten x husband.

Hope you will find something that works. The world needs nurses like you.

In a small way I envy you---have never had 4 years without symptoms since it all started. And I sure know what you mean about being tired of it all.

---

Posts: 2888 | From USA | Registered: Mar 2004 | IP: Logged |

Brussels
Frequent Contributor (5K+ posts)
Member # 13480


posted

---

Ocean, so sorry you relapsed.

But 4 years is already great. Not many people can reach what you did. It means, there is a lot of chance you can reach it again!!

Fortunately some people here are in the post lyme phase, and maybe can help with suggestions?!

I've been 6.5 years lyme free. I know what you mean by fully enjoying your life again. What helped me most were photons. The only thing that kept my lyme dormant for so long, I believe.

Just don't give up! If you knock it down again soon, you'll get back to a remission state, I swear!!!!

---

Posts: 6196 | From Brussels | Registered: Oct 2007 | IP: Logged |

WakeUp
LymeNet Contributor
Member # 9977


posted

---

Sorry to hear about your relapse, Ocean. My Lyme has become worse this past year also, due to stress.

At least we are alive.

Im busy working on a list of compounds that might cure us.

My cousin died in her bed on Christmas Eve mostly due to chemotherapy which destroyed her immune system and organs. I found out that lot of oncologists would not give chemo to their own families but they get a $6,000 kickback to give it out to patients..

I didn't say a proper goodbye to her because I had recently found out at she had betrayed me over a period of 15 years at a very deep level, and I was still in a state of shock...

I did however at least try to lead her to Christ before she died as she was an atheist, and I dedicated a song to her before she died. https://soundcloud.com/yehoshualove/the-testimony

Every day of life is a miracle. God bless you.

---

Posts: 696 | From New York | Registered: Aug 2006 | IP: Logged |

Ocean
Frequent Contributor (1K+ posts)
Member # 3496


posted

---

Thank you so much for your replies! I so appreciate it. I remember a couple of you too from "back in the day". You are so right in that since I had gotten there once I can do it again.

Mine started after I got a root canal (and the dentist filled the hole with a huge mercury filling!). I knew better but I had felt so good for so many years I thought, "I'll just laser if I get sick again". Never again.

WakeUp, I am so sorry to hear about your cousin That is terrible. Yes. Chemo is toxic chemicals. For some cancers, I would not do chemo, some it works for well, others, so many times the patients just die. It is supposed to be illegal for doctors to get money for giving drugs. I have heard ramblings of cruises and things for pharmaceutical drugs in general though, which still should be illegal IMO.

I hope that your cousin accepted Christ before passing. I too am a believer.

Once a new nurse needed to practice drawing blood and another nurse and I let her. The labs came back and the other nurse looked at mine and said, "Dang girl, if you got chemo it would kill you first dose!". My labs are always a little screwy bc of lyme.

Poppy, I understand what you mean. I used to feel like that when I would be on here and see that people were well. Happy for them but wishing it could be me too! And it was amazing.

I would jog around town and praise God with my hands lifted high and sometimes I would just stop and cry tears of joy that I was RUNNING! Just amazing! I thought, "If God doesn't give me more than 2 years of feeling like this I will always remember it." And now here I am crying because it is gone.

Thank you ALL for your support. I truly appreciate it.

Much love,
Ocean

--------------------
http://www.healingfromlymedisease.blogspot.com/

Sick since 1996...Diagnosed 10/2008

IgM:23-25 IND, 31+++, 39 IND, 41 +++
IgG: 31 IND, 41++, 58+


---

Posts: 1619 | From Ohio | Registered: Jan 2003 | IP: Logged |

dbpei
Frequent Contributor (1K+ posts)
Member # 33574


posted

---

Good luck to you Ocean. You have been through so much. But I can tell you are strong and you are a fighter! You will beat this again!

I am still fighting too. I have never gotten to where you did, but I am so tired of feeling this way, I am pushing harder now.

May God bless you and give you the strength you need.

---

Posts: 2356 | From New England | Registered: Aug 2011 | IP: Logged |

WPinVA
Frequent Contributor (1K+ posts)
Member # 33581


posted

---

Good luck! I agree if you did it once - which is more than most of us - you can do it again. What worked for you the first time?

A root canal was part of what started the whole Lyme mess for me. My dentist told me later that the immune system prioritizes infections in the mouth due to the need to eat for survival. That leaves less resources for Lyme and I guess I wasn't able to fight it off.

---

Posts: 1737 | From Virginia | Registered: Aug 2011 | IP: Logged |

Tincup
Honored Contributor (10K+ posts)
Member # 5829


posted

---

Dear Ocean,

Hugs, hugs, hugs. So sorry you are in such turmoil right now. It is not fair! Not at all! My heart breaks hearing your story.

If it helps... the absolute worst for me and many others was to have kicked the Lyme (been told we were cured) and then have a relapse. It isn't suppose to work like that! Certainly we "did our time" and "gave at the office", blah blah blah, so WHY is this happening again?

I don't know of anything that depressed me more, ever, so I know somewhat how you are feeling now and I send hugs your way.

If there is anything good about this- it's the fact that you know the drill. You've been there, done that. You now have the experience to deal with what's ahead because of your prior illness.

Less being jerked around, more getting to the point, less money spent on useless things, etc. Compared to the new folks coming here for help, you are the Professor and they are the students.

It's ok to cry and beat up some pillows too. Please get the anger out as much and as fast as possible. THEN we can make a plan to move you forward. OK?

Please lettuce no if you need anything!

PS- Why does the Ocean roar?

If you had crabs on your bottom, you'd roar too!



--------------------
www.TreatTheBite.com
www.DrJonesKids.org
www.MarylandLyme.org
www.LymeDoc.org


---

Posts: 20352 | From The Moon | Registered: Jun 2004 | IP: Logged |

bluelyme
Frequent Contributor (1K+ posts)
Member # 47170


posted

---

Ocean ...open an alt clinic?..can np script in your state?..they can here..people need you....try something new ..i too am angered at ex..where would i be if this and that but its is and thats that. I have not seen my child in 1.5 years am still in courts fighting and treatment may get real ruff here quik....bvt and herbs just scraping it may have to do iv ...hey at least its not als or hiv...wake ups song reminds us to be grateful for what yeshua gives and takes away....

--------------------
Blue


---

Posts: 1538 | From southwest | Registered: Dec 2015 | IP: Logged |

Ocean
Frequent Contributor (1K+ posts)
Member # 3496


posted

---

Ahh...thank you bunches and bunches friends for your replies! I know we have all been through hell with lyme and Tincup, I remember you well from years ago! How are you doing now? I thank you for sharing that after your relapse you felt devastated. I did get some lyme symptoms, but I would always just "laser" them away...the root canal I had just seemed to knock me flat. Bluelyme, I am back in Ohio now so NP's are not recognized I am sorry you haven't seen your child in so long! I can't even imagine Dealing with court stuff and lyme is far too much. Prayers that it is resolved for you and easily.

Many hugs and tears,
Ocean

--------------------
http://www.healingfromlymedisease.blogspot.com/

Sick since 1996...Diagnosed 10/2008

IgM:23-25 IND, 31+++, 39 IND, 41 +++
IgG: 31 IND, 41++, 58+


---

Posts: 1619 | From Ohio | Registered: Jan 2003 | IP: Logged |

daphnesmom1
LymeNet Contributor
Member # 39433


posted

---

Ocean, I remember you too. I am sorry to hear of your relapse.

This entire disease is frigging ridiculous.

Indeed, we have done our time.

You will get back there, I am sure of it. Good luck!

--------------------
"Yeah, I miss me too."


---

Posts: 234 | From NY originally registered in 2008 | Registered: Nov 2012 | IP: Logged |

CherylSue
Frequent Contributor (1K+ posts)
Member # 13077


posted

---

I am so sorry you relapsed. I relapsed this past July after 3 months away from abx. I went back on high doses of Ceftin and nystatin, and I regained my health (as best as it gets) after four months. Antibiotics have been a lifesaver for me. Perhaps, you need them, too. Hang in there.

---

Posts: 1954 | From Illinois | Registered: Aug 2007 | IP: Logged |

Ocean
Frequent Contributor (1K+ posts)
Member # 3496


posted

---

Hi Daphnesmom1! So true. Feels like a never ending battle. Thank you!

CherylSue, I'm sorry to hear you relapsed as well I'm glad abx are working for you. sadly, I am kicking myself because with the beginning of this relapse, I thought, "Hey..I am going to not laser and try antibiotics this time instead."

Went to an LLMD, started on Ceftin 1000 mg/day. My thought was, "well since I haven't tried abx hard core, maybe this will erradicate it for good!"

I must note that over the 4 years of health I did have two near relapses, one I ended up getting an MRI and I was nearing myoclonus episodes again and did a 4 day water fast (it was horrible recovering from after, but seemed to help a lot) and lasered a lot which made me feel awful and like I was dying at first...but then, voila!

Anyhow, I ended up going into what I think was Atrial fibrillation on Ceftin, I was at work and the other nurses helped me lay down, took vitals and sent me to cardiology. I already have SVT from lyme. Heart rate shoots up to 250 bpm and it isn't fun, but hasn't killed me yet!

I decided to stop the Ceftin and then focused on my PTSD thinking that was probably what was causing my decline. I'm not opposed to antibiotics, after the Ceftin I am less likely to want to try them though I hope that you continue to improve CherylSue and thanks for sharing!

--------------------
http://www.healingfromlymedisease.blogspot.com/

Sick since 1996...Diagnosed 10/2008

IgM:23-25 IND, 31+++, 39 IND, 41 +++
IgG: 31 IND, 41++, 58+


---

Posts: 1619 | From Ohio | Registered: Jan 2003 | IP: Logged |

tailfeathers
LymeNet Contributor
Member # 39328


posted

---

Ah.. I just read this - I am SO SO sorry Ocean - I can only offer my support, friendship and a person to vent to at this time. Your body was able to heal with a wonderful 4 yrs of remission, despite what has happened in your life recently (how awful btw, I can't imagine going through that but you did the right thing), there are my non-abx tx that might help you as above.

I don't know where you live right now (I know you moved from Ore) but am still in a very sick and fragile state myself but can always lend an ear.

hugs and stay strong!!!

---

Posts: 394 | From Southeast | Registered: Oct 2012 | IP: Logged |

Brussels
Frequent Contributor (5K+ posts)
Member # 13480


posted

---

Hi Ocean, I don't what your cold laser treatment was.

I did infrared (which is also 'cold' because it's LED ) back in 2009. And THAT infrared with nosodes was what stopped my relapses for good.

And for my daughter too. We're 6.5 YEARS lyme free, and I know what you mean EXACTLY: that you were so HAPPY just to live a NORMAL life like anyone else.

I thank every single day I live without lyme, even though I have other health problems to deal with. Living a life without lyme makes a HUGE difference.

My daughter relapsed about 3 times, for exactly 1 day each time. ONE DAY, exactly!

I did photons on the same day she got arthritic symptoms, and other lyme symptoms. Next day, she went to school as though she never had lyme. It happened 3 times, so 3 days in the last 6.5 years for her.

It took us one day to master and control lyme, put it back dormant, just with photon therapy.

Cost of treatment zero, because we still re-use the same nosodes we had used 7 years ago, the same infrared machine.

I had a green laser here, but I stopped using it.

What kind of laser treatment you used? With homeopathics or pure laser? Do you use it on acupuncture points, trigger points?

I'm curious.

Another thing: after lyme went dormant, I didn't want to see any medical doctor, and I didn't want to take any single anti-borrelia or infectious treatment.

I was DONE, fed up, tired of treatments, I just wanted a rest, and not talk about health anymore.

So for about 4.5 years, my life was fine. Then my TEETH started to have problems. I had lost a couple of teeth TO LYME infections or coinfections, seriously infected from the root, during lyme.

Dentists only did root canal treatment there, and left the sh.. inside. As I didn't want to treat anything anymore after lyme treatment, I didn't see any dentist for years.

Well, until about 5 years after lyme, the exact tooth that had a root canal started aching. I felt my cheekbone infected again. From there on, I collapsed fast: I had heart symptoms, I couldn't sleep, I had anxiety, I had high blood pressure on and off.

I HAD to go back to my lyme doctor and ask him to treat my teeth. Well, he is a follower of dr. K, and he does that beautifully, with the help of a network of biological dentists.

So then, re-started for me treatment, hell again, even without lyme. I took 5 teeth off. I realized that leaving dead teeth (with root canals) is very bad idea for immune compromised people like us.

I was stubborn not wanting to pull these teeth off, and not wanting to treat cavitations (bone infection). Too invasive, I thought I'd rather leave these dead teeth longer. Well, until catastrophe just came to my front door...

It took me about 6 months or more to take all these teeth off and treat cavitations. The last tooth I took off was about February 2015. It was so infected, that it consumed great part of my cheekbone as I had pain until my eye!!

I started using the violet Ray from Tesla on my teeth. I was losing an average of a tooth per year, for root infections (not from cavities, as I do not have cavities for the last 20-30 years!).

All my teeth die like 2 did with lyme and coinfections: from inside out. All my teeth were loose, weak, many were painful to the touch (weak roots) in Feb 2015.

It's been almost a year on the violet ray, and my teeth are much better now. So far, I didn't lose any more teeth. I put partials and even though I do not look great with these partials, at least, I'm alive, without heart symptoms.

My lyme doctor told me exactly this: "lyme will hardly kill you, but a bad tooth can kill anyone, and very fast! Take the teeth out!"

that is why I didn't negotiate which teeth to pull out: I saw that healthy teeth started dying just because I left root canaled teeth there, spreading their infection around.

On top, one tooth was killing me, literally. The DAY I pulled that tooth (that died during lyme about 8-9 years ago, severely infected), ALL MY HEART symptoms vanished.

No more High blood pressure, no more waking up in the night suddenly, no more anxiety, no more palpitations, arrhythmia, etc. That convinced me that a dead tooth could have killed me, and that in no way, I will leave any dead tooth in my mouth again.

I'm just sharing that with you, because you relapsed due to a dead tooth.

---

Posts: 6196 | From Brussels | Registered: Oct 2007 | IP: Logged |

tulips
LymeNet Contributor
Member # 44773


posted

---

Ocean - sorry that you have relapsed. I read the beginning of your post and can tell you from experience that Cats Claw will help bring you out of any mental issues; brain fog, etc. Maybe you could get a bottle of that (NOW is really good) while you decide what treatment to take.

---

Posts: 653 | From Northern Virginia | Registered: Oct 2014 | IP: Logged |
Contact Us | LymeNet home page | Privacy Statement

Powered by UBB.classic™ 6.7.3

---
The Lyme Disease Network is a non-profit organization funded by individual donations. If you would like to support the Network and the LymeNet system of Web services, please send your donations to:
The Lyme Disease Network of New Jersey
907 Pebble Creek Court, Pennington, NJ 08534 USA
http://www.lymenet.org/
---
Home | Flash Discussion | Support Groups | On-Line Library
Legal Resources | Medical Abstracts | Newsletter | Books
Pictures | Site Search | Links | Help/Questions
About LymeNet | Contact Us
---
© 1993-2020 The Lyme Disease Network of New Jersey, Inc.
All Rights Reserved.
Use of the LymeNet Site is subject to Terms and Conditions.
---