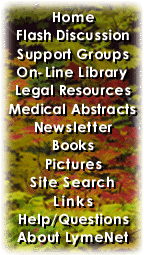 ---
LymeNet on Facebook
LymeNet on Twitter
---
---
The Lyme Disease Network receives a commission from Amazon.com for each purchase originating from this site.
When purchasing from Amazon.com, please
click here first.

Thank you.




Dedicated to the Bachmann Family


LymeNet needs your help:
LymeNet 2020 fund drive

The Lyme Disease Network is a non-profit organization funded by individual donations.

| | |
| --- | --- |
| | |
Author
Topic: How to explain why those bitten multiple times don't have Lyme

me
Frequent Contributor (1K+ posts)
Member # 45475


posted

---

Okay, so out of most of my family, my mom and I don't hunt. Everyone else does, and they are always at my dad's ranch where there are apparently tons of ticks.

People keep saying to me that it makes no sense that no one else in my family has Lyme and they've been bitten multiple times and are up at the ranch all the time skinning deer and such, but I do.

How do I explain this? It's a valid question. I know a tick has to be infected, but I go around citing research such as 45 percent of ticks are infected in our state trying to justify my Lyme.

It is a valid point in some senses. I honestly don't know how to explain this. I know Lyme can lay latent for years, but can some people be positive for Lyme but never develop symptoms? Any suggestions?

---

Posts: 1431 | From USA | Registered: Mar 2015 | IP: Logged |

Keebler
Honored Contributor (25K+ posts)
Member # 12673


posted

---

-
Not all ticks are infected. Of those ticks that are infected, each one has as different combination of infections. It's often the combination, not lyme alone, that makes someone much sicker.

There are multiple factors.

But, really, it sounds like this is a criticism of you and if you have to defend that you have it and they are using the fact they are not ill to try to prove you are not ill, I would just tell them to get educated on the matter.

I'd tell them to buzz off, quite frankly. Whether "people" or family - if they take a "tone" or "attitude" with you. You don't have time to have them act like that.

NEVER, EVER FELL THAT YOU HAVE TO: "trying to justify my Lyme"

Turn it around to education.

If they are understanding that you are ill and are just wondering, that would be another thing but still, it's not up to you to solve all the puzzles about this.

Say "good question" and invite them to read from ILADS authors as you all learn together. Also offer to ask your LLMD the next time if you have one.
-

---

Posts: 48021 | From Tree House | Registered: Jul 2007 | IP: Logged |

Keebler
Honored Contributor (25K+ posts)
Member # 12673


posted

---

-
They should start with CURE UNKNOWN, by Pamela Weintraub as this explains why some get very ill and others do not.

I suggest they each get their own copy if possible so as to read it at the same time and make notations for their own use.

Still, do not, do not EVER try to "justify" your being in whatever state of health you are in. Don't get pulled into jumping through the hoops they put up for you.

Just show them how to order this book.
-

---

Posts: 48021 | From Tree House | Registered: Jul 2007 | IP: Logged |

Keebler
Honored Contributor (25K+ posts)
Member # 12673


posted

---

-
Do you rely on your parents' money for treatment?

Do you live with them?

You just say "family" - if siblings are in on this "defend yourself" dictate, that would be unfortunate.

If you depend on this family for your existence / treatment, of course the conversation would need to be more entailed. It's the perceived tone of their demand that you "justify" that is of the greatest concern.

I hope you rely on them for nothing, actually, at least not financially but if you do, seek counsel with a LL therapist for the best ways to approach.
-

---

Posts: 48021 | From Tree House | Registered: Jul 2007 | IP: Logged |

sixgoofykids
Moderator
Member # 11141


posted

---

There can be a room full of people exposed to someone who has the flu. Maybe a few of them will get sick, the rest won't. Just because someone is exposed doesn't mean the right conditions exist in their body to make them sick.

--------------------
sixgoofykids.blogspot.com


---

Posts: 13449 | From Ohio | Registered: Feb 2007 | IP: Logged |

Catgirl
Frequent Contributor (5K+ posts)
Member # 31149


posted

---

Most of my family doesn't know how subtle lyme is. I see it in them but they think that aches and pains are something else, or they just ignore them. Perhaps this is how it is in your family.

Not everyone's response to lyme is the same too. We're all different. Some people live their whole lives without going down the paths that we've been on, and they still have lyme (I know people like this, I see lyme in them, but they don't realize it and just continue on with their lives).

I'd lay odds it's a toxicity level issue that makes lyme go haywire. EMFs don't help either (makes lyme grow faster).

It's only a matter of time before more people realize they have it. Your family likely has it but they just doesn't know it yet (lyme is so subtle and grows slowly). My family can't wrap their heads around it, so I just leave them be. I also don't tell them much about it anymore. It's easier.

--------------------
--Keep an open mind about everything. Also, remember to visit ACTIVISM (we can change things together).


---

Posts: 5418 | From earth | Registered: Mar 2011 | IP: Logged |

Robin123
Moderator
Member # 9197


posted

---

You said it - 45% of ticks infected. Meaning 55% not. Those are the odds. Tell them how lucky they've been. They really shouldn't keep pushing their luck or they'll end up like you.

I was bit by only one tick and that one tick was infected. In an area of probably 15% infected at that point.

Their tone is not respectful of you. They could get the info themselves. I'd stand up to them and give them the facts of the situation and not back down! Our voice is true now - we pretty much know the facts or know where to get them.

Because we know what's going on and they don't, I get louder with people - noisier, raise my voice, including in doctors' offices. I'm tired of people not listening, so, I talk louder, as in, listen!

I then go into my standard speech about having tick repellent on us and pets, etc.

---

Posts: 13049 | From San Francisco | Registered: May 2006 | IP: Logged |

sutherngrl
Frequent Contributor (1K+ posts)
Member # 16270


posted

---

What sixgoofykids said. Just like we all have cancer cells in our bodies from time to time, but not everyone gets cancer.

---

Posts: 4035 | From Mississippi | Registered: Jul 2008 | IP: Logged |

me
Frequent Contributor (1K+ posts)
Member # 45475


posted

---

Great responses, ladies and gents. Thanks so much for the help and support.

---

Posts: 1431 | From USA | Registered: Mar 2015 | IP: Logged |

Tincup
Honored Contributor (10K+ posts)
Member # 5829


posted

---

Keebler said.. "I'd tell them to buzz off, quite frankly."

I was going to say what she said, but she was more polite than I would be.

I've watched you posting and circling this issue in different ways, and it appears you are trying hard to find answers for them. I wouldn't bother.

We want YOU to get answers to help you, and I, for one, don't like to see you feeling so concerned about what others think about your illness (especially when they obviously AREN'T thinking).

Think about it if you will. People don't ask people why they got cancer or tuberculosis and no one else in the family did. Do they? So why are you being asked to come up with those kinds of answers?

Having to "justify" your illness to others is just plain crazy and a waste of your energy.

Next time someone asks, tell them you were bitten and got Lyme because you are the sweetest in the bunch.

Cause you are.



--------------------
www.TreatTheBite.com
www.DrJonesKids.org
www.MarylandLyme.org
www.LymeDoc.org


---

Posts: 20353 | From The Moon | Registered: Jun 2004 | IP: Logged |

me
Frequent Contributor (1K+ posts)
Member # 45475


posted

---

Thanks so much, Tincup. You're amazing and brought a big smile to my face. I had some really painful things said to me the other day, and it brought up old emotions . . .

---

Posts: 1431 | From USA | Registered: Mar 2015 | IP: Logged |

bluelyme
Frequent Contributor (1K+ posts)
Member # 47170


posted

---

My buddy is like i dont have lyme its just arthritus and light sensativity and migraines at 40?. ...or my uncle thinks its really alzheimers

...or my sister in law is wondering why they took her gall bladder out at 28 or my sister has bartonella rashes she calls strech marks...i justified aches memory and other sx for 10 plus years i thought everyone hurt this bad maybe they do....

one day the world will see.macdonald just did paper on brain cancer and lyme connection. I think it may even be the root of most cancer like hpylori and stomach cancer or hpv and throat cancer .they say 1 of 2 will get it nowadays..maybe we are the lucky ones ..

--------------------
Blue


---

Posts: 1538 | From southwest | Registered: Dec 2015 | IP: Logged |

Brussels
Frequent Contributor (5K+ posts)
Member # 13480


posted

---

MOst people are infected but MOST do not fall sick.

I posted here about a study done in the area where I live, that is very infested with ticks and diseases.

The study said most are Westernblot positive, but they are HEALTHY. The great majority of people here, in the countryside, are Borrelia-positive, but they simply DO NOT FALL SICK.

I live in the countryside, and people are bitten the whole time. I just need ONE TICK BITE to fall extremely ill. And so does my daughter. One tick bite, is all I needed to be bed-ridden.

No way that I can believe only infected ticks bite me and my daughter, but not all my neighbors!!

The problem with us is that our immune system is not working properly. It is NOT the bacteria the problem.

But of course, you do not have to excuse yourself if you catch the flu while others do not. Or a cold. Or herpes. Why should you excuse yourself for getting lyme?

And as others said, some have ACTIVE lyme, but they still do not know. Some die at very old age here, in the area I live, and have hundreds of bites in a life time.

---

Posts: 6196 | From Brussels | Registered: Oct 2007 | IP: Logged |

ukcarry
Frequent Contributor (1K+ posts)
Member # 18147


posted

---

What wonderful answers people have written here: I agree with everyone!

I know well that feeling of needing to justify the illness and it comes partly from the uncertainties and difficulties of testing and diagnosis, the widespread ignorance about the illness itself and also about its prevalence.

Also with Lyme, as with CFS, you may seem much better, be able to do more one day than another and people find that hard to understand. My mother openly called me on that once.

Some people like to research things and others never do, or only do so very superficially, so even family may not look properly into it, hurtful as that may seem.

Then there is the huge spread of symptoms that may make some people wonder....

I quite often feel that I have to embrace the oppotunity to educate when someone makes a comment about Lyme that is wrong (such as how rare it is). Unfortunately, it is sometimes hard to summon up the best facts and points if you are feeling on the defensive, but I give it a go. I hate that sceptical expression that comes across some people's faces!

So I believe that all the following things affect why some people get ill with Lyme after a bite and others don't: chance, the number and type of infections the tick had, your own state of health and immune system at the time, your genetic make-up and ability to detoxify, whether you had a chance to rest or were under stress. I am sure there are many more too!

---

Posts: 1647 | From UK | Registered: Nov 2008 | IP: Logged |

TX Lyme Mom
Frequent Contributor (1K+ posts)
Member # 3162


posted

---

There is a genetic component, or more accurately a genetic predisposition, involved which explains why not everyone who contracts the Lyme disease spirochete develops chronic, antibiotic-resistant Lyme disease symptoms. The key factor is that Borrelia produces a biotoxin, and not everyone can eliminate this biotoxin properly, depending upon one's genetic make-up

Statistics that I've seen indicate that about 24% of the population falls into this category, so it's not an insignificant number of us who are affected, but it does help us to understand why the other 76% of the population cannot understand our plight.

More importantly, this same family of genes influences our predisposition to acquiring a variety of other autoimmune diseases, depending upon subtle variations in this gene family. (I'm using the term "family" loosely here because I don't know the correct terminology for it.

It's a bit too complicated for me to explain, so here are links to a couple of good articles which explain it better than I can.

http://www.whatayear.org/02_10.html

http://www.drdaveou.com/blog/?p=406

Or try doing a Google search using "HLA DR + Lyme" (link below) -- or other similar search terms because I'm pretty sure that HLA DB and HLA DQ are probably connected also. You will probably find even better answers that those two articles above.

http://tinyurl.com/hjpdvbp

http://tinyurl.com/zchxhdx

It is my experience after nearly two decades of working in patient support that mold sensitivity and gluten sensitivity are frequently found in Lyme patients also and that all of these conditions have similar genetic components.

Let's not forget about Lyme arthritis which Alan Steere recognized in his very earliest articles on Lyme since Steere's specialty was rheumatology. Arthritis is now recognized as a form of autoimmunity also.

Here's another article that I really liked a lot when I first found it because it ties together many other ideas that I had often wondered about. (WARNING -- This article is an advertisement for his clinic which is quite expensive, and I've heard that the relapse rate there is rather high, which isn't too surprising considering what we are dealing with. Nevertheless, this article explains these same basic concepts extremely well -- including the tendency to drug dependency/addiction among this same group of genetically predisposed patients.)

http://floridadetox.com/mold-toxicity-causing-depression-anxiety-insomnia-addiction/

PS - Edited to fix width of links which were making the page too wide by using "Tiny URL" to convert them.

[ 03-20-2016, 10:55 AM: Message edited by: TX Lyme Mom ]

---

Posts: 4563 | From TX | Registered: Sep 2002 | IP: Logged |

me
Frequent Contributor (1K+ posts)
Member # 45475


posted

---

All of these responses are very helpful. Thank you all so much.

---

Posts: 1431 | From USA | Registered: Mar 2015 | IP: Logged |

TF
Frequent Contributor (5K+ posts)
Member # 14183


posted

---

Hi, me. I wonder if the correct response to this question is that we just don't know for sure.

You could tell your family that there needs to be more research into lyme disease so that we can figure out why some get sick and some don't. But, so far, let them know that nobody is interested in doing this research. Instead, they treat lyme disease like it is no big deal--rare and easily cured.

Over the years, I have heard 2 talks at lyme conferences that point to mold exposure as a common occurrence before the person gets lyme disease.

I posted the notes for these 2 talks on LymeNet. At the end of this message, I will give the links.

For sure, I was exposed to mold and then got lyme disease. Not only that, but I have a strong allergy to mold.

My husband, however, was exposed to the same 2 environments as me, but he did not get sick from the moldy environment and he did not then get lyme disease. And, if anyone should get it, it should be him since he exposes himself to tick habitats all the time whereas I avoid such places. I have taken many ticks off of him, generally at least 3 per year.

So, the speakers say that about 25% of the population cannot get rid of the toxins that mold produces. Then, because they can't, their immune system gets weakened by the continual presence of mold toxins recirculating in their bodies. Then, when they happen to get bitten by an infected tick, their body cannot fight off the lyme and coinfections.

From Dr. Lisa Nagy (not a lyme doctor). 2011:

"The toxicity of mold is not well understood. Mold illness leads to chemical sensitivities. Many lyme patients have immune suppression/immune system damage first (due to mold, etc.) then they get lyme disease."

From Dr. N, 2012:

"25% of the population cannot process mold toxin. This is the definition of mold toxicity.

Mold is a sensitizer. So is lyme disease. They both make people hyper-sensitive to everything.

For example, there are people with electromagnetic sensitivities. These people can't think in the presence of an electric clock, for example. Tests were done that showed their brain waves go from normal (thinking) to the delta wave as an electric clock approached their head.

Delta waves are basically when "the lights are on, but nobody is at home."

Smart meters and many other electrical devices make these people unable to think.

Mold symptoms are similar to lyme disease symptoms."

In my case, my husband and I lived in a rented house for 3 years. Water lay in the yard and surrounding yards. And, it turns out, there was some type of black mold on the basement block wall where the wall was cracked and a tiny bit of water was able to seep in.

For the entire 3 years that we lived there, I was constantly going to the ENT. Finally, I got black mold growing in my ear. Very, very painful!!!! The ENT told me that most people can fight this off, so they would never get mold growing in their ear, but obviously, I wasn't most people.

The mold makes spores and shoots them off from time to time. The air conditioner then blows the mold spores throughout the house. The mold lands inside my ear and grows. My husband doesn't get sick at all in this house.

As soon as we moved out of this house, I no longer needed an ENT. (Many years later, I was tested for allergies and found to have a strong mold allergy.)

Within a year of moving into our next house, I got lyme disease. I never go in the woods, don't spend as much time outside as my husband, etc. but I get lyme and he doesn't.

So, did the mold exposure weaken my immune system, leading to me getting lyme? It seems so.

In addition, I attract ticks and mosquitoes. (We can be at a party, and as it gets dusk, I begin getting bitten by mosquitoes. But, nobody else is complaining about it. I finally have to leave and go home due to all the bites.) Dr. J, world-famous pediatric lyme specialist, says that some children produce pheromones that make them attractive to ticks. These children, he says, will get lyme disease over and over again.

They aren't doing anything different from other children. They are all rolling in grass, playing in woods, jumping in piles of leaves, etc.

If you are a person who makes such pheromones, you will attract ticks for your entire life. Your pheromones are so attractive to them that the ticks run after you.

I can go outside and stand on our paved driveway for 20 minutes and come in the house and find 2 ticks on my legs.

My husband, on the other hand, crawls in among our bushes to cut out the vines, trim them, goes into our woods all the time, etc. and he rarely gets a tick on him and has never had lyme disease. We have lived in our present home for over 25 years. I get all the ticks on me. He gets ticks on him (I FIND about 3 per year on him; who knows how many I don't find) but has never gotten sick with lyme disease.

I even had him tested through Igenex Western Blot and the only plus he had was one for band 41. My lyme doc said that he doesn't have lyme. (And, we have been married many years, and I went undiagnosed for at least 10 years, having sex with him that entire time. Still, I never gave it to him.)

So, I believe that my mold exposure and sensitivity set me up for getting lyme disease. Also, it didn't help that I attract ticks like a magnet.

I have had to change my lifestyle to avoid tick habitats as much as possible. My husband hasn't changed his behavior at all.

I have gotten lyme twice; he has never gotten it, living exactly where I live for almost 40 years. Tell this to your family. It is the same as what they are noticing in your family.

So, these are some ideas to explain the mystery. Below is where you can find my notes about mold:


http://flash.lymenet.org/scripts/ultimatebb.cgi/topic/1/112279?#000000

http://flash.lymenet.org/scripts/ultimatebb.cgi?ubb=get_topic;f=1;t=121800;p=0#000000

Maybe one day it will be an established fact and common knowledge that 1/4 of all people cannot rid themselves of mold toxins and these people are therefore much more likely to get lyme disease. Their inability to detoxify mold toxins weakens their immune system. That sets them up for lyme disease if they ever get bitten by an infected tick.

And, a second story is that of a couple in Florida that I met through LymeNet. The husband was outdoorsy. His wife never went outside. The husband got lyme. His lyme doctor insisted on testing the wife, and she also had lyme, but different strains of coinfections from what he had.

So, for the longest time, the husband feared that he gave lyme to his wife through sex. Then, one day I told him about folks in New York City who live in apartment buildings. Many of them get lyme. How? From the mice that come into the apartment buildings. The ticks are on the mice.

Bingo! He then remembered that they lived in a rented house for a few years and he was always killing mice in that house. The mice were full of ticks!! So, the indoors person got lyme while staying in her house thanks to the mice.

That is how people surrounded by concrete who never go near a woods are getting lyme disease.

---

Posts: 9931 | From Maryland | Registered: Dec 2007 | IP: Logged |

me
Frequent Contributor (1K+ posts)
Member # 45475


posted

---

TF, as always, wonderful info. I really appreciate the time you took to write this.

Everyone, again, thank you for such amazing support and info. This has turned out to be a great thread.

---

Posts: 1431 | From USA | Registered: Mar 2015 | IP: Logged |
Contact Us | LymeNet home page | Privacy Statement

Powered by UBB.classic™ 6.7.3

---
The Lyme Disease Network is a non-profit organization funded by individual donations. If you would like to support the Network and the LymeNet system of Web services, please send your donations to:
The Lyme Disease Network of New Jersey
907 Pebble Creek Court, Pennington, NJ 08534 USA
http://www.lymenet.org/
---
Home | Flash Discussion | Support Groups | On-Line Library
Legal Resources | Medical Abstracts | Newsletter | Books
Pictures | Site Search | Links | Help/Questions
About LymeNet | Contact Us
---
© 1993-2020 The Lyme Disease Network of New Jersey, Inc.
All Rights Reserved.
Use of the LymeNet Site is subject to Terms and Conditions.
---