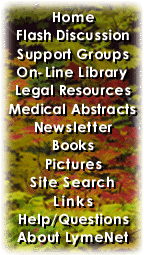 ---
LymeNet on Facebook
LymeNet on Twitter
---
---
The Lyme Disease Network receives a commission from Amazon.com for each purchase originating from this site.
When purchasing from Amazon.com, please
click here first.

Thank you.




Dedicated to the Bachmann Family


LymeNet needs your help:
LymeNet 2020 fund drive

The Lyme Disease Network is a non-profit organization funded by individual donations.

| | |
| --- | --- |
| | |
Author
Topic: Herbal dosages below MIC...

ohioperson22
LymeNet Contributor
Member # 47837


posted

---

So, in researching garlic on PubMed, an average weight male would have to eat 190 garlic cloves twice a day to get the dosage used in mice for invasive aspergillosis (this is one specific example, by the way).

Even if you get a supercharged garlic pill with 5 mg allicin, you'd need to have 140 pills twice a day to get that concentration.

Something tells me that much garlic would be lethal (maybe not allicin itself, but garlic).


Point is, there is a MIC for organisms under whatever conditions.


So maybe some herb DOES kill lyme or a coinfection, but is it even possible to achieve the MIC?

A top LLMD in his book said he put some patients on allicin, at some baby dose (relative to doses studied in animals and in vitro). What's the point?

---

Posts: 200 | From Ohio | Registered: Apr 2016 | IP: Logged |

Keebler
Honored Contributor (25K+ posts)
Member # 12673


posted

---

-
There is no single approach, not with one single Rx, nor with any single herb. Whatever protocol is pursued, it's got to be a combination approach with rotation build into that.

First of all, consuming raw garlic cloves in excess (and 190 a day is certainly excess) can be dangerous. Even more than a few a day can be dangerous. And, even one a day could be for some with tender stomach lining. Garlic oil can burn a hole right through. Care is required.

There is a protocol that uses Allicin, well, actually it's a precursor of that, it's called Alitrudi (sp? - you can find in the literature).

It would be important to read the full book to understand how this is employed - and the fact that other herbs also must on board to act synergistically.

No one agent can work alone, there must be a team and that team becomes stronger than any of the parts. It's a very important foundation for any herbal protocol approach.

If this is the book to which you refer, these are not at all baby doses.

That protocol goes by a person's weight for how many capsules are taken a day. That is not in the book but has been updated since.

[Just called Hepapro for confirmation] For instance, a person weighing about 200 lbs. the top dose for their Allicin - after working up to it - would be 3-4 capsules, three x day.

ALONG with other elements of the protocol.

And many have done very well with this protocol. I certainly did for the times I could be on it, a few months at a time, twice, separated by a year, maybe. By the time I had found this, all my resources were dried up so I was unable to continue with this and use it to its best potential.

I have been with and otherwise communicated with many others for whom this protocol worked exceedingly well - some had to take TBD specific Rx at certain times, though many relied mostly on this (a few solely).

It's best to be guided by a LLMD who is very familiar with the full range of options or a LL ND (who have training in herbal medicine and understand the principles).
-

[ 06-07-2016, 07:12 PM: Message edited by: Keebler ]

---

Posts: 48021 | From Tree House | Registered: Jul 2007 | IP: Logged |

ohioperson22
LymeNet Contributor
Member # 47837


posted

---

I found my information from a PubMed site search.

---

Posts: 200 | From Ohio | Registered: Apr 2016 | IP: Logged |

Keebler
Honored Contributor (25K+ posts)
Member # 12673


posted

---

-
The book above provides much more detail in regard to your question.

PubMed is a limited window to such research. Still, there are other ways to conduct cross searches there that can help expand the search / understanding of allicin's potential.

It is encouraging to see this:

http://www.ncbi.nlm.nih.gov/pubmed/?term=Allicin%2C+antimicrobial

Allicin, antimicrobial - 396 abstracts

one of those:

Curr Opin Biotechnol. 2012

Antimicrobial properties of allium species.

The antimicrobial activity of Allium species has long been recognized, with allicin, other thiosulfinates, and their transformation products having antimicrobial activity.

Alliums are inhibitory against all tested microorganisms such as bacteria, fungi, viruses, and parasites. . . .
-

[ 06-07-2016, 07:03 PM: Message edited by: Keebler ]

---

Posts: 48021 | From Tree House | Registered: Jul 2007 | IP: Logged |

WakeUp
LymeNet Contributor
Member # 9977


posted

---

I think the OP's point is obvious--- current science says that the "kill" rate for aspergillosis for garlic in rats requires a huge dose of allicin. A simple and important point.

Point well taken--- and something to think about--- and not to gloss over or to diminish.

We are not rats, but its important to understand that many of the supplements we purchase do not have solid scientific studies on dosing in humans or on MOC--- the ability of the supplement to kill and or heal. The reason why this occurs is because natural products are not patentable--- so the drug companies don't do clinical trials or double blind studies using natural products like garlic..

It would be great if LLMD's could begin to release anecdotal reports of small groups of patients (say 20 patients) who have done well on a specific herbal protocol -- but that doesn't seem to be happening.

A sample size of twenty is the minimum number required for "statistical significance" to the .05 level in science (if I recall correctly from my college statistics course from so long ago).

It would also be easy for these LLMDs to take "before and after tests for 2-4 simple indicators, like CD57s" etc. to see if their protocols are actually working, and are not the placebo effect or wishful thinking.

Personally, I like to see HARD scientific results-- I don't simply trust LLMDs-- since they have failed me before. Mine kept pushing more antibiotics when simple microscopy shows they don't always work since spirochetes are still present in the blood after huge amounts of antibiotics!

In short, I think what the OP is saying is that we need more HARD science to back up the anecdotal results of LLMDs who use herbal regimens.

Of course I dislike the IDSA, but LLMDs do not have my complete trust, either--- since they are groping in the dark without a lot of science to help them.

I do blame the NIH, the CDC and the AMA--- since they have not funded science that is required.

---

Posts: 696 | From New York | Registered: Aug 2006 | IP: Logged |

Keebler
Honored Contributor (25K+ posts)
Member # 12673


posted

---

-
http://flash.lymenet.org/scripts/ultimatebb.cgi/topic/1/119197?#000000

Topic: Garlic vs Allicin

Some excerpts from that discussion thread:

http://www.lymebook.com/steven-harris

Sample Chapter from the book:

INSIGHTS INTO LYME DISEASE TREATMENT - by Connie Strasheim

Excerpt --

. . . Garlic is beneficial for those who don't have trouble metabolizing sulfur-containing foods. . . .

and

If garlic causes you problems, you may need to be evaluated for MTHFR / methylation differences.


http://www.dramyyasko.com/

Amy Yasko


http://ghr.nlm.nih.gov/gene/MTHFR

MTHFR Gene


http://autismnti.com/images/Methylation_Pathway_Explained.pdf

The Methylation Pathway Explained


Garlic / allicin can cause tinnitus for some people. This could be due to salicylates that occur naturally in it.

If one does okay with salicylates and still experiences tinnitus, keep in mind that garlic is categorized as a "warm / hot" "yang" herb - with stimulating properties.

Usually, all herbal formula are well balanced between ingredients that are "yin / cool" herbs and "yang / hot" herbs. So it may be that the formula needs some balancing to be individualized.

Without this balance, there can be strain on the inner ear system and also the brain's sensory center can be over-stimulated. Kudzu is just one herb that is helpful to calm the stimulation. A LL ND would know of others.

Good to keep in mind that, for various reasons, some body types just do better than others with just about any plant substance, whether as food or in a medicinal formula.
-

[ 06-08-2016, 03:04 PM: Message edited by: Keebler ]

---

Posts: 48021 | From Tree House | Registered: Jul 2007 | IP: Logged |

Keebler
Honored Contributor (25K+ posts)
Member # 12673


posted

---

-
When considering herbal / nutritional / adjunct methods, because lyme is so very complex & unique, as are possible coinfections:

if at all possible - because each person & each case is different - it's best to consult with an ILADS-educated LL ND (lyme literate naturopathic doctor) (or similar) who has completed four years of post-graduate medical education in the field of herbal and nutritional medicine -

- and someone who is current with ILADS' research & presentations, past and present, and has completed the ILADS Physician Training Program (see: www.ilads.org )

so they really know all they can about the science of lyme . . . how lyme (& other TBD) act and what we can do about that in various ways.

http://flash.lymenet.org/ubb/ultimatebb.php/topic/2/13964

How to find an ILADS-educated LL:

N.D. (Naturopathic Doctor);

L.Ac. (Acupuncturist);

D.Ay. (Doctor of Ayurvedic Medicine);

D.O.M. (Doctor of Oriental Medicine);

Integrative / Holistic M.D., etc. (Be aware that those in this category can have various levels of formal herbal &/or nutritional education, perhaps even just a short course. Do ask first.)

Links to many articles and books by holistic-minded LL doctors of various degrees who all have this basic approach in common:

Understanding of the importance of addressing the infection(s) fully head-on with specific measures from all corners of medicine;

knowing which supplements have direct impact, which are only support and which are both.

You can compare and contrast many approaches.
-

---

Posts: 48021 | From Tree House | Registered: Jul 2007 | IP: Logged |

WakeUp
LymeNet Contributor
Member # 9977


posted

---

Keebler--

As an older timer here (since 2006, lol) your info is useful and interesting, but one book is not a scientific study--- and it is not backed up by peer reviewed double blind studies---- it is simply one doctor's opinion about garlic--- based on good anecdotes.

Valuable, yes-----but not science.

It is valuable, but does not prove anything.

Have LLMDs CURED you yet? No....

Are you cured ?

My LLMD did NOT cure me-- and he was the president of ILADS for a time.

I gave my LLMD lots of research of which he was UNAWARE since he has little time to do research and has a huge patient burden. For example, he had never read the Brorsons research on cysts----- before I gave it to him!!!

This is why I respect..... but I do not WORSHIP LLMDs, and I try to do my own research --- much of it is on pubmed which can be an EXCELLENT source of information.

Yes of course I take garlic based on anecdotes--- but it hasn't cured me.

Frankly---- I don't quite understand why you are so down on pubmed..... its a useful source of many scientific studies on compounds. Of course you are entitled to your opinion, as each person here is entitled to their own opinion.

No one here is a doctor, as far as I know-----so we are equal.

What we need is more ACTUAL SCIENCE on these herbs, more actual REVIEWS on the effectiveness of different protocols---- and less blind trust in the establishment-- which includes LLMDs-- who thus far do not have the greatest track record at curing people, nor do they keep statistics on their cure rates.

Im not interested in spending lots of time comparing and contrasting approaches--- and spending thousands more on LLMDs with unproven protocols.

----- I just want an approach that works, based on scientific evidence..

Does Dr. Z have a published "cure" rate and testimonial?

---

Posts: 696 | From New York | Registered: Aug 2006 | IP: Logged |

Keebler
Honored Contributor (25K+ posts)
Member # 12673


posted

---

-
The book CONTAINS professional articles / studies in its reference citations. The book's author has studied the topic in depth and shares what he found in his research not just about garlic / allicin but other herbs as well in how they work together.

The author is both a doctor of oriental medicine (having studied in his native country) and MD from top US medical school.

It's helpful to first read the book to see what's in it before making assumptions.

And other books about garlic should also be read. Other authors. It's also never been said to be a cure but an important part of formula.

How it is used is important, the sources, etc.

I am not "down" on PubMed all - it's a marvelous resource and its nearly 400 articles on this topic provide great insight [Allicin, antimicrobial - 396 abstracts]

I rely on PubMed to turn on some light bulbs / shine hope nearly every week in my own personal study. I sing the praises of PubMed quite often here in various posts -

- but PubMed is still limited as one explores any issue. There is much more to researching a topic besides looking just to PubMed.

The way studies are designed cannot tell us everything we need to know about the nature of any medicine or herb. PubMed / studies can help shine some light and point out a few avenues but we still have to do more work putting things in context and shoring up foundational details.


As most with lyme know, "published cure rates" can be difficult with so many variables in treatment rotations & in patients over the course of long term treatment. Yet, many doctors have either addressed this on a website or would in a phone call to their office manager, as best possible.

Lyme support groups, both in one's home territory and also in a wide circle around where a LLMD who is being considered is located - are great for info on which doctors seem to have the best successes over time.

From what I've seen with my own eyes at a workshop of those on the protocol with allicin as part (and my short times on it), though, it is very impressive protocol. Yet, it can take just as long as an Rx protocol and Rx may also be required with it at times.

If you wish, you could study it for yourself. But no one can put into short posts all it is. That requires reading the book and taking it from there to further study.

Yet, it's certainly does not seem to interest you, and that's fine. I hope you find what you are looking for in a perfect study if it exists -- or otherwise find relief and recovery from this long nightmare.


My posts here are not to push this protocol but to help round out detail in the question posed about garlic -- for all who may be reading today or next month.

To serve as a roadmap of sorts. To help prevent assumptions based on too little information.

Herbal medicine does not fully translate in ways we might expect at first when searching for decisive cures - wanting some study that says this one thing is just what we need once and for all.

But no study really does that - and, yes, absolutely we need more research in various ways - not just the same old models.

I hope that some of my posts will help those interested pursue their own reading to learn more from a variety of able sources. And that usually means starting at the "One Earth" book menu with the "Nature" of herbs and "How they work" for an basic foundation.
-

[ 06-09-2016, 04:21 PM: Message edited by: Keebler ]

---

Posts: 48021 | From Tree House | Registered: Jul 2007 | IP: Logged |
Contact Us | LymeNet home page | Privacy Statement

Powered by UBB.classic™ 6.7.3

---
The Lyme Disease Network is a non-profit organization funded by individual donations. If you would like to support the Network and the LymeNet system of Web services, please send your donations to:
The Lyme Disease Network of New Jersey
907 Pebble Creek Court, Pennington, NJ 08534 USA
http://www.lymenet.org/
---
Home | Flash Discussion | Support Groups | On-Line Library
Legal Resources | Medical Abstracts | Newsletter | Books
Pictures | Site Search | Links | Help/Questions
About LymeNet | Contact Us
---
© 1993-2020 The Lyme Disease Network of New Jersey, Inc.
All Rights Reserved.
Use of the LymeNet Site is subject to Terms and Conditions.
---