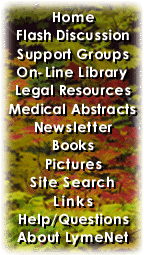 ---
LymeNet on Facebook
LymeNet on Twitter
---
---
The Lyme Disease Network receives a commission from Amazon.com for each purchase originating from this site.
When purchasing from Amazon.com, please
click here first.

Thank you.




Dedicated to the Bachmann Family


LymeNet needs your help:
LymeNet 2020 fund drive

The Lyme Disease Network is a non-profit organization funded by individual donations.

| | |
| --- | --- |
| | |
Author
Topic: Delaying treatment?

SLH516
LymeNet Contributor
Member # 48060


posted

---

1/3 This is really long, and probably more information than you really need, so I apologize for that. I'd really like feedback, though. I'll divide it up between several posts, in case that helps.

Now that I made another post about finally seeing a LLND so I can make some forward movement with this thing, I have a totally opposite question I'd like people's opinions on...or more likely a reality check and nudges to move in the right direction.

I'm already pretty sure what folks will say, but part of me still hopes I can get away with this for a while. Please be nice about this and don't tell me I'm an idiot or any other shaming responses. I need my idiocy gently shot down! ;-)

After seeing the LLND next week, I need to start my BVT as soon as possible. I know a lot of symptoms can be reversed with treatment, although from what I've heard, that doesn't usually apply to vision and hearing, and those are my biggest concerns. My Lyme symptoms are primarily neuro.

As I'm sure is the case with every other person here, I'm so frustrated with never being able to make plans with people or always having to cancel them.

I don't remember the last time I was able to actually follow through on plans. Usually I just don't make them.

Next June I have the opportunity to go on an all-expenses-paid trip to England, Wales, and Ireland for almost a month with some people who are very dear to me.

They're getting trip cancellation insurance because they know I may have to cancel at the last minute. And there's the possibility that I might be fine going over but then have to spend a week or so in bed while I'm there.

They've promised that they would go out and do the things they want to do even if I couldn't join them, and I know they're sincere about that, so I feel ok about that.

There's always the possibility, though, that we could all set out for a day trip and have to cut it short because I have to get back to the house and crawl in bed. That just doesn't seem fair to them.

It also doesn't feel right to have them pay for a trip that I could potentially end up missing half of.

So there's that. If I went right now, that's what I would be looking at. Maybe things would be fine, maybe not.

---

Posts: 112 | From USA | Registered: May 2016 | IP: Logged |

SLH516
LymeNet Contributor
Member # 48060


posted

---

2/3 If I start treatment (I'm going to do BVT alone for treatment, don't ask why, that's for another thread) and end up really sick...predictably so...then I definitely won't be able to go.

If I'm not too sick to go, I'll have to make alternative plans for the BVT (since it would be too complicated to get the bees over there, if they would even be available).

I can't go a whole month without taking it due to potential sensitivity issues when I would start again.

I can get vials of the venom to take with me, but it's very expensive and I'd have to hope that customs wouldn't have an issue with it. (I suppose they'd be ok with it if I had my Rx with me?)

So I've been wondering (I know, I know, foolishly, I'm sure) about waiting until I get back to start the treatment. That would be 10 whole months!

A cycle I've noticed with my symptoms since the beginning of this year is that every couple of months I have a week or two that are much worse than usual, with current symptoms getting worse and new symptoms appearing.

The worst of that crisis then fades and I seem to hang out at a new, more compromised level of function than before those 1-2 weeks. This lasts for a couple of months, and then the cycle happens again.

If this cycle continues...and there's no reason to think it wouldn't...I could be significantly more compromised by next summer.

---

Posts: 112 | From USA | Registered: May 2016 | IP: Logged |

SLH516
LymeNet Contributor
Member # 48060


posted

---

3/3 So far, I'm still functional enough most of the time nowadays to take care of ADLs without any assistance. (That wasn't the case for a good chunk of time when my migraines started 1-1/2 years ago, though they've diminished significantly in severity over the last few months.) If I go another 10 months without treatment, though, who knows?

Buuut...maybe that wouldn't happen? It would be tremendously disappointing if I stayed home and nothing significant happened health-wise. (Well, I'd be happy if nothing happened health-wise, of course, but I'd be incredibly sad and angry about missing the trip.)

I suppose I could wait things out another couple of months before starting treatment and see if the pattern continues. Idk if waiting any longer at all is a wise idea, though.

The concerns I have that tell me that would be an idiotic decision are vision and hearing problems.

My hearing loss, although mild, is pretty consistent; it doesn't seem to come and go like my other symptoms do.

It's very mild, but also very noticeable, even when just one person is talking to me. I've had that symptom for a number of years, and haven't noticed it getting worse over that period.

My vision problem so far is my sight getting periodically blurry. My eyeballs also hurt to pressure sometimes. That's a new symptom, but the blurriness I've had for several years with no noticeable deterioration.

However, I've heard of people's eyesight diminishing significantly or even completely almost overnight, and that would obviously be devastating. Also, I don't have any floaters or anything else like that, and I'd prefer not to have those develop. Losing my hearing would be devastating too, of course.

Soooo...I'd pretty much be playing Russian roulette by delaying treatment, huh? It's not a really wise idea, huh? Blindness and deafness aren't something to f*** around with.

There are other significant things going on during the next year that I will potentially end up missing, but I'm coming to terms with those. But this...

ARGH!!!

If you've missed significant events because of this effed up disease (I know there are more significant events than this that people have missed out on), how did you deal with it?

---

Posts: 112 | From USA | Registered: May 2016 | IP: Logged |

WPinVA
Frequent Contributor (1K+ posts)
Member # 33581


posted

---

Personally, I would start treatment as soon as possible. Getting your health back is your first goal. Yes, I've delayed starting new meds by a week or two to make sure I felt ok for something I had scheduled, BUT I did not do this until after I had treated for a while, and I didn't delay for more than a week or so.

Then re the trip - I'd go with your gut. It sounds like you really want to go, so if that's the case then I'd probably go ahead and book the trip with trip insurance.

It is impossible to predict how you're going to feel in 10 months. Worst case is you go on the trip w/out feeling your best but you still get a wonderful mental vacation from the daily grind and get to spend time with people dear to you.

As for the bee venom, you have 10 months to figure that out. You haven't even started with the LLND yet, or started treatment. Who knows how you'll react to it, or if the LLND wants you to do something else and you decide to make a change.

The trip sounds amazing! : )

---

Posts: 1737 | From Virginia | Registered: Aug 2011 | IP: Logged |

me
Frequent Contributor (1K+ posts)
Member # 45475


posted

---

I personally wouldn't delay treatment.

--------------------
Just sharing my experiences, opinions, and what I've read and learned. Not medical advice.


---

Posts: 1431 | From USA | Registered: Mar 2015 | IP: Logged |

Lymetoo
Moderator
Member # 743


posted

---

I would not delay either. You could always stop treatment about 2-3 months before the trip so you wouldn't be herxing.

--------------------
--Lymetutu--
Opinions, not medical advice!


---

Posts: 95350 | From Texas | Registered: Feb 2001 | IP: Logged |

SLH516
LymeNet Contributor
Member # 48060


posted

---

Lymetoo, the problem with stopping BVT for that long is that I could end up with a sensitivity to it when I restart and not be able to use it any more. The problem with that is that it's the only thing I can afford to do, so I would be left with nothing after that. (I'm on disability and every penny is spent on rent/bills each month, so I'm already going to be borrowing the money for the BVT.)

My first thought also was just to stop the BVT a little while before the trip until I learned about the possibility of developing a sensitivity to it if you stop even for a short period. That threw a wrench in that idea!

I do plan on ramping up v-e-r-y slowly on the stings to hopefully avoid herxing as much as possible. I wonder if cutting way back on the number of stings prior to/during the trip (like down to 1 sting at a time vs. 10) could potentially solve this problem.

Definitely something to research, thanks for letting me think out loud here. ;-)

---

Posts: 112 | From USA | Registered: May 2016 | IP: Logged |

bluelyme
Frequent Contributor (1K+ posts)
Member # 47170


posted

---

I did not eat the doxy because of heard ot was contraindicated in muscle wasting ..i am 10 months in on bvt with herbs and iv silver rife and lots other stuff..i deliberated 3 months to get a port in and start rocephin

my photophobia and spotty vision is a lot better ..circulation a lot better still half deaf ...lyme rplicateds 21 days or some **** ..you gotta watch the coinfections that double daily...

i believe bartonella to be eating my nerves .and toxo like organism. ..

treat as hard as you can for 9.75 months take a break and come back to it ... use herbs and what everelse you can afford ...the bees are godsent ..start a hive plant flowers in the spring...maybe by then you could accept donations for apitherapy and have spending money for your trip.

..and be helping others learn ..pull out the stingers and use accupuncture points it is very strong mojo...hoshindo is 25g and you can learn in a few years have a carreer and a future at least that what i hope ..look at ellie lobel..

she is doing a training on october in cali ..id amputate to be there.euro lyme is faster than ours btw jk

--------------------
Blue


---

Posts: 1538 | From southwest | Registered: Dec 2015 | IP: Logged |

SLH516
LymeNet Contributor
Member # 48060


posted

---

Blue, what do you mean by "pull out the stingers and use acupuncture points"? Do you mean use each stinger twice by way of leaving it in the first location (along the spine, I assume) for just a short time so not all of the venom is used and then stinging an acupuncture point with the venom that's left?

Thank you for sharing your hope for becoming an acupuncturist (I gather that's what you were saying?). I've been wondering what in the world to do with my life once I'm well, and that's an intriguing idea. I'm a science/medical person, and that might be a good fit for me. Sorry you can't get to the training in October, but I hope it happens for you eventually!

---

Posts: 112 | From USA | Registered: May 2016 | IP: Logged |

tulips
LymeNet Contributor
Member # 44773


posted

---

SLH516 - I think that if you don't want to do antibiotic treatment, you should do herbal treatment asap. I would do herbal therapy along with BVT if that's what you want to do. Lyme is fueled by organisms - billions of them and they are reproducing all the time.

The doubt that you're experiencing could be part of Lyme. If you let it go long enough, depersonalization sets in. Depersonalization causes a person to drift along and not treat themselves. If you let it go, Lyme can destroy you. With Lyme, you snooze - you lose.

I read somewhere that if you can't afford to do the whole Lyme protocol in Buhner's books, at least take three of the herbs. Get his book "Healing Lyme" from the Library and pick the top herb used in his Core Protocol for (1) Lyme (2) Bartonella and (3) Babesia.

---

Posts: 653 | From Northern Virginia | Registered: Oct 2014 | IP: Logged |

bluelyme
Frequent Contributor (1K+ posts)
Member # 47170


posted

---

Hoshindo is apitherapy and accupuncture mixed with japonese meridian point . The lady founder voyce has a website. So with really fine tweezers one can pull out the stinger before it stings ...

then you can tap or set it in right where you want .a tap is like 1 or 2 sec .a set is in there for a minute and a full is where the bee does it ..tap is 10mcg of venom .,set 100mcg and full is 1000mcg

.a stinger has many taps in and is good for places like gums ,jaw and fingers ,toes lymph etc etc

learn meridians now ..get some nice tweezers a apitherapy box is easy to make or cheep to buy..i have made a few out of plexiglass .if you get dedicated let me know .i can email a pic of one

..it has a slide for easy grab and you put honey in a little wad of paper towel in to keep bees alive for a few days .its like super powered moxibustion

i would add as many herbs as you can ,androgrphis ,fire tree bark ,houttynia ,jap knotweed have been helpful also chinese cats claw

[ 09-19-2016, 02:33 AM: Message edited by: bluelyme ]

--------------------
Blue


---

Posts: 1538 | From southwest | Registered: Dec 2015 | IP: Logged |
Contact Us | LymeNet home page | Privacy Statement

Powered by UBB.classic™ 6.7.3

---
The Lyme Disease Network is a non-profit organization funded by individual donations. If you would like to support the Network and the LymeNet system of Web services, please send your donations to:
The Lyme Disease Network of New Jersey
907 Pebble Creek Court, Pennington, NJ 08534 USA
http://www.lymenet.org/
---
Home | Flash Discussion | Support Groups | On-Line Library
Legal Resources | Medical Abstracts | Newsletter | Books
Pictures | Site Search | Links | Help/Questions
About LymeNet | Contact Us
---
© 1993-2020 The Lyme Disease Network of New Jersey, Inc.
All Rights Reserved.
Use of the LymeNet Site is subject to Terms and Conditions.
---