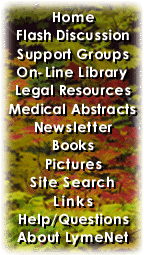 ---
LymeNet on Facebook
LymeNet on Twitter
---
---
The Lyme Disease Network receives a commission from Amazon.com for each purchase originating from this site.
When purchasing from Amazon.com, please
click here first.

Thank you.




Dedicated to the Bachmann Family


LymeNet needs your help:
LymeNet 2020 fund drive

The Lyme Disease Network is a non-profit organization funded by individual donations.

| | |
| --- | --- |
| | |
Author
Topic: Fasting gives you an immune reboot!

Pebbles
LymeNet Contributor
Member # 43614


posted

---

So interesting! I would love to give it a try. I have to take too many of my pills with food though, so I'm not sure how that could work.

I have read that you can get some benefit just by eating smaller meals. I am trying to treat SIBO right now so I am eating very small meals to help with digestion.

---

Posts: 116 | From Upstate NY | Registered: Apr 2014 | IP: Logged |

Jenene
Member
Member # 49398


posted

---

Funny you should post this!! I just booked a trip to the Bahamas at Sivananda Ashram for a 10 day juice cleanse!! I'm hoping it will help!

--------------------
Jk


---

Posts: 88 | From Nj | Registered: Dec 2016 | IP: Logged |

Haley
Frequent Contributor (1K+ posts)
Member # 22008


posted

---

I have always wondered about this, but never tried it. Do you do a water only fast?

[ 12-13-2016, 07:22 PM: Message edited by: Haley ]

---

Posts: 2232 | From USA | Registered: Aug 2009 | IP: Logged |

Brussels
Frequent Contributor (5K+ posts)
Member # 13480


posted

---

I don't know what is a wooer only fast, but I suppose, you meant, water only fast??

I did yes, a water-only fast, but in the place of water took some herbal tea (like lemon grass, for example), as sometimes I do that in winter and I dislike cold water.

I also did a one-fruit a day fast, which could last longer (about 10 days).

I'm extremely thin, and I thought I was NEVER going to be able to fast, but in fact, my body asks me to fast, from times to times (I stop to be hungry, I feel bad after eating, so I feel, it's time for fasting!).

when you fast, you get a reboot, so if you fast and still take pills, I wonder how to manage the pill-effect (as your body will change, at least, mine did VERY FAST!).

Imagine you are taking 4 pills of cats claw, then you fast, get a boost of the immune system, plus starve the critters, then you may get the herx of your life? I don't know, I would stop all treatments.

But that's me. I think different people will need different types of fasting!

The reason why I fast comes almost always when I feel something is wrong: why my herbs are not working? Why a cold remains for so long?

Why am I not digesting things properly? Why do I feel so tired for no reason? Stuff like that. So I stop everything, and reboot my system, then I swear that it feels like a fresh start.

I also swear that I could put my very chronic lyme into remission ONCE through fasting ONLY, when nothing seemed to work.

The idea of doing a 5:2 fast (5 days eat normal, 2 days fast) seem also interesting.

Skipping a whole meal makes already something to the body. The first 2 days for me are harder, then I really do not feel hungry any longer.

It is though hard to plan your days, as without food preparation + eating + washing up + shopping , you get so much more time available.

I swear that I usually see some clear effects on day 2 (24 hours after stopping to eat), then by day 3 you start to really understand what means a 'reboot' of your system.

Read a bit about other people's experience before starting.

---

Posts: 6196 | From Brussels | Registered: Oct 2007 | IP: Logged |

anuta
LymeNet Contributor
Member # 22646


posted

---

I fast from time to time. Its not always easy, since when I herx I crave greasy food and when I fast I herx even more.

It's funny Brussels, that you say that the first 2 days are the hardest ones. For me it's the opposite- the first 3 days are the easiest for me- I'm not hungry at all. At the end of day 3 - herx increases and fasting becomes difficult.

---

Posts: 443 | From Montreal, Canada | Registered: Oct 2009 | IP: Logged |

Keebler
Honored Contributor (25K+ posts)
Member # 12673


posted

---

-
Fasting can be fatal for those with porphyria issues, as are common with lyme and other chronic infections. And a porphyria attack might be misinterpreted as a herx.

Liver support may be of help to mitigate excess porphyrins but, please, never think liver support can take the place of food and real glucose from real food. Glucose can literally save a life during a porphyria attack - but the ER may also be required for IV Heme infusions.

Preventing porphyria attacks in the first place are of key importance. The ER can't undo damage all the time.

Also, low blood sugar attacks can be just as dangerous even after the fact as can high blood sugar attacks.

Detail:

http://flash.lymenet.org/scripts/ultimatebb.cgi/topic/1/91842?#000000"

what type of M.D. tests for PORPHYRIA? Includes detail about: HPU / KPU . . . .


http://ciin.org/mcs.html

About MCS (Multiple Chemical Sensitivities)

. . . Disorders of Porphyrinopathy . . .
-

---

Posts: 48021 | From Tree House | Registered: Jul 2007 | IP: Logged |

Catgirl
Frequent Contributor (5K+ posts)
Member # 31149


posted

---

Right on, thanks Brussels! I always feel better when I fast a day. Holiday shopping sounds like a good time.

--------------------
--Keep an open mind about everything. Also, remember to visit ACTIVISM (we can change things together).


---

Posts: 5418 | From earth | Registered: Mar 2011 | IP: Logged |

Brussels
Frequent Contributor (5K+ posts)
Member # 13480


posted

---

Keebler!!! You are back!!!!

I hope you are feeling better!

Glad to read your posts again!

I was a typical KPU person. So bad, that 1/6 of 1 capsule of zinc can make me sick, after a couple of days...

but still, fasting felt great. I never though forced fasting: it always comes to me, naturally.

Then I just follow.

-------------------
anuta, I guess you got a point!!

Greesy foods: why not taking loads of omega 3 supplements with fasting? Or adding some oil? And don't forget rubbing on the skin.

I know EXACTLY what you mean by that oil craving. I think I'm drinking almost a whole cup of fresh cream a day (not a whole, but quite some of it), plus butter, olive oil, and seeds (chia, flaxseed, Brazil nuts, cashews...).

I don't put on weight, despite that all.

Why not doing then fasting with OILS + NUTS?!!

Binders are a must, of course, in that case. I wouldn't let all those toxins re-circulating back to my body...

---

Posts: 6196 | From Brussels | Registered: Oct 2007 | IP: Logged |

Brussels
Frequent Contributor (5K+ posts)
Member # 13480


posted

---

Good luck for all of you who fast!

Even 24 hours alone can do something, I feel. Best is from day 2 on though...

---

Posts: 6196 | From Brussels | Registered: Oct 2007 | IP: Logged |

MattH
LymeNet Contributor
Member # 30846


posted

---

Brussels thanks for bringing this up. For a variety of reasons I have been eating Ketogenic since Aug. Several things have improved, blood tests especially (LDL, HDL, Blood Pressure, liver markers and others).

Tim Ferris credits a couple of 3 days fasts for rebooting his immune system when he had Lyme. This was only part of his protocol but he felt it really helped.

I have also incorporated shorter fasts that seem to help and get me ready for longer fasts. I will eat dinner about 7 pm when I get home from work. I will then not eat again till lunch. I put a lot of MCT Oil or Coconut Oil in my tea in the morning and that reduces my appetite.

So far it seems to be working well. I will try a 3 day fast in January just using teas and MCT or Coconut oil and supplements.

All the Best, MattH

---

Posts: 607 | From Houston Texas | Registered: Mar 2011 | IP: Logged |

Brussels
Frequent Contributor (5K+ posts)
Member # 13480


posted

---

Nice to know such simple techniques help people so much.

Nice to know other people feel benefits of short term fasting (3 days, why not??!). I swear I already feel it after 24 hours, then clearly after 48 hours. By the 3rd day, i feel like new!

--------------------------------------------
I'm also glad to see some research done lately on the subject (on stem cell activation), as fasting is such an OLD technique, said to help in so many ways.

It's totally free, you can do without any help from any practitioner, that is why I think such techniques are not that promoted. Little financial interest.


The first time I fasted, I was ASTONISHED to see how much my body could STILL do, in spite of infections and fatigue.

I thought my body was 'broken', a wreck, too weak, but in fact, lack of food gave my body a break, so that it finally could do what it couldn't, when I was eating.

That is how it felt. In fact, our bodies have AMAZING healing abilities, if we give them a chance.

Fasting provided me that chance. Even in winter! Even being extremely skinny! Even suffering from stomach pains for years, diagnosed with gastritis in the past...


Good idea of the coconut oil, Matt. Some people cannot take it though (I have some problems to digest it). We have to do what we feel is beneficial.

Animal oil / vegetable oil /oily food /animal protein / nuts always feel good for me too, when some nasty infection is active.

I'm sure we crave oils to bind to neurotoxins from infections.

Again, fasting is not one recipe fit for all. One thing I do sometimes, when I want just partial fasting, is to avoid 1 main meal. For example, dinner.

If you are more hungry at lunch, eat it well, but skip dinner.

If you are more hungry in the evening, eat well dinner, but skip lunch and breakfast. Eat again only by 4pm, a small snack or fruit, then again dinner...

Repeat for a few days, if you can get used to it, it is a bit like a low-gear fasting.

It can give you an idea what fasting does, without actually fasting. It won't be as strong as fasting, but it already helps, i feel.

---

Posts: 6196 | From Brussels | Registered: Oct 2007 | IP: Logged |

Brussels
Frequent Contributor (5K+ posts)
Member # 13480


posted

---

Anuta, I was thinking: as we all noticed, day 3 is the 'turning point' for fasting: everything starts to be working so well (detoxing and immune system) that, of course, there can be herxes coming.

Why don't you try eating daily some nuts, or whatever you crave, just once a day? Or every 2 days? I ate a fruit a day, but instead, I suppose, I could eat some oily stuff?

I know it's harder to digest than fruits / veggies...

I would also take binders in your case, daily (like chlorella etc), as they are like vegetables (like in the juicing fast, people do take veggies or fruits in juice, once a day).

I guess, if you just add ONE TYPE of food every time, like in the morning binders, then afternoon some oily thing, you may still feel like fasting.


The macrobiotic diet recommendation is NOT MIXING foods. That is why they tell people to eat only one thing at a time, and to chew the food a hundred times.


We usually do the OPPOSITE: carbs with juice, with meat and vegetables, sauces and dessert...

And we eat fast, barely thinking about what's in the mouth (we read the news, chat in the smart phone, watch tv while eating, right?)


This is AWFULLY tiring for the body ... The awful mix of foods and the speed we eat!

Only if you did try macrobiotic for a while, you understand the BIG difference. You can still eat the same as usual, but just separating them in different meals, it makes the whole difference!


Macrobiotic diet suggests then separating what we eat: first only one veggie, chew it hundreds of times, swallow.

Then start another veggie: again the same thing. Only doing that simple rule gives the body a great break too.


I'm just thinking how people HERXING could do such fasting, trying to figure out a partial solution!!!

I just had that idea: one 'meal' veggie binders, the other 'meal' one oily stuff you crave + Omega 3 capsules?? It's just an idea...

If you find some other solution, let us know.

---

Posts: 6196 | From Brussels | Registered: Oct 2007 | IP: Logged |

Christopher J
LymeNet Contributor
Member # 46401


posted

---

I do a kind of warrior diet fasting. I only eat one meal a day. So I fast about 20 hours each day. Makes my lyme a lot better

---

Posts: 173 | From USA | Registered: Aug 2015 | IP: Logged |

Brussels
Frequent Contributor (5K+ posts)
Member # 13480


posted

---

Great, Christopher!

I'm reading a book about the gut, by a German MD: she said it takes about 5 hours for the small intestine to digest a light meal.

The gut has as many neurons (nerve cells) as the brain! It produces about 20 hormones alone, and the body needs to produce so many enzymes for digestion.

Digestion is a great energy consuming job. Give your body a rest, like eating just once a day (no food AT ALL in between) and you give your immune system and detox system time to work.

Like Christopher is doing. It may work like a medicine!


If you just do that one day, you may already see a slight result.

OF course, if you eat allergens (like gluten, for example) or other fruits, milk products that you are allergic (not all are allergic though), you won't see much difference because inflammation is always there (until the food gets out of your system).

---

Posts: 6196 | From Brussels | Registered: Oct 2007 | IP: Logged |

Christopher J
LymeNet Contributor
Member # 46401


posted

---

Brussels you are right on the mark. It really does clear out your system even if its daily fasts like I do. Your head becomes so clear too! Like you can think ultra clearly. My theory as to why is because your body has to give you the tools necessary to obtain food, so it makes your perceptions better. Oh but I am huge on dairy products. Only grass fed organic milk for me though! I am gluten free completely.

---

Posts: 173 | From USA | Registered: Aug 2015 | IP: Logged |

Brussels
Frequent Contributor (5K+ posts)
Member # 13480


posted

---

Great Christopher!!!

It is amazing how clear the mind can get in so little time!

since my first fast many years ago (still during lyme), my whole eating habits changed. I don't feel hungry in the evening, and feel like eating well at lunch and breakfast is what I need.

My theory is that fasting just gives the body time to do what it couldn't, due to digestion. Digestion is so complex, and requires SO MUCH energy, that the body cannot deal well with other things (like immunity), in case it is ill and lacking energy.

I feel so amazingly energetic during fasting, my body does enter detox-mode, and I feel amazed at the own healing powers I still had, but I didn't know. That's how I see it.

I'm still reading the book about the gut. Digestion is SO COMPLEX!

Imagine that each capillary (that is thinner than hair)that is linked to the gut (there are zillions) has one lymph capillary too, just for cleaning the mess, and sending immune cells to the gut!


Zillions of lymph capilaries, that do not have a pumping system like the heart. So the lymph is there, stuck, moving so slowly... for hours.


Only because we eat, the whole immune system of the gut, the complex lymph system there, the blood system, they get all fully busy for at least 6 hours for one LIGHT meal!

Great that you found it so useful. So easy, so amazingly powerful!

I also ate milk products, but I'm almost 100% on goat and sheep... except for butter.

Crossing my fingers this will help you for a long time!!

---

Posts: 6196 | From Brussels | Registered: Oct 2007 | IP: Logged |
Contact Us | LymeNet home page | Privacy Statement

Powered by UBB.classic™ 6.7.3

---
The Lyme Disease Network is a non-profit organization funded by individual donations. If you would like to support the Network and the LymeNet system of Web services, please send your donations to:
The Lyme Disease Network of New Jersey
907 Pebble Creek Court, Pennington, NJ 08534 USA
http://www.lymenet.org/
---
Home | Flash Discussion | Support Groups | On-Line Library
Legal Resources | Medical Abstracts | Newsletter | Books
Pictures | Site Search | Links | Help/Questions
About LymeNet | Contact Us
---
© 1993-2020 The Lyme Disease Network of New Jersey, Inc.
All Rights Reserved.
Use of the LymeNet Site is subject to Terms and Conditions.
---