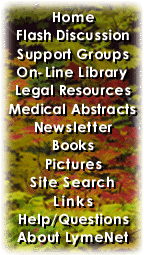 ---
LymeNet on Facebook
LymeNet on Twitter
---
---
The Lyme Disease Network receives a commission from Amazon.com for each purchase originating from this site.
When purchasing from Amazon.com, please
click here first.

Thank you.




Dedicated to the Bachmann Family


LymeNet needs your help:
LymeNet 2020 fund drive

The Lyme Disease Network is a non-profit organization funded by individual donations.

| | |
| --- | --- |
| | |
Author
Topic: What auto-nosodes did...

Brussels
Frequent Contributor (5K+ posts)
Member # 13480


posted

---

I had a 2 week sort of rush here, with inflammation very high, hands and toes burning, all fatigue, anxiety, flares, had to stop all carbs, less fruits, etc.

I started losing weight, felt miserable. You know, when candida or whatever that decides to strike, gets badly angry.

What started that attack was sleeping back on a charged electrosmog bedroom. I did that because I was testing a new product, called Clean Sweep, and actually felt good on it.

After day 6 or 7, came the collapse. Usually, it takes me only 2 nights for collapsing... While Clean Sweep cancels part of the biological reactions, well, it is still not a solution.

Inflammation or Candida came back in rage!!!

I decided to use on VFT products to see if they helped. They did, but only minimally. About 20% drop of flares, less anxiety.

I still couldn't touch any proper food, and was starting to think to go fasting, to stop that rage.

Before fasting, I said, I'll go back to my homeopathics, the same strategy I've been using with lyme, teeth infections, etc.

So here I started:

- 1 drop of urine diluted to D2, D6, D12: urine auto nosode, to help excreting my own toxins from inflammation.

3, 4, 5 times a day, a few drops

- Apisinum D5, which is bee venom diluted.
5 drops under the tongue, about 3 times a day.

Those first 5 drops made my flare go down 80% at ONCE!

Immense fatigue followed, but the flares calmed down very very fast.

I used Apisinum so many times in my life, also during lyme, recommended by my lyme dr.


- Next day, some flares came back: so I added Arnica D6, for the itching and redness.

It helped further with symmptoms, as Apisinum was helping only to about 60%-70% next day.

Adding Arnica, made symptoms go to 80% down again.

-----------------------------------
The funny thing is that my left nostril dripped water, every time I took Apisinum the previous day, then again, next day, with Arnica.

Only the left nostril!

That rang the bell: could it be that my finger inflammation was connected to an old root canal I had 10 years ago, with lyme?

My cheekbone never fully recovered, as I feel dull pain there, ever since.

I asked energetically: infection cheekbone = infection on skin? And got a yes.


OMG, so many years, and I never made the connection!!!

I thought these were two different critters, one affecting my skin, the other the root canal / cheek bone. Wrong.


Idea: why don't I collect the water dripping from my nose, which contains the pathogen that is bothering me in both places, and make an auto-nosode?


Bingo: it takes me minutes to do it, as it is in low dilutions.

So I did a D6 nose-water nosode, and ingested that, rubbed on my fingers, tummy, sniffed it etc.


- my other added remedy was then Nose-water nosode, 3 times a day too.

The feeling was amazing! Pressure in the cheekbone felt a bit of release, then my finger joints started like herxing (light pains), the flares went further down, now to 90% down, then like in a cascade, my whole body entered healing.

I felt bigger joints in pain (stinging pain), left wrists at a certain point, screamed in pain (I have no symptom there, but I suppose, some arthritis was building slowly there)...

Hours later the same day, my whole bowels felt funny, and as always, when candida dies, I have loose stools.

Not like eating rotten food, because after bowel movement, I felt stronger, not weaker, as usual with rotten food.

After about 24 hours, symptoms kept changing, from joints, to bowels, my head got clearer, my nose started making noise as though water was moving inside my sinuses...

A couple of days after (now), flares are 100% gone, inflammations is almost totally gone (still a bit left on one finger), the color of the skin changed from bright red to now dark purple.

I'm eating carbs again, even a chocolate egg (small), mango, apples, everything again (still gluten free, casein free though).


- for herxes, I added chlorella 2 times a day, bear garlic too. Then Clean Sweep (diluted), Megahydrate (D30), I rub Clean Sweep about 4x a day (non-diluted).

Clean Sweep non-diluted helped with nerve pains after flares. The pain goes down after about 20 minutes, if you rub on nerves or even muscles.

It is quite impressive, because it's so fast.

It has the same effect as 10-15 minutes of high voltages (violet ray) in soothing nerve pains or muscle pains (after exercise).

When I herx, I sometimes have also muscle pains, I don't know why.

I got bitten by a tick in between, my first bite in 2017, which I treated only with peppermint oil (rubbed). No lyme symptom yet.

I had to go back to the Violet Ray, because of tummy pains, extreme fatigue etc. It doesn't help with flares, but it helps with liver pains, stomach pain, and just to boost my low energy.

I use it at least once a day, for the last 5 days.


I can't believe my skin candida was the same candida that was still inside my dead tooth, dead during lyme 10 years ago. I pulled that tooth and did cavitation surgery about 3 years ago.

But the bones never felt fully good. I do feel a release there, but I'll still keep treating, increasing the auto-nosode dilutions.

Could that be the missing connection that was keeping my candida still coming back?

Could the pathogen hide in the cheekbone and spread all over, like that, in big and small joints, bowels, skin??

I guess, the answer is yes. I was herxing all over!

How the hell could I have guessed that the problem was not the gut, nor skin, nor joints, but .... the cheekbone?!! that was keeping me ill?

It seems that those tiny root canals or smaller canals in the bones are more difficult to reach (for our herbs, immune system).

As the infection went up to my left eye, the whole left cheekbone had been once affected, and cavitation surgery could only clean 10% of the problem.

Critters hide in small canals in bones, sinuses, and as these areas were once, very ill, fully infected, I guess, they never really healed, but kept chronically infected, all these years, since lyme!!!
-----------------

Today, I'm still taking and rubbing all those substances above, one after another (like spaced during the day).

As my diet came back to normal, I'm taking kimchi once a day, in the last 2 days too (to help cleaning and killing).

I'm still treating the new bite with Olbas.

---

Posts: 6196 | From Brussels | Registered: Oct 2007 | IP: Logged |

Brussels
Frequent Contributor (5K+ posts)
Member # 13480


posted

---

Now that I am treating a multiple-organ infection, the whole process reminded me of lyme disease, also a multiple organ infection.

I know that my approach was always, during active phases of infection, never let the critter in peace.

I can't stand high doses of any drugs, nor herbs.

But what I can stand are smaller doses of different products. I fare very well with energy medicine.

Adding one more remedy or treatment a day, in phases where the pathogen is very active, in rage, makes the critter weaken rather fast.

Otherwise, if I don't add anything new, the pathogen finds ways to evade my treatment VERY FAST.

I just remember this now, that that was my attack strategy during active lyme. The more you confuse the pathogen, the more you win, he loses.

If you keep the same strategy, the pathogen is very intelligent and will find easy ways to hide from immune cells.

So, I may add some other thing tomorrow, just to see. Even if flares are 100% down, there is still inflammation, and I'm sure the pathogen is just waiting to come back.

Too aggressive treatment is very BAD for candida or Borrelia, in my opinion.

The best is the minimum amount of killers, modulators, whatever, but add new guns very often, shift herbs or treatments,..

... give it heat if it doesn't like it, give it PEMFs, anti oxidants, oxygen boosting therapies, propolis, whatever thing that bothers the pathogen, and it will eventually give up.

it's funny that this strategy comes back so clear now, and that is what I'm planning to do next!

---

Posts: 6196 | From Brussels | Registered: Oct 2007 | IP: Logged |

anuta
LymeNet Contributor
Member # 22646


posted

---

Brussels, what pathogen is flaring now? Do you know?

One sided nose dripping- sounds like Borrelia and co.All of my symptoms are kinda one sided.
But Gigi used to say that ALL Lyme co-infections symptoms do relate to each other and more due to toxins.

Did you try to use the auto-nosodes with photons?

---

Posts: 443 | From Montreal, Canada | Registered: Oct 2009 | IP: Logged |

Brussels
Frequent Contributor (5K+ posts)
Member # 13480


posted

---

I have no idea, Anuta.

It's testing like candida, and it behaves like candida (skin flares after sugar, milk).

But all my candida nosodes and vials do not test (so it may be a mutant!). No Sanum tests either, but that has been quiet some time that Sanum stopped testing for skin candida.

The nose dripping happened during the time I lost that tooth to lyme due to very bad infection.

It took years to recover, then I pulled the tooth off, did cavitation, my cheekbone was affected until my eyes then.

I took auto-bone nosodes then, it got better, but my cheekbone was in pain for many months after. ONly slowly got better, but never to zero.

It's not Borrelia, that I know. Borrelia nosodes, in any potency, test zero. Of course, I checked these.

Symptoms do not look like Borrelia (that love my knees and hips!!). No knee arthritis. My knees scream when Borrelia is active.

I don't really care for the name of the pathogen, why should I? I know I got the EXACT imprint because it was leaking from my left nose, exactly after giving Apisinum and Arnica.

Apisinum and Arnica were testing for my skin, not for the nose (I didn't ask about the nose). But as my nose reacted, I said, well, it could be the same old cheekbone infection!

I'm still healing, I got some stinging pains in my knees too (today, first time).

I can clearly see improvements on all 3 domains: skin, small joints of fingers and toes, and my cheekbone sort of 'pressure' - there had been a release, somehow.

I'm rubbing Olbas today, that was my additional treatment of today. Amazing how much liquid still drips, always only one sided. Clean liquid.

During infection, the color was really yellow-brown, and it burned all the skin it got in touch, even the wooden floor got the acid mark that remains until today!!! After more than 10 years!

Anyway, it was disgusting 10 years ago, during active lyme, and it just amazes me how my body couldn't reach deeper in the bones, to fight the rest of the infection...

---

Posts: 6196 | From Brussels | Registered: Oct 2007 | IP: Logged |

Brussels
Frequent Contributor (5K+ posts)
Member # 13480


posted

---

No photons, yet...

Now that I got some good remedies, I can see the candida on skin better (because it gets purple instead of light pink).

There is a clear connection to finger joints.

It reminds me more bart than borrelia, by the rashes.

I also remember now that when I got good herbs or frequencies to attack certain pathogens during lyme, they started to come to 'surface', to the tips of skin, trying to evade immune cells (my guess).

they usually surfaced (red spots) when I was feeling way better already, as though most of the infectious part was solved.

That was funny, always, and that is why I suppose they are trying to gather on the most superficial parts of the skin, which got less immune cells, less lymph circulation.

I can't remember if it was Bart or Bb though, but it feels really like deja vu.

Internal cleansing continues, I see changes in liver and bowel movements, feel herxy at times, after binders better, a bit foggy most of the time (but not too bad).

The worst is gone (I hope), but I suppose it will take time to clean all the mess of so many years or low chronic infection progressively attacking more and more parts of my body. Slowly but surely...


that 'surfacing' (appearance of red spots) was always a good sign, when I think back about lyme and co-infections (no more hiding place, I mean).


I usually do NOT attack aggressively the spot that surfaces after ingestion of killers with peppermint oil or whatever, because I feel the critter may try to hide inside again (better out in skin than inside my organs, joints, bones....).


I TOTALLY believe on the research saying that each critter communicates with all other same species in the whole body of the host.

It's like they change messages the whole time, no matter which part of the body they are.

Example: I use high frequencies on the red spot of skin, that is infected, and my gut turns, growls, do crazy noises like hell.

It happened so many times that I don't count anymore. There is a direct communication between critters.

So if candida decides going aggressive, it will go aggressive everywhere at once.

If it decides to go MODE QUIET, it goes like that everywhere, at once.

If you are using only rubbed essential oils, you'll see that even in spots you do not treat, the moment the spot you are treating gets better, the other parts get also better, even if the treatment is merely TOPIC!

and the opposite is the same. I use a lot of topic treatments, with light, or high frequency or rubbing something like essential oils...

so it cannot be because my body got better in fighting the pathogens, that all symptoms stop flaring at the same time.


It's really like a COLLECTIVE decision of critters, as though they simply decide that: let's wave white flag, and retreat, waiting for better days to come.

At least, that is how I picture the situation with candida.


Candida / fungal type of pathogens, once they were very aggressive (lots of flares), it is NEVER good to attack them with big weapons, frontally.

They attack back in revenge, I have no more doubt about that!


Nosodes feel better than any chemical killers, because they act indirectly, through the immune system, not through direct caustic chemical molecules.


I increased again the homeopathic auto-nosode dilution to D12.

I continue to rotate Apisinum, nose drip nosode, Clear Sweep homeopathic, Megahydrate D30, and rub Olbas oil on the cheekbone and tick bite.

Yesterday evening, I did a session of acupuncture, let's say, without needles, but with VFT herbs (they have 12 amazing formulas for the meridians).

I put one drop of Stomach Meridian on my cheekbone, both sides, but only the left side dripped again, and again, almost the whole night.

My horrible infection from a dead tooth was in that side about 10 years ago.

It's not what dr. K. call Switching, that is a sort of bad neural connections that make the body's energies and flows asymmetric.


I'm sure I'll have to work on dilutions until I reach higher dilutions, like to D100, even D200.

This is because the cheekbone infection is VERY old (from the time of fully active lyme, possibly 2006-2007, I think).

If you work with auto-nosodes, naming the pathogen gets less important, as you got the best nosode that could exist (at least, it's the EXACT pathogen information in that auto-nosode).

Besides, according to some lectures of dr. K, there are so many pathogens that we can't name, mutants in between bacteria and fungi even!!

Go find nosodes in pharmacies for all individual critters, we'll spend our whole lives searching...

---

Posts: 6196 | From Brussels | Registered: Oct 2007 | IP: Logged |
Contact Us | LymeNet home page | Privacy Statement

Powered by UBB.classic™ 6.7.3

---
The Lyme Disease Network is a non-profit organization funded by individual donations. If you would like to support the Network and the LymeNet system of Web services, please send your donations to:
The Lyme Disease Network of New Jersey
907 Pebble Creek Court, Pennington, NJ 08534 USA
http://www.lymenet.org/
---
Home | Flash Discussion | Support Groups | On-Line Library
Legal Resources | Medical Abstracts | Newsletter | Books
Pictures | Site Search | Links | Help/Questions
About LymeNet | Contact Us
---
© 1993-2020 The Lyme Disease Network of New Jersey, Inc.
All Rights Reserved.
Use of the LymeNet Site is subject to Terms and Conditions.
---