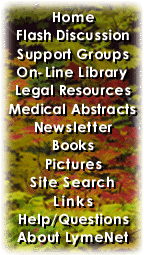 ---
LymeNet on Facebook
LymeNet on Twitter
---
---
The Lyme Disease Network receives a commission from Amazon.com for each purchase originating from this site.
When purchasing from Amazon.com, please
click here first.

Thank you.




Dedicated to the Bachmann Family


LymeNet needs your help:
LymeNet 2020 fund drive

The Lyme Disease Network is a non-profit organization funded by individual donations.

| | |
| --- | --- |
| | |
Author
Topic: 26 year old male, maybe parvo, maybe lyme?

ConnerMQ
Junior Member
Member # 50513


posted

---

Hi all,

I'm a new visitor and all that jazz, but I was wondering if anyone could help me figure out what is going on.

So I am an 8th grade teacher in southwestern Colorado and about a month ago, I was diagnosed with parvo from the local clinic after thinking that I had a pinched nerve in my back. The doc said it made sense to be parvo due to my working with kids on a daily basis.

However, as the weeks have gone on and things have not improved, I am beginning to get suspicious and starting to think that maybe something else is going on.

So, here is a brief breakdown of everything that has been going on for around a month and a half now.

Thursday, April 27th Woke up with right shoulder ache. Felt tight and sore

Friday 4-28th moved to neck, couldn't move head to right side

Saturday, 4-29th moved up to jaw, couldn't open, still had pain in shoulder, thought it was pinched nerve

Monday 5-1 Moved to lower left back, still in shoulder, neck, jaw

Wednesday 5-3 Moved to right hip, still in shoulder, neck jaw

Friday 5-5 Could barely walk, needed cane, pain in hip, lower back, shoulder, neck, jaw. Went to chiropractor, didn't know what was wrong, not a pinched nerve, recommended Doctor

Sunday 5-7 Still bad, went to doctor, got blood drawn. Joint soreness from feet, to ankles, knees, hips, lower back, shoulder, neck, jaw

Monday/Tuesday- Couldn't walk, had to call into work, which never happens

Wednesday 5-10 Pain reduced in legs and hips, still in right toes, left ankle, right hip, lower right, shoulder, jaw, shoulder, seemed as though pain had moved back up body but could walk again

Friday 5-12 Same as 5/10-5-11, but more pronounced in shoulder, jaw, neck. Doctor called and said blood results came back as parvo and to wait it out, 2-6 weeks.

Other maladies-

very little sleep,

pain whether standing, sitting, laying down, walking

Sometimes a radiating throbbing sensation, other times a sharp stabbing pain that takes breath away, always there however. -Worse when moving around, obviously

When it was in lower legs and hips, literally had to lift legs up to swing them over the side of the bed or couch

Walking was more of a shuffling than an actual picking legs up with leg muscles

Lack of appetite due to jaw.

And this has been happening on a cycle ever since, the soreness, swelling, cramping and achiness moving about the body and joints.

The only reason I am a bit cautious of going to a Lyme Literate Doctor, however, is the assisant principal at the school I work at said that she had Parvo a few years back and it lasted 6 months before it went away.

I am far from a rich guy, with plenty of student debt to go along with everyday life bills and can't really afford to make the wrong call.

Should I just wait it out or get checked. I know the common sense answer, but if it turns out I just have Parvo I would be pretty bummmed...haha.

so, I'm not really sure how to end this so I suppose I'll just say thanks for the time and for any assistance or guidance. I really appreciate it. And I am really sorry if you have lyme. You have my sympathies.

(breaking up the post for easier reading for many here)

[ 06-08-2017, 11:58 PM: Message edited by: Robin123 ]

---

Posts: 1 | From Durango, CO | Registered: Jun 2017 | IP: Logged |

ukcarry
Frequent Contributor (1K+ posts)
Member # 18147


posted

---

I understand your money difficulties. The problem is that if it IS Lyme and you decide to sit it out, you have lost the best time window to start treating it, so would urge you to see an LLMD to be properly assessed.

Good luck.

---

Posts: 1647 | From UK | Registered: Nov 2008 | IP: Logged |

hopingandpraying
Frequent Contributor (5K+ posts)
Member # 9256


posted

---

Welcome to Lymenet! PM sent for CO & UT.

I agree with the other posters - get to a Lyme doc to check this out.

You need to be evaluated and treated (if need be) by a Lyme-literate doctor (LLMD). Non LLMDs have no clue about this horrible disease or its complex treatment!

A LLMD is one who has treated Lyme disease and the co-infections which come with it for many years and has gotten patients well. A good one will follow Dr. B's Guidelines, the "gold standard" for Lyme treatment.

Here is a link for them:

http://www.lymenet.org/BurrGuide200810.pdf

Unfortunately, LLMDs are far and few between. You need to go where they are. At least half of all Lyme patients travel out of state for their care.

Most LLMDs do not accept insurance due to the politics surrounding this horrible disease. Read poster TF's explanation, "Why Lyme Doctors Don't Take Insurance":

http://flash.lymenet.org/scripts/ultimatebb.cgi?ubb=get_topic;f=2;t=025539;p=0

I was told doctors in CO do not treat aggressively enough, because CO is extremely tough on any doctor who does. The medical board is relentless on them. Posters on Lymenet from CO recommend going out-of-state to see a LLMD.

When calling for an appointment, ask if they have any cancellations or a waiting list. Patients have been able to get in sooner by doing this.

Check the online state Lyme groups at:
https://groups.yahoo.com/neo/groups/ColoradoLyme/info

Maybe they can help.

Some more resources (including Support Group info):
http://whatislyme.com/websites-and-support-groups-by-state/

http://www.lymenet.org/SupportGroups/UnitedStates/Colorado/

Read the books written by the top LLMD, Dr. H titled, "Why Can't I Get Better?" and his new one, "How Can I Get Better?". They are an excellent source of information.

Also read "Cure Unknown" by Pamela Weintraub. Check your local library or buy it used on Amazon.

View "Under Our Skin" for free on http://www.veoh.com/m/watch.php?v=v21055812yWtmpgB8

---

Posts: 8928 | From Illinois | Registered: May 2006 | IP: Logged |

bluelyme
Frequent Contributor (1K+ posts)
Member # 47170


posted

---

consider the dna connexions test ,no blood - no doc needed.... regular doctors will let you die and or suffer ..sure sounds lymey to me

--------------------
Blue


---

Posts: 1539 | From southwest | Registered: Dec 2015 | IP: Logged |

Phoiph
Frequent Contributor (1K+ posts)
Member # 41238


posted

---

quote:

---

Originally posted by ConnerMQ:

"...about a month ago, I was diagnosed with parvo from the local clinic after thinking that I had a pinched nerve in my back. The doc said it made sense to be parvo due to my working with kids on a daily basis..."


---

So...did the doctor base your diagnosis on blood work, or just clinical signs?

If you had blood work, did it show positive IgM, IgG, or both?

---

Posts: 1770 | From Earth | Registered: Jul 2013 | IP: Logged |

TF
Frequent Contributor (5K+ posts)
Member # 14183


posted

---

From the Burrascano Guidelines:

"In general, you can think of LB as having three categories: acute, early disseminated, and chronic. The sooner treatment is begun after the start of the infection, the higher the success rate. However, since it is easiest to cure early disease, this category of LB must be taken VERY seriously." (p. 3)

http://www.lymenet.org/BurrGuide200810.pdf

Take a look at this document that will teach you all about lyme disease. As others above have said, the problem with waiting to see if parvo goes away is that you will have lost the best opportunity to cure lyme disease.

The more months you have lyme, the more entrenched it will become in your body, the more damage it will do to you, and the more difficult and expensive it will be to try to get rid of it. Cure is generally only for those who treat early.

Look at the list of symptoms on pages 9-11. The more you have, the more likely it is that it is lyme.

See p. 19-20 for a description of the phases of lyme disease. If you have lyme, you have Early Disseminated Disease.

Also, be sure you don't let any doctors give you steroids or any other immune suppressant medications as that can make a case of incurable lyme disease.

"More evidence has accumulated indicating the severe detrimental effects of the concurrent use of immunosuppressants including steroids in the patient with active B. burgdorferi infection. Never give steroids or any other immunosuppressant to any patient who may even remotely be suffering from Lyme, or serious, permanent damage may result, especially if given for anything greater than a short course. If immunosuppressive therapy is absolutely necessary, then potent antibiotic treatment should begin at least 48 hours prior to the immunosuppressants." P. 12

Lyme is VERY difficult to get rid of. And, often a good lyme specialist is going to have a long wait for a new patient to be seen. It could be 3 months or more.

So, study this document and determine how likely it is that this is lyme or parvo. Then, take action.

Glad you found LymeNet. We will help you here all we can.

---

Posts: 9931 | From Maryland | Registered: Dec 2007 | IP: Logged |

jsnyde2
LymeNet Contributor
Member # 7888


posted

---

Hi Conner, It's Julie #1 (LOL!) I am glad you posted here! My question is: how bad was the assistant principal's case of Parvo? Were her symptoms similar to yours? And it just went away with no treatment?

Gosh, that rundown you did of your symptoms: they are not good. I am so sorry you have to suffer this. Sucks. There are lots of great people on this board that will help.

---

Posts: 351 | From La Crosse, WI | Registered: Sep 2005 | IP: Logged |

jsnyde2
LymeNet Contributor
Member # 7888


posted

---

And is migrating pain typical with Parvo virus?

---

Posts: 351 | From La Crosse, WI | Registered: Sep 2005 | IP: Logged |

Brussels
Frequent Contributor (5K+ posts)
Member # 13480


posted

---

People here are usually in 'desperate' mode.

My daughhter treated lyme at day 1, while the tick was still biting her, and she got chronic, it took years to get off lyme. Loads of antibiotics did nothing to her.

I've been reinfected so many times, and also did the best to attack it in early stages, but as always, it depends more on the state of my immune system then on the drugs or herbs used.

You can attack it energetically fast, at the beginning, and have good results, but sometimes, that attack means next to nothing, and you may fall ill anyway.

Some lyme doctors do not distinguish 3 phases anymore. Just two: initial (immediately after bite), then chronic (after it spread, which already looks your case, IF it is lyme).


I wouldn't be that in panic. Just keep cool, and at all means, NEVER spend all your economies on any expensive treatment that you bet will do the job.

I mean, just think that there is ALWAYS the possibility that if this is lyme or any chronic infection, that it may be for a long time, so you need to save your resources for the future.

thinking finances like you are doing is a very good step, after reading about all the financial catastrophes from lyme sufferers.

the most common mistakes are:
- NOT TO TREAT AT ALL or
- USE ALL your financial resources in the very beginning, betting on one single type of 'sprinter' treatment, a magic bullet.

Having suffered innumerous reinfections, relapses, etc, from lyme disease, and having treated a small child with the same disease, on and on again, I would do, in your place a simple test:

Buy cats claw in powder,whole herb. Buy a pound or so, it's not expensive. Take it a bit, 3 times a day, mixed in water.

If you take that for 2 weeks and do not react (with worsening of symptoms or feeling better), it could be another thing than lyme.

The reason I'm suggesting that is because, after all these years reading about lyme, I do think MOST people with active Borreliosis will react to cats claw.

If youd'd like to read a book on lyme treatment only with herbs, buy Stephen Buhner's books. He's a great master, explains everything in easy but scientific views, and has loads of suggestion to rebuild your joints, to lower inflammation (even if you have no lyme, you are loaded with inflammation, by what you explain), stuff like that.

Don't get desperate, it's my advice. Always plan: what to do, one step after another, and specially plan your finances, treatment-wise, I mean...

That is why I would go on herbs, as most Lyme doctors seem to only serve the rich in the US (due to high costs).

Of course, there are exceptions and some heroes, but that is my overall impression after reading lymenet for so many years.... (I live in Switzerland, my treatment was partially covered by the insurance).

---

Posts: 6196 | From Brussels | Registered: Oct 2007 | IP: Logged |

TF
Frequent Contributor (5K+ posts)
Member # 14183


posted

---

I suggest you do some research into the reliability of the parvo blood test. If the parvo blood test is totally reliable, that is one thing. But if it is not, you need to know that.

I did a quick search on the Internet about parvo in adults. It talks as if it is a very mild illness and most adults won't even need to see a doctor.

Then, regarding the test itself, I found this:

"What might affect my test results?

Sometimes you can get a false-positive result if you have rheumatoid factor, antinuclear antibodies, or antibodies to the Epstein-Barr virus."

https://www.urmc.rochester.edu/encyclopedia/content.aspx?contenttypeid=167&contentid=parvovirus

So, if it is true that you can get a false positive on this test if you have Epstein-Barr and other things, then you can't totally trust this test.

Did you ever have Epstein-Barr (mononucleosis) that you know of? Do you have any rheumatic diseases like rheumatoid arthritis?

Just want to let you know that if a person has lyme, it is very common for previous viruses to reactivate. That includes Epstein Barr. See the following quotes from Burrascano:


"In addition, many latent infections which may have pre-dated the tick bite, for example herpes viruses, can reactivate, thus adding to the illness." (p. 4)


"Chronic viral infections may be active in the chronic patient, due to their weakened immune response. PCR testing, and not serologies, should be used for diagnosis. Commonly seen viruses include HHV-6, CMV, and EBV." (p. 5)

http://www.lymenet.org/BurrGuide200810.pdf

Notice that the last quote says to get a PCR test rather than an antibody test so that you can distinguish a current infection from a past one. Check your test results to see if they were PCR or not. Antibody tests generally say Ab or some such abbreviation next to the results.

Page 27 of Burrascano lists the symptoms you can expect if you have a virus.

Your case as you describe it sounds a lot more serious than what I am reading about parvo.

Please let us know if you are reading our replies.

---

Posts: 9931 | From Maryland | Registered: Dec 2007 | IP: Logged |
Contact Us | LymeNet home page | Privacy Statement

Powered by UBB.classic™ 6.7.3

---
The Lyme Disease Network is a non-profit organization funded by individual donations. If you would like to support the Network and the LymeNet system of Web services, please send your donations to:
The Lyme Disease Network of New Jersey
907 Pebble Creek Court, Pennington, NJ 08534 USA
http://www.lymenet.org/
---
Home | Flash Discussion | Support Groups | On-Line Library
Legal Resources | Medical Abstracts | Newsletter | Books
Pictures | Site Search | Links | Help/Questions
About LymeNet | Contact Us
---
© 1993-2020 The Lyme Disease Network of New Jersey, Inc.
All Rights Reserved.
Use of the LymeNet Site is subject to Terms and Conditions.
---