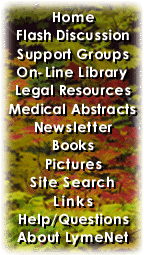 ---
LymeNet on Facebook
LymeNet on Twitter
---
---
The Lyme Disease Network receives a commission from Amazon.com for each purchase originating from this site.
When purchasing from Amazon.com, please
click here first.

Thank you.




Dedicated to the Bachmann Family


LymeNet needs your help:
LymeNet 2020 fund drive

The Lyme Disease Network is a non-profit organization funded by individual donations.

| | |
| --- | --- |
| | |
Author
Topic: communication with schools

SuZ-Q
LymeNet Contributor
Member # 5903


posted

---

Hello All,

I have been reading with interest the posts regarding 504s and IEPs for our children with TBDs. I am in a bit of a quandary about what to do for the coming year for my daughter. I would really appreciate your input, especially parents and/or educators.

Last year she was on homebound for the majority of year and she had missed quite a bit of time the previous year. By the end of last school year she had improved to the point that she was attending somewhat regularly. She has continued to improve with treatment over the summer. Her fevers are down from around 102 to around 100, she has more energy and less aches and pains. She really doesn't have much in the way of limitations at the moment (providing no relapses). She does still tire easily and sitting at a desk will be difficult due to constant back pain. Her cognitive problems are mild: mild to moderate ADD, forgetfulness, moodiness, etc. I am very hopeful that she will be able to attend regularly this year, but who knows what the coming months will bring. She will have to miss school for out of state LLMD appts and since she will probably be adding IV gammaglobulin to her treatment, she will have to miss for that as well.

Here is my question. Since she has improved so much, do we need to have a 504 at this time? Last year I think she was on a temporary one. Or should I just send a letter to her teachers explaining her medical status? Last year, after she was already on homebound status and we had just gotten a diagnosis, I sent a letter accompanied by copies of material from credible websites explaining the illness and asking for the teachers' support. We have had some problems with teachers for the last 2 years not believing she was really sick (despite documentation ) and we had to have her moved from one class because the teacher was so uncooperative (and downright mean-there have been several of those in the last 2 years).

We really want to start off on the right foot this year with the school staff. I've been trying to reach the guidance counselor for advice, but she is unavailable until next week (there is limited support there anyway). I always try to be very appreciative, humble and kind when dealing with teachers, but maybe I need to be more assertive. It probably doesn't help that we live in an area where Lyme is not very common. Our daughter is in 8th grade and is taking a fairly difficult class load with several advanced classes, so I want to try to establish a good rapport from the start.

The social situation has also been so difficult for my daughter that I don't want to draw any negative attention to her, so that is also a factor.

Your thoughts would be so appreciated!!!!!

Thanks!
Suzy


---

Posts: 260 | From Virginia | Registered: Jul 2004 | IP: Logged |

mlkeen
Frequent Contributor (1K+ posts)
Member # 1260


posted

---

I was recently told by our district here in PA that once a 504 is issued the student has it for the rest of the time they are in school. It can be modified as needed. It does not have to be enforced if it isn't needed.

Based on that info I'm continuing with lots of accomidations for my son in his 504, he is much better and may not need the extra time and flexibility, but we have the option should we need it.

My son was much sicker last year than either his doctor or I expected so I'm glad for everything in the 504. Some of the stuff the school had added to the llmd's list of accomidations was not appropriate, like putting him in the front of the class or isolating him so he could focus better, didn't work at all.

Teachers not understanding and enforcement were another issue. I spent a lot of time e-mailing teachers trying to get assiignments and notes. I shouldn't have had to do that.
I'm sure you have been there. He repeatedly earned E's for homewrok handed in late. The 504 called for all the time he needed.

My son will be attending a cyber charter school run by the county IU, the special ed people here, this year.

His education self-esteen was beaten down last year. The individualized instruction is an attempt to help him get caught up and feel better about school. He will be in 10th grade.

I would say be cautious about giving up services.

Mel

---

Posts: 1572 | From Pa | Registered: Jun 2001 | IP: Logged |

Lyddie
Unregistered



posted

---

Since you've already read other recent posts, forgive any repetition. We write a 504 plan each year. You should have a 504 meeting w/the principal or other designated "504 coordinator" and the nurse, preferably before school starts or very early. We write our own plan w/accomodations so we have more control, then the school folks change slightly and sign. They don't like to do this work, anyway, so they actually like me to do it. For Lyme, our 504 is only 3 pages.
You can add or change things anytime.

Have a clause that says "this plan remains in effect until a new plan is written." Also, "at any time, any member of the team may ask for this plan to be changed or expanded, but the plan can only be changed with the agreement of all members of the 504 team."

There are resource books available w/suggested accomodations, through the Office for Civil Rights at the Federal Dept. of Ed. These can be helpful for ideas.

Your child should not be penalized academically or any other way for missing school for appt.'s, for IV's, for going home w/pain or fatigue etc. and there should be a system in place- that does NOT depend on YOUR efforts- to get your daughter's missed work, tests etc.

For ex. we had a form teachers filled out every single day, whether our daughter was there or not, with all missed classwork, homework assigned, grades missing, and notes or worksheets or test/quizzes attached. The school nurse hounded the teachers, the principal and nurses to AGAIN explain why it was necessary. etc. and I stayed out of it. I met with a lawyer who approved the form, and let the principal know this, so he knew it really was consistent w/504 and enforceable.

I learned the hard way to stop e-mailing teachers myself, and to stop depending on relationships to get things done. One of the "nicest" teachers could never remember to accomodate my child!

It helped so much to insist that the school designate a person to implement the plan. I didn't figure this out until mid-way through last year, after years of furstration.

Schools always think moms are over the top, anyway, and if our kids look half-way healthy and do okay academically, people will always be skeptical. If we are too in- volved in making things work, and talk too much about the details of the situation, they just think we're neurotic and making our kids "sick."

Extra set of books, chair pads, pencil grips, tape recorded classes, a "scribe" to do writing in tests, extra time to do work, adequate notice of any grades missed etc. are all ideas I found in the OCR booklet.

Legally, 504 kids can't be served by SPED personnel, but the office can copy notes taken in classes by SPED aides, or teachers can provide their own. Asking our children to get notes themselves from other children is inappropriate.

We kept the "cognitive" accomodations
to a minimum, and concentrated on more specific goals having more to do with pain. Not everyone has the luxury to do that. When my daughter's mind was really affected two years ago, she stayed home for a few months. This past year she did drop math in Feb. to relieve stress of homework w/pain, and I chose to teach it to her myself versus fighting for a tutor, so I could work with her on her own schedule, when pain was at lowest. Naturally, the school loved this- but it won me some points in "negotiations"later on.

Socially, the nurse and principal agreed that sometimes the priority was for my daughter to attend a play rehearsal or band concert or softball game, even when she didn't go to school that day! They suspended the policy by which kids have to be in school by 10:30 and complete the day to do extracurricular stuff, and that made a huge difference.

There is just no way around the social pain of this, though. I just read a study that said 100% Lyme kids say their social lives have been affected. Adults can't handle "death, divorce or illness" and avoid a new widow or newly diagnosed cancer patient in the grocery store. School kids aren't equipped to understand any of this.I think it helps to make being different a GOOD thing, but it is tough to do w/kids and teens.

Finally, I found out that being appreciative, kind, and, especially, humble was counter-productive in the long run. Not to sound cynical, but they school doesn't really care who WE are. They care about things that cost money, extra effort (which usually costs money) , or are inconvenient or hard to organize.

I'm a real people-pleaser and have had to change and be firm, matter-of-fact and even tough. I still crack a joke or two
in a meeting but more to show I feel in control than to amuse anyone!

When I myself feel up to it, I also try to get involved in the school community in other ways, such as School Committee meetings, or volunteering, so they don't see me as overfocused on one issue, or too negative. This helps me in a sort of spiritual way, sounds silly, but it counter-balances all the demands and firmness I've had to muster.

Sorry so long. My daughter has some other long-standing health problems, one of them potentially life-threatening, besides the Lyme, and this time of year always has me anxious. I''ve been trying to figure out the best way to take care of her needs at school for 11 years, and it really is different every year. Writing these posts probably helps me more than you! Good luck to everyone as the summer starts winding down!

---

IP: Logged |

SuZ-Q
LymeNet Contributor
Member # 5903


posted

---

Thank you so much for your replies. You have both given me a lot to think about. As I try to recall the events of last year, I don't think she was ever placed on a 504. We went through a lot of beuracratic hooplah, but I think it was where we repeateldy had to have her homebound status renewed. Just that was a chore.

I think a 504 would be the way to go; however, our school system does their best to avoid them. When we moved here, my other child had been on an IEP for difficulties in written language. He had gone through all of the appropriate testing. Our present school system (after just a few weeks) said he compensated too well and took him out of all services. I wish I had been better educated about my rights. He still struggles with spelling and punctuation and got a "D" last year in Spanish. I guess if you have difficulties spelling, it would carry over to other languages. We had our own evaluation done by Sylvan Learning Center and they found similar outcome. He is now going into 11th grade and I am concerned. Do you think he is too old to request a re-evaluation? I know he would fight it though(he was insulted at our independent evaluation and it was very expensive to continue tutoring). Thank goodness for spell-check, since they have school- bought laptop computers on which they do most of their homework. He also has diabetes which at times affects his school performance.


My daughter is now at the same school that took him out of services. I am afraid that does not bode well for getting her started with a 504. Any suggestions on how to approach? Since she is presently better, I may not have much of a case.

---

Posts: 260 | From Virginia | Registered: Jul 2004 | IP: Logged |

Lyddie
Unregistered



posted

---

A few thoughts...Since your daughter seems a little better, and cognitive issues aren't too bad, maybe you could start with a really simple 504 plan dealing with pain issues, w/ extra set of books( a doctor would write a note requesting this) and other easy-to-do accomodations. This would sort of go under the school's radar, because it isn't threatening. Then, depending on what happens w/your daughter, add as you go, tailor the plan to whatever happens w/her health issues.

Do you have a lawyer or advocate? I saved money by meeting w/a lawyer at her home, and then letting the school know about the results. I presented it as "consulting with a lawyer for ideas." This cost me $150 and headed off trouble. If I hadn't done that, and we had gotten into battles requiring the lawyer to attend meetings, it would have run over $1,000.
Also, in Mass. anyway, there is a Federation for Children with Special Needs that will supply free or inexpensive advocates to attend school meetings w/you.

Finally, the Federal Dept. of Ed., Office of Civil Rights will train the school on 504's, and will talk w/the principal. They will take complaints and enforce rights, but also have the positive function of educating and problem-solving. Again,mentioning to the principal in a friendly way that you have talked with OCR and "gotten some great ideas" often makes the school a little more cooperative!

Your other child has diabetes...is it type 1 or 2? One of the health issues my older daughter has is type 1 diabetes. Diagnosed 10 years at age 4.She is on an insulin pump. Her 504 plan is about 20 pages long. Have you seen the sample 504 and health care plans for diabetes on the Americans with Diabetes web site? Kids with diabetes that affects learning (whether due to time spent in the nurse's office or cognitive effects from lows etc.) can also have IEP's.

Does your child test in the classroom? Who is trained to do glucagon? Who educates the staff about the diabetes? Do they send your child alone to the nurse's office when low? There are so many well-established rights for kids w/diabetes now. If only this were also true with Lyme!

Has your son been evaluated at a hospital for learning disabilities, or by a neuropsych? I don't know anything about Sylvan Centers. Did the school pay for the independent evaluation?

One other piece of cynical advice (sorry!). You mentioned that you called the guidance counselor for advice. I wouldn't ask anyone at the school for advice. You need to ask OCR, an advocate, the Federation, or any other resources you can find for advice, than present your requests as a fait accompli, for the school to sign. Maybe leave a little room for negotiation, just to show how reasonable you are.

This can be a friendly chess game, or a hostile one, but it is still a chess game.
The school will just hope that you don't make certain moves, and they won't let you know a lot of information they might have about rights.

I am dealing with another child who was denied services by SPED, like you, and haven't pushed enough on her behalf because I'm so busy w/the medical stuff.
So far, I just let them know in writing that I rejected their findings. So I can relate to your story.

I guess the main thing I would say is, "dont' trust anyone!" And don't get in a place where the school decides anything. They need to comply with the law. Hope this helps you avoid some of the pain I and others have suffered over the years.

---

IP: Logged |

SuZ-Q
LymeNet Contributor
Member # 5903


posted

---

Hi Lyddie,

You really provided a lot of good information for me. Thanks!!

You asked about my son. He is type I and also on an insulin pump. He was diagnosed 10 years ago at age 7. We had always gotten the impression from schools that diabetes alone wasn't enough to warrant a 504. Boy, are we dumb?! I do really like his school nurse. She calls me at the first sign of trouble. Highs, lows, pump line problems. She sends out info to all of his teachers. I used to have a packet I sent, but hers works better now that he is in high school.
He keeps a glucagon kit at school and extra insulin and infusion sets. He does end up out of class quite a bit.

His evaluation in 4th grade was performed by a school psychologist. We lived in another state and he was on an IEP and several accomodations were made for his learning difficulties. He is very bright in other ways and is in an engineering program that is difficult to get into and in several AP classes. I know this would not help his case any. He was accidentally placed in advanced Language arts in 9th grade and made it through with a "B", (as well as 10th). Spell check and having coaches for teachers seems to have made a difference. One of these days it will really catch up to him.
The Sylvan Center is a for-profit chain that helps students improve their academic performance, but it costs $300+ per month and with all the medical expenses for the two kids, that is a bit much right now.

Also, he is very resistant to any interference on our part. Seems to be a self-esteem issue. We are also having difficulties now getting him to test and record blood sugars. He's grounded for the weekend right now-didn't do a bedtime check & woke up w/glucose of 512. So easy to have prevented. He's been in ICU once for DKA and had some close calls on the overnight lows as well. It's a constant worry. Last year I probably neglected his care some due to dealing with the Lyme. Will the guilt ever end?
Anyway, thanks for your input. If you didn't think he would be a bad influence on your daughter maybe they could correspond sometime(he probably wouldn't admit to not testing as he should). They probably have a lot they could talk about seeing as how they have both been dealing with diabetes for 10 years now.

Take care and thanks!
Suzy

---

Posts: 260 | From Virginia | Registered: Jul 2004 | IP: Logged |

SuZ-Q
LymeNet Contributor
Member # 5903


posted

---

Lyddie,

I did a search for Americans with Diabetes and couldn't find it. Do you have a web address? I would really like to look up the 504 for diabetes info.

If you would prefer to contact me by e-mail, my address is [email protected]

Thanks so much!!
Suzy

---

Posts: 260 | From Virginia | Registered: Jul 2004 | IP: Logged |

Lyddie
Unregistered



posted

---

Oh, sorry.. I had 504 stuff on the brain, which made me think of the Americans with Disabilities Act (ADA) so I messed up the name of the American Diabetes Association (ADA also). So it's American Diabetes Association, not Americans with Diabetes! The sample plan comes up also if you type in "Sample 504" or "Sample health care plan" (which is a different plan, the one for the nurse only) on Yahoo or Google, I think. Try to look at BOTH.

Sounds like the diabetes is going alrigth w/the school, anyway. My daughter is 14 and we have our problems too, esp. w/record-keeping. She has Lyme too and the intersection of the two is not fun.

I'll e-mail you anyway. You are the first person I've run into who is dealing w/ the particular combination of diabetes, Lyme and learning issues at once. We could probably help each other at times.

---

IP: Logged |

SuZ-Q
LymeNet Contributor
Member # 5903


posted

---

Hey Lyddie ( or anyone elso who is knowledgeable about 504's etc.),

I looked up the wright's law website the the eligibility requirements for a 504. It said physical or mental impairment must "substantially limit at least one major life activity...including walking, seeing,hearing,speaking, breathing, learning, reading, writing, performing math calculations, working, caring for oneself and performing manual tasks." Maybe I am interpreting it too stringently, but do you think that since she is better, she would qualify? Should I wait and see how she does? I am so confused trying to get everything ready for back to schoolnext week & putting a 504 together for my other child for the diabetes, I don't think I am thinking straight. I have a feeling that she might be rejected as things stand right now and that might make it more difficult to get it if she gets worse. What is your opinion. I sent off for copies of "The ABC's of Lyme" and have tons of other material to give teachers.

She is so nervous about school. A neighbor "friend" went to a party and told her today everyone there was talking about how she was faking her illness all last year. She was devastated. I hope we can get through this year without going insane. It doesn't help that she thinks people will think she's a freak if she tells them she has Lyme. I try to tell her that there is only one way to fight such ignorance and that is providing factual info. In one ear & out the other.
Any suggestions on the social front?
Thank!!

---

Posts: 260 | From Virginia | Registered: Jul 2004 | IP: Logged |
Contact Us | LymeNet home page | Privacy Statement

Powered by UBB.classic™ 6.7.3

---
The Lyme Disease Network is a non-profit organization funded by individual donations. If you would like to support the Network and the LymeNet system of Web services, please send your donations to:
The Lyme Disease Network of New Jersey
907 Pebble Creek Court, Pennington, NJ 08534 USA
http://www.lymenet.org/
---
Home | Flash Discussion | Support Groups | On-Line Library
Legal Resources | Medical Abstracts | Newsletter | Books
Pictures | Site Search | Links | Help/Questions
About LymeNet | Contact Us
---
© 1993-2020 The Lyme Disease Network of New Jersey, Inc.
All Rights Reserved.
Use of the LymeNet Site is subject to Terms and Conditions.
---