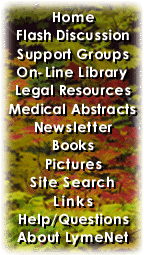 ---
LymeNet on Facebook
LymeNet on Twitter
---
---
The Lyme Disease Network receives a commission from Amazon.com for each purchase originating from this site.
When purchasing from Amazon.com, please
click here first.

Thank you.




Dedicated to the Bachmann Family


LymeNet needs your help:
LymeNet 2020 fund drive

The Lyme Disease Network is a non-profit organization funded by individual donations.

| | |
| --- | --- |
| | |
Author
Topic: what do you know now that you didn't know then?

Loribelle
Frequent Contributor (1K+ posts)
Member # 6293


posted

---

i have my first llmd appointment jan. 10th. freaking me out a little bit really!

so, i post this for the "old-timers", young or old, meaning simply those who have "been there, done that".

considering what have you learned over the course of this disease and treatment, are there things that you would have done differently?

things that you would have done aditionally, questions that you'd ask sooner, etc? especially concerning alternative or complimentary therapies...

also, things that were RIGHT ON, you are glad you did?

thanks, lori

---

Posts: 1149 | From southeast iowa | Registered: Sep 2004 | IP: Logged |

Corgilla
LymeNet Contributor
Member # 4066


posted

---

Hi,

I guess my first mistake was using a doctor who wasn't recommended here or by an ILADS doctor. He was recommended by some people at my local Lyme support group. That caused me 2 years worth of frustration.

Then there are the coinfections. If your treatment isn't going well or if you don't have cycles with your disease, consider EVERY coninfection.

Believing negative tests is something that's hard to get over. I've had so many tests and been so randomly positive or negative with all of them. I now know that if you test positive once, treat it. Even my equivocal babs titer with a negative babs PCR turned out to be positive. I know this since I've improved so much after babs treatment.

Even if you don't test positive, a good LLMD will see that you should be treated for one or more coinfections if you have them.

I guess the other thing that I've learned is that you have to rest as much as you need or at least as much as possible. It's important to regulate your sleep cycle so that you get restorative sleep. Lyme messes up your circadian rhythm. You've got to use any means possible to get it back.

I think that's it other than give myself a break. I could barely do it all before I got sick. Now that I am sick, I need to let some things slide and worry about them later.

Hope your visit is fruitful,

Corgilla

---

Posts: 694 | From PA | Registered: Jun 2003 | IP: Logged |

Just Julie
Frequent Contributor (1K+ posts)
Member # 1119


posted

---

1. Bring a small notebook to your LLMD. In this notebook, have written down every single symptom, the date you noticed it, the date you noticed it gone. Your reaction to the abx you are taking at the time. Any question you may have related to each and every entry you make. DATE EACH ENTRY.

2. Do not leave your LLMD's office without every question you have in your notebook answered. I did this. I forgot to ask my LLMD for YEARS (yes, years) about the brown spots that I had noticed cropping up on my body. I would get home, run thru the visit in my head and slap myself silly for forgetting, once again, to ask about these brown spots, which I thought were ACA spots.

3. I went a whole year without being treated for the positive babs test result that I got. I believe that not treating my babs affected the overall treatment of my entire lyme disease treatment (lasting 4 yrs). When I was not having symptoms relief of some of my more major symptoms, after a year, my LLMD flipped back thru my chart and said "oh, your babs test was positive" and I thought, yeah, I know that. I then asked for babs treatment, told him what I wanted to take and for how long, and he said ok. This is a famous LLMD on the west coast. I am not the only one that this has happened to with this certain LLMD. So, ask.

4. Look up side effects of all the abx you take. Before you take them. Ask your LLMD about your concerns w/ any abx side effects BEFORE YOU LEAVE HIS OFFICE. Wasted money on abx that I should never have tried is something I regret, because I paid out of pocket for every damned LLMD visit I went on for the 3+ yrs I saw my LLMD. My kids too.

5. If you feel the need to retain copies of your medical chart, get a copy BEFORE YOU LEAVE THE OFFICE. This is a biggy. Some doctor offices will not give copies after your visit without a charge, some charge anyway, whether you're in the office or not, asking for a copy, and some don't charge.

Personally, I wished I'd gotten a copy of each and every document that had ever had my name on it, doctor office visit notes, and test results. I did NOT do that, but tried from time to time to gather my entire chart for my own records, and I feel I do not have the entire chart. But that is just me.

There is much much more, but I'm having a lyme moment, and my brain is about tuckered out. I also posted a long reply to "just don" and his post on walking pnuemonia, and it did not work, because it said I put int he wrong password, so it erased my entire post, and that sure pisses me off when Lymenet does that. When you hit the back button, say, when you do put in your password wrong, it should go back without erasing what you typed in the screen. But this is a computer messup, not a LLMD messup, and believe me, I've had plenty of both, so I'm off for now.
much luck.

---

Posts: 1027 | From Northern CA | Registered: May 2001 | IP: Logged |

bg
Junior Member
Member # 46416


posted

---

Lori,

Julie mentioned what I was going to....requesting a copy of your medical records for EACH dr./lab/xray/etc. you have done!

Besides, you can reread things over & over until you comprehend the terms you do understand. Never fails; I read things in there they did not tell me during our session.

Your medical record copies will come in handy later on IF you decide to file for SS Disability Insurance app for benefits if you no longer can do "sustainable work" of any kind.

I also take a tyded list of questions to EACH dr...lyme/non-lyme appt. I give them one copy; I keep the other.

It's to help them REMEMBER all the questions I had when they DICTATE my medical records!

I also have paid for my clinic/hospital records when I filed for my 1st SSDI app. Glad I did since SSD only allows you to go back 6-12 months only as they deny you until you have an ALJudge hearing where ALL records YOU provided they have to take into account when working on denying/approving your claim. Best wishes. Betty G., Iowa

[This message has been edited by bettyg (edited 05 January 2005).]

---

Posts: 1 | From US | Registered: Aug 2015 | IP: Logged |

needleseye
LymeNet Contributor
Member # 6037


posted

---

Lori-

I think you've gotten some great advice-take it to heart.

One more idea-if you have a little digital recorder you might want to bring it that way you don't have to worry about taking notes!

BTW I've been to see Dr. C once. You are welcome to email me if you'd like.

-Shanna

---

Posts: 109 | From Colorado | Registered: Aug 2004 | IP: Logged |

GiGi
Frequent Contributor (5K+ posts)
Member # 259


posted

---

Yes, I regret not having known that there are major underlying factors for Lyme to take over. The suffering is not only caused by Lyme bacteria, etc., but also byHeavy metal, chemical toxicity and dental infections, as well as viral and parasitic overload. When I took care of that a couple of years into the disease, after having done a lot of antibiotics in the first three months, I started to get well.

I most of all regret that I did not know that I could pass the infection on to my husband via body fluids. So he got deadly ill before I was totally well. He is now totally well also, out of the wheelchair, gone is the walker and special equipement. He got well once he paid attention to the heavy metals, dental and chemical exposures that are part of our lives in our environment.

Read some of my posts on this site (Search). I am still posting here in an effort to try to help other people, if they want to learn more than just about antibiotics treatment which for the majority of Lyme afflicted is not enough.
I do not want to discourage anyone, but I would have saved myself untold agony if someone had told me about the fact that Lyme is not the only neurotoxin.

So most important: try to be open and learn as much as you can.

Best wishes and take care.

[This message has been edited by GiGi (edited 05 January 2005).]

---

Posts: 9834 | From Washington State | Registered: Oct 2000 | IP: Logged |

Oz
LymeNet Contributor
Member # 2905


posted

---

You are getting some excellent advice. My non-medical advice is not to get too discouraged if your recovery goes slow. There is no fast forward button and getting better takes work. Be sure you don't have a co-infection. That can really mess your recovery.

I wish I could have found a better way to mentally deal with it but until you actually start to feel better you wonder if you ever will. So don't totally freak out. Most people manage to get better and if a wimp like me did,it is likely you will too!

---

Posts: 228 | From Wassaic NY. USA | Registered: Aug 2002 | IP: Logged |

kaos
LymeNet Contributor
Member # 4144


posted

---

It's not what most people here would say, but I regret the first antibiotic I ever took. I should have gone alternative from the beginning because now I'm better than ever. Nope, antibiotics did not get me here, they destroyed my body and it took me months to rebuild and then I went after the Lyme using heat and oxygen-based therapies.

---

Posts: 373 | From Southern California | Registered: Jun 2003 | IP: Logged |

liz28
Unregistered



posted

---

Wish I'd had this kind of advice back then.

What J. Julie said about the famous LLMD missing her symptoms is pretty common. No matter how well-intentioned your doctor is, the truth is, you are one of zillion patients. If you see the LLMD as an all-knowing parent or healer figure, instead of a beleaguered professional with whom you are working in partnership, you can easily get lost in the shuffle.

Make sure you are treated for babesia, no matter what your test says, and strongly consider bartonella treatment.

If you are concerned about heavy metal toxicity, you can try supplements like NAC, alpha lipoic acid, and chlorella to start slowly detoxing on your own. Even if they can't do the whole job, they might create enough of a difference to demonstrate whether this may be an issue for you.

Start liver support early. People recommend milk thistle, NAC, liver flush, schizandra, and a lot of other stuff that the search engine can turn up.

If your doctor okays it, you are, in my amateur opinion, better off doing a combination of abx than relying on one "big gun" abx.

Take a look at Burrascano's Diagnostic Hints list for all the supplements that can help you. Dr. Zhang's website also has a lot of useful info, even if you don't end up using his products.

---

IP: Logged |

pab
Frequent Contributor (1K+ posts)
Member # 904


posted

---

Everyone has given you a lot of good advice.

One of the things I like about Dr. C's office is that they send us a copy of any testing done. He also will give you a lot of printed information to take home.

------------------


---

Posts: 2775 | From MN | Registered: Apr 2001 | IP: Logged |

kam
Honored Contributor (10K+ posts)
Member # 3410


posted

---

That I wasn't going to get well right away and return to work.

That the turtle wins the race not the rabbit.

That there really are docs out there who have the same goal you have...to regain your health and they have a plan to do it.

That taking a tape recorder to the visit is a good idea. Now, if I can only remember to do that.

I knew about apple cider vinegar but it took several people suggesting it until I finally started using it every day.

I am still not sure how it is supposed to help.

That there are so many things and suggested that it can get really confusing at times to know what to try and what not to try.

That I would have such a difficult time finding a primary doc to work with my lyme doc. Still working on this one.

That I would have to knock on a lot of doors to get prescriptions filled. That some pharmacies will tell you your insurance will not cover it and you need to pay for it and other pharmacies will put the same prescription right through without delay.

That I would be educating docs about lyme disease and would know more about it than they do.

That getting a PICC line installed is not that easy of a task in some areas. Even in the big cities, I had to go to 3 hospitals before I found one that had a person on call that did PICCs.

That you have to fight the good fight.

That your LLMD will not be your average doc, but will do all he can to help you with your fight.

[This message has been edited by kam (edited 05 January 2005).]

---

Posts: 15927 | From Became too sick to work or do household chores in 2001. | Registered: Dec 2002 | IP: Logged |

Mo
Frequent Contributor (5K+ posts)
Member # 2863


posted

---

Go in knowing that they know they do not know everything it will take for you to get well.

That said, they are the very, very best PARTNER you can have in getting well.

YOU are a key factor..50/50 partnership.

Do all of the above (very important to keep medical and journaling of symptom records, you will look back on them!), and use their brave compassion and expertise to your advantage, but learn for yourself and trust your instincts.

When I say "they know that they do not know" I mean that pointed toward the vast complexities of the diseases, co-infections, immune condition, medications effects depending on all this, the difficulty in interpreting tests and symptoms, and super-infections like Candida ect..

There is no majic bullet, no quick fix.

Run from any Doc who says he knows right away exactly what will take care of you.

There is one thing about my Doc that in the beginning was maddening, and now that I know what I know I find prolific..

He tells me every time when he doesn't know.
He says "I don't know".

I challange him every time with questions and ideas. I watch my own body and my own bloodwork carefully and he appreciates that.

Then, I use the tools he offers which are borne out of years of experience with thousands of patients with TBD's.

He's learned from me and I from him.

You are entering a partnership in the quest for wellness, and he/she needs you as much as you need them to get this done.
With detailed tracking, they can help YOU figure out when therapies are causing Herxheimers and whan they are not working.

You will also need "sub-contractors", and lots of independant research.

Mo

---

Posts: 8337 | From the other shore | Registered: Jul 2002 | IP: Logged |

ConnieMc
Frequent Contributor (1K+ posts)
Member # 191


posted

---

What I have learned:

That most of the medical doctors in this country are idiots.

That tests for coinfections are not any more accurate than Lyme tests. A case of Babs went undiagnosed for a long time.

That nutrition and the general health of the body is as important, if not more important, than antibiotics to help the body fight the infections. I wish I had that ION profile a long time ago.

That magnesium is very important. Supplement throughout the day with small doses.

That there are some alternative treatment options which work and some which don't. If you have Babs, Artemisinin is excellent. I failed the Mepron/Zith protocol, and spent all that $$$ for nothing.

That it was in my best interest to stop working my high-stress job to get some rest and put all resources to fight the infections. I waited too long to do this and damaged my professional reputation and likely have not made the recovery I could have.

That disability and insurance systems in this country are not set up to help people in need, or to even help people get the help they need to get well. If you get to the point where you are unable to work and deal with these systems, prepare to be criticized, labeled a malingerer, and subjected to the stressful tactics of both the public and private systems.

That the only way tick-borne infections will be recognized for what they are in this country is if the patients and families involved continue to make as much noise as they can. Tell everyone you know what you are going through and the true horror a tick bite can cause in a life. You may save a life.

Good question, and I hope some of these points have helped.


---

Posts: 2274 | From NC | Registered: Oct 2000 | IP: Logged |

Kira
LymeNet Contributor
Member # 2676


posted

---

Hi there,
Along with everything else everyone's be sharing, I would say to:

Be open minded to alternative ways of fighting the bacteria and supporting your immune system etc...like Kaos, I learned antibiotics were never going to get me fully well either...

I now rotate Rife, colloidal silver, Artemesia, Teasel Root, Cat's Claw etc etc, and find they are more potent on the bacteria than the abx ever were, and I have gotten much farther along than I did with abx. (and it is all much less toxic to the body as well)

For me, the abx just made the bacteria go dormant, and they constantly mutated causing me to constantly have to switch abx families to find another one to be effective, until I basically ran out of abx options...Not to say when I first got diagnosed and was in critical condition that the abx didn't help me immensely...But I just got stuck after that.

Luckily, I have a great LLMD that supports these alternative methods of fighting Lyme as well...Great to have an LLMD that goes with the flow and can treat each Lyme patient based on their unique individuality of what they can handle and what works for them!!

Also, ask your doc for a variety of detox methods to have on hand when needed...detox baths, specific supplements, sauna's, and use them regularly...!!

Keep in mind, toxicity symptoms are nearly identical to your Lyme symptoms, and also mimic yeast symptoms(P.S. a white tongue does not always mean candida..it can mean toxic colon too!!)...

Pay attentional to all possibilities, but don't underestimate the toxicty element... I often assumed my misery and symptoms were all lyme and therefore added more of my abx or various treatments to fight the Lyme...when really, I needed to back off of treatments and just simply detox!!

I needed to learn to re-phrase what a herx truly was...A Herx means you are TOXIC...and being in a toxic state for too long can get you into more of a mess than you started off in...

Detox detox detox...You don't want to develop severe food allergies and/or multiple chemical sensitivities on top of everything else...which is more common than you might think among lymies undergoing long term treatments!!!!

I believed somehow that I was immune to this ever happening to me...but it did...a year ago(after a major herx) I suddenly became allergic to literally every food and nutrient out there...ended up on IV nutrients for a year because I couldn't eat anything without severe reactions...Initially I was even allergic to the IV nutrients...but a year of detox and various treatments, are finally (slowly)bringing me back...Better to detox on an on-going basis throughout treatment, as a preventitive measure I think!! Hind site is 20/20

All my best,
Kira

---

Posts: 802 | From Chicago suburbs, Illinois | Registered: Jun 2002 | IP: Logged |

Loribelle
Frequent Contributor (1K+ posts)
Member # 6293


posted

---

thank you all for the imput! a lot of good info to consider...

i appreciate it!

anybody else have any pointers?

---

Posts: 1149 | From southeast iowa | Registered: Sep 2004 | IP: Logged |

DolphinLady
LymeNet Contributor
Member # 6275


posted

---

In addition to what has already been stated, I'd like to add that both active rest has been as helpful as passive rest.

In other words make sure you get good quality sleep, but also practice deep relaxation during the day while awake. This can be meditation, hot baths, energy work, listening to music, guided imagery etc.

This was very hard for me but I didn't start to get well until I incorporated this piece on a regular and substantial basis.

---

Posts: 925 | From California | Registered: Sep 2004 | IP: Logged |

Barrie
Member
Member # 1796


posted

---

My first and biggest mistake was to trust my daughter's doctor's office. I still can't believe I just took their word for it and didn't investigate on my own. We removed a tick from behind her ear,the next day,had a perfect bulls eye rash on her thigh. I called her doctor and was told it couldn't be lyme because it wasn't where the tick was. I never gave it another thought until she got really sick four years later. Many little things along the way. Now, almost seven years later, three on antibiotics, I can't believe I didn't ask more questions. And when she did get sick and her doctor wouldn't treat her for lyme and my daughter was getting sicker each day, we waited about two months too long to make up our minds to take her to Dr. J because we trusted our dr to finally treat her. In those two months she went downhill rapidly. But, eventually we did the right thing and she is on the road to recovery. So, I would say, even if you have the greatest,kindest,caring doc,like we thought we did, trust your own instincts and don't wait around for them to come around to what you know is wrong. Get a LLMD right away. When my sister just got lyme this past summer,and her doc refused any treatment after 21 days, she found a LLMD right away is on her own road to recovery. So, live and learn and pass it along.

---

Posts: 70 | Registered: Nov 2001 | IP: Logged |

Loribelle
Frequent Contributor (1K+ posts)
Member # 6293


posted

---

funny how the climate changed in my dr's office with the mention of lyme. i still just do not get the controversy.

---

Posts: 1149 | From southeast iowa | Registered: Sep 2004 | IP: Logged |

TheCrimeOfLyme
Frequent Contributor (1K+ posts)
Member # 4019


posted

---

Dont rotate antibiotics back and forth

---

Posts: 3169 | From Greensburg, Pennsylvania | Registered: Jun 2003 | IP: Logged |

daniella
LymeNet Contributor
Member # 6753


posted

---

The true meaning of life......

---

Posts: 968 | From private | Registered: Jan 2005 | IP: Logged |

bg
Junior Member
Member # 46416


posted

---

Lori,

Have you read Camp A and Camp B on TREEPATROL OR TINCUP's newbie links.

That will explain the controvery from the drs. viewpoint. Betty G., Iowa

---

Posts: 1 | From US | Registered: Aug 2015 | IP: Logged |

cosmo*1
Junior Member
Member # 6747


posted

---

Lori, how did everything go at your doctor's office visit today? Hope it was productive and informative...

---

Posts: 6 | From NJ | Registered: Jan 2005 | IP: Logged |

brainless
LymeNet Contributor
Member # 6771


posted

---

I'd go on aggressibe IV and stay on aggressive IV for a very long time.

b

---

Posts: 210 | From lalaland | Registered: Jan 2005 | IP: Logged |
Contact Us | LymeNet home page | Privacy Statement

Powered by UBB.classic™ 6.7.3

---
The Lyme Disease Network is a non-profit organization funded by individual donations. If you would like to support the Network and the LymeNet system of Web services, please send your donations to:
The Lyme Disease Network of New Jersey
907 Pebble Creek Court, Pennington, NJ 08534 USA
http://www.lymenet.org/
---
Home | Flash Discussion | Support Groups | On-Line Library
Legal Resources | Medical Abstracts | Newsletter | Books
Pictures | Site Search | Links | Help/Questions
About LymeNet | Contact Us
---
© 1993-2020 The Lyme Disease Network of New Jersey, Inc.
All Rights Reserved.
Use of the LymeNet Site is subject to Terms and Conditions.
---