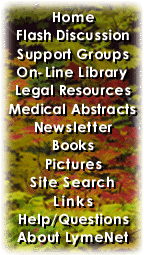 ---
LymeNet on Facebook
LymeNet on Twitter
---
---
The Lyme Disease Network receives a commission from Amazon.com for each purchase originating from this site.
When purchasing from Amazon.com, please
click here first.

Thank you.




Dedicated to the Bachmann Family


LymeNet needs your help:
LymeNet 2020 fund drive

The Lyme Disease Network is a non-profit organization funded by individual donations.

| | |
| --- | --- |
| | |
Author
Topic: I'm pullin the plug on my treatments!!!!!

guiney
LymeNet Contributor
Member # 4550


posted

---

I've had enough!!!!! I've got this itch thing going on and I'm worried it's my liver or something!!

Yesterday I itched for hours!!! I was at my pcp and she saw me itching mumbled a few things and that was it!!!

I'm stopping everything. I want my PICC out. No more IV doxy... I"m going to have to wean myself off of the oxycotin.

and like 5 other meds. I just can't take anymore of this!!!! I don't know if it's Lyme or the Meds.........

So, once I'm off of everything, then I can see how I'm feeling.....

I 'm scared because of the pain but I'm in pain now soooooo, what difference does it make.

Sometimes I just wonder if anyone knows what they are doing......

I've put a call to my llmd to tell her to put the order in to pull the PICC....

I'll keep in touch, Jamie

------------------


---

Posts: 504 | From US | Registered: Sep 2003 | IP: Logged |

just don
Frequent Contributor (1K+ posts)
Member # 1129


posted

---

Jamie,
Please rethink this one, what can you possibily do to make it better without anything? You will be back on pain meds 10X as strong if you let it get you. If you are half way there finish what you started cause otherwise you have to start from square one all over.
I can only wish I was in your shoes and getting the IV's you are so I have a "chance" at getting better. They cut me off right when I was turning the corner and going uphill instead of that constant slide down to the pits of h___! Nowyou have the best chance of all. Just talk to your LLMD about the itching and see if you can adjust something. I had itching on Clafran too and used Benadryl and slowed infusion. Its been so long ago I can barely remember. Like another life ago.
JAMIE, DONT DO IT ---KEEP ON KEEPIN ON!!! cuz I be --just don--

---

Posts: 4548 | From Middle of midwest | Registered: May 2001 | IP: Logged |

mrdsmom
Member
Member # 5630


posted

---

Guiney,

With my Lyme fogged brain, I never noticed you were on IV Doxy. I had no experience with itching, so I didn't reply to your other post. Now that you mention Doxy...I'm wondering if it's the same "burning" that I had on Doxy.

It was worse than itching. I went on Prednisone for the 5 days and it went away.

Seemed to be a reaction to the sun. I had gotten some sunburn just from being at the busstop for a few minutes. Then every time I infused, my skin would turn red and it burned....felt like the worst sunburn I ever got.

Wonder if this is the same thing?

After the prednisone, it never came back.

Carol

---

Posts: 56 | From Belvidere,NJ USA | Registered: May 2004 | IP: Logged |

Carol in PA
Frequent Contributor (5K+ posts)
Member # 5338


posted

---

Jamie,
You may be allergic to something.
Or....I've also heard that some pain meds cause itching.

Have you talked to a pharmacist? He/she would know if any of the meds you're on cause itching.

If you think you want to discontinue the Doxy, you don't have to pull the PICC line right away. Maybe you should wait a few days on that....

Oh dear, if you stop your pain med,you're in for a rough time. I realize the itching has driven you ~crazy~ but you may need to restart it.

You asked if anyone knows what they're doing. Hah. I wonder too.

I'll check in here later to see if you're okay.
Carol

---

Posts: 6945 | From Lancaster, PA | Registered: Feb 2004 | IP: Logged |

lymemomtooo
Frequent Contributor (1K+ posts)
Member # 5396


posted

---

G..Do not take the picc out..Read your replys and my email...

Also just thought about neurotoxins..They may be building up in you..Are you taking anything good to eliminate them? That or an allergy to something is probably causing the havoc..I was on a cough med once that had codene in it and it caused nasty full body problems up to the start of respiratory distress.....lymemomtooo

---

Posts: 2360 | From SE PA | Registered: Mar 2004 | IP: Logged |

cmichaelo
LymeNet Contributor
Member # 5873


posted

---

I'm sorry you're feeling so bad and that you are so frustrated.

I can only recommend to try to NOT over react.

If you have not already done so, try analyzing everything wrt to your treatment and your eating and behavioral habits in the past to see if you can identify anything that may have triggered your itching.

I know it's easy for me to say this, but that is what I would do...I think.

Another thing I would like to say is that I agree with you about your statement, "Sometimes I just wonder if anyone knows what they are doing..."

You probably know by now that LLMDs don't know if a certain abx is gonna help you or not. They treat you to a large extent on a trial-and-error basis.

This is where you come into picture. Only you know if something is really helping you. And only you is gonna help you in the long run.

You MUST play the most important role in your treatment. That means you MUST try to understand as much as possible about Bb, coinfections, abx, supplements, etc.

Don't let the LLMD just put you on IV Doxy cause "it has worked for many of my other patients". You should try to understand why it was working for those other patients, and is it really true. Ask him for studies and papers in IV Doxy etc, or research it yourself. If you can't, have someone else do it for you.

I think it's extremely important that the patient believes in his/her treatment program.

Keep a very detailed log of symptoms vs severity, activities, behaviorial changes, etc.

I don't know what other meds you have been on. But I never understood why certain LLMDs use IV Doxy [alone] for chronic Lyme.

Though I can understand why they use it in combo with other abx.

FWIW.

Hope you feel better soon.

Michael

---

Posts: 702 | From NY | Registered: Jul 2004 | IP: Logged |

Health
Frequent Contributor (1K+ posts)
Member # 6034


posted

---

Hello,

I have felt like that, and what I can say to do is go off antibiotics for a few days or so, see how you do.

My LLMD told me this before, to stop meds for a couple days, see how I feel, then start back up again with a LOWER dosage.

I was doing the biaxin/flagyl and was doing 2000s mgs a day total. I was so sick I would have rather been dead then go on.

I stopped meds for 2 days and WOW! by the 2nd day no more sickness, I was feeling so much better... I then started meds again after 2 days off with 1000mgs a day. I was doing so much better at this dosage.

I have never been able to go head on with meds, had to start slow, and has been the best for me.

There was a time when I went off ALL antibiotics for 75 days... to treat candida. I had to do it, I was so sick with candida overgrowth I thought I was going to die, I had been on anitbiotics for 7 months... weaned off them in one month...

After I was off all antibiotics for 45 days, symptoms started to come back.
I then went back on antibiotics after I had been off them for 75 days... I would have died had I not gone on them...
So be careful, and think what to do...
I had a severe relapse.... lyem came back in different places, sun sensitivity and dryness, never had this befreo in all year of 15 year untreated lyme.

MAYBE go off meds for 2-3 days, see how you feel, the back on at lower dosage.

OR pulse meds, whatever LLMD says.

Hope things get better, I know how you feel, it is so tough, never cried so much in my life from sickness... been at this one year, and just so tough for me. Herxing that is.

I have even done liver cleanses and nothing... it is the lyme that is making me still toxic.

I am on the oral Doxy, started off with 100mgs a day, now been on it for 3 and a half months, and doing 300mgs a day.
Doxy has been tough, but so have all meds for me.

Trish

---

Posts: 1250 | From Canada | Registered: Aug 2004 | IP: Logged |

Marnie
Frequent Contributor (5K+ posts)
Member # 773


posted

---

Itching caused by histamine which is triggered when calcium tries to go into the cells.

Benadryl is an antihistamine. So is Mg.

Your system becomes too acidic and calcium is trying to "come to the rescue" to supply ++ charges to counter the acidosis --.

Mg low, Ca influx (triggers histamine and NO - nitric oxide), angiotensin II kicks in, and finally TNF alph rises (inflammation - ouch).

Bufferin (buffered ASA...Mg + ASA - an acid!) may help OR a SMALL amt. of selenium to reduce TNF alpha. Don't block it completely...reduce it to a tolerable level.

Documentation:

. "CONCLUSIONS: These data demonstrate a relationship between angiotensin II and intracellular magnesium and calcium. In hypertension, angiotensin II-stimulated calcium responses may be related to simultaneously decreased intracellular magnesium concentrations."
PMID: 8390527

It appears:
(1)Mg ++ charge levels low -> increase in Ca ++ charge (not good) -> stimulates angiotensin II (a protein, -- charge)-> TNF Alpha (a pro inflammatory cytokine, ++ charge)

2. ``In severely Mg deficient rodents, it was found that there were greatly increased plasma concentrations of inflammatory cytokines.'' www.mgwater.com/clmd.shtml

3. ``Severe Mg deficiency changed mineral homeostasis, induced membrane damage, increased lipid peroxidation and cytokine concentrations and reduced immunocompetence.''
PMID: 9558736

4. ``During the progression of Mg deficiency in a rodent model, we have observed dramatic increases in serum level of inflammatory cytokines.''
PMID: 1384353

5. ``Bone loss induced by dietary magnesium reduction to 10% of the nutrient requirements in rats is associated with increased release of supstance P and tumor necrosis factor-alpha.''
J Nutr. 2004 Jan;134(1): 79-85

6. ``Visual defects are common in surviving preterm infants. Increased levels of harmful neurochemical mediators that have been reported in these conditions include oxygen free radicals, excitatory amino acids, tumor necrosis factor-alpha (TNF-a) and in thromboxane A2 (TXA2) which are aggravated in magnesium deficiency and may be ameliorated by magnesium.''
http://www.barttersite.com/mgpreemies.htm
(Ameliorated means to make better, improve.)


And more in my updated nutshell post...

---

Posts: 9403 | From Sunshine State | Registered: Mar 2001 | IP: Logged |

mulelover31
LymeNet Contributor
Member # 6266


posted

---

Hi Guiney!
Hope you are doing better! I too have alot of itching. It is one of the symptons of Lymes that not alot of people talk about. Maybe you are herxing in this way!

Just let us know how you are! Such good advice you have gotten so far I don't have any solutions that are better. Sorry!

Hugs! Sue

---

Posts: 124 | From Mound City MO USA | Registered: Sep 2004 | IP: Logged |

Barrie
Member
Member # 1796


posted

---

I saw someone else mentioned pain meds. I am a nurse and when I worked in the hospital I saw different pain meds cause itching all over. No hives or anything to see but, the people just itched. I know Percocet does it for me. It causes me to itch. I don't have lyme, my daughter and sister do so,it isn't lyme related with me. It is pain med related. Hope you figure it out soon. But, think twice about stopping your AB.

---

Posts: 70 | Registered: Nov 2001 | IP: Logged |

Route 66
Junior Member
Member # 6344


posted

---

Doxy caused me to itch constantly also. My LLMD said stop the Doxy until the itching subsides, then start Biaxin XL.

The itching didn't improve much, so I went to the dermatologist. He prescribed a cream that is a compound, and the pharmacy had to mix it up.

It helps quite a bit, and the dermatologist said if it didn't, there were other treatments available. He also said it could take up to a month to clear up.

Help is available. This is what the label says.

Triamo.1,Mento.5,Phen.5,Dml

------------------

Adios, Dirk

---

Posts: 3 | From Newark, DE | Registered: Oct 2004 | IP: Logged |

firsttwin
LymeNet Contributor
Member # 5529


posted

---

Hi Jamie,

I deal with the itching also. It drives me crazy sometimes.

A friend suggested taking Quercetin. You can get that at a health food store. Mine is from the pain meds that I take too.

This supplement has done very well for me. The doctor ordered zertec and clarinex for me and neither one of them worked. This supplement does the best for me. It takes about 15 minutes to kick in. I take up to 2 a day. I don't know what another person could take. You might want to check with your doctor and make sure it is ok to take it with your other medicines.

I looked it up on the internet and it said that it was good for other things too.

I hope that crazy itching goes away soon.

Take care.

Maria

---

Posts: 164 | From Rising Sun, MD, USA | Registered: Apr 2004 | IP: Logged |

guiney
LymeNet Contributor
Member # 4550


posted

---

I'm very grateful for all the advice...I'm sorry it has taken me so long to get back.

Since I posted this, I have not done any of my treatments, except my pain meds...which in fact I haven't really needed them that much!

I have not had the icth since!!!!! In fact last night started the yearly ritual of sweating the Lyme back in remission!!

By now I know the drill. I'll just have to wait and see what August brings.

For anyone who doesn't know my story...every August the Lyme comes out!!!!! By December I've sweated it out....

My llmd is trying to stop this cycle that's been happening to me for 4 years now.

I'm worried about my liver!!! Strange how it stopped when I stopped the Doxy!?!

I know it's not from my pain meds. Now I beleove it to be the treatment!!!!

I'm still waiting to hear from my llmd about all of this....I'm getting very impatient since I drove from MD. to N.J. and didn't get to see her.

It really upsets me that I can't even get a phone call back from her....

Anyway...I'll get back to ya'll...

Jamie

------------------


---

Posts: 504 | From US | Registered: Sep 2003 | IP: Logged |

lightfoot
Frequent Contributor (5K+ posts)
Member # 2536


posted

---


Hello quiney,

Sorry you are having such a heck of a time!!!!

I can hear you too!!

BUT.......I strongly recommend keeping the PICC line and just keep it flushed as per your docs instructions. You have the wonderful opportunity which many would envy.....IV ABX. There are other meds to try via the IV route which may be just the ticket for you. Once the line is pulled it may be pretty darn difficult to have another approved by insurance and the rest of the hoops to be jumped.

So hang in there.......work with your doc and don't be quick to pull that line!!!!

Healing thoughts......lightfoot

------------------
C O L O R A D O * S U P P O R T * S Y S T E M
[email protected]

"A friend is someone who knows the song in your heart
and can sing it back to you when you have forgotten the words".
Unknown

---

Posts: 6951 | From CO | Registered: May 2002 | IP: Logged |

Lonestartick
LymeNet Contributor
Member # 2151


posted

---

Hi Guiney,

I read this post yesterday and it made me recall my own experiences while on 17 months of IVs. I itched horribly so much of the time.

There were several or more factors involved.

My doctor initially had me infusing too fast for my own body's ability to buffer. I had a friend who is a neurologist and he suggested that I infuse my ABX using the 200ml bags of saline (or 250? Whatever the large saline size is.) That helped, as did slowing the rate.

I also developed a lacy ``measles'' type rash all over which was quite severe on my chest and neck. My doctor said that this was common and attributed it to EBV or some other virus popping up as we treated the Lyme. A 5 day Rx of Valtrex took care of that. I had to treat it twice, after which, it ceased to be problem anymore.

Marnie mentioned loading up on magnesium. While you don't want to take it near your doxy, her suggestion is very good. I broke out in hives repeatedly with extreme itching. Normal blood pressure and other measurements indicated that it was not an allergic reaction that would lead to anaphylaxis in my case so, once evaluated; I was allowed to proceed with caution.

By using tri-salts (ecological forumulas) and by taking a lot of magnesium in between IVs, I was able to insure that my body had enough buffers to prevent reactions. That eased much of my discomfort so that I was able to complete the IVs successfully.

You might load magnesium and buffers now to see if it will allow you to infuse comfortably should you and your doctor decide you wish to give it another try.

I focused a lot on detox during the IV and other stages of my ABX therapy. That helped enormously with pain and symptoms. I used Shoemaker's Questran protocol to help mop up neurotoxins, as well as Dr. Sherry Rogers M.D.'s version of Gerson's detox protocol. Both made a huge difference in my abilities to continue and to make headway with the ABX treatment.

If you discontinue the IVs, be sure to have a plan for further treatment so that you don't relapse. I relapsed hard twice before I decided to try the Marshall Protocol, which I feel is working better than anything else I've done to date. This is the first time in my life that my body temp is textbook normal. Now I can actually run a fever after exposure to the usual colds or flu from which I now recover from in 1 or 2 days time.

Whatever you decide, be sure you have a plan to continue your healing so you don't lose the ground you battled so hard to gain. Wishing you a successful outcome.


---

Posts: 470 | From USA | Registered: Feb 2002 | IP: Logged |

Neil M Martin
LymeNet Contributor
Member # 2357


posted

---

I used to itch like crazy after showering until I took soaking baths with Miracle II soap (1 oz) and 1/2 oz neutralizer.

Perhaps it was my Hodgkin's disease. It drove me crazy. Worse than pain.

Neil

---

Posts: 697 | From Tucson, AZ USA | Registered: Apr 2002 | IP: Logged |

Biting Back
LymeNet Contributor
Member # 6018


posted

---

Hi guiney. I don't have anything to add, but I'm a good listener . . . here or privately. Anyway, I brought you something and I hope you feel better soon.





---

Posts: 703 | From Almost Heaven | Registered: Aug 2004 | IP: Logged |

lla2
Frequent Contributor (1K+ posts)
Member # 2364


posted

---

what do you mean your yearly sweats? after you stop the abx..do you sweat like crazy? doesn't that mean the lyme is coming back? or does it mean your sweating out hte extra meds etc>?

Lisa

---

Posts: 4713 | From saunderstown, ri Usa | Registered: Apr 2002 | IP: Logged |
Contact Us | LymeNet home page | Privacy Statement

Powered by UBB.classic™ 6.7.3

---
The Lyme Disease Network is a non-profit organization funded by individual donations. If you would like to support the Network and the LymeNet system of Web services, please send your donations to:
The Lyme Disease Network of New Jersey
907 Pebble Creek Court, Pennington, NJ 08534 USA
http://www.lymenet.org/
---
Home | Flash Discussion | Support Groups | On-Line Library
Legal Resources | Medical Abstracts | Newsletter | Books
Pictures | Site Search | Links | Help/Questions
About LymeNet | Contact Us
---
© 1993-2020 The Lyme Disease Network of New Jersey, Inc.
All Rights Reserved.
Use of the LymeNet Site is subject to Terms and Conditions.
---